We test and review fitness products based on an independent, multi-point methodology. If you use our links to purchase something, we may earn a commission. Read our disclosures.
Being a beginner is a part of life. Even the most famous athletes like Tiger Woods and Tom Brady were once beginners at their respective crafts. I know it can be intimidating to start something new, especially working out. I'm here to help you find the best home exercise equipment for beginners to make the journey a little easier.
If no one else tells you this, I will––I'm proud of you for wanting to move your body. Exercise can add a lot of joy (and mobility) to your life, and I'm excited for you to experience the benefits. Now go out there and kick some butt, internet friend. You got this.
Fitness Experts Who Care
Although the team at Garage Gym Reviews holds a variety of certifications––think personal trainers, nutrition coaches, and CrossFit L1 coaches––we were all once beginners, too. We want to make your path to exercise as easy as possible so you can make your life full of joyful movement. P.S: In case no one told you, exercise should be enjoyable. Figure out how you enjoy moving your body and do more of that.
Best Home Exercise Equipment for Beginners
Best Dumbbells for Beginners: CAP Barbell 150-Pound Dumbbell Set
Good for: Individuals who want lighter dumbbells and an included stand
For beginners, I love recommending sets of equipment that will make the workout process simpler. The CAP Barbell 150-Pound Dumbbell Set is one of these. For around $370, you'll get five separate sets of dumbbells, ranging in weight from 5 pounds to 25 pounds. Plus, this set comes with an included stand (how handy).
It's really important to nail form as a beginner versus slinging heavy weights right off the bat. I love this set because it has lighter weights you can still progress with as you get more comfortable with different movements.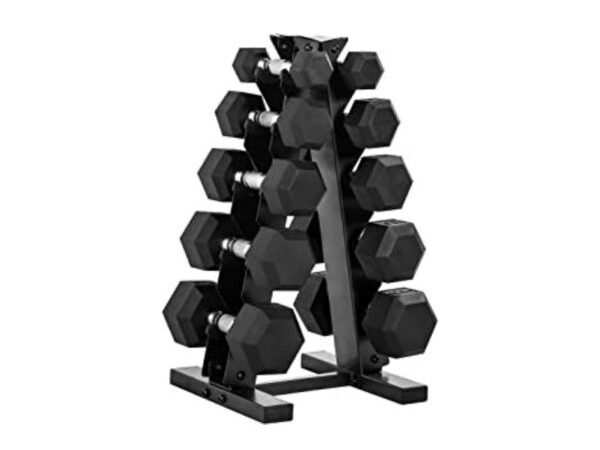 These dumbbells look like traditional weights you may have seen before in the gym (think hexagon ends made with steel and iron). I like hexagonal dumbbells for beginners because they won't roll away like round dumbbells will when they're put down.
If you're tight on space, it might be hard to justify purchasing an entire rack of dumbbells. In that case, I'd suggest looking into adjustable dumbbells. Be warned: There is a learning curve when it comes to racking and unracking any adjustable dumbbell set (and they're more expensive).
The only real downfall to this dumbbell set is the short, 30-day warranty. However, we've had these dumbbells for a while and haven't experienced any issues with durability.
| | |
| --- | --- |
| Price | Around $370 |
| Material | Cast iron |
| Weights | 5-,10-,15-, 20-, and 25-pound dumbbells |
| Warranty | 30-day warranty |
Best Barbell for Beginners: Rogue T-15 lb Technique Bar
Good for: People practicing proper movement patterns
All things Rogue are overbuilt and of excellent quality, and the Rogue T-15 Technique Bar is no exception. Although I'd generally recommend beginners practice lifts with a PVC pipe, I find the transition from that to a traditional barbell to be a bit steep––going from something that weighs 2 pounds to a bar that weighs 33 to 44 pounds can be difficult.
That is where the Rogue Technique Bar comes into play. At just 15 pounds, this barbell has a similar feel to a traditional option, which will allow the user to get comfortable with correct hand placement and the dual knurling.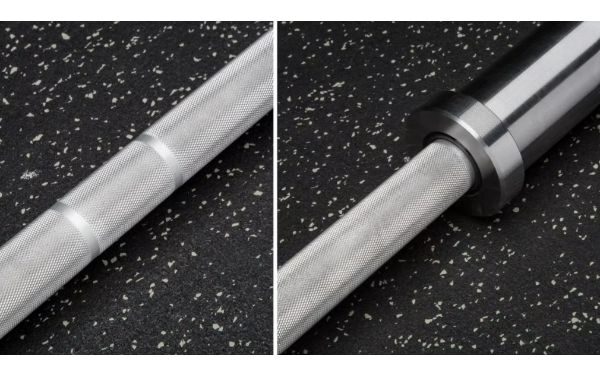 Plus, the Rogue Technique Bar is compatible with regular bumper plates, so a beginner can practice loading and unloading their barbell. However, it is worth noting that the Technique Bar can only handle a max weight of 45 pounds. As you get stronger, you'll need to invest in a regular barbell, such as the Rogue Ohio Bar or Bella Bar.
I also wish you could drop this barbell, but Rogue recommends that you do not. It isn't the biggest deal in the world, but you won't be able to practice bailing out of a lift that is too heavy for you.
| | |
| --- | --- |
| Price | Around $165 |
| Material | Aluminum and zinc |
| Weight | 15 pounds |
| Made in the USA | Yes |
Best Weight Plates for Beginners: Fringe Sport Black Bumper Plates
Good for: A durable option that can withstand being dropped
The Fringe Sport Black Bumper Plates are a great value, and I recommend them for use in tandem with the Rogue Technique Bar mentioned above, as well as a regulation-sized barbell as you get stronger.
Plus, Fringe Sport offers a full year warranty on their 10- and 15-pound plates, which is uncommon for most brands. For context, lighter plates tend to crack first, especially when they are dropped. I have not found this to be the case with Fringe Sports' bumper plates––in fact, the brand explicitly says it is okay to drop their plates of all weights.
There is a lot to love about the Fringe Sport Black Bumper Plates––they're sold in pairs, made with high-quality rubber, and you get free shipping. It's basically a no-brainer, if you ask me.
I can't say there are too many negatives to these plates. My only real complaints would be the pungent smell (it is rubber, to be fair) and the grease. The plates come out of the factory with extra grease that needs to be removed before you use them. This isn't a big deal––grab some soap, water, and a cloth and you'll have them clean in no time.
| | |
| --- | --- |
| Price | Ranges in price between around $80-$270 |
| Material | Rubber and stainless steel |
| Warranty | 3-year (25-55 pounds), 1-year (10-15 pounds) |
| Insert Diameter | 50.4 mm |
Best Resistance Bands for Beginners: Gritin Bands
Good for: A gentle introduction into resistance training
New to resistance training? Pick up a set of Gritin Bands from Amazon. These inexpensive loop bands are useful for a variety of exercises, such as clam shells, glute bridges, and banded side steps. They're great for warming up and injury rehab, too.
I like that you get a full set of five different bands, so you can figure out what level of resistance works best for you. Plus, the Gritin Bands come with a handy carrying case for easy storage and portability. If you frequently travel, you might consider throwing these into your suitcase for a simple hotel room workout.
It is worth noting that the Gritin Bands may not last you a lifetime, as they are pretty thin and may snap after lots of use. I also wish they had the specific resistance (in pounds) printed on the bands for easy reference. However, for under $10, I think they are worth grabbing to add to your home gym arsenal.
| | |
| --- | --- |
| Price | Around $10 |
| Material | Rubber |
| Number of bands per set | 5 |
| Resistance range | 5-40 pounds |
Best Treadmill for Beginners: Sole F63 Treadmill
Good for: People who want a durable treadmill with preset programs
Want a treadmill that will help you reach your fitness goals? Check out the Sole F63! This cardio machine retails for around $1,100 and is an excellent piece of workout equipment to add to your home gym as a beginner.
The generously sized deck makes running, walking, or jogging a breeze. Plus, the 10 preset programs make getting started as simple as pressing a button. I'm also partial to the cushioning on the F63––according to the Sole website, the cushioning "reduces impact by up to 40%." This tread also has a 325-pound max user weight capacity—above industry standard.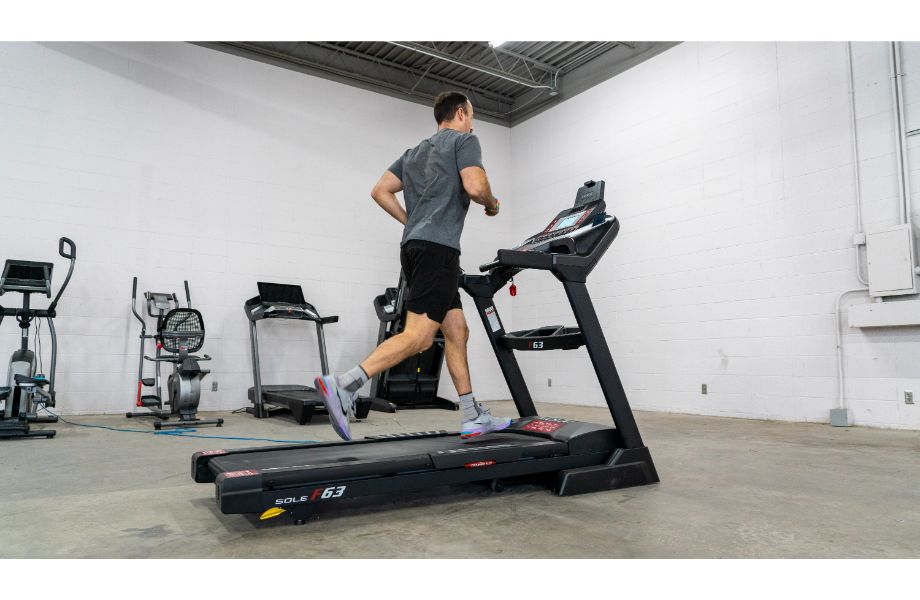 I like that the F63 is foldable, as it makes it a viable option for people in smaller spaces. But don't get it twisted––the F63 is a heavy-duty treadmill that comes with a lifetime frame and motor warranty.
If you're looking for loads of technology features, the Sole F63 won't be your best bet. The display is a small LCD screen that displays basic metrics. However, I don't think you need all the bells and whistles on a treadmill to still get a great workout.
Want to learn more? Check out our Sole F63 Treadmill review.
| | |
| --- | --- |
| Price | Around $1,100 |
| Running surface | 20" W x 60" L |
| Warranty | Lifetime frame and motor, 3-year deck, electronics, and parts, 1-year labor |
| Weight capacity | 325 pounds |
Best Adjustable Kettlebell for Beginners: Bells of Steel Competition Adjustable Kettlebell
Good for: Those who want to combine cardio and strength training with one piece of equipment
The Bells of Steel Competition Adjustable Kettlebell's size and handle diameter stay consistent no matter what weight you use, unlike standard kettlebells, which I like for beginners because it challenges your grip strength (how well you can hold onto something) in addition to combining strength and cardio training.
And unlike other adjustable kettlebells, the BOS actually feels like a kettlebell you'd find in a commercial gym, which is why we recommend it over options that have a plastic or rubber handle.
Perhaps its greatest feature is that you can replace 18 kettlebells with just one! The shell is loaded with 1.1-pound plates that you can add or take out of the kettlebell, depending on how heavy you want to make it. It has a starting weight of 26.5 pounds and can be as heavy as 70.5 pounds (and even heavier if you purchase more plates).
The plates do take some time to load and unload, but we'd rather have to deal with that than find a place to store 18 kettlebells.
Back to the 1.1-pound plates—these are better for you than you might think. We get stronger by slowly adding more weight to our lifts (a process called progressive overload) and it's much easier to add 1.1 pounds to a Turkish get-up or kettlebell swing than 5 or 10 pounds.
| | |
| --- | --- |
| Price | Around $200 |
| Replaces | 18 kettlebells |
| Handle diameter | 35mm |
| Weight range | 26.5-70.5 lbs. |
Best Elliptical for Beginners: Body Rider Fan Elliptical Trainer
Good for: Those who want a budget-friendly way to get moving
I've tried quite a few elliptical machines, yet the Body Rider Elliptical Trainer is one of my favorites for the price. At around $130 on Amazon, this budget-friendly machine makes cardio a breeze. I especially like it as a way to stay moving while doing things you already enjoy, like listening to podcasts or watching television.
Plus, if you're tight on space and need a machine you can move with ease, this is a great pick. The Body Rider is under 60 pounds and can be moved by one able-bodied person via the included transport wheels.
RELATED: Best Compact Elliptical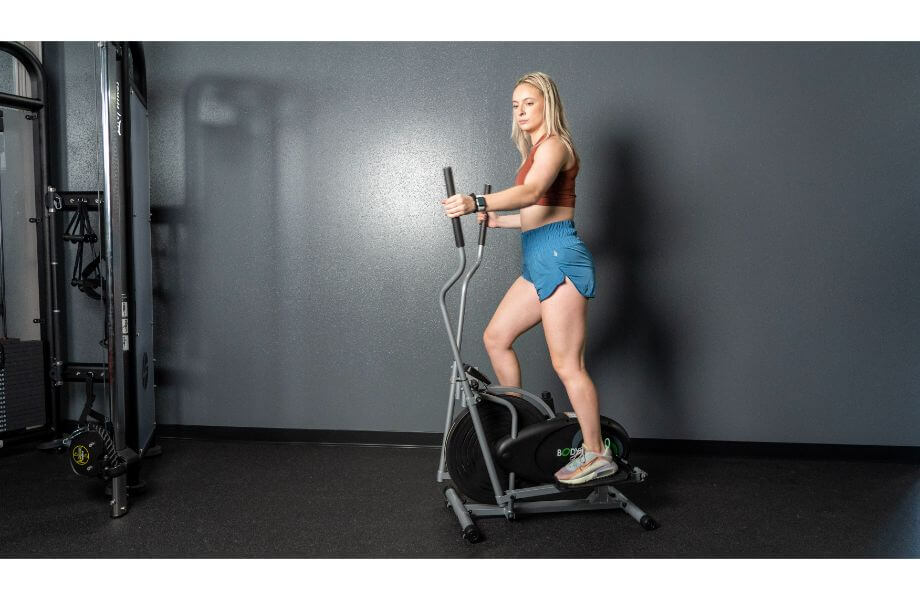 You also won't run into any complicated technology or confusing features––the Body Rider is made for simplicity with a single resistance knob and small LCD display.
I will warn you––if you have a large foot, the pedals of the Body Rider may not suit you. My size 9 (women's) foot was about as long as the pedal, so they definitely are not oversized.
The warranty is also subpar at just a year, but I can't be too upset for the price. The Body Rider doesn't pretend to be anything it isn't––a simple option for those looking to stay or get active without confusing technology or a hefty cost attached.
Take a look at our full Body Rider Fan Elliptical Trainer review.
| | |
| --- | --- |
| Price | Around $130 |
| Footprint | 38.58" L x 9.06" W x 24.8" H |
| Warranty | 1 year |
| Weight: | 58 pounds |
Best Online Personal Trainer for Beginners: Future
Good for: Beginners who need workout guidance from a professional trainer
If you don't have previous workout experience, it can be tough to get started on your fitness journey. You might worry about form, what exercises to do, and how frequently you should do them. The Future app takes the guesswork out of the equation, no gym membership required. This personal training app allows users to get a customized workout plan just for them, without the hassle of in-person sessions.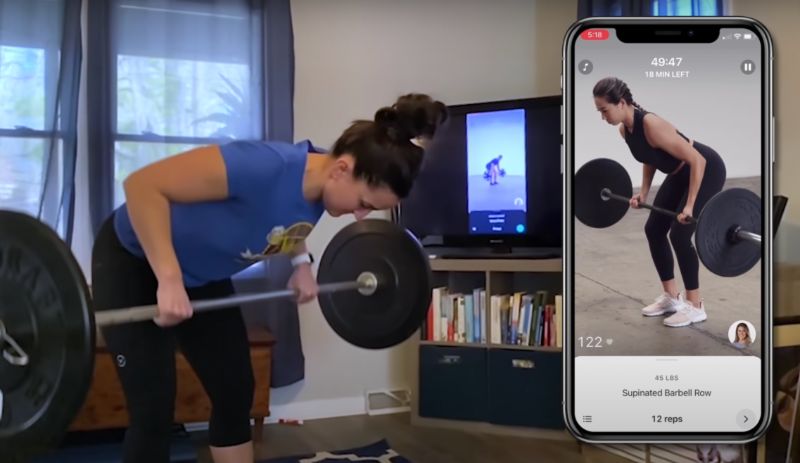 After taking a short questionnaire, you'll be matched with a real coach to suit your goals (or you can choose your own). You'll be able to keep in close contact with your trainer through video calls and short messages via the app, so you still have the accountability you'd have with an in-person coach. I especially like that you can record your form on exercises and send them to your coach for feedback to ensure you're doing the movement correctly.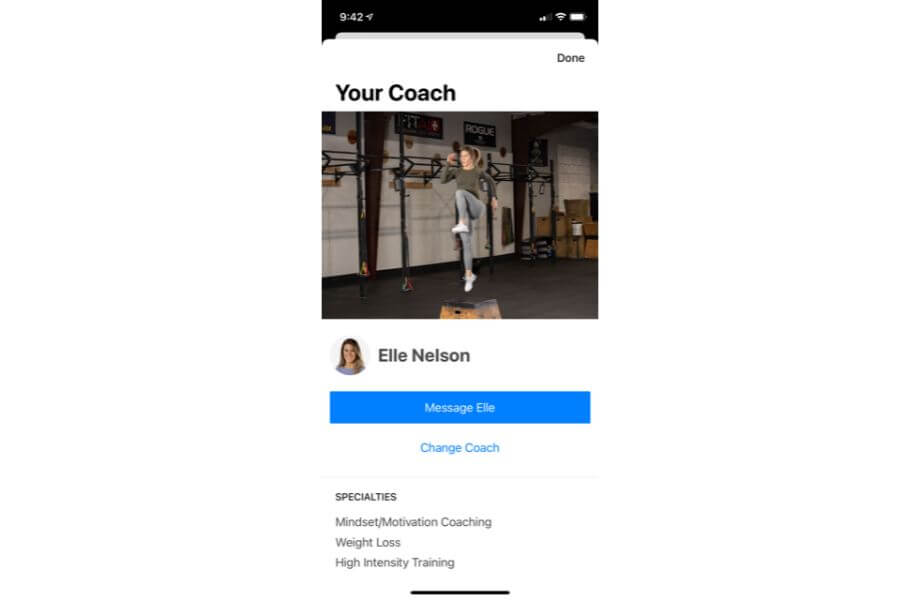 Your trainer takes into account any physical limitations, equipment constraints, and your current fitness level when crafting workouts. Each workout created for you is available through the Future app, and a real person demonstrates each movement to make it simple to follow along.
With all these awesome features and such a hands-on experience, you're probably not going to be surprised by the $199 monthly price. However, if you consider how costly an in-person trainer would be, the Future app looks downright affordable.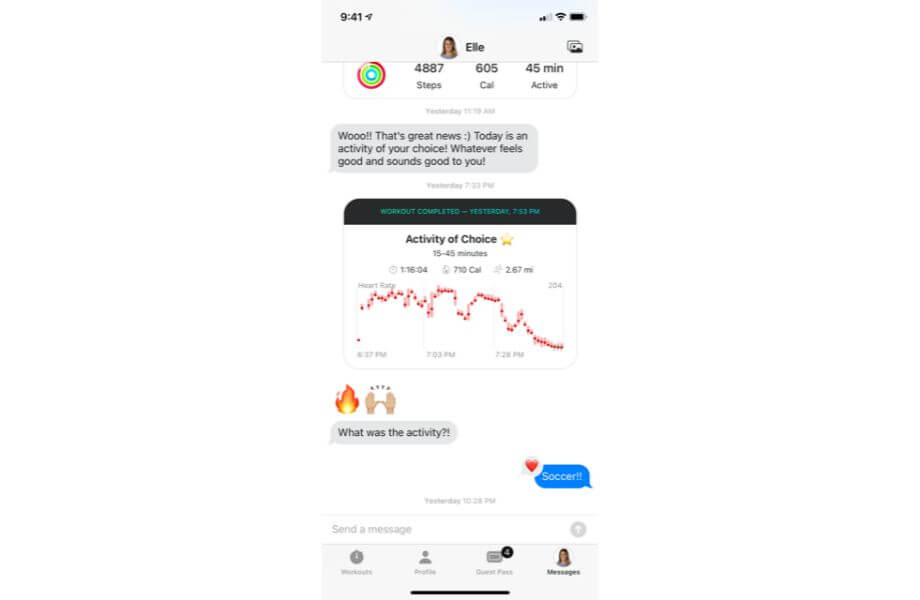 It is also worth noting that the Future app is currently only compatible with iPhones and other Apple products. I'm hoping that the company amends this in the future (see what I did there) to make this a viable option for all beginners.
Check out our full Future review.
| | |
| --- | --- |
| Price | $199 per month |
| Works with | Apple products |
| Coaches available | Over 200 |
| Equipment required | None required |
Best Fitness Tracker for Beginners: Fitbit Inspire 2
Good for: Individuals who need a basic fitness tracker that is easy to use and understand
Interested in tracking things like your workouts, rest, or heart rate but don't want to shell out almost $400 for an Apple Watch? If this is you, you'll likely enjoy the Fitbit Inspire 2. This fitness tracker has lots of features at just a fraction of the cost of the competition. You'll be able to view things like active minutes, calories burned, daily steps, and a ton more.
Besides being able to track dozens of new workouts as you try everything under the sun, the Inspire 2 looks sleek, too. The inconspicuous band is thin and can be swapped out for different color options (sold separately).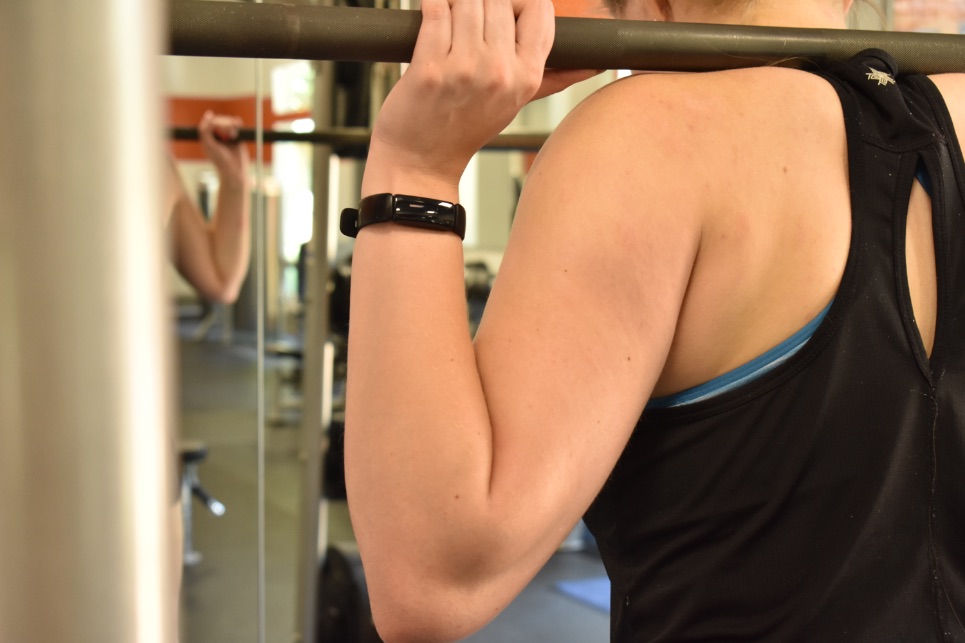 Plus, if you like to swim, you don't have to leave the Inspire 2 at home. This fitness tracker is water resistant up to 50 meters and can help you track your swimming workouts.
The Inspire 2 syncs to an app on your phone where you'll be able to view all your stats in one place. Super convenient, right?
There isn't a ton I don't like about the Fitbit Inspire 2. However, if you have poor eyesight, you may struggle to read the narrow screen. I personally didn't have an issue, but it is on the smaller side and worth noting.
Plus, with activities like hiking or running, the GPS feature on the Inspire 2 can only be used in tandem with your phone. You won't be able to just leave your phone at home if you want to use GPS, since your tracker will require your phone to be nearby to work.
Read the entire Fitbit Inspire 2 review.
| | |
| --- | --- |
| Price | Around $80 |
| Battery life | Up to 10 days |
| Activity modes | 20+ |
| Water–resistant | Yes; up to 50 meters |
Other Equipment We Recommend for Beginners
With so many categories of fitness equipment, it was impossible to include everything you might need as a beginner. Here is extra equipment you may want to get for your home gym depending on your personal needs:
Best Jump Rope For Beginners—XYLSports Jump Rope: You can't beat a jump rope for under $10! This portable piece of equipment is a great option for beginners who travel frequently or are in small spaces and want to get their cardio in.
Best Yoga Mat for Beginners—Gaiam Essentials Thick Yoga Mat: I personally own and recommend this yoga mat from Gaiam. It's super easy to store, thanks to the handy carrier strap. Do yoga, pilates, stretching, an array of bodyweight exercises, and more utilizing this mat.
Best Kettlebells for Beginners—Onnit Kettlebells: These kettlebells are a great bang for your buck, plus some of them are even molded to look like various creatures (think Bigfoot, chimps, and gorillas). You can perform a variety of strength training exercises with kettlebells, and we recommend them for home gym owners everywhere.
Best Rower for Beginners—Sunny Health & Fitness SF-RW5801: A rowing machine for under $250? Yes, please! This budget-friendly cardio machine has 12 adjustable magnetic resistance levels, a device holder, and a digital monitor.
Best Exercise Bike for Beginners—YOSUDA Bike: For just over $300, the YOSUDA Bike has an impressively heavy flywheel of 35 pounds. Plus, it's easy to transport and is a compact option for a beginner in a small space. Do steady-state cardio or high-intensity interval training (HIIT) on an exercise bike to hit your cardio goals.
Best Foam Roller for Beginners—TriggerPoint Grid 13" Foam Roller: After trying a new workout, beginners will love using the TriggerPoint Grid Foam Roller to mash sore muscles.
Best Medicine Ball for Beginners—Abmat Medicine Ball: Not only is this durable medicine ball made in the U.S, but it also comes with a stellar two-year warranty. Use a medicine ball for core and other full-body exercises, as well as moves like wall balls or ball slams.
How We Picked and Tested
When deciding what beginner-friendly exercise equipment to include on this list, we examined the following:
Ease of use: Is it complicated to use? Will it make sense to a beginner?
Portability: Is the piece of equipment portable? Can it be folded or stored in any way?
Lighter weight: If the piece of equipment is something like a barbell or dumbbell, is the weight(s) appropriate for a beginner? Is it adjustable weight?
Targeted area: Will this piece of equipment be good for a full-body workout, lower-body workout, or an upper-body workout?
Features: What extras does the piece of equipment have? Are there any technology features, cup holders, touchscreens, or programming capabilities to note? Is there Bluetooth connectivity?
Price tag: How expensive is the equipment? Are there financing options? What is the price point?
Warranty: What does the warranty look like? How does this match up to the industry standard for the specific piece of equipment?
Versatility: Is the piece of equipment multiuse? What type of exercises or workouts can it be used for?
Benefits of Exercise Equipment for Beginners
You wouldn't hop on a double-black diamond if you've never skied before, and the same philosophy applies to home gym equipment.
"It's tempting to get the very best barbell or dumbbell, but if you don't know how to use them, they'll be worthless and you can even end up injuring yourself," certified personal trainer and Garage Gym Reviews Staff Writer Anthony O'Reilly explains. "Beginner-friendly equipment helps get you used to how things are supposed to feel, nail proper form, and advance your technique before upgrading to something of higher quality."
"Weight loss and muscle growth are often cited as the top reasons people begin working out, but they're honestly the tip of the iceberg," Anthony continues. "You also increase bone density, reduce the risk of diseases like diabetes and cancer, and train your body to move in different ways (picking up a heavy box is not unlike deadlifting a loaded barbell)."
Buying Guide: What to Look for in Exercise Equipment for Beginners
Not sure where to start? Luckily, we've done a lot of the research and testing for you. Besides checking out our extensive list above, here are some other things to keep in mind if you're taking matters into your own hands:
User-Friendly Components
Make sure the equipment you choose is simple to use. You don't need to confuse yourself with too many features before you've mastered the basics.
Reasonably Priced
Especially if you're trying a new type of workout, I think it's a good idea to go for equipment that's either budget-friendly or mid-range in price. As you advance in your exercise journey, you can always purchase something more high-end, but you don't need the best of the best to get a great workout right off the bat.
Moderate Weight
For things like dumbbells or barbells, don't pick the heaviest option on the market, or what you see all the CrossFit stars use. Start with lighter weights, work on proper form, and then purchase heavier options when you're ready.
Guidance, Accountability, or Preset Programming
Although you likely won't find accountability or guidance in something like a set of dumbbells, you will in other equipment. Personal training apps like Future are excellent for beginners because there is a real person holding you accountable.
I also like cardio machines that include workout ideas or preset programs. This can make the exercise experience less intimidating because you'll have an idea of where to start.
FAQs About Exercise Equipment for Beginners
What is the best gym equipment for beginners?
Part of the beauty of being a beginner is trying lots of different ways to workout, which equals trying lots of different equipment. I suggest finding things you actually enjoy doing, and spend your money accordingly. In my personal opinion, grabbing a pair of light dumbbells, like the set I recommend above, is a great place to start. Plus, inexpensive options like resistance bands or a pull-up bar can add versatility to your workouts without spending too much money.
What equipment do you need to start working out at home?
Although I love a traditional squat rack and functional trainer, you don't need a ton of expensive equipment to get active. Start with bodyweight movements and practice good form and technique. Once you feel comfortable doing basic movements (think lunges or pushups), try adding weight to those movements. Not sure how to nail form? Check out a personal training app like Future, which will guide you through each exercise.
Is cardio or strength training more important for a beginner?
Both are equally important components to a regular workout routine. I recommend incorporating both into your weekly home fitness.
What are some brands of the best home gym equipment?
There are tons of excellent home workout equipment brands on the market, including:
Bowflex
NordicTrack
Peloton
TRX
This is by no means an all-encompassing list, but rather some of my favorites, especially for a great cardio workout.