We test and review fitness products based on an independent, multi-point methodology. If you use our links to purchase something, we may earn a commission. Read our disclosures.
Lifting weights used to be largely a male-dominated activity. That's no longer true. Fitness platforms like CrossFit have introduced hundreds of thousands of women, teenagers and even kids to the barbell, and I couldn't be happier about it. The more people we have committed to health and fitness, the better.
But, we need to get the right equipment into the right hands. Literally. So when looking at the Rogue Bella Bar 2.0, which has a smaller grip than the barbells I use, I needed to turn to the very people who use it.
That's why I partnered up with Garage Gym Reviews senior editor and CrossFit gym owner Kate Meier for this Rogue Bella Bar review. Another staff writer here, Amanda Capritto, is a certified personal trainer and CrossFit L1 trainer. She also tested the Bella.
The Bella Bar 2.0 is undoubtedly one of the most popular 15kg barbells on the market. You can find it in many CrossFit gyms and garage gyms alike. It's built for people with smaller hands, which is why it's often marketed as a women's bar. Kate and Amanda are here to vouch for why this bar just might be a great addition to your home gym equipment.
My Favorite Things:
Versatile enough for weightlifting, powerlifting, CrossFit and general purpose work
Dual knurl marks
15kg and 25mm grip ideal for small hands
190,000 PSI tensile strength
Coating options for more durability
Made in the USA
My Callouts:
Black zinc coating fades
Knurling may be passive for some
No center knurl
Price starts around $225
Rogue Bella Bar 2.0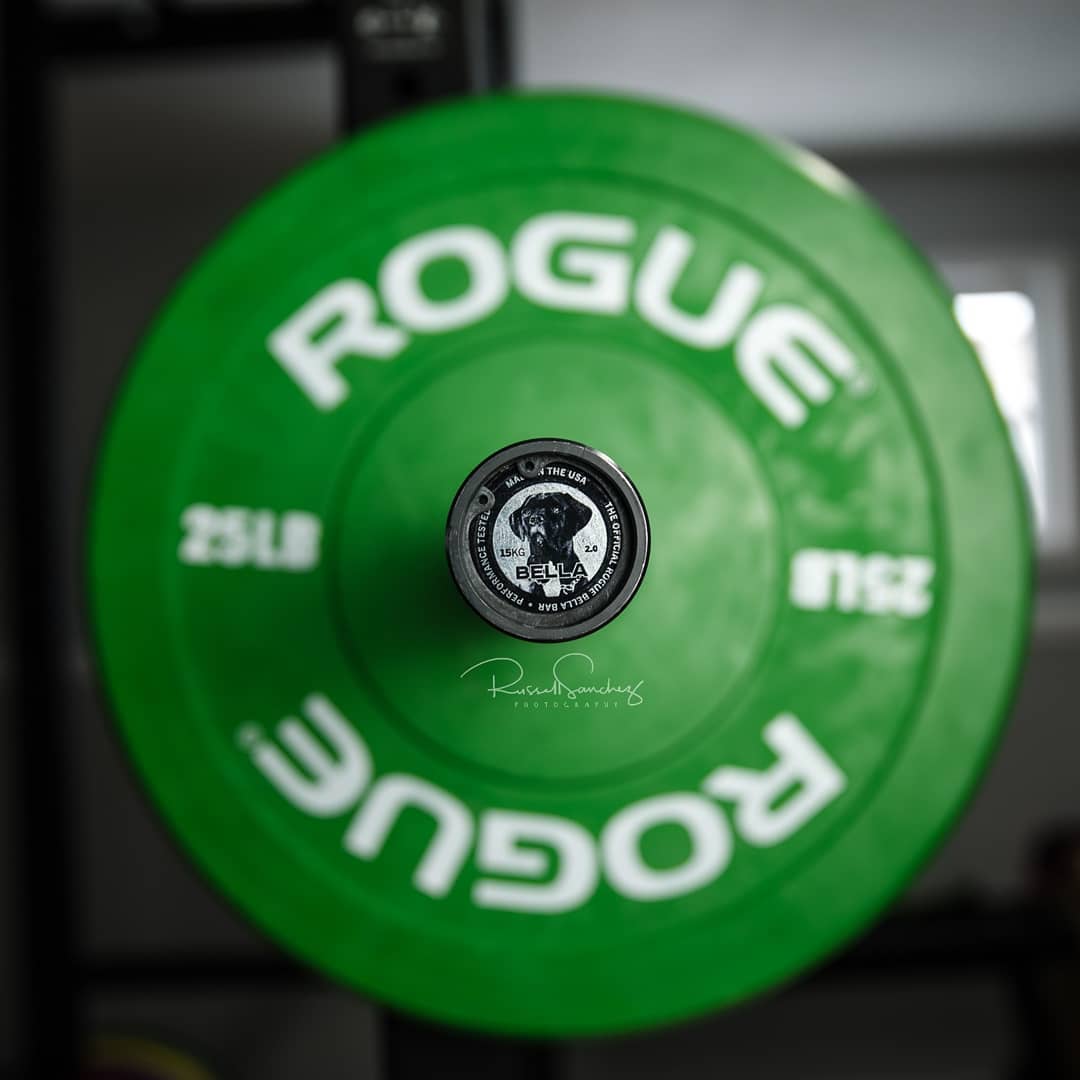 Rogue Bella Bar 2.0
The Bella Bar is Rogue's go-to multipurpose 15KG barbell for female athletes. Fully machined and assembled in Columbus, Ohio, this versatile ladies bar is uniquely optitmized for Olympic weightlifting, powerlifting, and/or a CrossFit WOD.A staple of women's CrossFit competitions-- including events at the CrossFit Games-- the 25MM Bella Bar has no center knurl and features the same Rogue signature Dual Knurl Marks and 190 PSI tensile strength as our flagship 20KG Ohio Bar. The hybrid knurling pattern itself offers a firm but comfortable grip on both Powerlifts and Oly lifts, while quality U.S. steel and snap-ring bronze bushings produce the perfect balance of rigidity and natural whip.Built with as much attention to detail as any bar in the Rogue family, the Bella Bar is a women's weightlifting bar forged on equal ground.Specifications:Made in Columbus, OH, USA Weight: 15KG (33LB) Diameter: 25MM (0.98 inches) Bar Length: 79.13", Loadable Sleeve Length: 13.00" Tensile Strength: 190,000 PSI Black Zinc Coated Shaft Bright Zinc Coated Sleeves Dual Knurl Marks: Both Powerlift and Olympic Knurling No Center Knurl
Why You Should Trust Us
Barbells might be the piece of garage gym equipment I know best. I have personally researched more than 150 bars and used around 90 of them to create recommendations like thebest Olympic barbells and thebest barbells for CrossFit.
Kate, who got her hands on the Bella 2.0 in black zinc, is a gym owner who competes in Olympic weightlifting. She has personally used about a dozen different barbells from different brands for both competition and CrossFit workouts. Amanda is also an avid CrossFitter who has had her hands on a number of bars.
For this review, Kate and Amanda performed just about all the lifts with the Bella Bar, including snatches, clean and jerks, back squats, presses and overhead lunges. Kate used the bar in several CrossFit workouts that required cycled hang power cleans and deadlifts. She also stacked the bar against several others, including the Rogue Training Bar and the Synergee Games Barbell.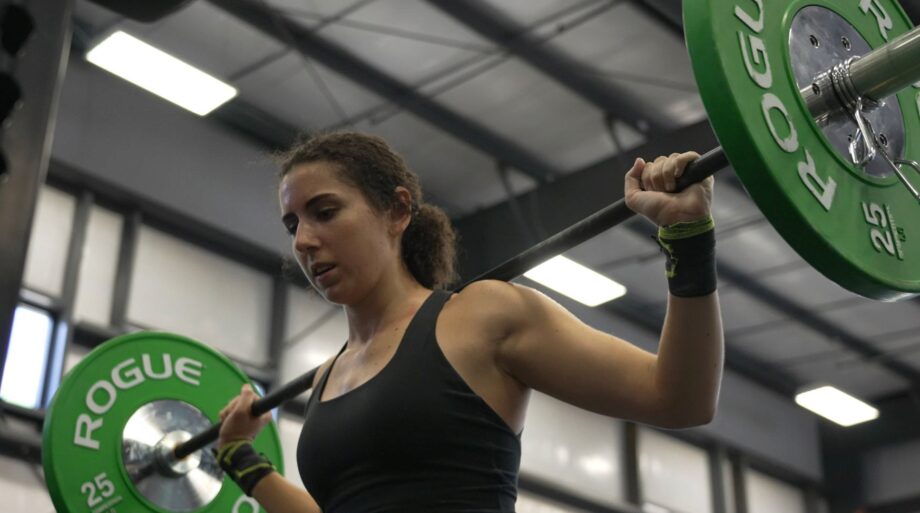 A Quick Look at the Bella Bar
First, we have to point out that the Bella Bar 2.0 got its name from a dog. Yes, dog lovers, start swooning now. Bella was the beloved dog of Bill and Caity Henniger, who built the Rogue empire. Though Bella is no longer with us, her likeness is commemorated on the endcap of the barbell.
That's just the start of what makes this bar so special.
Related: The Rogue Bella Bar made our Best Fitness Gifts list!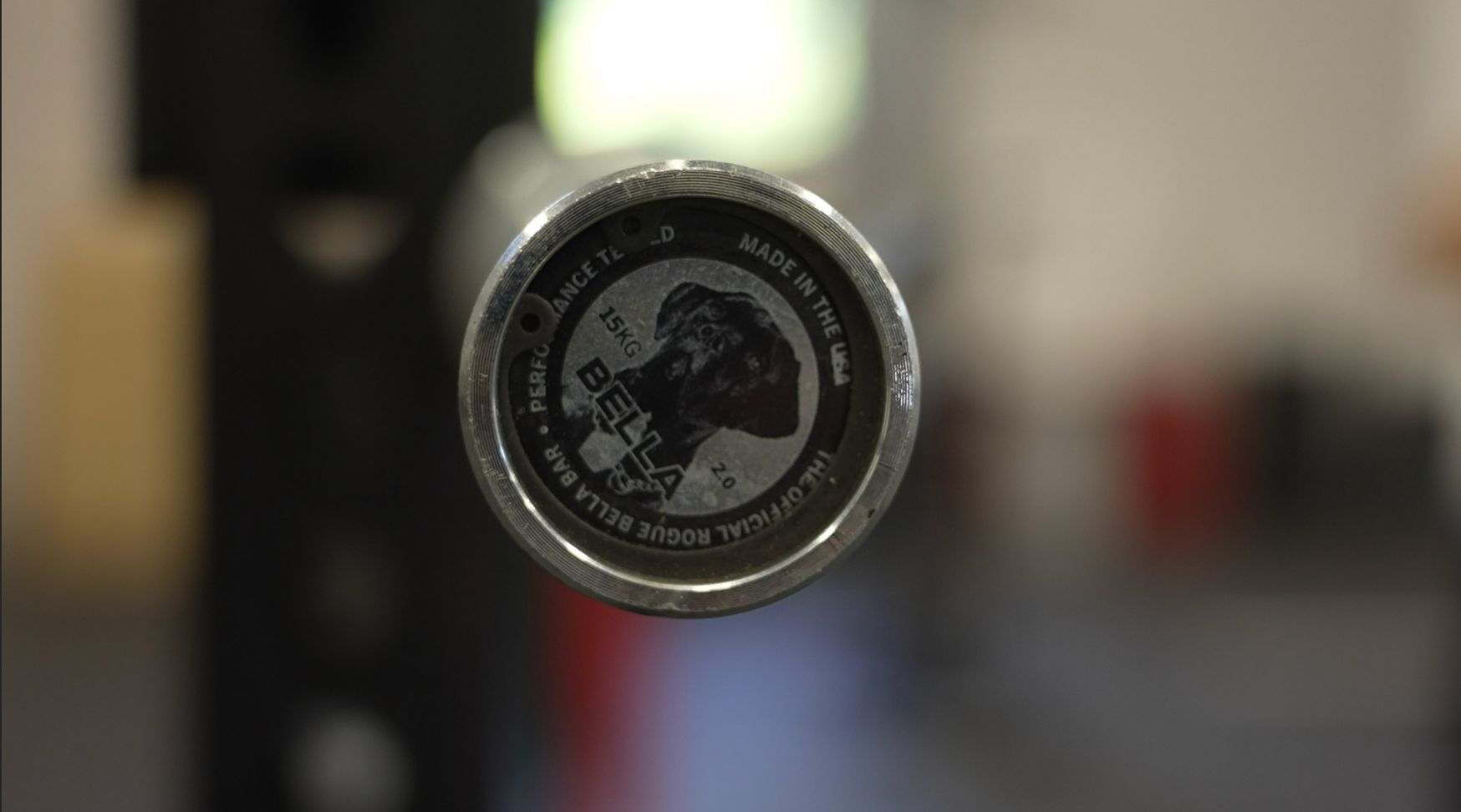 For our testing, we used the black zinc coated option, but the Bella comes in cerakote, E-coat and stainless steel options. The cerakote bar comes in many different colors: navy, red, pink, green, orange and purple.
Also, if you really want to go crazy, there are Tia Clair-Toomey and Katrin Davidsdottir cerakote Bella Bars that feature exclusive graphics that these CrossFit Games champions themselves have designed. I'm not saying the bars will make you lift like those women can, but it can't hurt.
With 190,000 PSI tensile strength, the Bella Bar 2.0 is among the most durable barbells on the market. It has snap ring bronze bushings, not bearings, which is part of what makes it versatile enough for lifts like squats and deadlifts. At the same time, it still has a decent enough spin for Oly lifts.
Is the Rogue Bella Bar Worth It?
While a barbell may not be the most expensive piece of equipment you own (unless you go for anEleiko IWF bar, and rock on if you can swing that), it certainly doesn't come cheap. Here's who we think should invest in the Bella, which costs around $225, and who might want to try another option:
Great for:
People looking for a general purpose barbell
People who value construction and durability
Recreational CrossFitters, weightlifters and powerlifters
Not recommended for:
People who need budget home gym equipment
Serious competitors who prefer a barbell with bearings and not bushings
Someone who needs a center knurl
Ordering the Bella Bar
I always have an easy time ordering products from Rogue. The website is consistently up to date on what's in stock and what isn't, and the delivery time is usually accurate. From time to time, Rogue offers free shipping on products or runs special offers. Otherwise, you can count on paying around $25 for shipping in the continental U.S.
Rogue Fitness is based in Columbus, Ohio, and that's where the Bella Bar is made. It comes delivered in the typical barbell tubing with the metal end caps stapled and tied on. I whip out needle nose pliers every time I get a barbell, because it makes pulling the staples out easy. From there, you (carefully) slide out the bar, take off the plastic wrap, wipe off any oil that may be dripping out of the sleeves, and start lifting.
Construction and Use: An Incredibly Well-Built Barbell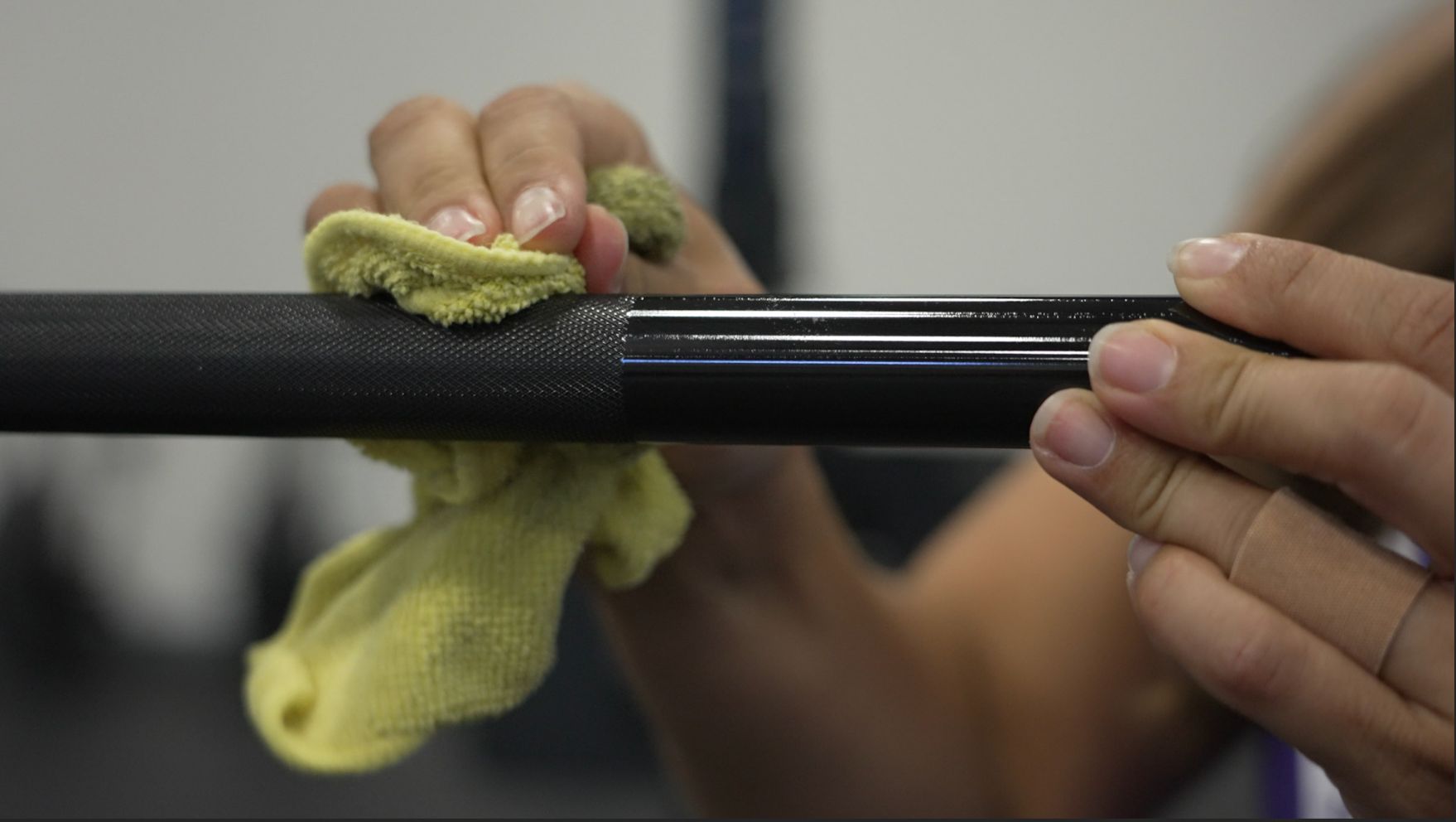 I'm personally a huge fan of theRogue Ohio Bar, and the Bella Bar is essentially the 15kg version of that bar. Let's break down the specifics:
Bar Weight
This is a 15kg bar, which equates to just a little over 33 pounds. That's an important distinction for people who compete in weightlifting and powerlifting who lift in kilos. For everyone else, and especially in CrossFit, they call this a 35-pound bar and do the math accordingly with pound plates.
Tensile Strength
If you'relooking for a barbell, knowing the tensile strength is key. This refers to how much weight the bar can withstand before breaking. Typically, bars fall between 150,000 and 170,000 PSI, or pounds per square inch. The Bella, like the Ohio Bar, is at 190,000 PSI. (If you upgrade to the stainless steel version of the Bella, the PSI jumps to 200,000.)
A PSI of 190,000 isn't the highest rating, but it's enough to assure you that you can drop it from overhead with a few hundred pounds on it, and it's going to be just fine.
Durability
The Bella Bar holds one of Rogue's highest durability ratings at F6-R. This F-rating scale assesses how the bar will hold up against oxidation and corrosion. The higher the rating, the better, and F6-R is right near the top (F8 is the highest). By contrast, the older Bella Bars, which were bare steel, had an F1 rating.
Additionally, the "R" at the end notes that the bar has what Rogue calls its "hardening treatment" on top of the zinc coating. In other words, Rogue engineered the Bella Bar to withstand use at a CrossFit or commercial gym where it will see hundreds of thousands of drops over the course of just a year.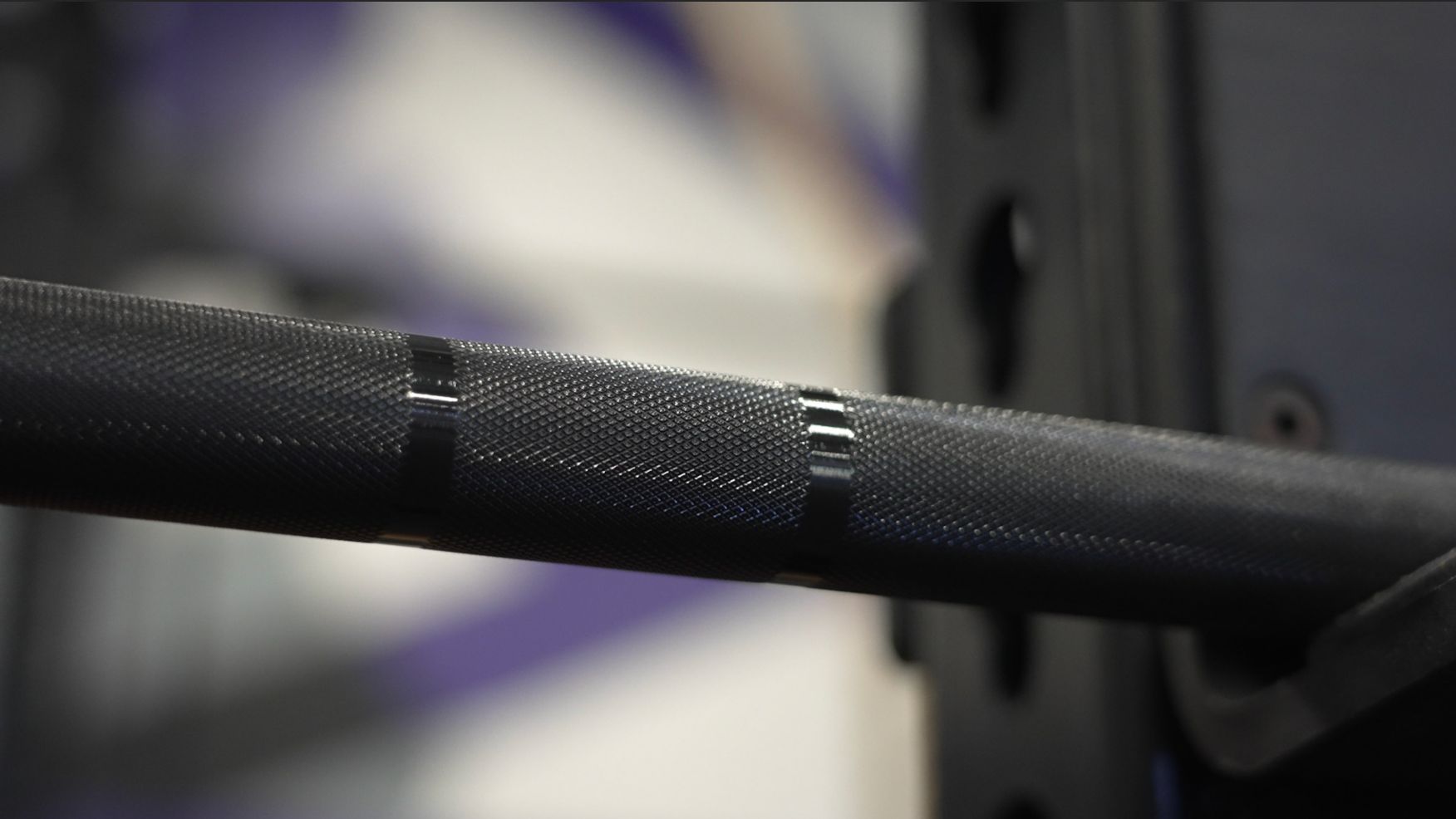 Knurling
I think most people would describe the overall knurl on the Bella as "passive." It isn't sharp, though you can still feel texture on the barbell.
A powerlifting bar like the Rogue Ohio Power Bar or the Kabuki Strength New Generation Power Bar tends to be a bit aggressive, but the Bella is moderate enough so you still get a grip on the bar. Kate cycled hang power cleans and performed deadlifts and can attest that the Bella didn't scratch up her legs the way other, rougher barbells do, like the Synergee bar. Kate and Amanda tested the bar grip with and without chalk and found it to be ideal for most people who do CrossFit.
There is no center knurl on the Bella Bar, which is one of the reasons CrossFitters will like it and powerlifters may not. However, this barbell has dual marks: One for International Weightlifting Federation (IWF) standards and one for International Powerlifting Federation (IPF) standards. For most of us, those markings just help us remember where to put our hands when we snatch.
Finish
We tested the black zinc Bella Bar, but there are also options for a cerakote finish, E-coat finish and stainless steel. The E-coat and the black zinc are the same price. You might find the E-coat to withstand the elements–like chalk and sweat and getting slammed into squat racks–a little better than the blank zinc. The stainless steel bar would probably hold up best against corrosion.
In fact, that's one of the criticisms of the black zinc coating: It wears off over time and is subject to corrosion and oxidation. Kate has five Rogue Training Bars at her gym that have the black zinc coating. They are a little over a year old, but the black zinc has already given way to the gray steel beneath it.
If you're storing the barbell in a place that isn't climate controlled, you will probably see the wear and tear sooner. It also depends on how much you use it. If you're lifting multiple times a week, using chalk and sweating all over your bar, that coating will come off faster than if you just use your bar once in a while.
Sleeves and Shaft
The shaft on the Bella is 25mm in diameter, which is standard for a 15kg bar. (The shaft on 20kg bars is typically 29mm, by contrast.) The smaller grip is ideal for people with small hands and why we tend to call these "women's" bars. However, youth lifters and anyone else with smaller hands also benefit from a thinner grip.
The bar length itself is 79.13 inches, which is shorter than a 20kg bar. The bright zinc sleeves adapt well to plates sliding on and off easily, though you might notice markings on the sleeves after a while. The loadable sleeve length on the Bella is 13 inches, which is still plenty of room for stacking plates on plates on plates.
Whip and Spin
In order to feel the whip on a 15kg Olympic bar, you have to be able to lift about 100kg. The Bella does flex under that kind of weight the way a Rogue barbell does. Kate worked up to a 65kg snatch and an 80kg clean and jerk, both of which she said felt incredibly smooth.
This is a bushings barbell, which means that it isn't exactly constructed to have an easy spin. A bearings barbell could spin a little easier on the Olympic lifts. Kate noted that the Bella spun just fine for what she was using it for in training, though seasoned weightlifters may prefer a bar with bearings. Also, bronze and composite bushings are the industry standard for general purpose bars like this. When oiled, they perform extremely well and are a much better alternative to needle bearings for slower movements.
Bella Bar 2.0 Specs
| | |
| --- | --- |
| Weight | 15kg |
| Length | 79.13 inches |
| Finish | Black zinc, cerakote, E-coat or stainless steel |
| Sleeve Length | 13 inch |
| Shaft Diameter | 25mm |
| Tensile Strength | 190,000 PSI |
Customer Experience
Rogue grants a lifetime warranty against bending on the Bella Bar (and its 20-kilogram bars). Of course, there are exceptions. I saw a Rogue bar bend once but it was because a guy loaded it with 350 pounds and failed on a box squat, dropping the bar square onto the box. You'd expect a bar to bend in that situation, and that guy probably didn't get his money back.
As far as returns go, you can return or exchange equipment in unused condition within 30 days of purchasing.
I have always had good experiences with Rogue. Kate, who owns a CrossFit gym and outfitted it with about 80 percent Rogue equipment, has nothing but good things to say about working with the company. Missing parts were immediately shipped, and plates that busted within a year of use were quickly replaced.
Customer Reviews
I've never heard a bad word about the Bella Bar in terms of its construction and durability. Reviews on the Rogue website are largely positive, with people from all fitness backgrounds attesting to its quality.
The negative reviews talk about the lack of spin on the bar, which makes sense for a bar that is intended to be general purpose and not weightlifting specific. In our experience, the lack of spin wasn't a dealbreaker, though we can see how it would be for some.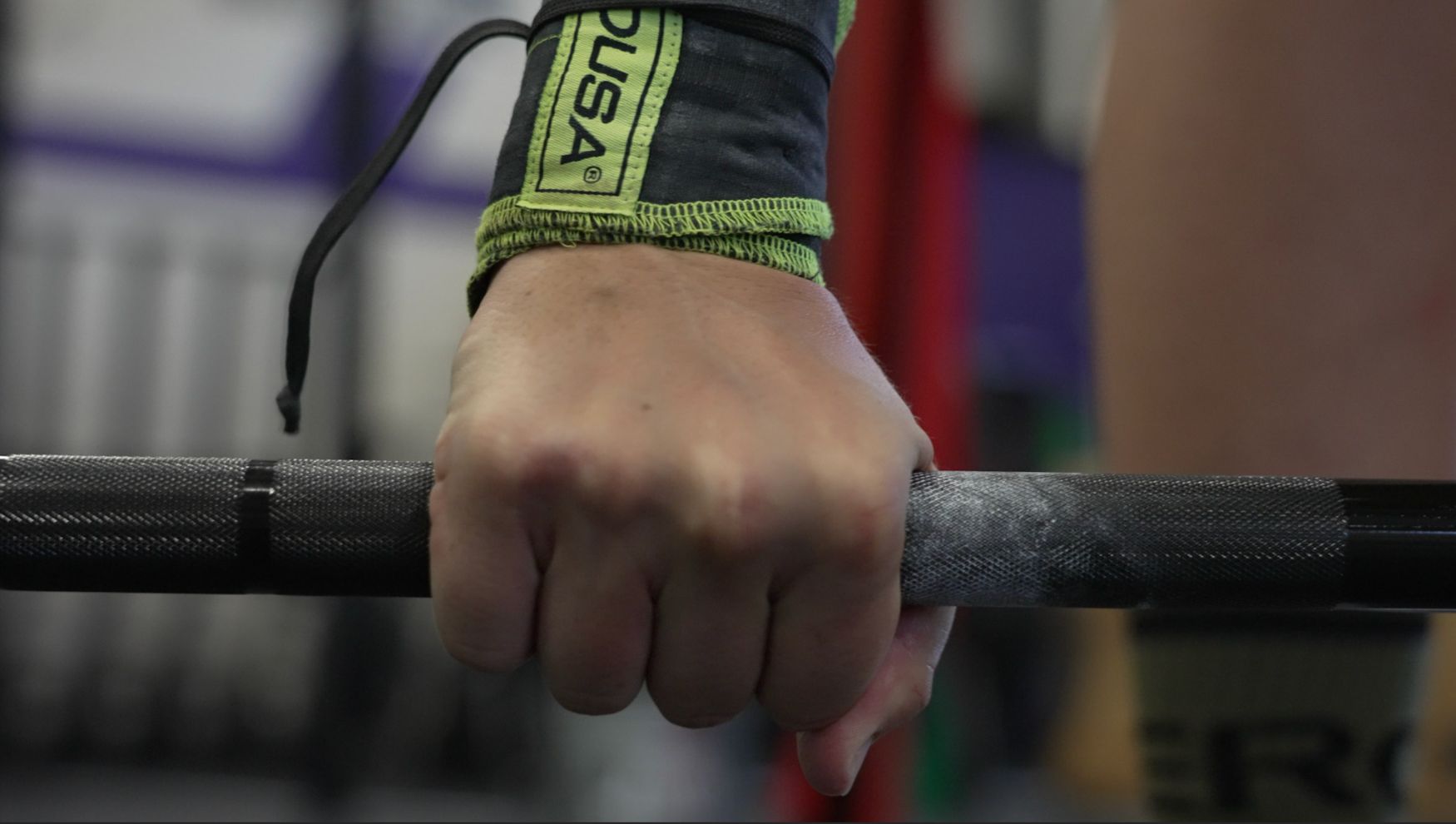 Final Verdict of Our Bella Bar Review
Kate and Amanda used the Bella Bar 2.0 as a weightlifting bar for Olympic lifting; they did the powerlifts; and they used it inCrossFit WODs. They determined what we pretty much already know: When it comes to women's barbells, the Bella is perhaps one of the best multipurpose ones around.
Full Rating
Rogue Bella Bar
Lifting weights used to be largely a male-dominated activity. That's no longer true. Fitness platforms like CrossFit have introduced hundreds of thousands of women, teenagers and even kids to the barbell, and I couldn't be happier about it. The more people we have committed to health and fitness, the better.But, we need to get the right equipment into the right hands. Literally. So when looking at the Rogue Bella Bar 2.0, which has a smaller grip than the barbells I use, I needed to turn to the very people who use it.
Product Brand: Rogue Fitness
Product Currency: $
Product Price: 235
Product In-Stock: InStock
Rogue Bella Bar 2.0 FAQs
How heavy is the Rogue Bella Bar 2.0?
The Rogue Bella Bar 2.0 weighs 15kg, or about 33 pounds.
Is the Rogue Bella Bar 2.0 good?
We really like the Rogue Bella Bar as a multi-purpose barbell. It performs well for slower movements like squats, spins well enough for Olympic lifting movements, has high tensile strength at 190,000 PSI, and comes with a lifetime warranty against bending.
How much weight can I put on the Rogue Bella Bar?
Rogue doesn't give an exact number for this, so it's hard to say exactly how much weight you can put on the Bella without it suffering permanent damage. However, if athletes like Tia Clair-Toomey can use it, and she deadlifted 415 pounds at the 2018 CrossFit Games, we are willing to bet that most people can use this bar loaded up to 400 pounds.
Does the Rogue Bella Bar 2.0 have bushings or bearings?
The Rogue Bella Bar 2.0 uses snap ring bronze bushings.
What colors does the Rogue Bella Bar 2.0 come in?
There are a number of different options for the Bella Bar, including a black zinc finish, stainless steel and E-coat. There is also the cerakote finish, which comes in pink and red. Tia Clair-Toomey and Katrin Davidsdottir also have specialty cerakote Bella Bars, and there is an option to customize the bar as well.
How much does Rogue barbell shipping cost?
Shipping costs vary based on where you live and what you purchase. Sometimes, Rogue offers free shipping deals, so you can keep your eye out for that. We plugged in various spots around the continental U.S. and shipping the Bella Bar is about $25. If you ship to, say, Hawaii, it's about $90.
Can men use the Rogue Bella Bar?
Absolutely. This is a 15kg bar with a 25mm grip, which simply means its manufacturing lends itself well to people with smaller hands. However, I have seen men in CrossFit gyms load a 15kg bar with 15lb plates so they are able to drop the bar in workouts. There is no rule that says this is a "women's only" barbell.
One caveat is that if you compete in CrossFit or weightlifting or powerlifting, men typically use a 20kg bar with a thicker grip, and women typically use a 15kg bar with a 25mm grip. So you should probably practice like you compete.