We test and review fitness products based on an independent, multi-point methodology. If you use our links to purchase something, we may earn a commission. Read our disclosures.
The Synergee Games Cerakote Bar is very much a more budget-friendly Rogue Cerakote Ohio Bar. It's not made in the USA and uses some different components like a thinner shaft and bearings instead of bushings, but for the price point, this is a great alternative for those wanting a cool looking CrossFit Barbell.
Amazon Cerakote Barbell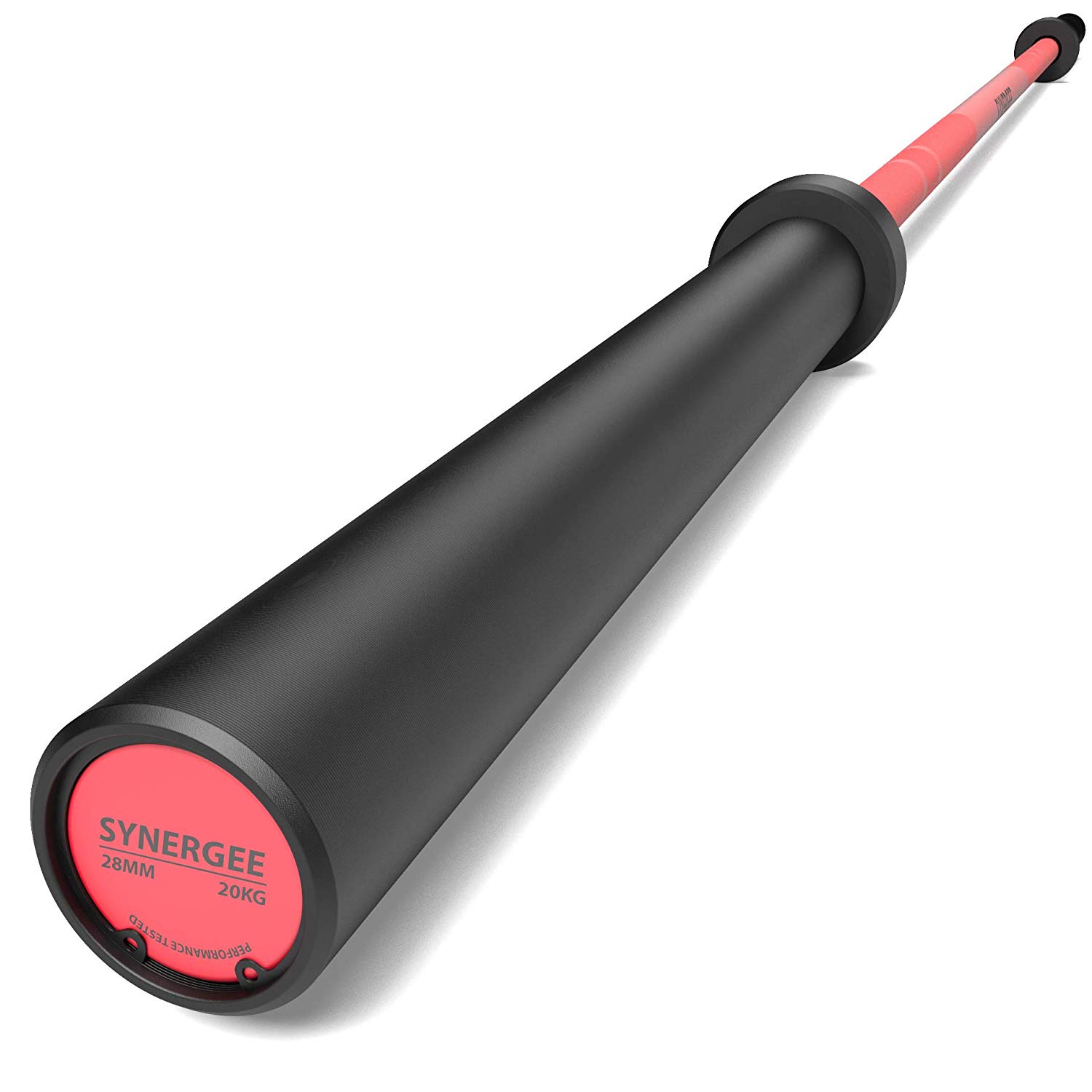 Synergee Games Colored Cerakote Barbell
SUPERIOR CONSTRUCTION – Our Synergee Games Bar is built to handle your toughest workouts. From Olympic lifting to powerlifting to body building, its high-grade steel and cerakote composition, tensile strength rating of 190,000 PSI, 1500 lb weight capacity, 1.2 mm knurl, and 10 needle bearings can withstand it all. FITTER, FASTER, STRONGER - With a loadable sleeve length of 16.4 inches (20 kg) and 13 inches (15 KG), our barbell can carry heavy loads, helping you push out of your comfort zone and reach your potential. Created by athletes, for athletes, our Synergee Staff have witnessed members of our Synergee Community crush their PRs with the Games Bar, which is exactly why we created it. CERAKOTE FINISH – Our steel bar is finished with a Cerakote coating: you'll look tired at the end of your workout, but this barbell won't – even after years of use! Choose which color you want and get yourself a bar that suits your style as well as your workouts. WHAT'S IN THE PACKAGE – This bar is a Red 20 KG Bar. It is 86.75 inches long, has 16.4 inch loadable sleeve lengths, and 28 MM in diameter. 10 bearings total (5 per sleeve). Comes with a complementary pack of Wrist Wraps and Lifting Straps. NO SWEAT GUARANTEE – Leave the sweating and swearing for your training! Buying from Synergee means quick, hassle-free, and caring customer service! Plus, we offer a better-than-money-back guarantee: if there is an issue with your product for any reason, we will send you a new one quickly and absolutely FREE! 100% Customer Satisfaction is our Number 1 Goal!
The Synergee Games Colored Cerakote Barbell is one of the best CrossFit barbell with pretty high-end features, cool colors, and a good knurling that is offered for quite a bit less than comparable bars. We've had the opportunity to use the bar over the past two months for the traditional barbell lifts like the squat, bench, and deadlift as well as for what most people will use the bar for, crossfit-type training and movements, so be sure to learn more about the best Crossfit equipment. This includes clean and jerks, snatches, and all sorts of other barbell-based movements found in WOD's.
Who Is The Synergee Games Cerakote Bar For?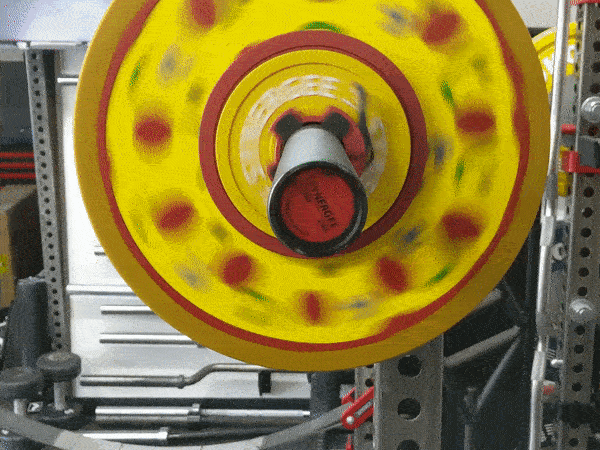 First off, I want to be clear, this is not a bar we would recommend if you're just using it for powerlifting-type movements (squat, deadlift, bench, overhead press, etc.) The reason being, it doesn't have a center knurl offered and at 28MM, it's a bit thin. That said, the Synergee Games Colored Barbells have a very specific audience and that's likely obvious to those within the space. If you are into squatting be sure to check out my suggestions on the best squat racks here.
This bar is made for those who train/compete/enjoy CrossFit. In fact, Synergee has named the bar after what I would presume to be the CrossFit Games while skirting around the legalities surrounding using the name "CrossFit." Pretty smart and it makes sense as this bar has a similar look, feel, and finish as the ever-popular Rogue Cerakote Ohio Bar.
See my full and in-depth Rogue Cerakote Ohio Bar review in detail here.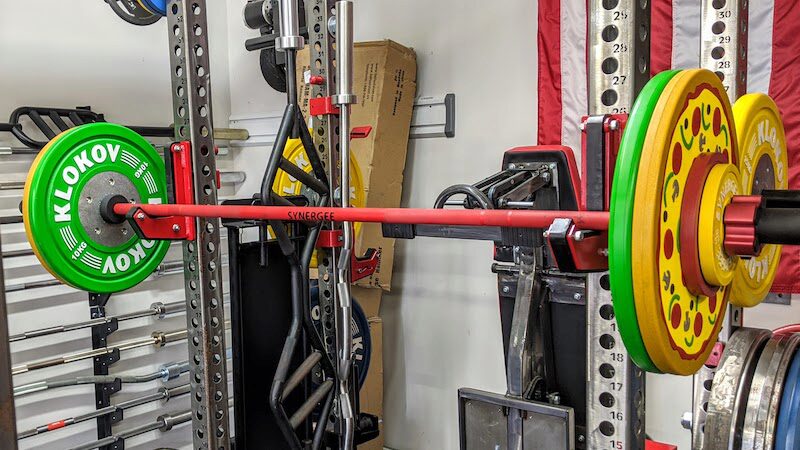 If you do a lot of metcons and WOD's or just want a solid, budget-friendly multi-purpose barbell, this a good option for both men and women. There are definitely some things we dislike about the bar, but for the price, it's an excellent value.
What We Like About the Synergee Games Cerakote Bar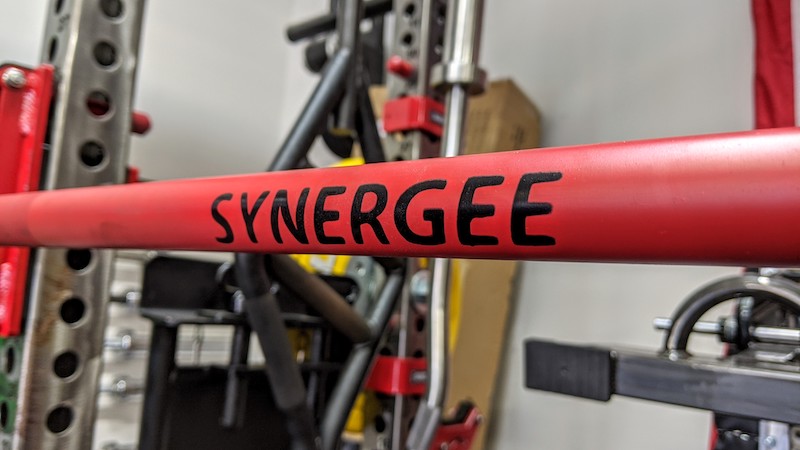 Without a doubt, this bar is for those that see the Rogue Cerakote Ohio Bar and thought to themselves, "I'd buy that if only they made one cheaper." If you're in that camp, this is pretty much the ideal bar for you.
Here's what is similar between the bars and why we like it:
Cerakoted shaft in popular colors
Cerakoted sleeves
Medium aggressiveness knurlinG
Logo in the middle
190,000 PSI Tensile Strength Steel
As you can see, there are a lot of similarities. It's not completely the same, but it's pretty close (although Synergee Bars are imported likely from China, whereas Rogue's are made at their factory in Columbus, OH USA.)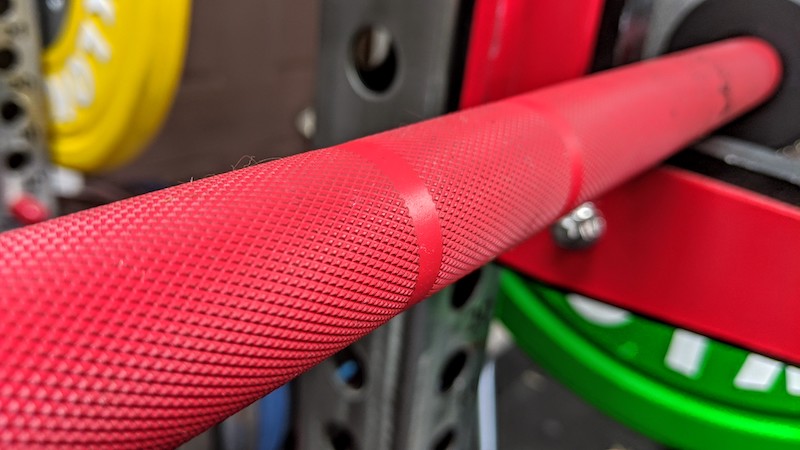 We like the fact that Synergee is offering a more budget-friendly Cerakote Barbell option to Rogue. Although we suggest home gym owners to buy quality barbells, the Synergee isn't a far cry from the competition in terms of quality. Cerakote on the shaft is an awesome way to prevent corrosion such as rust from forming on the knurling. If you're in a garage gym with fluctuation temperatures, we most often recommend stainless steel, but our second recommendation is Cerakote. It's incredibly tough and despite all the use we've put on Cerakote bars, we've yet to see any rust.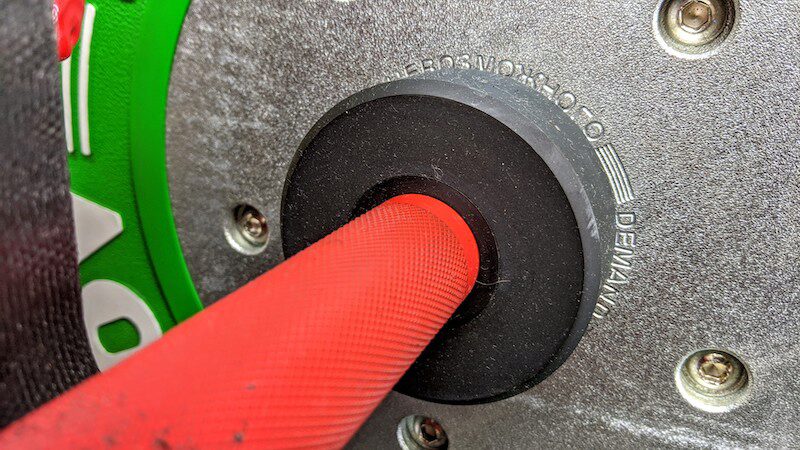 One thing that many will consider an improvement over the Rogue competitor Cerakote Bar is the rotation system that's used. Rogue uses self-oiling bronze bushings in their sleeves, whereas the Synergee Games Bar has 5 needle bearings in each sleeve. This leads to a faster spinning sleeve which is nice for the Olympic lifts, but not always that great for some of the slower, lifts like the bench press on some of the best weight benches and/or squats. Regardless, the bar spins extremely well.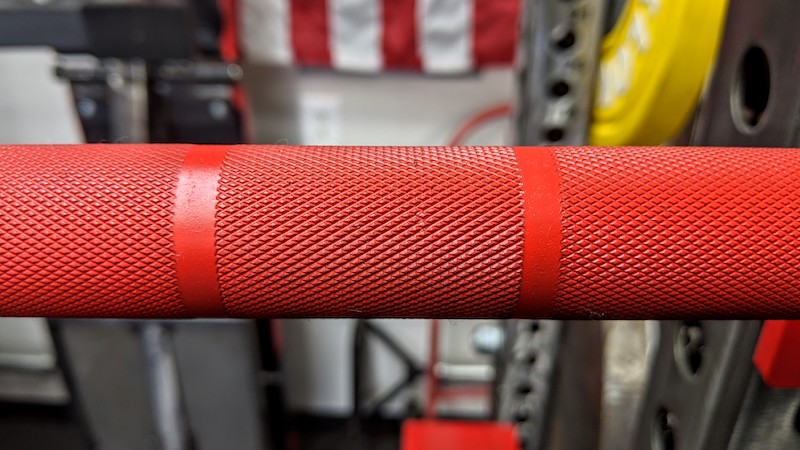 One feature we're somewhat indifferent on is the shaft diameter. At 28MM, the Synergee Games Bar is thinner than many other multi-purpose barbells that come in at 28.5MM, but for those with small hands or who just prefer a thinner shaft diameter, this will be a welcome change. Most barbells that are suited specifically for Olympic Weightlifting are 28MM and although it can lead to more likelihood of permanent deformation than a thicker diameter bar, it shouldn't bee too much of an issue.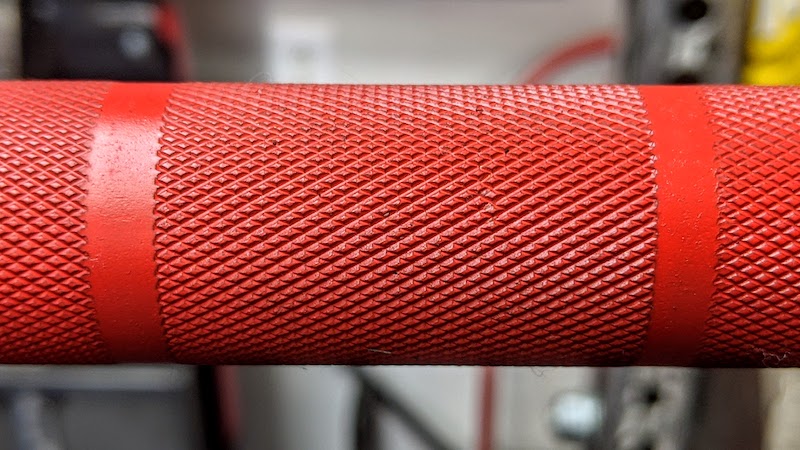 The last thing we want to highlight is the knurling. Typically, I prefer a more aggressive knurling that what Synergee is using on this bar, but I think it's a decent pattern. One thing that makes it less aggressive is the fact that Cerakote is sprayed over the top which fills in many of the holes and reduces the sharpness. Unless you've used a lot of barbells, you probably won't notice a difference between this bar and the ones at your gym.
All in all, although we prefer the Rogue Cerakote Ohio Bar over this one due to the quality, lifetime warranty, and that it's made in the USA and more proven, this is an excellent alternative for those that don't want to spend the extra money for the competition.
What We Don't Like About The Synergee Games Cerakote Bar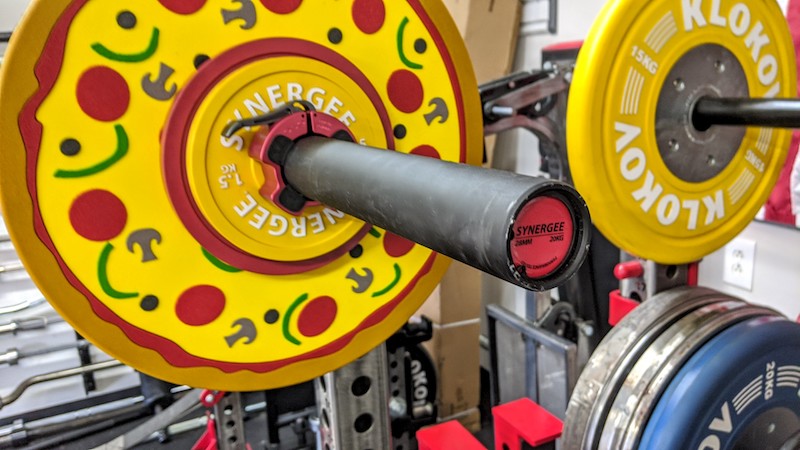 There are a few things that we'd like to see improved on the Games Bar from Synergee. First off, I'm a little hesitant that this bar uses actual Cerakote paint. Cerakote is one of many companies making a ceramic coating that is being used in barbells and few, if any of the ones that are imported are using actual Cerakote coatings. This doesn't mean that the alternatives, whether it be Duracoat or something else, are inferior, it's just that many are viewing the term "Cerakote" as a type of spray instead of a specific spray from a specific company.
If we receive a response to this, we will update this portion of the review.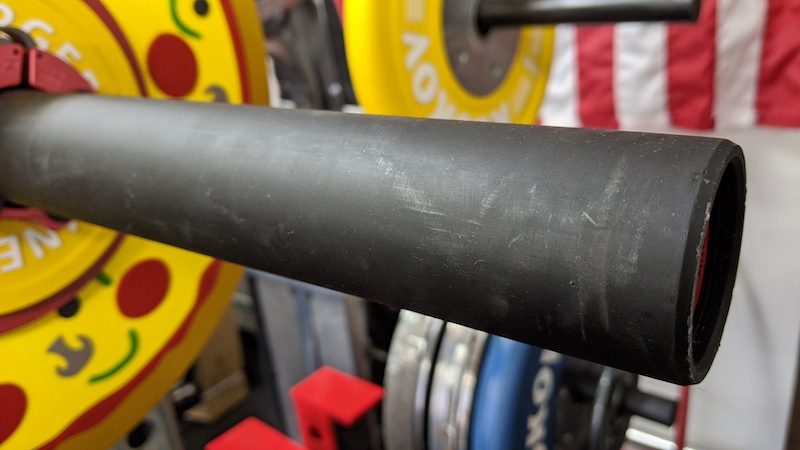 The other thing I'd like to see offered is a chrome sleeve option. Right now, Synergee is offering its sleeves only in a Cerakote option. Cerakote, although great for the shaft, is not the best choice for the sleeves. The reason being is there is a lot of metal to metal contact that happens from weight plates being added to the bar that makes the sleeves end up looking scarred up and pretty ugly rather quickly. Many people still go for the Cerakote sleeve option despite hearing this, however, for those that don't want Cerakote sleeves, Chrome would be a great option to add.
Lastly, I prefer a 28.5MM shaft for general purpose or CrossFit type workouts. 28MM is superior for Olympic Weightlifting, but 29MM is superior for Powerlifting. Since CrossFit combines both, 28.5MM seems like the most logical option. Yet, again, this comes down to preference and there are many who really, really like 28MM. They also offer the same bar in a 25MM option for women.
As you can see, we do have some things that we see could be improved about the Games Bar, but they're all rather minor and preference-based.
Full Rating
Synergee Games Cerakote Barbell
The Synergee Games Cerakote Bar is very much a more budget-friendly Rogue Cerakote Ohio Bar. It's not made in the USA and uses some different components like a thinner shaft and bearings instead of bushings, but for the price point, this is a great alternative for those wanting a cool looking CrossFit Barbell.
Product Brand: Synergee
Product Currency: USD
Product Price: 229.95
Product In-Stock: InStock
Synergee Games Cerakote Barbell FAQs
Does Synergee make good barbells?
The Synergee Games Colored Cerakote Barbell is one of the best CrossFit bars on the market, featuring a lot of high-end features, cool colors, and outstanding knurling at a lower price than comparable bars. Clean and jerks, snatches, and a variety of other barbell-based motions may all be featured in WODs.
Is Synergee a Canadian company?
Synergee Fitness Worldwide Inc. is in the Other Miscellaneous Manufacturing industry and is based in Thunder Bay, Ontario, Canada.
How much does the Synergee bar weigh?