We test and review fitness products based on an independent, multi-point methodology. If you use our links to purchase something, we may earn a commission. Read our disclosures.
The Rogue Fitness Ohio Bar is one of the most popular barbells in the world, and for good reason. It is a high-quality barbell with high tensile strength, refined knurl, consistent spin, and comes in at a great price. As you'll quickly learn in reading our Rogue Ohio Bar review, we highly recommend this barbell.
There aren't many better all around barbells than the Rogue Ohio Bar (whose sister is the Rogue Bella Bar 2.0, if you needed a good 15-kilogram option).
You can snatch with it, clean with it, squat with it, bench with it, deadlift with it, row with it. Basically any movement you can think of, the Rogue Ohio Bar will be a trusty companion.
Is it as good as, say, a bar like the Eleiko IWF Training Bar? Well, not necessarily. But the Ohio Bar has a different purpose, doesn't cost nearly as much, and is still better than the majority of bars out there.
Why You Should Trust Us
The barbell is king, and I its not-so-humble servant. I have personally tested nearly 100–yes, 100–bars. And I have researched a heck of a lot more, because testing barbells is more than just my job; I actually just love doing it. I have dozens of bars in my home gym at any given point, putting them through the full gamut of Garage Gym Reviews testing.
As a result, I'm able to make recommendations for things like the best Olympic barbells and the best barbells for CrossFit (the Rogue Ohio Bar tops both those lists, by the way).
And of any fitness brand, I might know Rogue barbells the best. From the Rogue Ohio Power Bar to the Rogue Matt Chan Bar, I have used just about every bar the fitness titan has made.
Rogue Fitness Ohio Bar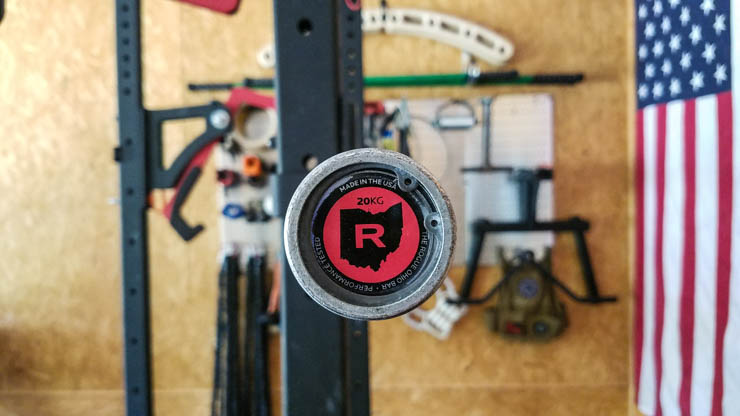 GGR Score: 4.5
Community Score: 3.2
Product Highlights
190K PSI tensile strength
Multipurpose bar with great versatility
Lifetime warranty
Bushing sleeves
Snap ring design
Made in USA
Pros & Cons
Pros
Made in the USA of US-Sourced Steel
Somewhat passive knurling
Grips with chalk
Great for a variety of training styles
Dual knurl marks
28.5-mm shaft
Bronze bushings
Lifetime warranty
Coatings include stainless steel, Cerakote, black zinc, and more.
190K tensile strength
Cons
Not outstanding for powerlifting or weightlifting in comparison to more specialized bars
Expensive
Diameter doesn't meet IWF standards
No center knurl, which may matter to some
Bottom Line
The Rogue Ohio Bar is one of the most iconic barbells in the world. It's been used at the CrossFit Games by some of the fittest athletes in the world and is just as well suited in your garage gym. The Ohio Bar is priced well despite its features and being made in the USA. Although we prefer the Rogue 2.0 Bar for its price, we don't blame you if you decide to spring for the Ohio Bar, although we'd suggest getting the Stainless Steel or Cerakote version.
A Quick Look at the Rogue Ohio Bar
Rogue has one sale a year, and it's always around Black Friday. That's it.
If you want to get a good deal on shipping, or a fair price on any of their items you need to order on that day. And that is when I ordered my Rogue Ohio Bar, on Black Friday, along with some of their HG Bumper Plates and the Rogue SML-2 Squat Stand.
I got the version in black zinc shaft/bright zinc sleeves version, which at the time–in 2014– was $282. Today, that version is priced around $300, and in my opinion, this bar, at this price, is still an absolute steal.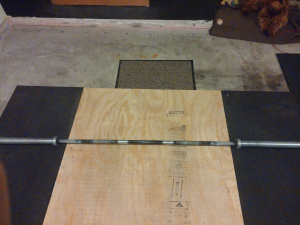 Coop's Tips:
Rogue offers many finishes on the Ohio Bar. If you can afford the stainless steel version, do it. It's the most resistant to corrosion and feels awesome in your hands.
The different finish options are great, but each affects the knurling. The black oxide finish is what will feel closest to a naked bar.
Is the Rogue Ohio Bar Worth It?
In short, it sure is. I have had mine since 2014, and it remains one of my absolute favorite bars.
I will say that if I were to buy a similar bar today, I would probably go with the Rogue 2.0 Bar, which is built on the same chassis, only with composite bushings, and a smaller price tag. It's essentially the same bar for less money.
However, the Ohio Bar is still a fantastic option for many people:
Great for:
Anyone looking for a high-quality, 20kg barbell
People who do functional fitness
People who lift weights recreationally
Not recommended for:
People who want the absolute best for either competitive weightlifting or powerlifting
People on a really tight budget (for that, check out the Rogue Echo Bar)
Rogue Fitness Ohio Bar Specs
| | |
| --- | --- |
| Bar Weight | 20 kg |
| Shaft Diameter | 28.55 mm |
| Knurl | Passive |
| Center Knurl | No |
| Knurl Marks | Dual |
| Shaft Coating | Options in black zinc, E-coat, black oxide, cerakote and stainless steel |
| Sleeve Finish | Options for bright zinc, black oxide, stainless steel and chrome sleeves |
| Tensile Strength | 190,000 PSI (200,000 in stainless steel) |
| Bar Length | 86.75 in |
| Loadable Sleeve Length | 16.4 in |
| Bushing/Bearing | Bushing |
| F Rating | F8-R |
| Made In USA | Yes |
| Warranty | Lifetime |
Lifting With the Ohio Bar
The Ohio Bar is not a barbell made just for weightlifting (but it's great for that, too).
In the past, most bars were made with either weightlifting or powerlifting in mind. Therefore, you'd need to buy a couple of bars in order to really be able to perform all the lifts easily.
Ever since CrossFit's popularity has grown, more and more hybrid weightlifting bars have emerged. These are typically barbells designed to be used for all the lifts. They are a jack-of-all-trades, and master of none (kind of like what CrossFit athletes are.)
The Ohio Bar is a hybrid bar made for powerlifting/weightlifting/CrossFit. It was never designed to whip for the Olympic lifts, so if you're looking for a bar to use exclusively for the classic lifts (snatch and clean and jerk), I would look at bars like the American Barbell Training Bar or the Eleiko IWF Training Bar.
But if you want that good-for-everything-not-great-at-just-one-thing kind of a bar, this is it.
Bar Weight
This is a 20-kilogram barbell, which most people refer to as 45 pounds. There is no 15-kilogram Ohio Bar, but there is the Rogue Bella Bar, which has almost the exact same construction and weighs 15 kilograms.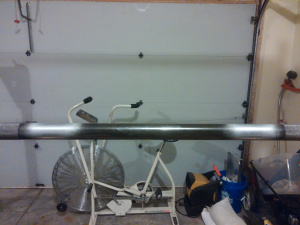 Durability
When I am looking at some of the best home gym equipment, one of the first things I ask is, "Will this outlast me?"
Today, with the prices being paid, that's how long something like a barbell should last: a lifetime. And beyond that, I like to buy something once, cry once.
Do I think this is the case with the Ohio Bar? As of now, yes, I do. Of course, the bar comes with Rogue's lifetime warranty, but it also has really great finishes that are corrosion-resistant (stainless steel being the best for that).
That being said, there is a part that is showing more wear than I expected, and that is on the bar shaft where the bar meets my shoulders.
My Ohio Bar has a black zinc shaft and over time that black zinc has rubbed away down to the silver metal. Does this make me upset? No, because I think it looks kind of cool. And considering I purchased the Ohio Bar to beat up, not too look pretty, I'm okay with it.
Also, unless you have a climate-controlled facility, which I don't, then you're going to see some effects on most of the finishes this bar has. Bars get beat up when they are constantly being taken in and out of squat racks or placed on sweaty shoulders. These are tiger stripes, and your bar has earned them.
Whip
The Ohio Bar was never designed to whip like a high-end weightlifting bar. It also was never designed to be as stiff as a power bar like the highly praised American Barbell Mammoth Bar.
However, the whip on the Ohio Bar is better than a bar you'd find at any globo gym due to it's 28.5MM diameter and is more than enough for the majority of trainees.
Tensile Strength
The Ohio Bar is built with 190K PSI steel. Before the Ohio Bar came out, this was about the strongest steel used in any sub-$500 barbell. Today, however, this is pretty standard. And there are many bars at even lower price points that have higher tensile strength steel. That said, the Ohio Bar should hold up to whatever you throw at it and return back to being as straight as an arrow.
Bushings
The bushings on the Ohio Bar are bronze. Composite bushings have become more popular today due to their perceived longevity, but I prefer the older bronze-style bushing.
The end caps feature a picture of the state of Ohio (kind of an ugly state) and snap rings hold the collars on the shaft. There is some movement side to side on the sleeves, but nothing to complain about.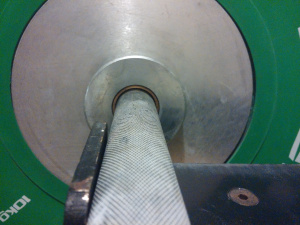 The sleeves on the Ohio bar use bronze bushings; these kinds of bars are known as "bushing bars." They are cheaper to make than bearing bars, and thus provide less spin.
This said, I find the spin of a good bushing bar compared to a bearing bar to not be TOO noticeable during use. I only clean 300 pounds, though, so I'm sure if you're lifting much more, the better the spin, the better it will be for your lift. Compared to other bushing bars I've used, the Ohio Bar is at the top. The only bushing bar that I've used may top it is the Rogue 2.0 Bar with its composite bushings.
Knurling
The knurling on the Rogue Ohio Bar is just what you want for high-rep workouts. It's there when your grip is failing and you really need it, but it's not going to tear up your hands like a cheese grater.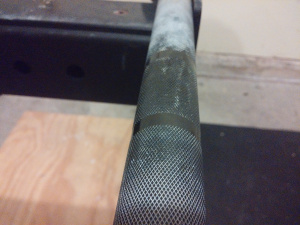 If you rub your hand over the shaft you can hardly feel the knurl, then when you grip it tight, you can feel it stick in like you want it to. An upside to the knurl of the Ohio Bar is that it extends all the way to the collar, which is great for tall people with long arms or bad mobility who need to use the full length of the shaft. This was, at one time, exclusive to the Ohio Bar in Rogue's line of bars, however, the Rogue 2.0 Bar now has the same feature.
Update: October 2021
I still own and use the Rogue Ohio Bar regularly. Although I have now owned just about every bar imaginable, the Ohio Bar is one of my most reliable barbells in the stable.
If I want to use a bar and not have to think about it, I immediately head towards the Ohio Bar.
Sure, the black zinc has worn away and the knurling is less aggressive, but there's something about grabbing the barbell that started this whole Garage Gym Reviews journey.
I still highly suggest this bar, and believe that the reason it's remained unchanged is because the change is unneeded.
Rogue Ohio Bar vs. Rogue Ohio Power Bar
I have written a very detailed piece comparing the Rogue Ohio Bar vs. the Rogue Ohio Power Bar. It's easy to get them confused; after all, they are named almost exactly the same, they are both incredibly popular, they both have Rogue's signature lifetime warranty, and they both come in a variety of finishes.
But, that's about where the similarities stop. And the difference is really in the details, because one is made for multipurpose use, and one is a dedicated powerlifting barbell. I absolutely love both, but they each have their place in my home gym.
Rogue Ohio Bar vs. Rogue Aggro Power Bar
If the Rogue Ohio Bar and Rogue Ohio Power Bar are cousins, then the Rogue AGGRO Power Bar is their second-cousin once removed. Essentially, it's the Ohio Power Bar with super aggressive knurling (available with double or triple the amount of knurling, depending on your preference).
I could tell the AGGRO Power Bar was sharp the second I took it out of the box, and it's so aggressive Rogue has said they won't accept returns on the basis of any discomfort it might cause.
Honestly, there's very little reason why most home gym owners should go for the AGGRO Power Bar unless they really need that much knurling.
Customer Experience
Rogue, as always, is impeccable with service. I have never had an issue with returning a product, or receiving replacements for items that were missing parts or defective. Ordering the Ohio Bar was no different, as it was a seamless experience.
Customer Reviews
The Rogue Ohio Bar has a 4.9/5 stars on the Rogue Fitness website, and it's easy to see why. The knurl feel is fantastic, and, thanks to Rogue machining, the bar is in great shape even after years of abuse.
The complaints about the bar are mostly related to rusting or scratching. Pretty much any piece of equipment is going to show wear over time. Chrome sleeves will scratch, and even the best finishes on barbells will succumb to some corrosion at some point.
Final Verdict of Our Rogue Ohio Bar Review
I've developed a certain love for this bar.
It was the first "good" barbell I've owned, and it was the start of my garage gym.
It's developed a nice patina, and feels comfortable in my hands and will take any abuse I throw at it. For this reason, it's a great bar. I expect it to last for a long time and see lots of drops, slams, and bangs.
Rogue Ohio Bar Rating
Rogue Ohio Bar
The Rogue Ohio Bar is one of the most popular barbells in the world, and for good reason. The Ohio Bar is a high-quality barbell with high tensile strength, refined knurl, consistent spin, and at a great price. We highly recommend the Ohio Bar.
Product Brand: Rogue Fitness
Product Currency: $
Product Price: 320
Product In-Stock: InStock
Rogue Ohio Bar FAQs
Are Rogue Ohio Bars worth it?
The Rogue Ohio Bar and the Rogue Ohio Power Bar are two of the most popular barbells on the market, and there is a good reason for it: They are really great bars at reasonable prices. They feature standards tensile strengths, come in an option of finishes, have Rogue's lifetime warranty, and are highly reliable in terms of construction.
Is the Rogue Ohio Bar good for benching?
I love to bench press, and I love to use my Ohio Bar for it. It has the IPF markings for bench. Although it doesn't have the aggressive knurl you might find on powerlifting bars, it still has a good enough grip that I like it for bench.
Is the Rogue Ohio Bar good for squats?
The Ohio Power Bar might be a better option than the Ohio Bar for squats, because the OPB has a center knurl and the Ohio Bar does not.
What is the Rogue Ohio Bar used for?
I use my Ohio Bar for everything because it is a true multi-purpose barbell: Oly lifts, deadlifts, bench, squats, rows, presses, etc. It is not the absolute best for Olympic weightlifting, but it also isn't priced like the absolute best weightlifting bars. With dual knurl marks, it is a great option for people who like to do a little bit of everything.