We review free products that we receive and participate in affiliate programs, where we may be compensated for items purchased through links from our site.
See our disclosures page for more information.
The Matt Chan Bar from Rogue Fitness is the most unique barbell the company currently makes. It's stainless steel, yet coated in Cerakote. It's great for CrossFit, yet works well for powerlifting and Olympic Weightlifting. It's beautiful and mean looking all at the same time. I am a huge fan of the Matt Chan Bar and feel it's one of the most underrated barbell currently on the market.
Matt Chan Bar Review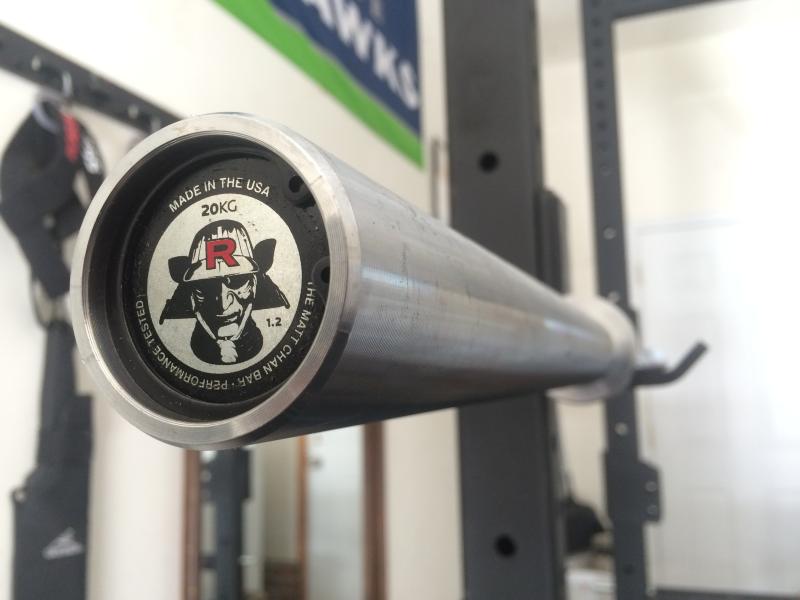 Rogue Chan Bar
An American-made barbell"¨ custom designed by Rogue Athlete Matt Chan. As a former"¨ firefighter and four-time Top 10 finisher at the CrossFit Games, Matt is a man whose opinions tend to carry weight around here."¨ That's why we invited him to come to Columbus and help us"¨ create a custom barbell that would combine the qualities of a powerlifting bar, and Olympic weightlifting bar. The Matt Chan Bar is manufactured from the same quality U.S."¨ steel as our Ohio Bar, with both powerlifting and Olympic "¨lifting knurl marks. Matt added a passive center knurl to the bar. This knurling assists"¨ athletes who prefer a little extra "stick" when in "¨the front rack position or back squatting, but it won't "¨shred the skin like more aggressive center knurls"¨ might. Matt has also increased the distance between the outer"¨ knurling which allows for a wider"¨ stance on cleans and deadlifts without the knurling scraping the "¨shins. Specifications:Machined and Assembled in Columbus, OH, USALifetime Guarantee Against Bending*Diameter: 28.5MMDual Knurl Marks for O-Lifts and Power Lifts"Passive" Center KnurlOuter Knurling slightly more aggressive for easier hold during high rep barbell workAvailable in Murdered Out (Black Zinc with Black Zinc Sleeves)
Matt Chan is a former CrossFit Games athlete with a pension for lifting heavy, so it's only natural that his signature barbell follows these pursuits. There are plenty of the best Crossfit barbells in the market. The Rogue Chan Bar has a tremendously diverse specification list that all adds up to a tremendous performing bar that, in all honesty, would be a great bar for the garage gym owner that only wants one (although it's hard to avoid the N+1 barbell equation.) We cover everything you'd want to know in this review of the Chan Bar from who we recommend it for to what we dislike. Let's dive in.
What is the Rogue Matt Chan Bar?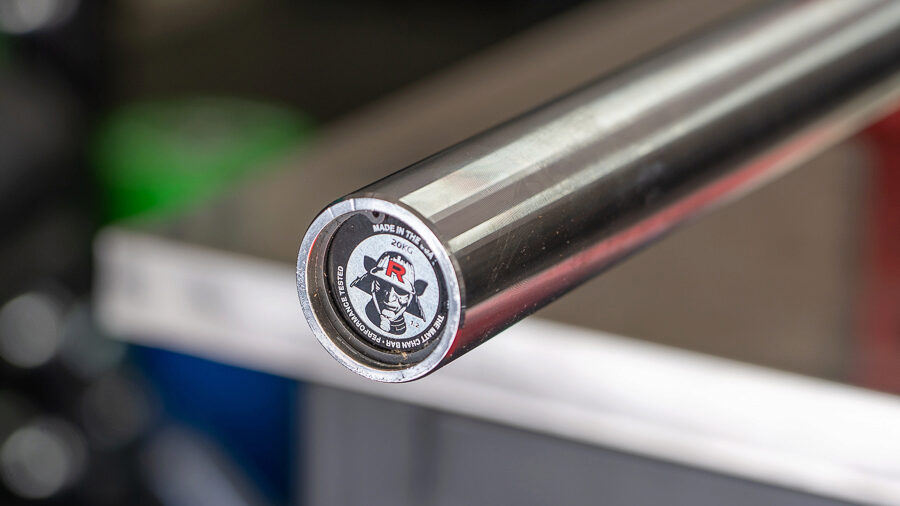 Rogue barbells are well known and well respected, so it might surprise you to know that the Matt Chan Bar is the first that Rogue ever introduced that bore an athlete's name. This is due to the fact that Rogue and Matt Chan (more on him later) have been working closely together for a number of years, so it made sense that when Rogue decided to create an updated version of their Cerakote range, Matt Chan would have some kind of influence on it.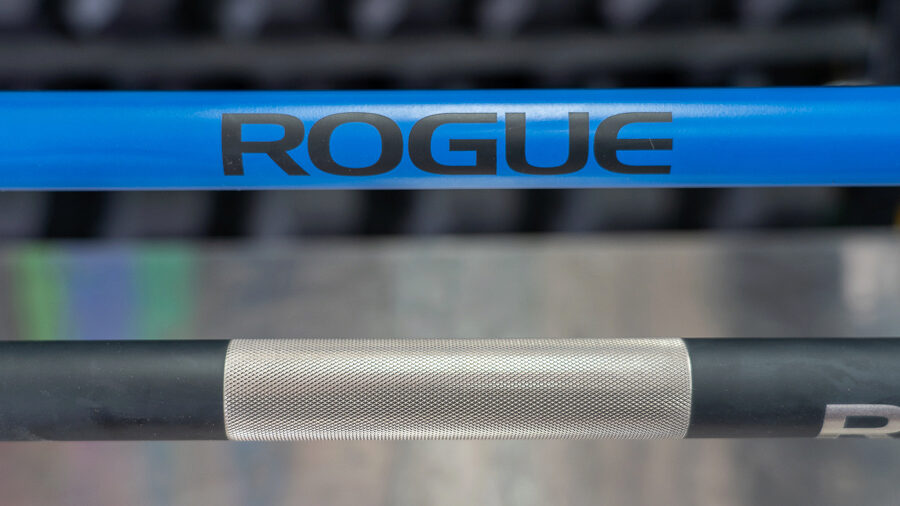 If you are already aware of the Ohio Bar from Rogue, you'd probably think you know all there is to know about the Chan Bar. However, the Matt Chan bar is the most unique barbell within Rogue's barbell lineup. Yes, the bar looks fantastic (it's much more slickly designed than the Ohio), and it comes with a stainless steel shaft and a center knurl. However, the knurling where the hands' grip is more aggressive, the center knurl is passive and the outside knurling starts farther away from the center than most general training bars to prevent scraping of the shins on deadlifts.It is more expensive than the Ohio Bar, however, it is the best general training bar Rogue makes, in my opinion, and is great for everyone from the average home gym owner to CrossFit Games Athletes.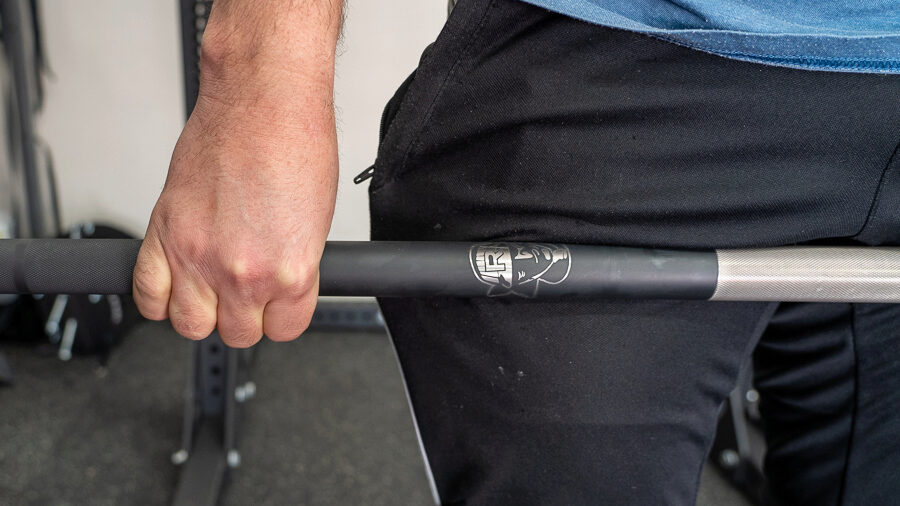 Like all men's bars, the Rogue Matt Chan Bar weighs in at 20KG/44LB and has a 200K tensile strength shaft with a 28.5mm diameter. The sleeves come in a choice of Cerakote or chrome, although we'd suggest chrome for most as it is less likely to scar over time due to metal on metal contact of iron and quality bumper plates.
Should You Add the Chan Bar to your Home Gym?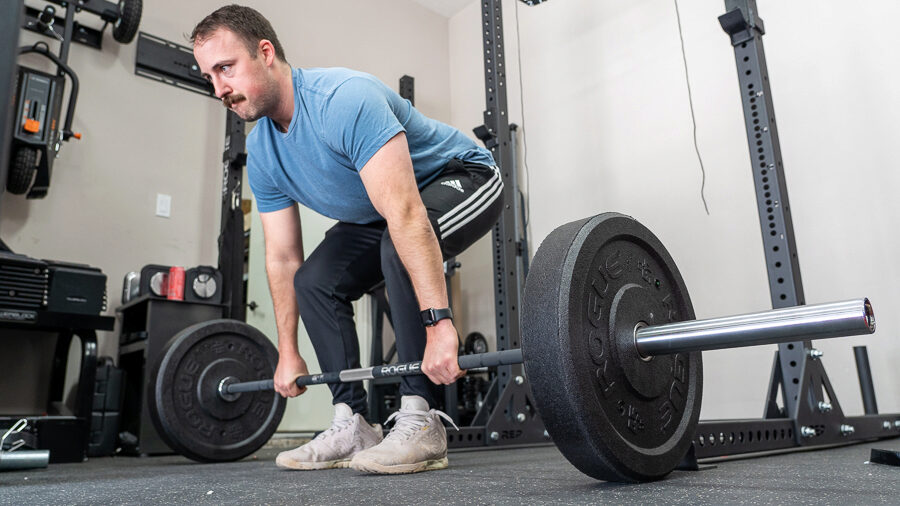 Most home gym owners, including the best home gyms, use one barbell, so buying one that is the most effective for their training and budget is a big deal. So, before we get into the weeds of the review, let me share who I think the Matt Chan Bar is for.Who I recommend the Matt Chan Bar for
Those that want a single barbell to squat, weight bench press, deadlift, clean and jerk, as well as snatch will love the Chan Bar for its versatility.If you're training in a garage gym and worried about your bar rusting, there isn't a more rust-preventative bar available.If you focus on CrossFit, but prefer a more aggressive knurling and a center knurl, this is one of your only options at these specifications.
Who I don't recommend the Matt Chan Bar for
Trainees that plan to have a powerlifting bar and an Olympic Weightlifting Bar probably don't need a third bar like this.
If you don't want to pay the extra for things like stainless steel and Cerakote, the Ohio Bar or Rogue B&R Bar 2.0 are probably better options.
Chan Bar Unboxing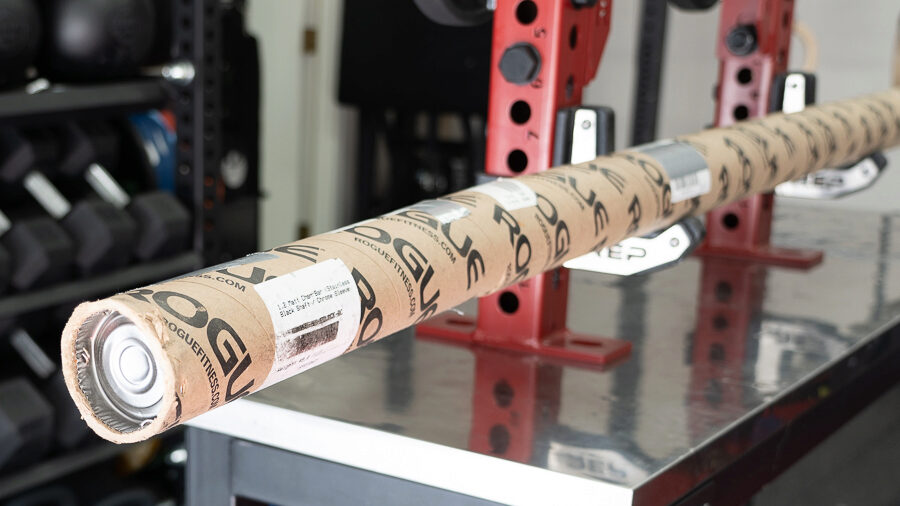 The familiar Rogue barbell tube showed up on my doorstep in pretty good shape. The tube was cracked, but the metal caps were still in place.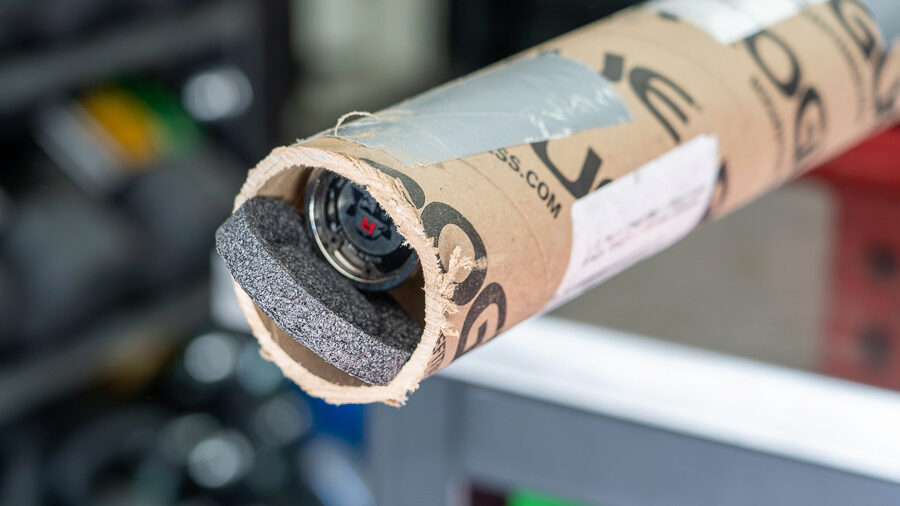 Upon opening the bar, I found foam caps to prevent damage to the sleeves or endcap of the bar.
Once unsheathed, the Chan Bar looked good as new without any cosmetic damage. Love when that happens.
What I Like About the Chan Bar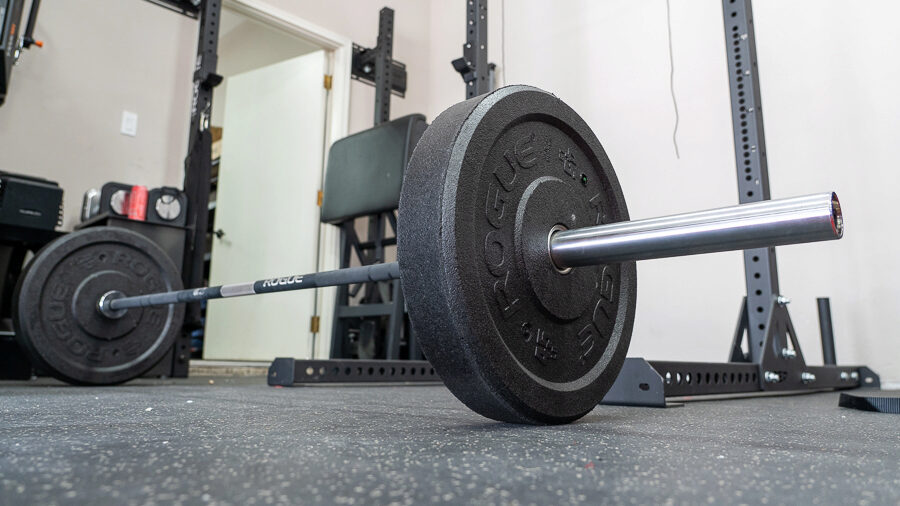 The Matt Chan Bar is practical. This is one of its biggest positives and one that will help it to stand out among its many competitors. The stainless steel shaft has a tensile strength of 200,000 PSI, and it is the perfect material for resisting corrosion, giving you a bar that is going to stand the test of time.
But, not only is the shaft stainless steel, but it is then coated in Cerakote.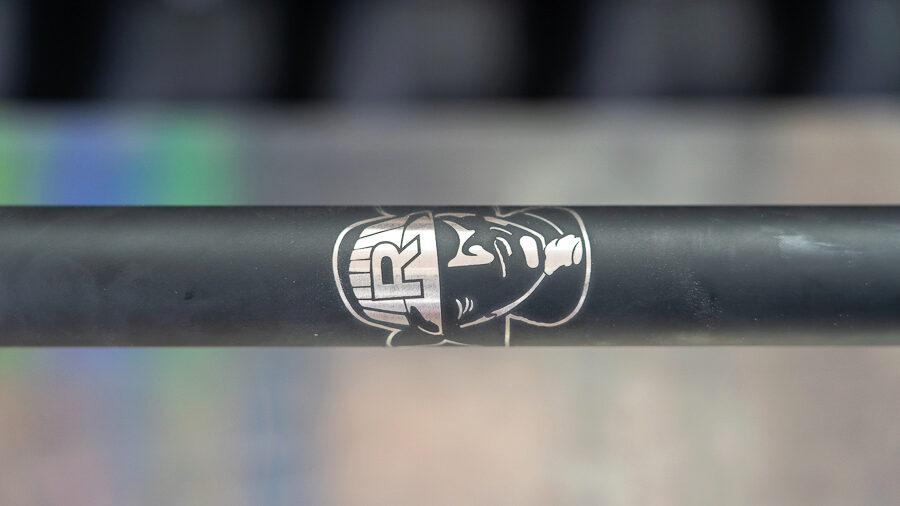 Honestly, outside of aesthetics, I don't see the benefit of having both. I've mentioned this in other reviews we've done on barbells with a similar look such as the American Barbell Mammoth Bar. However, it does look pretty dang cool.
Just as Matt Chan is a dynamic athlete in his love for competing in CrossFit as well as his experience in training powerlifting following Louie Simmons and the Westside Barbell Conjugate system, so his bar is also versatile. The Rogue Matt Chan is designed specifically to be a multi-purpose bar.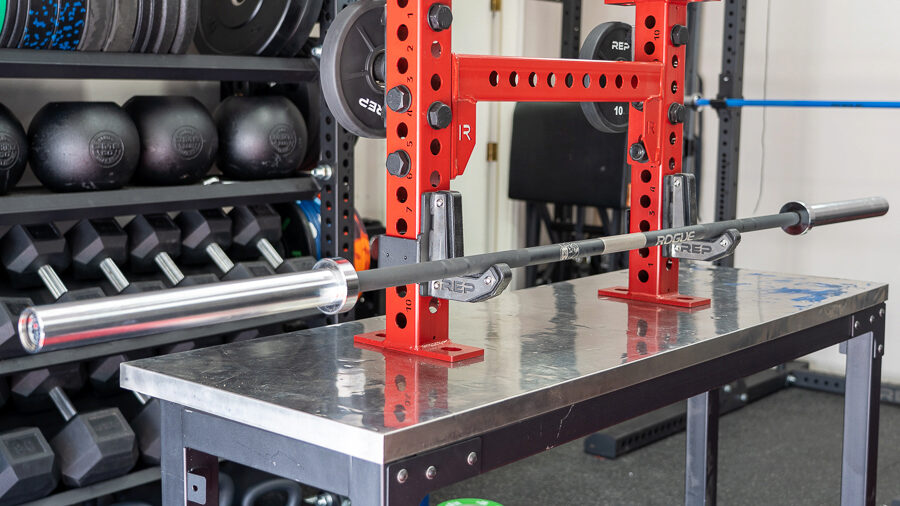 A multi-purpose bar performs well in all movements. These are typically marketed towards CrossFitters, however, they're great for all general-purpose trainees.
The reason the Chan Bar works great for all training endeavors is due to a few of its specs. The 28.5mm shaft is right in between a majority of IWF and IPF weightlifting and powerlifting barbells. This means it's thin enough to feel good in hand during cleans and snatches, but thick enough to feel good on the back during heavy squats. If you are into squatting check out my take on the best squat racks available here.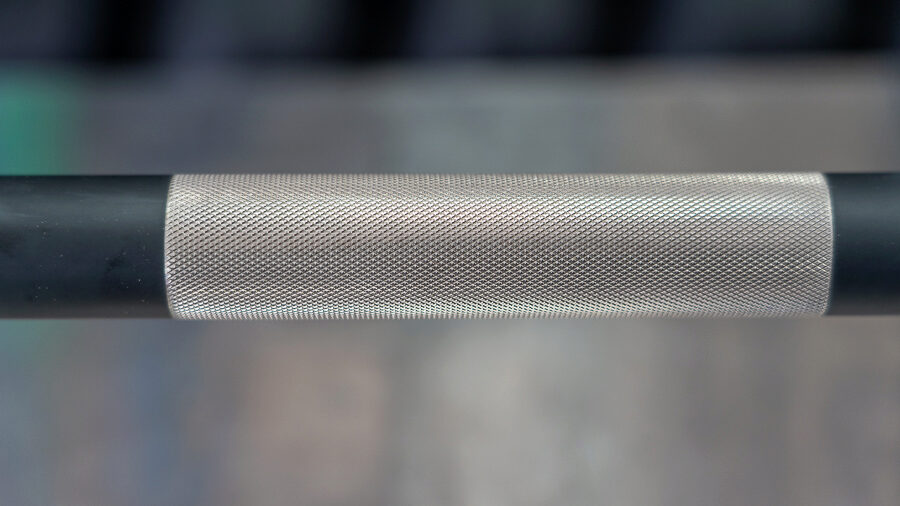 Speaking of having the bar on your back, one feature that separates the Chan Bar from other multi-purpose bars is its passive center knurl.
Rather than using the same center knurl pattern as seen on the outside, it's instead much more passive. This allows the bar to stick to the shirt during back squats, but prevents it from scraping your neck and chin while in the front rack during front squats and clean and jerks.
If you've ever done high rep clean and jerks with a power bar, you'll appreciate the lack of aggression on the center knurl.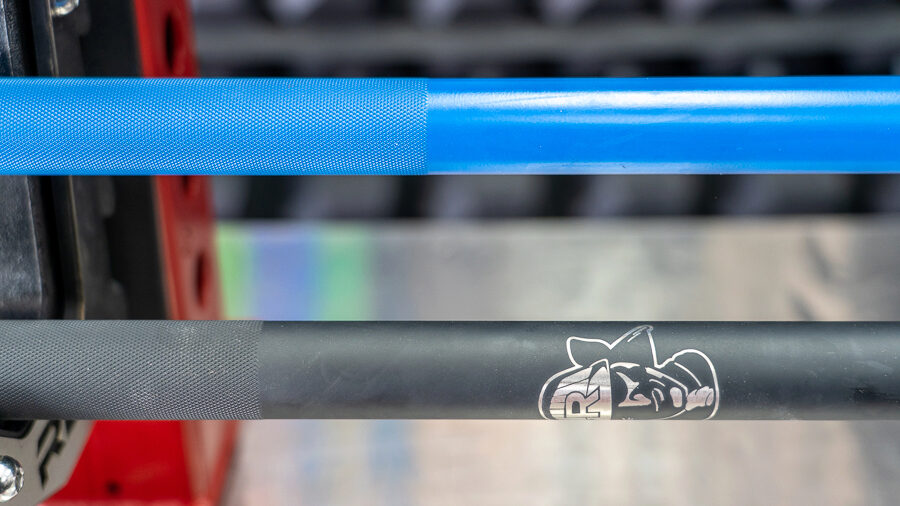 For practicality of use, the Rogue Matt Chan Bar offers dual knurl marks and a longer portion of the smooth shaft to prevent scraping your shins on pulling movements.
You've probably experienced bloody shins while pulling heavy deadlifts or during high rep, power cleans. The wider grip at 21" apart instead of the typical 17" allows you to easily find your grip as most people start with the hands wider anyways while also preventing the knurling from becoming a cheese grater on the skin of your shins.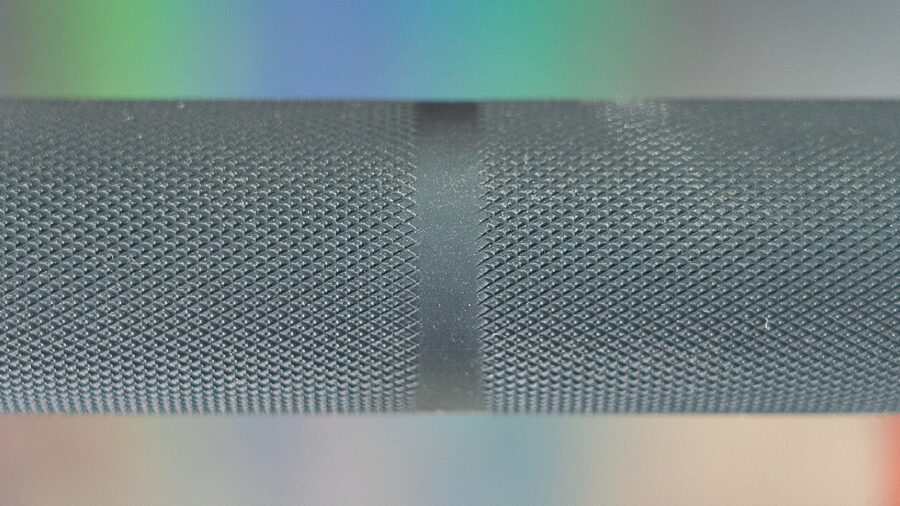 The knurling on the Matt Chan Bar is in-between a Rogue Ohio Power Bar and a Rogue Ohio Bar. It's definitely more aggressive than an Ohio Bar, but it's not going to rip your callouses off like an Ohio Power Bar. It's also made more passive with the coating of Cerakote that's been sprayed over the top filling in some of the cavities.
Outside of specs, the most stunning part of the Matt Chan Bar is its look. The Chan Bar is by far one of the most universally aesthetically well-liked barbells on the market.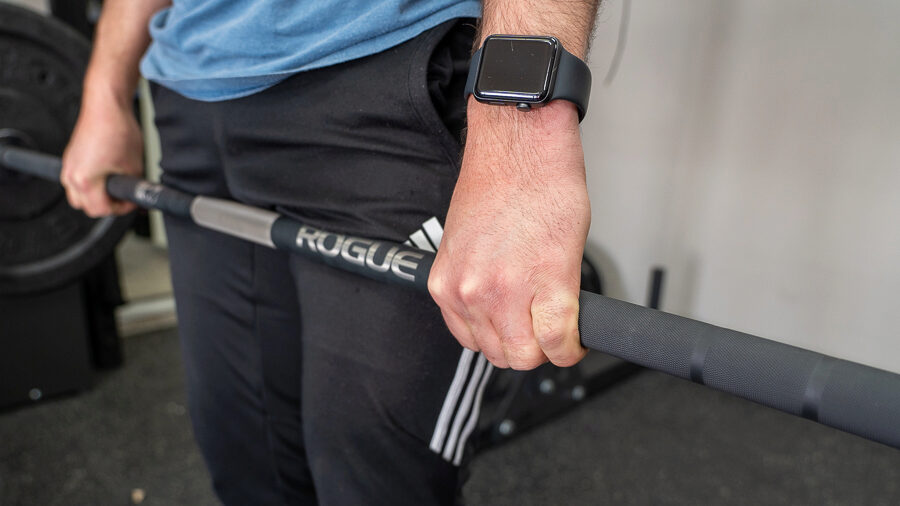 Its shaft is coated in a matte black Cerakote with the Rogue and Chan Samurai logo's taped off to reveal the stainless steel underneath. The sleeves are either chrome-plated or Cerakoted which either makes the bar look stealthy or has a nice contrast.
Something else we particularly like about the Chan Bar is that it's a domestic product. Made in Columbus, OH, rather than starting its life somewhere overseas, the Rogue Matt Chan Bar is something that most Americans would be proud to own.
What I Don't Like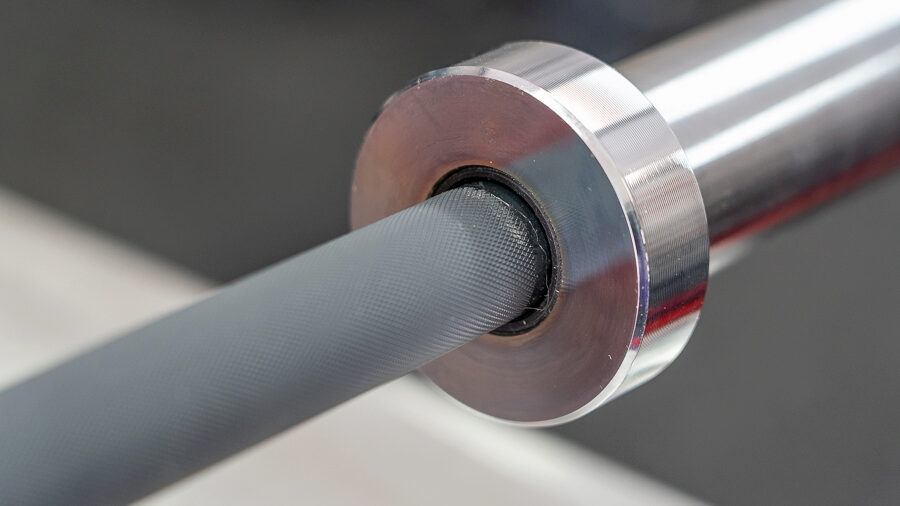 This section of the review will be rather short because frankly there isn't a lot I dislike about the Chan Bar.
However, there is one thing that I really wish Rogue would offer. I would like to see Rogue remove the Cerakote from the knurling areas just as they did on the center knurl similar to what they did on their 28MM Oly WL Bar. The Cerakote looks cool, but it's unnecessary on the shaft as it's already stainless steel and it actually makes the aggressiveness of the knurl lessened (one of the big selling points of the Chan Bar.)
Full Rating
Rogue Matt Chan Bar
The Matt Chan Bar from Rogue Fitness is the most unique barbell the company currently makes. It's stainless steel, yet coated in Cerakote. It's great for CrossFit, yet works well for powerlifting and Olympic Weightlifting. It's beautiful and mean looking all at the same time. I am a huge fan of the Matt Chan Bar and feel it's one of the most underrated barbell currently on the market.
Product Brand: Rogue Fitness
Product Currency: $
Product Price: 420
Product In-Stock: InStock