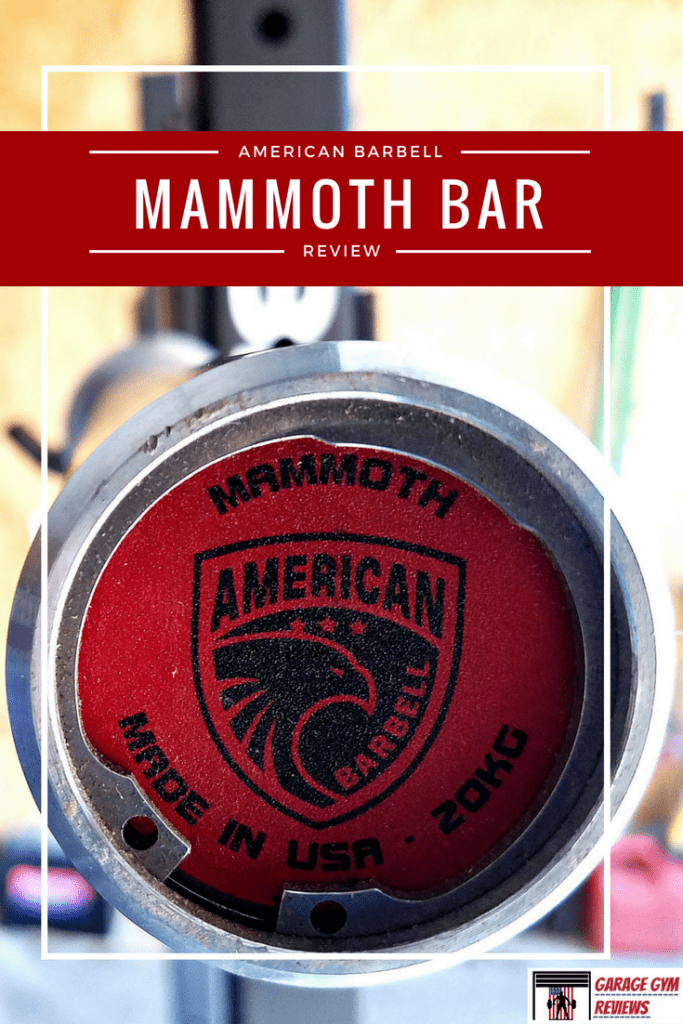 Powerlifting's goal is to get a barbell from point A to point B with as much weight as possible.
That's it. There's no style critique or time limits. In it's most basic form (raw, not geared) Powerlifting is one of the most hardcore sports in the world.
AND, due to the poundages that our hoisted, a strong barbell is needed.
Can you get away with a basic 150k strength barbell? Yes, at least for most people they can. But you're going to be susceptible to bending and heavy whip when getting into higher numbers.
When it comes to someone training the squat, deadlift, and bench, you want a bar that is designed for the task. The Mammoth Bar is exactly that bar.
Specifications
210,000 PSI Tensile Strength
20 kg./44 lbs. Bar Weight
29 MM Shaft Diameter
Composite Bushing System
Center Knurling
Shaft Material: Heat-Treated Stainless Steel coated with Savage Stainless Cerakote Finish
Sleeve Material: Machined Steel with a Hard Chrome Finish
Made in the USA
Limited Lifetime Warranty (Shall be free from manufacturing defects in material and workmanship for the lifetime of the product when used properly for its intended use. For purposes of this limited warranty, "lifetime" warranty coverage ends when the applicable product becomes unusable for reasons other than defects in workmanship or material or design issues.)
The Mammoth Bar is one of the most unusual power bars on the market.
Not only is it made of the most durable steel barbells are currently being manufactured out of, but it's also coated in Cerakote.
Cerakote is a coating traditionally used on firearms.
According to Cerakote as well as many independent third-party testers, corrosion salt spray testing has shown that Cerakote coating lasts over 70 times longer than both chrome and stainless steel.
In other words, there isn't a much more durable coating than Cerakote.
Most firearms receive a .001" to .002" thickness coating of Cerakote. The testing that was done to prove how durable Cerakote is was based on a .001" thickness layer of Cerakote. You can find the technical report here, it's kind of interesting.
.001" sounds thin, and it is. According to my talks with American Barbell, they assure me that Cerakote on the American Barbell Mammoth Bar is applied around .0005" to .001".
This indicates that the coating used during testing on firearms is the same used on this barbell. In other words, good luck ever damaging the shaft.
There is one possible disadvantage for some to Cerakote being applied over the barbell; a lighter knurl (as discussed later.)
Either way, Cerakote is freaking tough, and I don't think you'll ever have to worry about the coating on this bar.
The barbell is coated in Cerakote, but in reality, it would still be one of the toughest bars in the world if it wasn't coated in Cerakote.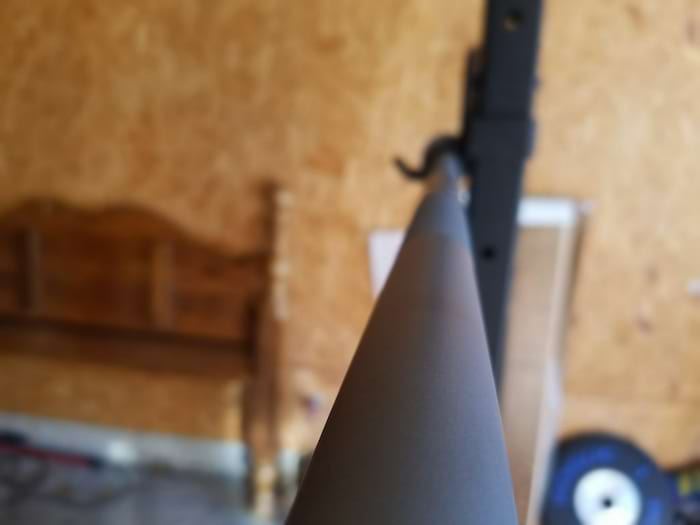 Seriously, I cannot think of a tougher barbell in the world; that's saying something from a man who owns over 10 barbells including bars from Eleiko, Rogue, and others.
The shaft of the Mammoth bar is made from Stainless Steel, one of the least corrosive steels made. But, to strengthen the bar, American Barbell isn't just using ordinary stainless steel that many other manufacturers employ; they're actually heat treating the raw material before creating the bar.
This makes the steel much stronger, and I personally cannot think of a situation in which a responsible owner could permanently damage the shaft.
The heat-treated stainless steel shaft has a tensile strength of 210k PSI.
That's massive. The most revered power bar of all time, the Buddy Capps Texas Power Bar, only boasts a tensile strength of 185k PSI. That's a 25,000 PSI difference in tensile strength.
To put it in simplified terms: good luck ever doing damage to the AB Mammoth Power Bar. (I almost want to beat it with a sledgehammer to see what would happen.)
American Barbell makes a lot of different equipment.
Power Racks, bumper plates, benches; basically if you can think of it, they probably make it.
Although I haven't been able to test most of their equipment (and I haven't seen many reviews on it), I do know that when it comes to barbells, American Barbell is laser-focused on being the best in the industry.
The sleeves of a high-end barbell are often overlooked. Granted, their job is simply to hold the weight securely, but if you're going to spend over $500 on a piece of equipment, you want everything to be the best that it can be.
While most companies overlook the sleeves of barbells, American Barbell has taken this as an opportunity to show their attention to details.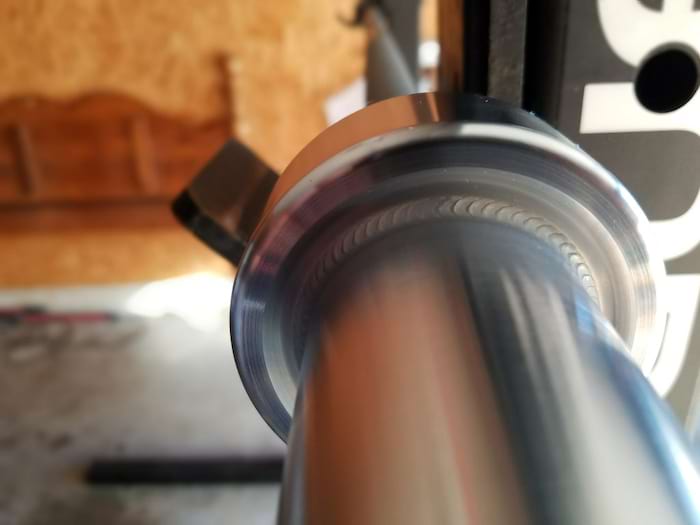 American Barbell uses precision welding to attach each sleeve. They then take it one step further by recessing the welds, so they don't interfere with plates being slid on the bar. This is completely unnecessary, but one of the most thoughtful features I've ever seen a manufacturer use.
I honestly love it!
As if the sleeves weren't good enough already, American Barbell
If there is one thing about American Barbell that I dislike, it's their bushing systems.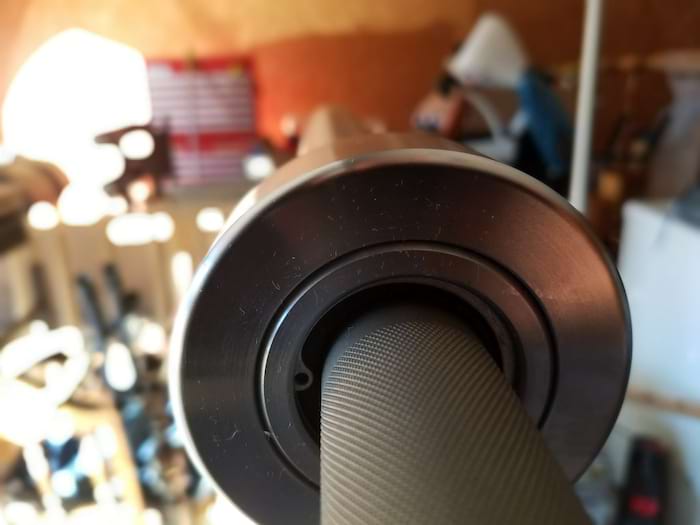 For a power bar, the spin of the bar honestly matters very little if at all. You don't want the sleeve to spin on a bench or squat, and the only spin you want on the deadlift platform is during your setup.
So, slow moving bushings are fine for a power bar.
But, as I've stated before, slow moving bushings are NOT okay for a general purpose or weightlifting bar. The AB Training Bar that I've reviewed still spins like it's in molasses. My initial thought was simply that American Barbell over-greases their bushings, but now I'm starting to think it's something else.
So, the Mammoth Bar has a lethargic spin. But, in this case, it's a good thing. It provides a slow, consistent spin and that's perfectly fine for the big-3 and power cleans if you're not training for Olympic Weightlifting.
One of the other areas that American Barbell stands out in, regarding attention to detail is their knurling.
I have no idea what machines American Barbell is using to score their barbells for the knurling, but I guarantee it is expensive. American Barbell consistently has some of the most precise knurling out of any manufacturer (including Rogue), and the Mammoth Bar is a shining example of this.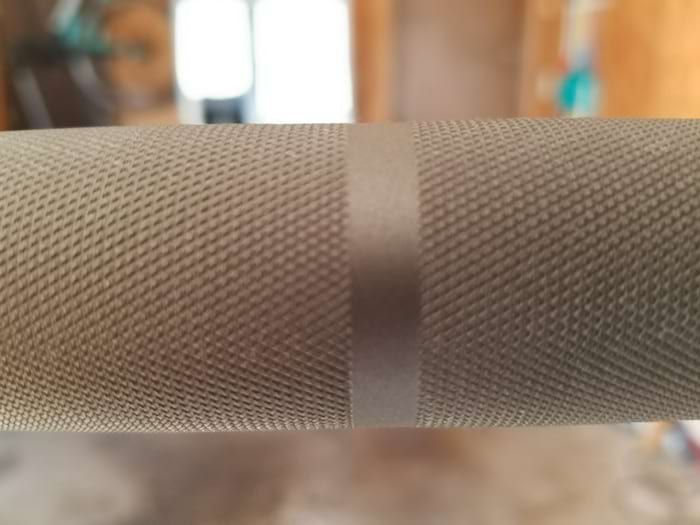 Notice how the where the knurling stops is very pronounced. This is not typical, take a look at any of your barbells, and you'll see that very few have this kind of beauty.
There is one problem with the knurling on the Mammoth Bar, however.
Powerlifters like SHARP knurling. Like shark-tooth sharp .
The knurling on the Mammoth bar is not sharp. In fact, it's somewhat passive. For me, a guy who likes to build his grip and not look like my hands just went through a meat grinder, this is a good thing.
For those of you who could care less what your palms look like, this bar may be a little light. There is one caveat, though, due to the precision machining American Barbell uses on their knurl, no bar I've used takes chalk better than the Mammoth Bar.
One reason for the lighter knurling is due to the Cerakote. It's a very thin layer, but anytime you coat a bar to protect it, you are hurting the sharpness. This is one reason, raw steel bars are typically so sharp, but they're also almost always rusty.
Not a good combo for a garage gym.
Finally, the Mammoth Bar has a center knurl that is the same pattern as the outside knurl. It sticks to your shirt well, and I haven't had any worries of slippage.
I'm not an elite powerlifter.
I have an unofficial 425 squat, 515 deadlift, and 300 bench in the 181 lb. class.
These are decent numbers for lifting without any equipment (completely raw, including belt) and being drug-free. BUT, I'm well aware how far away they are from many other lifters.
This said, no matter what bar you use, a 515 lb deadlift is going to bend just about any bar. The Mammoth Bar does bend, but it is a pretty stiff barbell. It's not nearly as slinky as a deadlift bar, and not quite as stiff as a squat bar.
It's excellent for all around training.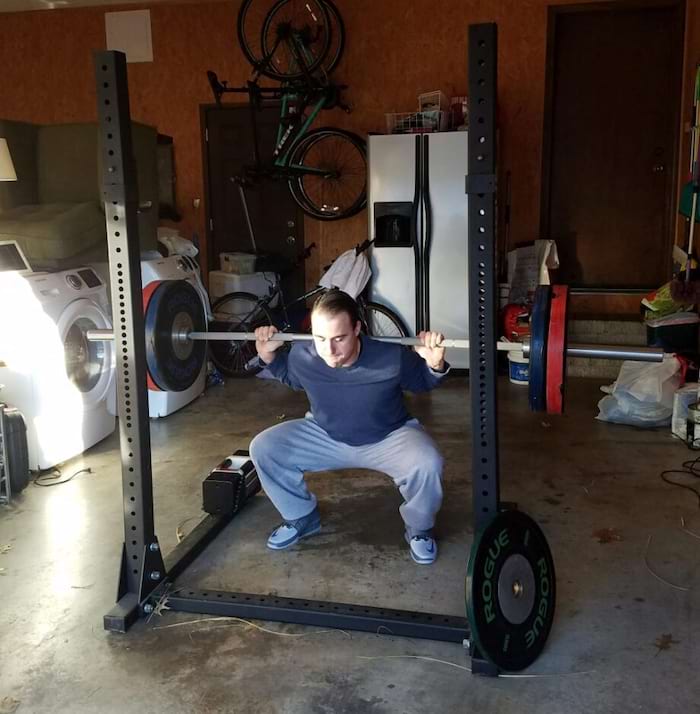 The Mammoth Bar is a very satisfying bar to train with.
Loading plates as I've said is an absolute breeze.
It's hard to describe, but the Mammoth Bar simply feels great in hand. Like a Rogue Squat Rack or something, many of you own or have owned, an Apple product.
When a company pays attention to the small things, the big things follow suit.
I've been putting the Mammoth Bar through every test I could think of, and it has performed admirably in everything.
Squatting with a thicker, 29 mm barbell is such a better experience than the typical 28 mm barbell. It's only 1 mm thicker, but it just feels right.
The spin leaves some to be desired, but other than that, power cleans and jerks even felt great with the Mammoth Bar.