We test and review fitness products based on an independent, multi-point methodology. If you use our links to purchase something, we may earn a commission. Read our disclosures.
The overall best pre-workouts aren't necessarily the best pre-workout supplements for beginners.
In fact, in my experience as a certified personal trainer and nutrition coach, I've learned that most people do better when they work themselves up from a gentle or moderate pre-workout to a more intense one—and can avoid some of the unpleasant side effects of stronger pre-workouts while doing so.
Ahead, I've rounded up all of the best pre-workouts for beginners with just enough punch to get you started and keep you going, all while amplifying your fitness gains.
Medical disclaimer: This article is intended for educational and informational purposes only. It is not intended as a substitute for medical advice. For health advice, contact a licensed healthcare provider.
Best Pre-Workout for Beginners in 2023
Best Pre-Workout for Beginners Overall: JackedFactory NitroSurge
Good for: Anyone new to the weight room who wants to kick-start their workout journey
For fitness veterans, the name "NitroSurge" is a dead giveaway that this Jacked Factory pre-workout intends to blow your muscles up (in a good way). But if you're new to lifting weights, you might wonder what the "nitro" refers to.
The namesake is the two-scoop serving that contains a 6-gram dose of L-citrulline1, a nitric oxide booster that is known to widen blood vessels and increase blood flow, creating that sought-after swell in your muscles during a workout. But that's not the only great thing about NitroSurge: It also contains beta-alanine2 and betaine anhydrous3, which have both been studied for their ability to reduce fatigue and extend exercise duration.
WIth 360 milligrams of caffeine in two scoops or 180 milligrams of caffeine in one scoop, either serving size will provide a nice jolt of energy. The included theobromine4 and L-theanine5 support mental acuity and focus, so you can stay locked in during your entire session.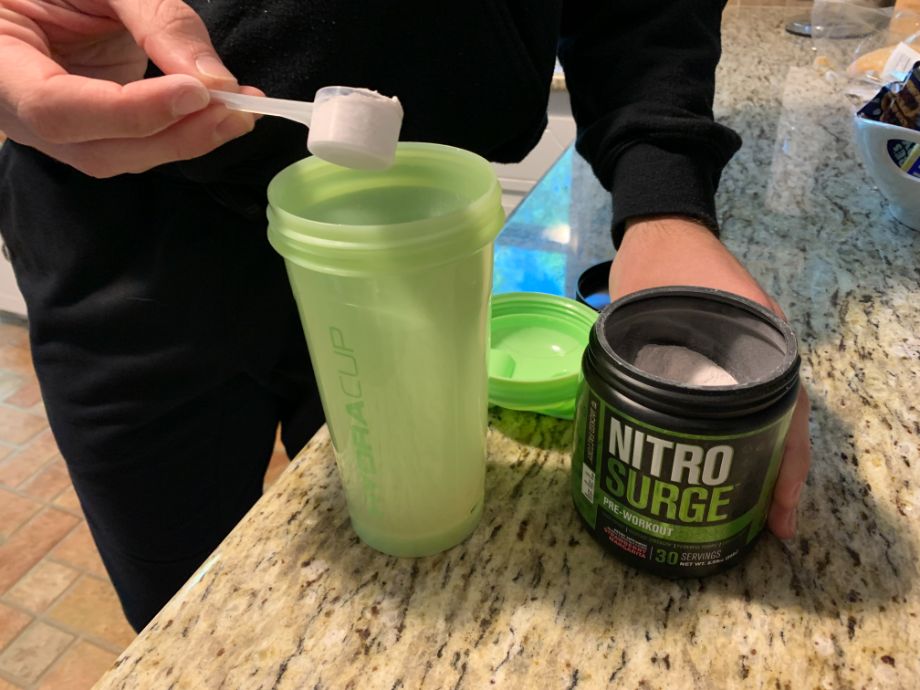 One thing we really like about NitroSurge is that it provides two supplement facts labels: one for a single-scoop serving and one for a double-scoop serving. This makes it easy for beginners to start small and work their way up to bigger doses of ingredients, including caffeine. While you won't get the optimal doses of each ingredient with just one scoop, you can always stack this supplement with another item for a more profound effect without the extra caffeine.
All of this good stuff comes in at a price point of just $30 per container, or about $1 per serving, making it a top pre-workout option for beginners who are hesitant to spend a lot of cash on supplements.
One callout is that Jacked Factory products aren't third-party tested, but that's not typically a concern for people who aren't athletes. We've tested JackedFactory products and between our personal experience and the brand's label transparency, we're confident in our recommendation.
"We tried Strawberry Margarita (which looks like it's only available on Amazon) and it is wildly delicious," says Kate Meier, GGR head of content. "Like, I'd drink this by the side of a pool over ice. Drink it all day!" The members of her weightlifting team also love it.
| | |
| --- | --- |
| Price per serving | $0.99 |
| Caffeine per serving | 360 or 180 mg |
| Other key ingredients | Beta-alanine, betaine anhydrous, L-citrulline, L-theanine, theobromine |
Best Pre-Workout for Beginners for Building Muscle: Transparent Labs BULK
Good for: Beginners who want to maximize their coveted newbie gains
Between newbie gains and Transparent Labs BULK Pre-Workout, you'll be the biggest lifter in the gym in no time. OK, that's a false promise (probably), but BULK can 100% help you pack on the pounds thanks to its incredible pre-workout formula.
As the name suggests, BULK is packed with muscle-building ingredients that work in a variety of ways. The main ingredients are citrulline malate (8 grams) for improvements in muscular endurance and general physical performance1; beta-alanine (4 grams) for staving off muscle fatigue2; betaine anhydrous to reduce fatigue and increase work capacity3; L-tyrosine for focus6; and alpha-GPC (choline bitartrate7) for focus.
BULK also contains L-theanine, theobromine, taurine, an adaptogen blend, and BioPerine, a black pepper extract that increases the bioavailability8 of nutrients consumed.
Oh, and we'd be remiss not to note that all of these quality ingredients are present in the clinically indicated doses in sports nutrition research. Proper dosing, and the fact that Transparent Labs posts certificates of analysis and composition for all of its products, are reasons why the brand appears on many of our nutrition guides, including our list of the best protein powders.
BULK also contains about the same amount of caffeine as two cups of coffee (200 milligrams per serving), which will give you a nice energy boost but shouldn't cause jitters or other negative side effects of caffeine in people who are used to consuming it.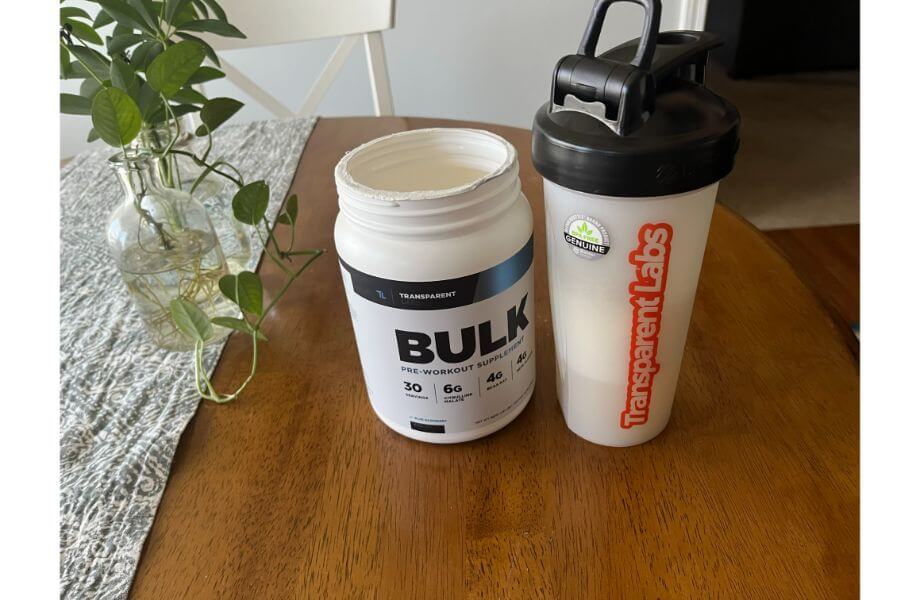 We do wish Transparent Labs didn't omit creatine in this pre-workout, since creatine is proven to be one of the most impactful supplements for athletic performance and muscle gain. Transparent Labs says that they omit creatine because caffeine blunts its effects when taken together, but research on that topic is scarce and inconclusive. A 2017 study in the Journal of Strength and Conditioning9 found no change in performance among groups that consumed creatine alone or creatine with caffeine.
Anthony O'Reilly, GGR performance editor and product tester, has tried BULK and really likes the Blue Raspberry flavor, saying, "It's hard to describe the taste of blue raspberry but that's exactly what this tastes like. It's not too sweet, which is a good thing."
Read our full Transparent Labs BULK review for more details on this pre-workout.
| | |
| --- | --- |
| Price per serving | $1.66 |
| Caffeine per serving | 200 mg |
| Other key ingredients | Citrulline malate, beta-alanine, taurine, betaine anhydrous (BetaPure), L-tyrosine, L-theanine, Alpha-GPC, caffeine anhydrous, theobromine, BioPerine |
Best-Tasting Pre-Workout for Beginners: Huge Supplements Pump Serum
Good for: Beginners who don't yet enjoy the acquired taste of many supplements
Truth be told, supplements aren't always tasty. Sometimes the texture is grainy and sometimes there's a strong aftertaste or chemical-like taste, usually due to artificial sweeteners. For a supplement aficionado, this usually isn't a big deal, since such a person will grin and bear it in the name of its benefits. But for a beginner, a more palatable taste is ideal, so they can actually look forward to taking the supplement and make a habit out of it.
We recommend Huge Supplements Pump Serum as the best-tasting pre-workout for beginners. Its robust flavors like Cherry Berry, Jungle Juice, Island Dream, and Strawberry Mojito live up to their names.
GGR head of content and product tester Kate Meier tried the Cherry Berry flavor and said it's quite sweet but that she enjoyed it. "It isn't incredibly tart, but it is definitely sweet," she says. "It does taste like cherry with berries. The instructions say to mix it with 8 to 12 ounces of water, but that made the taste too concentrated, so I mixed it with about 20 ounces and it was better."
"It mixes well, but it seems to settle a little," Kate continues, "so I just shook it before every time I took it. Doing that made every sip good."
This is a non-stim formula, so you won't get a caffeine jolt, but rest assured that Pump Serum contains plenty of ingredients for a great workout: 980 milligrams of choline bitartrate, 8 grams of L-citrulline, 2 grams of L-tyrosine, 1.5 grams of Nitrosigine10 (a form of arginine that can cause vasodilation), 1 gram of VasoDrive-AP11 (another nitric oxide booster), and Huperzine A12, a nootropic for focus.
RELATED: Best-Tasting Protein Powder
| | |
| --- | --- |
| Price per serving | $2.10 |
| Caffeine per serving | None |
| Other key ingredients | L-citrulline, choline bitartrate, L-tyrosine, Nitrosigine, VasoDrive-AP, Huperzine A, GlycerPump™, BioPerine |
Best Pre-Workout for Beginners for a Pump: Kaged Pre-Kaged
Good for: Beginners looking for a solid pump
If you're new to fitness, you may not yet be familiar with how nitric oxide affects fitness performance and produces the highly sought after muscle pump. Nitric oxide13 is a vasodilator, meaning it widens your blood vessels and helps increase blood flow. When exercising, this allows your body to more efficiently send oxygen and nutrients to your skeletal muscle tissue to keep. This increased circulation is also what causes your muscle to "pump" up during your session and stay that way for a little while post-workout.
Kaged contains a hefty and clinically backed 6.5-gram dose of L-citrulline1, which is one of the most heavily studied nitric oxide boosters available in fitness supplements.
Kaged Pre-Kaged is a fully-loaded pre-workout that's suitable for all fitness levels, and it's a good choice for beginners who already have a little bit of a caffeine tolerance (or those who don't mind dicing up the dose for the first couple of weeks).
Pre-Kaged contains 274 milligrams of caffeine per serving (the reason we recommend halving the scoop upon first use if you're new to pre-workout) along with clinically effective doses of L-citrulline, beta-alanine, creatine HCl, branched-chain amino acids (BCAAs), taurine, L-tyrosine, and antioxidants—all of the best pre-workout ingredients and then some.
Together, these ingredients make up a product that enhances focus (L-tyrosine6), boosts energy (caffeine), increases exercise endurance (beta-alanine2, taurine14, antioxidants), produces a muscle pump (L-citrulline), and helps you build muscle (creatine15, BCAAs16) and recover (BCAAs and antioxidants).
And it's tasty to boot: GGR product tester and editor Nicole Davis says the Krisp Apple flavor is yummy, although there is somewhat of an odd mouthfeel after taking a sip. It doesn't dissolve the best, leaving some chunky bits, but that's a small price to pay for such a robust formula—and if you down it in one go, you won't notice.
RELATED: Best Pre-Workout for Men
| | |
| --- | --- |
| Price per serving | $2.25 |
| Caffeine per serving | 274 milligrams |
| Other key ingredients | L-citrulline, beta-alanine, BCAAs, creatine HCl, taurine, L-tyrosine, antioxidants |
Best Budget Pre-Workout for Beginners: Optimum Nutrition Gold Standard Pre-Workout
Good for: Beginners on a budget
Optimum Nutrition is one of our favorite budget-friendly supplement brands, and we're fans of their Gold Standard Pre-Workout not only for its low price, but also for its modest caffeine content, 3 grams of creatine monohydrate, beta-alanine, and fantastic taste and solubility.
Gold Standard Pre-Workout is a good pre-workout powder for beginners because it contains essential ingredients, and it has a little bit of help from sweeteners and gums to improve the taste and texture. While artificial sweeteners and emulsifiers are often things that health-conscious people want to shy away from, they're generally recognized as safe by the FDA and can make supplements more palatable to beginners.
Aside from the great taste and texture, Optimum Nutrition Gold Standard Pre-Workout is less cost-prohibitive than many other pre-workouts with its price per serving of $1.
The modest 175 milligram-dose of caffeine will boost energy levels without hyping you up to an excessive level, and acetyl-L-carnitine hydrochloride17 and N-acetyl L-tyrosine18 bolster that effect with their effect on focus and reaction time. Creatine, beta-alanine, and L-citrulline provide ergogenic benefits, while AstraGin19, a bioavailability enhancer, is there to increase absorption of all of those nutrients.
The doses of some of these ingredients could be higher (such as the 1.5-gram dose of beta-alanine), but overall, we think this is a great formulation for beginners. And it comes in yummy flavors like Blueberry Lemonade, Fruit Punch, Green Apple, and Watermelon.
Kate, GGR head of content, says some members of her weightlifting team have been using this pre-workout for years. "The flavors are always absolutely delicious; sweet but not too sweet," she says, "and it dissolves perfectly in just 8 ounces of water."
| | |
| --- | --- |
| Price per serving | $1 |
| Caffeine per serving | 175 mg |
| Other key ingredients | Creatine monohydrate, AstraGin, beta-alanine, L-citrulline, acetyl-L-carnitine hydrochloride, N-acetyl L-tyrosine |
Best Stim-Free Pre-Workout for Beginners: Naked Nutrition Stim-Free
Good for: New fitness enthusiasts who don't want a jolt of caffeine but do want muscle-building ingredients
For a caffeine-free boost of energy, try Naked Nutrition Energy Stim-Free, a high-quality pre-workout that contains several ingredients to help with muscle growth, hydration, and mental focus, but without the potential crash of an energy drink full of caffeine. It's one of our top picks for the best stim-free pre-workout powders overall.
The ingredients list includes CarnoSyn, a patented form of beta-alanine shown to increase carnosine production; arginine20, an essential amino acid that can create muscle pumps; L-citrulline; and elevATP, a patented compound that has been studied for its ability to increase ATP production in the body21. (ATP is the "currency" of muscle contraction, which is why this is a great pre-workout ingredient.)
Additionally, Naked Stim-Free contains vitamin B6, vitamin B12, niacin, folate, vitamin C, and calcium, all of which play different but important roles in human health and exercise performance.
This pre-workout is unflavored, and it is free from artificial sweeteners, dyes, flavors, soy, GMOs, gluten, and proprietary blends. That is to say, it's one of the best natural pre-workouts there is.
| | |
| --- | --- |
| Price per serving | $1.20 |
| Caffeine per serving | None |
| Other key ingredients | CarnoSyn® Beta-Alanine, niacin, Nitrosigine® (L-arginine stabilized with inositol), L-citrulline malate |
Best Vegan Pre-Workout for Beginners: Vega Sport Energizer
Good for: People on a vegan diet who want a gentle energy boost
A vegan-friendly and gentle energy booster, Vega Sport Energizer may not be for the beginner who's looking to pack on muscle mass, but is a great choice for the beginner who just wants to remain focused and energized during workouts. (For the former, check out the best pre-workout for muscle gain.)
It's got 100 grams of caffeine, or about as much as a strong cup of brewed coffee, plus electrolytes (sodium, potassium, magnesium, and calcium), vitamin C, eleuthero root extract, and rhodiola rosea extract. The latter two ingredients are for focus and mental acuity.
The caffeine in this product comes from coffeeberry extract and green tea extract, making it a great option for individuals who prioritize naturally sourced ingredients.
GGR product tester and performance editor Anthony O'Reilly said that Vega Sport Energizer is "Good if you want a little focus for your day, but not for the weight room," adding that he "might take this if I plan to go for a run."
It's also sugar-free and keto-friendly, with just 2 grams of carbohydrates per serving, and it comes in two flavors: Berry and Strawberry Lemonade. Anthony tried the Berry flavor and says it has a unique flavor profile that kind of tastes and smells like cotton candy.
RELATED: Best Vegan Protein Powder
| | |
| --- | --- |
| Price per serving | $1.21 |
| Caffeine per serving | 100 mg |
| Other key ingredients | Calcium, magnesium, sodium, potassium, coffeeberry, green tea extract, eleuthero root extract, rhodiola rosea extract |
Best Endurance Formula Pre-Workout for Beginners: 1st Phorm Endura-Formance
Good for: Established endurance athletes looking for some extra oomph, or beginners looking to get started with an endurance sport
Let me start off by saying that 1st Phorm Endura-Formance has established itself as the go-to pre-workout in my routine. I've shuffled through many pre-workouts, with some of my other favorites still in rotation, but Endura-Formance checks all of my boxes as an endurance athlete.
RELATED: Best Supplements for Runners
I compete in triathlons, and I love that Endura-Formance contains ample sodium, which is critical for prolonged muscle function, plus potassium to support the other end of the muscle contraction equation. It's caffeine-free, which stimulant-sensitive people will appreciate, but it has other ingredients to boost endurance.
Namely, Endura-Formance contains a compound called PeakO2, which is a blend of six adaptogenic mushrooms shown to increase VO2 max22 after a few weeks of supplementation—and VO2 max is one of the most important metrics for an endurance athlete.
The other important ingredient is S7, a nitric oxide booster and vasodilator23, which can help maximize oxygen and nutrient delivery to working skeletal muscles—critical when an endurance athlete has depleted glycogen stores and needs blood glucose transported to muscle tissue.
It also contains 5 grams of creatine per serving. Creatine is typically thought of as a strength supplement, but creatine is an important amino acid derivative that plays a huge role in the phosphocreatine energy pathway. The phosphocreatine system24 involves the shuttling of creatine and phosphate to produce adenosine triphosphate (ATP), which powers muscle contraction.
While most endurance work is completed under aerobic or oxidative metabolism, all pathways are used concurrently in some capacity, and the phosphocreatine system kicks into drive during very short but high-intensity spurts of activity, such as a steep hill climb during an otherwise aerobic bike ride.
| | |
| --- | --- |
| Price per serving | $1.50 |
| Caffeine per serving | None |
| Other key ingredients | S7, PeakO2, creatine, betaine anhydrous, beta-alanine, sodium, potassium, L-tyrosine |
Other Pre-Workouts We Researched
Our roster of certified trainers, nutrition coaches, athletes, and fitness enthusiasts has tested more than 50 pre-workouts. Here are some others we think beginners might want to take a look at—or avoid.
How We Picked and Tested the Best Pre-Workout for Beginners
Want to know how we choose products for our nutrition guides? Here's a glimpse into our process for selecting pre-workouts.
Taste and Texture
While everyone will perceive taste and texture differently, we can still warn our readers about products that are objectively bad—such as powders that clump when you try to mix them or taste strongly chemical.
Caffeine and Stimulants
We look at the caffeine content of each pre-workout and check for other stimulants to make sure a product is safe for consumption, as well as how a product might affect someone who is not used to consuming stimulants.
Other Key Ingredients
There are a few ingredients that have been proven to be effective in pre-workouts aside from caffeine, and in specific doses. Here's what scientific literature recommends:
Creatine: At least 3 grams
Citrulline: 6 grams
Citrulline Malate: 6 to 8 grams
Beta-Alanine: 3 grams
We look for pre-workouts that have these ingredients in these doses, or close to them.
RELATED: Creatine vs Pre-Workout
Third-Party Testing
Third-party testing influences how we rate products. We believe that independent testing is important in the supplement industry since the FDA doesn't regulate what goes into supplements—the FDA only mandates that manufacturers don't mismarket their products, and the government agency has no power over a product or label until it reaches shelves.
So, we look for supplements that have undergone testing via independent labs to ensure that their products are safe and effective. If we recommend a product that doesn't have third-party testing, it's because we feel comfortable with the brand's stated manufacturing processes and label transparency, as well as our personal experiences with the product and the brand.
Side Effects
Most pre-workouts are safe, but certain ingredients can cause side effects. In particular, the following substances can cause various types of discomfort:
Caffeine: Excessive caffeine intake can cause GI distress, nervousness, anxiety, jittery feelings, temporary increased heart rate, and temporary increased blood pressure. Caffeine may also inhibit your ability to get a good night's sleep.
Creatine: In some people, creatine consumption can cause bloating, water retention, and general digestive upset.
Beta-alanine: This ingredient causes paresthesia, a sensation of tingling on or under the skin, especially in the face and extremities. It's harmless, but can be uncomfortable. Learn more about why pre-workout makes you itch.
Other stimulants: Stimulants other than caffeine may cause side effects similar to caffeine but potentially to a greater extent.
RELATED: Best Creatine Supplements
Benefits of Pre-Workout
The main benefits of pre-workout are energy, focus, increased exercise capacity/endurance, and increased strength. Some pre-workout ingredients may also assist with post-workout recovery and muscle soreness, although that's not generally the main purpose of pre-workout.
The extent to which you experience these benefits depends greatly on the specific ingredients in the pre-workout you take, the dose of each ingredient in the pre-workout, and your personal tolerance to the ingredients (especially the stimulants).
Dosing and Interactions
Some ingredients in pre-workout may interact with medications, although pre-workout is generally considered safe to consume. If you take any prescription medications or regularly take any over-the-counter medications, it's always advisable to consult with your doctor or a registered dietitian before trying a new supplement in case of any potential interactions.
FAQs About the Best Pre-Workout for Beginners
Finally, here are some common questions from beginners who are looking for their first pre-workout.
Is pre-workout safe?
There are hundreds of pre-workouts available, and many of them are perfectly safe. Others contain very high levels of caffeine and other stimulants, which can raise blood pressure to dangerous levels or cause other effects such as insomnia or anxiety. To ensure you're getting a safe product, check for third-party testing.
Does pre-workout help with weight loss?
Pre-workout isn't intended as a supplement for weight loss or fat loss. Weight loss happens when you are in a calorie deficit over a period of time, which can occur if you are consistently hitting the gym and burning more calories than you consume each day. Pre-workout supplements might help you get the energy you need to get your workout done, but they will not inherently help you lose weight.
Is it good to take pre-workout as a beginner?
Sure, beginners can safely take pre-workout supplements. However, we recommend starting with one of the above best pre-workouts for beginners to avoid overstimulation from high amounts of caffeine or other uncomfortable side effects.
These statements have not been evaluated by the Food and Drug Administration. This product is not intended to diagnose, treat, cure, or prevent any diseases.
References