We test and review fitness products based on an independent, multi-point methodology. If you use our links to purchase something, we may earn a commission. Read our disclosures.
Back in the day, the 800-meter run was my jam. I lived for the chance to toe the line and race my heart out on the track. Nowadays, my runs are a bit longer and a little slower, and they almost always include a double-wide stroller with my little partners in crime. But no matter my training level, running supplements have played a key role in maximizing my running performance.
Whether running with your overall health in mind or trying to hit a PR in your upcoming race, you can't overlook the importance of fueling your body. As a dietitian, I'm all about meeting your nutrition needs through whole foods as much as possible. But as a fellow busy human, I know that sometimes it just can't happen. Enter the best supplements for runners.
We know running at our best requires more than just logging the miles or hitting the splits. As runners, we have to keep our bodies ready for action, which means keeping our electrolytes in check, protein stores up to par, and carbohydrates replenished, among many other things. Thankfully, runners have access to all kinds of dietary supplements to support their running efforts.
Medical disclaimer: This article is intended for educational and informational purposes only. It is not intended as a substitute for medical advice. For health advice, contact a licensed healthcare provider.
We Go the Extra Mile
Our testers come from various fitness backgrounds, but we can all appreciate a good run. And we've all experienced first-hand the good sports nutrition supplements can do to support our training efforts. Our team is made up of certified personal trainers, triathletes, marathoners, and registered dietitians.
We know that the supplement market is more saturated than ever, so we made it our goal to create a comprehensive list of beneficial supplements for our fellow runners. We considered the science behind the supplements, their formulations, and so much more to provide you with an unbiased review of quality products.
10 Best Supplements for Runners
Best Protein Powder for Runners: Garden of Life Grass-Fed Whey
Good for: Runners who want to increase their muscle mass or add protein to their diet
Garden of Life is known for producing products based on its four founding principles: the science of whole foods, traceability, clean ingredients, and carbon neutrality. And the company's Grass-Fed Whey Protein is no exception. It was formulated to refuel and repair muscles after training, and it does without sacrificing quality or the company's commitment to the environment.
Every one-scoop serving of the whey protein powder provides 24 grams of high-quality protein. In fact, it provides all the amino acids, including 6 grams of branched-chain amino acids (BCAAs) and 4 grams of glutamine, which can help reduce recovery time after intensive exercise.
Taste-wise, we found the protein to be "just fine." GGR head of content, Kate Meier, tried the vanilla Garden of Life protein, and she noted that while there are hints of vanilla, "the erythritol and the stevia come through in taste more than anything else."
"I think it would be better in a smoothie mixed with other things rather than drinking it straight," Kate says. "It could potentially be good for baking as well, because it doesn't have a very strong flavor, so it wouldn't overpower a recipe."
Garden of Life Grass-Fed Whey is free from added sugars, hormones, and antibiotics. But each scoop of the whey powder does provide two billion CFU probiotics and enzymes—to which your digestive system says, "thanks, friend!" And with only 6 grams of carbs and no fat, each serving provides just 120 calories.
Garden of Life also prioritizes sustainability in its practices. For example, its whey protein is sourced from Irish family farms that allow their cows to roam free and eat in green pastures.
Furthermore, the grass-fed whey protein is NSF Certified for Sport and Informed-Choice for Sport-certified, meaning the product has no banned substances.
| | |
| --- | --- |
| Price Per Serving | $2.07 |
| Protein Per Serving | 24 g |
| Recommended Servings | One scoop as appropriate |
| Third-Party Tested? | Yes |
Best Pre-Workout for Runners: 1st Phorm Endura-Formance
Good for: Runners who need a little boost to fuel their best workout
When it comes to athletic performance, how we fuel our training can influence our muscle growth and overall results. Endura-Formance stimulant-free pre-workout is designed to increase your aerobic capacity, muscle endurance, power output, and overall strength. It can help energize your muscle fibers with more power and stamina, helping you train harder and longer.
Amanda Capritto, GGR writer and several-time triathlete, has used the 1st Phorm pre-workout. She says that the Berry Lemonade is "easily one of the best-tasting supplements I've tried."
Not only does it taste good, but she says she uses it regularly now.
"Endura-Formance has been a great addition to my supplement stack," she says. "I love taking this before all types of workouts, but especially endurance workouts since it has ample sodium."
Endura-Formance combines creatine monohydrate and beta-alanine, two powerful and clinically-proven muscle performance ingredients. Creatine helps to maintain a steady supply of energy for working muscles by keeping up production. On the other hand, beta-alanine is an amino acid derivative that can support your muscle endurance by increasing your body's carnosine levels.
To further support muscle performance, Endura-Formance provides a blend of betaine anhydrous, Peak02, and S7 synergistic ingredients that help increase muscle hydration and maximize important nutrient delivery to the muscles.
For best results, 1st Phorm recommends mixing one scoop of the pre-workout with 8 ounces of cold water right before your workout. However, 1st Phorm advises against using Endura-Formance if you are pregnant or nursing or have a history of high blood pressure, stroke, heart disease, kidney disease, thyroid disorders, or psychiatric disorders.
1st Phorm products are third-party tested, though it's unclear what is tested. However, 1st Phorm offers a 110% money-back guarantee on all their products. If you are unhappy with your purchase, you can return the product within 30 days for a full refund plus 10%.
| | |
| --- | --- |
| Price Per Serving | $1.50 |
| Flavors | Berry Lemonade, Grape, Green Apple, and Orange |
| Recommended Servings | One scoop with 8 oz of water immediately before your workout |
| Third-Party Tested? | Yes |
Best Vitamin D Supplement for Runners: Pure Encapsulations Vitamin D3 Vegan Liquid
Good for: Runners who need to supplement Vitamin D or those with a history of issues like stress fractures
Vitamins are essential for our overall health, and vitamin deficiency can lead to many health consequences. For example, a deficiency can lead to weak bones since vitamin D1 is essential for calcium absorption. Bone health is often overlooked in exercise performance, but unfortunately, stress fractures are all too common.
When exposed to sunlight, your skin produces vitamin D from cholesterol. So, if you run outside, your body may naturally produce the necessary vitamin D. But with skin cancer on the rise, many of us lather up with sunscreen before we hit the pavement.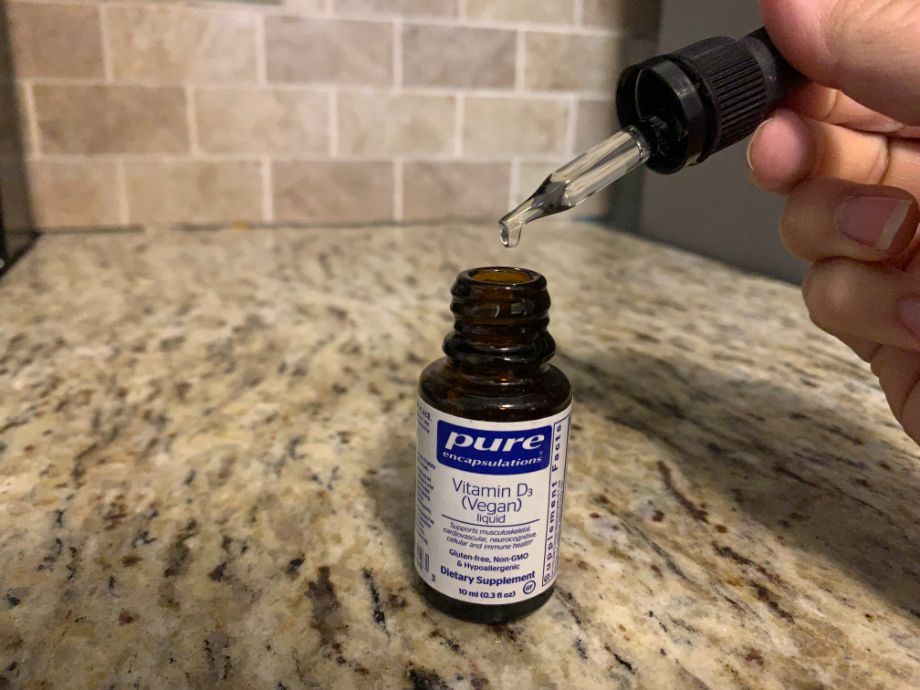 Pure Encapsulations Vitamin D3 Liquid Drops are an easy way to ensure you meet your vitamin D supplement needs. Pure Encapsulations recommends taking 1-7 drops daily with a meal unless otherwise directed by your doctor. Each serving provides 25 micrograms of vitamin D as cholecalciferol. The only other ingredients included in the vitamin D drops are medium-chain triglycerides.
GGR head of content and product tester Kate Meier found the dropper to be an easy way to take a supplement, especially if you don't like swallowing pills. "This doesn't have a taste, so you can just drop it into a drink and go," she says.
Pure Encapsulations products undergo a rigorous testing schedule. First, all raw ingredients are tested for identity, potency, microbial contaminants, solvent residues, allergens, and heavy metals like mercury, arsenic, and lead. Then, finished products are tested by laboratories certified in Current Good Manufacturing Practices to ensure potency and purity.
| | |
| --- | --- |
| Price Per Serving | $0.04 |
| Vitamin D Per Serving | 25 mcg |
| Recommended Servings | 1-7 drops daily |
| Third-Party Tested? | Yes |
Best Iron for Runners: Gnarly Nutrition Baseline Iron
Good for: Endurance runners, those with iron deficiencies, and/or female runners with heavy menstruation
There are several groups at risk for iron deficiency, including endurance athletes, females of menstruating age, and vegans and vegetarians. Low iron levels in runners can be one of the main culprits behind poor performances in workouts and races.
Iron bisglycinate, or ferrous bisglycinate, is an easily absorbed form of iron that's less likely to cause the typical gastrointestinal side effects that many other iron supplements tend to cause. Gnarly Nutrition's Baseline Iron utilizes this science and is formulated with plant-based athletes in mind.
Each serving provides 25 milligrams of iron bisglycinate, 15 milligrams of vitamin C, and 50 micrograms of vitamin B12. So, what's the science behind this list of ingredients? Science points to a connection2 between vitamin C intake and iron absorption. Studies have shown that taking vitamin C with iron can help increase your absorption of the essential mineral.
One of our expert product testers, Anthony O'Reilly, tested the Gnarly iron. "Take it with food to avoid an upset stomach, but if you have low iron like me, this thing will seriously have you feeling better in no time," he says. "I've taken this before going on hikes or long walks, and it gave me energy for days!"
Beyond the active ingredients, rice bran is the only other ingredient used. For best results, Gnarly Nutrition recommends taking one capsule daily with a meal unless otherwise directed by your doctor.
You can order Baseline Iron as a one-time purchase or set up a delivery subscription for a 10% cost savings. And you can rest assured that Gnarly Sports Nutrition stands behind its health claims. Gnarly products are tested for microbe content, heavy metals, and pesticides. They are also tested for true-label claims to ensure all health claims are backed by evidence.
| | |
| --- | --- |
| Price Per Serving | $0.50, $0.45 with subscription savings |
| Iron Per Serving | 25 mg |
| Recommended Servings | One capsule daily |
| Third-Party Tested? | Yes |
Best B12 for Runners: Cymbiotika Liposomal B6+B12 Liquid
Good for: Vegan and vegetarian runners or those who need to supplement B12
Vitamin B123 is vital for runners because of its role in maintaining healthy nerve and blood cells. It's also a key component in preventing megaloblastic anemia, a blood condition that causes feelings of extreme tiredness and weakness.
The average healthy adult needs 2.4 micrograms of vitamin B12 per day. Most people can meet their B12 needs through a balanced, healthy diet. However, vitamin B12 is commonly found in animal sources, so vegans are at a higher risk of developing a deficiency. For example, foods such as meat, salmon, cod, eggs, cheese, and some fortified breakfast cereals are some of the best sources of vitamin B12.
Liposomal B12+B6 Liquid drops are designed to help you meet your daily vitamin B needs to boost your energy, improve your mood, and support your heart health. Each two-milliliter serving provides 1,000 micrograms of vitamin B12 and one milligram of vitamin B6, which is 41,667% and 63% of the recommended percent daily values, respectively.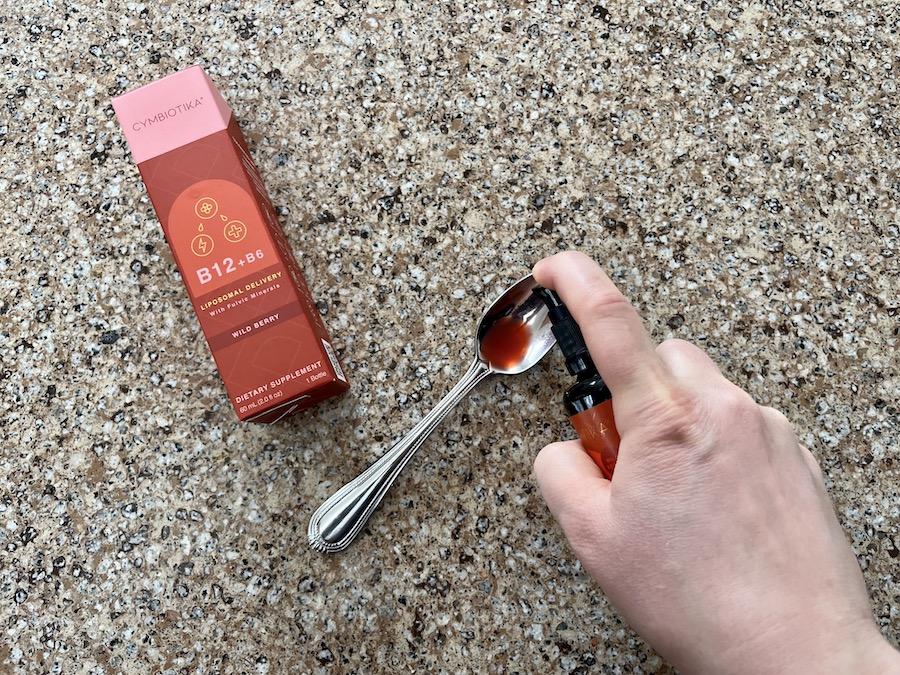 Our very own GGR writer and product tester Lauren Strong described this B12 supplement as "very fruity with its berry flavor, but it's not too sweet."
"The flavor does go away pretty quickly, so it doesn't give you a weird aftertaste," Lauren says.
Cymbiotika uses a non-synthetic methylated form of B12 to ensure it's safe for all individuals. The supplement company also includes vitamin B6 to help maintain a healthy nervous and immune system. Because the human body cannot utilize vitamin B12 without healthy folate levels, Cymbiotika also includes 1,200 micrograms of folate in every serving of its Liposomal B12+B6 Liquid.
Cymbiotika selectively sources high-quality ingredients for all of its products. Furthermore, all raw materials undergo third-party testing to ensure potency, purity, and stability. You can order Liposomal B12+B6 Liquid as a one-time purchase or set up a delivery subscription for a 10% cost savings.
| | |
| --- | --- |
| Price Per Serving | $1.60 or $1.44 with subscription savings |
| Vitamin B12 Per Serving | 1,000 mcg |
| Recommended Servings | 2 ml daily |
| Third-Party Tested? | Yes |
Best Magnesium for Runners: Transparent Labs ZMO
Good for: Runners who cannot meet their magnesium needs through diet alone.
Zinc and magnesium are common go-to supplements for runners in the thick of training. Maintaining adequate magnesium levels can be especially important for runners due to the mineral's roles in energy production, muscle recovery, and bone health. It can protect our cells from oxidative damage during physical activity like running.
Low magnesium levels can lead to fatigue, muscle cramps, or muscle spasms. But how much magnesium do we need each day? The average adult needs between 310 and 420 milligrams4 of magnesium daily, depending on sex and age. Pregnancy and lactation also affect your mineral needs.
Transparent Labs saw a need to supplement the essential minerals and developed ZMO— standing for zinc, magnesium, and oyster. Each serving of Transparent Labs' ZMO provides 144 milligrams of magnesium, or 34% of your percent daily value. But, of course, not all forms of magnesium operate the same. So that's why Transparent Labs uses magnesium bisglycinate, a non-laxative and highly bioavailable form of magnesium.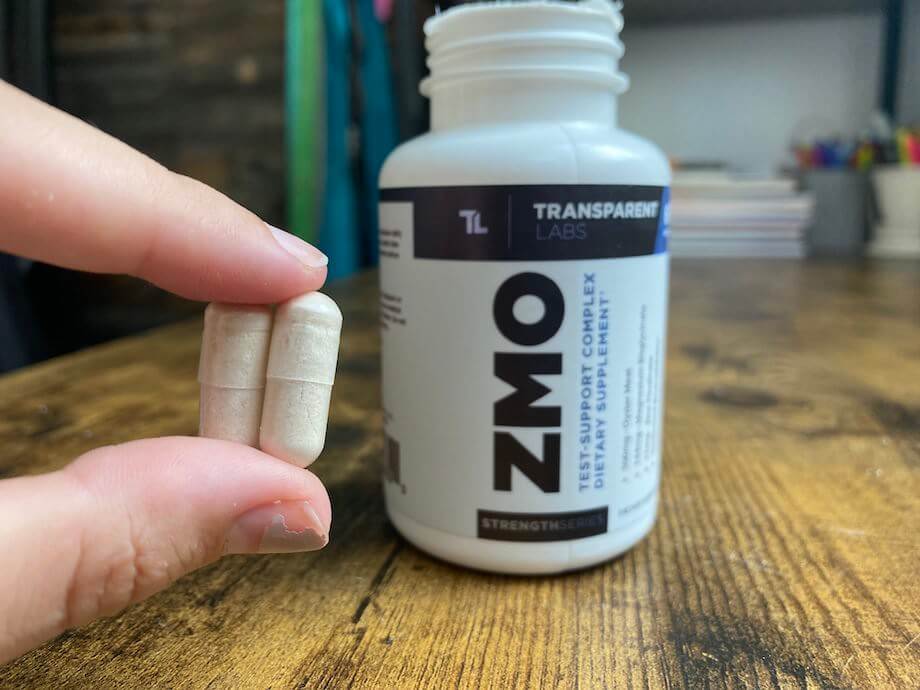 RELATED: The Best ZMA Supplements
You'll also find 10 milligrams of zinc and 500 milligrams of oyster meat powder. Zinc has been linked to testosterone levels and thyroid function. At the same time, oyster meat powder provides an array of trace minerals that act as co-enzymes and maximize the body's utilization of zinc and magnesium.
So, with the oyster, is there an oyster taste?
"I don't know if it's just because I know there's oyster meat powder in these or if it's actually real, but I get a slight seafood/fishy taste and smell when taking these," says our tester, GGR Senior Staff Writer Amanda Capritto. She says it's not a deal-breaker, but something you might want to know.
For best results, Transparent Labs recommends taking two capsules daily with 12 ounces of water, ideally on an empty stomach, 30-60 minutes before bedtime.
Transparent Labs products are sent to a third-party lab for testing, and certificates of analysis are posted on the company's website for viewing at any time. ZMO is no exception.
You can order Transparent Labs ZMO as a one-time purchase or set up a delivery subscription for a 10% cost savings and free shipping.
| | |
| --- | --- |
| Price Per Serving | $0.97 or $0.87 with subscription savings |
| Magnesium Per Serving | 144 mg |
| Recommended Servings | Two capsules daily |
| Third-Party Tested? | Yes |
Best Probiotic for Runners: Kaged Pro-Biotic
Good for: Runners with tummy troubles
As research points to the importance of gut health, some people (me) might call it the MVP for overall health. It's especially important for runners who need to support their immune systems during rigorous training schedules.
The many different species of bacteria, fungi, and viruses in the intestines comprise the gut microbiome.5 Each person has approximately 200 different species of microorganisms living in their digestive tract. Some can be harmful to our health, while others can be beneficial and even necessary for our overall health.
So how do we support the beneficial microorganisms? You guessed it—probiotics! Taking the best probiotics is an effective way to add helpful strains of bacteria to your gut. They contain live organisms and may include a particular strain or blend of microbes to help specific conditions.
Kaged Pro-Biotic is designed as a performance probiotic, meaning it can help enhance endurance and reduce muscle fatigue while supporting your gut health. Each serving provides 10 billion colony-forming units (CFUs) sourced from a patented strain of L. plantarum called TWK10.
For best results, Kaged recommends taking three capsules of its Pro-Biotic daily. This targeted release can lead to enhanced absorption and utilization in the gut, which researchers believe may increase ATP production via the gut-muscle axis. And, of course, greater ATP concentration means more energy to rock those runs.
Kaged's Pro-Biotic is third-party tested and Informed Sport-certified. You can order Pro-Biotic as a one-time purchase or set up a delivery subscription for a 10% cost savings. Either way, you get free shipping. Score! And if you aren't satisfied with Pro-Biotic, Kaged offers a 100% money-back guarantee.
| | |
| --- | --- |
| Price Per Serving | $0.27 or $0.24 with subscription savings |
| CFUs Per Serving | 10 billion |
| Recommended Servings | Three capsules daily |
| Third-Party Tested? | Yes |
Best Creatine for Runners: Onnit Creatine Monohydrate
Good for: Runners who are focused on recovery and/or speed and short distances.
Creatine continues to be one of the most popular sports nutrition supplements on the market. It has been linked to increased muscle gains, strength, and anaerobic performance. This is because the best creatine supports ATP regeneration, the primary fuel source for muscle contractions—the same muscle contractions required for every step of your runs.
Our bodies typically rely on it to generate quick-acting energy, but studies have shown6 that creatine can even play a role in preventing injury and helping athletes tolerate a heavy training load.
It's naturally produced in the body by combining the amino acids L-arginine and L-glycine, but it can also be found in various foods, such as meat, fish, and eggs. However, you may consider supplementation if you don't consume many creatine-rich foods.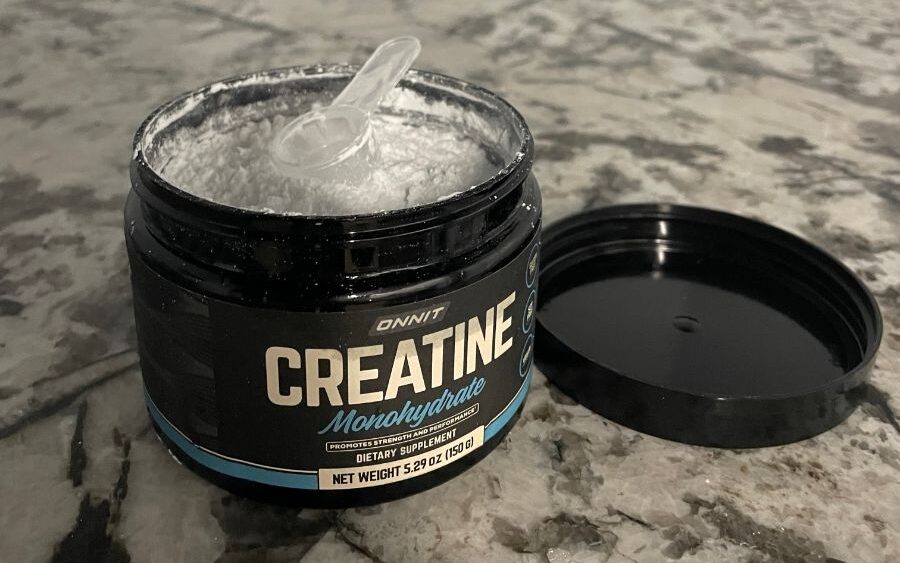 Each two-scoop serving of Onnit's Creatine Monohydrate provides 5 milligrams of micronized creatine monohydrate. Mix your scoops with 8 ounces of water or your favorite beverage.
GGR Editor Nicole Davis has used Onnit's creatine, and she noted how easy it is to use.
"I mixed it with water and sipped just to be sure there was no taste," she says. "It dissolves well and I'm sure it would mix in unnoticeably into your post-workout drink."
The dietary supplement is soy, dairy, and gluten-free. Plus, it's vegan-friendly. In addition, Onnit Creatine Monohydrate is third-party tested and Informed Sport-certified. You can order the creatine supplement as a one-time purchase or set up a delivery subscription for a 15% cost savings.
| | |
| --- | --- |
| Price Per Serving | $0.50 or $0.42 with subscription savings |
| Creatine Monohydrate Per Serving | 5 mg |
| Recommended Servings | Two scoops with 8 oz of water |
| Third-Party Tested? | Yes |
Best Electrolytes for Runners: DripDrop ORS Hydration Solution
Good for: Long-distance runners who lose a lot of sweat
Electrolytes play a critical role in our body, helping to maintain fluid balance, blood pressure, hormone regulation, and muscle contraction. Electrolyte imbalances tend to happen when you lose body fluids like those lost with sweat.
If you're running in the heat, exercising for extended periods, or running at high altitudes, you may need to include an electrolyte supplement in your supplement routine. The sodium and carbohydrates in these products will help your body hold onto water.
DripDrop is a patented, doctor-developed formula created first to help with dehydration where IV therapy wasn't available. Now DripDrop ORS Hydration Solution is more accessible than ever, available on the company's website and Amazon, and in many drug stores.
The electrolyte powder activates a hydration shortcut known as the sodium-glucose co-transport system. Packed with three times the electrolytes of standard sports drinks, it accelerates fluid absorption into the bloodstream so you can feel better faster.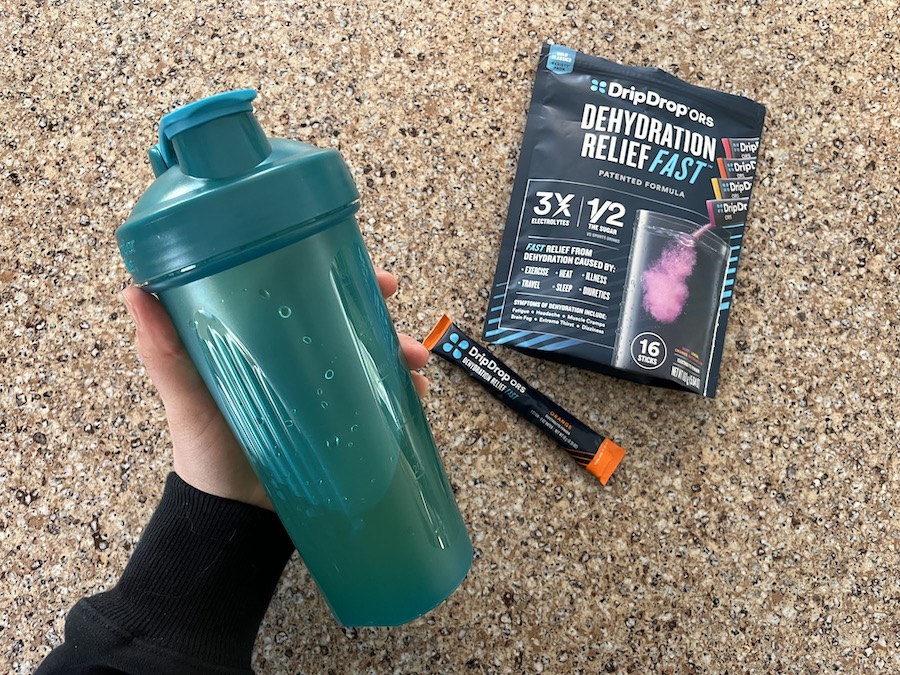 GGR writer and expert product tester Lauren Strong loves the DripDrop flavor options. "I thought this actually helped with hydration and didn't make my mouth feel coated with sugar afterward," she says.
DripDrop is available in four flavors: Berry, Lemon, Orange, and Watermelon, or you can purchase the variety pack, which includes all four flavors. Each flavor provides 9 grams of carbs per serving and 35 calories. Regarding electrolytes, each packet provides 330 milligrams of sodium, 185 milligrams of potassium, and 39 milligrams of magnesium.
To use, mix one DripDrop packet with water. For example, one 10-gram packet mixes best with 8 ounces of water, while the 21-gram packet mixes best with approximately 17 ounces.
You can order DripDrop ORS Hydration Solution in packs of 16 or 32, with a better price per serving when bought in bulk. You can also order it as a one-time purchase or set up a delivery subscription for additional cost savings. And if you're a first responder, teacher, medical professional, or military personnel, DripDrop offers a 20% discount when ordering through their website.
| | |
| --- | --- |
| Price Per Serving | $1.12 as a pack of 32 packets, $1.19 as a pack of 16 packets |
| Electrolytes Included | Sodium, potassium, and magnesium |
| Recommended Servings | 10-g packet mixed with 8 oz of water or 21-g packet with 17 oz |
| Third-Party Tested? | No |
Best Fish Oil for Runners: Kaged Omega-3
Good for: Runners who need anti-inflammatory support
Omega-3 fatty acids have long been linked to numerous health benefits. For example, they can support the cardiovascular system, help prevent cognitive decline, and even support your body's natural anti-inflammatory efforts.
Omega-3 fatty acids can be especially beneficial for runners in managing their inflammation. It can help reduce delayed onset muscle soreness and increase blood flow to your muscles during runs. A recently published 2023 study7 examined the effects of omega-3 supplementation over 12 weeks and found that it increased the runners' omega-3 index and VO2 max, or the maximum amount of oxygen your body is able to use during exercise.
Kaged's Omega-3 provides 3,000 milligrams of total fish oil, including 1,100 milligrams of EPA and 900 milligrams of DHA. It's made with fresh, wild-caught fish and then formulated using premium triglyceride oil to increase its absorption rate. And when compared to its competitors, you can actually see the difference in quality that Kaged offers. Its Omega-3 supplement is clearer than competitors, indicating its a cleaner product.
RELATED: The Best Fish Oil Supplements
The Omega-3 supplement is third-party tested and Informed Sport-certified. You can order it as a one-time purchase or set up a delivery subscription for a 10% cost savings. Either way, you get free shipping. And if you aren't satisfied with the product, Kaged offers a risk-free 100% money-back guarantee.
| | |
| --- | --- |
| Price Per Serving | $1.00 or $0.90 with subscription savings |
| Omega-3 Per Serving | 1,100 mg of EPA and 900 mg of DHA |
| Recommended Servings | 2 soft gels daily |
| Third-Party Tested? | Yes |
Other Supplements for Runners We Researched
We tried to cover running supplements from all angles, but, of course, many others can serve the body well. A few other products we liked include:
Kaged BCAA 2:1:1: These plant-based BCAAs can help support muscle-building and recovery. If you need a boost of BCAAs without a bunch of calories, this might be the right supplement for you.
RELATED: Best BCAA for women
Ritual Multivitamin: Since multivitamins are commonly used for overall health, we didn't include them in our list. However, if you don't already take a multivitamin, you might consider Ritual's Essential Multivitamin. It's an efficient way to ensure you're meeting your vitamin needs, and they offer formulas for both men and women.
RELATED: The Best Multivitamins for Men
Garden of Life Raw Vitamin C: Vitamin C is often overlooked when maximizing athletic performance, but the truth is—it can be a powerhouse vitamin. It aids tissue growth and repair and supports a healthy immune system. Furthermore, it is an antioxidant meaning it offers support on the cellular level. Garden of Life's Raw Vitamin C supplement is made with whole foods and provides a decent amount of vitamin C per serving.
How We Picked and Tested the Best Supplements for Runners
This list has been years in the making—quite literally. I've tried a relatively long list of running supplements throughout my running career. And I'm not alone! So many of us here at GGR have tried all kinds of supplements with our running performances in mind.
To choose the best supplements for runners, we first considered all the avenues of health that can affect one's running performance. Of course, one supplement can't do it all, so we created categories that address the body's needs during the demand of training.
Next, we checked out all of our favorite, trustworthy companies. We considered their brand's transparency, scientific research, and guarantees. Then things got specific and intricate. We compared products.
We considered ingredients, doses, unnecessary additives, flavors, customer reviews, and more. While there's an endless number of dietary supplements that could support running efforts, we included the ten we felt strongest about.
Benefits of Supplements for Runners
If used properly, the right dietary supplements can take your training to the next level. Whether you're a marathon or neighborhood runner, fueling your body with the proper nutrition can make all the difference. Benefits of running supplements include:
Improved Endurance
Running supplements can help support endurance running levels by increasing energy production, supporting protein synthesis, and fighting fatigue. The right supplement can be just what you need to go that extra mile.
Hydration Support
Running supplements with electrolytes can help support hydration efforts by enhancing fluid absorption. Since water regulates body temperature, helps bring energy to our cells, and removes waste, staying hydrated is critical for runners.
Reduced Fatigue
The last thing a runner wants is to be running on empty. Supplements can help your body produce and maintain energy. For example, specific vitamins and minerals can help your body convert glycogen to glucose, which your body then uses for fuel.
Recovery Support
Sports nutrition supplements can boost your protein intake and help you recover after a running workout. Protein shakes support protein synthesis by providing your body with the amino acids needed to repair broken-down muscle.
Dosing and Interactions
Before starting a new supplement, it's important to talk to your doctor or registered dietitian to ensure it will not interact negatively with any current medications, multivitamins, or other supplements. Also, follow the dosing directions carefully according to the product label unless otherwise directed by your doctor.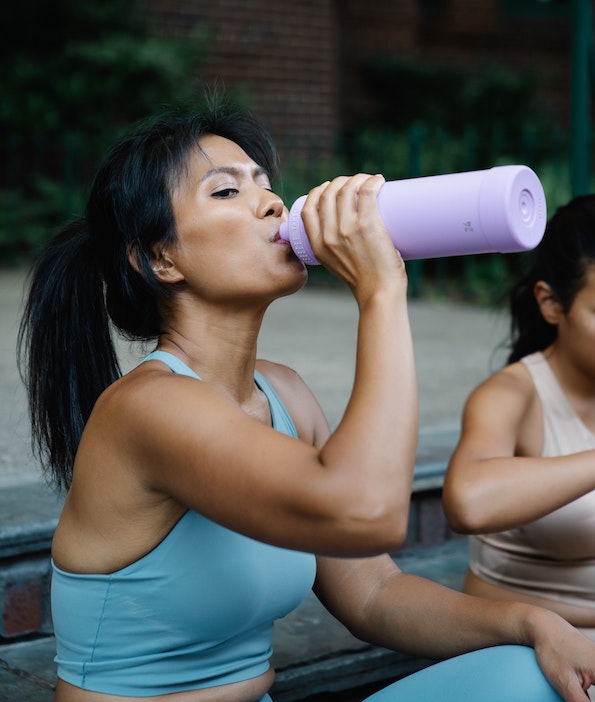 Third-Party Testing
Since the Food and Drug Administration does not regulate vitamins and supplements, it's best to look for products that third-party labs have tested. Third-party testing ensures that an unbiased company has assessed the product for safety and quality.
Many sports nutrition supplements are tested for microbial content, heavy metals, pesticides, solvents, etc. Additionally, third-party labs can confirm the supplement company's health, purity, and potency claims. Look for companies that make their certificates of analysis available for customers to view before purchasing.
Buying Guide: What to Look for in Supplements for Runners
Since no two bodies are the same, and we all come to the table with different running goals, designing your ideal running supplement regimen is very individualized. Here are a few factors to consider when shopping for supplements to support your running performance:
Science-Backed Ingredients
If you spend your hard-earned money on a supplement, you want to know that what you're paying has the science to back it up. Additionally, products with filler ingredients only add to the cost, taking advantage of your budget. Instead, look for ingredients that credible sources have studied within the last 5-10 years.
Third-Party Testing
Products that have undergone testing with a third-party lab offer added safety and quality assurance. As a result, you can be confident that your product is free from dangerous contaminants and will back up its advertised health claims.
Budget
Chances are, more than one of the running supplements listed above sparked your interest. Running is a complex sport, so it's unsurprising that multiple supplements can offer potential running benefits. For that reason, it may be essential to stay on budget. If buying more than one supplement, you might consider subscription deliveries to save on your monthly supplements.
Trial and Error
Certain supplement needs might take some trial and error to find the one that works best for you. To start, look for supplement companies that offer a risk-free, money-back guarantee so you can return the product if it doesn't agree with you.
Of course, it's important to remember that you have unique nutrition needs. Talk with your doctor or registered dietitian to find the right products for your training needs based on your medical history and wellness goals.
FAQs About the Best Supplements for Runners
Which supplement is best for running?
What supplements increase running endurance?
A few different supplements can help increase running endurance. Protein supplements are key for rebuilding muscle, especially after protein stores have been depleted during your workout. Electrolyte supplements can also be critical for endurance athletes that lose a great deal of sweat during their runs. And last but not least, probiotics can help support running endurance by preventing common gastrointestinal issues that arise during long runs. 
Do supplements help runners?
Supplements can be excellent tools for athletes of all kinds, including runners. Sports nutrition supplements can support your body's biological functions as you pursue your running goals. So whether you're in the thick of full or half-marathon training or trying to increase your speed, dietary supplements can be highly beneficial.
These statements have not been evaluated by the Food and Drug Administration. This product is not intended to diagnose, treat, cure, or prevent any diseases.
References
U.S. Department of Health and Human Services. (2022, August 12). Vitamin D. NIH Office of Dietary Supplements. Retrieved March 25, 2023, from https://ods.od.nih.gov/factsheets/VitaminD-HealthProfessional/
Piskin, E., Cianciosi, D., Gulec, S., Tomas, M., & Capanoglu, E. (2022). Iron Absorption: Factors, Limitations, and Improvement Methods. ACS Omega, 7(24), 20441-20456. https://doi.org/10.1021/acsomega.2c01833
U.S. Department of Health and Human Services. (2021, July 7). Vitamin B12. NIH Office of Dietary Supplements. Retrieved March 25, 2023, from https://ods.od.nih.gov/factsheets/VitaminB12-Consumer/
U.S. Department of Health and Human Services. (2022, June 2). Magnesium. NIH Office of Dietary Supplements. Retrieved March 25, 2023, from https://ods.od.nih.gov/factsheets/Magnesium-HealthProfessional/
Pontefract, B. A., Mishcon, H. R., Black, C. A., Sutton, S. C., & Theberge, C. R. (2019). Gut Microbiome: Profound Implications for Diet and Disease. Nutrients, 11(7). https://doi.org/10.3390/nu11071613
Kreider, R. B., Kalman, D. S., Antonio, J., Ziegenfuss, T. N., Wildman, R., Collins, R., Candow, D. G., Kleiner, S. M., Almada, A. L., & Lopez, H. L. (2016). International Society of Sports Nutrition position stand: Safety and efficacy of creatine supplementation in exercise, sport, and medicine. Journal of the International Society of Sports Nutrition, 14. https://doi.org/10.1186/s12970-017-0173-z
TOMCZYK, M., JOST, Z., CHROBOCZEK, M., URBAŃSKI, R., CALDER, P. C., FISK, H. L., SPRENGEL, M., & ANTOSIEWICZ, J. (2023). Effects of 12 Wk of Omega-3 Fatty Acid Supplementation in Long-Distance Runners. Medicine and Science in Sports and Exercise, 55(2), 216-224. https://doi.org/10.1249/MSS.0000000000003038