We test and review fitness products based on an independent, multi-point methodology. If you use our links to purchase something, we may earn a commission. Read our disclosures.
Do you want to get stronger, start a podcast, and become a stand-up comedian like Joe Rogan? Then you've gotta keep reading…
Okay, maybe you won't immediately be granted Hercules strength and a funny bone… But Joe Rogan's supplement stack isn't complete without fish oil and you might just catch some health benefits. However, fish oil products are similar to Joe's epic home gym—plentiful with lots of options.
In a sea full of choices, how do you find the best fish oil supplement? Set sail on Voyage GGR as we navigate our top picks. Our testers are registered dietitians and sports nutrition experts who not only have extensive knowledge and experience in all things diet and health but actually have "sea" it to believe it. This means we actually test products like the best green powders, and testing fish oil is no different.
We ordered close to a dozen fish oil supplements and judged them on the following factors:
Ingredients: Does it contain research-backed ingredients
Dosage: Does it have enough omega-3s?
Taste: Can you get it down?
Price: Is it affordable?
Medical disclaimer: This article is intended for educational and informational purposes only. It is not intended as a substitute for medical advice. For health advice, contact a licensed healthcare provider.
Best Fish Oil Supplements in 2023
Best Fish Oil for Heart Health: Kaged Omega-3
Good for: Those looking for a pure product to protect and boost their heart health
Kaged Omega-3 is marketed as a premium triglyceride fish oil with triple-strength and max potency to support heart and brain health. It specifically contains 3,000 milligrams of fish oil, with 1,000 milligrams of that being eicosapentaenoic acid (EPA) and 900 milligrams being docosahexaenoic acid (DHA).
EPA and DHA are types of omega-3 fatty acids—specifically long-chain fatty acids—abundant in fatty fish, shellfish, and algae. Both EPA and DHA are essential fatty acids, meaning the body cannot produce them on its own and they should be an essential part of a balanced diet.
RELATED: High-Protein Meals
Alpha-linolenic acid (ALA) is another type of omega-3 fatty acid, although it's sourced from plant-based foods such as flaxseed, chia seeds, walnuts, and respective oils. While ALA can be converted into EPA and DHA omega-3s, the process is inefficient and warrants a dietary need for EPA and DHA.
Omega-3s are delivered in a few primary forms, including natural triacylglycerols (TAGs), acylglycerols and fatty acid ethyl esters (FAEEs). Evidence1 tells us TAGs lead to faster and higher increases in omega-3s compared to ethyl esters, so Kaged's triglyceride formula may provide optimal absorption.
The fish oil is also sourced from 100-percent wild-caught anchovies, in which wild-caught fish supply greater amounts of omega-3s compared to those conventionally raised and caught. Kaged claims to be fish-burp-free, a common unpleasant side effect of taking fish oils.
Oxidation and rancidity are risks for fish oil as well, though Kaged Omega-3 undergoes a patented, two-stage purification process to minimize any heavy metals. The fish oil contains glycerin that acts as an odorless and colorless preservative—their virtually clear capsule visualizes little to no rancidity. While it would be nice to see added vitamin E or another antioxidant to prevent oxidation, this is overall a good formula.
Kaged is also a proud recipient of Orivo, the world's first and only lab-based technology that can validate the species and origin of the omega-3. Additional certifications include Friend of the Sea, a leading international certification standard for producers of fish oil and omega-3 supplements, and Dolphin Safe, which means Kaged is fully compliant with laws designed to minimize fatalities during fishing.
| | |
| --- | --- |
| Dose instructions | 2 softgel capsules/day with food |
| Primary source(s) | Fish oil; 100% wild-caught anchovies |
| EPA + DHA per serving | 1,100 mg of EPA, 900 mg of DHA |
| Cost per serving | $29.99/30 servings = $1.00/serving |
Best High-Dose Capsule Fish Oil Supplement: Legion Triton Fish Oil
Good for: People fishing for a high-dose fish oil in capsule form
If you're looking for a high-dose fish oil supplement but prefer a capsule, look no further than Legion's Triton fish oil.
Providing 2,400 milligrams of EPA and DHA per serving and 4,000 milligrams of total fish oil, plus 48 milligrams of vitamin E, this formulation can support heart and brain health and improved joint function, and can reduce inflammation.
Kate Meier, GGR head of content and a competitive weightlifter, tried these fish oil capsules and says they are indeed a bit fishy, but splitting the dosage up between morning and evening helps the experience.
The main ingredient is 100% re-esterified triglyceride fish oil made from deep-water Peruvian anchovies and sardines caught by fisheries approved by Friends of the Sea. Re-esterified triglyceride oil has been shown in recent research to be more bioavailable and resistant to oxidation, and contains more EPA and DHA.
Triton fish oil contains no fillers and is lab-tested in an ISO 17025 accredited lab as well, so you can rest assured that what's on the label is what's in the bottle.
| | |
| --- | --- |
| Dose instructions | 4 softgels a day |
| Primary source(s) | Deep-water Peruvian anchovies and sardines |
| EPA + DHA per serving | 1,440 mg EPA, 960 mg DHA |
| Cost per serving | $49.99/30 servings = $1.67/serving |
Best Budget Fish Oil Supplement: Kirkland Fish Oil
Good for: Health- and finance-conscious consumers
Kirkland Fish Oil provides 1,000 mg of fish oil broken down into a combined total of 250 milligrams of EPA and DHA—for only $0.04 per serving! The serving aligns with the Food and Agriculture Organization of the United Nations, which recommends a daily intake of 250 milligrams of DHA+EPA for most adults.
According to Nicole Davis, GGR senior editor and certified personal trainer, these softgels have "No taste or smell…thank God!" She reports no adverse effects and says, "For what this provides, I think it's a killer deal."
The fish oil is derived from mackerel, anchovy, menhaden, herring, and sardine with Peru origins. The fish are "deep ocean water fish," which might offer more omega-3s compared to farm-raised fish based on research2 evaluating the value of farmed seafood.
Kirkland is USP Verified, meaning the product has been independently verified and meets industry standards. It also claims to use "state-of-the-art purification processes" to remove mercury and other contaminants, while being devoid of gluten, yeast, and artificial colors and flavors.
Again here, there is no antioxidant protection to prevent oxidation, which would be ideal, but this is a good, low-dose budget product.
| | |
| --- | --- |
| Serving size | 1 softgel twice/day with a full glass of water, preferably with meals |
| Primary source(s) | Fish oil; mackerel, anchovy, herring, sardine |
| EPA + DHA per serving | 250 mg of combined EPA+DHA |
| Cost per serving | $16.99/400 servings = $0.04/serving (note to take two softgels/day, amounting to $0.08 per day) |
Best Liquid Fish Oil Supplement: Nordic Naturals Ultimate Omega Liquid
Good for: Fish oil seekers who prefer sippable supplements
Nordic Naturals Ultimate Omega Liquid offers a high-potency fish oil in liquid form. Because the liquid contains natural lemon flavor, it also wins for best-tasting fish oil!
This supplement tastes like "Lemon with a hint of the ocean but not much," according to GGR fitness writer and certified personal trainer Lauren Strong. "Totally fine on both taste and smell." And no fishy burps, either!
The fish oil contains 2,840 milligrams of omega-3s per 1 teaspoon (or 5 milliliters) and offers a whopping 1,460 milligrams of EPA and 1,010 milligrams of DHA. The fish oil is sourced from 100% wild-caught anchovies and sardines and is in the triglyceride form for maximum absorption.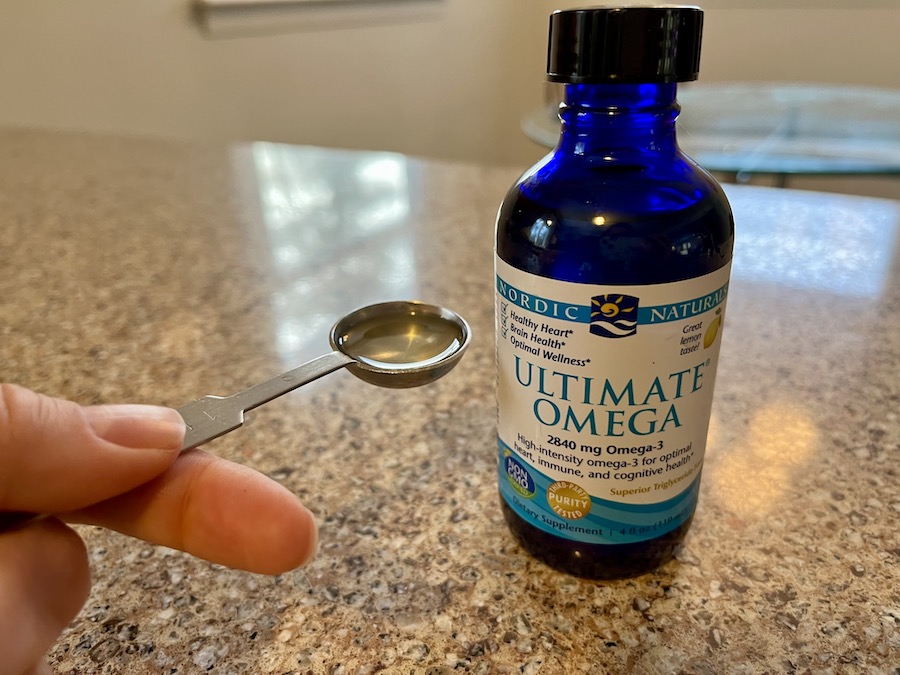 A natural preservative and antioxidant has also been added to reduce any risk of rancidity. The fish oil is free of gluten, milk derivatives, and artificial colors and flavors; it's also non-GMO-verified and third-party purified and tested.
RELATED: Best Clean Protein Powder
Looking for alternatives and money-saving options? Soft-gel capsules and gummies are available, as well as subscribe-and-save options.
| | |
| --- | --- |
| Dose instructions | One-half to one teaspoon daily (with food) or as directed by a healthcare professional |
| Primary source(s) | Fish oil; anchovies and sardines |
| EPA + DHA per serving | 1,460 mg of EPA, 1,010 mg of DHA |
| Cost per serving | $41.95/24 servings = $1.75/serving$71.95/48 servings = $1.50/serving |
Best Soft Gel Fish Oil Supplement: Nature Made Burpless Fish Oil
Good for: Those who prefer the flexibility of a softgel capsule
Nature Made Burpless Fish Oil is our top pick option for softgels, which tend to be easier to swallow due to their gentle flexibility. The soft gelatin capsules may also improve bioavailability and reduce damage during production, as well as offer sufficient coating to reduce "fishy burps."
GGR senior fitness writer and competitive triathlete Amanda Capritto tested this fish oil supplement and found it to be a pleasant experience overall: no burps, no fishy aftertaste, and the flexible capsules went down easily. Her only complaint is that the capsules feel slightly sticky in-hand.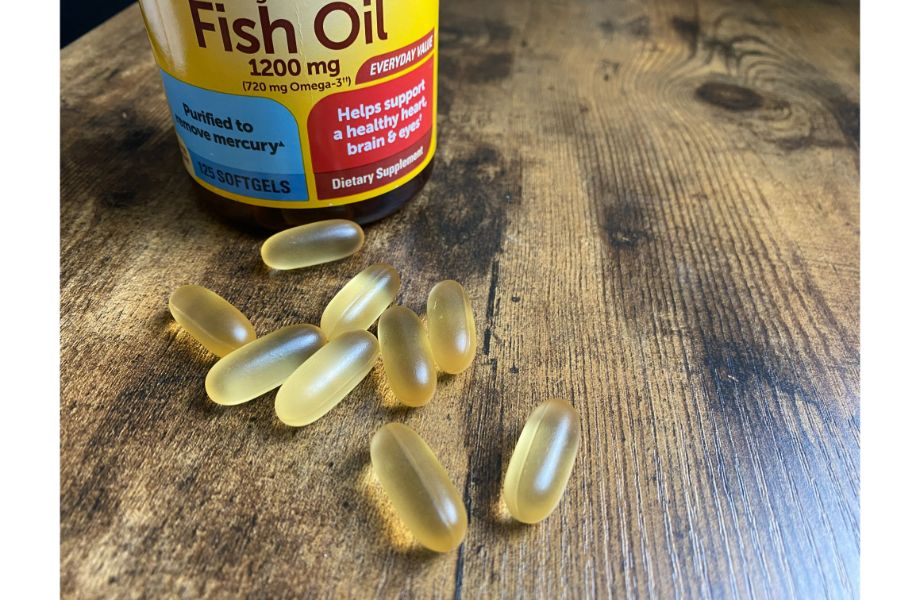 Two softgels, or a serving size, offer a total of 360 milligrams of EPA and 240 milligrams of DHA sourced from weight-caught ocean fish. They also contain preservatives and antioxidants—such as triethyl citrate and tocopherols (the form of vitamin E used in nutritional supplements)—that might lower total oxidation, increase oil stability, and improve overall quality according to a 2014 study3. Since this is a low dose overall, this would be a good product for those already eating at least two servings of oily fish per week.
This Nature Made fish oil is purified to remove harmful compounds like mercury. It's gluten-free and produced without artificial flavors and colors as well.
| | |
| --- | --- |
| Dose instructions | 2 softgels/daily with water and a meal |
| Primary source(s) | Fish oil; wild-caught ocean fish |
| EPA + DHA per serving | 360 mg of EPA, 240 mg DHA |
| Cost per serving | $15.79/60 capsules (30 servings) = $0.26/serving$34.99/200 capsules (100 servings) = $0.35/serving |
Best Gummy Fish Oil Supplement: Nature Made Fish Oil Gummy
Good for: Kids at heart looking to support their hearts and health
Nature Made Fish Oil Gummies offer omega-3 benefits packaged into "so yum" gummies. While they do contain added sugar (3 grams per serving to be exact) they also provide almost 60 milligrams of combined EPA and DHA to supplement a balanced diet.
GGR performance editor and certified nutrition coach Anthony O'Reilly tested these fish oil gummies and said he'd "eat an entire jar if they weren't fish oil supplements." He noted no profound side effects, although he quips, "There's more sugar in these than I'd usually like, but I guess that's what makes them taste good."
The gummies are free of synthetic dyes, high-fructose corn syrup, artificial sweeteners, and gluten—but not free of fruity flavors! Coming in strawberry, lemon, and orange flavors, the fruity gummies help mask the flavor and smell of the fish oil.
Like other Nature Made products, the gummies are verified by the USP. So chew with peace of mind knowing the fruity fish gummies meet standards related to verified ingredients, potency, and manufacturing processes.
| | |
| --- | --- |
| Dose instructions | 2 gummies/day |
| Primary source(s) | Fish oil; tuna |
| EPA + DHA per serving | 9.5 mg of EPA, 47.5 mg of DHA |
| Cost per serving | $17.29/90 gummies = $0.38/serving (45 servings)$23.59/150 gummies = $0.31/serving (75 servings) |
Best Fish Oil Supplement for Kids: Barlean's Omega Pals
Good for: The growing little fishies in the sea
Using Barlean's Ultra-Purified Fresh Catch Fish Oil, Barlean's Omega Pals is a fish oil created for kids to support their growing bodies and brains. It contains 540 milligrams of combined DHA and EPA per serving.
GGR senior editor and certified personal trainer Nicole Davis had her oldest daughter—almost five—try this and she was a little unsure; mixing it into something else may be the key.
While a pediatrician can help determine the right dosing, the European Food Safety Authority suggests that infants and young children (under 2 years) should consume 100 milligrams of DHA per day. Older children (ages 2 to 18 years) should aim for a daily intake of 250 milligrams of DHA according to a 2018 critical review4.
Because swallowing a big capsule—especially with a fishy aftertaste—can be a challenge for kids (and adults, too!), the fish oil is thoughtfully blended to mimic the taste and texture of a fruit smoothie. If slurping down the recommended 1.5-teaspoon serving is still challenging, it can even be mixed into smoothies, yogurt, and oatmeal!
Barlean's Seriously Delicious Omega Pals also offers a fish oil with eye nutrition, as well as a flaxseed oil option if needing to avoid fish oil for whatever reason. Parents can rest easy knowing the fish oil is free of added sugar, GMOs, gluten, dairy, and artificial flavors and colors.
| | |
| --- | --- |
| Dose instructions | 1.5 tsp daily for kids ages 1+ |
| Primary source(s) | Fish oil; anchovy, sardine, and/or mackerel |
| EPA + DHA per serving | 330 mg of EPA, 210 mg of DHA |
| Cost per serving | $14.26/29 servings = $0.49/serving |
Best High-Dose Liquid Fish Oil Supplement: Wiley's Finest Peak Omega-3
Good for: People fishing for a high-dose liquid fish oil with an enjoyable, fresh flavor
Wiley's Finest Peak Omega-3 Liquid is a concentrated fish oil in the highly absorbable triglyceride form. The lemon-flavored fish oil liquid provides 1400 milligrams of EPA and 900 milligrams of DHA to support heart, joint, mental, and overall health. It also contains vitamin E to preserve the oil, which is important.
Anthony O'Reilly, GGR performance editor and certified nutrition coach, tested the Wiley's omega-3 liquid and noted that it tasted so lemony it's "almost like a lemon drop" and "actually tastes pretty good." That's quite the big deal when you're talking about liquid fish oil.
The U.S.-based fish oil is sourced from sustainable Alaskan pollock caught by American fishers and purified by American workers. It's prepared in a family-owned-and-operated facility and tested for contaminants such as mercury and heavy metals.
The fish oil is MSC-certified, which means the wild fish meets international best practices for sustainable fishing. It's also been third-party tested by the SQF program to verify the safety and quality.
| | |
| --- | --- |
| Dose instructions | 1 tsp/day with food |
| Primary source(s) | Fish oil; wild Alaska pollock |
| EPA + DHA per serving | 1,400 mg of EPA, 900 mg of DHA |
| Cost per serving | $39.99/4 oz (25 servings) = $1.60/serving$65.99/8 oz (50 servings) = $1.32/serving |
Best Vegan Fish Oil Supplement: Calgee Vegan Omega-3
Good for: Followers of vegan lifestyles searching for rich omega-3 sourcing
Calgee Vegan Omega-3 is sourced from algal oil, or schizochytrium sp. algae specifically. Algae5 is claimed to be the ultimate source of very-long chain PUFAs, which are consumed by fish and then by humans. (Remember your biology lesson on the food chain?)
When comparing the marine oils6, algal oil is higher in DHA and lower in EPA whereas fish oil has greater amounts of EPA than DHA. However, vegan and fish-based oils are valuable sources of omega-3 fatty acids. The oil is also protected by a vegan, tapioca-based softgel rather than gelatin like other fish oil supplements.
RELATED: Best Vegan Protein Powder
One quick scroll through the website and it's pretty clear (pun intended) Calgee prides itself on transparency, as well as sustainability. Calgee even showcases its latest Certificate of Analysis and is a proud member of 1% for the Planet, pledging 1% of annual sales to environmental nonprofits.
Calgee is so sure of its product that they offer free shipping on all orders, and if you aren't completely satisfied with the product for 30 days, they'll provide you a full refund—no return required!
| | |
| --- | --- |
| Dose instructions | 2 softgels/day with a meal |
| Primary source(s) | Algal oil; Schizochytrium sp. algae |
| EPA + DHA per serving | 150 mg of EPA, 300 mg of DHA |
| Cost per serving | $28/60 capsules (30 servings) = $0.93/serving |
Best Krill Oil: Onnit Krill Oil
Good for: People curious about effective fish oil alternatives
Onnit Krill Oil is produced from krill, a type of small crustacean rich in marine omega-3 fatty acid, unlike other fish oil supplements prepared with fatty fish.
Also unlike fish oil, which mostly provides DHA and EPA in the triglyceride form, up to 65% of EPA and DHA occur in phospholipids according to research out of the Journal of Nutritional Science7. Despite the differences in these forms of EPA and DHA delivery, krill oil still exerts positive health benefits like reducing triglycerides and blood glucose levels.
Krill oil is a rich source of astaxanthin8, a pigment that provides krill their color and elicits beneficial properties thanks to its anti-inflammatory properties. Astaxanthin shows to play beneficial roles in fighting against diseases like cancer, as well as protecting neurological, cardiovascular, eye, and skin health.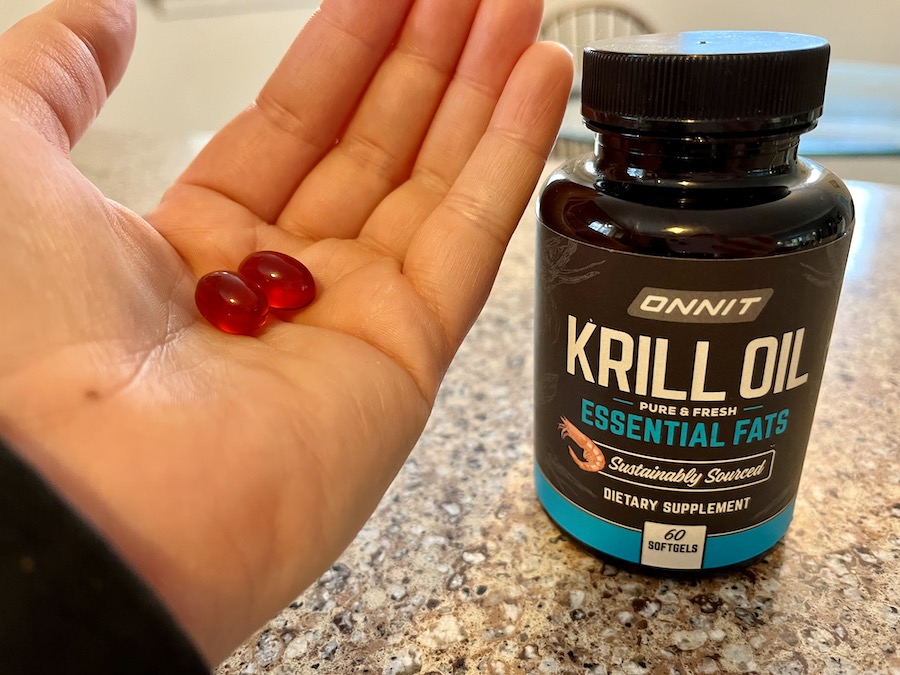 Onnit Krill Oil further highlights that krill is a more sustainable option compared to other fish oils, as the biomass of krill is more than double the biomass of human beings. Harvesting krill is also tightly regulated and proudly certified by Friend of the Sea.
"The softgels have a very mild sweet taste as you swallow them," says GGR writer Lauren Strong. "The ingredients include 'ethyl vanillin' so I assume that is the taste I'm picking up on." She reports no detectable side effects or bad tastes.
| | |
| --- | --- |
| Dose instructions | 2 softgels/day, preferably in food |
| Primary source(s) | Krill oil; crustacean shellfish (krill) |
| EPA + DHA per serving | 130 mg of EPA, 60 mg of DHA |
| Cost per serving | $29.25/60 softgels (30 servings) = $0.98/serving |
Other Fish Oil Supplements We Tried and Researched
While we believe the products we picked are some of the best fish oil supplements on the market, others still have room on Voyager GGR! Additional supplements we tried, researched, and approve of include, but are not limited to:
Bare Performance Nutrition Strong Omega
Carlson's The Very Finest Fish Oil
HUM Nutrition OMG! Omega The Great
Throne Super EPA
LifeForce Omega: LifeForce Omega has a decent amount of EPA and DHA but it's very expensive (around $75 for a one-month supply), there's very little research on their other ingredients (such as omega-7), and no information about third-party testing or certifications.
RELATED: Best Whey Protein
How We Picked and Tested the Best Fish Oil Supplements
In a sea full of options, how did we pick our favorites? Instead of throwing out a wide net, we cast our line and reeled in the best fish oil supplements mostly based on high-quality sourcing, variety, and the testing of each.
Sourcing and Bioavailability
Not all fish oil supplements are created the same and we made sure to select products that are best supported by research. Specifically, we picked fish oils that offered the most bioavailability.
As we've mentioned throughout our top picks, wild-caught fish sources tend to offer more omega-3s compared to farm-fresh. We also mostly focused on fish oils in the triglyceride form, including Kaged Omega-3's premium triglyceride fish oil, because it offers greater absorption compared to other forms like ethyl esters.
Variety
No person is the same—everyone has their own dietary needs, preferences, and goals. That said, we made sure to test and offer a wide net of reputable options.
Prefer a fish oil gummy (created for adults) over capsules? Try out Nature Made Fish Oil Gummy. Looking for an option for your kiddo? Barlean's Omega Pals to the rescue!
Product Testing
Here's the thing about supplements—while the Food and Drug Administration (FDA) regulates both finished dietary supplement products and dietary ingredients, they are not authorized to approve dietary supplements for safety and effectiveness. Or, supplements might contain sketchy ingredients in even sketchier doses.
But because we care about what we and you should put into our bodies, we are hyper-aware of whether or not products undergo third-party testing. Verifications through the USP and other third-party testers signifies that the fish oil has been reviewed under specific safety and quality standards.
RELATED: Best Protein Shakes
Brand Reputation
How one feels about various brands is personal and can vary from one person to the next and that's okay! For us, we select products based on brand trust and encourage consumers to be mindful of a brand's reputation by:
The quality and integrity of the brand's products, including if they've been third-party tested
Easily and readily accessible customer support
Reviews consumers leave on their website and social media profiles, along with reviews on other seller sites such as Amazon
With most information readily available to us on the internet, it's not too challenging to get a pulse of a brand's reputation. No matter if we're narrowing down the best creatine or fish oil, we make sure to take the extra step and evaluate the brand from various angles.
Third-Party Testing
Since dietary supplements are not approved by the FDA, having an independent third-party lab verify that what's on the label is what's in fish oil supplements is super important, especially for athletes. Transparency also plays a part in this—does the company provide COAs, not use proprietary blends, and generally seem very upfront about what's used in their fish oil and why?
Fish Oil Supplement Testing Methodology
In addition to all of these criteria, we also rely on our GGR Supplement Testing Methodology to inform all of our supplements reviews, including this list of the best fish oil supplements. Our goal is to provide fact-based, research-backed reviews that will help you make the best decision about what supplements to put into your body.
Benefits of Taking a Fish Oil Supplement
The benefits of an omega-3 supplement are mostly tied to heart and brain health, although it can offer so much more. We took a deep dive into the research and were even more impressed with fish oil's possibilities and applications.
Heart Health
Just as it's nearly impossible to chat about best probiotics without bringing up gut health, the same rings true with omega-3s and heart health. We could dive into the benefits of omega-3s, EPA, and DHA for heart health all day; but we can't leave the other fin-tastic health benefits sitting on the shoreline, so we'll try to keep it (semi) brief…
A 2020 study published in Nutrients9 suggests omega-3s can modify a variety of cellular processes linked to lipid metabolism, inflammation, plaque build-up, and blood clots. Omega-3s have a notable role to lower triglyceride levels, which are a type of fat that can increase the risk of heart disease and stroke if levels are high in the blood.
According to a report published in Circulation10, treatment with omega-3 PUFA supplements is reasonable for patients with prevalent coronary heart disease (CHD) such as a recent heart attack. And another study11 shows fish oil supplements containing a total of 4.8 grams of EPA plus DHA may decrease triglycerides by 14.4% on average due to fish oil supplements containing a total for 4.8 grams of EPA plus DHA.
The 2020 study9 also compared EPA and DHA, further suggesting fish oil supplements with varied EPA/DHA ratios offer similar effects on total lipids. A similar systematic review4 suggests high DHA fish oil can protect the heart against heart attack and arrhythmias (irregular heartbeats) while improving heart function following a stroke.
A study published in Preventative Cardiology12 hints that recommending fish oil supplements to people with hypertension may be reasonable, too. Even if reductions in blood pressure are small, decreases of just 2 mmHg in systolic blood pressure have been estimated to cause a 10% lower stroke mortality and about 7% lower mortality for ischaemic heart disease or other vascular causes in middle age!
Truly, omega-3s and heart health go together like lamb and tuna fish (Big Daddy, anyone?) or maybe more so like Coop and home gym essentials. And overall, omega-3 fatty acids can improve triglycerides, blood pressure, cholesterol, and other risk factors for the leading cause of death in the entire world—otherwise known as heart disease.
Brain and Mental Health
Omega-3 fatty acids are vital components of phospholipids that form the structures of cell membranes, DHA especially being high in the brain. Research13 stresses the critical need for omega-3s and DHA for brain health, hinting marine oil may benefit behavior, mood, and other brain disorders such as:
Attention deficit hyperactivity disorder
Autism
Depression
Borderline personality disorder (mood instability and impulsive aggression)
Schizophrenia
Hostility
Anxiety
Bipolar disorder
Seasonal affective disorder
Suicidal ideation
Overall, the researchers suggest taking a daily marine omega-3 supplement may be a cost-effective strategy for supporting brain and mood health.
Fitness Performance and Recovery
And of course we jump at the chance to talk about all things fitness. And we aren't just grabbing at straws here—there truly is supporting evidence!
The anti-inflammatory effects of omega-3s have been hinted to reduce muscle soreness and enhance recovery and subsequent performance. Research published in the Journal of Sports Science & Medicine14 suggests 3,000 mg of omega-3 fatty acid supplementation can minimize the severe, delayed-onset muscle soreness that results from strenuous eccentric strength exercise.
Another study published in the Journal of Sports Science & Medicine15 details that DHA sourced from both fish and algal oils may reduce exercise-induced muscle soreness and stiffness while protecting against the loss of joint range of motion often caused by strenuous eccentric exercise.
The researchers tidy their data into a general suggestion: DHA is relevant to athletic populations to help facilitate recovery and allow for better performance during training and competition. DHA supplementation might also benefit non-athletic populations, including those starting new exercise programs and physical therapy patients more prone to muscle soreness.
Additional research14 suggests daily intake of high-DHA fish oil could be a useful adjunct to exercise programs aimed at improving body composition and decreasing cardiovascular disease risk in overweight individuals. Fish oil may improve heart rate at rest, as well as during and after exercise.
RELATED: Best Pre-Workout for Men
Other Possible Health Benefits
Cardiovascular and brain health tend to be at the core of the omega-3s health benefits. However, omega-3 EPA and DHA might also be effective for4:
Preventing certain types of cancer, including breast and colorectal cancers
Reducing the risks of cognitive decline, Alzheimer's disease, and dementia
Protecting against various eye diseases like age-related macular degeneration (AMD) and dry eye disease
Improving arthritis symptoms such as joint pain, swelling, and stiffness
Lowering allergy risks, especially in children
Improving the quality of life for people living with multiple sclerosis16
Bolstering the immune system and functions
Needless to say, the potential benefits of fish oil and omega-3s are compelling. If you want to dip your toes in the fish oil waters, learn how to choose the best fish oil supplement for you next.
RELATED: Best Pre-Workout for Women
How to Choose the Best Fish Oil Supplement for You
If interested in adding a high-quality fish oil to your supplement shelf, how do you choose? The picks above offer great starting points, but you can narrow your selections to choose the best fish oil for YOU with these tips.
Evaluate Your Health Needs and Goals
This is where we tell you to discuss your health needs and goals with your doctor, dietitian, and/or another healthcare professional. Their expertise can help guide you to a fish oil they believe will provide you with an effective and safe dose.
For instance, while the Food and Agriculture Organization of the United Nations recommends a dose of 250 milligrams per day of EPA plus DHA for most adults, the AHA recommends 2 to 4 grams per day for patients requiring triacylglycerol (TAG) lowering4. Needless to say, dosing can wildly differ based on specific goals and it's best to dose responsibly.
Different populations also have varying omega-3 recommendations and needs, including pregnant women, children, and older adults. High doses of omega-3s could increase the risk of bleeding, especially concerning if taking a blood thinner, so it's important to discuss these details with a healthcare team.
Identify Your Dietary Needs and Preferences
Whether you're dealing with a fish allergy or following a vegan diet, it's important to identify your dietary needs and preferences and match them to an oil right for you. In these aforementioned cases, algae omega-3 oil would be a great option.
Fish oil comes in various forms—like softgels, liquids, and gummies—so factor in your intake preference. If worried about any fishy smell or taste, go for a flavored option such as Nordic Naturals Ultimate Omega Liquid's lemon-flavored fish oil.
Also, check out the dosing and serving sizes. If you need a higher dose, you might consider getting a more concentrated fish oil to lower the number of capsules to take.
Review the Brand and Product Label
Just as we tested out products factoring in the brand and product, we encourage you to do the same. Key callouts and takeaways include:
Look for the DHA and EPA on the back product label. This is because most fish oils only list the TOTAL omega-3s or fish oil (like 2,000 mg of fish oil) on the front. The number appears enticing, but it often does not represent the EPA and DHA the supplement contains.
Review the sourcing of the oil, including if the fish is wild-caught and in the absorbable triglyceride form.
Evaluate whether or not the product has been third-party tested and certified.
Inspect the brand as a whole, looking specifically for a positive customer track record and accessible customer support resources.
Test and Assess
It's not so uncommon to take a supplement and assume it's doing its job. However, we encourage you to track your supplement journey just as you would track your workouts and fitness progress and adjust accordingly.
While and after taking the fish oil consistently, track any noticeable effects. Evaluating can be as subjective as "I feel like my mind is sharper!" and as concrete as reducing your blood triglycerides.
After tracking your progress, assess whether or not the fish oil has been worth your while. If not, the beauty is that many other options are on the market that might be worth hooking onto!
Best Fish Oil Supplements FAQ
Which fish oil do cardiologists recommend?
Board-certified cardiologist Dr. Todd Hurst tells WebMD whether or not you should take fish oil depends on who you ask. However, he advises his patients a high dose of omega-3 can be effective in lowering high triglycerides while the benefits of a lower dose are likely small. Like our testers at GGR, he also encourages finding a high-quality supplement manufactured by a reputable company.
Like most nutrition experts, Dr. Hurst encourages a food-first approach to not only obtain omega-3 fatty acids, but protein, vitamin D, and other nutrients sourced from fish that fish oil lacks. According to the AHA, we should be aiming for two servings of fatty fish per week. 
Even despite the general tug of war regarding the risks and benefits of fish and fish oil—such as fish offering protein and other trace minerals while fish oil being more convenient to consume without great mercury risk—we always fall back on "supplements are meant to supplement a balanced diet and not replace it."
Which fish's fish oil is the best?
Research4 suggests the most abundantly produced and available fish oils globally are from anchovies, menhaden, and herring. The most commonly studied is anchovy oil, although all are characterized by higher concentrations of EPA than DHA.
Is there a difference between omega-3 and fish oil?
The biggest difference between omega-3s and fish oil is that all fish oils contain omega-3s whereas not all omega-3s are sourced from fish. Think of omega-3s as the umbrella that could also encompass algae and flax oils in addition to fish oil. Regardless, both omega-3s and fish oil are great sources of EPA and DHA.
These statements have not been evaluated by the Food and Drug Administration. This product is not intended to diagnose, treat, cure, or prevent any diseases.
How much fish oil should I take each day?
This is very individual, but the reference daily intake (RDI) of DHA and EPA is 250 to 500 milligrams, while the RDI of omega-3s is 1,600 milligrams for adult men and 1,100 milligrams for adult women. These numbers will change for children, older adults, and pregnant or breastfeeding women. 
Who should not take fish oil supplements?
According to Mayo Clinic, if you're taking blood pressure drugs, blood thinners, birth control pills, or weight loss drugs, fish oil may interact and cause issues. Speak to your doctor before starting any fish oil supplements. 
References