We test and review fitness products based on an independent, multi-point methodology. If you use our links to purchase something, we may earn a commission. Read our disclosures.
You'll do a lot of things in the name of health—cardiovascular exercises, strength training, stretching, we could go on—but if we offered you a capsule filled with live bacteria, you might politely (or disgustingly) decline. But what if we told you that microbe capsule might improve many aspects of your health—like gut health, brain health, skin health, immune health, vaginal health, and much more?
If you're curious about this bacterial supplement, look no further. If you're still shaking your head in disgust, we encourage you to read in full. We think we might change your mind after revealing the best probiotic supplements on the market.
Why trust our top picks? Well, not only are our We're a group of registered dietitians, sports nutrition experts, and certified personal trainers who live and breathe all things wellness. We actually test out our products and not just paraphrase a Google search—just as you'll notice in our reviews on the best greens powders and the best creatine.
After researching more than three dozen probiotic supplements and testing more than 20 of them, we've narrowed our list down to our top picks by using our GGR supplement testing methodology that looks at things like:
Strains: Does it have the appropriate strains to help improve gut health or treat intestinal disorders?
CFUs: Does it have the proper number of colony forming units (or CFUs)?
Swallowability: Can you take it easily?
Price: Is it affordable?
Medical disclaimer: This article is intended for educational and informational purposes only. It is not a substitute for health or medical advice. For medical advice, contact an appropriate healthcare provider.
11 Best Probiotic Supplements
What Are Probiotics?
Probiotics are called "good bacteria." They are live microorganisms that are most commonly taken in capsule form, and because the bacteria is alive they often need to be refrigerated to get all the health benefits, which include improved gut health.
In addition to probiotic supplements, probiotics can be found in fermented foods like yogurt and kimchi.
Best Probiotic Overall: Ritual Synbiotic+
Good for: People looking to cover all of the healthy bacterial bases on a subscription basis
Ritual, a subscription-based service, offers a 3-in-1 synbiotic trifecta—meaning it offers pre-, pro-, and postbiotics—and can be thought of as a team effort synergizing the benefits each component offers.
As a refresher, prebiotic fibers nourish the good, live bacteria otherwise known as probiotics. The International Scientific Association of Probiotics and Prebiotics (ISAPP)1 defines postbiotics as the "preparation of inanimate microorganisms and/or their components that confers a health benefit on the host." Postbiotics are essentially the waste products of probiotics fermenting prebiotics, which include butyrate2—a short-chain fatty acid that may play a positive role in immune and inflammatory responses.
Ritual takes its product formulation quite seriously, even conducting a two-part scientific study to put its 3-in-1 gut support to the test. Needless to say, Ritual takes the extra step (or a few) to prove the efficacy of its product. They're also so confident in their science-backed products, they offer a money-back guarantee and easy cancellation if you wish to.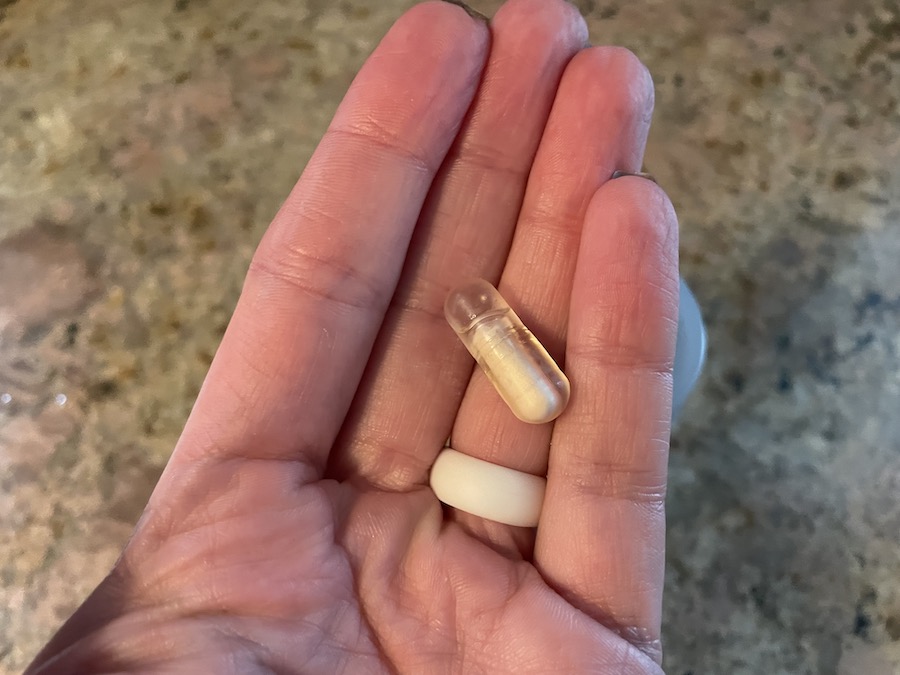 Also because we truly appreciate transparency, we can't help but mention the ingredients they use are traceable—this means you can learn exactly where the ingredients in your supplement are coming from. Ritual's Synbiotic is also third-party tested, vegan-friendly, and free of GMOs, gluten, and major allergens.
Ritual's supplement is the priciest probiotic of the bunch, although they do offer free shipping—and a mint-flavored capsule! GGR Senior Editor and expert product tester Nicole Davis tried out Ritual Synbiotic+ and very much enjoyed the mint aroma. She said it was really easy to sign up and modify your subscription, which is a plus, too. Ritual is also our pick for the best probiotic subscription because of its accessible customer service.
| | |
| --- | --- |
| Dose Instructions | 1 capsule daily with or without food |
| CFUs | 11 billion CFUs per capsule |
| Strain(s) | Lactobacillus rhamnosus (LGG®)Bifidobacterium animalis ssp. lactis (BB-12®) |
| Storage | Shelf-stable |
| Cost | $1.80/capsule in a 30-capsule container (subscription basis) |
Best Probiotic for Bloating: Transparent Labs Probiotic
Good for: Those wanting to beat belly bloat and support a healthy gut
Transparent Labs offers an ultra-potent probiotic with a whopping 100 billion CFUs in each serving, or two capsules. The robust probiotic contains a probiotic blend of 10 probiotic strains of Lactobacilli, Bifidobacteria, and Streptococci to support a healthy gut and overall health.
The probiotic also contains a prebiotic to synergize the probiotic benefit and is protected by a resilient hypromellose capsule. The probiotic is also free of artificial sweeteners that often cause bloat, as well as artificial colorings and preservatives.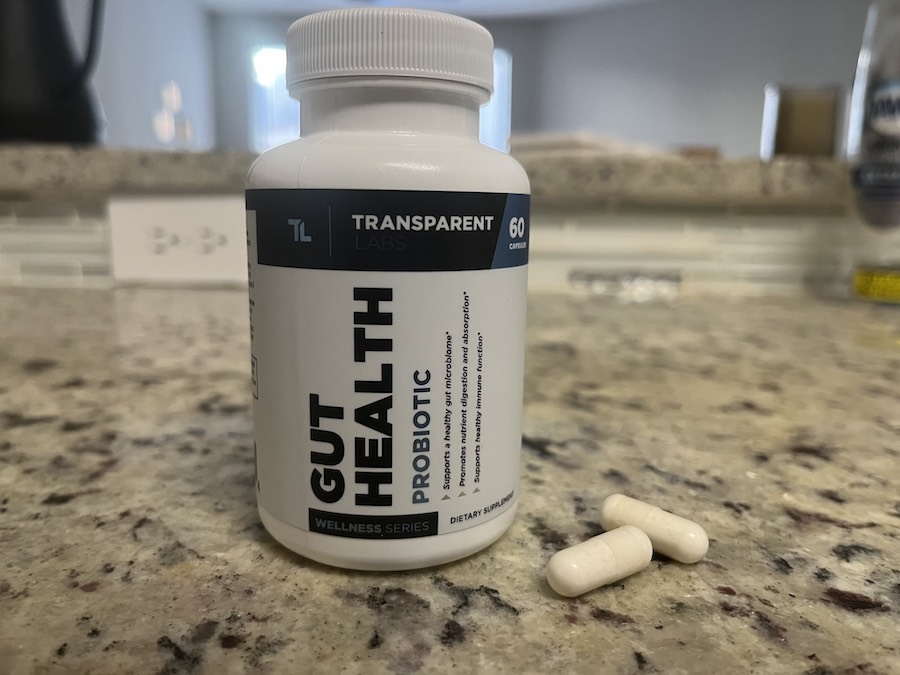 Transparent Labs also offers a "Gut Essentials Stack" that includes their Collagen Hydrolysate and Prebiotics Greens, which we also reviewed in our top 10 best greens powders. Not only can powder enhance the beneficial probiotics, but this one is the best-tasting, which can be hard to come by in a greens-based supplement!
GGR Performance Editor and expert product tester Anthony O'Reilly tried Transparent Labs Gut Health, and hasn't noticed any side effects, plus he says the pill is easy to swallow.
| | |
| --- | --- |
| Dose Instructions | 2 capsules/day with a full glass of water, preferably on an empty stomach, or as directed by a healthcare professional |
| CFUs | 100 billion CFUs per serving |
| Strain(s) | Lactobacillus acidophilus (LA-14), Lactobacillus rhamnosus (LR-32), Lactobacillus casei (LC-11), Lactobacillus plantarum (LLP-115), Lactobacillus paracasei (LPC-37), Bifidobacterium lactis (BL-04), Lactobacillus salivarius (LS-33), Streptococcus thermophilus (ST-21), Bifidobacterium bifidum (BB-02), Bifidobacterium breve (BB-03) |
| Storage | Not indicated |
| Cost | $45.99/30 servings = $1.53/serving |
Best Probiotic for Athletes: Kaged Pro-Biotic
Good for: Fitness fanatics who value their health beyond physical performance
Kaged Pro-Biotic is a premium performance probiotic that claims to not only promote gut health, but enhance endurance and reduce fatigue. Each capsule houses a single-strain probiotic, known as L. plantarum, and 10 billion CFUs.
RELATED: How to Build Stamina for Running
Pro-Biotic contains a patented strain of L. plantarum—called TWK10®—and is naturally fermented from kimchi. The unique strain is thought to increase muscle energy (ATP), therefore enhancing physical performance, and has been shown to reduce fatigue and enhance muscle endurance in clinical trials. This strain has also been shown to lessen immune stress and enhance immunity—both of importance to people who lead active lifestyles.
Kaged's probiotic also claims to use targeted-release technology, which essentially implies the capsulated probiotics will survive the harsh conditions in the gut and be utilized effectively. There is truth to this, as research proposes the hypromellose3 used in the capsule helps release a drug in a controlled manner to increase the duration of release and prolong its therapeutic effect.
RELATED: Best Pre-Workout for Men
| | |
| --- | --- |
| Dose Instructions | 3 capsules/day with breakfast, lunch, and dinner |
| CFUs | 10 billion CFUs per capsule |
| Strain(s) | L. plantarum (as TWK10™) |
| Storage | Not indicated |
| Cost | $0.23/capsule for a 90-capsule container |
Best Vegan Probiotic: Culturelle Digestive Daily Probiotic
Good for: Those looking to prioritize their daily digestive health with ease
Culturelle is a vegetarian and vegan-friendly, daily-dose supplement containing 10 billion colony forming units (CFUs), which refers to the estimated number of live and active organisms in a serving. The National Institutes of Health (NIH) Office of Dietary Supplements (ODS) suggests many probiotic supplements contain 1 to 10 billion CFU per dose, but some products contain up to 50 billion CFU or more.
The Culturelle capsule contains a single probiotic strain known as Lactobacillus rhamnosus GG, which is claimed to be the No. 1 most clinically studied probiotic strain. A study published in Microbial Cell Factories4 agrees it's one of the most widely used, further suggesting the strain may help prevent and treat gastrointestinal (GI) infections and diarrhea and support immunity. This also makes the Culturelle Digestive Daily Probiotic our pick for the best probiotic supplement for IBS, or irritable bowel syndrome.

Along with the probiotic strain, the prebiotic inulin is also added to the capsule. While not a type of bacterium, prebiotics are non-digestible food components/fibers that essentially act as food to probiotics and nourish their growth.
To reap the full probiotic benefit, the good bacteria must stay alive and active before and while being consumed. Each capsule is individually sealed to preserve the probiotic's integrity, in which Culturelle guarantees you will get the full amount of CFUs listed on the label.
Culturelle products are also certified through NSF, a third-party certification organization, meaning the probiotic has been tested and reviewed under specific safety and quality standards. Not all supplements undergo testing, so we always encourage you to look for the NSF seal of approval on the product of interest.
| | |
| --- | --- |
| Dose Instructions | 1 capsule/day |
| CFUs | 10 billion CFUs/capsule |
| Strain(s) | Lactobacillus rhamnosus GG |
| Storage | In a dry, cool place |
| Cost | $0.67/capsule in a 30-capsule container |
Best Probiotic for Men: Biotics 8
Good for: Men hunting for a robust probiotic with hearty benefits
Biotics 8 is a probiotic formulated with men's health in mind. The supplement combines probiotics, prebiotics, digestive enzymes, fiber, and vitamin D and claims to support men's overall gut health and well-being.
We've already chatted about the benefits of combining probiotics and prebiotics, but what's the scoop on digestive enzymes? First off, the digestive enzymes amylase, lipase, and protease naturally occur in the body to help break down carbohydrates, fats, and proteins, respectively.
RELATED: Best Protein Shakes
A study published in Current Drug Metabolism5 proposes enzyme supplementation therapy may play an important role in several digestive and malabsorption disorders. However, discussing any worries about digestive issues should ideally be handled with your health expert.
Vitamin D is also a nice touch to the probiotic supplement, as ongoing research shows combining the two might just be a power duo. In fact, a 2020 systematic review published in Nutrients6 suggests that co-supplementation of vitamin D and probiotics may decrease disease severity and use of healthcare, as well as support improvements in mental health, insulin sensitivity, dyslipidemia, inflammation, and antioxidative capacity.
| | |
| --- | --- |
| Dose Instructions | 2 capsules/day |
| CFUs | 16 billion CFUs per serving |
| Strain(s) | Lactobacillus acidophilus, Lactobacillus casei, Lactobacillus paracasei, Lactobacillus rhamnosus, Lactobacillus plantarum, Lactobacillus fermentum, Bifidobacterium longum, Bifidobacterium bifidum, Bifidobacterium breve, Saccharomyces Boulardii |
| Storage | Not indicated |
| Cost | $2.00/serving in 30-serving container |
Best Probiotic for Women: Garden of Life Probiotics for Women
Good for: Women looking to take their health to the next level
Garden of Life Probiotics for Women is a doctor-formulated prebiotic that places women's health at the forefront. The probiotic provides 16 strains claimed to support vaginal, digestive, and immune health.
Garden of Life especially calls attention to the selected strains Lactobacillus reuteri and Lactobacillus fermentum. Research7 supports Lactobacilli and these strains may prevent and treat urogenital disease and bacterial vaginosis in women. L. rheuteri, specifically, may also restore the normal vaginal flora in postmenopausal women.
RELATED: Best Pre-Workout for Women
Each non-GMO vegetable capsule also provides 50 billion CFUs and an organic prebiotic fiber blend to enhance good bacterial growth, and therefore the utmost benefit. The patented self-stable bottle also helps protect the probiotics without the need for refrigeration.
Also rest easier knowing the probiotic is third-party tested and gluten-free certified. It's also free of soy and dairy.
| | |
| --- | --- |
| Dose Instructions | 1 capsule/day with or without food |
| CFUs | 50 billion CFUs per capsule |
| Strain(s) | Lactobacillus acidophilus, Lactobacillus plantarum, Lactobacillus casei, Lactobacillus paracasei, Lactobacillus bulgaricus, Lactobacillus brevis, Lactobacillus reuteri, Lactobacillus salvarius, Lactobacillus fermentum, Lactobacillus gasseri, Lactobacillus rhamnosus, Bifidobacterium lactis, Bifidobacterium bifidum, Bifidobacterium breve, Bifidobacterium infantis, Bifidobacterium longum |
| Storage | Shelf-stable with no required refrigeration |
| Cost | $1.15/capsule in a 30-capsule container |
Best Allergen-Friendly Probiotic: HUM Nutrition Gut Instinct
Good for: Those extra cognizant of ingredients
HUM Nutrition Gut Instinct is a probiotic supplement free of common allergens, including wheat, gluten, soy, milk, eggs, fish, crustacean shellfish, tree nuts, and peanuts. However, it's still important to mention that they disclose that the probiotic is produced in a GMP facility that processes other ingredients that contain the aforementioned allergens.
The probiotic is free of artificial ingredients, is third-party and clinically tested, and clean ingredient-verified. We also appreciate that HUM is formulated by dietitians and staff nutritionists to help consumers navigate their probiotic journey—you might be able to tell by now just how complex probiotics can be!
HUM's probiotic contains a proprietary blend of 10 probiotic bacteria strains from the common species Lactobacillus, Bifidobacterium, and Streptococcus. They also offer insight into the benefits of their selected probiotics, such as supported immunity and gut health, even including a references section filled with science-supporting literature.
Each capsule contains 25 billion CFUs, although they do note the CFU count is at the time of manufacturing. Also, we should note that CFU is not the best indication of a good probiotic; a probiotic could have the highest CFU count but lack diversity in strain, survival of passage, or actual provision. Always consider other factors besides the CFU number when choosing your probiotic.
| | |
| --- | --- |
| Dose Instructions | 1 capsule/day |
| CFUs | 25 billion CFUs per capsule |
| Strain(s) | Lactobacillus acidophilus (UALa-01), Bifidobacterium lactis (UABla-12), Lactobacillus plantarum (UALp-05), Bifidobacterium longum (BL03 AF), Lactobacillus rhamnosus (Lr-32), Strepto. thermophilus (St-21), Lactobacillus paracasei (Lpc-37), Bifidobacterium breve (BR03 AF), Lactobacillus salivarius (Ls-33), Lactobacillus Casei (Lc-11) |
| Storage | Not indicated |
| Cost | $0.87/capsule in a 30-capsule container |
Best Pre- and Probiotic: Ora Organics Probiotic with Prebiotics
Good for: Those who follow a dairy-free diet or vegan lifestyle
Ora Organics Probiotic with Prebiotics is vegan-friendly and free of dairy, gluten, soy, tree nuts, added sugars, and artificial ingredients. The daily synbiotic may support digestive health and the immune system thanks to its six clinically studied and acid-resistant strains of the Lactobacillus and Bifidobacterium species.
Each Ora serving, or two capsules, provides 16 billion CFUs until the end of shelf life. Ora stresses to look for "probiotic count until end of shelf life" over "probiotic count at time of manufacture" on the probiotic label—this is because manufacturing conditions vary and can harm the probiotic, which questions if the probiotic is still alive (and functional) when consumed.
Ora's pure and potent probiotic is also third-party tested and certified non-GMO. Their selection of hardy, freeze-drained strains helps protect the probiotics in a shelf-stable environment.
GGR Senior Staff Writer and expert product tester Amanda Capritto, CPT, CES, CNC, CF-L1, tried this probiotic and noted that the capsule was a bit sticky, but hasn't noticed any negative side effects.
| | |
| --- | --- |
| Dose Instructions | 2 capsules/day |
| CFUs | 16 billion CFUs per serving |
| Strain(s) | Lactobacillus acidophilus, Lactobacillus reuteri, Bifidobacterium bifidum, Bifidobacterium breve, Bifidobacterium lactis, Bifidobacterium longum |
| Storage | Store in a dry, cool place |
| Cost | $1.38/serving in a 30-serving container |
Best Probiotic for Immune Health: Metagenics UltraFlora Immune Booster
Good for: Those extra focused on supporting a healthy immune system
The UltraFlora Immune Booster is a targeted probiotic to support healthy nasal, sinus, and respiratory function. The capsule contains 1 billion CFUs (at the date of expiration) and the "friendly" bacteria strains Lactobacillus paracasei 8700:2 and Lactobacillus plantarum HEAL9.
Various research supports these strains may offer immune benefits, including protecting against colds in adults8 and balancing the immune response in kids with celiac autoimmunity9.
Metagenics is also proudly committed to testing, even housing its own highly trained research and development team, and transparency. In fact, you can even enter the lot number of your product and gain insight related to its testing specs.
| | |
| --- | --- |
| Dose Instructions | One capsule/day or as advised by your healthcare practitioner |
| CFUs | 1 billion CFUs per capsule |
| Strain(s) | Lactobacillus paracasei 8700:2, Lactobacillus plantarum HEAL9 |
| Storage | No refrigeration required but should be stored below 75ºF |
| Cost | $1.43/capsule in a 30-capsule container |
Best Liquid Probiotics: Mary Ruth's Organic Liquid Probiotic
Good for: Health-conscious consumers who think capsules are a tough pill to swallow
Mary Ruth's Organic Liquid Probiotic is a (non-flavored) liquid-based probiotic, unlike the other probiotic supplements we've tested. And because not everyone enjoys choking down a pill, a liquid bacterial concoction is an excellent alternative.
To take, adults should first gently shake and then carefully drop four pumps directly into their mouth or with liquid. They stress the importance of avoiding direct dropper content to the mouth or skin to prevent contamination.
The liquid probiotic contains an organic proprietary blend of 12 strains with the three species Lactobacillus, Bifidobacterium, and Streptococcus. The bundle of probiotics may help support the immune system and gut health.
| | |
| --- | --- |
| Dose Instructions | Adults (ages 14-64) up to 3 mL daily |
| CFUs | N/A |
| Strain(s) | Lactobacillus acidophilus, Lactobacillus rhamnosus, Lactobacillus salivarius, Lactobacillus casei, Lactobacillus plantarum, Lactococcus lactis, Streptococcus thermophilus, Bifidobacterium bifidum, Bifidobacterium lactis, Bifidobacterium infantis, Bifidobacterium breve, Bifidobacterium longum |
| Storage | Store in a cool, dry place but refrigeration after opening is recommended (also do not freeze) |
| Cost | $1.124/serving in a 40-serving container |
Best Budget Probiotic: Bio-Kult Protexin Advanced Probiotic
Good for: Those wanting to invest in their health without sacrificing quality and their hard-earned cash
Bio-Kult Protexin Advanced Probiotic is a multi-strain probiotic containing 2 billion CFUs per capsule. The 14 probiotic cultures embody some of the most commonly used and studied species, including Bifidobacterium and Lactobacillus, as well as the yeast Saccharomyces, according to the NIH. Having a diverse provision of probiotic strains supports the growth of many types of good bacteria and ultimately a diverse microbiome.
The probiotic is thoughtfully freeze-dried and encapsulated to protect the organisms from harsh environment and gut conditions (the gut is acidic, especially when breaking down food when stomach acid is released). But thanks to their protective barrier, the capsuled probiotics are intended to thrive in the gut and can be stored at room temp for up to two years.
Bio-Kult tested just how effectively their product could survive the acidic conditions of the stomach, particularly in hopes that the probiotics can establish themselves in the small intestine. After mimicking the acidic environment as closely as possible, the lab test suggests the high bacterial counts in Bio-Kult could survive and subsequently thrive.
GGR Staff Writer and expert product tester Lauren Strong, CPT, tried this probiotic and has had a good experience. She also notes that the pill is smaller than a traditional multivitamin, which is a nice bonus.
| | |
| --- | --- |
| Dose Instructions | 1-2 capsules/day with food |
| CFUs | 2 billion CFUs per capsule |
| Strain(s) | Lactobacillus casei PXN® 37™, Lactobacillus plantarum PXN® 47™, Lactobacillus rhamnosus PXN® 54™, Bacillus subtilis PXN® 21®, Bifidobacterium bifidum PXN® 23™, Bifidobacterium breve PXN® 25™, Bifidobacterium longum PXN® 30™, Lactobacillus acidophilus PXN® 35™, Lactococcus lactis ssp. lactis PXN® 63™, Streptococcus thermophilus PXN® 66™, Bifidobacterium infantis PXN® 27™, Lactobacillus delbrueckii ssp. bulgaricus PXN® 39™, Lactobacillus helveticus PXN® 45™, Lactobacillus salivarius PXN® 57™ |
| Storage | Keep sealed and store in cool, dry conditions |
| Cost | $0.50/capsule in a 30-capsule container |
Other Probiotics We Tried and Researched
There are hundreds of probiotics on the market, so it'd be quite the feat—with lots of page scrolling—to cover all the great products out there. So just because a probiotic didn't make our list, doesn't mean we don't approve of them.
Other probiotic products we researched (and trust) include:
How We Picked and Tested the Best Probiotic
Our GGR testers might have different fitness goals but we share one common goal when it comes to supplement testing: To find and elect high-quality products. Since "high-quality" is a fairly subjective term, we picked and tested the best probiotics mostly based on the brand's own product testing and reputation.
Our testers also appreciate simple and fully packaged products with all the bells and whistles, so we made sure to call out any special features of the chosen product. Also, because probiotics are not a "one-size-fits-all," we made sure to include a variety of options to capture various needs.
Product Testing
Just as we honestly test products, we often only trust other companies that test out their own products. Testing can mostly be broken down into two categories: third-party testing and ingredient testing.
Third-Party Testing
While the Food and Drug Administration (FDA) regulates both finished dietary supplement products and dietary ingredients, they are not authorized to approve dietary supplements for safety and effectiveness before they are marketed according to the NIH. What this means is that supplements are not tightly regulated and just about any manufacturer can introduce products they believe to be healthful to the masses.
A lack of regulation can be harmful, but third-party testing can help ease a consumer's mind when choosing a product. This is why we aim to select probiotics that have been third-party tested, meaning the product has been carefully reviewed under tight safety, quality, and performance standards.
Ingredient Testing
From the probiotic's strain-specific function to how well they withstand harsh conditions, how probiotics function and survive in and outside of the body is both delicate and complex. That said, we're continuously scouting brands that test their product and justify their rhyme and reason for ingredient selection.
Ritual is a great example of this, as they are diligent about product testing and hyper-transparent when it comes to disclosing their ingredients. Even if the study was self-funded, and may be sprinkled with a bit of bias, it does prove just how much they respect their products and consumers.
Other brands are also proud to show off their ingredients, though you can also play "supplement detective" if transparency is as clear as mud. To channel your inner Inspector Gadget, we recommend scouting out the 'Ingredients' label on the product itself or its packaging. A probiotic should obviously contain probiotics but it may also contain pre- and postbiotics and other ingredients that might not be so familiar.
In the face of unfamiliarity, look up the ingredient using a quick Google search and likewise review if the research supports the probiotic strain. For expert guidance, consult with your healthcare team.
Brand Reputation
In addition to reviewing testing protocols, it's important to investigate the reputation of the brand. How consumers determine and perceive reputation can vary, although aspects we consider include:
Product and ingredient testing, as explained above
Whether or not they offer return policies and/or money-back guarantees
Accessibility to customer service and contact forms
Receptive to customer feedback
Consumer and customer reviews featured on their webpage, as well as on other sites like Amazon that also sell their products
Overall, reputation standards are at the consumer's discretion but we encourage you to do your due diligence, especially when it comes to supplements that are not tightly regulated.
Benefits of Taking Probiotic Supplements
We've teased the health benefits of probiotics, but now we need to seal the deal. Let's explore how a probiotic could improve your gut, lower chronic disease risks, and boost your overall health for the better.
Balance a Healthy Gut
It's nearly impossible to chat about probiotics without bringing up gut health and the gut microbiome10, a collection of bacteria and other microorganisms that reside in the gastrointestinal tract. The gut microbiome houses both harmful and beneficial gut bacteria and in a generally healthy person, the bacteria live together in harmony.
When the bacteria is altered—also known as dysbiosis—chronic gastrointestinal diseases, neurodevelopmental disorders, and other health conditions may arise. Using a probiotic to rebalance bacteria can help the gut become happy and healthy once again.
A 2018 meta-analysis11 further suggests healthy adults who use probiotic supplementation can improve gut microbiota. Improvements in gut microbiota may, in turn, improve immunity, bowel patterns, and other positive health benefits.
Lower Risks and Symptoms of Gastrointestinal Diseases
Gastrointestinal diseases affect the GI tract, or any area between the mouth and anus. Disorders of the digestive system can be acute, like acute diarrhea and food poisoning, or chronic, such as chronic constipation and inflammatory bowel disease.
Probiotics may lower the risks of GI diseases and ease symptoms of various digestive conditions. Research in the Journal of Bacteriology and Infectious Diseases12 shows several probiotic strains to be effective in reducing symptoms and risks of acute and antibiotic-associated diarrhea, irritable bowel syndrome (IBS), and colon cancer, just to name a few.
A 2019 meta-analysis13 shows the potential beneficial roles of probiotics and synbiotics for acute diarrhea in children.
Benefit Other Body Systems
While probiotics are mostly known for their gut-supporting roles, they might actually benefit the entire body, including immune function. While probiotics will not treat any medical conditions, the gut microbiome plays a critical part in the upkeep of human health and research shows probiotics may also provide the following health benefits12:
Stabilizes the immune system and treat allergies
Augments blood pressure and cholesterol levels
Protects against vaginal and urinary tract infections
Supports oral health such as defending from dental caries and halitosis (the medical, and perhaps polite, term for bad breath)
Improves central nervous system functions and psychiatric disorder-related behaviors like anxiety, depression, autism spectrum disorder (ASD), obsessive-compulsive disorder, and memory abilities based on a systematic review14
Assists in weight loss and reducing body weight according to a meta-analysis in Nutrients15
Probiotics are also helpful for producing and increasing the availability of vitamins, which offer their own unique benefits. Vitamin deficiencies can cause countless symptoms, like fatigue, dry skin, poor wound healing, and mood changes; ensuring the body gets enough of these micronutrients can counter these risks.
Offer Convenient "Insurance"
Here's the thing about supplements—they are meant to supplement your diet and not take its place. Just like the best green powders and creatine products, you should first focus on balancing your diet with nutrient-dense foods, then fill in the gaps with a supplement.
Specific to the use of probiotics, most dietitians and nutrition experts agree you should aim to get probiotics from food sources—like yogurt, kimchi, sauerkraut, and other fermented foods—then consider a supplement. Also specific to probiotic supplements, and unlike most probiotic foods requiring refrigeration, they are often shelf-stable for your convenience.
How to Choose the Best Probiotic for You
First and foremost, probiotics are mostly safe for a generally healthy person. However, we always encourage consumers to reach out to their doctor, a dietitian, or another healthcare expert if interested in taking a probiotic supplement—or any health supplement for that matter.
A healthcare professional can ultimately guide you to a safe and reputable product to benefit you the most. You can also lean on these expert-guided tips to choose the best probiotic for you. We used our GGR supplement testing methodology to find the best probiotic supplement for you.
Match Your Health Needs to the Probiotic Strain
If you want to get the absolute most from your probiotic, it's worth your while to consider a more targeted treatment depending on your unique needs. This is because strong evidence16 supports the efficacy of probiotics is both strain-specific and disease-specific.
For instance, Lactobacillus acidophilus can support a reduction in irritable bowel syndrome symptoms, while Lactobacillus rhamnosus GG could help reduce blood pressure.12 Of course, this isn't to say probiotic strains can only be used for one condition, but it does help prove different strains have different roles.
Overall, identifying your health goal(s)—whether it be easing IBS symptoms or lowering blood pressure—can narrow in on the right strains of probiotics for you.
Assess Your Dietary Needs and Preferences
It's wise to choose a probiotic that suits your dietary needs, especially if managing a food allergy, sensitivity, and/or intolerance. Luckily, many diet-specific probiotics are available such as gluten-free, dairy-free, and soy-free options.
Even if not treating a particular health condition, everyone has their own set of dietary preferences and standards. The good news is that we tested and recommended probiotics to suit just about any diet desire, including vegan-friendly and non-GMO options.
Probiotics are also being formulated with other functional ingredients and nutrients, including vitamin D in Biotics 8. Some consumers may like the combo while others might not—once again stressing that probiotics are not one-size-fits-all.
Consider Convenience and Accessibility
While the ingredients of the probiotic do matter, the beneficial bacteria is not so beneficial if they aren't taken consistently. So, we also recommend basing your probiotic selection on how conveniently you can follow the indicated instructions.
For instance, some of the best probiotic supplements listed above are shelf-stable while others require refrigeration. So if you stray away from our list, investigate if the supplement requires refrigeration or other specific storage instructions.
If "cool" with keeping your probiotics refrigerated, do you plan on traveling with them? Because probiotics can help ease travelers' diarrhea, traveling without them is like hopping on the airplane without your headphones—a pesky annoyance you likely won't forget about. So if you plan to travel near and far with them, consider how they'll stay appropriately chilled.
RELATED: Travel Workouts
The dosing of probiotics also varies; some brands recommend taking once daily, while others might encourage taking multiple times a day. If remembering to take more than one serving per day seems like a hassle, it might be best to choose a product you only need to take once a day.
Analyze the Product Packaging
While it's what is on the inside that matters most, specifically which probiotic strains are used, you should also evaluate how the product is packaged and labeled. Things to look out for include:
Third-party certifications to help validate the probiotic's safety, purity, and quality.
Expiration dates, especially because probiotics are live bacteria.
Instructions related to proper dosing and storing.
Approach with Flexibility
The number of probiotics currently on the market is abundant—and the variety will likely increase as research and interest rise in the future. That said, it's important to approach probiotics with flexibility and allow for trial and error.
While the time it takes to notice often depends on the intended use of the probiotic, most supplements encourage allowing at least one week as an introductory period. During this time, you might experience side effects such as cramping and bloating.
It's wise to follow up with a healthcare expert to evaluate changes and plan modifications together. However, if you're simply experimenting without major underlying health conditions, you have countless other probiotics to try out.
Best Probiotics: FAQs
What are the top 5 probiotics?
What is the most effective form of probiotic?
Generally speaking, the most effective probiotic is one that provides some of the most researched-backed strains like Lactobacillus acidophilus. However, because certain bacterial strains offer certain benefits, the probiotic that best targets your unique need/goal would be more effective than another strain intended for a different purpose. 
How do I choose a good probiotic?
To choose a good probiotic right for you, first identify your health goals and needs. After identifying your goal of treatment, couple the probiotic strain that research shows to be effective. A good probiotic should also be formulated by a reputable company and created to withstand harsh conditions.
What is a trusted brand for probiotics?
All of the above brands—like Culturelle, Bio-Kult, and Ritual—are brands that haven't given us a reason not to trust them. If investigating other brands, we recommend looking for those who have been third-party tested. You can also probe their return policies, customer service access, and customer reviews for better judgment.
Is it OK to take a probiotic supplement every day?
The answer, as always, is it depends. If you have a digestive disorder or a condition such as irritable bowel syndrome, taking a daily probiotic supplement may be necessary to alleviate symptoms. There's no danger to taking probiotic supplements in the absence of any symptoms, but it's always best to consult with a medical expert before taking any supplements.
References