We test and review fitness products based on an independent, multi-point methodology. If you use our links to purchase something, we may earn a commission. Read our disclosures.
You might be turning to the best probiotic supplements to support your gut, immune, and overall health. That's a great start, but if you aren't getting enough prebiotics, you're likely leaving the full benefits of probiotics on the floor—similarly to "wasting" a workout if you aren't consuming high-protein foods.
As you'll soon learn, prebiotics are essential for maintaining good gut bacteria. Prebiotics are naturally found in foods, but their concentrations are relatively low in them according to a 2019 review1, thus making a prebiotic supplement a viable option.
Like choosing any supplement, there's a lot to consider. Fortunately, GGR's team of dietitians and nutrition experts has rounded up the best prebiotics to eliminate any guesswork so you can feel more confident in a product right for you. Our team of registered dietitians and certified nutrition coaches used these prebiotic supplements for a month to test their efficacy and graded them in accordance with our GGR supplement testing methodology.
Medical disclaimer: This article is intended for educational and informational purposes only. It is not intended as a substitute for medical advice. For health advice, contact a licensed healthcare provider. GGR also recommends choosing a product that has been third-party tested for quality.
Best Prebiotics
Pre-Chat: What Are Prebiotic Supplements?
Before we hop into our top prebiotic picks, let's ensure we're on the same page about what they are. There's quite a bit to unpack, as prebiotics are often confused for probiotics and used interchangeably with dietary fiber. Still, we'll do our best to keep it as straightforward and brief as possible.
Defining Pre-, Pro-, and Postbiotics
For those who like the scientific details, the International Scientific Association of Probiotics and Prebiotics (ISAPP) defines pre-, pro-, and postbiotics as the following:
Prebiotics2: A selectively fermented ingredient that results in specific changes in the composition and/or activity of the gastrointestinal microbiota, thus conferring benefit(s) upon host health
Probiotics3: Live microorganisms which when administered in adequate amounts confer a health benefit on the host
Postbiotics4: Preparation of inanimate microorganisms and/or their components that confers a health benefit on the host
And for those who appreciate simple lingo, prebiotics feed and grow probiotics to influence the gut microbiota5—the collection of living microorganisms that colonize the gastrointestinal tract (GI). As a result, prebiotics can selectively influence gut microbiota and affect intestinal functions and other body systems.
Postbiotics are the waste products of probiotics fermenting prebiotics. The byproducts can affect the gastrointestinal tracts and other distant organs while positively impacting immune and inflammatory responses.
Prebiotics vs Dietary Fiber
Dietary fiber, a type of carbohydrate that the body can't digest, is found in various plants—like fruits, vegetables, and whole grains—and fiber supplements. The plant-based nutrient helps support a healthy digestive system, control blood sugars, and improve cholesterol levels, amongst other health benefits.
There's a lot of gray area and overlap between prebiotics and dietary fibers: but whereas most prebiotics are dietary fibers, not all dietary fibers are prebiotics. This is mainly because some dietary fibers are non-fermentable, meaning they travel intact to the colon and add bulk to stools so it's easier to pass.
Prebiotic Types and Sources
Many types of prebiotics exist, although most of them are oligosaccharide carbohydrates. The ISAPP encourages us to look out for these common types of prebiotic fibers:
Galactooligosaccharides (GOS)
Fructooligosaccharides (FOS)
Oligofructose (OF)
Chicory fiber
Inulin
Prebiotics primarily exist in various carbohydrates—including asparagus, garlic, chicory, Jerusalem artichoke, wheat, banana, and microalgae—but newer evidence suggests non-carb compounds are recommended as prebiotics.1 For instance, flavonols derived from cocoa have been shown to stimulate lactic acid bacteria, which produces lactic acid as the major end product.
Because of their low concentration in foods, prebiotics are manufactured on large industrial scales. And while we always encourage a foods-first approach, you can help fill in nutritional gaps with these best prebiotic supplements.
Best Prebiotic Overall: Ritual Synbiotic +
Good for: Enhancing gut health with clinically effective and dosed ingredients on a subscription basis
Ritual, a subscription-based company, is well-known for its high-quality supplement offerings and its Synbiotic+ is no different. The synbiotic is a trifecta mixture of pre-, pro-, and postbiotics to support gut health. 
Nicole Davis, GGR senior editor and certified personal trainer, has been taking Ritual Synbiotic+ for several months now and definitely thinks it's been having a positive effect on her overall GI health. "It took about a week or so for my system to get used to Synbiotic+, but after that, it's been smooth sailing! I notice less GI discomfort overall. Plus, I think the mint taste of the capsules is refreshing."
Synbiotic+ contains 15 milligrams of prebiotics sourced from PreforPro, a patented prebiotic that's been shown to accelerate a broad range of probiotic species—like lactobacillus and bifidobacterium that Ritual's synbiotic also supplies. Research6 supports that lactobacilli and bifidobacteria are the usual prebiotic targets for positively changing the gut microbiome. 
And to welcome postbiotics, Synbiotic+ contains tributyrin, a triglyceride prodrug7 (an inactive drug derivative that converts into an active drug in the body) of butyric acid. Butyric acid is a form of the short-chain fatty acid (SCFA) butyrate8, a byproduct of prebiotic fermentation that plays a positive role in gut health and immune and inflammatory responses.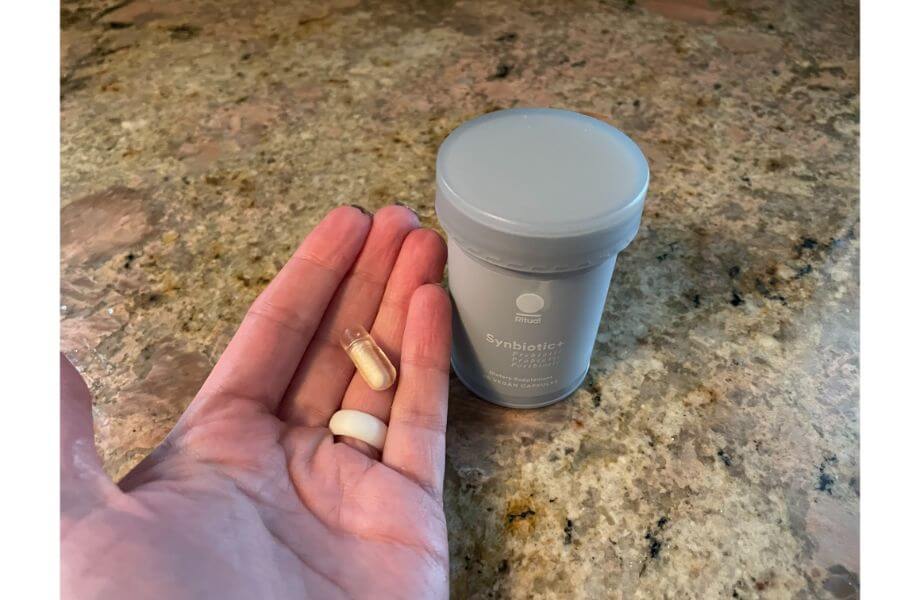 The capsules are formulated with clean ingredients, and you won't find any gluten, sugar, GMOs, major allergens, or artificial additives. They're also extensively tested— undergoing third-party testing and even as a two-part scientific study—to ensure their purity and effectiveness. 
And because we genuinely appreciate transparency, we have to mention that Ritual's ingredients are traceable, so you know exactly where they're coming from. Ritual is also so confident in its science-backed products that they offer a money-back guarantee and easy cancellation if Synbiotic+ doesn't work for you.
| | |
| --- | --- |
| Form | Capsules |
| Dose instructions | 1 capsule daily with or without food |
| Main prebiotic source(s) | PreforPro (prebiotic bacteriophage blend) |
| Cost | $54/30 servings = $1.80/serving |
Best Greens Powder With Prebiotics: Transparent Labs Prebiotic Greens
Good for: Supporting healthy digestion one sip and green mustache at a time
Transparent Labs is suitably named for being one of the most transparent supplement brands in the industry. This makes us confident in recommending its prebiotic supplement, especially if you're in the market for the best greens powder.
GGR senior staff writer and competitive triathlete Amanda Capritto tried the Peach Mango flavor, and says that while it does taste a bit like grass, mixing it with something like orange juice takes the edge off. She noted that while she personally felt no improvements her GI system was doing alright before taking these prebiotic greens, but customer reviews seem to indicate it helping with symptoms like bloating.
Prebiotic Greens claims to do it "better in two parts"—part one being algae greens, specifically 3 grams each of spirulina and chlorella9 to deliver ultra-rich nutrients that possess powerful antioxidant properties. Part two is a prebiotic blend containing 3 grams each of organic acacia and green banana flour and 1 gram of organic Jerusalem artichoke fiber.
Also known as acacia gum10 (AG), acacia fiber is a non-viscous soluble fiber shown to increase satiety—or the feelings of fullness—and lower blood glucose levels. A 2021 review11 supports that acacia fiber can improve gut health, lower inflammation, and protect from metabolic disease.
A 2021 study12 also supports that the prebiotic properties of green banana flour are effective in maintaining the survival of probiotic bacteria. And then there's Jerusalem artichokes13 that contain high amounts of inulin, a prebiotic that supports digestive health.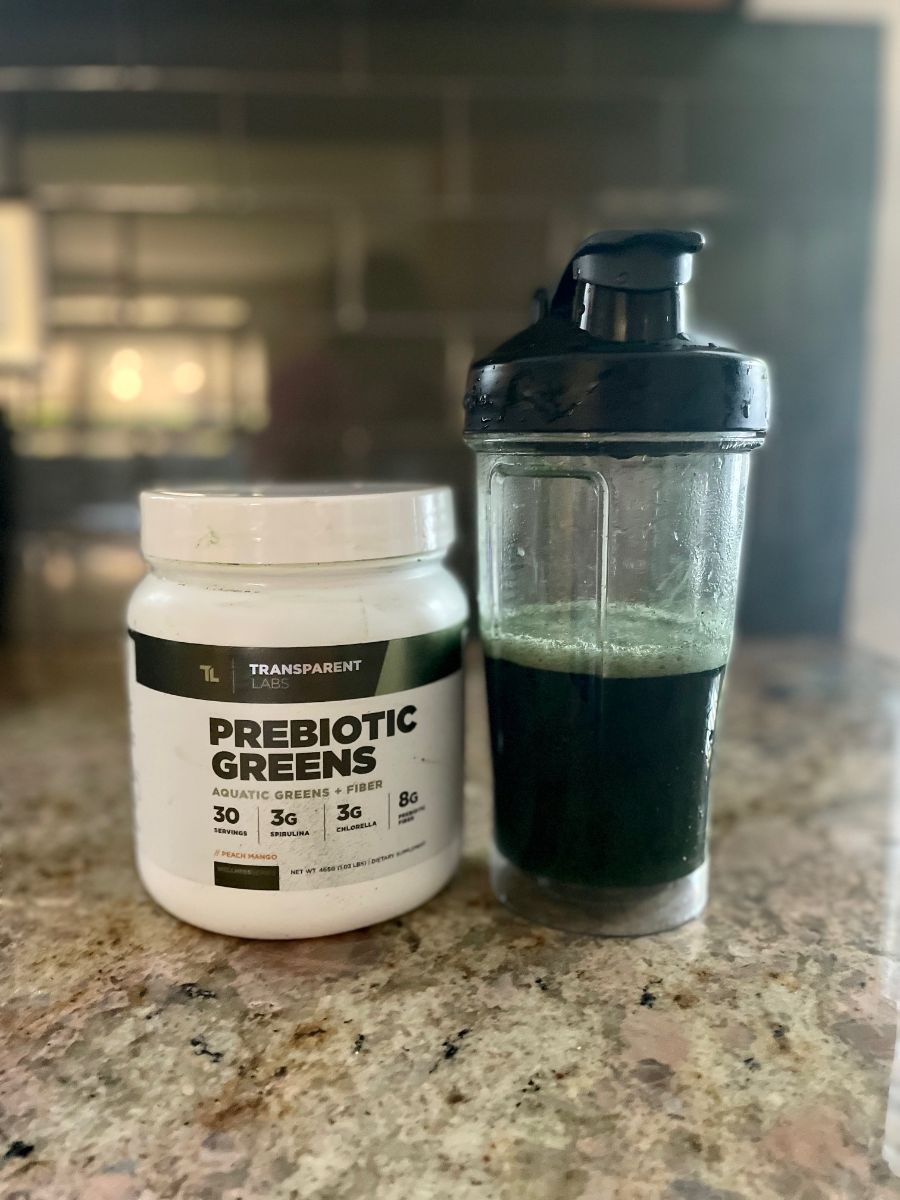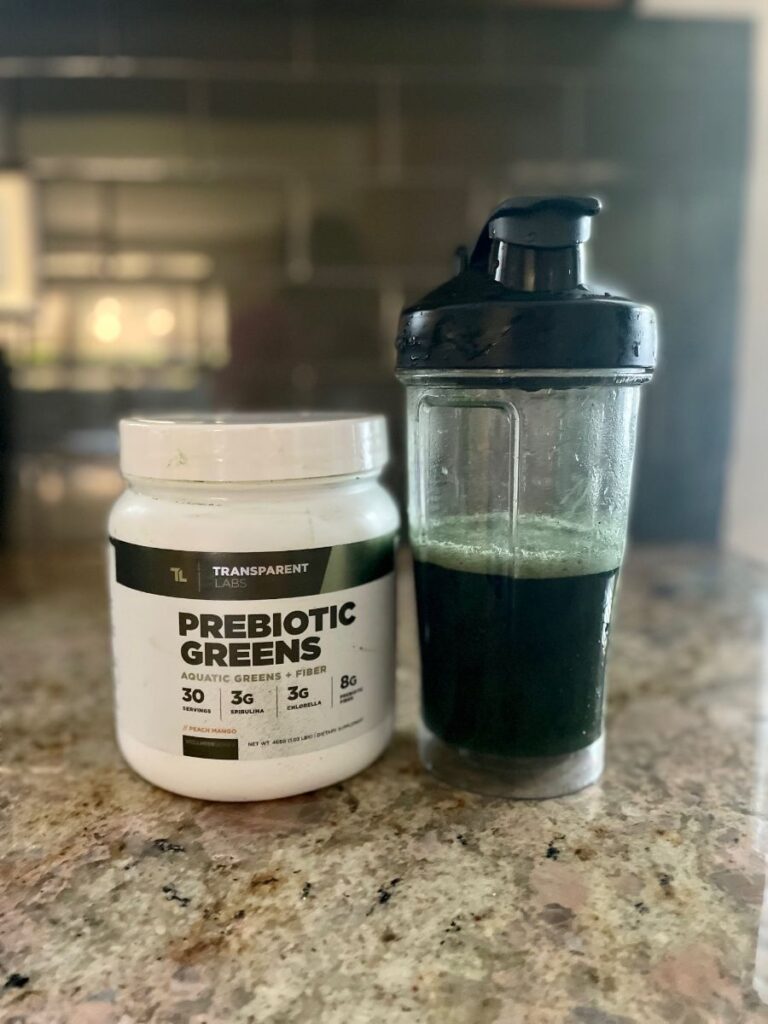 The combo of parts one and two—filled with soluble, insoluble, and slow-fermenting fibers—helps nourish and support a healthy gut. It also provides essential nutrients, like calcium and iron, while doing so.
The prebiotic greens powder comes in a Peach Mango and Unflavored option, and both are free of artificial sweeteners, coloring, and preservatives.
And lastly, like all Transparent Labs products, you can view the prebiotics powder's Certificates of Analysis and Composition online.
| | |
| --- | --- |
| Form | Greens powder (Peach Mango and Unflavored) |
| Dose instructions | Mix 1 scoop with fluid of choice and consume up to 3 times daily |
| Main prebiotic source(s) | Acacia fiber and Jerusalem artichoke fiber |
| Cost | $45.99/30 scoops (servings) = $1.53/serving |
Best Prebiotic for Men: Biotics 8
Good for: Men who prioritize their gut, immune, hormone, and brain health
Biotics 8 combines prebiotics, probiotics, digestive enzymes, and vitamin D to support men's gut health and well-being of all ages. It contains the prebiotics fructooligosaccharide and inulin sourced from chicory root.14 As a prebiotic, chicory root helps feed beneficial gut bacteria but also possesses powerful properties—like antioxidant and anti-inflammatory effects—to improve overall health.
RELATED: Best Vitamin D Supplements
Anthony O'Reilly, GGR performance editor and a certified nutrition coach, said he noticed better digestion and better sleep when taking these prebiotic supplements.
Biotics 8 delivers 20 billion CFUs sources from 10 probiotic strains (2 billion CFUs from each), including saccharomyces boulardii, lactobacillus casei, and bifidobacterium longum. These good bacteria help support gut, immune15, hormone16, and brain health.
The digestive enzymes amylase, lipase, and protease also join the pre- and probiotics to help the body break down carbohydrates, fats, and proteins, respectively. A study published in Current Drug Metabolism17 suggests that digestive enzymes may play an important role in several digestive and malabsorption disorders like celiac disease.
The addition of vitamin D3 is also an excellent complement to Biotics 8, as a 2021 systematic review published in Nutrients18 hints that co-supplementation of vitamin D and probiotics may decrease the severity of certain diseases like irritable bowel syndrome (IBS), type 2 diabetes, and heart disease. It may also improve mental health, insulin sensitivity, blood cholesterol levels, inflammation, and antioxidative capacity.
Biotics 8 is made with all-natural ingredients in U.S. and GMP-certified facilities. It's free of preservatives, dairy, soy, and gluten and has a 60-day, hassle-free money-back guarantee.
| | |
| --- | --- |
| Form | Capsules |
| Dose instructions | Take 3 capsules per day |
| Main prebiotic source(s) | Chicory root fiber |
| Cost | $64.99/30 servings (1 month supply) = $2.17/serving |
Best Prebiotic for Women: YourBiology Gut+
Good for: Women looking to balance their gut microbiome and support their overall wellness
YourBiology Gut+ is a pre- and probiotic blend formulated for women. It claims to improve women's overall health and well-being, "everything from mood to balanced vaginal flora."
Gut+ combines the familiar prebiotic fructooligosaccharide with 40 billion CFUs from four strains of probiotic bacteria—like lactobacillus acidophilus, bifidobacterium lactis, lactobacillus plantarum, and lactobacillus paracasei. As a unit, the capsules help balance good gut bacteria, strengthen the gut lining, and aid in nutrient absorption while supporting skin, immune, and vaginal health.
RELATED: Best Protein Powder for Women
The capsules also use MAKtrek Bipass Technology, a unique marine polysaccharide derived from brown seaweed. YourBiology says MAKtrek acts as a shield to protect the probiotics from being dissolved by stomach acid as it travels down the digestive tract. It's also been shown to provide up to 250 times better survival rate and absorption of good gut bacteria than standard probiotic formulas.
Gut+ is free of preservatives, dairy, soy, and gluten and made in U.S. and GMP-certified facilities. It also comes with a 60-day, hassle-free money-back guarantee.
| | |
| --- | --- |
| Form | Capsules |
| Dose instructions | Take 2 capsules per day; for best results, take 1 capsule during the day and 1 capsule in the evening |
| Main prebiotic source(s) | Fructooligosaccharide |
| Cost | $64.99/30 servings (1 month supply) = $2.17/serving |
Best Unflavored Prebiotic Powder: Bulletproof InnerFuel Prebiotic
Good for: Sneaking prebiotic fiber into your favorite beverage and daily diet
Bulletproof InnerFuel Prebiotic is an unflavored prebiotic powder formulated with science-backed ingredients to support healthy digestion, curb cravings, and bolster the immune system. It provides 6 grams of dietary fiber sourced from acacia fiber, partially hydrolyzed guar gum, and larch arabinogalactan.
GGR editor Frieda Johnson, who already takes a prebiotic supplement daily, swapped in Bulletproof's Innerfuel Prebiotic for a few weeks and didn't notice any difference, which is probably a good thing. She did say it settles, so if you don't drink it all at once you'll have to re-shake or re-stir it, but that it is basically flavorless. 
Recall that acacia10 is a prebiotic fiber that improves gut health, lowers inflammation, and protects from metabolic disease. Partially hydrolyzed guar gum19 (PHGG), also known as guar fiber, increases the production of bifidobacterium—a type of healthy bacteria—in the gut and provides similar benefits as dietary fiber.
Acacia and guar fibers are also joined with larch arabinogalactan20, a type of hemicellulose or non-starch polysaccharide. Larch arabinogalactan supports digestive health and enhances immune function, even shown to reduce the incidence of cold episodes by 23 percent.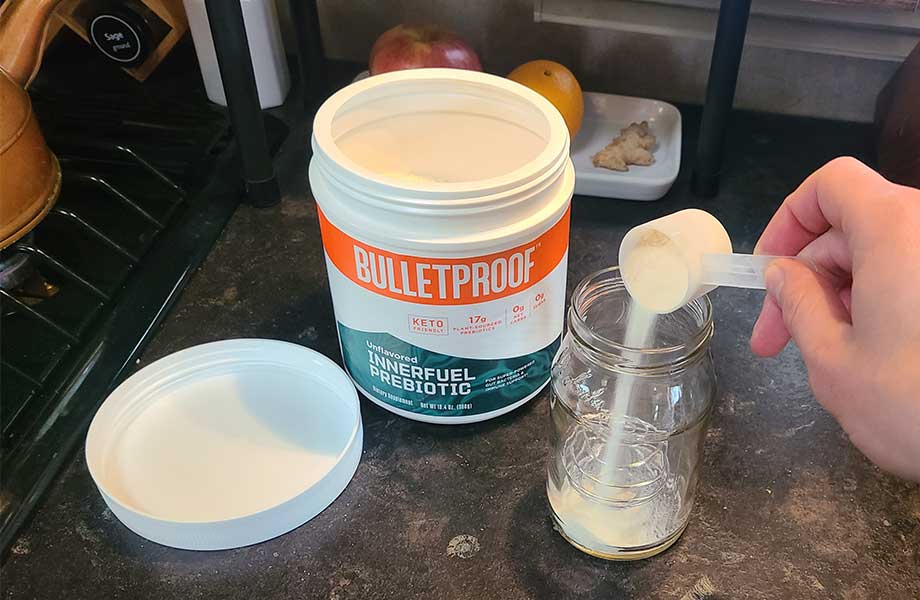 The unflavored prebiotic powder is said to dissolve easily so that you seamlessly mix it into your favorite beverage.
Bulletproof also prides itself on only using high-quality, clean ingredients to formulate products free of soy, gluten, dyes, artificial fillers, and GMOs.
| | |
| --- | --- |
| Form | Powder (Unflavored) |
| Dose Instructions | Mix 1-2 scoops into 8 oz of your favorite drink once per day |
| Main Prebiotic Source(s) | Organic acacia, partially hydrolyzed guar gum, larch arabinogalactan |
| Cost | $39.95/20 servings = $2.00/serving |
Best Prebiotic Gummy: Olly Probiotic+Prebiotic
Good for: Kids at heart with adult gut health needs
For those kids at heart (raises hand), OLLY Probiotic+Prebiotic "Peachy Peach" gummies might be for you. And good news: While the prebiotic gummies contain cane sugar, there's less than 1 gram of added sugar (which is pretty low compared to other gummy supplements).
"These taste so good!," says GGR editor Frieda Johnson. "They remind me of those peach ring candies. I'm a little disappointed that a serving is only one gummy because I would definitely not mind eating more."
The gummies contain 500 million CFUs of bacillus coagulans, a probiotic often used for constipation, irritable bowel syndrome, and other digestive issues. It also provides 1.5 grams of a prebiotic blend, specifically fructooligosaccharide, inulin, and xylitol.
Xylitol21 shows to be effective in reducing constipation, supporting immune health, aiding in bone metabolism, controlling obesity, and preventing dental caries. But because xylitol is a sugar alcohol, it can produce some side effects—such as irritable bowel syndrome, diarrhea, and nephrolithiasis22 (kidney stones)—when consumed in excessive amounts.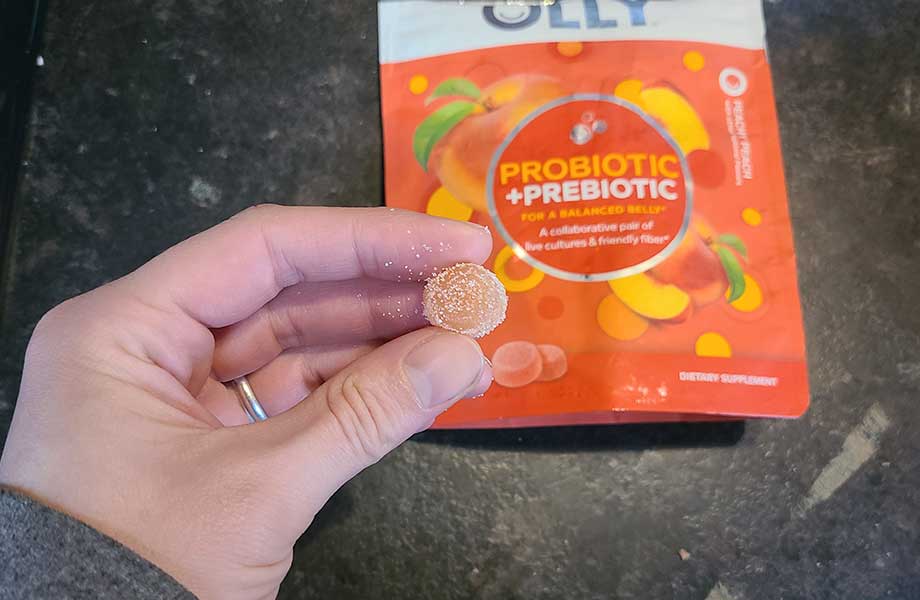 It's important to note that the prebiotic gummies are processed in a facility with products that contain common allergens—like soy, egg, peanuts, tree nuts, milk, fish, shellfish, and wheat. So if you are allergic to any of these foods, it's best to choose another prebiotic option.
But to end on a really peachy note, OLLY's prebiotic gummies are third-party tested through NSF. This certification helps consumers identify products independently tested and certified to meet rigorous standards for quality, safety, and label claims.
| | |
| --- | --- |
| Form | Gummies (Peachy Peach) |
| Dose instructions | Take 1 gummy daily |
| Main prebiotic source(s) | Fructooligosaccharide, inulin, xylitol |
| Cost | $13.99/30 servings = $0.47/serving |
Best Fiber Supplement with Prebiotics: Garden of Life Dr. Formulated Fiber
Good for: Enhancing your overall fiber and prebiotic intake with organic ingredients
Garden of Life Dr. Formulated Fiber is an organic fiber powder formulated by Dr. David Perlmutter, an expert in brain health, neurology, and the human microbiome. It provides 5 grams of dietary fiber sourced from an "organic prebiotic fiber blend" of acacia fiber, orange and apple peels, baobab, and cranberry seed. 
We will throw this out there: Although GGR staff writer and certified personal trainer Lauren Strong is typically into healthy and organic products, she just couldn't get past the taste of this powder. "Because this is unflavored I expected no taste, but there is a taste it's just really bad. It just tasted like wet dirt to me." Customer reviews suggest to mix the powder with something other than water to help the taste. 
The orange and apple peels23  are considered prebiotic and insoluble fibers to offer stool bulk and promote regularity. The baobab fruit24  and cranberry seeds25  enhance the nutrient profile so that together, the organic fiber blend is rich in fiber, potent antioxidants, and other essential micronutrients. 
Garden of Life prides itself on using traceable and clean ingredients, as it's free of sugar, artificial colors, and artificial sweeteners. The prebiotic powder is also Certified USDA Organic, Certified Carbonfree, Non-GMO Project Verified, Certified Vegan, Certified Gluten-Free, and kosher-friendly.
RELATED: Best Fiber Supplement for Constipation
| | |
| --- | --- |
| Form | Powder (Unflavored and Citrus) |
| Dose Instructions | Mix 1 Tbsp to at least 8 oz of water or juice, smoothies, soups, or any soft foods |
| Main Prebiotic Source(s) | Organic acacia fiber, organic orange peel, organic baobab, organic apple peel, organic cranberry seed |
| Cost | $15.94/32 servings = $0.50/serving |
Best Budget Prebiotic: Renew Life Prebiotic
Good for: Supporting digestive health without hemorrhaging your hard-earned cash
Renew Life Prebiotic is a daily prebiotic capsule formulated to relieve occasional constipation, gas, and bloating. Each serving provides 2 grams of fiber sourced by an organic fiber blend— specifically organic flax seed, organic oat fiber, and organic fennel seed.
While mainly studied in animals, flaxseed26 helps restore the gut microbiota and rapidly grow certain probiotics, including bifidobacterium. Flaxseed may also improve metabolic health and protect from obesity.
Research27 shows that oat fiber, rich in beta-glucan, significantly reduces total and LDL (known as the "bad" kind) while mediating a prebiotic effect on the gut microbiome. Despite having limited data as a prebiotic, fennel is used as an herbal remedy to treat gas and bloating.
Despite containing an organic fiber blend, there's no indication that the prebiotic is certified organic by the USDA. However, it is Non-GMO Project Verified and manufactured in the U.S. "using only the highest quality global ingredients."
| | |
| --- | --- |
| Form | Capsules |
| Dose instructions | Take 5 capsules in the morning with water; may be repeated at midday and in the evening |
| Main prebiotic source(s) | Organic flax seed, organic oat fiber, organic fennel seed |
| Cost | $16.99/30 servings = $0.57/serving |
Best Prebiotic Capsules: BioSchwartz Advanced Prebiotics
Good for: Advancing your gut health with two daily capsules
As our top prebiotic capsule pick, BioSchwartz Advanced Prebiotic packs patented prebiotics, organic oryza sativa, and vitamin C. And we extra appreciate that it's third-party certified for containing 100% natural, high-quality ingredients and made in U.S.-based, GMP-compliant facilities.
Certified nutrition coach Anthony O'Reilly, GGR's performance editor, didn't notice any changes after taking BioSchwartz Advanced Prebiotics, though that might be due to the fact that his diet includes a lot of fermented foods. 
BioSchwartz Prebiotic formula contains the patented prebiotics PreforPro (like Ritual Synbiotic+) and PreticX (composed of xylooligosaccharides) to maintain and promote normal microbiota balance. It's also formulated with organic oryza sativa—or simply rice—that may offer prebiotic and anti-inflammatory properties, although the research28 lacks in human studies.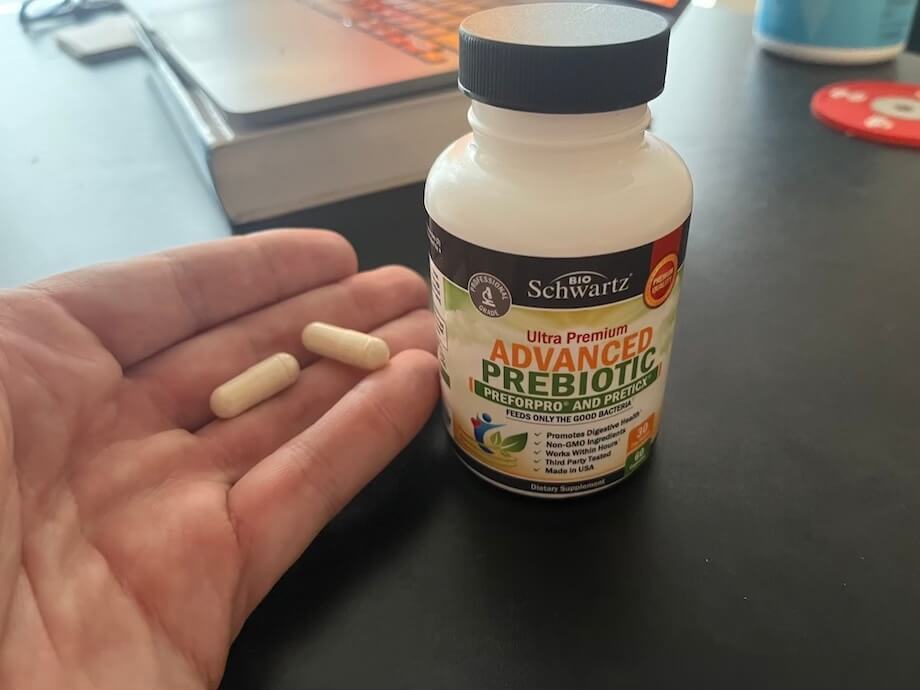 The addition of vitamin C might also be a nice touch, as newer 2021 research29 suggests a high, 1,000-milligram dose may elicit favorable changes to the gut microbiota. It's important to note a serving of the prebiotic only provides 5 milligrams (or 5% daily value). However, vitamin C is known for its antioxidant properties and supports skin, immune, heart, and eye health. 
| | |
| --- | --- |
| Form | Capsules |
| Dose Instructions | Take 2 capsules once daily with water |
| Main Prebiotic Source(s) | PreforPro (prebiotic bacteriophage blend), PreticX (xylooligosaccharides), organic oryza sativa |
| Cost | $22.99/30 servings = $0.76/serving |
Best Chewable Prebiotic: Life Extension Prebiotic
Good for: Increasing daily prebiotics in a tidy chewable tablet
The one and only chewable tablet on our list, Life Extension Prebiotic claims that the "delicious strawberry-flavored chewables provide the food sources your beneficial gut bacteria need to thrive." But you know how we roll at GGR, so let's check it out for ourselves!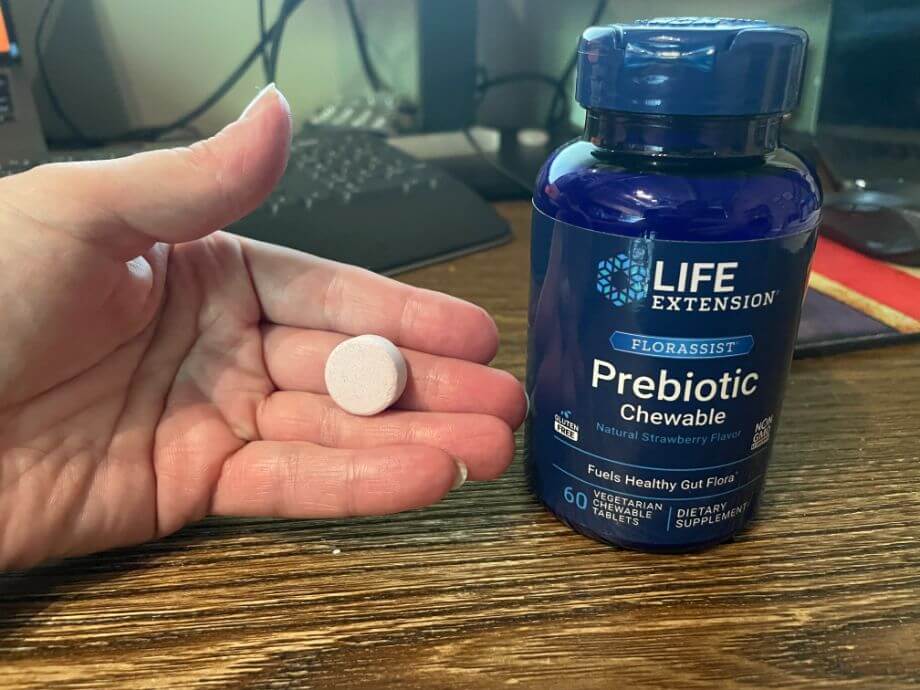 Our tester Amanda, a friend of GGR head of Content Kate Meier, said the tablet is fruity but tastes pretty good. The chewable contains PreticX (like BioSchwartz Advanced Prebiotics), providing 1,000 milligrams of xylooligosaccharides to optimize the growth potential of beneficial Bifidobacteria. It also includes the prebiotic xylitol21 and other sugar alcohols in lesser amounts, likely enhancing the chewable tablets' sweetness.
As for the tablet's effectiveness, Amanda says she took the prebiotic on an empty stomach with lots of water. "I went to the bathroom to empty my bowels almost immediately. Not in a dramatic way, but it was noticeable."
Life Extension offers a 100% satisfaction, money-back guarantee for up to one year. It's also a positive sign that a Certificate of Analysis is available for all Life Extension products.
| | |
| --- | --- |
| Form | Chewables (Strawberry) |
| Dose Instructions | Chew one tablet once or twice daily with adequate amounts of water |
| Main Prebiotic Source(s) | PreticX prebiotic |
| Cost | $15.75/60 capsules = $0.26/capsule |
Best Combination Prebiotic and Probiotic: Athletic Greens AG1
Good for: Athletes and health enthusiasts looking for a synbiotic with bonus nutritional benefits
Oh, hello, Athletic Greens (AG1); we meet again! Because AG1 is a unique and dynamic greens powder, this isn't the first time AG1 has landed on our roundup: It's even thoughtfully made its way to our best multivitamins for women list.
So because we've talked about it in full in our Athletic Greens review, we'll narrow in on its gut-benefiting ingredients. The greens powder is formulated with the familiar prebiotics inulin and beta-glucan, along with the digestive enzyme bromelain to help the body digest protein. 
Several GGR team members have tried AG1 and they all agree that if you're in the market for a greens powder, this is the way to go. It tastes pleasant—sort of like a mild pineapple vanilla—and is a quality product. 
AG1 provides 7.2 billion CFUs of the common probiotics bifidobacterium bifidum and lactobacillus acidophilus to enhance the benefits of prebiotics. Combining the two can help support a healthy gut, bolster the immune system, enhance nutrient absorption, and boost overall health and wellness.
AG1 is tightly manufactured and regulated in NSF and GMP-registered facilities. It's also NSF Certified for Sport—verifying the product does not contain unsafe contaminants, prohibited substances, or masking agents—and is especially a great option for competitive athletes.
| | |
| --- | --- |
| Form | Greens Powder (flavor not specified) |
| Dose Instructions | Mix or shake one scoop into 8-10 oz of cold water on an empty stomach to optimize absorption |
| Main Prebiotic Source(s) | Inulin, beta-glucan |
| Cost | $99.00/30 servings = $3.30/serving |
Other Prebiotics We Researched
With prebiotics starting to take center stage with probiotics, more companies are taking note and delivering to the masses. While we stand by our top picks, other prebiotics that we've researched but haven't yet tested include:
Gainful Fiber Performance Boost
HUM Nutrition Skin Squad Pre+Probiotic
Naked Nutrition Gut Health Supplement
Performance Lab Prebiotic
How We Picked and Tested the Best Prebiotics
When picking and testing the best prebiotics, this is what our team of dietitians and nutrition experts looked for:
Prebiotic variety: Variety is the spice of pre- and probiotics (or something like that), as different types elicit different benefits. We made sure to offer various research-backed prebiotics (and some with probiotics added), so our readers can choose which blend might be best for them.
Formulation: Our selection process focuses on ingredient quality within each formulation. All of our top picks contain next to no added sugars, unnecessary fillers, and other unwanted ingredients.
Type: Prebiotic supplements come in various forms—like capsules, powders, chewable tablets, and gummies—and flavors (and non-flavors). Our list includes all these forms to accommodate our readers' preferences best.
Cost: Because everyone's budget is different, and we believe everyone should have access to supplements and products to elevate their health, our top picks range in price.
Third-party testing: We always prioritize supplements that undergo third-party testing so we can feel more confident recommending pure and safe products.
Consumer satisfaction: We want to guide our readers to companies with their best interests in mind, so we always try to find general patterns in consumer satisfaction. This includes reviewing core values, return policies, and customer reviews on the companies' websites and third-party seller sites like Amazon.
Benefits of Prebiotics
While we've touched on prebiotics' benefits, they're worth reiterating. Here's what the research tells us about how they can benefit health for the better6:
Can improve gut health by positively influencing the gut microbiota
Can reduce symptoms of inflammatory bowel disease and other digestive disorders
Can protect against various chronic conditions like colon cancer and cardiovascular disease
Can assist in weight management likely by promoting satiety and controlling appetite30
Can bolster a healthy immune system15
Can enhance the bioavailability of some minerals, including calcium, magnesium, and iron
Prebiotic Dosing and Safety
The ISAPP recommends getting at least 5 grams of prebiotics daily, particularly from whole food sources like asparagus, garlic, chicory, Jerusalem artichoke, and banana. You can also use a prebiotic as nutritional insurance, although the dosing can vary based on the chosen product.
As a general rule, you should follow the instructions on the product's packaging and increase slowly until you meet the recommended dose or as tolerated. This helps mitigate prebiotic side effects (albeit rarely severe) like diarrhea, bloating, and cramping.
It's also important to note that while prebiotics are mostly considered safe, they can worsen symptoms of some digestive conditions—like SIBO (small intestine bacterial overgrowth) and FODMAP (an acronym for Fermentable Oligosaccharides Disaccharides Monosaccharides And Polyols). Anyone with a serious medical condition—such as any that weakens the immune system—or an infection should also reconsider, mainly if the prebiotic contains probiotics.
We always recommend consulting with a dietitian or another healthcare professional before taking a prebiotic or supplement. They can help you determine if a prebiotic is right for you and how to use one safely and effectively.
Third-Party Testing
While the FDA does not tightly regulate dietary supplements, it does establish Good Manufacturing Practices (GMPs) standards for quality assurance. And to verify the purity and overall safety of products, companies can voluntarily have theirs undergo third-party testing through organizations like National Sanitation Foundation (NSF) and United States Pharmacopeia (USP).
Supplements can also be certified to help consumers make well-informed decisions about specific dietary restrictions and preferences—like being Certified USDA Organic and Certified Gluten-Free. If you are ever uncertain about third-party testing and other certifications of interest, you could always contact the company for more information or select another trusted product that makes their certifications known.
Buying Guide: What to Look for in Prebiotics
When searching for a prebiotic to suit your needs and lifestyle best, here's what to look out for and consider:
Your nutritional needs and health goals: Before deciding on a prebiotic, reflect on any dietary deficits and health goals you may have. For instance, a beta-glucan prebiotic might offer little additional benefit if you regularly eat oatmeal.
Form: Do you prefer taking capsules, chewables, gummies, or powders? Choose a form you're most willing to take consistently.
Storage requirements: While none of the products on our list require refrigeration, some prebiotic supplements do when probiotics join the party. So if a fridge isn't always handy, opt for a prebiotic that can be stored and protected elsewhere.
Third-party certifications: Is the prebiotic undergoing third-party testing and certifications—like Certified USDA Organic—important to you? Whereas products lacking third-party certifications aren't necessarily "bad," they offer more peace of mind. We recommend reviewing if the prebiotic undergoes third-party testing and has certifications important to you, including being Certified USDA Organic.
Brand integrity: How you build trust with a brand is personal, but we do encourage being mindful and thoughtful before supporting its products. We recommend reviewing its return policies, access to customer service, and any available customer reviews to gain better insight.
FAQs About The Best Prebiotics
What is the best prebiotic on the market?
What is the most powerful prebiotic?
While there's no single prebiotic proven to be the most powerful, the International Scientific Association for Probiotics and Prebiotics (ISAP) identifies inulin, fructooligosaccharides, and galactooligosaccharides as the most commonly studied. Moreover, almost all prebiotics have been shown to nourish probiotics in the gut and improve digestive, immune, and overall health.
What are the top 5 prebiotic foods?
Because there are countless beneficial food sources of prebiotics, no set five has proven to be the best. However, a few of the most notable prebiotic foods include oats, chicory, bananas, onions, garlic, and artichokes.
What prebiotics should I take?
You should take a prebiotic that best accommodates your dietary needs, and a dietitian can help you find one. But because the ISAPP identifies inulin, fructooligosaccharides, and galactooligosaccharides as the most commonly studied prebiotics, a product with one or all of these might confer the most significant benefit.
These statements have not been evaluated by the Food and Drug Administration. This product is not intended to diagnose, treat, cure, or prevent any diseases.
References
Davani-Davari D, Negahdaripour M, Karimzadeh I, et al. Prebiotics: Definition, Types, Sources, Mechanisms, and Clinical Applications. Foods. 2019;8(3):92. Published 2019 Mar 9. doi:10.3390/foods8030092
Gibson GR, Scott KP, Rastall RA, et al. Dietary prebiotics: current status and new definition. Food Sci Technol Bull. 2010;7(1):1-19. doi:https://doi.org/10.1616/1476-2137.15880
Hill C, Guarner F, Reid G, et al. Expert consensus document. The International Scientific Association for Probiotics and Prebiotics consensus statement on the scope and appropriate use of the term probiotic. Nat Rev Gastroenterol Hepatol. 2014;11(8):506-514. doi:https://doi.org/10.1038/nrgastro.2014.66
Salminen S, Collado MC, Endo A, et al. The International Scientific Association of Probiotics and Prebiotics (ISAPP) consensus statement on the definition and scope of postbiotics. Nat Rev Gastroenterol Hepatol. Published online May 4, 2021. doi:https://doi.org/10.1038/s41575-021-00440-6
Thursby E, Juge N. Introduction to the human gut microbiota. Biochem J. 2017;474(11):1823-1836. Published 2017 May 16. doi:10.1042/BCJ20160510
Slavin J. Fiber and prebiotics: mechanisms and health benefits. Nutrients. 2013;5(4):1417-1435. Published 2013 Apr 22. doi:10.3390/nu5041417
Markovic M, Ben-Shabat S, Dahan A. Prodrugs for Improved Drug Delivery: Lessons Learned from Recently Developed and Marketed Products. Pharmaceutics. 2020;12(11):1031. Published 2020 Oct 29. doi:10.3390/pharmaceutics12111031
Liu H, Wang J, He T, et al. Butyrate: A Double-Edged Sword for Health? Advances in Nutrition. 2018;9(1):21-29. doi:https://doi.org/10.1093/advances/nmx009
Andrade LM. Chlorella and Spirulina Microalgae as Sources of Functional Foods, Nutraceuticals, and Food Supplements; an Overview. MOJFPT. 2018;6(1). doi:https://doi.org/10.15406/mojfpt.2018.06.00144
Larson R, Nelson C, Korczak R, et al. Acacia Gum Is Well Tolerated While Increasing Satiety and Lowering Peak Blood Glucose Response in Healthy Human Subjects. Nutrients. 2021;13(2):618. doi:https://doi.org/10.3390/nu13020618
Saha MR, Dey P. Pharmacological benefits of Acacia against metabolic diseases: intestinal-level bioactivities and favorable modulation of gut microbiota. Arch Insect Biochem. Published online August 19, 2021:1-17. doi:https://doi.org/10.1080/13813455.2021.1966475
Jokari MM, Jafarpour D. Comparison of the effectiveness of two prebiotics inulin and green banana flour on the survival of Lactobacillus plantarum and Bacillus coagulans in low-calorie synbiotic yogurt. J Food Sci Technol (Iran). 2021;18(117):49-63. doi:https://doi.org/10.52547/fsct.18.117.49
Sasaki H, Lyu Y, Nakayama Y, et al. Combinatorial Effects of Soluble, Insoluble, and Organic Extracts from Jerusalem Artichokes on Gut Microbiota in Mice. Microorganisms. 2020;8(6):954. Published 2020 Jun 24. doi:10.3390/microorganisms8060954 (TL)
Nwafor IC, Shale K, Achilonu MC. Chemical Composition and Nutritive Benefits of Chicory (Cichorium intybus) as an Ideal Complementary and/or Alternative Livestock Feed Supplement. ScientificWorldJournal. 2017;2017:7343928. doi:10.1155/2017/7343928 (B8)
Yan F, Polk DB. Probiotics and immune health. Curr Opin Gastroenterol. 2011 Oct;27(6):496-501. doi: 10.1097/MOG.0b013e32834baa4d. PMID: 21897224; PMCID: PMC4006993. (B8)
Maretti C, Cavallini G. The association of a probiotic with a prebiotic (Flortec, Bracco) to improve the quality/quantity of spermatozoa in infertile patients with idiopathic oligoasthenoteratospermia: a pilot study. Andrology. 2017 May;5(3):439-444. doi: 10.1111/andr.12336. Epub 2017 Feb 28. PMID: 28245352. (B8)
Ianiro G, Pecere S, Giorgio V, et al. Digestive Enzyme Supplementation in Gastrointestinal Diseases. Curr Drug Metab. 2016;17(2):187-193. doi:10.2174/138920021702160114150137 (B8)
Abboud M, Rizk R, AlAnouti F, Papandreou D, Haidar S, Mahboub N. The Health Effects of Vitamin D and Probiotic Co-Supplementation: A Systematic Review of Randomized Controlled Trials. Nutrients. 2020;13(1):111. Published 2020 Dec 30. doi:10.3390/nu13010111
Slavin JL, Greenberg NA. Partially hydrolyzed guar gum: clinical nutrition uses. Nutrition. 2003 Jun;19(6):549-52. doi: 10.1016/s0899-9007(02)01032-8. PMID: 12781858.
Dion C, Chappuis E, Ripoll C. Does larch arabinogalactan enhance immune function? A review of mechanistic and clinical trials. Nutr Metab (Lond). 2016;13:28. Published 2016 Apr 12. doi:10.1186/s12986-016-0086-x
Gasmi Benahmed A, Gasmi A, Arshad M, et al. Health benefits of xylitol. Appl Microbiol Biotechnol. 2020 Sep;104(17):7225-7237. doi: 10.1007/s00253-020-10708-7. Epub 2020 Jul 7. PMID: 32638045.
Nojaba L, Guzman N. Nephrolithiasis. [Updated 2022 Aug 8]. In: StatPearls [Internet]. Treasure Island (FL): StatPearls Publishing; 2023 Jan-. Available from: https://www.ncbi.nlm.nih.gov/books/NBK559227/
Ahmad I, Khalique A, Shahid MQ, et al. Studying the Influence of Apple Peel Polyphenol Extract Fortification on the Characteristics of Probiotic Yoghurt. Plants (Basel). 2020;9(1):77. Published 2020 Jan 7. doi:10.3390/plants9010077
Zahra'u B, Mohammed AS, Ghazali HM and Karim R. Baobab Tree (Adansonia digitata L) Parts: Nutrition, Applications in Food and Uses in Ethno-medicine – A Review. Ann Nutr Disord & Ther. 2014;1(3): 1011.
Majeed M, Nagabhushanam K, Arumugam S, et al. Cranberry seed fibre: a promising prebiotic fibre and its fermentation by the probiotic Bacillus coagulans MTCC 5856. Int J Food Sci Technol. 2018;53(7):1640-1647. doi:10.1111/ijfs.13747
Arora T, Rudenko O, Egerod KL, et al. Microbial fermentation of flaxseed fibers modulates the transcriptome of GPR41-expressing enteroendocrine cells and protects mice against diet-induced obesity. Am J Physiol Endocrinol Metab. 2019 Mar 1;316(3):E453-E463. doi: 10.1152/ajpendo.00391.2018. Epub 2018 Dec 18. PMID: 30562060.
Xu D, Feng M, Chu Y, et al. The Prebiotic Effects of Oats on Blood Lipids, Gut Microbiota, and Short-Chain Fatty Acids in Mildly Hypercholesterolemic Subjects Compared With Rice: A Randomized, Controlled Trial. Front Immunol. 2021;12:787797. Published 2021 Dec 9. doi:10.3389/fimmu.2021.787797
Zhu Y, Sun H, He S, et al. Metabolism and prebiotics activity of anthocyanins from black rice (Oryza sativa L.) in vitro. PLoS One. 2018 Apr 9;13(4):e0195754. doi: 10.1371/journal.pone.0195754. PMID: 29630662; PMCID: PMC5891023.
Otten AT, Bourgonje AR, Peters V, et al. Vitamin C Supplementation in Healthy Individuals Leads to Shifts of Bacterial Populations in the Gut-A Pilot Study. Antioxidants (Basel). 2021;10(8):1278. Published 2021 Aug 12. doi:10.3390/antiox10081278
Hume MP, Nicolucci AC, Reimer RA. Prebiotic supplementation improves appetite control in children with overweight and obesity: a randomized controlled trial. Am J Clin Nutr. 2017;105(4):790-799. doi:https://doi.org/10.3945/ajcn.116.140947