We test and review fitness products based on an independent, multi-point methodology. If you use our links to purchase something, we may earn a commission. Read our disclosures.
Feeling like your stomach is literally always hurting? Are your trips to the bathroom…unproductive lately? You may not be eating enough fiber. However, you're not alone.
Even though the USDA recommends a daily fiber intake of 25 grams per day for women and 38 grams per day for men, the latest data shows the average American only eats about 15 to 18 grams of fiber per day.
You may be shocked to know that fiber is a carbohydrate, but it is one that does not deliver calories as the body cannot break it down like it can other foods. This property gives fiber some interesting benefits to the human body.
Typically, you can find fiber in the diet from fiber-rich foods like fruits, vegetables, whole grains, legumes, nuts, and seeds. These whole foods offer many more nutrients and beneficial compounds than fiber, so if possible, try to get your fiber from them.
However, if you're experiencing constipation, it's not super practical to go chow down on a can of beans. That's where a fiber supplement (and some good hydration) can come to the rescue for your gut. Discover below what our team thought were the best fiber supplements for constipation.
Medical disclaimer: This article is intended for educational and informational purposes only. It is not intended as a substitute for medical advice. For health advice, contact a licensed healthcare provider. GGR also recommends choosing a product that has been third-party tested for quality.
We Know Supplements IRL
As a sports dietitian, I have extensive experience with dietary supplements and comprehensive knowledge on the health benefits of various food compounds. I always make it a point to review the peer-reviewed literature before writing any recommendations for foods or products.
All of our team members are highly qualified and credentialed health and nutrition experts, and we are committed to providing raw and honest reviews of products to ensure that you are receiving the most accurate, evidence-based information to make a decision.
6 Best Fiber Supplements for Constipation
Best Fiber Supplement for Constipation Overall: Transparent Labs Prebiotic Aquatic Greens + Fiber
Good for: Health-conscious people who don't mind some antioxidants with their fiber
This two-in-one supplement is a solid product for those looking for more regular bowel movements and improved gut health. That's because, unlike most fiber supplements, this one has a two-pronged approach to better gastrointestinal health.
Part one is algae greens. Every scoop offers 3 grams of spirulina and 3 grams of chlorella. Both are types of fresh-water seaweed that are commonly included in greens powders, and for good reason. They have a reputation for being superfoods due to their powerful antioxidant content and ability to fight inflammation in the body.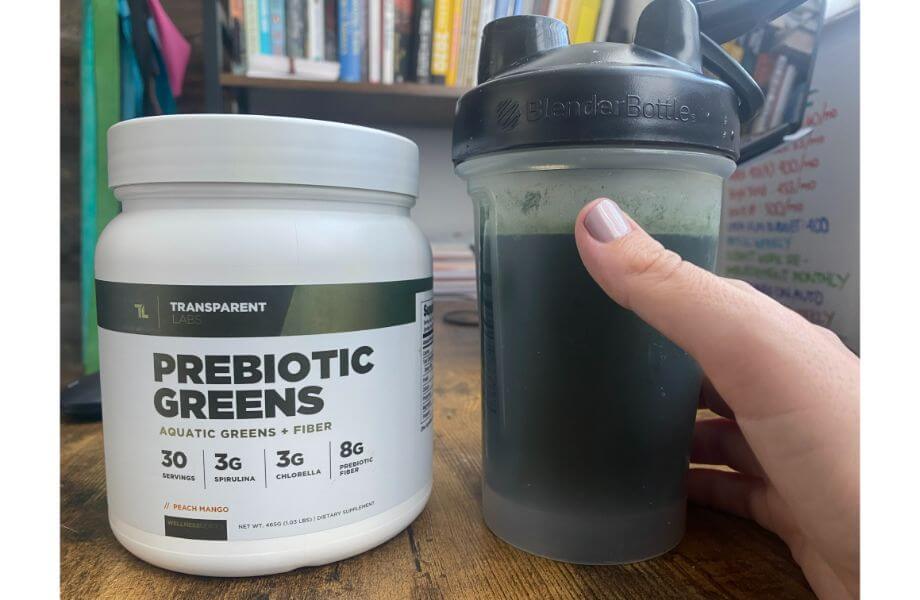 Another unique property of algae, like spirulina, is that it's one of the few, rare sources of vitamin B12 that does not come from animal sources. However, some of this B12 is non-active in humans, meaning it won't do much for meeting a daily B12 requirement—not-so-good news for people who are vegans or vegetarians, who often do not get enough of this important nutrient.
Part two of this supplement is prebiotic fibers. Organic acacia fiber, green banana flour, and Jerusalem artichoke fiber all offer three different types of fiber, which is a great variety for treating and preventing constipation.
The combination of soluble, insoluble, and slow-fermenting fibers also gives the good bacteria in your gut something to munch on which, in turn, can support their growth and multiplication. If you take probiotics as a part of your daily supplement regimen, this fiber powder would be the ideal complement for healthy gut support.
Transparent Labs Prebiotic Aquatic Greens + Fiber mixes easily in a variety of beverages and comes in two flavors: unflavored and Peach Mango. Don't worry, though, even the fruity version contains no artificial sweeteners, coloring or preservatives, just inflammation-fighting, fiber-packed goodness. Our expert product tester, GGR Senior Staff Writer Amanda Capritto, tried the Peach Mango flavor and said it did taste a bit like grass, but it was tolerable nonetheless.
The natural ingredients, practical use, and benefits to both overall health and gut health make Transparent Labs Prebiotic Aquatic Greens + Fiber the best fiber supplement for constipation overall.
| | |
| --- | --- |
| Dose Instructions | Mix 1 scoop with 8 ounces of water, juice, or your favorite beverage. Consume up to 3 times daily or as directed by your physician. |
| Main Fiber Sources(s) | Spirulina, chlorella, acacia fiber, Jerusalem artichoke fiber, green banana flour |
| Amount of Fiber Per Serving | 4 grams |
| Cost | $45.99 / 30 servings = $1.53 per serving |
Best Budget Fiber Supplement for Constipation: Benefiber Unflavored Daily Fiber Powder
Good for: Thrifty individuals wanting to get the most value out of their supplement
Benefiber Daily Prebiotic Fiber Supplement Powder is a constipation relief tool that uses natural prebiotic fiber. One of the reasons we like this supplement is because of its low cost and versatility. It dissolves completely in food and drinks and has no taste. Our expert product tester and GGR writer Lauren Strong definitely agreed that it was very easy to mix into just about any beverage, and attributes this supplement for helping with regular bowel movements.
The main fiber used in Benefiber Daily Prebiotic Fiber is wheat dextrin, which is a soluble fiber. Soluble fibers are known not only for their beneficial effects on the gastrointestinal system, but also for their role in heart health.
Soluble fiber can reduce the absorption of cholesterol into your bloodstream, thereby lowering bad cholesterol levels. So, you can enjoy the benefits of both gut and heart health in one easy-to-use fiber powder.
Please note that soluble fiber needs a good amount of water to keep it moving through the digestive tract and promote regularity. To prevent constipation from becoming worse, if you take a supplement like Benefiber consistently, make sure to keep yourself well hydrated as well.
One important thing to remember about this supplement is that it does need to be consumed three times a day for full effect, so if you elect to include it in your daily routine, it's necessary to stay vigilant about your timing and consistency.
| | |
| --- | --- |
| Dose Instructions | Stir 2 teaspoons of Benefiber into 4-8 oz of beverage or soft food 3 times daily |
| Main Fiber Sources(s) | Wheat dextrin |
| Amount of Fiber Per Serving | 3 g |
| Cost | $11.82 / 62 servings = $0.19 per serving |
Best Gummy Fiber Supplement for Constipation: VitaFusion Fiber Well Gummies
Good for: Those looking for a tasty, gummy fiber supplement
Not looking to drink down a fiber concoction? Have a real issue with taking pills and capsules? This is where fiber gummies can come to the rescue.
Taking fiber supplements has never been more fun with Vitafusion Fiber Gummies, which come in flavors such as peach, strawberry, and berry.
One serving offers an impressive 5 grams of fiber, which is a higher content than similar products. It also contains B vitamins for energy.
Vitafusion Fiber Gummies contain mainly polydextrose, which is a synthetic, man-made fiber that is derived from glucose. Widely used as a food ingredient in the U.S., it is classified as a soluble fiber and completely safe to consume.
In addition to keeping things moving through the digestive tract, polydextrose has also been shown to promote satiety or the feeling of fullness. There is therefore a possibility that this type of fiber can play a role in the management of hunger.
Take note that these gummies do contain gelatin to give them their gummy texture, which makes this product unsuitable for vegans.
If you're planning to use these tasty little guys for a long period of time and want to save some bucks, you can find Vitafusion Fiber Gummies for sale in bulk on Amazon.
| | |
| --- | --- |
| Dose Instructions | Take 2 gummy vitamins per day. Chew thoroughly before swallowing. |
| Main Fiber Sources(s) | Polydextrose |
| Amount of Fiber Per Serving | 5 g |
| Cost | $21.24 / 90 servings = $0.24 per serving |
Best Organic Fiber Supplement for Constipation: Garden of Life Dr. Formulated Organic Fiber Supplement
Good for: People looking to get things moving in their gut with pure, whole ingredients
Garden of Life is known for its commitment to whole food, science-based, Certified USDA Organic, and Non-GMO Project Verified supplements, so it was a no-brainer to choose their Dr Formulated Organic Fiber Supplement as our pick for the best organic fiber supplement.
This supplement is sugar-free and third-party certified USDA organic, Non-GMO Project Verified, certified vegan, dairy-free, gluten-free, U Kosher, and Carbonfree.
It provides gentle support for occasional constipation with all organic ingredients, including acacia fiber, which is the main source of fiber in this fiber powder.
Acacia fiber, also known as acacia gum or gum arabic, is a natural gum derived from the sap of the acacia tree. It is known for its health benefits for smoother digestion and hunger control.
Acacia is also a fermentable fiber, which is highly active in the large intestine when consumed, which means it can enhance the growth and proliferation of good gut bacteria. In fact, it has been shown to increase the population of Bifidobacteria and Bacteroidetes in the intestines.
Garden of Life Dr. Formulated Organic Fiber Supplement also boasts third-party testing certification. This means that Garden of Life voluntarily submitted its product to a third party to be tested for purity and safety.
Note that, even though this powder is said to have no flavor, gritty or gummy texture, our tester did not agree. Lauren said it tasted like wet dirt—ouch. She tried the unflavored option though, so maybe the flavored Citrus option would be better.
| | |
| --- | --- |
| Dose Instructions | Add 1 tablespoon to at least 8 oz of water, juice, smoothies, soups, or any soft food and stir |
| Main Fiber Sources(s) | Acacia, orange peel, baobab fruit, apple peel and cranberry fruit |
| Amount of Fiber Per Serving | 5 g |
| Cost | $19.65 / 32 servings = $0.61 |
Best Caplet Fiber Supplement for Constipation: Citrucel Fiber Therapy Caplets
Good for: Those who prefer the portability and flexibility of a fiber capsule
One of the reasons that Citrucel Fiber Therapy Caplets made our team's list of the best fiber supplements for constipation is because they are among the most recommended therapeutic fiber laxatives by physicians.
These caplets come with the promise that, when used as directed, they can generally produce a bowel movement in 12 to 72 hours. In addition to preventing excessively dry and hard stools, Citrucel's caplets make stools bulkier and easier to pass.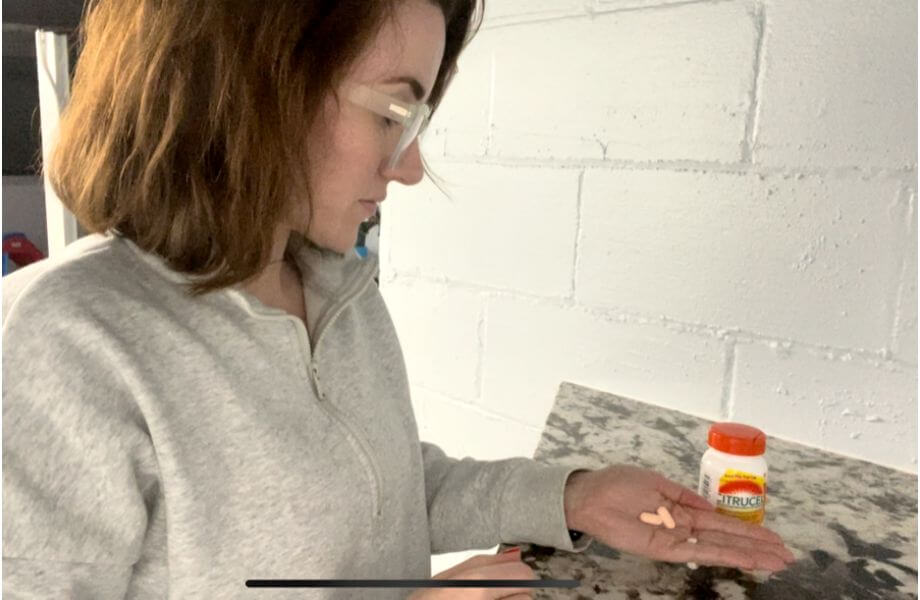 And good news! While the main source of fiber in the supplement comes from methylcellulose, which is a soluble fiber, it is not fermentable, so unlike many other fiber supplements, it doesn't tend to cause excess gas and bloating, according to laboratory testing. However, individual results may vary.
Methylcellulose is also a plant-based ingredient that contains no preservatives nor toxins, is non-allergenic, and is non-toxic when used as directed. Thus, most people will be able to reap the benefits of this supplement without having to worry about safety.
With no mixing, no mess, and no beverage to consume, many people may feel taking their fiber via caplet is quicker and more practical than a powder. Capsules also tend to be a bit more portable, in case you need a dose of regularity while you're on the road. However, you need to take four caplets for 2 grams of fiber—this can be a lot to swallow, according to our expert product tester, GGR Senior Editor Nicole Davis.
Just remember to take it with at least 8 ounces of water to reduce the risk of choking as fiber capsules can swell in the throat. Also keep in mind that it might take anywhere between 12 and 72 hours for this product to take effect, so make sure you use it at the earliest sign of constipation or irregularity.
| | |
| --- | --- |
| Dose Instructions | Take 2 caplets, as needed, up to 6 times per day |
| Main Fiber Sources(s) | Methylcellulose |
| Amount of Fiber Per Serving | 500 mg |
| Cost | $25.60 / 180 servings = $0.14 |
Best-Tasting Fiber Supplement for Constipation: Metamucil 4-in-1 Psyllium Fiber Supplement
Good for: Those looking for a great flavor in their fiber supplement
There is simply no other leading brand that is made with psyllium fiber, a plant-based fiber that plays an important role in maintaining the health of the digestive system, than Metamucil for constipation.
Currently ranked as the #1 best selling product in the "Psyllium Nutritional Supplement" category on Amazon, our testers couldn't wait to take a peek at what was causing all the buzz.
This fiber supplement has an orange flavor—similar to Tang, according to tester Lauren—and is consistently reviewed as one of the best tasting fiber supplements, which is important if you will be using it regularly.
Metamucil's fiber source, psyllium, is a soluble fiber derived from the seeds of Plantago ovata, a plant native to India. It has traditionally been used for both constipation and diarrhea symptoms. It is also a prebiotic fiber, so it plays another role in helping to maintain a healthy gut.
The results of one study1 showed that psyllium fiber, which is a soluble fiber, increased the moisture, weight, and texture of stools more than wheat bran fiber, another well-known fiber source.
Despite its great flavor, Metamucil is sugar-free and its fiber has even been shown2 to help support stable blood sugar in those with Type 2 diabetes.
It is also reported that psyllium husk can be a very valuable addition to a heart-healthy diet, as studies have suggested3 it has the ability to support lower levels of bad cholesterol levels.
Furthermore, some studies suggest4 that psyllium fiber can support weight loss by promoting satiety, which can prevent overeating.
The laxative properties of psyllium husk can be described as bulk-forming. As a result, it absorbs water in the gut and allows the bowel movements to move more easily through the colon which, in turn, promotes regularity.
| | |
| --- | --- |
| Dose Instructions | Put powder into an empty glass and mix with 8 oz of water or other cool liquid. Stir briskly and drink promptly. Take up to 3 times daily. |
| Main Fiber Sources(s) | Psyllium husk |
| Amount of Fiber Per Serving | 3 g |
| Cost | $28.01 / 180 servings = $0.15 |
Other Fiber Supplements We Researched
There are a lot of fiber supplements out there that work, but we used our own standards to narrow down the best to recommend to you good people. So, here are some other products out there that are also great, but didn't quite make our list.
Spectrum Essentials Organic Ground Chia Seeds
Thorne Research FiberMend
Unbloat
ColonBroom Fiber Supplement Powder
How We Picked and Tested the Best Fiber Supplements for Constipation
When picking the best fiber supplements, we made sure to compile a list that would serve anyone so that regardless of factors like budget and taste preferences, there's something for everyone. Below is the criteria our testers used to handpick the brands on our list:
Lack of fillers: Unfortunately, many supplement companies "pad" their products with cheap fillers, which means the consumer is getting a whole lot of maltodextrin in their powder, but very little fiber. We made sure the products on our list don't commit this offense.
Fiber source: Different fibers have different functions based on their type, and each individual has their own unique requirements, so we wanted to make sure to offer a variety so everyone has a fiber option that fulfills their needs.
Fiber form: Taking pills is a miserable experience for some consumers. On the other hand, choking down an 8+-ounce concoction of orange-flavored psyllium also doesn't sound appealing. We did our best to include all of these forms of fiber supplements depending on your preferences.
Evidence-backed ingredients: We strive to recommend products that contain ingredients that have research to support their inclusion in health supplements. This list was no different!
Benefits of Fiber Supplements
As a dietitian, I spend a large portion of my working time trying to brainstorm strategies on how to get clients and patients to just eat more fiber.
Not because I'm a deployed soldier who is tasked with going around to yell at anyone who does not follow the USDA's recommendations, but because I understand the myriad of health benefits that come along with consuming enough fiber.
It's important to know that fiber isn't just meant to be consumed when the bodily pipes are backed up, but it can also play a role in weight loss, blood glucose levels, heart health and to supplement a less-than-optimal diet.
Better Gut and Digestive Health
It's well-known in the health and nutrition community that fiber is great for supporting a healthy gut and a regular digestive system. It's fiber's most famous function! A very large body of evidence5 supports this notion and applies to fiber of nearly all types.
Evidence also suggests6 that fermentable fiber and some soluble fibers can operate as a prebiotic, which is a type of fiber that the good bacteria in our intestines will consume as food. When enough prebiotics are available for them to munch on, the more they tend to multiply and thrive.
Prevent Overeating and Manage Weight
Both soluble and insoluble fiber can play a big role in not only adding bulk to stool, but adding bulk to your meals. Studies suggest7 that when meals include foods that are high in fiber, they tend to provide a more profound feeling of fullness.
One thing to understand is that fibers do not contain calories and do not break down in the gut during digestion. However, the stomach is not a calorie counter, it is a volume counter. Thus, when fiber adds volume without adding calories, it can indirectly reduce calorie intake.
Due to fiber not breaking down like other nutrients, it tends to hang out in the stomach for much longer than quickly-digesting foods. This means that it can keep you feeling fuller for longer and some studies8 have shown that dietary fiber, when consumed regularly, can reduce body weight when in a calorie deficit.
Maintain a Healthy Heart
Fiber intake has been well-established as a useful tool to support cardiovascular health. According to a rigorous meta-analysis9, high dietary fiber intake can significantly reduce cardiovascular disease incidence and mortality.
The same study identifies the property of fiber's ability to lower cholesterol as the possible method for this benefit. How does this happen? When food is digested, the gallbladder releases bile to help emulsify the fluids in the ingested food in order to achieve a smoother digestion.
This bile contains cholesterol that is pulled from the body's blood to make. Fiber, when digested, pulls in and absorbs this bile. Remember, fiber is not broken down, so when fiber passes in the stool, so does the bile (and cholesterol) from your body.
It's this way that fiber lowers the bad cholesterol in the blood and the mechanism is simple metabolic science. Given that diets rich in plants (and thereby fiber) also have a huge support from the American Heart Association to maintain a healthy heart, the benefits are clear.
Helps to Control Blood Sugar
Evidence suggests10 that, along with improved cardiovascular health, dietary fiber may offer beneficial effects on blood sugar in those with Type 2 diabetes.
Another study suggests11 that dietary fiber can even prevent the development of Type 2 diabetes when a healthy diet is also being consumed.
How does this happen? The mechanism is similar to what makes fiber beneficial to supporting a healthy heart. Blood sugars that spike and dive wildly and often is bad news for those with insulin resistance and diabetes as they are just hard on the body.
However, because fiber takes so long to break down, it slows digestion. So, when consumed in meals that contain foods that may otherwise cause unstable blood sugars, it prevents glucose from reaching the blood as quickly, thus preventing spikes and dives.
Supplement for Veggie Doubters
The practically sole source of fiber in the diet is fruits and vegetables. However, according to the CDC, only 1 out of 10 Americans consume enough fruits and vegetables for optimal health. Thus, it can be safe to assume that 90% of Americans do not get enough fiber.
Firstly, it should be mentioned that it should always be everyone's goal to eat plenty of fruits and vegetables. The health benefits extend way beyond their fiber content as produce also contains antioxidants, phytonutrients, vitamins, and minerals.
As an alternative, if you are someone who is struggling to reach your fruit and vegetable goals on a daily basis (whether it is due to taste, budget, or other factors), you may find that supplementing your diet with fiber can help you reach your goals while you work your way up to the recommended amounts from food.
Dosing and Interactions
Due to fiber typically being derived from food sources, there are no known interactions that can be stated here in healthy individuals. However, for people who don't already have a diet high in fiber, you can experience mild side effects including gas, bloating, and cramping as you start to consume more fiber.
You don't want to consume more than 50 grams of fiber from supplementation a day, which is two times the recommendation. Not only can this cause many frequent and unpleasant trips to the bathroom, but it can adversely affect your digestive process.
True, fiber is helpful at keeping you regular and voiding the bowels, but if this is happening too often, you could be losing some important nutrients in your stool that should be going in your body, not the toilet.
Too much fiber without adequate hydration can also cause constipation, so keep that in mind if you plan on taking more than is typical.
Third-Party Testing
Any supplement that is labeled as third-party tested means that a company has voluntarily submitted samples of their product to a third party to be tested for purity and safety.
For supplements like protein powders, this means it can assure you that the amount of protein in the powder is the same amount that is listed on the label.
For other supplements, third parties test to be sure there are no harmful ingredients or additives like heavy metals or other toxins that often sneak into supplements that use fillers. Supplements are not foods, so remember, the FDA does not regulate them. This results in toxic substances appearing in supplements more often than you may think.
However, with a certification of third-party testing, you can rest assured that what you're consuming is on the label and only what is on the label.
The most well-known third party testing companies are NSF and Informed Choice, so if this is something that is of concern to you, look for those logos or simply do a little research before you buy.
Buying Guide: What to Look for in Fiber Supplements
Please remember that if you are pregnant, lactating, or have any sort of GI disorder like Crohn's or diverticulosis, you should check with your physician before beginning a fiber supplement.
Due to the well-established effects that fiber can have on multiple facets of your health, there is no shortage of fiber supplements to choose from. So, what criteria should you use to identify the one you should spend your hard-earned money on?
Well, first, consider if you even need a fiber supplement in the first place. If you already consume a diet full of fruits, vegetables, whole grains and legumes, try tracking what you eat for a couple of days. If you're already meeting the recommendations through food, I would be remiss as a registered dietitian to tell you to do anything differently.
However, fiber supplements can be useful if you need a little extra support or are experiencing constipation. Here's what to look for:
Form
Decide whether or not you prefer a powder or a capsule. If you're on the go a lot, be it on the road or traveling to an office, you may want to opt for a capsule that you can pop with 8 ounces of water and go on about your day without finding a vessel to do all the mixing. If pills are difficult for you, pick a powder you can turn into a tasty beverage or mix easily into your food and other drinks. If you're not a fan of either, try a fiber gummy. It's hard to say no to benefits that taste like candy. 
Budget
If you foresee yourself needing to supplement with fiber consistently, it may be wise to go for a fiber supplement that's on the thrifty side. Just make sure to look at resources like this article to be sure they are actually of high quality. 
Health Objectives
If you are looking to optimize weight loss, help stabilize blood sugars, and maintain a healthy heart, then you want to choose a fiber supplement that has soluble fibers. For better gut and digestive health, choose a fiber supplement that contains both insoluble and soluble fibers.
Number of Ingredients
Though there's no number of ingredients that are better than others, when it comes to supplements, a shorter ingredient list is usually better. If the ingredient list is short, this usually means the amount of additives, fillers and extra junk has been kept to a minimum. So, you get more of the good stuff in every serving. 
FAQs About Fiber Supplements for Constipation
What kind of fiber is best for constipation?
Insoluble fiber is the best kind of fiber for constipation. This is because insoluble fiber does not absorb water, but it does not digest either. So, it acts as a scrub brush to help move the content of the colon along. Methylcellulose and psyllium husk contain both soluble and insoluble fiber.
What is the best supplement for regular bowel movements?
All of the fiber supplements listed above can help with regular bowel movements and stopping constipation. Currently, the most popular product is Metamucil.
What is a good fiber supplement to take daily?
You can take any fiber supplement daily as long as you take it as directed. The best supplement is the one you enjoy taking enough to be consistent.
Is it OK to take Metamucil everyday?
To date, no evidence suggests that taking Metamucil daily is harmful. Just keep in mind that it should not be used as a replacement for fiber from food.
These statements have not been evaluated by the Food and Drug Administration. This product is not intended to diagnose, treat, cure, or prevent any diseases.
References
Stevens J, VanSoest PJ, Robertson JB, Levitsky DA. Comparison of the effects of psyllium and wheat bran on gastrointestinal transit time and stool characteristics. J Am Diet Assoc. 1988;88(3):323-326.
Gibb RD, McRorie JW Jr, Russell DA, Hasselblad V, D'Alessio DA. Psyllium fiber improves glycemic control proportional to loss of glycemic control: a meta-analysis of data in euglycemic subjects, patients at risk of type 2 diabetes mellitus, and patients being treated for type 2 diabetes mellitus. Am J Clin Nutr. 2015;102(6):1604-1614. doi:10.3945/ajcn.115.106989
Jovanovski E, Yashpal S, Komishon A, et al. Effect of psyllium (Plantago ovata) fiber on LDL cholesterol and alternative lipid targets, non-HDL cholesterol and apolipoprotein B: a systematic review and meta-analysis of randomized controlled trials. Am J Clin Nutr. 2018;108(5):922-932. doi:10.1093/ajcn/nqy115
Brum JM, Gibb RD, Peters JC, Mattes RD. Satiety effects of psyllium in healthy volunteers. Appetite. 2016;105:27-36. doi:10.1016/j.appet.2016.04.041
Rao SSC, Brenner DM. Efficacy and Safety of Over-the-Counter Therapies for Chronic Constipation: An Updated Systematic Review. Am J Gastroenterol. 2021;116(6):1156-1181. doi:10.14309/ajg.0000000000001222
Carlson JL, Erickson JM, Lloyd BB, Slavin JL. Health Effects and Sources of Prebiotic Dietary Fiber. Curr Dev Nutr. 2018;2(3):nzy005. Published 2018 Jan 29. doi:10.1093/cdn/nzy005
Clark MJ, Slavin JL. The effect of fiber on satiety and food intake: a systematic review. J Am Coll Nutr. 2013;32(3):200-211. doi:10.1080/07315724.2013.791194
Jovanovski E, Mazhar N, Komishon A, et al. Can dietary viscous fiber affect body weight independently of an energy-restrictive diet? A systematic review and meta-analysis of randomized controlled trials. Am J Clin Nutr. 2020;111(2):471-485. doi:10.1093/ajcn/nqz292
McRae MP. Dietary Fiber Is Beneficial for the Prevention of Cardiovascular Disease: An Umbrella Review of Meta-analyses. J Chiropr Med. 2017;16(4):289-299. doi:10.1016/j.jcm.2017.05.005
Jovanovski E, Khayyat R, Zurbau A, et al. Should Viscous Fiber Supplements Be Considered in Diabetes Control? Results From a Systematic Review and Meta-analysis of Randomized Controlled Trials [published correction appears in Diabetes Care. 2019 Aug;42(8):1604]. Diabetes Care. 2019;42(5):755-766. doi:10.2337/dc18-1126
McRae MP. Dietary Fiber Intake and Type 2 Diabetes Mellitus: An Umbrella Review of Meta-analyses. J Chiropr Med. 2018;17(1):44-53. doi:10.1016/j.jcm.2017.11.002