We review free products that we receive and participate in affiliate programs, where we may be compensated for items purchased through links from our site.
See our disclosures page for more information.
BenchBlokz
are a product that creates a way to simulate board presses using a hard foam that takes up less space than typical wooden boards. Although an extremely simple product, they are definitely an idea that makes you step back and say, "why didn't I think of that?"a
BenchBlokz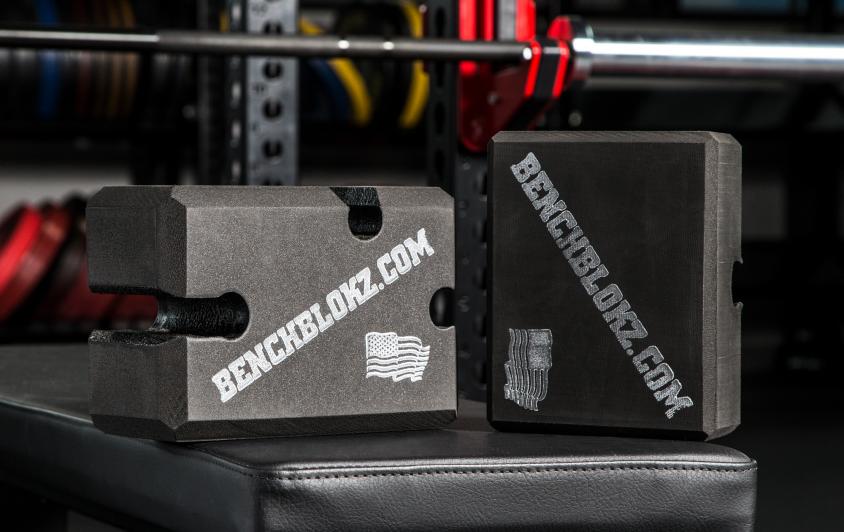 BenchBlokz 2-5 Board
BenchBlokz move beyond traditional board presses by replacing the "boards" themselves with a simple, portable, all-in-one unit—compatible with most standard barbells. So, rather than dragging 2x4's to the gym and seeking out a volunteer board holder, lifters can now use BenchBlokz on their own to set a customized, stable "sticking point" for the barbell above their chest; from as little as 0.75" to as high as 7.5". Whether you're rehabbing from an injury, working on form through half reps, or just looking to reduce shoulder rotation and keep the tension in the pecs and triceps as you bench, BenchBlokz offer a durable and dependable option for lifters of any size and skill level. They're available here in two size configurations, sold separately: Small BenchBlokz: Includes 3 built-in barbell slots equivalent to elevating the bar ½ board (0.75"), 1 board (1.5") or 2 boards (3") above the chest. Large BenchBlokz: Includes 4 built-in barbell slots equivalent to elevating the bar 2 boards (3"), 3 boards (4.5"), 4 boards (6") or 5 boards (7.5" above the chest). Both styles of BenchBlokz weigh less than 1 LB are can be easily carried in a gym bag. Weight tested to more than 1,000 LBS. Specifications: Alternative to wood boards for elevated board presses Size Options: Small (½, 1 & 2 "Boards") or Large (2, 3, 4, or 5 "Boards") Fits most standard barbells Weight: Less than 1LB Color: Black with BenchBlokz branding
BenchBlokz Review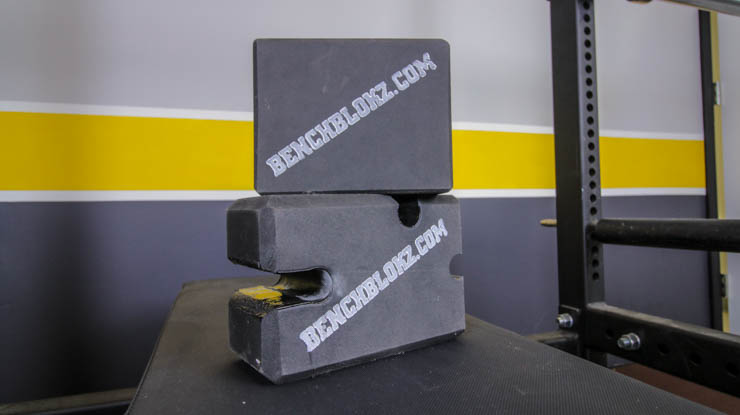 BenchBlokz are one of the most simple pieces of equipment we've reviewed to date. Not only are there no mechanical functions, there's also little branding or functionality. They're literally a block that attaches to a barbell.
That said, BenchBlokz take the age-old adage of making something as simple as possible, yet no simpler and create a product that makes you step back and question, "why didn't I think of that."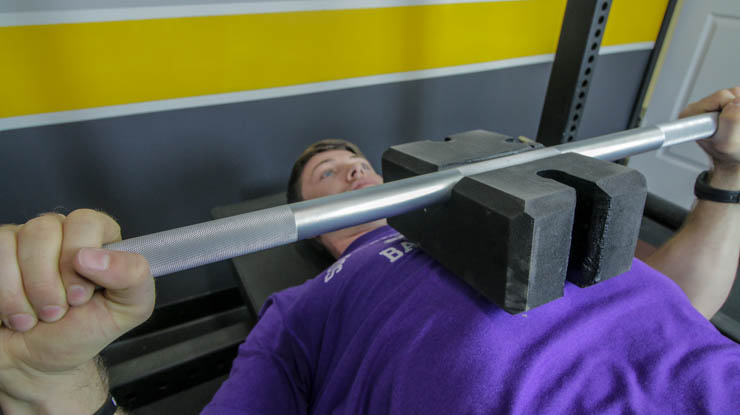 The idea behind BenchBlokz is simple. Rather than carrying around a bunch of wooden boards for board presses; think one 2" inch board, two 2" boards, three 2" boards, etc. Instead, you carry around one or two bench blocks that can be used for all the way from 1 up to 5 board. This not only saves you money, but also space in your gym bag or accessories pile (we've all got them.)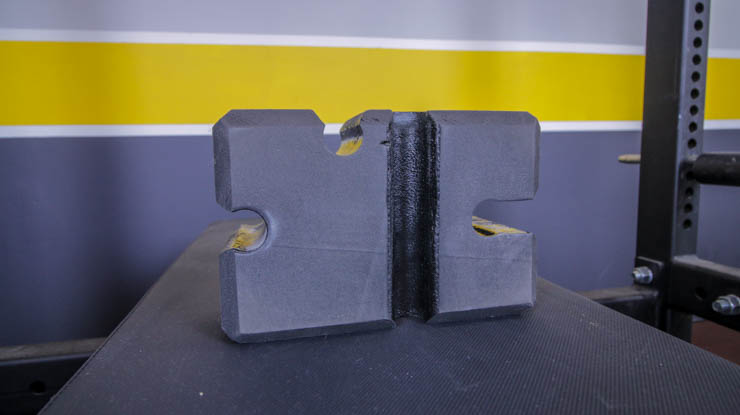 Bench boards utility is in that they allow you to "break through sticking points." Let's so you often fail in the bench press when you're 4" off your chest. Rather than continuing to fail, if you use a board that sticks 4" off your chest and constantly hit that movement, you should eventually be able to break through that sticking point. BenchBlokz allow you to do this, but in a manner that makes wooden boards seem archaic.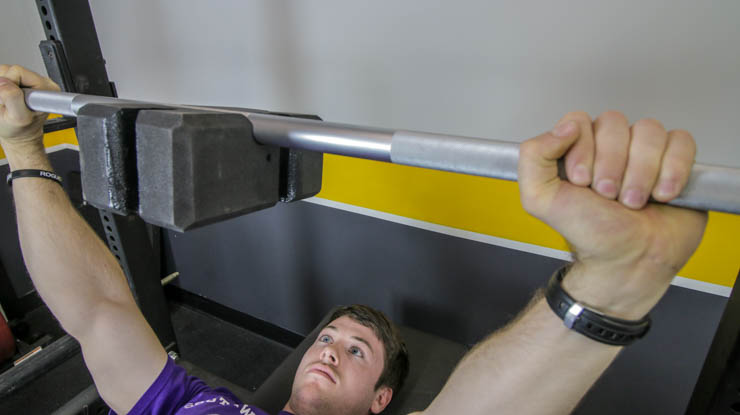 With traditional board presses, you must have a way to carry around a bunch of boards, but also have a spotter hold the boards against your chest. This makes it nearly impossible to practice board presses when training alone. BenchBlokz allows anyone to perform presses without the need for someone to hold the boards against your chest.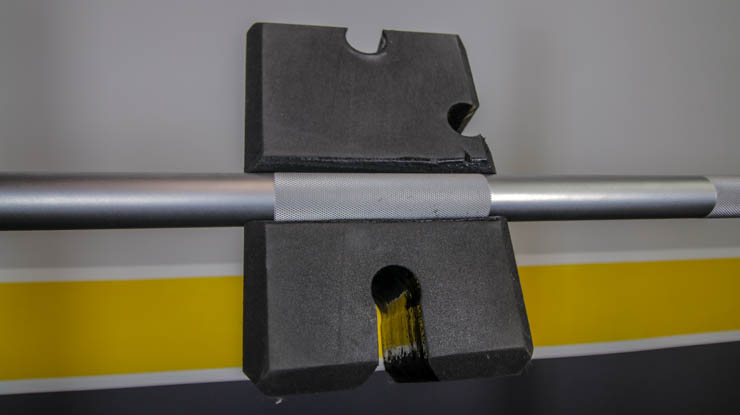 This feature of BenchBlokz that keeps the "boards" attached to the bar instead of on your chest is ingenious. What allows this to happen is cutouts within the blocks that let it attach to the bar and stay on without being held by someone else.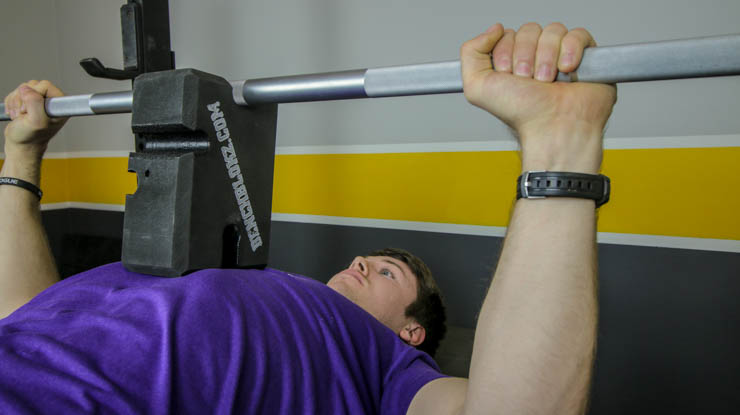 In our testing with BenchBlokz, we had zero issues with the blocks coming off or feeling like they weren't secure. This is important, especially when training alone and going for near maxes.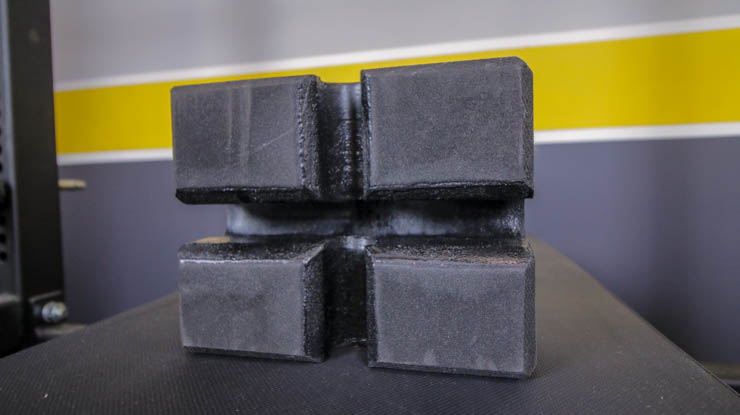 Another feature of BenchBlokz we liked is the material it's made out of. Because the block will be pushing pretty hard against your chest when at the bottom of a bench press, it's helpful if there's some give without it being crushed under the pressure. The BenchBlokz are made out of a dense foam that has hardly any give, but just enough to feel like it's not carving your chest out.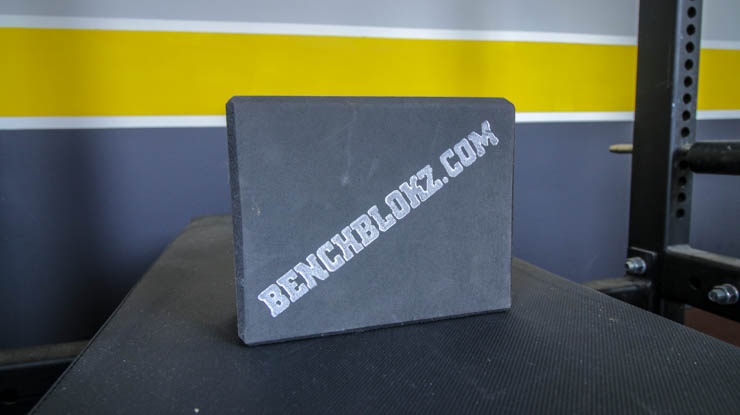 One area that the BenchBlokz are lacking is in their logo. This is a premium product and as such would benefit from having a morepremium fit and finish. An indented logo instead of one that's painted on would be a nice touch that should make it stand out more and have a more aesthetic look.
Versus traditional wooden boards, we highly recommend the BenchBlokz. They are a bit pricey for a block of hard foam, but they're undoubtedly the best and most compact option available.
Full Rating
Where to Purchase
BenchBlokz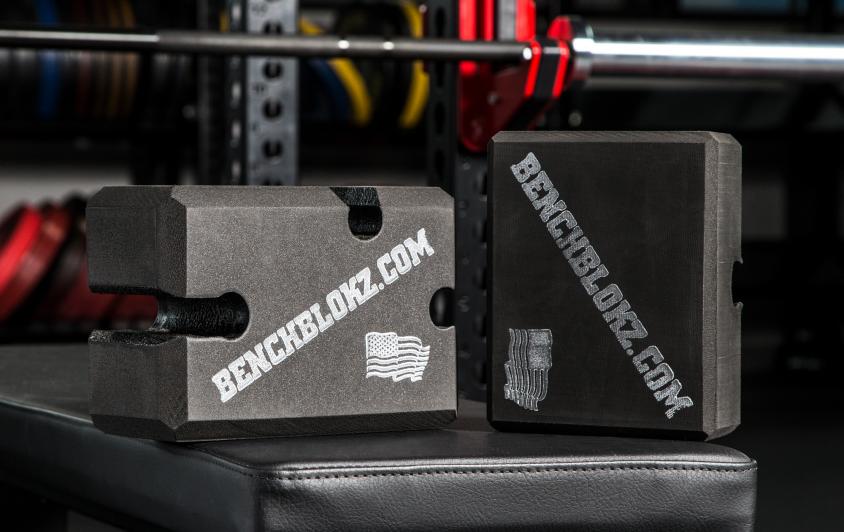 BenchBlokz 2-5 Board
BenchBlokz move beyond traditional board presses by replacing the "boards" themselves with a simple, portable, all-in-one unit—compatible with most standard barbells. So, rather than dragging 2x4's to the gym and seeking out a volunteer board holder, lifters can now use BenchBlokz on their own to set a customized, stable "sticking point" for the barbell above their chest; from as little as 0.75" to as high as 7.5". Whether you're rehabbing from an injury, working on form through half reps, or just looking to reduce shoulder rotation and keep the tension in the pecs and triceps as you bench, BenchBlokz offer a durable and dependable option for lifters of any size and skill level. They're available here in two size configurations, sold separately: Small BenchBlokz: Includes 3 built-in barbell slots equivalent to elevating the bar ½ board (0.75"), 1 board (1.5") or 2 boards (3") above the chest. Large BenchBlokz: Includes 4 built-in barbell slots equivalent to elevating the bar 2 boards (3"), 3 boards (4.5"), 4 boards (6") or 5 boards (7.5" above the chest). Both styles of BenchBlokz weigh less than 1 LB are can be easily carried in a gym bag. Weight tested to more than 1,000 LBS. Specifications: Alternative to wood boards for elevated board presses Size Options: Small (½, 1 & 2 "Boards") or Large (2, 3, 4, or 5 "Boards") Fits most standard barbells Weight: Less than 1LB Color: Black with BenchBlokz branding