We review free products that we receive and participate in affiliate programs, where we may be compensated for items purchased through links from our site.
See our disclosures page for more information.
Hylete came on the scene a few years ago offering well fitting shorts and shirts with sweat-wicking material that were CRAZY comfortable. The quest is, is the price worth it?
Hylete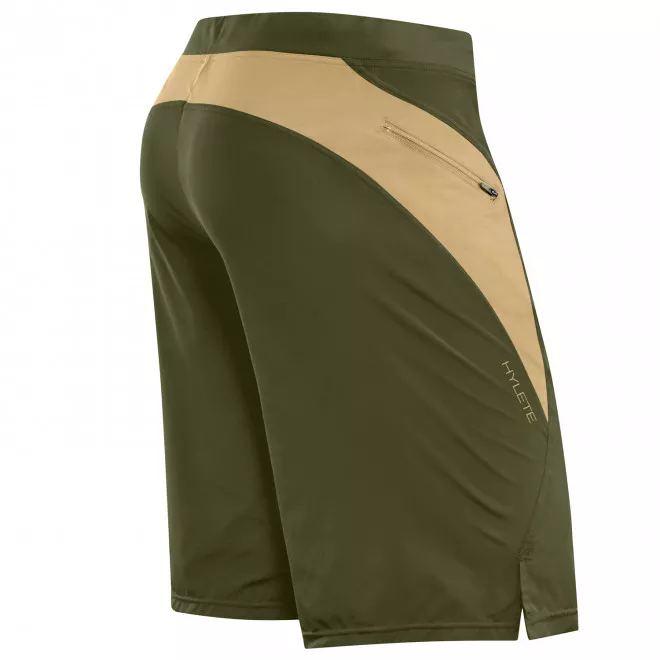 Hylete Apparel
The verge II zip pocket short is breathable, lightweight, and stretches with you during your most dynamic movements. Perfect for your run or high intensity workout, the flex-woven, anti-microbial treated fabric is quick-wicking and won't stick to you or weigh you down. Also available in the quad-cut length, exclusive to the verge style
There are a whole lot of options for fitness apparel. Seriously, there's an insane amount of companies, both new and old selling apparel specifically for your workout needs. One of the biggest "smaller" companies in the functional fitness arena is Hylete.
Hylete came on the scene a few years ago offering well-fitting shorts and shirts with sweat-wicking material that were CRAZY comfortable. At the time, if you were a CrossFitter or simply liked the clothing that companies were targeting the CrossFit community with, your primary option was Reebok. There started to be a few other companies making only board shorts, but they were pretty much all the same with different branding and colors.
So, when Hylete came out with their trim shorts, length customizations, and seamless waistband, people noticed. I included. Well, I've been able to use most of Hylete's offerings and today I'm going to go through what's available, competitors, and whether the price is worth it.
What are some of Hylete Products?
Nearly all of Hylete's products are designed to be sweat-wicking. That means that although you can wear some of their clothes outside of the gym, you can be pretty sure that what you're wearing is going to be odor-defending. And, for sweat monsters like myself, this is an excellent thing.
Shorts
The best-selling item from Hylete is their shorts. They're pretty much how Hylete built their reputation, and if you're going to see a Hylete product at the gym, this is most likely what you'll see. I have two pairs of Hylete shorts and absolutely love them. They are without a doubt the most comfortable training shorts I have, and I happen to think they look good; especially because they offer them in an above-the-knee option.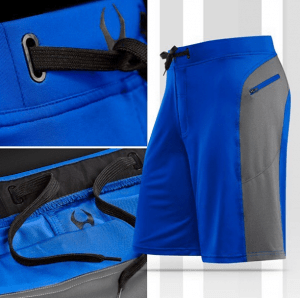 Now, I don't want to go into too much of a rant, but when I'm wearing shorts, I want them to be SHORT. I understand many enjoy having shorts that cover their knees, but those aren't shorts to me, those are capris. 😉 Hylete offers a couple different styles of shorts, but in reality, they're pretty much all the same except for some small design elements and colorways.
What really separates Hylete's shorts from the competition is their Flex-Knit Fabric. This ultra-durable, lightweight fabric stretches with your every movement, even deep squats and box jumps for you Crossfitters and functional fitness athletes. Flex-Knit Fabric is a durable, yet lightweight fabric that can stretch in all directions. When you start using Hylete's shorts, it becomes apparent that the shorts you were using before may have been more restrictive than you assumed. Although Hylete's shorts are trim, the fabric still allows you to squat, lunge, and jump freely.
Although I don't use them for swimming, they technically could perform just fine in the water and dry rather quickly. They also feature a two-way drawstring that can go on the outside of the shorts as well as on the inside based on your preference. I simply leave mine out because I like looking like a Street Fighter, but others may like a more stealthy look.
Shirts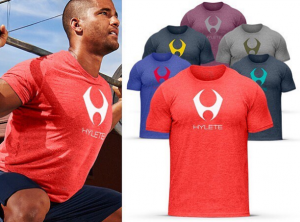 Bamboo. I'll just leave that word there for you to ponder for a few seconds. Okay, I'm back. Companies have begun using bamboo in shirts rather recently due to its sweat-wicking, as well as cooling abilities. We reviewed the Wod Shirt a few months ago whose main feature was the use of bamboo, and I have to admit, although it seemed gimmicky at first, bamboo can be used to make one heck of a fabric. The t-shirts from Hylete are honestly some of the best fitting and most comfortable t-shirts I've ever worn.
The problem with most shirts, even from companies making clothing for athletic body types is that they're still boxy. It's as if companies are making their clothing for Spongebob Squarepants, not the guy who's been putting in hours of training for not only increased performance but also a better body. Hylete shirts, however, are very trim. They aren't necessarily slim, so if you're someone who is very skinny, they won't necessarily hug you, but if you do have an athletic build, you'll love the fit.
The designs are minimal, which I am a fan of, although I know many people like the big, bold graphics. You'll also find small details that don't make the shirt "better" but do add to the overall experience such as premium tags and precise stitching.
Hylete Icon 6-in-1 Backpack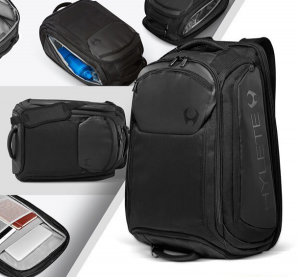 Hylete's first backpack was pretty sweet. It had a lot of different pockets, was expandable, and didn't look too bad. There were a few problems with durability and it is a little bit too large, but Hylete went back to the drawing board and completely redesigned their backpack that was already quite popular.
Their new backpack is essentially 6 different bags in one. You can take it directly from the gym to the office and everywhere in between without looking out of place and lacking space. The bag also looks much sleeker with smaller logos and just a much more appealing look. Although I haven't been able to give the backpack a go yet, from the pictures and videos, it looks pretty awesome.
You can support the effort and get your own backpack on Kickstarter here.
Everything Else
Hylete has quite a bit of offering. The thing that separates Hylete from other apparel companies is everything is made so that it can be used to train in and worn out in public. I personally am pretty unlikely to wear a pair of Reebok Wod Shorts with paint splatters in my daily life. But, I definitely would wear a pair of Hylete's shorts; they're functional, comfortable, and don't scream all I talk about is working out (although I do.)The socks are comfortable and look great, very similar to those offered by Stance Socks.
The hoodies use french terry that is as luxurious as it sounds and has a similarly
athletic build as all of the other clothing.
Competitors
Hylete isn't the only company creating fitness apparel that fits good, feels good, and looks good.In fact, there are quite a few competitors.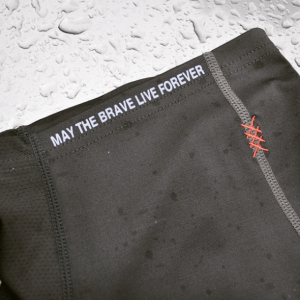 In my opinion, Rhone is making some of the best fitness apparel around. Not only are they using some of the best fabrics around, but their attention to detail is outstanding. The offerings are similar to hylete although they are a bit more expensive, they have more detail and probably use more expensive fabrics.
You can find all of their offerings here.
Lululemon is the king of premium fitness apparel. Although they're mostly known for their yoga pants that are seen on every college girl across America doing everything but yoga, they also have some of the best menswear. The shirts and shorts are both some of the most comfortable and best-fitting available, but they also come with a premium price tag.
If you're looking for a pair of shorts with a shorter inseam that shows off the quads you spend so much time sculpting, I suggest looking at the Pace Breaker. They're both durable and easy to move in, and unlike some of Lululemon's offerings, aren't too overly priced (although they're still expensive.)
You can find all of their offerings here.
Hylete Discount
As I've shown, Hylete is making some awesome apparel, but it's also pretty expensive. A little-known fact is that simply by creating an account, you'll be able to save 40% off everything on the site.40%?!?!
Simply click here to create your free account.
Final Thoughts
There's a lot of options available when it comes to things to wear while training.
I find myself generally training shirtless, but I mostly train in my garage so if I wanted to train naked I suppose I could.
If you're looking for apparel that performs as well as it looks, I would give Hylete a shot.
Full Rating
Hylete Apparel
Hylete came on the scene a few years ago offering well fitting shorts and shirts with sweat-wicking material that were CRAZY comfortable. The quest is, is the price worth it?
Product Brand: Hylete
Product Currency: $
Product Price: 68
Product In-Stock: InStock