We test and review fitness products based on an independent, multi-point methodology. If you use our links to purchase something, we may earn a commission. Read our disclosures.
When Hylete started producing athletic wear, it had just one pair of men's shorts.
One.
That was in 2012. Here we are, a decade or so later, and Hylete is starting to become a household name for many fitness lovers. Not only does the brand have men's and women's apparel, but it also produced a line of shoes (that look and are priced similarly to NOBULL Trainer shoes, go figure).
As our Hylete reviews of the men's and women's lines reveal, the price tag isn't exactly on the cheap. So is Hylete worth it? We'll tell you here.
Why You Should Trust Us
When it comes to shorts, tights, sports bras, and other fitness apparel, our Garage Gym Reviews team has worn just about every brand you can imagine. I personally am a pretty harsh judge of how clothes stand up in functional fitness workouts: Do shorts ride up too much during squats? Can these tights withstand the scrape of a barbell knurl? Does this fabric get entirely too smelly?
Several of us tested (and still wear) Hylete clothing, evaluating it in the same way you would if you pulled on a pair of shorts and started a workout.
A Quick Look at Hylete
When Hylete came on the scene around 2012ish, its primary competition–in terms of marketing to CrossFitters or people who liked that CrossFit board-short/booty-short look–was Reebok. Nike was really still playing to the sports crowd, and lululemon and other "smaller" companies really hadn't started catering to the functional fitness crowd (yet).
So, when Hylete came out with their men's line of trim shorts, length customizations, and seamless waistband, people–like Coop–noticed. Heck, I think Hylete was one of the first brands I bought booty shorts from.
The thing that separates Hylete from a lot of other apparel companies is that just about everything is made so it can be used for training and casual wear. Hylete's clothes are functional, comfortable, and don't scream, "All I talk about is working out" (although I do).
Nearly all of Hylete's products are designed to be sweat-wicking. That means that although you can wear the clothes outside of the gym, you can be pretty sure that what you're wearing is going to be odor-defending. And, for sweat monsters like myself, this is an excellent feature. Neither Coop nor I have ever had an issue with Hylete holding that horrible stinky smell that some fitness apparel does.
My Tips
Recognize that high-quality clothing means higher prices, and you pay for top-notch gear with Hylete.
Shop sales. Hylete offers discounts around the major holidays, like Black Friday and Fourth of July.
If you're a plus-sized woman who wears a size 16 or more, shop elsewhere; you won't find anything at Hylete that fits you.
Is Hylete Apparel Worth It?
Hylete makes really durable, well-fitting clothing. For just about everything we have worn, we have found the material is breathable and tolerates functional fitness movements well.
But, the prices are definitely on the higher end. Clothing is priced the way lululemon clothes are priced, and the shoes are priced close to what Nike Metcons or NOBULL shoes are.
Great For:
CrossFitters, weightlifters, and functional fitness enthusiasts
People who don't mind paying for quality clothing
People looking for lots of options in exercise clothes
Not Recommended For:
People on a budget
Those who just want something simple
Men's Shorts
Hylete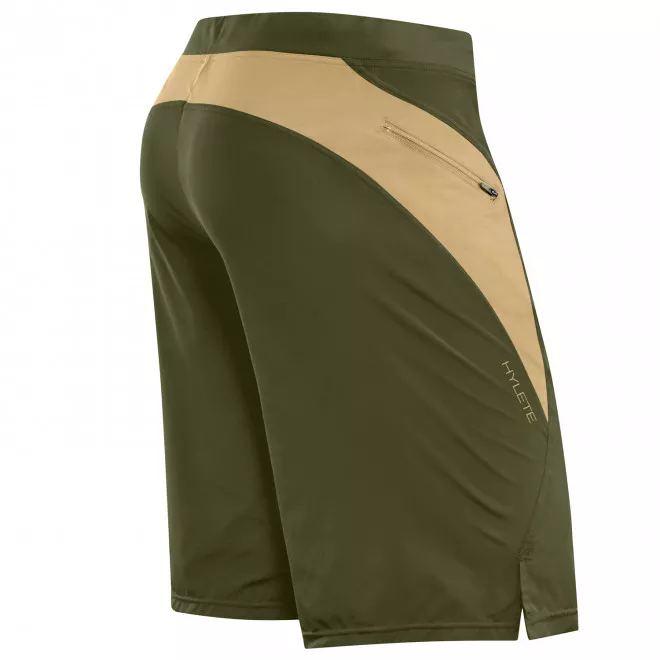 Hylete Apparel
The verge II zip pocket short is breathable, lightweight, and stretches with you during your most dynamic movements. Perfect for your run or high intensity workout, the flex-woven, anti-microbial treated fabric is quick-wicking and won't stick to you or weigh you down. Also available in the quad-cut length, exclusive to the verge style
My Favorite Things:
Several length options for every pair of shorts
Sizes range from x-small to xx-large
Two-way drawstring
My Callouts:
Prices as high as nearly $80/pair could turn off some
Not many color options on most styles
The best-selling items from Hylete are shorts. They're pretty much how Hylete built their reputation, and if you're going to see a Hylete product at the gym, this is most likely what you'll see. Coop has several pairs of Hylete shorts and absolutely loves them.
"They are without a doubt the most comfortable training shorts I have," he says. "When I'm wearing shorts, I want them to be short. I understand many enjoy having shorts that cover their knees, but those aren't shorts to me, those are capris."
Many of the men's shorts come in several length options depending on which pair you're looking at: high-cut, quad-cut, above-the-knee, regular, and long. Sizes run from extra small to extra extra large, and we have found that these are pretty much true to size. Some, like the Fuse short, even have a pocket designed to hold your phone.
Most feature a two-way drawstring that can go on the outside of the shorts as well as on the inside based on your preference. "I simply leave mine out because I like looking like a street fighter, but others may like a more stealthy look," Coop says.
Hylete offers a couple different styles of shorts for men, but in reality, they're pretty much all the same except for some small design elements and colorways.
What really separates Hylete's shorts from the competition is the flex-knit fabric, which is ultra-durable, lightweight fabric that stretches with every movement, even deep squats and box jumps. When you start wearing Hylete's shorts, it becomes apparent that the shorts you were using before may have been more restrictive than you assumed. Although Hylete's shorts are trim, the fabric still allows you to squat, lunge, and jump freely.
Although we didn't use them for swimming, they technically could perform just fine in the water and dry rather quickly.
| | | | | | |
| --- | --- | --- | --- | --- | --- |
| | Length Options | Liner | Drawstring | Pockets | Colors |
| Fuse | 3 | No | Yes | 1 | 10 |
| Verge III | 4 | Yes | Yes | 4 | 7 |
| Helix III | 3 | No | Yes | 2 | 6 |
| Flexion II | 3 | No | Yes | 4 | 4 |
| Rep | 3 | No | Yes | 3 | 4 |
| Incline | 3 | Yes | Yes | 1 | 3 |
Women's Shorts
Hylete Versa Shorts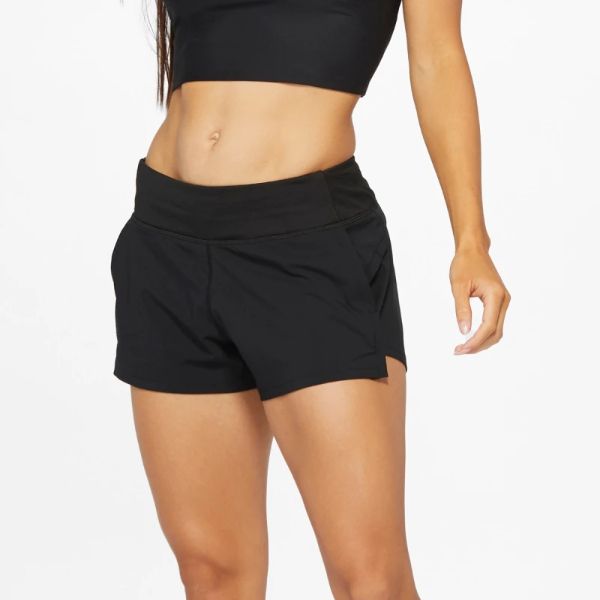 Hylete Versa Short
Finding a good pair of workout shorts can't be underestimated. They need to offer comfort, range of motion and function. The Versa Short does just that. Available in a 3-inch or 5-inch inseam length, they have a clean design in lightweight, breathable fabric. This short is very functional with its flex-knit fabric waistband, side open hand pockets, zipper-back pocket and performance mesh liner.Not only is the Versa Short-Liner built with performance in mind, but it is also stylish and flattering. With a side scallop detail and slit, they look as good as they feel. The short is made from polyester and spandex so is lightweight, breathable, and soft to the touch. There are a few reviewers who stated the leg opening flips upward during a workout, but the majority of buyers love the look, feel and function of the Versa Short-Liner.
My Favorite Things
Great, durable fabric
Moves well through all functional fitness movements
Great color options
POCKETS!!!
My Callouts
No line of spandex shorts
Not many inseam options
Biggest size is x-large
I've worn several pairs of Hylete women's shorts. About five years ago, my Hylete booty shorts were my favorites–but the brand doesn't currently have a line of spandex shorts for women. Today, they offer several takes on traditional workout shorts. I have worn the Versas, and in researching all the offerings, I can say that these are all very similar to each other with just minor changes.
One of my favorite things about each of these Hylete shorts are the zippered pockets. Thank you, Hylete, for remembering that women need pockets, too! I can fit my ID and a key in my Versa pockets, which I take with me when I run or, more often, when walking my dog.
Also, all the women's shorts come with a liner. I know some women who cut the liner out of their workout shorts; I always leave mine in because it doesn't bother me and, let's be honest, it's another good layer of fabric for when nature calls during double unders.
This is about where the good stuff stops. Honestly, the women's Hylete shorts line bums me out. Men get tons of different length options with their shorts, and, as you'll see in the chart below, most of the women's shorts come in just one (short) inseam.. I'm a short shorts girl myself, so this is okay with me, but I know a lot of women want a 5-inch inseam (or longer), and only one pair of shorts does that (the Versa).
Also, what's up with the sizes stopping at x-large for women? That fits a size 12 to 14, according to Hylete's chart. Heads up, Hylete: lululemon (and others) make shorts that fit women up to size 20. Let's be more inclusive here!
| | | | | | |
| --- | --- | --- | --- | --- | --- |
| | Length Options | Liner | Waist | Pockets | Colors |
| Iris | 3-inch | Yes | Flex fabric | 2 | 11 |
| Versa | 3- or 5-inch | Yes | Flex fabric | 3 | 3 |
| Velos | 2⅜-inch | Yes | Scrunch | 1 | 3 |
| Radius | 4-inch | Yes | Flex fabric | 2 | 3 |
Women's Leggings
Hylete Tempo Tights
Hylete Tempo Tights
A good pair of leggings can be your best friend. We look for functionality, style and comfort, and the Hylete Tempo tights offer all of that and more. Made from a blend of polyester and Spandex, these tights provide just the right amount of compression. Reviewers rave over how wonderfully the leggings hold up in yoga, powerlifting, HIIT and CrossFit workouts. The moisture-wicking fabric and high waistline provide a sleek look that is flattering to all wearers. The Tempo Tights come with two side pocket panels on each hip, which are large enough to store your phone and valuables. They are offered in two colors, sienna and black, as well as two different inseam lengths (25 and 27 inches). And, what's more, Hylete offers an impressive performance guarantee. If you are not 100% satisfied with the fit and/or performance, returns will be accepted for up to 60 days (excluding clearance and flash sale items). After all, if you are investing $100 in a pair of leggings, you want to be sure you are satisfied. 
My Favorite Things
High-waist options
Withstands barbell use
Pass the "squat test"
Pockets!
Length options
My Callouts
Sizes stop at x-large (fits a 12/14 waist)
Priced up to nearly $100/pair
Fabric on some is super thick around pockets
As a woman who fitnesses just about every day of the week, I'm always on the lookout for a really good pair of leggings. I shop everywhere, from Virus to Target to lulu, and I use different leggings for different exercises. For example, my Target tights will NOT hold up to a barbell. They would fall apart. We save those for yoga days.
Hylete has a really solid line of leggings for women. The Nimbus II is arguably the most popular, and it's the pair that I have. I can wear them for just about anything: heavy squats, running, box jumps, and, my favorite, sitting on a chair between heavy clean-and-jerks.
The fabric is a soft polyester/spandex blend. So far, it hasn't shown any fraying from being scraped up with barbell knurling on cleans and deadlifts. However, I do find myself having to pull the fabric up on my thighs. I think this is a "me" problem though—I ordered a size bigger than what I usually get because it was November and I anticipated a nice winter thickening on my waist and thighs. Other reviewers state that these fit true to size.
Oh, and: pockets. Thank you for pockets on tights! I don't need them when I exercise, but I sport activewear pretty much 24/7, so I need a pocket for my phone and I love that most of the Hylete leggings have at least one.
Unfortunately, Hylete apparel fails bigger women when it comes to leggings, which only go up to a size x-large (fitting a size 12-14 waist). I really don't understand why a fitness brand wouldn't have more options. Hylete, you're missing out on some amazing customers.
| | | | | |
| --- | --- | --- | --- | --- |
| | Length Options | Waist | Pockets | Colors |
| Nimbus II | 25- or 27-inch inseam; capris available | Mid-rise, high-waist | 2 | 13 |
| Luna | 25- or 27-inch inseam | High-waist | 0 | 2 |
| Tempo | 25- or 27-inch inseam; capris available | High-waist | 2 | 5 |
| Terras Fleece-Lined | 25- or 27-inch inseam | High-waist | 2 | 1 |
Men's Shirts
My Favorite Things
Tons of options: crew and V-neck, long-sleeve, and tanks
Incredibly comfortable
Made for an athletic build
Lots of colors
My Callouts
Can be pricey on some options
May not be a good fit for all body types
Minimal design may not appeal to everyone
"The T-shirts from Hylete are honestly some of the best fitting and most comfortable T-shirts I've ever worn," Coop says.
The problem with most shirts, even from companies making clothing for athletic body types, is that they're still boxy. It's as if companies are making their clothing for Spongebob Squarepants, not the guy who's been putting in hours of training for not only increased performance but also a fit physique.
Hylete shirts, however, are very trim. They aren't necessarily slim, so if you're someone who is very skinny, they won't necessarily hug you, but if you do have an athletic build, you'll love the fit.
The designs are minimal, which Coop is a fan of, although I know many people like the big, bold graphics. You'll also find small details that don't make the shirt "better" but do add to the overall experience, such as premium tags and precise stitching.
Women's Shirts
My Favorite Things
Huge variety of styles: crops, tanks, Ts, and polos
Super breathable fabric
Fit true to size
Lasts a long time
My Callouts
Higher-end clothing means higher prices
Sizes don't cater to larger women
If you like a certain workout top style, Hylete probably has it. It wasn't too long ago that Hylete didn't have much to offer women in terms of performance apparel. Now, there are dozens of options in tops alone.
I own several shirts, including the Solana Cropped Tank and the Valena Crew (another crop). If you aren't into crop tops, there are plenty of other options.
I really like that there is a minimal design to Hylete gear. In other words, you don't have to be a walking advertisement for the brand. It's not that I don't support Hylete, because I do like the clothes, but I tend to mix training apparel with my "going out to dinner" wear. You could easily wear most of the women's tops in the gym to exercise or in social spaces.
Any top I've worn has performed really well during workouts. The material is breathable and it washes easily–and no pit stains to report (yet). Many of the shirts are moisture-wicking.
It's a shame that there is no shirt that I could find on the size that comes in a size above x-large. It would be one thing if competitors weren't offering bigger fits, but I found up to size 20 on lululemon and extra extra large on Fabletics.
Other Products
Hylete has quite a bit more: joggers, cross-training shoes, jackets, and more. We haven't tested these pieces enough to really comment on them, but if we can make an educated guess, we would bet that you'll find quality in just about everything.
Coop really likes the socks and says they are comparable to Stance, which is one of my favorite brands as well. He also says that the hoodies use French terry that is as luxurious as it sounds and has a similarly athletic cut like the rest of Hylete's clothing.
Hylete vs. lululemon
Over the past few years, lululemon has risen as a leader when it comes to premium fitness apparel. The brand is most well-known for its line of women's leggings, but you better not sleep on the men's line. Coop really likes the shorts and says the shirts are some of the best-fitting available.
I'm a huge fan of the Fast and Free tights as well as any sports bra the brand makes. I also love that if you're a certified sports trainer, you get a 25% discount (Hylete wins here, though, offering 30% off to trainers).
If you put lulu side-by-side with Hylete, you might see that Hylete is a little more affordable, and lululemon is a little bit higher quality. Otherwise, they are really similar in style and offerings.
Hylete vs. Rhone Apparel
Coop believes that Rhone is making some of the best fitness apparel around. He says it fits well, feels great, and looks good. Not only are they using some of the best fabrics, but their attention to detail is outstanding.
I'd say the offerings are similar to Hylete. Rhone pieces tend to be a bit more expensive, but they also have more detail and probably use more expensive fabrics. I'm a budget-minded person, so I'd choose Hylete over Rhone, but it really just comes down to personal preference.
Final Thoughts
There's a lot of options available when it comes to things to wear while training.
"I generally train shirtless, but I mostly train in my garage, so if I wanted to train naked I suppose I could," Coop says.
If you don't want to train naked and want apparel that performs as well as it looks, I would give Hylete a shot, as long as you don't mind the price tag.
Full Rating
Hylete Apparel
Hylete came on the scene a few years ago offering well fitting shorts and shirts with sweat-wicking material that were CRAZY comfortable. The quest is, is the price worth it?
Product Brand: Hylete
Product Currency: $
Product Price: 68
Product In-Stock: InStock
Hylete FAQs
Is Hylete made in the USA?
Hylete is based in Solana Beach, California, but the clothing is not made in the USA.
What are Hylete shirts made of?
It really depends on the shirt; there are tri-blend shirts and shirts that are 100% polyester. The Icon II Quad-Blend Polo, however, is a proprietary blend of four fabrics: rayon, bamboo rayon, cotton and spandex.
What is the meaning of Hylete?
The name "Hylete" is a combination of two words: "hybrid" and "athlete." The brand specifically chose that name to target people who are into functional fitness.
Are there Hylete discounts?
Yes, there are a few ways to save on Hylete:
– Sign up for the newsletter at hylete.com to save 20% on your first purchase
– Military, first responders, teachers, and certified trainers are eligible for 30% off
– Shop around big holidays, like Black Friday, when the brand offers big sales.