We test and review fitness products based on an independent, multi-point methodology. If you use our links to purchase something, we may earn a commission. Read our disclosures.
A treadmill is a versatile piece of cardio exercise equipment. Whether your fitness goals include weight loss, better overall cardio capacity, or marathon training, you can use a running machine to get there.
Along with that versatility comes a range of sizes. Understanding treadmill dimensions is key for a number of reasons. For example, a 2023 study published in Frontiers in Neurology found that the size of the machine can actually affect your running gait. Also, some specs, like weight capacity and whether or not it will fit in your home, are directly tied to how big the treadmill is.
Let's dig into why size really does matter when it comes to these machines.
Common Treadmill Dimensions
Generally speaking, a treadmill is usually between 5 and 7 feet long and 2 to 3 feet wide. The height of the treadmill varies even more. Some machines, like under-desk treadmills, are just a few inches high, whereas others are 4 to 5 feet tall.
The weight of a treadmill also varies greatly. Some budget treadmills are as light as 50 to 60 pounds, while commercial-grade machines can be upward of 400+ pounds.
RELATED: Best High-End Treadmills
A few factors affect treadmill weight, such as the continuous horsepower (CHP) the motor offers. The higher that number, the heavier the motor (and the more powerful the machine). Also, the durability of the treadmill's construction plays a role in both the max user weight as well as how heavy the machine is.
Other factors that might affect a treadmill's dimensions include add-ons such as handrails, tablet holders, touchscreens, water bottle holders, leveling feet, and an incline motor.
Running Surface Measurements
It's easy to get caught up in the flashy apps, fancy LCD screens, Bluetooth connectivity, and interactive workout programs, but if you don't find a home treadmill that is comfortable for you to train on, you will more than likely end up using it as a catch-all for dirty laundry.
The size of the belt can affect your stride as you walk or jog during your treadmill workout. Walking treadmills will have belts as short as 40 to 50 inches because walkers have a much shorter stride than joggers. A standard running deck is 55 inches long and 18 to 20 inches wide, which accommodates people of most heights.
However, if you're 6 feet or taller, you will probably need a treadmill belt that is at least 60 inches long for a more comfortable workout. Running on a belt that is too short may mean having to adjust your stride to the treadmill.
RELATED: Best Treadmill for Tall Runners
How Much Space Do You Need?
The space that you need for a new treadmill extends beyond just the machine's footprint; you need to tack on some extra room to a treadmill's dimensions.
Why? Well, first, you have to be able to get on and off the machine. Second, a motorized treadmill needs airflow around the motor at the front of the treadmill in order to run properly.
Lastly, having just enough space to step onto a treadmill isn't enough for proper functionality; it can also be an essential part of staying safe. If you slip on the treadmill and fall to the side, it's better to fall onto the ground than to crash into furniture.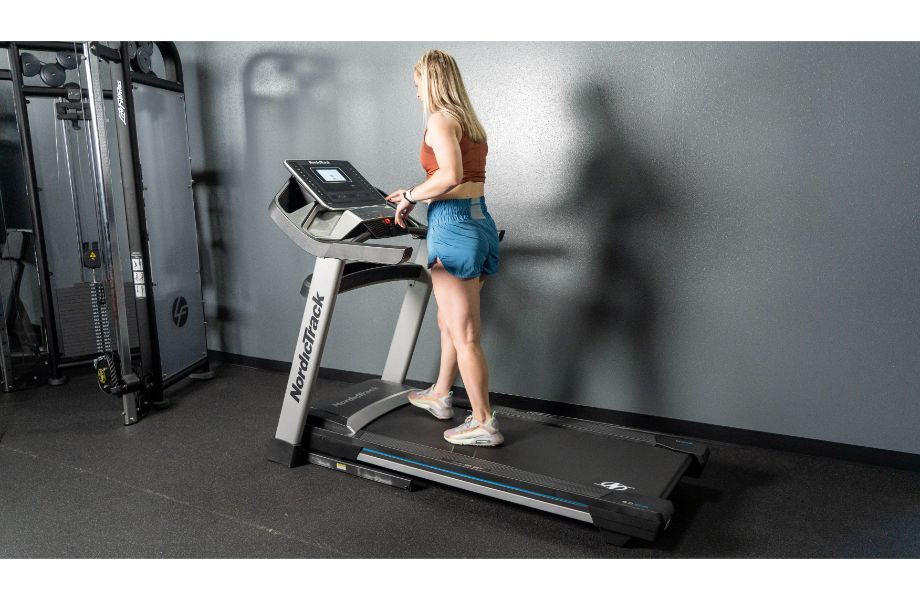 The ASTM (formerly called the American Society for Testing and Materials), recommends having at least 19.7 inches of open space on each side of the treadmill as well as 78 inches behind it with no obstructions. Many brands, like NordicTrack and Horizon Fitness, also include suggested spacing in their owners' manuals.
Save Room With a Folding Treadmill
Folding treadmills offer a wide range of benefits for a home gym, namely, that they allow you to save some valuable floor space. Being able to fold up a large machine like a treadmill can be a huge benefit when incorporating fitness equipment into a small space. Many foldable treadmills come with transport wheels as well so you can move the machine in and out of rooms as you need or don't need it.
We have to point out that folding treadmills could pose a safety risk. Treadmill decks that are not latched correctly into the folded position could fall onto a child or pet. Read the directions carefully and make sure that when you fold it and put it away that you have secured it properly every time.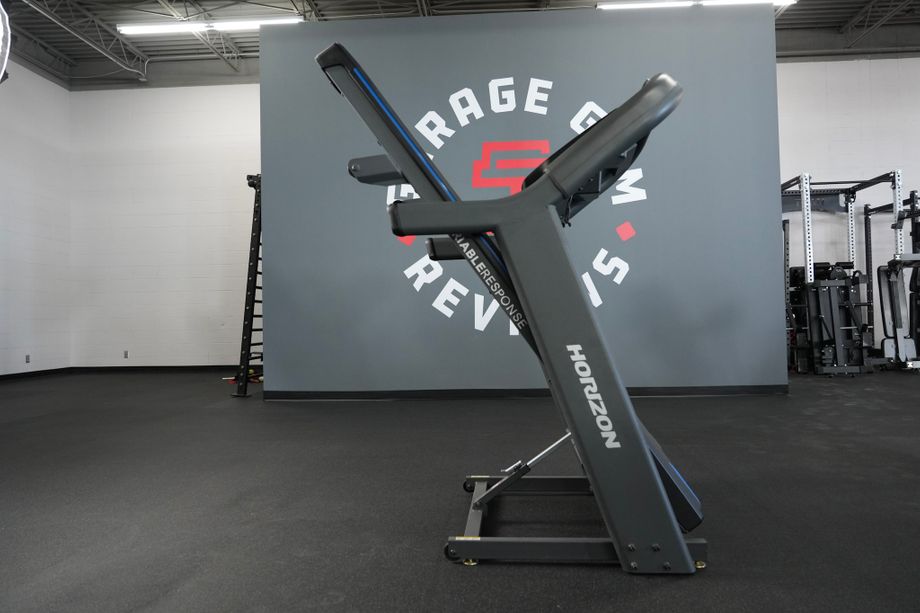 Treadmill Dimensions: Final Thoughts
The size and weight of a treadmill play important roles in how sturdy the machine is and even how much you might use it. Measure the area where you want to put your treadmill before you start searching on Amazon or head to the sporting goods store. Find the best treadmill that meets the efficiency requirements for your space, is compatible with your body and fitness goals, and gets you excited to start racking up the miles.
Treadmill Dimensions FAQs
What are the dimensions of a standard treadmill?
The standard motorized treadmill is around 6 to 7 feet in length, 2 to 3 feet in width, and around 4 to 5 feet tall. However, treadmill dimensions vary widely depending on the type of machine you're looking at and the features you want.
How much clearance do you need for a treadmill?
It's recommended to have at least 19.7 inches in on each side of the treadmill and at least 78 inches in open space behind it. You also want to have at least an 8-inch minimum height clearance to make sure you don't hit your head while running, as well as open space at the front of the treadmill to allow the motor to have proper air circulation. The space around your treadmill should be free of toys or clutter in order to keep the user and anyone around as safe as possible. 
How wide are treadmills at the gym?
On average, a treadmill is about 2 to 3 feet wide. The belt sizes of average treadmills are anywhere from 16 inches to 24 inches, but you also have to factor in the rest of the parts that make up the actual full width of the treadmill.