We have affiliate relationships through which we are paid a commission on sales through some of the links on our site. Read our disclosures.
After using Rogue Kettlebells for over 5 years including the Powder Coat version and new E-Coat version as well as practically every competitor on the market, I believe the new Rogue E-Coat Kettlebells are the best kettlebells on the market for most people.
They are made in the USA, use a superior finish to powder coat, have a tight weight tolerance warranty, and come in every weight increment desired all at one of the most affordable prices available.
USA-Made Kettlebells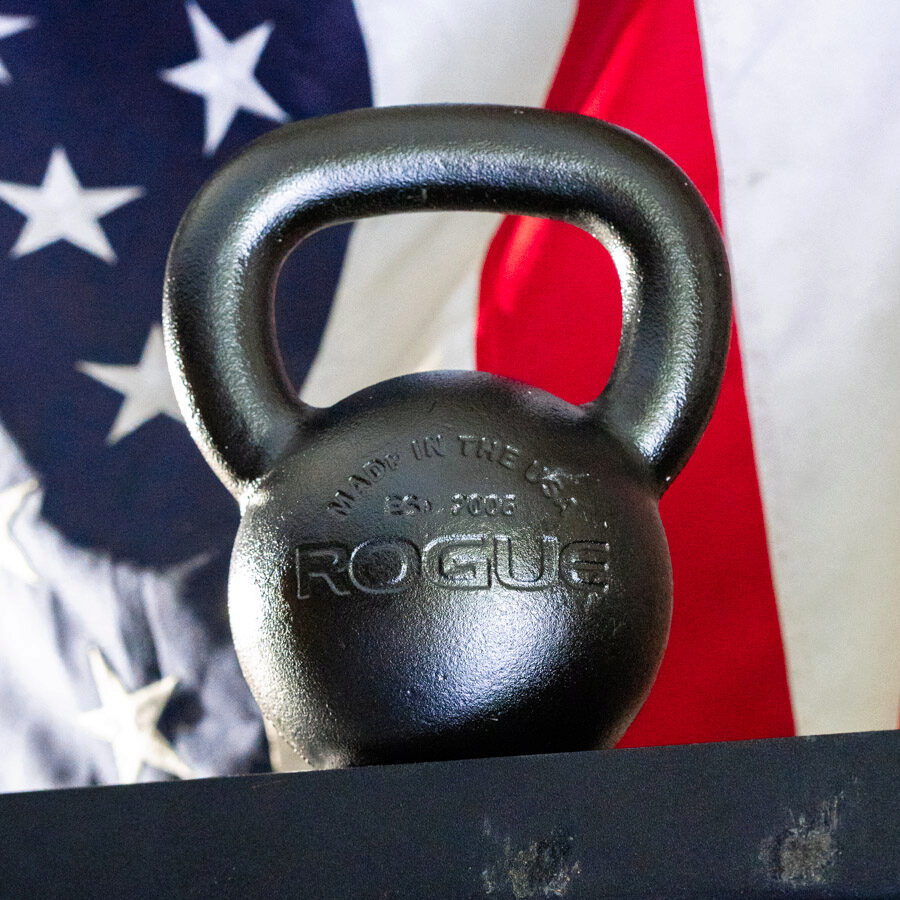 Rogue E-Coat Kettlebells
Cast in northern Michigan by Cadillac Casting, Inc., these ductile iron Rogue Kettlebells represent our new, exclusive line-up of American-made KBs. The series is currently available in 12 weight increments, from 9 LB to 88 LB, and features a black E-Coat finish. Debossed weight indications are marked on one side (in both LB and KG), with Rogue branding on the other.What Sets the New Rogue Kettlebells Apart:Material Ductile Iron Significantly more durable than traditional gray iron with a higher tensile strength and yield strength + greater corrosion resistance.Finish E-Coat Known for its excellent adhesion, even coverage and toughness, our E-coat finish is applied in a thin durable layer that allows the texture of the casting to be felt while still being easy to clean.Gloss ~22 GU Rating These KBs have a higher gloss appearance (approx 22 gloss units, or "semi gloss") than our powder coat KBs [0.5 to 1.5 GU, or "low gloss").
I don't think it would be much of a stretch to say that Rogue Fitness sells more kettlebells than anyone in the world. Not only are they one of the easiest companies to purchase from, but their prices are also some of the most affordable for high-quality kettlebells.
After using the standard Powder Coat Rogue Kettlebells for over 5 years and then recently receiving the latest, made in the USA E-Coat Rogue Kettlebell, I felt it was time for a Rogue Kettlebells review. Let's get into it.
Where are Rogue Kettlebells Made?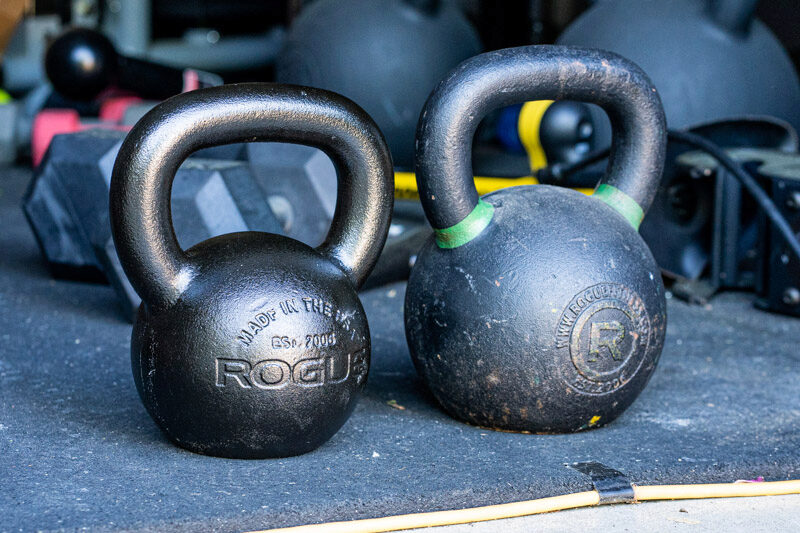 Although Rogue Fitness predominantly sells made in the USA equipment that comes out of their 700,000 Sq. Ft. facility, historically, their bumper plates, dumbbells, cast iron plates, and kettlebells have all been imported from various places including China.Up until recently, all of Rogue's Kettlebells (including the Thompson Fatbells) have been made in China. Due, in part, to the high demand for home gym equipment as of late, Rogue sought out other places to manufacturer their kettlebells. The result is the new Rogue Kettlebells – E Coat.
Related: Check out the Bowflex SelectTech 840 Adjustable Kettlebell review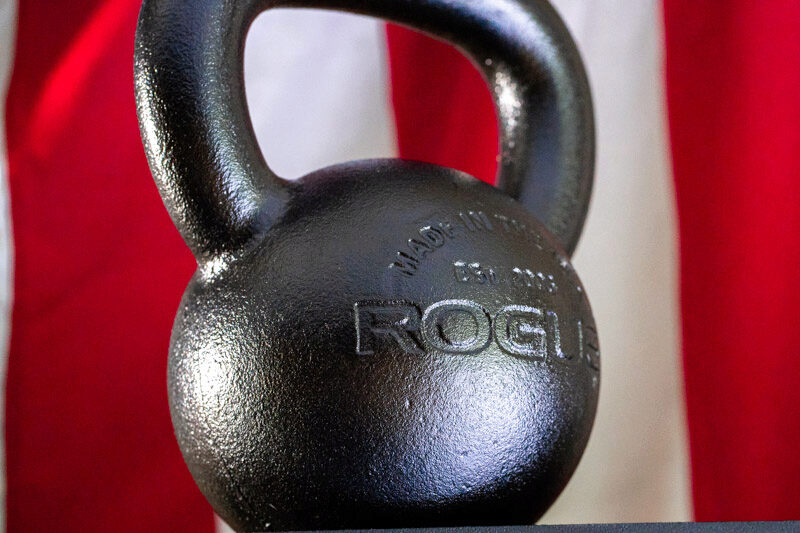 The Rogue E-Coat Kettlebells are made in Cadillac, Michigan by Cadillac Casting, a company who has been making automotive parts for over a century. You can still buy the imported Rogue Kettlebells, but as we'll discuss, we doubt you'll see a reason to.
Powder Coat Rogue Kettlebells vs. Rogue E-Coat Kettlebells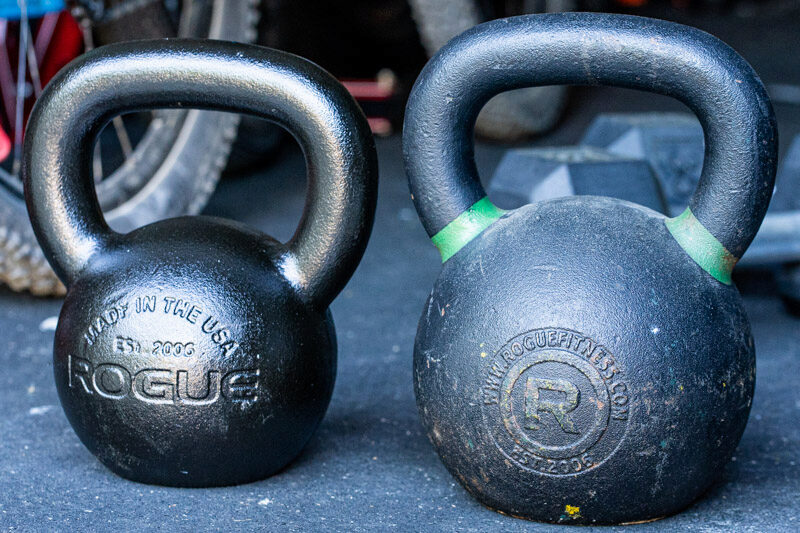 Powder Coat Kettlebells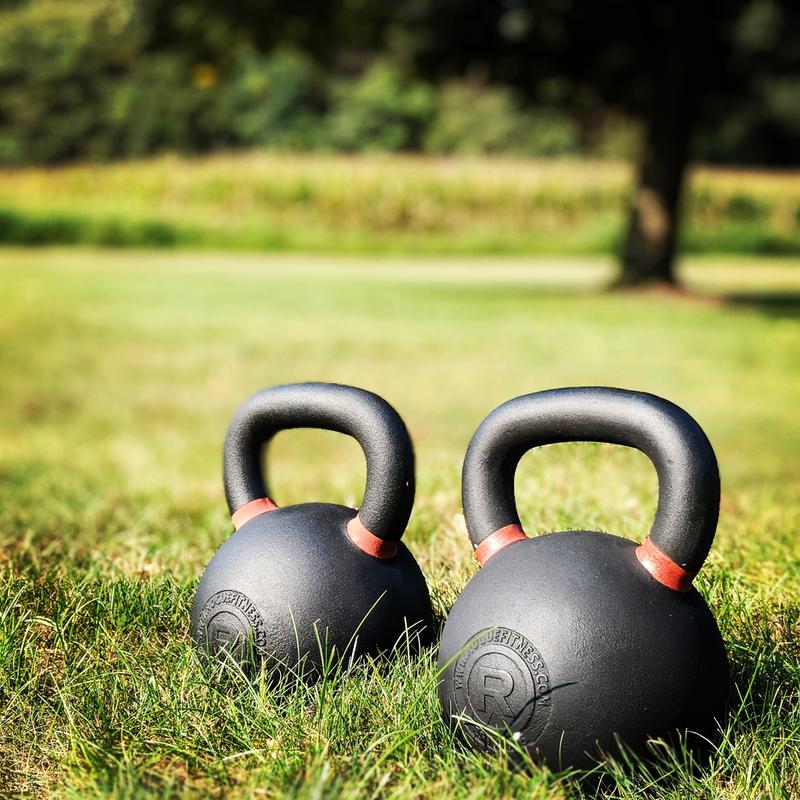 Rogue Kettlebells
Rogue Kettlebells begin as first run iron ore, not scrap, and are formed into a strong, balanced, single-piece casting with a flat wobble-free base. A clean, void-free surface and durable powder-coat finish give Rogue Kettlebells an unmatched feel.The Rogue Kettlebell was designed around these requirements.Premium Material: We started with the highest quality first run iron ore available, not scrap.Void free surface: We use a proprietary casting process so each bell can reach the highest quality and have the cleanest finish possible. This also allows us to have a smooth, comfortable handle.Single Piece Casting: The Rogue Kettlebell is cast in one solid piece, creating a stronger, more reliable handle and a void free surface. The Rogue Kettlebell does not use plastic caps, plugs, or patches like lower quality products.Wide Flat Machined Base: We chose to machine the base of our kettlebell flat (not leave it as a raw casting) so it sits perfectly on the floor and does not wobble.Finish: The Rogue Kettlebell has a matte black powder coat finish that has a great feel and will hold chalk. This feels more natural than a thick epoxy finish.Colors: We color coded the handles. By associating each kettlebell weight increment with a different color handle, it becomes much easier for gym owners and trainers to direct athletes to specific kettlebells on sight alone.17 weight increments to choose from—ranging from 9LB to 203LBWeight Tolerance: +/- 3%
Kettlebells are an extremely simple product. They feature a round handle that is connected to the 'bell' portion of the kettlebell, are made out of cast iron, and often have a machine bottom. Although from a macro view, this seems like there would be all there is to discuss, however, as you swing, carry, and load kettlebells you realize that they're not all the same. These differences are what separate the new Rogue E-Coat Kettlebells from the imported Rogue Kettlebells (which I foresee them removing altogether–more on that in a moment.)
Manufacturing Location: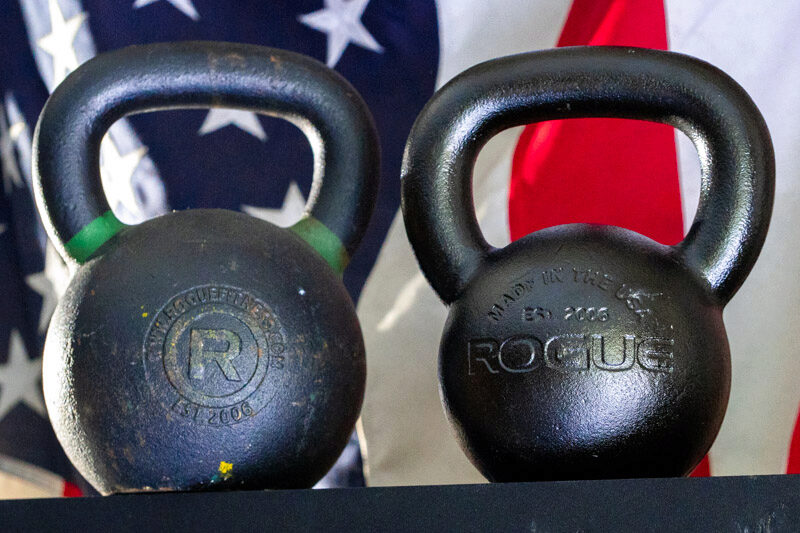 As previously stated, the powder coated Rogue Kettlebells are imported from China. It has always been weird that a company that so highly prided themselves on being made in the USA sold imported kettlebells. I get it in that they were much cheaper and that was needed in order to compete, but still, it's nice to see them bringing the manufacturing for these back home.
I do want to make it clear, however, that just because a product is imported, that does not automatically mean it is inferior. Some of my favorite kettlebells are the Kettlebell Kings Kettlebells that are an imported bell, but have an excellent finish. China ≠ poor quality. USA ≠ high quality. That's a very elementary level of logic that although plays itself out often in the home gym community, is simply untrue.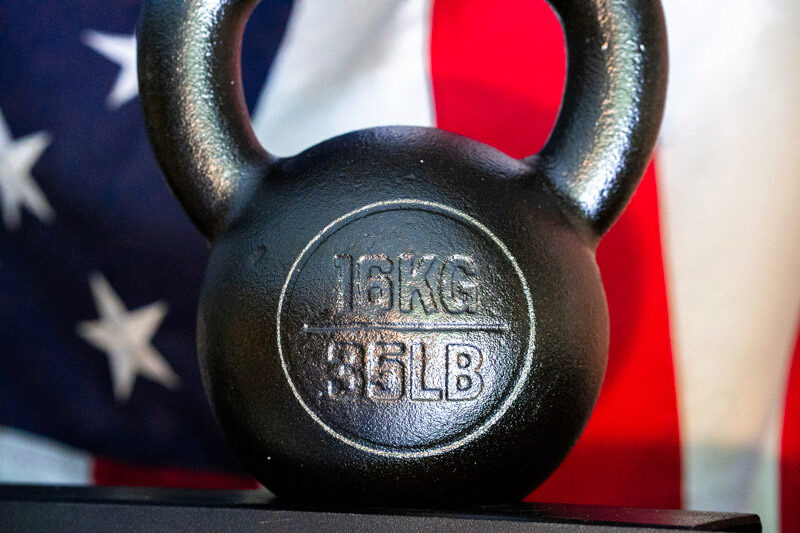 This said, the new E Coat Kettlebells from Rogue are made entirely in the USA out of a new manufacturer for Rogue, Cadillac Casting in Cadillac, Michigan (man, that name just sounds sweet.) This does a few things for Rogue and their customers. It allows Rogue to have greater quality control, to make quicker changes, and to stock items quicker. It also allows Rogues customers who want to support US manufacturing to do it on yet another item that will pilfer the floor of their garage gyms.
Kettlebell Finish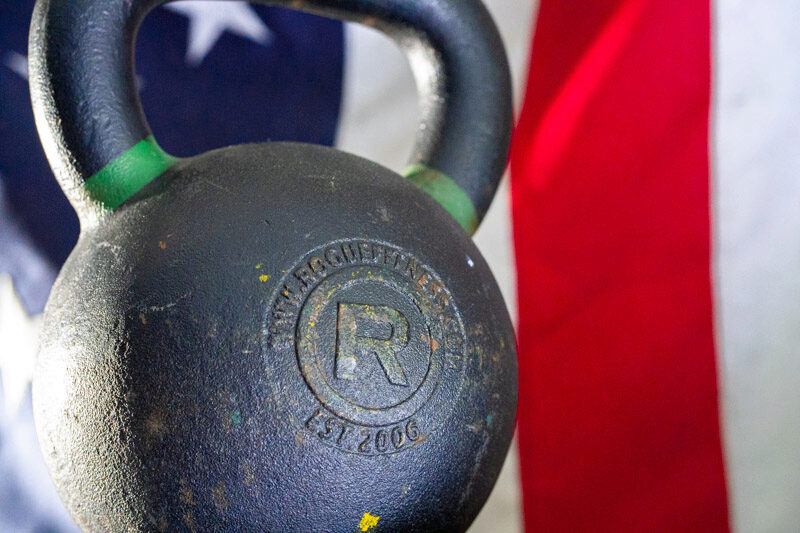 The different finishes between the standard Rogue Kettlebells and the E Coat Kettlebells is the other big differentiator. Most cast iron kettlebells that exist on the market today use the same powder coat as what's used on most squat racks. It's a standard black powder coat that in order to achieve even coverage is laid on thick and, removes the grip that comes from the natural cast and ends up chipping and rusting underneath over time.
Few, regardless of if they sell an alternative or not, would argue that powder coat is a superior finish to E-Coat or Cerakote.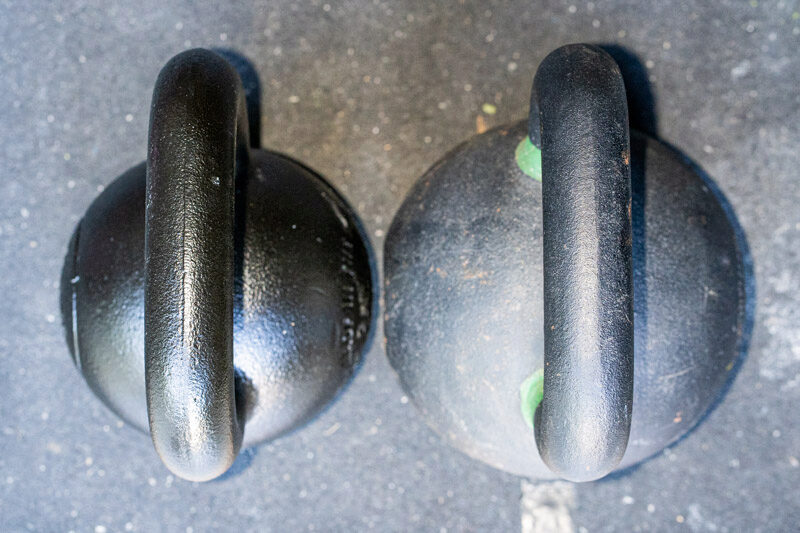 As their name indicates, the new Rogue E-Coat Kettlebells us an E-Coat finish that was initially developed for the automotive industry and is now being used on kettlebells as well as barbells like the Rogue Ohio Power Bar. This isn't surprising as the founder of Rogue, Bill Henniger, formerly worked for General Motors and has brought many things from the auto industry into manufacturing strength and condition equipment, like assembly lines.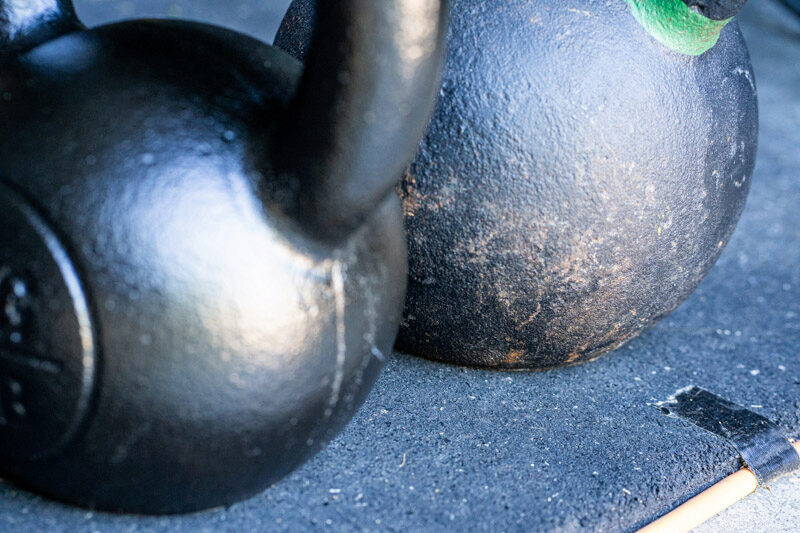 E-Coat is superior to powder coat for a few reasons. First off is the fact that E-Coat is more durable than powder coat. When you clank kettlebells together during snatches or swings, powder coat with chip and then end up rusting. E-Coat will not. E-Coat is also able to be applied thinner than powder coat which allows the imperfections in the cast iron to provide the grip and make it easier to clean. If you've ever tried cleaning powder coat, you know how difficult it is. E-coat is much easier despite being able to hold chalk just as well.
Cast Iron Vs. Ductile Iron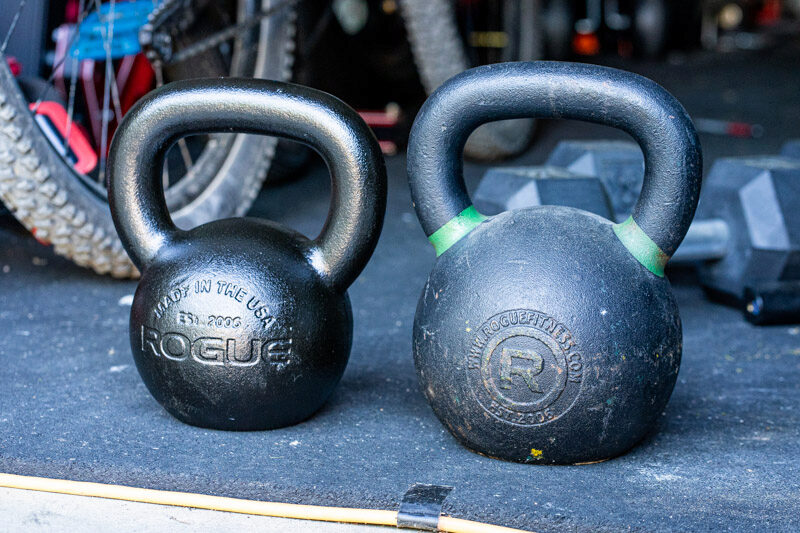 The last big difference between the imported kettlebells and the new made in the USA versions from Rogue is the actual iron that's used. Rather than using cast iron on the new kettlebells, Rogue is now offering ductile iron, a vastly superior material. Ductile iron is one reason that we prefer the Sorinex Center Mass Bells to the Rogue Thompson Fat Bells. Ductile iron uses graphite nodules that increase the tensile strength of the iron as well as it's resistance to rust.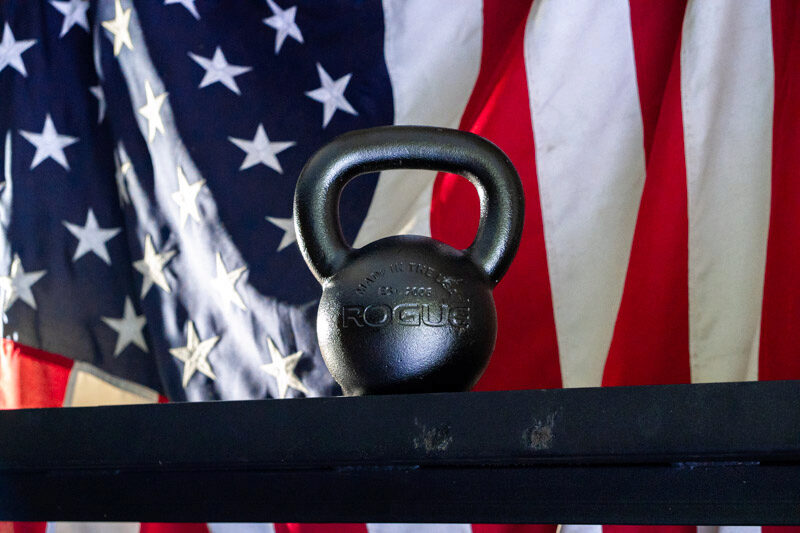 So, let me break this down, not only are the new Rogue E-Coat Kettlebells made in the USA, but they use a superior finish and iron than the originals. And, here's the best part for those building a budget home gym–they're the same cost as the old ones.
The only improvement that we'd suggest is adding color rings to the handles for easy identification (which we've been told will likely come down the road.)
In the end, we see little reason to recommend the standard Rogue Kettlebells anymore. The new E-Coat Kettlebells from Rogue Fitness are the best kettlebells for most people currently available.
Rogue Kettlebells vs. The Competition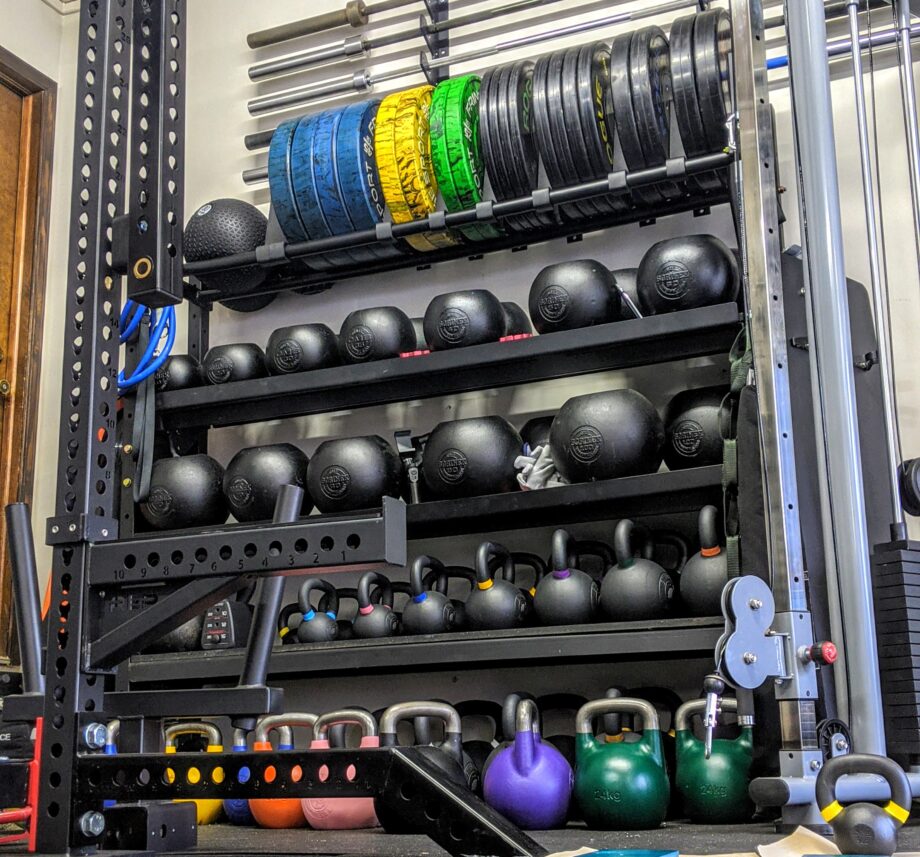 Rogue is obviously not the only ones making and selling kettlebells. Here are a few that we think are worth noting.
Rep Kettlebells vs. Rogue Kettlebells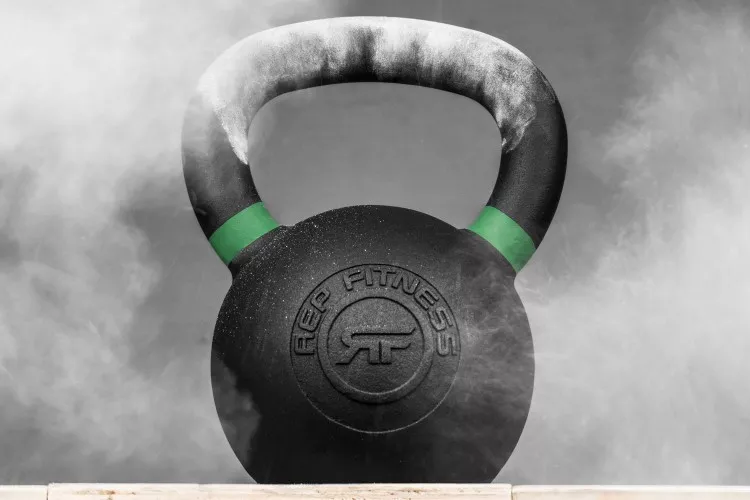 REP KG Kettlebells
Kettlebells allow you to combine cardiovascular training with weight training into ballistic movements that strengthen your body. Our kettlebells range in size from 4kg (9 lbs) all the way up to 48 kg (106 lbs), giving everyone the opportunity to cater to their specific physical needs, and even challenge themselves to a heavier weight when ready. From kettlebell swings, to goblet squats, to snatches, the kettlebell is a versatile piece of equipment that can help build strength and endurance in many ways.Why Choose Rep KettlebellsSuperior Manufacturing Methods: Single-cast gravity casting is a cutting-edge technique that results in kettlebells much higher in quality than their sand casted cousins. The castic process ensures that each kettlebell is extremely well made, with perfectly flat bases that allow for push-ups and no wobbling, smooth handles, and an overall excellent finish. Best Coating: Our matte black textured finish is the best coating for kettlebells because it won't cause your grip to slip, yet it won't tear up your hands. It holds chalk very well, but it isn't necessary unless you're sweating. Color Coded Handles: Our handles follow the international kettlebell standards, which allow for an instructor to easily spot which kettlebells their clients/athletes are using. Kilogram and Pound Markings: Each kettlebell is labeled with both units of measurement. No more pulling out the calculator to figure out how much you are swinging! Kettlebell Sets: 8 to 24 kg set includes: 8, 12, 16, 20, 24 kg kettlebells. Save money and give yourself options for warming up, and other exercises like push press, one arm swings, or pair up the kettlebells to do kettlebell push ups, 2 handed overhead press, overhead squat and more!Weights/Handle Colors/Handle Diameter:4kg/9lbs - White - 30mm 6kg/13lbs - Grey - 30mm 8kg/18lbs - Pink - 32mm 10kg/22lbs - Orange - 32mm 12kg/26lbs - Blue - 32mm 14kg/31lbs - Brown - 32mm 16kg/35lbs - Yellow - 33mm 18kg/40lbs - Black - 33mm 20kg/44lbs - Grey - 38mm 22kg/48lbs - Black - 38mm 24kg/53lbs - Green - 39mm 28kg/62lbs - Orange - 40mm 32kg/70lbs - Red - 40mm 36kg/80lbs - White - 40mm 40kg/88lbs - Blue - 40mm 44kg/97lbs - Brown - 40mm 48kg/106lbs - Black - 40mm
Rep Fitness Kettlebells are practically the same kettlebell as the imported, powder coat version from Rogue. Rogue's often come out a little cheaper depending on where you live, but the new E-Coat Kettlebells from Rogue are superior to Rep Fitness' offerings just as they are to Rogue's old model.
Kettlebell Kings vs. Rogue Kettlebells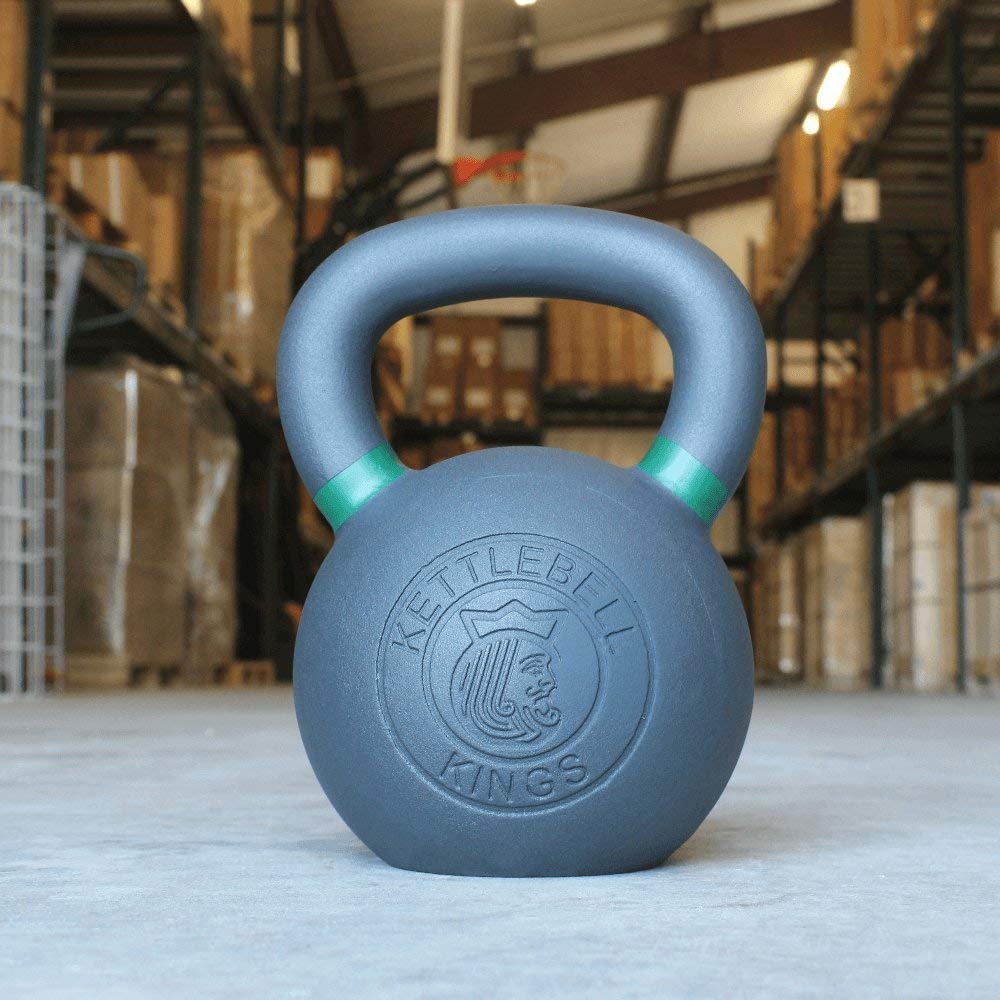 Kettlebell Kings Powder Coat Kettlebells
- RECESSED LOGO, Kettlebell Kings logo recessed into kettlebell for increased comfort during lifting. Outward facing logos are uncomfortable on hands, wrist and forearm. Examine the face of the logo compared stamped logos which are uncomfortable or flat inserts inserts glued in which break out over timeFREE SHIPPING!The images above show the pound equivalent to the weight posted in kilograms, true kettlebells are based in kilograms because of their Russian origins#1 Choice of Our Professional Training Customers!- LIFETIME WARRANTY, We craft these kettlebell so well, we guarantee the structural integrity of the kettlebell for your lifetime- FLAT BASE, kettlebell is made with a smooth, machined, flat base for easy storage and use on flat surfaces, kettlebell will not roll over during storage or workouts- HANDLE GRIP, Powder coating make a great gripping surface when your hands are sweating, also holds chalk better than other kettlebell paint- SINGLE CAST, Our Powder Coat kettlebells are all made from a single piece of cast iron. Most kettlebells have the handles welded on which makes them break easier. Casting from a single piece of metal gives more durability to the kettlebell.- GRAVITY CAST & PRECISION MADE, The most precise way to create a kettlebell mold. Gravity casting casts the iron to the specific weight you are creating. If a kettlebell is not gravity cast you risk not accurately casting the kettlebell to the same weight and dimensions as the mold ages.- POWDER COATING, is the most durable form of kettlebell paint available and lasts longer than traditional kettlebell paint- STAMPED, In kilograms and pounds so you always know which weight you are working with in either measurementLIFETIME WARRANTY - We guarantee the structural integrity of the kettlebell for your lifetime. SMOOTH FINISH, Pay close attention to the finish when comparing to images of others. Kettlebell Kings Powder Coat Kettlebells have a smoother finish because our casting process creates a smoother surface to powder coat over. Having a smooth finish protects your hands, wrists and forearms. RECESSED LOGO - all of our bells have recessed logos for better comfort on your hands wrist and forearm FREE WORKOUTS, we publish workouts, techniques and how to's you can access with your purchase designed to enhance your workout experience! REVIEWS - Over 100 Five Star Amazon Seller Reviews and thousands 5 Star Reviews Online! STRONG GRIP HANDLES - The handles on the powder coat kettlebells are designed for high intensity workouts. The powder coating makes it easier to maintain a strong grip on the kettlebell when your hands are sweating. POWDER COATING - The most durable form of kettlebell coating available in the world. Powder coating protects the kettlebell from easily chipping and scratching. Store bought kettlebells are chipped and scratched before you ever take one home. When a kettlebell loses its paint you are not able to maintain grip during workouts and chips can lead to cut up hands and injuries. Our powder coating prevents this from ever happening. PRECISION MADE - Kettlebell Kings are made from gravity casting which is the most precise way to create a kettlebell. If a kettlebell is not gravity cast you risk not accurately casting the kettlebell to the same weight and dimensions every time. As molds age the kettlebells will become imprecise if the kettlebell is not gravity cast. Our Powder Coat kettlebells are all made from a single piece of cast iron. Most kettlebells have the handles welded on which makes them break easier
Kettlebell Kings make fantastic kettlebells. I actually like Kettlebell Kings Cast Iron Kettlebells so much that I put an entire doubles set in my garage. Their powder coat finish is much smoother in comparison to most imported kettlebells and their entire finish is more consistent. This said, should Rogue begin offering their E Coat Kettlebells with color rings, I'd have a hard time recommending Kettlebell Kings current offering over Rogues. Rogue's are cheaper, made in the US, and use the superior E-Coat finish.
Sorinex Kettlebells are very comparable kettlebells to the new Rogue offering. They're made of ductile iron here in the USA and are very consistent. They do use a powder coat finish and they are more expensive, especially when you factor in shipping, but they're nonetheless a similar bell. This said, it would be hard to recommend them over Rogue due to the higher price point for what is a very similar kettlebell.
Full Rating
Rogue Kettlebells
After using Rogue Kettlebells for over 5 years including the Powder Coat version and new E-Coat version as well as practically every competitor on the market, I believe the new Rogue E-Coat Kettlebells are the best kettlebells on the market for most people.They are made in the USA, use a superior finish to powder coat, have a tight weight tolerance warranty, and come in every weight increment desired all at one of the most affordable prices available.
Product Brand: Rogue Fitness
Product Currency: $
Product Price: 30
Product In-Stock: InStock
Rogue Kettlebells FAQs
Are Rogue Kettlebells any good?
Yes. Although they're priced competitively, they're a high quality cast iron kettlebell.
How are Rogue's Competition Kettlebells?
They're good but don't offer the price advantage like the E-Coat and Cast Iron Kettlebells Rogue sells.
Why don't the E-Coat Kettlebells have color weight identifiers?
I've heard this is something that could come in the future. Rogue is currently focused on getting kettlebells to market as quickly as possible, I would assume.