We test and review fitness products based on an independent, multi-point methodology. If you use our links to purchase something, we may earn a commission. Read our disclosures.
Does your fitness routine need something to ignite it? If you feel like your workout could use an energy boost and help with endurance, maybe try incorporating Beyond Raw LIT pre-workout into your regimen. This supplement is dedicated to helping you get pumped for your workout and supplying your body with amino acids, caffeine, and other ingredients to help keep you engaged and focused during your workout.
RELATED: Best Pre-Workout Ingredients
In this LIT pre-workout review, we will discuss why this supplement gets your body and mind ready for the gym, how it compares in cost to other pre-workouts, the sour and sweet flavor options, solubiLITy, and more. Is this product right for you? Read below to find out.
Medical disclaimer: This article is intended for educational and informational purposes only. It is not intended as a substitute for medical advice. For health advice, contact a licensed healthcare provider. GGR also recommends choosing a product that has been third-party tested for quality.
We Try Before You Buy
When it comes to choosing the best pre-workout supplement to support your fitness routine, we have you covered. We understand that your time is important and that is why our team is dedicated to making sure that you are well-informed before you make a supplement purchase. Our team of experts consists of registered dietitian nutritionists, certified personal trainers, CrossFit Level 1 Trainers, and certified nutrition coaches. Rest assured, our testers are professionals who want to help empower you to make the best purchase for your lifestyle.
Beyond Raw Lit Pre-Workout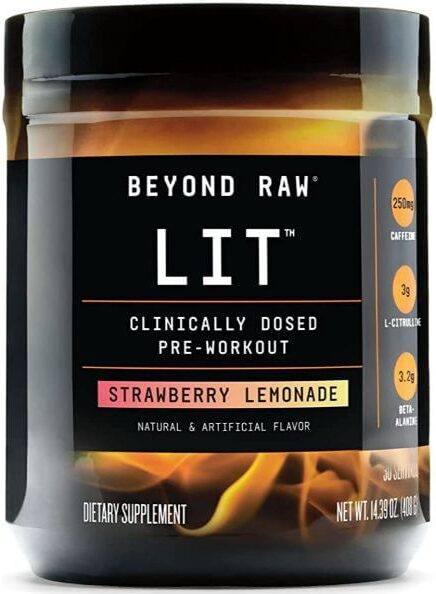 GGR Score: 3.8
Product Highlights
Produced by well-known retailer GNC

Transparent label

Ingredients to support energy, mental clarity, and pump
Pros & Cons
Pros
Full dosage of beta-alanine at 3.2 g
250 mg of caffeine for a burst of energy
ElevATP promotes energy from your own mitochondria
Combination of nitrosignine and l-citrulline increases nitric oxide
Competitively priced at $1.50/serving
Partnered with Jolly Rancher for a familiar taste
Cons
Creatine is under-dosed at only 1.5 g
Sucralose is a cheap sweetener
Bottom Line
Lit is a delicious, potent pre-workout that comes from a company with almost a century of experience learning what works and what doesn't. This product is safe and intended to serve a variety of consumers, from first time gym-goers to the experienced athlete.
A Quick Look at LIT Pre-Workout
You do not have to be a fitness enthusiast to have heard about GNC. But did you know that GNC has a dedicated team of nutrition scientists? This team of scientists are the masterminds behind the Beyond Raw brand.
Beyond Raw was founded in 2010, with the intention of making workout supplements that are made from clinically dosed ingredients. Thus, Beyond Raw LIT pre-workout was created. This supplement has specific chemistries that may enhance your ability to build muscle mass, increase your workout time, and strength train for better endurance.
To get the best results from LIT pre-workout, take this dietary supplement very closely to or during your workout routine. Its label recommends the supplement to help with focus and increasing energy levels.
Before You Buy
You can get 10% off of every order and free shipping if you subscribe to "GNC Routine"
If you refer a friend to GNC, you get $10 off of your next purchase (as long as it is $75 or more)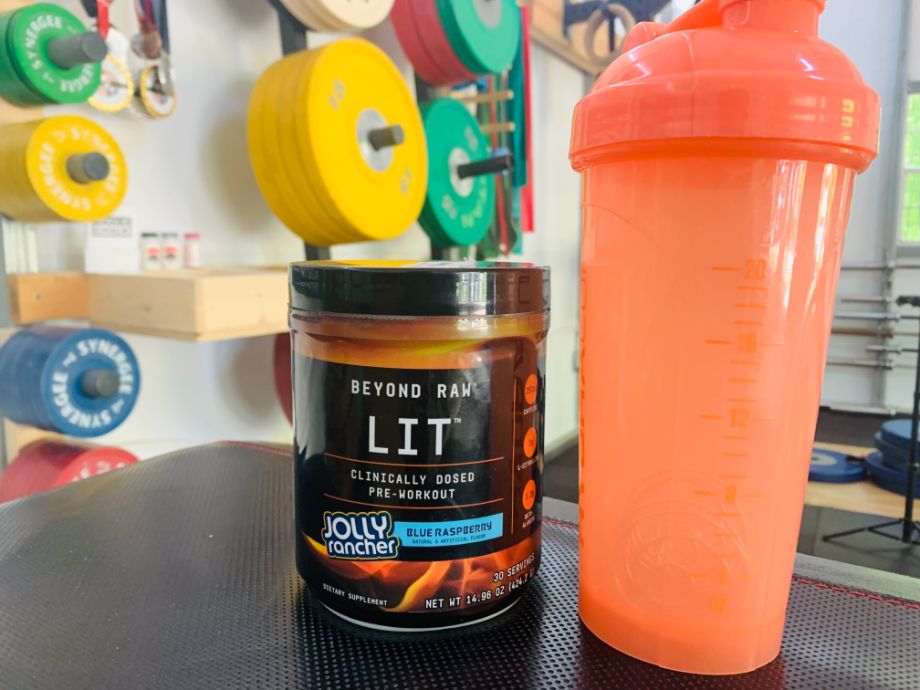 Is LIT Pre-Workout Worth It?
Whether you prefer sour or sweet, you are sure to find a flavor that works best for you since this low-calorie pre-workout comes in 11 different options. Depending on the flavor you choose, the calorie content ranges from 10 to 15 calories per scoop, while the carbohydrate content ranges from 2 to 4 grams per scoop. However, no matter the flavor you choose, the special amino acid and workout enhancing ingredient blend found in each scoop remains the same.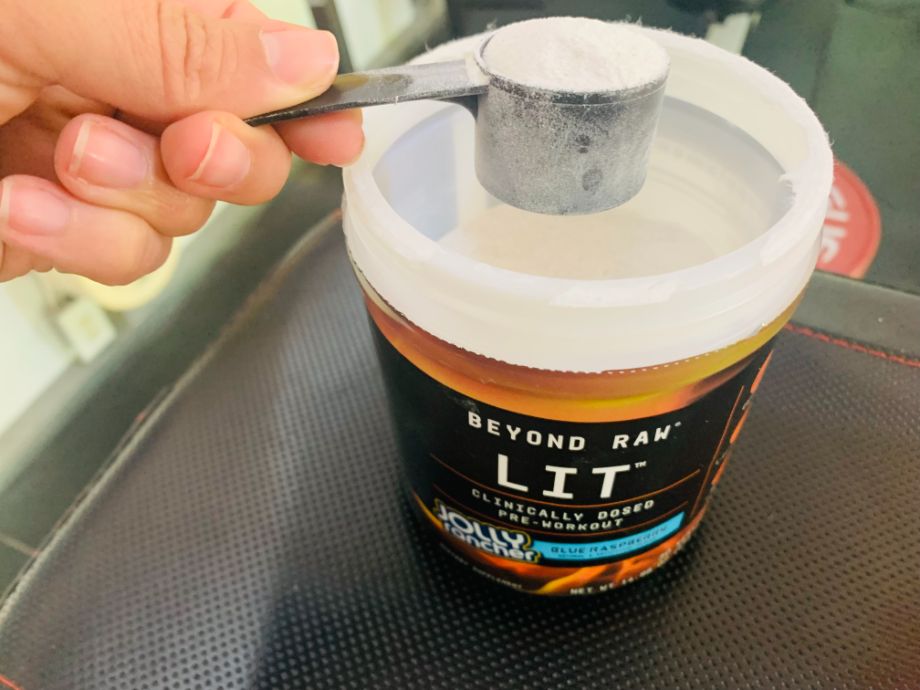 If you plan on buying from Amazon or GNC directly, the price tag is the same for each flavor. Each container is about 14.5 ounces and holds 30 scoops. At $44.99 per container, you can plan on paying $1.50 per scoop. Do the benefits of LIT pre-workout match its comparatively lower cost? Check out below who may appreciate this product and who our team does not recommend it for.
Great for:
Someone who wants a low calorie supplement—LIT pre-workout has an insignificant amount of carbs, protein, and fat per scoop
Someone who wants a pre-workout that is formulated with amino acids that may improve sports performance
Someone who wants or needs a product that is made with medium chain triglycerides1 to help with digestion and absorption
Not recommended for:
Someone who has a soy or sulfite sensitivity or allergy—all flavors of LIT pre-workout are made with sulfites and most contain soy
Someone who has a caffeine sensitivity or is pregnant or nursing—all flavors of LIT pre-workout have approximately 250 milligrams of caffeine per scoop
Someone who has liver and/or kidney disease—there is both creatine and potassium present in this pre-workout
RELATED: Best Stim-Free Pre-Workout
LIT Pre-Workout Specs
| | |
| --- | --- |
| Price per serving | $1.50 |
| Serving size | 1 scoop (13.54 g) |
| Flavors | Fruit Punch, Gummy Worm, Icy Fireworks, Iced Tea Lemonade, Strawberry Lemonade, Orange Mango, Jolly Rancher Green Apple, Jolly Rancher Watermelon, Jolly Rancher Blue Raspberry, Jolly Rancher Grape, Jolly Rancher Cherry |
| Key ingredients | Beta-alanine, Micronized Creatine, Caffeine Anhydrous, L-Citrulline, Nitrosigine |
| Third-party tested? | No |
| Benefits | May improve stamina and delay fatigue, may dilate vessels and increase blood flow, may enhance workout and sports performance |
Experience Using Beyond Raw LIT Pre-Workout
Beyond Raw LIT pre-workout supplement gave our GGR expert panelist and USA Weightlifting Level 2 Coach Jacob Penner a sense of focus and warmness. He was left without the over-caffeinated and shaky feeling that can sometimes come from pre-workout.
"I feel really good taking this. I'm not wired, I'm just moving through my workout with that pre-workout 'warm.' I'm not super-stimulated; so if you're looking for something jacked, this isn't it. This is a happy medium between those high-stim pre-workouts, or the ones that get you wired, and the ones that have zero effect," he explains. "Overall, this is a good training pre-workout. I don't have much negative to say about it. I used this before an EMOM, and sometimes when you take pre-workout before an EMOM, your heart rate just gets too jacked and wild. I'm not like that on this. I don't feel over jittery."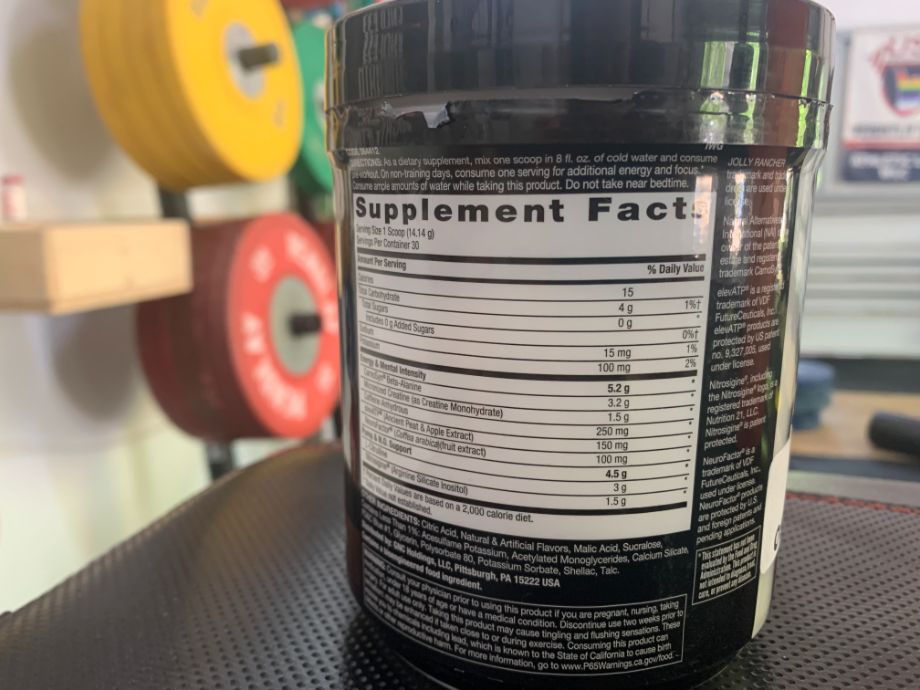 Price Per Serving
As mentioned above, you will most likely not see a price difference when ordering from Amazon versus directly from GNC. Every flavor option is going to be the same cost at around $1.50 per scoop. Each 14.5-ounce container has 30 servings and is $44.99 total.
Of the 11 flavors, only Jolly Rancher Watermelon and Jolly Rancher Blue Raspberry come in a 7.18-ounce container to provide 15 servings at $1.67 a scoop. The popular Gummy Worm flavor is the only option available in a 29.8 ounce container that provides 60 servings at $1.33 per scoop.
LIT pre-workout is an important contender if you are searching for a budget-friendly supplement. At $1.50 per scoop, it is significantly cheaper when compared to other pre-workout brands. Ghost is $1.79 per serving, JYM is $1.83 per serving, and Legion Pulse is a hefty $2.25 per scoop.
RELATED: Ghost Pre-Workout Review
Formulation
Pre-workouts are known for getting you in the zone for your workout and preparing your muscles to endure more. But what ingredient in LIT pre-workout lends itself to help enhance your workout? Let's find out.
Literature2 supports the intake of 3-5 grams of creatine monohydrate to impact your sports performance best. LIT contains 1.5 grams of creatine per scoop. You may want to supplement with a post-workout3 that contains creatine to experience the full effect of creatine and improve muscle pumps, strength, and mass.
RELATED: Best Creatine Supplements
L-citrulline4 is a non-essential amino acid that serves as both an antioxidant and precursor for the amino acid L-arginine. These amino acids are essential for the urea cycle in our bodies—aka the process by which we remove harmful toxins. In the urea cycle, arginine is converted into nitric oxide, a natural vasodilator. Both citrulline and nitrosigine are found in LIT. Nitrosigine also widens blood vessels and increases blood flow to your muscles through increasing nitric oxide levels—which helps improve endurance and reduce the onset of muscle fatigue.
Two other ergogenic aids5 found in LIT pre-workout are 3.2 grams of CarnoSyn beta-alanine and 250 milligrams of caffeine anhydrous. Both of these ingredients have been linked to performance improvement. Caffeine anhydrous⁶, specifically, has been determined in many studies to be a suitable pre-exercise stimulant.
RELATED: What is Beta-Alanine?
Another ingredient you'll find in LIT pre-workout is elevATP, which is a combination of ancient peat and apple extract. LIT also contains NeuroFactor, a fruit extract derived from coffea arabica. All of these additional ingredients are found to aid in the production of ATP7, which may help improve your exercise performance.
Taste and SolubiLITy
Beyond Raw LIT pre-workout is offered in a variety of flavors—11 to be exact.
Our expert GGR panelist Jacob said he tried the Jolly Rancher Blue Raspberry flavor. "It tastes like a standard blue raspberry drink. Reminds me of the blue raspberry slushies at the movies. I've used this brand many times in the past and had other flavors, including Gummy Worm, and I like all the flavors I've tried."
An important quality for many gym goers is the blendability of their chosen supplement and how easily it dissolves. According to Jacob, mixability is not an issue! "It also mixes really well," he said. "I put this in an old Body Armor bottle with water and shook it up. No blender, no shaker cup, just shaken water, and it mixes well."
Side Effects
Side effects associated with the ingredients found in this pre-workout will vary by person. If you are not used to consuming a large amount of caffeine, consider half-dosing with this pre-workout until you build up some tolerance. Large amounts of caffeine8 may make you feel jittery, shaky, nauseous, and even cause gastrointestinal discomfort with bloating or loose bowel movements. High doses of beta-alanine can also lead to paresthesia—which was experienced by our tester. Jacob noted that he had "Some face tingling, but it doesn't last long."
Third-Party Testing
If having a third-party tested product is a deal breaker, then LIT pre-workout is not the supplement for you. At the time of this writing, there are no third-party tests completed for LIT pre-workout that can attest to its purity and credibility. Third-party testing is important because dietary supplements are not regulated by the Food and Drug Administration (FDA). Since the FDA has not set standards for dietary supplements, third-party testing provides brand trust and product safety assuredness.
Comparison to JYM Supplements Pre-JYM
JYM pre-workout and LIT pre-workout bring very different specs and biochemistry to the table. LIT is more budget friendly at $1.50 per scoop, while JYM pre-workout is $1.83 per serving. They have comparable flavors and offer nearly the same amount of options—if you like fruit flavors, both supplements have you covered.
JYM has 70 more calories per scoop than LIT does. These additional calories derive from having a higher sucralose and sugar content, when compared to LIT. Despite being higher in calorie and sugar content, JYM pre-workout is third-party tested. This is a testament to the quality, credibility, and purity of their product.
The ingredients and therefore biochemistry found in each supplement differ greatly. Per our full JYM Pre-Workout Review, this supplement may keep you up longer due to the stimulants and ingredients found in it. It has a higher caffeine content per scoop than LIT does and it also contains alpha-GPC and huperzine—neither of which are found in LIT.
JYM Pre-Workout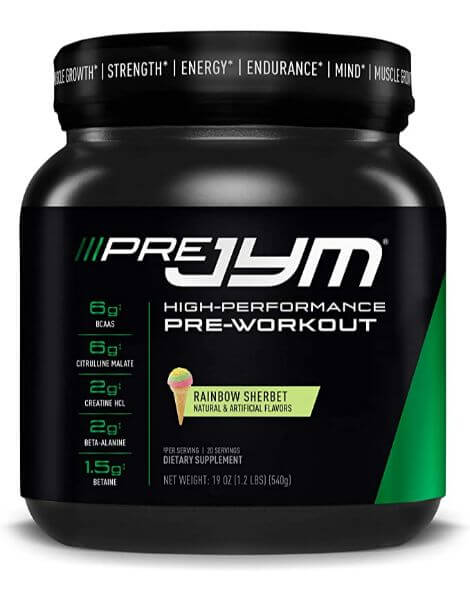 GGR Score: 4.25
Product Highlights
A pre-workout powder powerhouse

Packed with lab- and gym-tested ingredients

9 different flavors to pick from

Boosts strength, energy, endurance, mindset, and muscle growth

14 active ingredients and a nutritional supplement

Higher potency with 26-gram scoops

Award-winning brand and pre-workout supplement
Pros & Cons
Pros
Helps boost your energy for any workout
Supports mental focus with caffeine, alpha-GPC, and huperzine A
Includes amino acids to promote muscular strength and endurance
Great for men and women
Cons
Do not take up to 6 hours before bed
Some reviewers don't love the flavors
Reviewer complaints about high sucralose and sugar levels
Shares equipment that handles eggs, milk, soy, tree nuts, and wheat
Not third-party tested
Bottom Line
Fuel your body with a delicious pre-workout supplement with nutrients and 14 active ingredients for an energy-boosting workout.
Customer Experience
GNC offers not only national but also international shipping to 10 other select countries. Regardless if you are an international delivery or United States delivery, all sales are final. GNC will not accept and process returns. So be sure before you buy! You can also track your order through the email you use at checkout, your online account, or by emailing GNC directly. There is also a chatbox feature available on the screen the entire time you are shopping and checking out.
Ordering LIT Pre-Workout
Ordering LIT pre-workout through GNC is no different than completing any other online purchase. However, after adding the desired items to your cart, you have three different options for how to get your pre-workout: shipped to you (free shipping for carts $49 or more), free in-store pick up (get 10% off with this option), or same-day delivery if bought by 1 p.m. ($11.99 delivery fee).
The GNC shipping policy states that it is their goal for you to receive your package within three business days. An average of three days is about what you can expect from Amazon, as well—even if you are a Prime member who qualifies for free shipping. GNC also offers express checkout through PayPal and Klarna.
Customer Reviews
With a 4.5 out of 5 star average rating and 18,066 Amazon reviews, LIT pre-workout buyers raved about how easily it blended and that it does not leave you with an over-caffeinated feeling.


The GNC website reviews focused heavily on the flavor lineup and how each option will not disappoint. At 1,492 reviews, LIT pre-workout has an average 4.4 out of 5 star rating.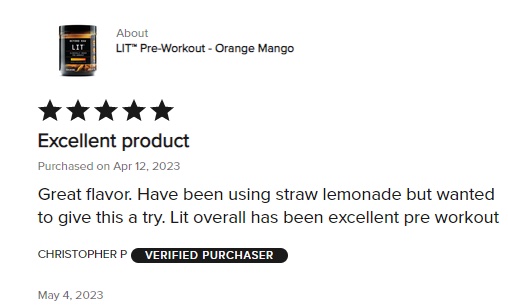 Final Verdict of Our Beyond Raw LIT Pre-Workout Review
Beyond Raw LIT pre-workout supplement is a solid product to try if you are seeking a pre-workout that has all the workout enhancing basics and won't leave you with the jitters. This pre-workout is:
Very low-calorie and sugar free, which may assist you with your weight-loss goals
Not a good source of protein—look for a protein powder supplement for post-workout recovery
Gluten-free but does contain soy and sulfites, so be careful to read the label if you have allergies
A good source of beta-alanine, caffeine, citrulline, nitrosigine, and creatine—all of which may improve your workout performance
LIT Pre-Workout Rating
LIT Pre-Workout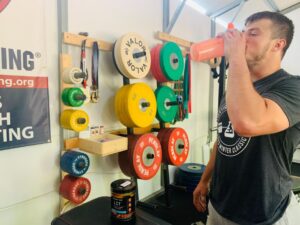 Learn more about this pre-workout from Beyond Raw with our LIT pre-workout review.
Product Currency: USD
Product In-Stock: InStock
LIT Pre-Workout FAQs
Is LIT pre-workout good for you?
Because dietary supplements are not FDA regulated, third-party testing is necessary for a brand to build trust with regard to their product's purity and cleanliness. LIT does not have any third-party testing, however, this pre-workout ingredients list contains relatively common pre-workout elements.
What are the side effects of LIT pre-workout?
Depending on how acclimated you are to the effects of caffeine, this pre-workout can cause shakiness, nausea, and diarrhea if you are not accustomed to high caffeine intake. You can also experience tingling, numbness, and itching from over-supplementing with beta-alanine.
Does LIT pre-workout have creatine?
Yes, LIT pre-workout contains 1.5 grams of creatine per scoop in the form of creatine monohydrate.
How long does LIT pre-workout take to kick in?
Pre-workout in general takes anywhere from 30 to 60 minutes to kick in and feel the "warmth" associated with them. It is recommended to take pre-workout about 20 to 30 minutes before your workout to feel the spike in energy from the caffeine and have the vasodilation effects hit during your workout.
These statements have not been evaluated by the Food and Drug Administration. This product is not intended to diagnose, treat, cure, or prevent any diseases.
References