We test and review fitness products based on an independent, multi-point methodology. If you use our links to purchase something, we may earn a commission. Read our disclosures.
Dumbbells are potentially the most essential piece of equipment for your home gym. I know barbells and kettlebells are versatile, but with a dumbbell, you can replicate nearly any compound barbell movement with about half the floor space. Dumbbells also provide a wide range of options for unilateral strength movements to target one leg or one arm at a time.
In this Rogue dumbbells vs REP dumbbells showdown, I'm going to lay out the similarities and differences between the two brands' hex dumbbell lineup.
Both REP and Rouge manufacture a variety of dumbbell styles including urethane dumbbells, adjustable dumbbells, and loadable dumbbells. The focus for this comparison will be on the popular hex-shaped, rubber-coated, fixed dumbbells that both brands offer.
The expert product testers at GGR have tested dozens of dumbbells—from sets you can buy on Amazon to high-end rotating dumbbells from Eleiko. Needless to say, we've tried our fair share of dumbbells and even curated a list of the best dumbbells for your home gym.
REP Rubber Grip Hex Dumbbells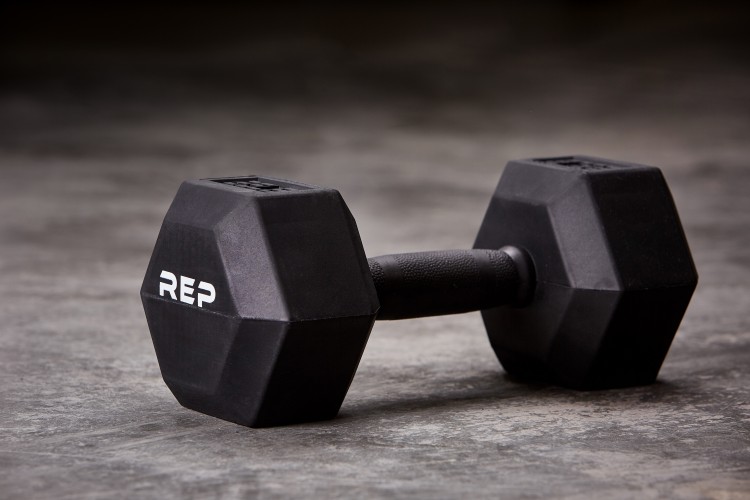 GGR Score: 4.6
Community Score: 4.3
Product Highlights
Our Rubber Hex Dumbbells have become so popular, that we've decided to create an alternative with a unique feature. Still made from premium low odor rubber, our dumbbells are a classic rubber coated hex design that is quiet and easy on your floors.
Rogue Dumbbell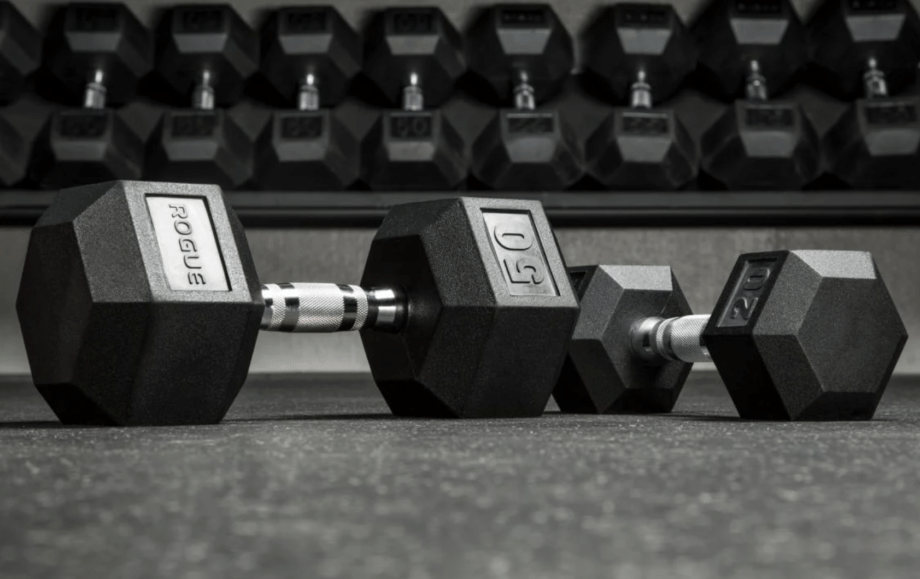 GGR Score: 4.5
Community Score: 3.7
Product Highlights
Rogue Dumbbells are sold in pairs and available in weights ranging from 2.5LB to 125LB.
Rogue Dumbbells vs REP Dumbbells Comparison Chart
| | | |
| --- | --- | --- |
| | REP Fitness | Rogue Fitness |
| Price range | $29.99 to $539.99 | $20 to $455 |
| Weight range | 2.5-125 lbs | 2.5-125 lbs |
| Weight increments | 2.5-lb increments under 30 lbs; 5-lb jumps after 30 lbs | 2.5-lb increments under 30 lbs; 5-lb jumps after 30 lbs |
| Handle style | Straight, knurling edge to edge | Ergonomic chrome-plated |
| Handle diameter | 28 mm up to 15 lbs; 34 mm for 17.5 and above | 25 mm up to 10 lbs; 35 mm for 12.5 lbs and above |
| Tolerance | 3% | 3% |
| Attached | Friction welding | Proprietary method |
| Made in the USA | No | Yes |
| Free shipping | Yes | No |
Quick Look: REP Dumbbells vs Rogue Dumbbells
With so many brands to choose from (like Titan or American Barbell to name a few), are you wondering why you should narrow your search down to just REP versus Rogue? The product testing team at GGR has given a lot of thought to this question, as well.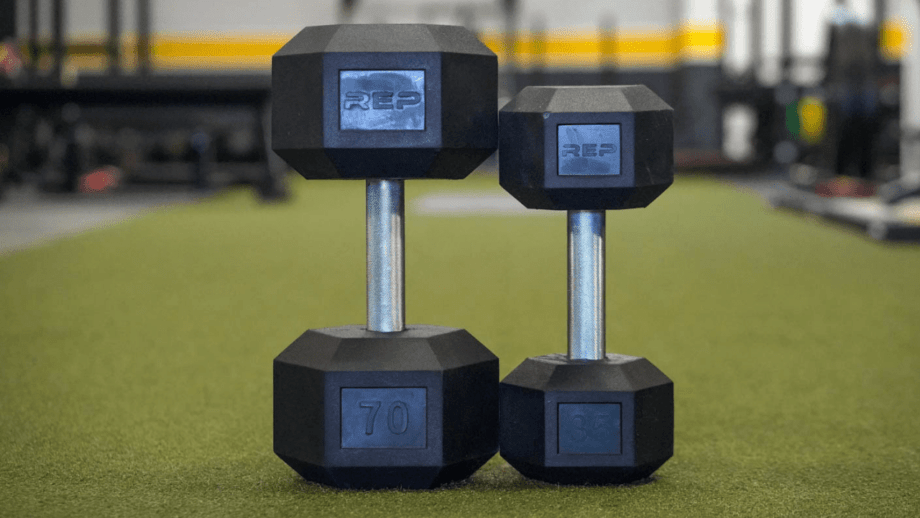 REP and Rogue are both top brands that offer similar quality products, comparable prices, and both brands back up equipment with limited lifetime warranties.
Who Should Buy REP Fitness Rubber Hex Dumbbells
Anyone looking to save a few bucks on shipping
Home gym owners who want a lifetime warranty on a pair hex-shaped dumbbells
Individuals who prefer straight, barbell-style handles
Anyone who enjoys knurling and wants a fully knurled handle
Who Should Buy Rogue Fitness Rubber Coated Hex Dumbbells
Anyone who wants to support USA-made products
Folks looking for a ergonomic handle that tapers at either end
Home gym owners looking for a durable dumbbell option
Gym folks who prefer hex-style dumbbells
Key Similarities Between REP Dumbbells and Rogue Dumbbells
There are quite a few similarities between a REP and Rogue pair of dumbbells. Here is a quick overview:
Both brands offer hex-shaped dumbbell heads
Dumbbell heads are rubber-coated
Each provide your home gym with a heavy-duty, go-to dumbbell option
REP and Rogue both offer individual pairs and full sets of dumbbells
Same weight range starting at 2.5 lbs going up to 125 lbs
Same weight increments: 2.5-lb increments under 30 lbs and 5-lb jumps over 30 lbs
Suitable for CrossFit, powerlifting, weightlifting, or casual exercising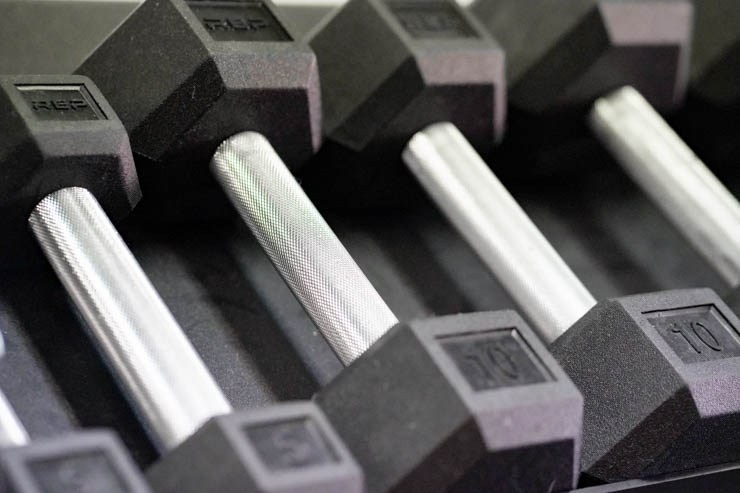 Important Differences Between REP Dumbbells and Rogue Dumbbells
Although the biggest visual difference is the dumbbell handle shape, here are some other standout differences you'll see with each brand:
REP dumbbells are designed with a straight handle and knurling edge to edge
Rogue dumbbells feature chrome-plated handles with an ergonomic, tapered design
REP offers free shipping on all orders
Rogue dumbbell sets offer heavier weights, but only come in three packages: 5-50 lbs, 55-100 lbs, and the 105-125 lb
REP dumbbell sets have more package options including 5-50 lbs, 5-75 lbs, 5-100 lbs, 55-75 lbs, and the 80-100 lb set
Price Overview: REP vs Rogue
REP and Rogue manufacture exceptionally similar hex dumbbells. Both brands provide high-quality, rubber-coated, hex-shaped dumbbells that are ideal for home and commercial use. As it turns out, the prices are similar, too.
When you first shop for dumbbells on each website, there will be price differences. However, REP offers free shipping on all orders, so I decided to add a 40-pound dumbbell to my shopping cart and proceeded to check out on both websites to see what the bottom line looked like.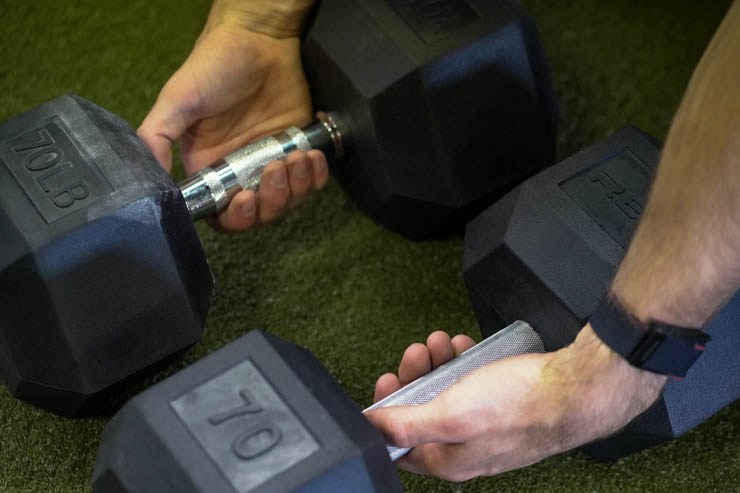 For a pair of 40-pound dumbbells, the base price was about $39 cheaper on the Rogue website. However, after shipping fees and tax, the price went from $140 to $199.41 total.
On the other hand, REP prices its dumbbells a bit higher but does not charge for shipping. That said, after selecting the 40-pound dumbbell and adding tax, the total was $189.89 for one pair of 40-pound dumbbells.
Additional Dumbbell Offerings: REP vs Rogue
Both brands offer more than just one style of dumbbells. Each offers round dumbbells in addition to a selection of adjustable dumbbells.
Speaking of adjustable dumbbells, we have an entire roundup of the best adjustable dumbbells if you're more interested in that route—another solid home gym option. 
REP Dumbbell selection
Hex dumbbells and dumbbell sets
Ergo hex dumbbells and sets
Fully rubber-coated dumbbells and sets
Urethane dumbbells and sets
Adjustable dumbbells
Two dumbbell rack options for storage
Rogue Dumbbell Selection
It's worth mentioning that the Rogue website sells other brands of dumbbells. These are the Rogue Fitness options:
Rogue Hex Dumbbells
Rogue Urethane Dumbbells
Rogue Loadable Dumbbells (designed like the Ohio bar, which is an Olympic barbell)
Rogue Dumbbell bumper plates
Several storage rack options
Company Policies
Here is a quick look at both REP and Rogue Fitness company polices—everything from financing to warranties:
Financing
If you're looking to finance your REP Fitness dumbbell purchase, find the Financing button on the top right-hand corner of the website. You'll have the option to apply for financing through two different third-party companies: Affirm or PayPal.
Additionally, REP gives commercial gym owners the option to finance gym equipment through a company called Lease Process.
Rogue Fitness also provides financing options through Affirm or PayPal. You'll be able to find these options at checkout by clicking the Other Method button. It will take an extra step to apply for these options, but well worth it if you're preparing to outfit your garage gym with a set of dumbbells.
Return Policy
Rogue allows returns or exchanges within 30 days on items that are either unused or are in new condition. You will have to contact Rogue or fill out a form before you make a return. Rogue also states that returns have to come back in the original packing—so be careful opening those boxes!
The Rogue website also states that your original shipping fees will not be refunded during returns or exchanges. It's worth mentioning that when I was messing around with comparing the total cost of a 40-pound dumbbell set from Rogue versus REP Fitness, I did notice that the shipping fee for one pair of 40-pound dumbbells was $50.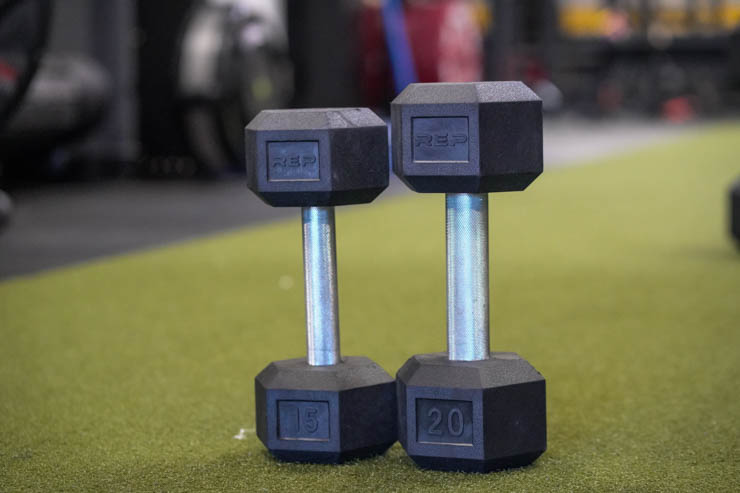 REP Fitness has a similar 30-day return policy and you will be required to make contact with the company to receive a return authorization. The website also states that any returns without original packaging are subject to a 15 percent restocking fee.
Warranty
REP Fitness provides a lifetime warranty for home gym owners and a 1-year warranty for commercial gym owners. The REP website states that warranties may be voided if there has been negligent use, which typically means excessive dropping.
The Rogue website states that the company offers a limited lifetime warranty on all structural welds. Where this gets a little confusing is comparing that statement to the hex dumbbell product description that claims the handle attachment is a proprietary method, making it unclear if this is covered by the structural weld warranty.
Final Thoughts
There are a lot of similarities between the Rogue dumbbells and REP dumbbells. At the end of the day, you'll be able to save a few bucks by going with REP Fitness due to the company's free shipping policy. However, we like the fact that Rogue provides American-made products.
The other main difference is the dumbbell handles: Rogue has an ergonomic design with a taper while REP handles are manufactured more like a barbell with full knurling.
FAQs
Is REP Fitness as good as Rogue Fitness?
Rogue and REP are comparable brands. Both companies provide a wide variety of strength and conditioning equipment suitable for home use and commercial gyms. The quality and prices are comparable, but REP often comes in a little less expensive because of free shipping and global manufacturing. Rogue is often pricier due to the fact the brand is committed to manufacturing in the U.S.
What type of dumbbells should I buy?
The best type of dumbbells for you will depend on your budget, your space, and your needs. If you plan to progress your strength-training routine, you'll want a dumbbell set that keeps you challenged. For some folks, that might mean investing in a solid pair of adjustable dumbbells while other people will go for a set of fixed dumbbells. However, if you're limited on space, an adjustable set will be a compact way to own a variety of weights.
Which dumbbell is best for beginners?
You might be new to lifting, but if you keep a regular strength-training routine going, you'll eventually need heavier weights to keep progressing on your gains. When you're just starting out, a pair of adjustable dumbbells are a simple way to keep your dumbbell workouts dynamic with enough weight to perform both upper-body and lower-body dumbbell workouts.