We test and review fitness products based on an independent, multi-point methodology. If you use our links to purchase something, we may earn a commission. Read our disclosures.
Buying equipment for a home gym could be set up in tiers. The most important items could be a squat rack, barbell, and weight plates. The next tier could be a bench and a dumbbell set. A pair of dumbbells can take your home gym workouts to a new level because you're able to work on each side of the body on its own.
Strength training with free weights, like dumbbells, allows you to perform different exercises that can help you improve strength, muscle development, and overall fitness. There are several types of dumbbells to consider purchasing, and it may even get overwhelming. The good news is we at GGR are well-versed in using dumbbells (and all things fitness equipment related), so we can help you make the best choice possible.
RELATED: Best Dumbbell Exercises
How to Find the Best Dumbbells
There are several types of dumbbells available on the market, and there are also several factors to consider when you're looking for the best dumbbells for your home gym. The size of the space, how often you would use them, and your strength levels now as well as how strong you hope to become all matter when making the best choice.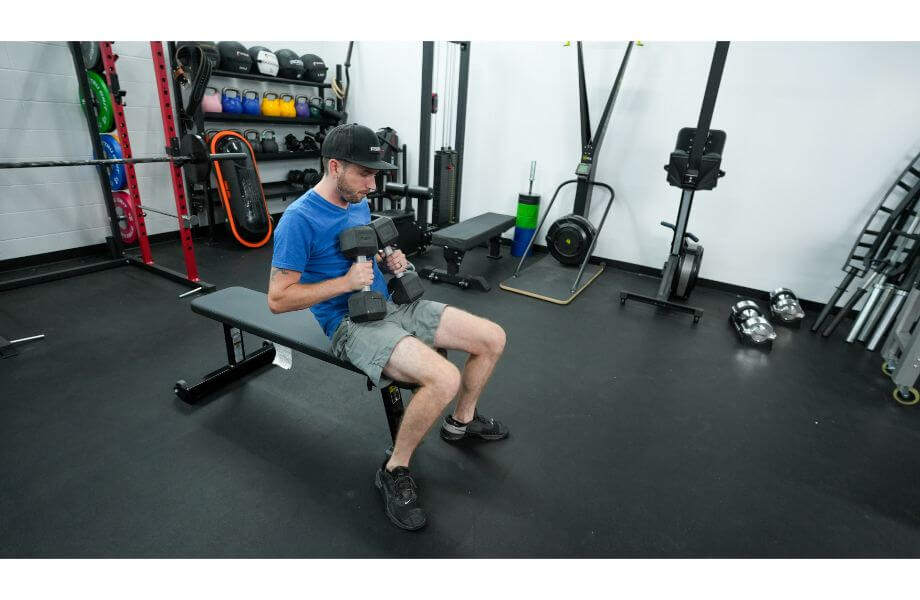 Type of Material
There are several types of materials used to build dumbbells, and each has its advantages and disadvantages when weight training.
Cast Iron: Cast iron dumbbells used to be the standard go-to choice because they were also much cheaper than other fixed dumbbells on the market. That may not be the case nowadays. Cast iron is extremely durable, compared to plastic or rubber, but may be prone to rust. They may also damage your floors if you drop them during heavy deadlifts.
Steel: Steel dumbbells have a more appealing look, but they are also more expensive because of that. They are also more resistant to rust and corrosion. While the price tag may be higher up front, they could be the better long-term investment.
Rubber: Rubber hex dumbbells used to be the most expensive of all the fixed dumbbells, but thanks to the cost of iron going up in recent years, you can sometimes find rubber dumbbells at a more affordable cost. They could be the best option if you don't have mats on the floor of your weight room, but extra care needs to be taken to avoid them busting if they're dropped because they can crack and split.
Urethane: If you have a high budget or don't have to consider finances for your weight room, then the urethane weights could serve you well because of both their durability and look. They will also last for a long time to come. So, it could be worth it to buy once, cry once.
Neoprene: For people who want simple and light weights for accessory exercises or cardio purposes, you could simply buy a basic set of neoprene dumbbells. They won't take up much space, and they are easy to take care of.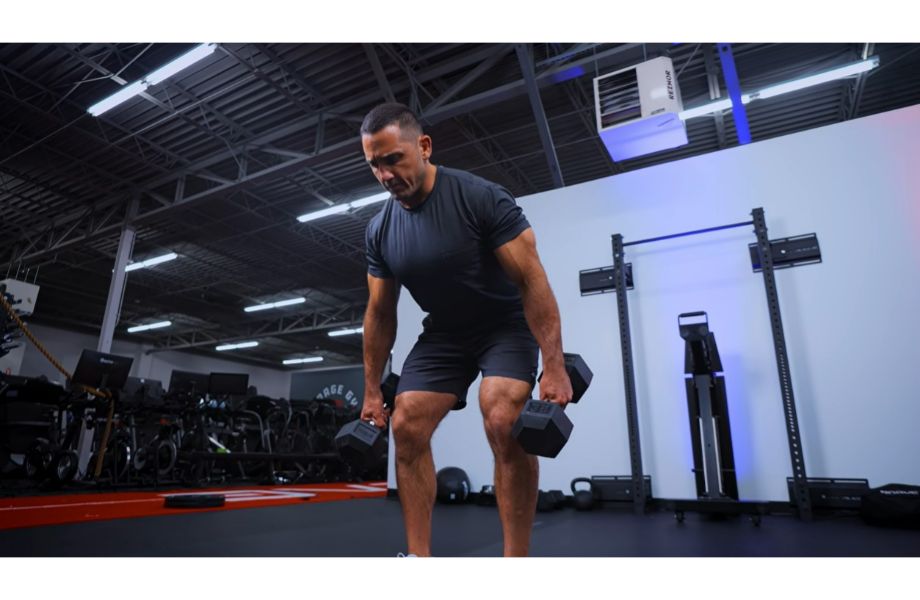 Weight Options
Many people who are purchasing dumbbells make a mistake by purchasing just enough weight that suits their strength levels at the moment. Unfortunately, that means you're hopping right back online and spending more money if you get stronger and need more challenging weight as your fitness goals progress.
This is why you need to determine what your goals are going to be and prepare as if you will achieve them. If you want to build muscle and get strong enough to handle 100-pound-plus dumbbells, then buying a pair of adjustable weights that stop at 50 pounds won't be the best play. Conversely, if you're only going to use them for accessories and strength isn't a priority, then why buy the heaviest dumbbells on the market?

The key takeaway is to make sure that when you're ready to hit that final button to place the order or pay up for your dumbbells, you know what you're going to need both now and later. Your future self and future budget will thank you.
Cost Range
The dumbbells may need to be heavy, but spending the money on them can definitely make the wallet lighter. Sit down and come up with a budget that you can use to determine how much to spend on your dumbbells of choice.
If your budget is going to be limited, then it would be best to get as much as you can for the lowest cost possible. In this case, that means going with adjustable dumbbells such as PowerBlocks. If you're trying to build a top-end gym, or if you want to do circuit training that will call for multiple sets of weights to be used, then a set of dumbbells in 5-pound increments could be a good option.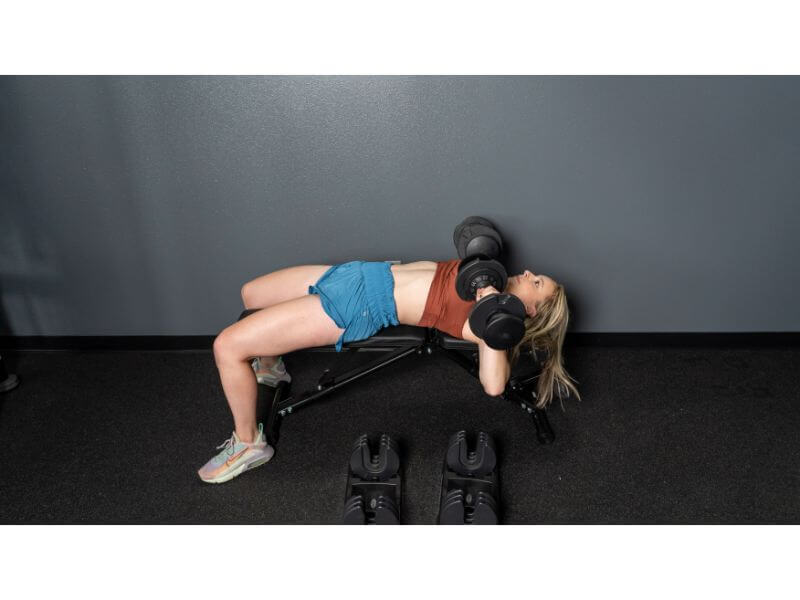 If your budget is bare-minimum, but you want to buy the standard sets instead of adjustable dumbbells, then you can start by buying a pair of weights that you would use for the most exercises, and build upon that one pair at a time as your budget allows. It will take quite a while for you to accumulate the full set and you may end up spending more money in the long run, but it is possible.
At the end of the day, saving up and buying a high-quality brand would be worth the time you take to save the cash. They're expensive because they're meant to withstand hard workouts and last for a long time to come. If you go the cheap route, and then have to buy more dumbbells later, then you could spend more money than you would have by buying the more expensive dumbbells to begin with.
A Few Pairs, or a Complete Set?
For people building a home gym for the first time who don't want to buy adjustable weights, then buying a few pairs to start with may be the best play as opposed to buying a bunch of weights in one set that you may not use. Consider the lightest weight you would use, then the heaviest, then buy a couple of pairs in between.
You may be able to find used gym equipment sales where you can score dumbbells for cheaper than you'd find them online. This may mean snagging dumbbells at different weights to round out your collection.
Dumbbell Shape
Yes, you need to even consider how the dumbbells look when making a final selection, and there are a variety to choose from. Hex dumbbells rose to prominence after they started being used on military ships because unlike round dumbbells, they wouldn't roll away while the ship was moving.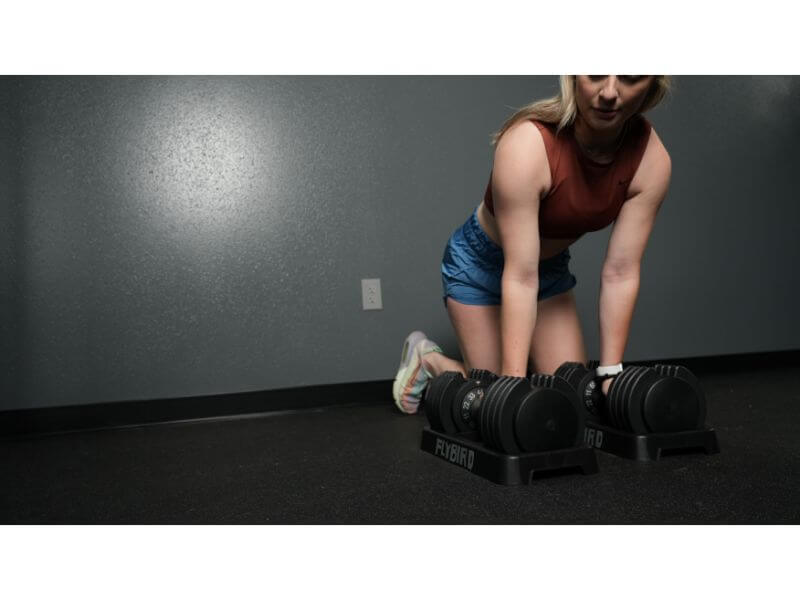 Round dumbbells are the most popular choice because of their shape. Some bodybuilders and other fitness enthusiasts find the round dumbbells are easier to work with than the hex version. Some round dumbbells are one solid piece on each side while others are standard plates bolted together on the handle.
Adjustable dumbbells come in varying shapes as well. Some adjustable dumbbells are square-shaped like PowerBlocks, whereas the NUOBELLs look like traditional dumbbells. You just want to make sure that you can lift the weights without the size being too awkward to work with.
Handle Type
Why does the handle matter? Because you want to be able to maintain a controlled grip of the weight while you're using it. Unlike kettlebells, where the horn serves as the handle on top of the weight, the handle of a dumbbell is in the middle with the weight on both sides of it.
There are straight handles and curved handles. The straight handles are similar to a barbell, and that is what you're comfortable with, then you will be fine with using them on dumbbells. The curved handles are designed to fit in the hand more comfortably, which allows you to focus on doing the exercise itself.
Then, there's the knurling, or the grip, on the handle. Some weights have moderate knurling, which will help you maintain a hold of it while doing a bicep curl or a dumbbell row. Some handles have light knurling or are smooth, which some lifters may prefer as well.
Some dumbbells even have rubber-coated handles on them. They can be comfortable to hold, but if your palms sweat and you don't use gloves or lifting straps, they may be more challenging to hold as the workout progresses. Keep this in mind when evaluating the dumbbells you're going to choose from.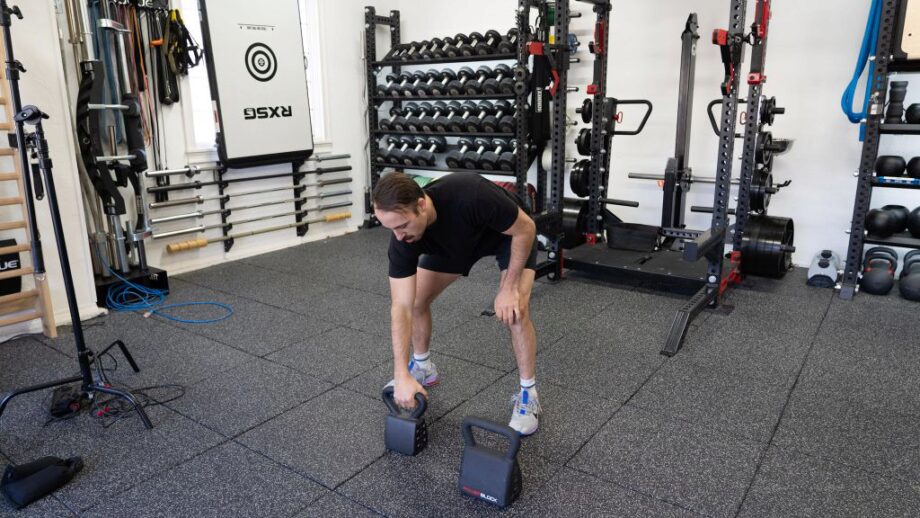 Adjustable Dumbbells vs. Fixed Dumbbells
For most people reading this, adjustable dumbbells could very well be the best way to go. They offer several weights in a variety of increments, and they're great for space-saving needs. Furthermore, you won't need to buy a dumbbell rack because you only have one pair of dumbbells to work with, and many accommodate heavy weights, up to 90 pounds per weight..
Amazon has a wide variety of adjustable dumbbells to choose from, including Bowflex and FLYBIRDs, both of which are budget-friendly. If you happen to have a lot of standard or Olympic plates laying around, you could also buy a pair of plate-loaded dumbbell handles that you can load those plates on. Some handles go as long as 20 inches, which can hold upwards of 150 pounds each. The collars are included with many of them as well, as you don't want the plates sliding off during your reps.
Home gym trainees who want to buy a set of fixed dumbbells like those in a commercial gym may find it better to order straight from a manufacturer. If you're going to go this route, then don't forget to buy a strong dumbbell rack to keep them on as well. If you're going to make that kind of investment, you want to take the best care of them possible.
Is It OK to Buy Used Dumbbells?
First of all, we have trouble wrapping our heads around someone wanting to get rid of dumbbells, but maybe they are upgrading. If you're looking at used dumbbells, you should definitely check them out for yourself before placing an order. Dumbbells that are chipped or cracked are less likely to be the weight they are supposed to be, and you may end up buying something that would break, which means you'll end up buying more dumbbells anyway.
If you're considering a used dumbbell weight set, or any used weight sets for that matter, make sure you can actually touch them and feel them out for yourself. If you're unable to, then it's best to not make the purchase.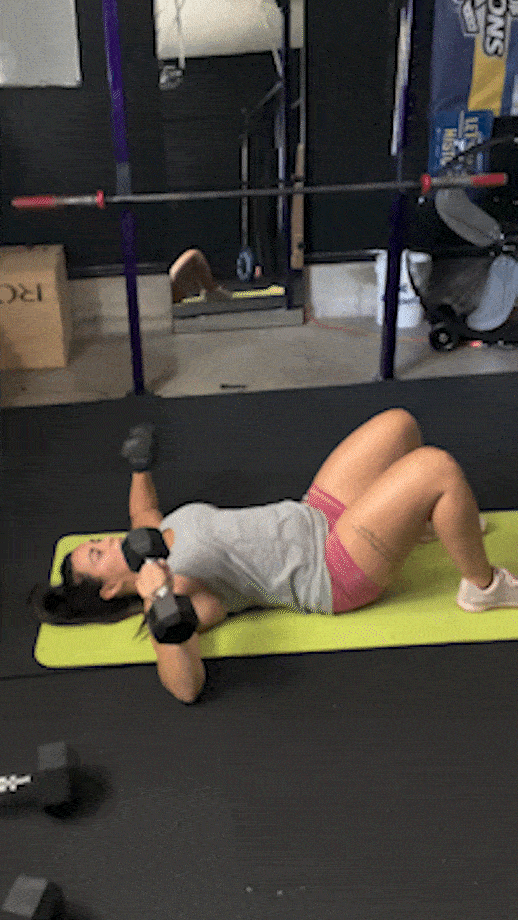 Buying Dumbbells: Final Thoughts
Outside of barbell exercises and bodyweight movements, dumbbell exercises could be among the best tools to have in the home gym toolbox. Having an adjustable dumbbell set that offers a wide range of weights helps you make even more out of your training space. Beginners can learn the basic exercises with lighter weights while more advanced trainees can push themselves by using heavier weights.
Once you have the dumbbells you want, you'll find that your workouts are more challenging and fun, which can help you yield even better results. Consider the factors we covered here before making the final purchase, and you're much more likely to be satisfied with the dumbbells you add to your home gym.
Buying Dumbbells: Q&A
How do I know which dumbbells to buy?
The dumbbells you buy should be the type that best serve the goals you have for yourself. If strength and size are your focus, then choose dumbbells that allow you the opportunity to train heavier now and even later when the weight that is heavy now won't feel as heavy when you progress. Adjustable dumbbells that offer a variety of weights would be a wise investment in that case.
Is it worth it to buy dumbbells?
We certainly think so. Dumbbells offer a lot of exercises that you can perform that you can't get with a barbell such as concentration curls for biceps, single arm overhead extensions for the triceps, and dumbbell flyes for the chest.
Dumbbells can be used for strength purposes as well as for endurance training or even cardio in some cases. They're a very versatile form of resistance that can help you focus on individual areas as well as the entire body.
What size dumbbells should I start with?
Adjustable dumbbells are going to offer the most variety of weights for you to work with. Dumbbells that offer a range as low as 5 pounds up to the 50- to 70-pound range would be a smart choice. If you're stronger than that, then find a pair that goes up even higher.
If you're on a very limited budget, then choose dumbbells that you can do the most exercises with. There's no point in buying a weight you would use for a chest press if you can't curl it. Start lighter and buy something heavier or better as your budget allows.
Which type of dumbbell is best for beginners?
If this was audio, we'd sound like a broken record, but adjustable dumbbells are the best way to go for beginners as well. You can start with light weights that you can control, then change the weight to something heavier without having to make another purchase.