We test and review fitness products based on an independent, multi-point methodology. If you use our links to purchase something, we may earn a commission. Read our disclosures.
If you're looking for ways to strengthen your abdominal muscles, be prepared to find a myriad of choices. Not only is there an array of core exercises out there, but there are many machines and pieces of fitness equipment made to facilitate and accelerate your ab workout. With so many options available, it's difficult to know exactly what you need to meet your fitness goals and achieve a strong core.
Thankfully, you've come to the right place for a little direction. We've compiled a list of the best core exercise equipment, covering a variety of products, from small sliders and ab wheels, to large glute ham developers and power towers, all designed to strengthen your core muscles.
We've researched and tested countless pieces of core equipment, and narrowed it down to this list of what we feel is the best of the best. Read on to see what workout equipment will best help you in your core training.
Crunching the Numbers on This Abdominal Gym Equipment
Literally, we've done so many crunches to get you this list. Our team of testers tried out different pieces of core exercise equipment and machines to see which would be best for a home gym setting.
Looking at factors such as size, footprint, value, and efficiency of the core workouts, our testers made decisions on what they considered the best options out on the market today. In addition, we researched dozens more brands and pieces of equipment to decide which workout equipment is best.
Our team of testers and researchers consist of certified personal trainers, CrossFit Level 1 Trainers, lifting coaches, and lifelong competitive athletes; we have been around the fitness industry for years, and know what to look for in core exercise equipment. With this knowledge and experience, we've been able to curate this list so you can make an informed decision on your next purchase.
First: What Is The Core?
When talking about the core, we typically only think about the rectus abdominis, or the "six-pack" muscles. However, the core consists of the entire trunk, including all abdominal muscles as well as the back. In addition to the rectus abdominis (responsible for spinal flexion or crunching), the abdominal muscles also consist of the obliques and transverse abdominals.
The obliques are a group of muscles on either side of the rectus abdominis that run from the hips to the ribs; these muscles are responsible for trunk rotation as well as providing stability. The transverse abdominals are a deeper set of muscles that wrap around the entire core, and these are responsible for bracing, or tension in the abs, which protect and stabilize the core under heavy loads.
The back of the core consists of part of the posterior chain—including the glutes and lower back—as well as stabilizer muscles in the back and hips, such as the erector spinae and quadratus lumborum (or QL). All of these muscles work together to both move and stabilize your trunk. A strong core helps you perform well in daily activities, and helps keep your spine safe.
The Best Core Exercise Equipment
Best Overall: TRX Suspension Trainer
Good for: Anyone looking to train the entire core through challenging bodyweight workouts
When it comes to total trainers for the core—obliques, abdominal muscles, and lower back—nothing quite compares to the challenge of suspension trainers, and the best out there is the TRX straps, our pick for the best overall core exercise equipment.
TRX provides intense core training to any bodyweight exercise by suspending either the upper or lower body off the ground, adding core stability to basic movements like pushups, leg curls, and rows. This constantly engages the core, making it one of the best workouts out there for the abdominals.
In particular, the TRX Suspension Trainer is well-built, with nylon-webbing straps and a carabiner tested at 1,300 pounds. In my use, the foot cradles are easy to use and adjustable to fit any shoe size, and the handles have a light foam for comfort.
In a home gym setting, they take up very little space, hanging off a pull-up bar or sturdy door. Also, they're extremely lightweight and portable; you can take them anywhere, outside or inside, so long as you can suspend them!
At $229 for the home suspension trainer, it's one of the more expensive options when it comes to suspension straps, but they are built to last. In addition, the physical demand might be too challenging for a beginner; there are ways to adjust the angle to make movements easier and less taxing on the abdominals, but just know progressing to a more challenging angle will take time.
| | |
| --- | --- |
| Price | $229 |
| Footprint | Fits in a mesh carry bag |
| Weight | 2 lbs |
| Weight Capacity | Not disclosed by TRX, but a good estimate is 350 lbs |
Best Ab Roller: REP Fitness Ab Roller
Good for: Those wanting an affordable, sturdy ab wheel that will get them a good workout
The REP Fitness Ab Roller is an excellent choice for an ab wheel; it's sturdy, durable, and gets the job done. The movement of an ab wheel does more than just fire up your entire core; it also engages your upper body to remain sturdy through the entire movement.
At just under $15 with free shipping, REP's ab roller is also one of the most budget-friendly options for an ab machine. Assembly out of the box is quick and easy, and REP also offers a 30-day money-back guarantee if you're not satisfied with the roller.
Despite its low price point, it's built solidly. The two wheels are durable, made of a high-quality plastic, and the rubber-coated handles are grippy and strong. When our team tested the ab roller, they were surprised at how it didn't wobble or wiggle more, even at such a low cost. Furthermore, the ab roller can handle up to 300 pounds, although it is only one pound itself. That's a pretty durable piece of equipment.
The REP Fitness Ab Roller comes by itself—no user guide or workout suggestions. This isn't too much of a hassle, however, as there are plenty of exercise options available from a quick online search.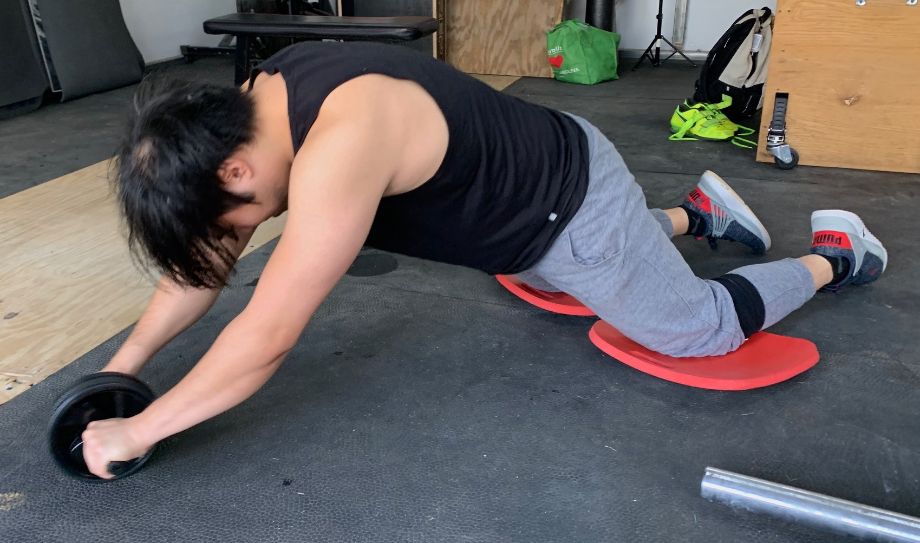 One thing we noticed during testing was that the handles are a little short. At under four inches, this may be an uncomfortable grip for someone with larger hands. Still, if your hands are small, this could be a very practical tool for your ab exercises.
| | |
| --- | --- |
| Price | $14.99 |
| Footprint | 9.5" L x 7.25" W x 7.25" H |
| Weight | 1 lb |
| Weight Capacity | 300 lbs |
Best Cardio Core Workout: Concept2 RowErg
Good for: People looking for a great core workout while getting the heart rate up
Many think that rowing machines only provide a cardio workout; however, they provide far more than that. A rower is also a full-body workout machine, meaning your entire body, including the core, gets a solid workout. The movement of rowing builds a strong core through the need for proper posture and bracing to make a strong and efficient stroke.
The Concept2 RowErg is one of the best rowers out on the market, and it shows in its popularity, being a staple in just about every CrossFit or commercial gym around the world. The RowErg uses adjustable air resistance to create drag, simulating rowing across the water. Along with this, the rower has the Concept2 Performance Monitor 5 (PM5), which tracks almost every metric you can imagine for rowing: strokes per minute, calories burned, distance rowed, and average pace, just to name a few. It's not fancy, but it's effective.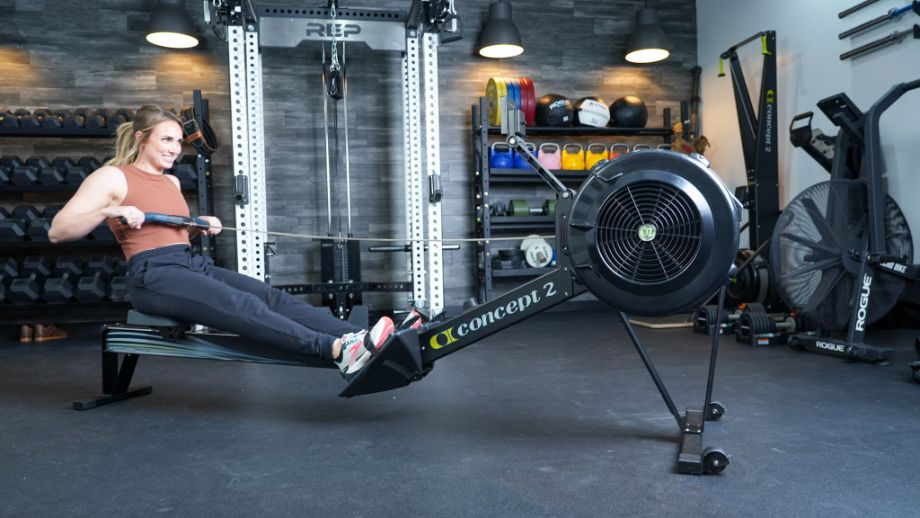 The RowErg is longer than most rowers on the market, at 95 inches long. While this makes for needing more floor space when in use, the larger build allows for larger athletes to use the rower: up to 6-and-a-half feet tall, and weighing up to 500 pounds. Plus, the Concept2 has wheels up front to roll away and store upright when not in use.
The Concept2 RowErg is a bit pricey compared to other rowers, at nearly $1,000 before shipping costs. The monitor also doesn't offer many workout options or any interactive programming. Still, with its durable, built-to-last frame, we believe the Concept2 is a great tool for just about any workout program.
Check out our in-depth Concept2 RowErg review to see what else we think about this rower.
| | |
| --- | --- |
| Price | $990 |
| Footprint | 95" L x 24" W x 14" H (20" H with tall legs) |
| Weight | 57 lbs (68 lbs with tall legs) |
| Weight Capacity | 500 lbs |
Best Core Workout for the Obliques: PureTorque Ab Trainer
Good for: Athletes looking to build core stability in quick torso rotations in sports
The PureTorque Ab Trainer is a unique product that delivers a grueling abdominal workout on the obliques through rotational training. In consistent bilateral training, the obliques can be underutilized or even ignored. The PureTorque solves that by training trunk rotation, a common movement in sport, from a golf swing to a football running back changing direction on a dime.
PureTorque offers a sleek, simple design that is built durable and solid. Using a rigid cast aluminum frame, the ab trainer has a sturdy foam pad that is pressed against the chest, and three grip strips to stabilize the trainer with the other hand. At the other end of the PureTorque is a cable affixed in the middle, that can be attached to any sort of resistance, either fixed weights from a cable stack, or even resistance bands for increased resistance through the movement.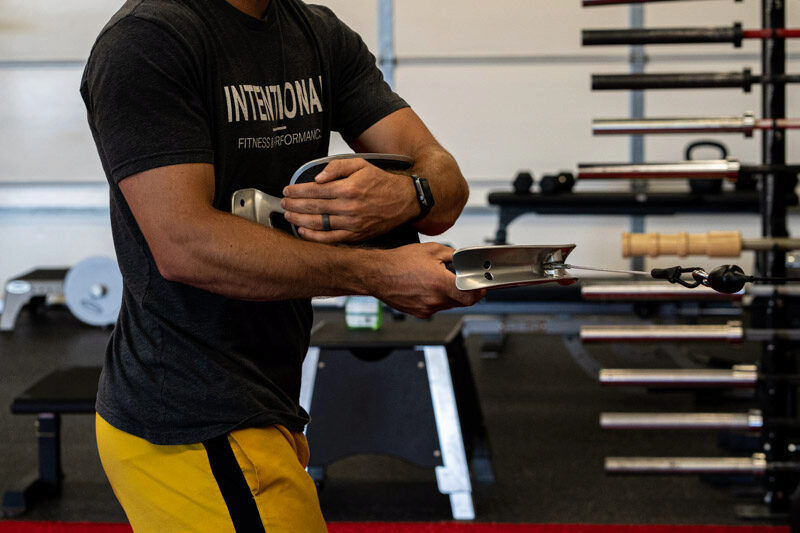 Once you're in the starting position, you just rotate to the side. Sounds simple enough, but it is a tough movement. In Coop's full Pure Torque review, it became clear quickly that his trunk was weak; after a couple months with it, he felt a massive difference in using the machine, but also in his other exercises, like squats and deadlifts.
The PureTorque Ab Trainer is somewhat portable. At its size, it is small enough to be able to travel with, but it is also just large enough that it might deter others from trying to carry it around. Regardless, it has a small enough footprint to not be a problem in most home gym setups.
This is a trainer that does one movement, and can be a bit pricey to only do one thing. If the $249 price tag is worrisome, you can probably make a DIY version of the trainer by holding a medicine ball at your chest and rotating, while gripping a cable or band. Despite that setup, the PureTorque will attack the core's muscle groups more efficiently. If you're a sports enthusiast, this is a great tool to develop a stronger core.
| | |
| --- | --- |
| Price | $249 |
| Footprint | 19" L x 12" W x 8" H |
| Weight | 6 lbs |
| Weight Capacity | N/A |
Best Sit-Up Pad: AbMat
Good for: Anyone wanting a versatile piece of equipment that will challenge your sit-ups
Sit-up pads have become synonymous with the AbMat brand because, well, they are the ones that started it all. Sit-up pads like the AbMat are commonplace in CrossFit boxes and commercial gyms abroad. They offer a great pad for comfort on sit-ups, which also challenges the athlete by allowing the back to extend a bit more than just a floor sit-up would do. This greater range of motion can get the abdominal muscles fired up quickly and provide a great ab workout.
Plus, the AbMat is versatile, being used as a knee pad for stretching and mobility work, such as a couch stretch. The antibacterial, closed cell foam provides a contour supportive for your back, but also comfortable enough on your knees.
The outside of the AbMat has a textured finish and is moisture-resistant, making it easy to clean after an intense workout. The back is supposed to be non-skid; although in our testing we found that quick, high-rep movements tended to make the pad slide a little bit. In most cases, the pad should work fine though.
The AbMat is small, light, and portable—a great tool if you find yourself on the go often. Still, at $40, the AbMat is one of the more expensive choices for sit-up pads. Also, the AbMat only has a one-year warranty. With a little bit of care, however, this sit-up pad should last, providing a good amount of value.
| | |
| --- | --- |
| Price | $40 |
| Footprint | 14.5" L x 11.75" W x 2.75" H |
| Weight | 2.2 lbs |
| Size | One size fits all |
Best Sliders: SKLZ Slidez
Good for: Those looking for a versatile and portable tool for abdominal workouts
Sliders seem simple: just a flat board to perform core stability movements on, as well as movements with the legs, to train the hip flexors and mobility. It's not so simple though, as a good slider should be able to glide easily on any surface; otherwise, you run into speed bumps (literally) in your workout.
SKLZ has done a lot to their Slidez' design to address these issues and more. The top of the Slidez have a waffle pattern built into a textured foam, to match the natural hand placement and improve grip. The smooth bottom is able to work on most gym and home surfaces, and the hexagonal design allows for movement in any direction.
One unique feature of the Slidez is that they lock together to allow for bilateral movement. This is unique as you can train unilaterally with one arm or leg at a time, or train bilaterally with both legs or both arms moving together.
There are less expensive sliders on the market, but the value and construction of the SKLZ Slidez are worth it in our opinion. One thing to look out for is that the Slidez are large sliders, at 9 inches long and 8 inches wide. This might make using these sliders difficult if you have smaller hands. If this isn't an issue though, this is a great product to train your core.
| | |
| --- | --- |
| Price | $29.99 |
| Footprint | 9" L x 8" W |
| Weight | 0.9 lbs |
| Weight Capacity | N/A |
Best Glute-Ham Developer: Rogue Abram GHD 2.0
Good for: Anyone looking to strengthen their posterior chain with a versatile machine
Glute-Ham Developers, or GHDs, have turned into a very versatile piece of equipment with the rise of CrossFit. In competitive CrossFit, the GHD is often used for GHD sit-ups, a challenging form of sit-up that greatly increases the range of motion and attacks the abdominal muscles. However, these exercise machines were first made to workout the posterior chain: the glutes, hamstrings, and lower back, specifically.
Because of this, GHDs like the Rogue Abram GHD 2.0 are a great tool to workout the entire core through sit-ups, glute-ham raise, and back extensions, to name a few exercises. The Rogue Abram is our pick for the best GHD because of its construction. The frame is made with two-inch-by-three-inch 11-gauge steel, and the vinyl is durable, covering a dense, supportive foam. Using this quality-made machine feels great and stable.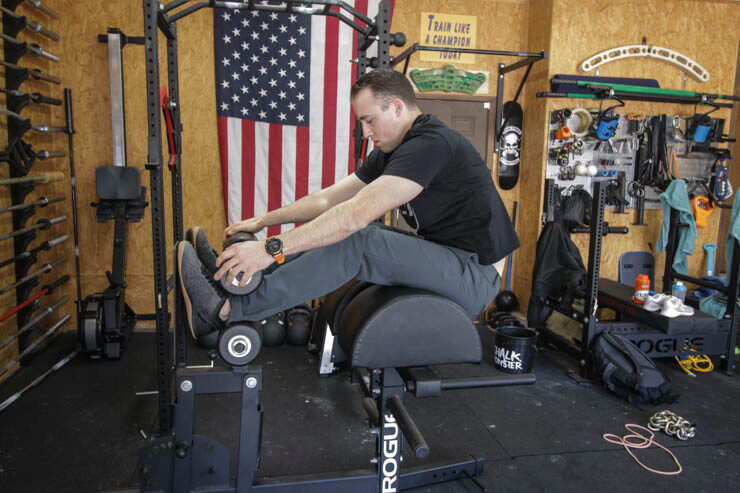 The footplate has a 10-slot swing arm for adjustments, which is easier to make quick adjustments when compared to a typical slide rail. This is great in timed workouts with a training partner, so adjustments can be made on the fly.
The triangular base helps the GHD take up less floor space. With that said, it has quite a large footprint compared to some other ab machines, at 73 inches long and 44.5 inches wide. It's also pretty heavy—222 pounds—so moving it can be a burden. Still, Rogue Fitness added handles and wheels to move the big machine easier.
The Rogue Abram GHD 2.0 is pricey, at $725, and takes up a lot of space. But with its versatility and American-made quality, we think it can be a great addition to a home gym if you have the budget and space.
Read more of our thoughts in our full Rogue Abram GHD 2.0 review.
| | |
| --- | --- |
| Price | $725 |
| Footprint | 73" L x 44.5" W x 43" H |
| Weight | 222 lbs |
| Weight Capacity | Not disclosed |
Best Decline Bench: REP AB-5000
Good for: Those wanting a durable and versatile adjustable bench for core and strength training
The REP AB-5000 is an adjustable bench with an optional leg roller that can be attached to convert it to a decline bench. The decline bench allows not only for decline press, but also decline sit-ups, a challenging variation of the sit-up, making this a great choice to train your core.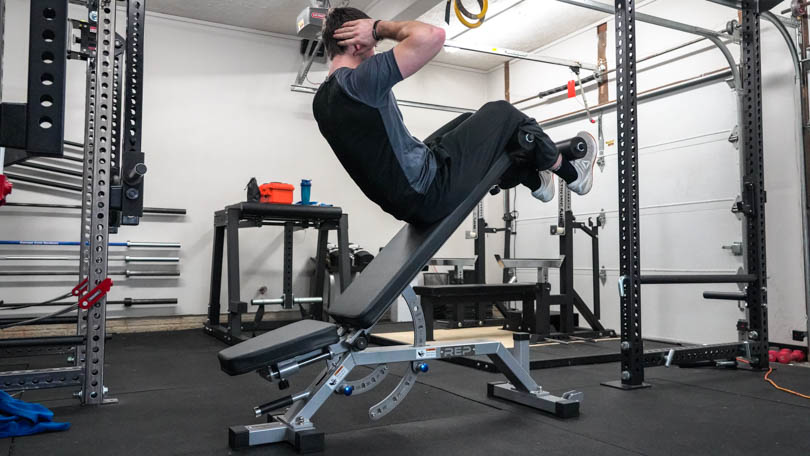 One of the coolest features of the AB-5000 is that it has the ability to have zero gap between the seat pad and back pad. At any angle, the seat pad can be adjusted to or from the back pad to eliminate any gap, allowing for a more comfortable experience on your lower back.
The bench is also beefy, with a 2-inch-by-3.5-inch metal frame, and the angles are adjusted with pop-pins instead of slide ladders—like most adjustable benches. This makes a strong bench at any angle; we noticed minor wobble on the pads, but that wasn't noticeable during the exercise with some weight on it. The foam is also sturdy and covered by a durable vinyl. The weight capacity on this bench is 1,000 pounds, but could probably hold more pretty well.
Because of the heft of the bench, it's not the easiest to move around. Although the bench has wheels in the back and a handle under the seat, most of the 110 pounds of weight is towards the front of the bench, making it still somewhat awkward to roll and move around.
This is one of the more expensive options for a weight bench; but with a flat bench height of only 17.5 inches, it's low enough for your feet to be on the ground for a flat bench, while still having the ability to adjust and angle. If you have it in your budget and are looking for a versatile bench, this is one of the best options out there.
Read our in-depth REP AB-5000 Review for more of our thoughts on this high-end bench.
| | |
| --- | --- |
| Price | $599 |
| Footprint | 57" L x 21" W x 17.5" H |
| Weight | 110 lbs |
| Weight Capacity | 1,000 lbs |
Best Balance Trainer: Bosu Ball
Good for: Anyone looking to train overall balance and stability with a simple piece of equipment
Bosu made some waves with their Bosu Ball at the start of the 2000s. Either side, flat or round, can be used to perform stabilizing exercises to work on balance. The balancing engages the core to strengthen stabilizers in the torso. A range of exercises can be performed on this balance trainer, from squats to push-ups. One of our expert testers even noted, "It's super versatile…I've used mine for a twist on burpees, almost like an ab mat for crunches, and up-downs."
Relatively small for a home gym, the Bosu Ball has a diameter of 26 inches, and is 10 inches high when fully inflated. Made with a strong, non-slip rubber, the Bosu can support up to 300 pounds.
For those wanting some color options, Bosu has many to choose from, for both the ball and board parts. Additionally, the trainer comes with an air pump and downloadable wall charts and workouts.
The air pump is said to be easy-to-use by Bosu, but some reviewers have had a hard time inflating the ball. Likewise, other reviews say the ball deflates easier than they'd like.
For what it is, the Bosu Ball is pretty expensive, nearing $130 (although an Amazon Prime membership allows for free shipping). Still, we find this one of the best exercise options for your core available today.
| | |
| --- | --- |
| Price | $128 |
| Footprint | 26" L x 26" W x 10" H |
| Weight | 13 lbs |
| Weight Capacity | 300 lbs |
Best Stability Ball: PowerMax Stability Ball
Good for: Those looking for a terrific way to add stability training to bodyweight exercises
There's typically nothing too fancy in the construction of a good stability ball. It should just be durable and strong, and able to hold air. A good stability ball adds an extra dimension of stability training to any exercise. Just propping your feet on a ball in a plank position makes the core work that much harder in trying to maintain a strong neutral spine.
PowerMax Stability Balls do just that: provide a quality product to add difficulty to your training. The exercise balls are shipped deflated, but when fully inflated, the balls are three sizes, available for different heights—55, 65, or 75 centimeters (21.5, 25.5, or 29.5 inches) diameter. The color depends on the size: the 55-centimeter ball is red, the 65-centimeter is blue, and the largest ball is gray. They are durable, made of a solid vinyl and designed to support up to 500 pounds of weight.
With that said, PowerMax Stability Balls are more expensive than competitors, but also should last. Another thing to think about is that although these stability balls are lightweight, when fully inflated, they can take up some space. Some reviewers also claim that the balls can deflate easily, although most reviews are positive.
| | |
| --- | --- |
| Price | $55 (55 cm), $58 (65 cm), $65 (75 cm) |
| Footprint | 55 cm, 65 cm, or 75 cm diameter |
| Weight | Not disclosed |
| Weight Capacity | 500 lbs |
Best Budget Core Exercise Equipment: GoFit Super Ab Wheel
Good for: Fitness enthusiasts looking for an affordable method to get a great core workout
The GoFit Super Ab Wheel is a great product at a low price—just under $20. For that price, you can get access to a very brutal core exercise that will be sure to strengthen your torso. In addition, this ab wheel comes with a training manual, helpful to give guidance to a beginner, or someone new to using an ab wheel.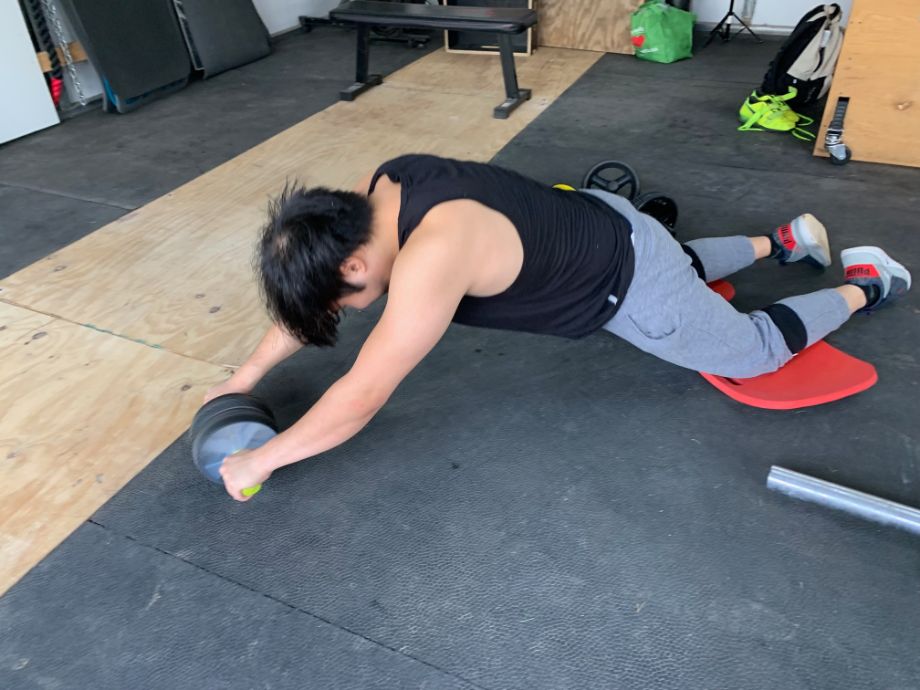 This ab wheel has wide tread wheels, and also comes with urethane wheel hubs and rubber non-slip handles. The larger wheels and handles can support up to 400 pounds, making this a great tool for a larger athlete. The wide dual wheels also allow for more stability, which can be a great option if you are newer to ab wheels.
With all that said, this requires a bit of assembly. Additionally, some reviews complained that the wheels may wobble some, although we did not notice this in our testing. If you notice something like that or a defect in the product, this ab wheel does have a 90-day warranty, so the original buyer can contact the manufacturer and resolve the issue.
| | |
| --- | --- |
| Price | $19.99 |
| Dimensions | 13" L x 7" W |
| Weight | 1 lb |
| Weight Capacity | 400 lbs |
Best Ab Bench: Titan Adjustable Dual Hyperextension
Good for: Fitness enthusiasts looking for a good way to strengthen the glutes and hamstrings
One alternative to a GHD machine is an ab bench, also known as a Roman chair or hyperextension. It provides some versatility like a GHD, but with a smaller footprint. Still, these smaller pieces might be less stable.
The Titan Adjustable Dual Hyperextension is a great choice for an ab bench, because it has a good bit of stability and durability built into it. Built with a sturdy metal frame, the Dual Hyperextension can support up to 450 pounds of weight on it.
One unique feature the Dual Hyperextension has is the ability to adjust from a flat hyperextension to a 45-degree-angle Roman chair. This adds a bit more versatility to the Titan piece than is usual with other ab benches. Being able to adjust allows this to be ideal for sit-ups and back extensions, and can add difficulty depending on the angle. There are four adjustable angles for the seat pad, and three for the footplate.
The feet are made of rubber to protect your floor. At 89 pounds, it is lighter than a GHD, but still heavy enough that you wouldn't want to move it around too much. Also, with it being a lighter weight, you may need a sandbag to counterbalance you, if you are a taller or heavier person.
Smaller and less expensive than a GHD, it still takes up space, at over four feet long and nearly three feet wide. Some users also said the frame was a little wobbly, but the wobble was non-existent while in use.
| | |
| --- | --- |
| Price | $209 |
| Dimensions | 49" L x 34" W x 34.25" H |
| Weight | 89 lbs |
| Weight Capacity | 450 lbs |
Best Power Tower: Sportsroyals Power Tower
Good for: Anyone searching for a workout station for both the upper body and core
The Sportsroyals Power Tower is our pick for best power tower because of its versatility and customization. Power towers are a great station for upper body work, like dips and pull-ups, and also allow for core work, such as leg raises or knee raises. Leg raises and holds will attack the lower abs, making this a great addition to just about any home workout.
This power tower is built with solid steel tubing. Additionally, it has a dual triangular base, which makes it a sturdier tower than most with a common H-shape base. This gives the Sportsroyals Power Tower a whopping 440-pound weight capacity, which is considerably higher than most power towers.
With six adjustment settings on the pull-up bar, and another seven for the backrest, the Sportsroyals Power Tower is customizable to fit your needs. The max height on the power tower is 92.7 inches, but I should note that is the height of the machine, not the pull-up grips. The grips are a few inches below that, making them top out at around 87 inches.
The padded armrests are made ergonomically, with a 10-degree tilt inward to help prevent an elbow from slipping off the tower. The pull-up station has multiple grips, and the push-up bars can be adjusted to three different angles, to allow for more variety in your workouts.
While not the most expensive power tower, it can be a little pricey if you don't catch it on sale. The pull-up grips are a little on the narrow side, which might be a problem for a larger athlete. Furthermore, some reviews claimed the assembly instructions were difficult to follow. Regardless, the Sportsroyals Power Tower has good value as an adjustable, versatile power tower.
| | |
| --- | --- |
| Price | $289 |
| Dimensions | 42.3″ L x 27.6″ W x 70.1-92.7″ H |
| Weight | 62 lbs |
| Weight Capacity | 440 lbs |
Other Core Exercise Equipment We Researched
There are a lot of core workout machines out there, and we tested and researched many. Here are a few that didn't quite make the cut:
Vinsguir Ab Wheel: The Vinsguir ab wheel is a solidly built ab wheel, able to support up to 500 pounds. The wide wheels provide extra stability and are lightly textured to prevent slipping. While it also comes with a knee pad, many users complained it was not large enough. Additionally, it is one of the more expensive options for an ab roller.
Rogue Echo GHD: The Rogue Echo GHD is a space-saving GHD machine, where a GHD pad can be set on a plyo box, and a leg roller can be attached to a rig or wall, and you have a GHD set up. If you have the box and rollers already, it can save you some money and space. However, if you have to buy all three pieces together, it might be more affordable to look at a sturdy budget-friendly option for a GHD.
Stamina Outdoor Power Tower Pro: Stamina provides a great choice for an outdoor workout station. This power tower can be bolted down for added stability, and is constructed to be weather-proof, perfect for outdoor training. We had a couple of issues with its design though, most notably that there was no straight top bar for pull-ups. Additionally, the dip handles are a little shorter than we would prefer.
How We Picked and Tested the Best Core Exercise Equipment
In order to compile this list of the best core exercise equipment, we first did research on several brands and types of equipment, sorting through several different criteria, including the footprint, construction, and durability of the equipment. When testing the equipment, our testers got our hands on it for several workouts, noting furthermore the items' durability, versatility, and the overall value it brought.
Construction: As always, we want to make sure that we suggest quality products to you. We wanted to make sure that these products were durable and solid. Larger machines need to be made with durable, quality materials. Smaller items like ab wheels or sliders should be made out of plastics and rubber that will last.
Portability: Many core exercise machines are small and easily transported from point A to point B, making them a great portable choice. However, we looked into the portability of larger ab machines as well. If they are big and bulky, we saw if they were easy to move around, maybe with wheels or handle attachments. We also noted the footprint of each machine, and how much floor space it might take up in a home gym.
Versatility: A lot of the equipment we tested was versatile, so to be on our list, it needed to check a lot of boxes. In some cases, not only was the product versatile in training the core, but also could work upper body muscle groups, as well as the lower body. Having versatility was important for many of these items. If an item wasn't versatile, then it needed to do one or two exercises very well.
Value: Overall, we want the best value out of our products, so we considered if the price reflected the product we tested. Basically, is a product worth its price tag? The items that we believe are worth it, made the list.
Benefits of Core Exercise Equipment
Are you not convinced of the importance of core exercises? Here are a few reasons that I believe core workouts are beneficial to most anyone.
Core Strength and Stability
Exercising the core will strengthen the muscles in the abdomen and torso, along with the posterior chain and back. Strengthening these muscles helps us build better balance and stability. Everything starts with the core, so having a solid foundation in the core helps us maintain better and stronger positions in everything we do.
Quality of Life
Core exercises are functional, meaning these exercises mimic activities done in everyday life. Natural movements like twisting, turning, and crunching are all bolstered by strengthening the core. So, having a strong core will make our everyday activities easier to do, with less chance of injury to ourselves as well.
One study from July 20201 demonstrated that core stability and hip exercises proved beneficial to patients experiencing back pain; it allowed for them to have better functionality, and increased their activity as well. Being able to perform daily tasks better certainly helps our quality of life.
Improved Posture
Posture can be improved as well! By exercising the core, we build stronger muscles that are vital in helping us maintain a neutral spine, which is an ideal position. Core workouts will also help counteract bad habits we might pick up from a desk job, like slouching.
Less Chronic Back Pain
As a competitive weightlifter, one of the biggest issues I have had is chronic back pain, resulting from a herniated disc I suffered from years ago. To recover from this, I added a lot of core exercises to my workout routine; over time, it dramatically decreased the frequency and intensity of my back pain. Strengthening my back and core helped alleviate pain around pinched nerves and tight muscles.
A January 2017 study2 showed that core exercises proved more able to decrease back pain and improve function specific to the back and core in patients suffering from lower back pain.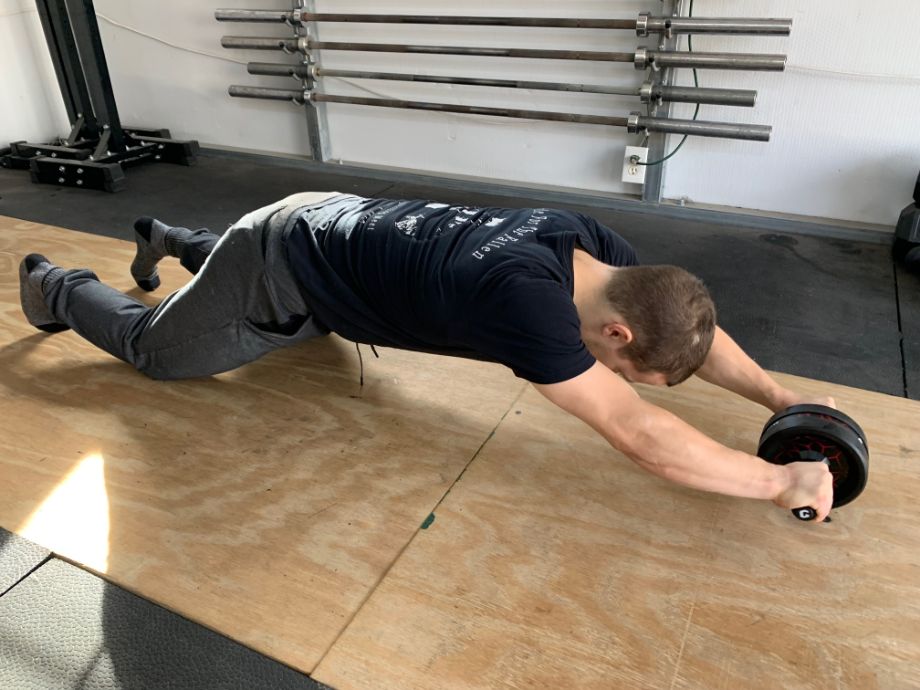 Strengthening the core, which improves our quality of life and posture, also strengthens areas where pain might be present. By strengthening these areas, we have the strength for better posture and the body is in a better position to not ache from tight muscles or nerves pressed into each other.
What to Look for in Core Exercise Equipment
Here are a few things to look at when purchasing core exercise equipment.
Versatility
What are you looking for? Because of the diversity of gym equipment that can work out your core, it's important to understand what you want out of your equipment. The PureTorque is a great ab trainer, but it does only one thing effectively. If you want more out of your machine, you might want a decline bench, a GHD, or even some sliders.
Price
It's important to look at what your budget is. If you have a higher budget, a core machine like a GHD or decline bench might be a great fit. If you need a more affordable choice, sliders and ab rollers are a great budget option.
Footprint
Know how much space you have and how much space you need for your equipment. Again, there are great small options, like suspension trainers and ab rollers, that won't take up much space at all. If you are considering a larger core exercise machine, like a GHD or power tower, just understand it will need to take up some floor space in your home gym.
Value
Whatever product you may decide to get, you should make sure you are getting the best for the money you spend. However, what is the best value will depend on your fitness goals. Consider what you want out of your workouts, and then find the piece of equipment built best for that and at a price you are comfortable with.
Best Core Exercise Equipment FAQs
What is the best exercise machine for your core?
What happens if you work core everyday?
It's possible to work and train your core each day, but this is usually an easy way to overtrain and fatigue the muscles in your core, which will impact other exercises, such as squats, cleans, and deadlifts. It can also have an impact in your everyday life, affecting your posture for example. A more reasonable goal would be to train your core two or three times a week, with proper rest between sessions.
Do core machines actually work?
It depends on which core machines you are talking about. Many traditional core exercise machines work great, and few outperform something as simple as an ab wheel. But most gym equipment designed specifically for your core will work out different core muscles in different ways.
One item that is questionable is an ab stimulator. Usually sold as a belt that sends electrical pulses to the abdomen, these have little to no science backing them. There is no real evidence that a muscle stimulator will work out your core muscles substantially enough to make any real difference.
References
Kim B, Yim J. Core Stability and Hip Exercises Improve Physical Function and Activity in Patients with Non-Specific Low Back Pain: A Randomized Controlled Trial. Tohoku J Exp Med. 2020 Jul;251(3):193-206. doi: 10.1620/tjem.251.193. PMID: 32669487.
Coulombe BJ, Games KE, Neil ER, Eberman LE. Core Stability Exercise Versus General Exercise for Chronic Low Back Pain. J Athl Train. 2017 Jan;52(1):71-72. doi: 10.4085/1062-6050-51.11.16. Epub 2016 Nov 16. PMID: 27849389; PMCID: PMC5293521.