We test and review fitness products based on an independent, multi-point methodology. If you use our links to purchase something, we may earn a commission. Read our disclosures.
We're suckers for a good foldable treadmill here at Garage Gym Reviews, however there is something about a non-folding treadmill that we cannot deny: They are typically heavy-duty and ultra-durable pieces of exercise equipment. That also means treadmills of the non-folding variety have a bigger price tag associated with them.
While folding models give you back floorspace in your home gym, non-folding models make up for less floorspace with powerful motors and long running decks perfect for both running and sprinting. I'm going to give you a rundown of the best non-folding treadmills we've tried and share our insights into each one so you find the machine that is best suited for your fitness goals—whether that's weight loss or faster running times.
We've Tested Tons of Treadmills
The GGR expert product testers have tried more cardio equipment than you can imagine: Dozens of exercise bikes, ellipticals, rowers, and treadmills. But when it comes to treadmills, we've had our hands on everything from budget models to commercial-grade machines. This roundup is a series of non-folding machines we've put to the test with our own sweat and tears.
We not only test the fitness equipment we write about, we know what we're looking for, too. We're a group of certified personal trainers, CrossFit Level 1 Trainers, former college athletes, and nutrition coaches here to help bring you the most accurate information to guide your home gym buying process.
5 Best Non-Folding Treadmills
Best Incline Non-Folding Treadmill: NordicTrack Commercial X22i
Good for: Anyone seeking an incline trainer with up to 40% grade
Best Incline Non-Folding Treadmill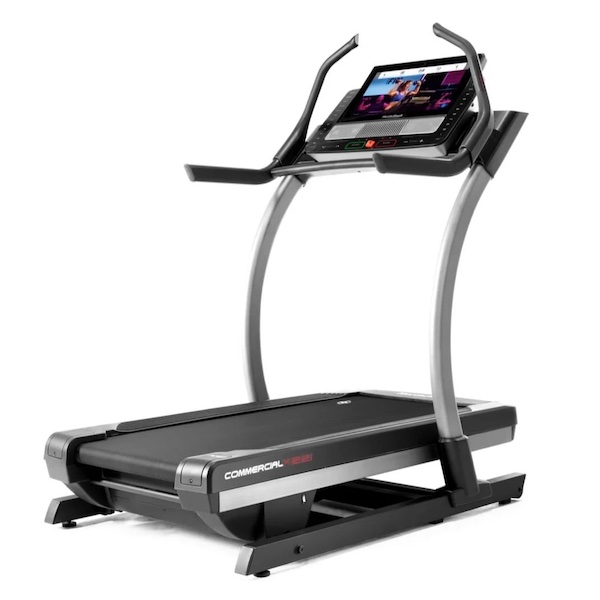 NordicTrack Commercial X22i Treadmill
If you're looking for an immersive training experience on a club-quality treadmill, the NordicTrack X22i may be a good fit for you. With a fully rotating and tilting 22-inch touchscreen and access to iFIT, you're able to choose from thousands of live and on-demand workouts that will meet the fitness needs of beginners and advanced athletes alike. The integration of Google Maps enables you to choose a location anywhere in the world to train. With an impressive incline range of -6% to a whopping 40% incline, you can mimic the terrain of any outdoor location you choose.The X22i features auto-adjust technology, which allows iFIT trainers to automatically adjust your speed and incline for a hands-free workout. Or, use your heart rate to guide your workout with the ActivePulse technology. With this, you can connect a Bluetooth heart rate monitor, which will automatically adjust incline or speed to keep you in your designated training zone. A heart rate monitor is not included. There are no pre-programmed workouts on the X22i and a membership to iFIT is required to access workouts.With this treadmill, rest assured that you are getting a high-quality and durable cardio machine. Equipped with a 4.0 CHP, the X22i supports speeds from 0 to 12 miles per hour on a fully cushioned, roomy 22-inch-wide by 60-inch-long running surface. Featuring an AutoBreeze fan, integrated console tray, upgraded Bluetooth technology, premium 30-watt speakers, one-touch controls, and a lower step-up height, the X22i is a solid choice for anyone with the space. It is large and heavy so requires a dedicated spot. Consider ceiling height as well if you plan on using the maximum incline. 
Pros:
Insane incline levels (and decline options)
Impressive 4.0 CHP motor
iFIT-enabled 22" touchscreen
Cons:
Hefty machine in weight and footprint
Not budget-friendly
Unimpressive user weight capacity for such a big machine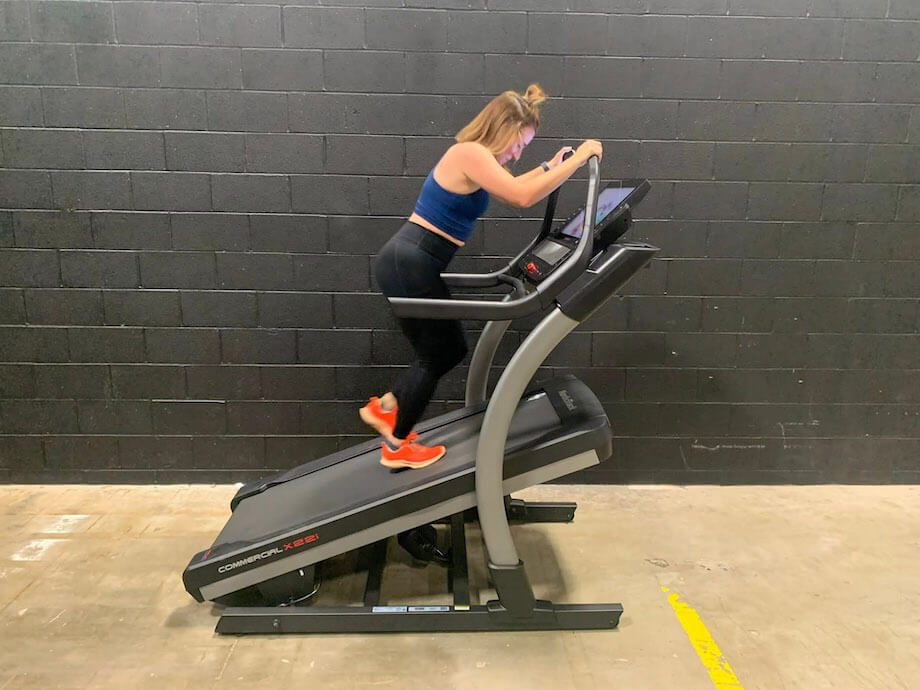 The NordicTrack X22i is hefty in every way possible: size, weight, technology, and price. That said, a certain type of home gym owner (with the willingness to fund the roughly $3,000 machine) will likely not be disappointed. If you are someone who identifies as a serious runner, hiker, hill climber, or triathlete, the X22i might be the right machine for you. This bad boy offers a range from -6% decline all the way up to 40% incline.
It's a sturdy machine, it's got a powerful motor, and top speeds of 12 MPH. The XX2i also has an extra set of handlebars that flank either side of the console, so you can safely work on your hill climbing and have the ability to physically hold onto the machine.
All that and you'll also get a 22-inch iFIT-enabled touchscreen for a huge selection of on-demand workouts. You can also use Google Maps technology to drop a pin pretty much anywhere in the world and let the auto-adjust technology change your incline and decline depending on the terrain. The iFIT membership will cost an additional monthly fee on top of the initial price of the machine.
Read our full NordicTrack Commercial X22i review.
| | |
| --- | --- |
| Price | $3,499 |
| Footprint | 70" L x 39" W x 72.5" |
| Weight capacity | 300 lbs |
| Product weight | 417 lbs |
| Motor horsepower | 4.0 CHP |
| Top speed | 12 MPH |
| Warranty | 10-year frame; 2-year parts; 1-year labor |
Best Curved Non-Folding Treadmill: TrueForm Trainer
Good for: Runners looking to improve form and increase speed
Best Curved Non-Folding Treadmill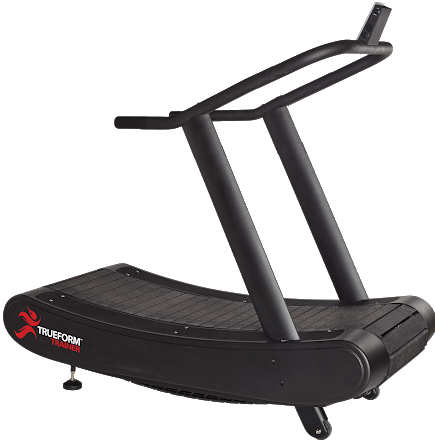 TrueForm Trainer
TRUEFORM Trainer is lighter weight and easier to use. The Trainer is an affordable, rugged, quality built solution for any commercial training facility or home gym. The included display keeps you informed on your pace, speed, distance, time. The display is compatible with Polar heart rate monitors. An optional Bluetooth display is available.TRUEFORM is the industry leading curved non-motorized treadmill. It's the least steep curve on the market, which promotes good form and allows you to easily control your speed. TRUEFORM is the most natural running surface when compared to running outdoors.The proprietary Responsive Belt Technology (RBT), reacts to every subtly in your movement; balance, posture, hip position, foot strike and more. The TRUEFORM requires no power. All the power comes from you, responding to your pace allowing you to go from a walk to a jog, to a sprint, to a stop. Instantly. You will feel when your body is not in the optimal position for running or walking. Long term use of the TRUEFORM will promote better movement patters improving overall health and wellness. TRUEFORM is proven to reduce impact stress which reduces the risk of injury.The simple design of this unique, non-motorized treadmill is also what makes it one of the most effective devices for developing proper running technique. Unlike standard electric treadmills, the TrueForm Runner from features an innovative curved deck that is controlled 100% by the movements and force of the user. There are no on/off switches or complex buttons and settings to worry about. It's a manually operated treadmill that helps train and reward technically-sound posture, balance, and cadence. Set your own limits or push right past them.
Pros:
Fairly lightweight for a manual treadmill
Financing available
No power outlet required
Cons:
Basic LCD display
No incline options
Frame constructed from plastic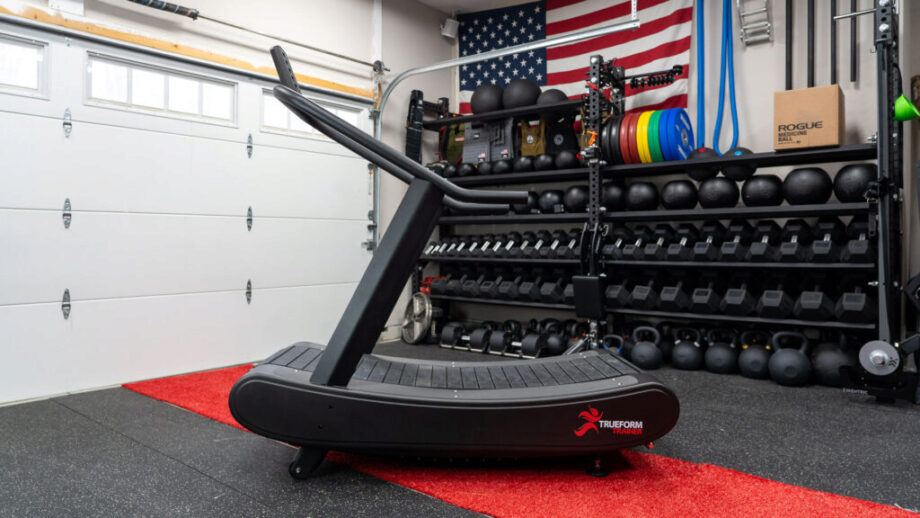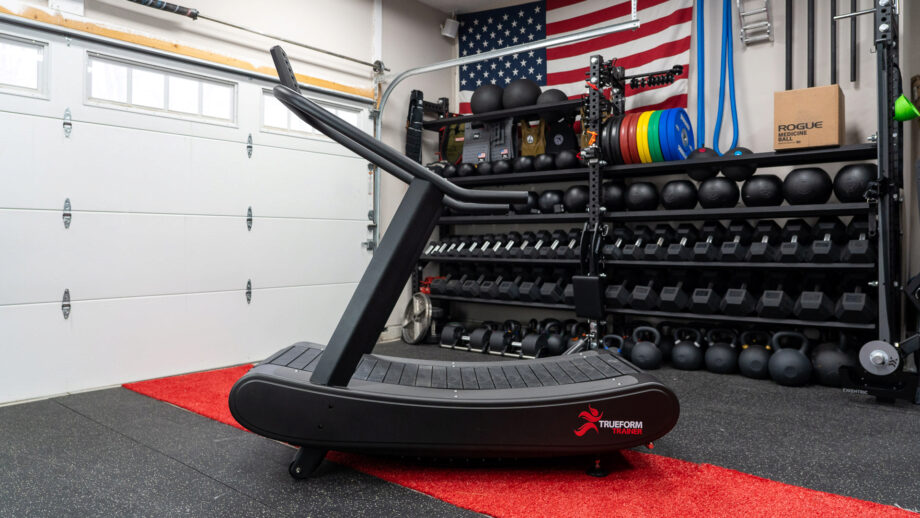 The TrueForm Trainer is a unique treadmill featuring a non-folding design and a curved running surface. The TrueForm trainer is a manual treadmill, which means you, as the runner, are creating power and driving the running belt—there is no power cord or motor in this machine.
The TrueForm Trainer design features a shallow curve that can help improve your running gait. According to Coop, GGR founder and OG product tester, "the shallow deck helps you run with a midfoot strike," which can create a more efficient stride for some runners.
This type of treadmill is designed for serious runners looking to become faster and more efficient. I would not recommend this treadmill for the casual runner, especially since it's best used for full-out running and sprinting. It's much harder to get the belt moving while walking or jogging.
Check our full review on the TrueForm Trainer treadmill.
| | |
| --- | --- |
| Price | $3,995 |
| Footprint | 64″ L x 31″ W x 63″ H |
| Weight capacity | 400 lbs |
| Product weight | 270 lbs |
| Materials | Steel frame wrapped in covered in single-formed reinforced polymer plastic |
| Warranty | 5-year frame, belt, and other parts 1-year labor |
Best Manual Non-Folding Treadmill: Assault Runner Pro
Good for: People looking for a manual treadmill and don't want to pay top dollar
Best Manual Non-Folding Treadmill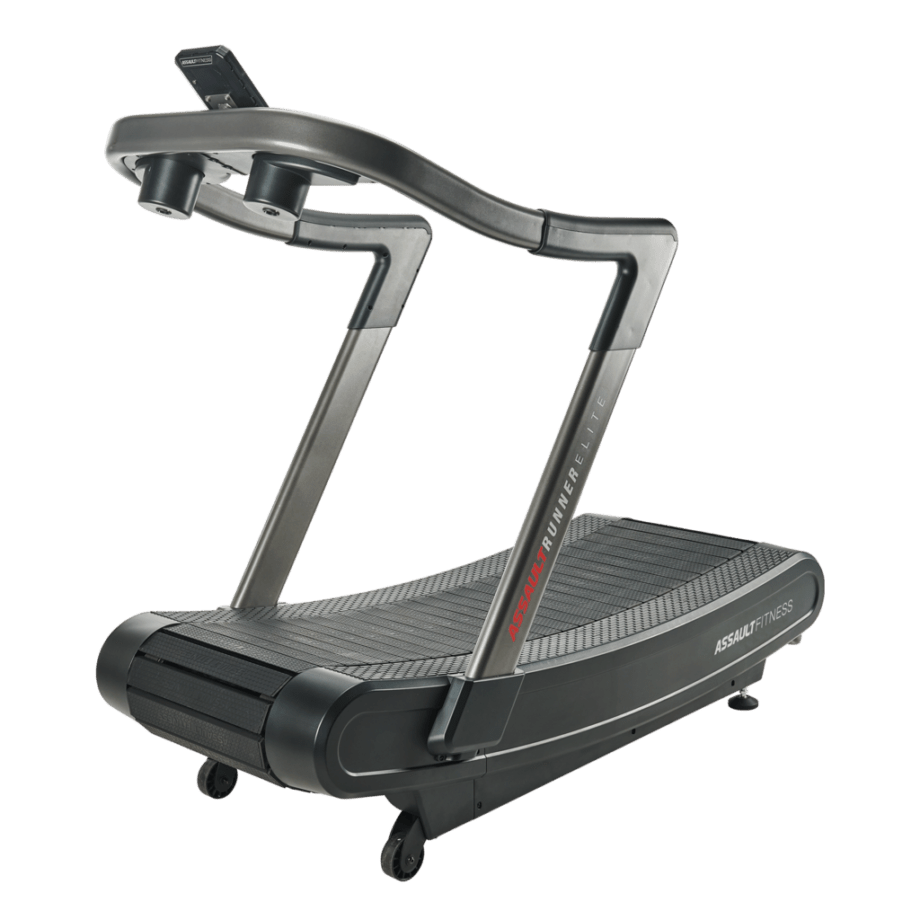 AssaultRunner Elite
Introducing the most powerful and personalized manual treadmill ever created. The brand new AssaultRunner Elite is expertly crafted to meet the specific needs of professional athletes, home gym users, and commercial owners alike.
Pros:
Durable materials
No power required
Free shipping
Cons:
No incline or decline
Heavy machine, not ultra portable
Expensive machine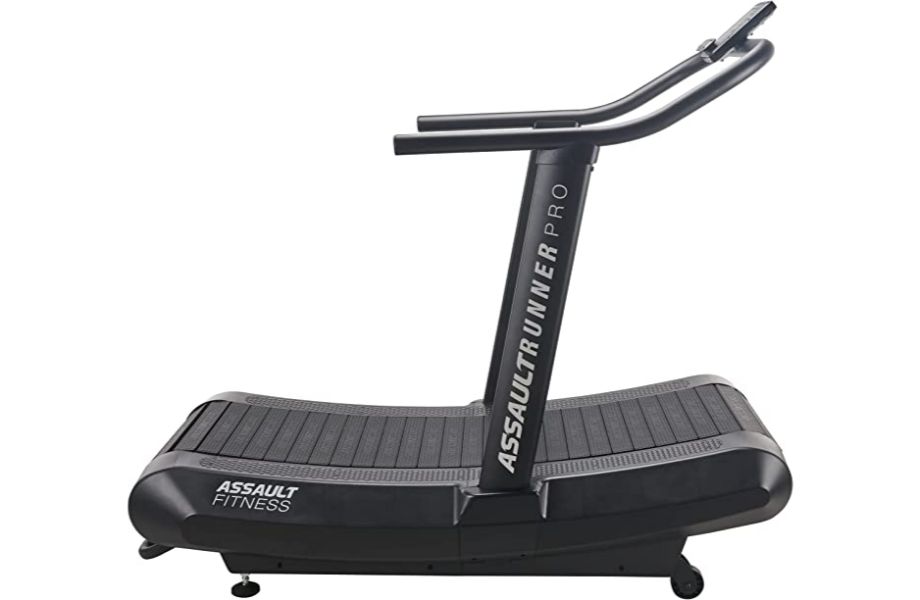 For a manual, non-folding treadmill, the AssaultRunner Pro comes in at a relatively reasonable price around $3,000. I know that sounds like a lot for a non-motorized machine, but there are many other similar manual treadmills on the market that go for over $6,000.
The Assault Fitness brand boasts that manual treadmills keep you engaged because you drive the power and determine how hard you're going to work. That said, manual treadmill training is often harder than running on a motorized treadmill, because your own strength and oxygen consumption drives how fast you can go, rather than the horsepower of the treadmill dictating your speed.
The AssaultRunner Pro has a basic LCD display, but you can connect your own smartphone or tablet via Bluetooth or ANT+ to track your progress and running metrics with the app of your choice.
Read the full review on the AssaultRunner Pro.
| | |
| --- | --- |
| Price | $2,999 |
| Footprint | 69.9" L x 31.7" W x 64.4" H |
| Weight capacity | 350 lbs |
| Product weight | 289 lbs |
| Materials | Steel frame |
| Warranty | 5-year frame, 3-year moving parts |
Best Non-Folding Treadmill Warranty: Sole TT8
Good for: Tall or heavy runners looking for both decline and incline variety
Best Non-Folding Treadmill Warranty
Sole TT8 Treadmill
The Sole TT8 is one of the luxury treadmills available from Sole Fitness. This high-end tread sports a 60-inch by 20-inch running surface to accommodate runners of most heights, and the 2-ply cushioned deck alleviates pressure and impact from the joints.Although there is no touchscreen display on the Sole TT8, it does have a sturdy smart device holder where you can place your smartphone or tablet. You can then stream fitness classes from a third-party app to keep you motivated and entertained.One of our favorite things about the Sole TT8 is its impressive incline and decline range. To simulate the natural terrain you'd encounter while running outdoors, you can push the grade down to -6% or bump it up to 15%.
Pros:
Lifetime frame warranty
10" touchscreen and tablet holder
Powerful 4.0 CHP motor
Cons:
Difficult assembly
Heavy machine
No live chat function for customer service
Sole Fitness gets brownie points for having one of the best warranties offered for home treadmills: Lifetime warranty on the frame, motor, and deck. Plus an additional five-year warranty on electronics and two years on labor.
The GGR expert testers have not actually tested the Sole TT8, but our team collectively agrees the Sole F63 treadmill is one of the best entry-level machines you can buy for your home gym.
That said, we think the Sole TT8, being the light-commercial treadmill model offered by the brand, will be well-suited for anyone who plans to log some serious miles. We also like the fact the Sole TT8 has a powerful 4.0 CHP motor, which is sure to keep up with your top speeds and distance runs.
The powerful motor paired with the impressive 400-pound user weight capacity indicates this machine is heavy-duty and inclusive for heavier users. Tall runners will be happy to know the Sole TT8 has a 60-inch running surface and is equipped with a two-ply belt and a cushioned flex deck to help lessen impact on ankles and knees.
Unlike other Sole treadmills, this machine features a 10-inch touchscreen with an Android processing system where you can navigate built-in workout programs, connect to a heart rate monitor (sold separately), and other basic controls. One feature I like is that there are also speed and incline controls on the console, so you can use the treadmill without relying on just the touchscreen.
Check out our full review on the Sole TT8.
| | |
| --- | --- |
| Price | $2,399 |
| Footprint | 82" L x 36" W x 58" H |
| Weight capacity | 400 lbs |
| Product weight | 322 lbs |
| Motor horsepower | 4.0 HP, DC type |
| Top speed | 12 MPH |
| Warranty | Lifetime warranty on frame, motor, and deck; 5 years electronics; 2 years labor |
Best Non-Folding Treadmill with a Screen: Peloton Tread
Good for: Anyone interested in interactive programming with on-demand classes
Best Non-Folding Treadmill with a Screen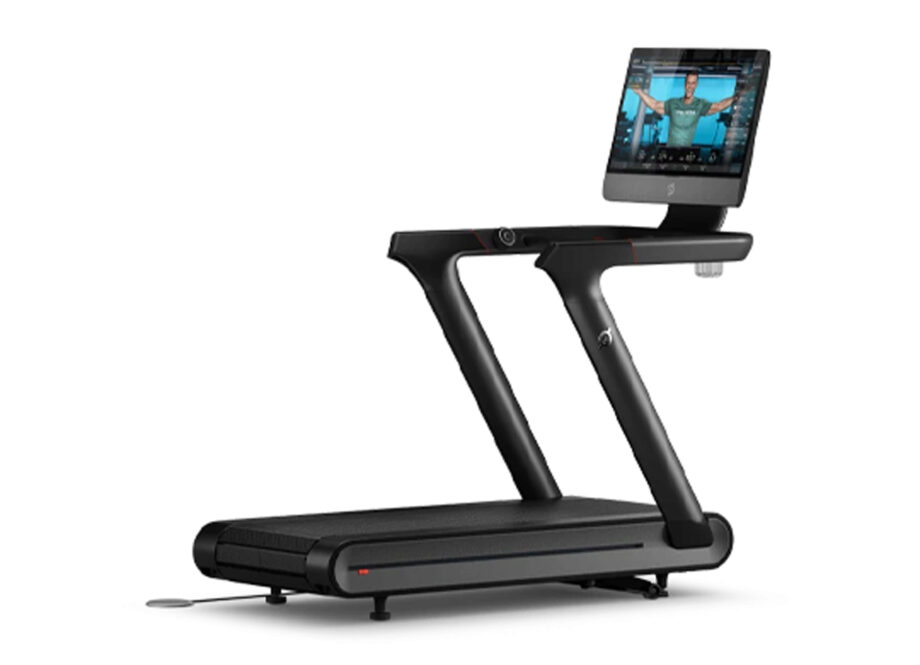 Pros:
Large 23.8" touchscreen
Safety lock with digital passcode
Trainer-led programming and live leaderboards
Cons:
Monthly subscription fees
Short warranty
No deck cushioning
Peloton is known for top-notch interactive programming and high-energy instructors through the Peloton app. The Peloton Tread gives you a large, 23.8-inch built-in touchscreen to navigate through the vast library of on-demand workouts and live sessions.
The touchscreen also lets you track your progress, heart rate (from your Apple Watch), and where you're at on the leaderboard during live workouts. The Peloton Tread is known for high-quality sound systems for jamming out to your own music or one of the curated playlists offered during classes.
In my opinion, this treadmill offers a solid build and is well-suited for fitness tech lovers. If you're not married to the idea of a high-tech machine with interactive workouts, I'd choose a treadmill that doesn't rely so heavily on the touchscreen to operate the machine (like the Sole TT8 I mentioned above). There are not many controls that can be navigated off the touchscreen, making this machine dependent on a stable connection to wireless internet.
Read our full review on the Peloton Tread.
| | |
| --- | --- |
| Price | $3,495 |
| Footprint | 68" L x 33" W x 62" H |
| Weight capacity | 300 lbs |
| Product weight | 290 lbs |
| Motor horsepower | 3.0 CHP |
| Top speed | 12.5 MPH |
| Warranty | 5-year frame, 3-years motor and belt, 1-year parts |
Other Non-Folding Treadmills We Tried and Researched
Some other non-folding treadmills that came up in my research include:
The Sole ST90, which is a fairly new Sole treadmill featuring a unique slat-belt design. None of the other Sole treadmills have a slat belt, so I didn't choose the ST90 for this roundup because none of our expert testers have tried it yet.
The Grit Runner by Tru Grit Fitness almost made the list with its budget price tag, however this manual treadmill doesn't seem as durable as others we've tested.
The NordicTrack X32i was a close contender for the best incline category, but the other model in this series (X22i) made the cut because it has a better price point.
How We Picked and Tested the Best Non-Folding Treadmills
There are certainly a lot of foldable treadmills on the market for home gym owners to choose from, but non-folding treadmills can also be a viable option—you'll just have to account for the space and the increased budget
With the exception of the Sole TT8, our product testers have actually tried each of the treadmills that are featured on this roundup of best non-folding treadmills. Here are the factors I used to determine this roundup list:
Price range: Non-folding treadmills are typically more expensive than folding treadmills, however this list is a collection of some of the more reasonably priced machines our expert testers have tried.
Warranty: Every brand's warranty is different, so I made sure each product on this list at least meets industry standards.
Construction: This is a list of treadmills that didn't leave our testers feeling shaken around during workouts.
Weight limit: Most home treadmills have a maximum user weight capacity of at least 275 pounds. I tried to pick non-folding treadmills that surpass that standard.
Deck size: Most non-folding treadmills are pretty big, so each product on this list has around a 60-inch deck to accommodate runners and tall people alike.
Display: This list is a mix of high-tech interactive screens and basic LCD displays.
Speed range: With a combination of manual and motorized treadmills on this list, I wanted to choose motorized machines that can go at least 12 MPH.
Portability: Although no treadmill on this list is not foldable, I tried to choose treadmills that have transport wheels.
Benefits of Non-Folding Treadmill
The main benefits of non-folding treadmills is the added stability because the frame has not been designed to fold or hinge. Non-folding machines are also known for higher user weight capacities due to the heavy-duty solid frame and heavier overall product weight.
Non-Folding Treadmill Buying Guide
Firstly, create a budget for your non-folding treadmill. It's important to set a limit, because the non-folding variety of treadmills tend to get pricey. You won't want to waste your time reading through specs of a treadmill that is three times over your budget.
Secondly, it's a good idea to measure your designated treadmill area, because non-folding treadmills are not the best for small spaces. They are typically heavier than folding machines, making it harder to transport from room to room. It will be well worth the time to measure out your designated treadmill area and make sure you have a few feet of clearance on either side and about three feet behind the treadmill belt, according to the National Strength and Conditioning Association (NSCA).
Lastly, it's important to decide if you're looking for a high-tech treadmill with interactive programming or a machine with a basic display. If owning a high-tech machine with on-demand workouts is your priority, that will be good to know before you dive into shopping.
Manual vs Motorized
There are two types of treadmills that fall under the non-folding category: manual and motorized. Here is a quick rundown of both:
Non-Folding Motorized Treadmill
Motorized treadmills range from budget models to high-end machines. Non-folding motorized treadmills typically have these things in common:

Sturdy construction
Long running deck
Powerful horsepower
Incline training options
Good for a variety of paces: walking, jogging, and running
Non-Folding Manual Treadmill
Manual treadmills are known for being athlete-powered and not requiring an outlet. Here are some quick take-aways about manual treadmills:
No power source required
Reinforces efficient running stride
Typically low-tech displays
Potentially higher caloric output to maintain top speeds
No incline training
RELATED: History of Treadmills
FAQs
Are non folding treadmills better?
Every home gym owner will have a different opinion on folding versus non-folding treadmills. Non-folding folding treadmills can offer sturdiness and higher user weight capacities, but it really comes down to your unique situation and space.
What is the most reliable treadmill for home use?
The GGR product testers typically gravitate toward the NordicTrack Commercial 1750 for the best overall treadmill for many reasons including price tag, solid construction, dynamic programming, and the ability to fold and move it. 
Is a self-propelled treadmill better?
Not necessarily. It depends on your fitness goals. If you plan to use your treadmill for a variety of training options (like getting in daily steps, interval training, and steady-state cardio) then you might want to go for a motorized treadmill. Self-propelled treadmills (aka manual treadmills) are best if you plan to run.