We review free products that we receive and participate in affiliate programs, where we may be compensated for items purchased through links from our site.
See our disclosures page for more information.
The TrueForm Trainer Treadmillis a more budget-friendly version of the ever-popular TrueForm Runner non-motorized treadmill. After using the Trainer for a few months for sprints and long-distance runs while comparing it side by side to others on the market, I believe it's a better choice for most home gym owners over the Runner due to its superior price point, yet similar design. However, The Trainer is not the bomb-proof construction that TrueForm is known for, hence the lower price.
Budget TrueForm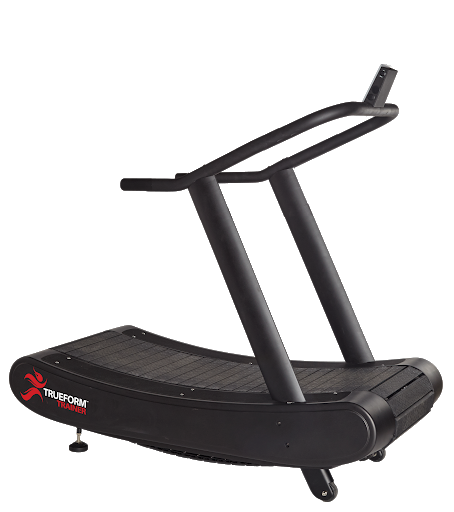 TrueForm Trainer
TRUEFORM Trainer is lighter weight and easier to use. The Trainer is an affordable, rugged, quality built solution for any commercial training facility or home gym. The included display keeps you informed on your pace, speed, distance, time. The display is compatible with Polar heart rate monitors. An optional Bluetooth display is available. TRUEFORM is the industry leading curved non-motorized treadmill. It's the least steep curve on the market, which promotes good form and allows you to easily control your speed. TRUEFORM is the most natural running surface when compared to running outdoors. The proprietary Responsive Belt Technology (RBT), reacts to every subtly in your movement; balance, posture, hip position, foot strike and more. The TRUEFORM requires no power. All the power comes from you, responding to your pace allowing you to go from a walk to a jog, to a sprint, to a stop. Instantly. You will feel when your body is not in the optimal position for running or walking. Long term use of the TRUEFORM will promote better movement patters improving overall health and wellness. TRUEFORM is proven to reduce impact stress which reduces the risk of injury. The simple design of this unique, non-motorized treadmill is also what makes it one of the most effective devices for developing proper running technique. Unlike standard electric treadmills, the TrueForm Runner from features an innovative curved deck that is controlled 100% by the movements and force of the user. There are no on/off switches or complex buttons and settings to worry about. It's a manually operated treadmill that helps train and reward technically-sound posture, balance, and cadence. Set your own limits or push right past them.
I've had a TrueForm Runner in my gym for nearly five years. I love them and I'm not ashamed in saying so. I've never treated them lightly, yet they still perform like they did on day one. They've improved my running form so I now run on the road with a more mid-foot strike and is much more in line with the POSE Method of running. The TrueForm Trainer that I'm reviewing today takes all of the design elements I like about the Runner and makes it much more affordable. Although I'll always love my overbuilt, all-metal Runner, the Trainer is much more practical and a tremendous curved treadmill that will last decades with home use.
What is the TrueForm Trainer?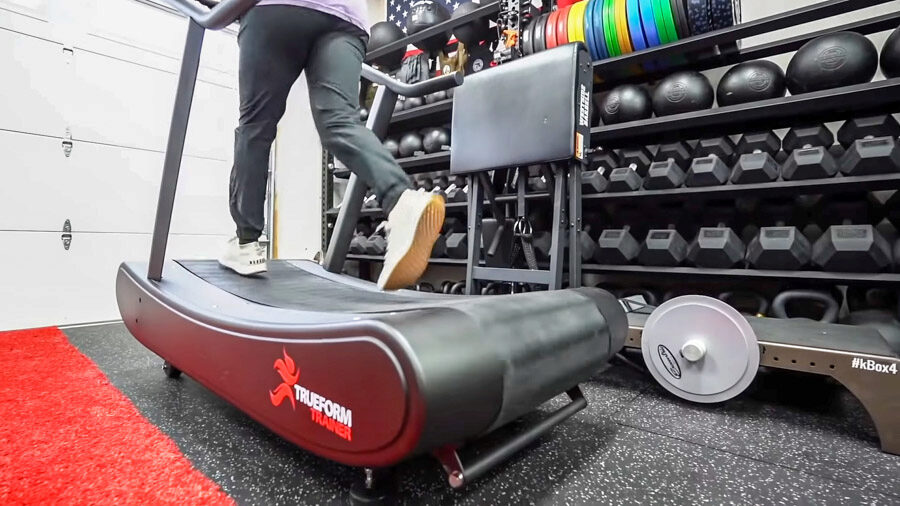 The TrueForm Trainer is the latest non-motorized treadmill model from the curved treadmill brand TrueForm. We've reviewed multiple TrueForm Treadmills in the past and with the Trainer, this is now the third model I have in my home gym. Our review of the Trueform Runner has consistently been very positive, so I was both excited and a bit skeptical to get a more budget-friendly model in.Priced around 60% of the cost of the Runner, the Trainer is made from thick, hard plastic versus metal, yet uses the same overall design that's made to improve running form.
Check out my picks for the 5 best manual treadmills (hint: both the Trueform Runner and Trainer made the cut!)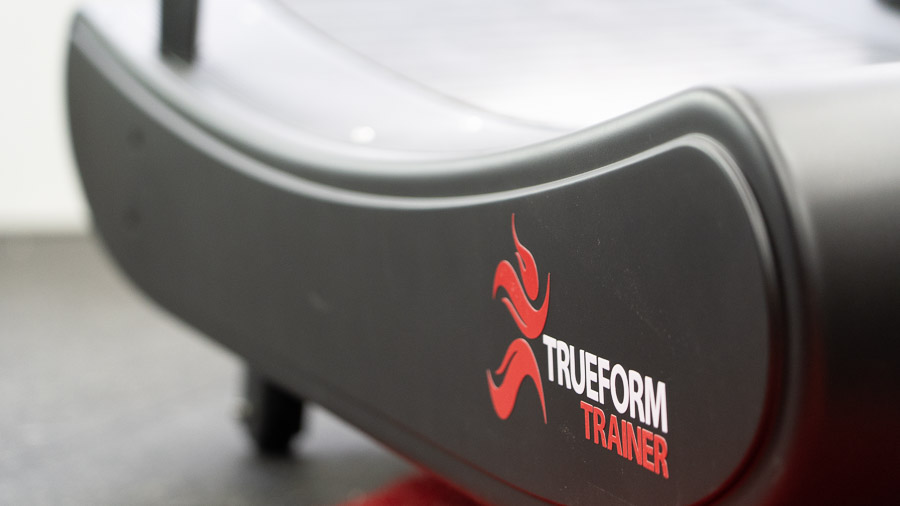 This TrueForm Trainer is made in Korea, unlike the previous Runner model from TrueForm that is made here in the USA. Although the Runner can be seen mostly in commercial facilities, CrossFit Gyms, and the like, the Trainer is really designed for home cardio fitness training, both for endurance running and sprint interval training.
As always, we'll give an in-depth and honest review of the TrueForm Trainer. The things that are good, the not so good, and who I recommend it for.
What's the Difference between the TrueForm Trainer and TrueForm Runner?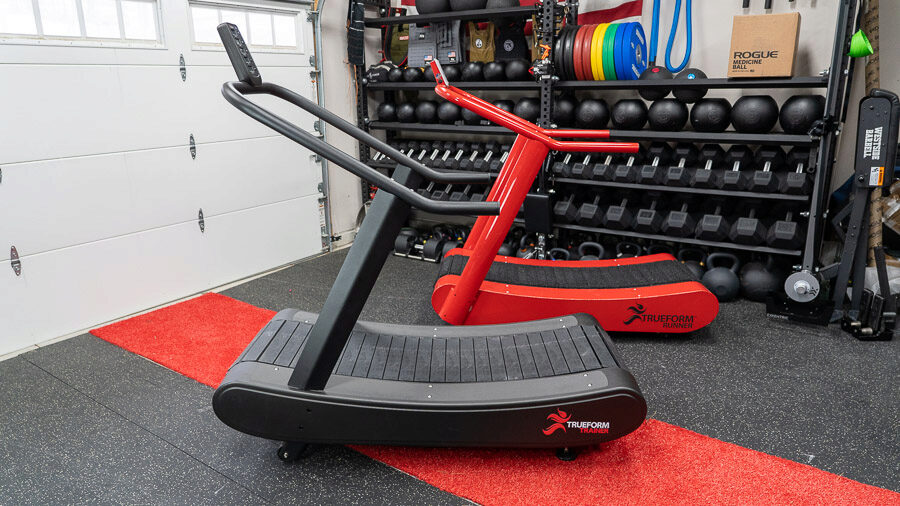 Trainer vs Runner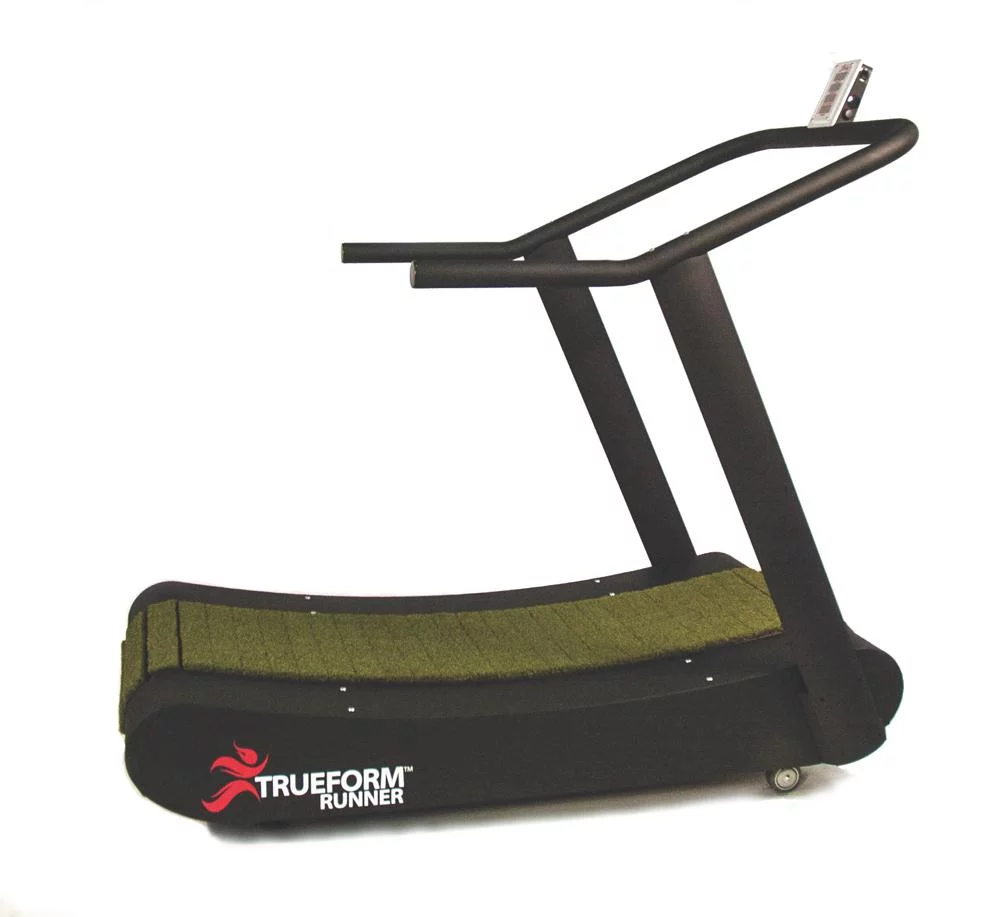 TrueForm Runner
TRUEFORM is the industry leading curved non-motorized treadmill. It's the least steep curve on the market, which promotes good walking, running, and sprinting form. The shallow curve also allows you to easily and safely control your speed. TRUEFORM is the most natural treadmill running surface when compared to running outdoors. The proprietary Responsive Belt Technology (RBT), reacts to every subtly in your movement; balance, posture, hip position, foot strike and more. The TRUEFORM requires no power. The TRUEFORM belt responds to your pace, allowing you to go from a walk to a jog, to a sprint, to a stop. Instantly. You will feel when your body is not in the optimal position for running or walking. Long term use of the TRUEFORM will promote better movement patterns improving overall health and wellness. TRUEFORM is proven to reduce impact stress which reduces the risk of running injury. TRUEFORM offers three models all with steel frame construction, a heavy-duty, impact absorbing slatted running surface, easy to move built in guide wheels and the best part, TRUEFORM requires NO MAINTENANCE! TRUEFORM Runner is overbuilt for a super smooth superior ride and engineered for a lifetime with solid steel construction inside and out. Each Runner is custom made and hand welded in the USA for unsurpassed elite quality. With the most subtle cure on the market TRUEFORM Runner is the most responsive treadmill available. Proven to Burn 44% more calories and reduce running injury and impact stress factors. Custom colors and tread surfaces are an available option for the TRUEFORM Runner. The standard display is bright LED which indicates pace, speed, distance, time. An optional Bluetooth display is also available. Available Options: Custom Color: RAL Powder Coat Custom Tread - Artificial Field Turf: Green, Black, Purple, Yellow Custom Tread - Running Track: Red Performance Adapter Gear Specs: Length/Width/Height: 64" x 36" x 63" Weight: 350lbs Running Surface: 17" Wide Digital Display: Bright LED Power: Rechargeable Battery Custom Paint/Logos: Optional Frame/Covers: Formed & Welded 7 Gauge Steel Handrails: Formed Steel Tubing Belt: Polyurethane with Steel Radial Tread Surface: Bonded Kraiburg Thermolast Tread Lower: Fiberglass Reinforced Nylon Made by Smith and Wesson Bearings: 106 Sealed Steel Ball Bearings Pulleys: Turned & Tooled Solid Aluminum Paint: Zinc Plated Undercoat/Textured Powder Coat Finish - Black Standard Available Options Custom Tread - Artificial Field Turf: Green, Black, Purple, Yellow Custom Tread - Running Track: Red Performance Adapter
There are many intimate details to both these machines that will be explored in this review. Before we get into the full Trueform Trainer Treadmill Review, first, let's take a look at the 4 key differences between the older TrueForm Runner model, and the newer Trainer Treadmill.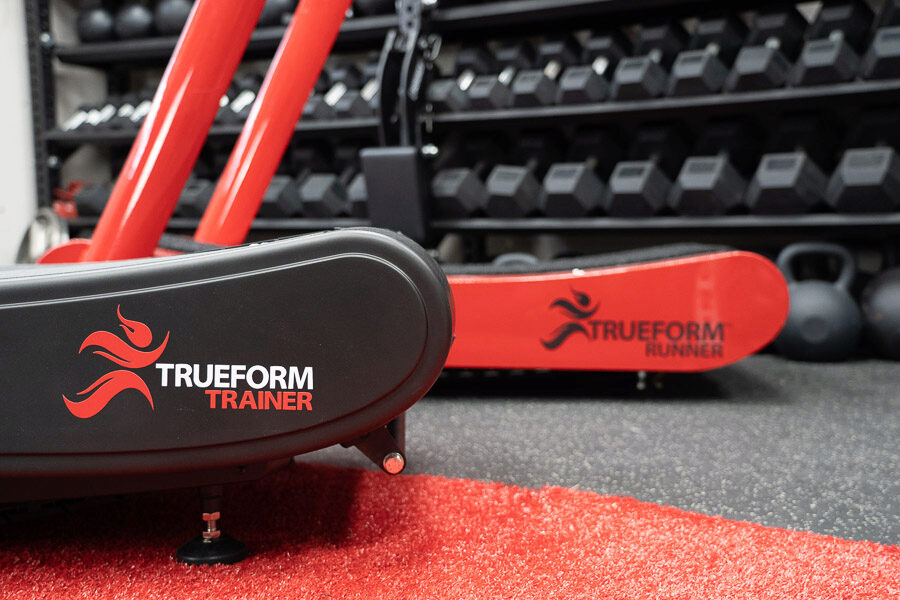 Material
The biggest difference between these curved treadmills is the materials from which the machines are constructed. The older model, the TrueForm Runner, is made in the US from heavy-duty metal. This makes the Runner feel much more stable underfoot, giving it ideal specs for commercial or highly regular use. The shell is welded, the frame beneath is metal as are the arms.
The TrueForm Trainer, on the other hand, is made from hard plastic. Made in Korea and shipped here to the US, the Trainer is lighter and more easily damaged. Although the plastic is great quality and well made, there is a difference in feeling between these two materials and although the Trainer hasn't been out long enough to give a true durability test, it likely won't last as long.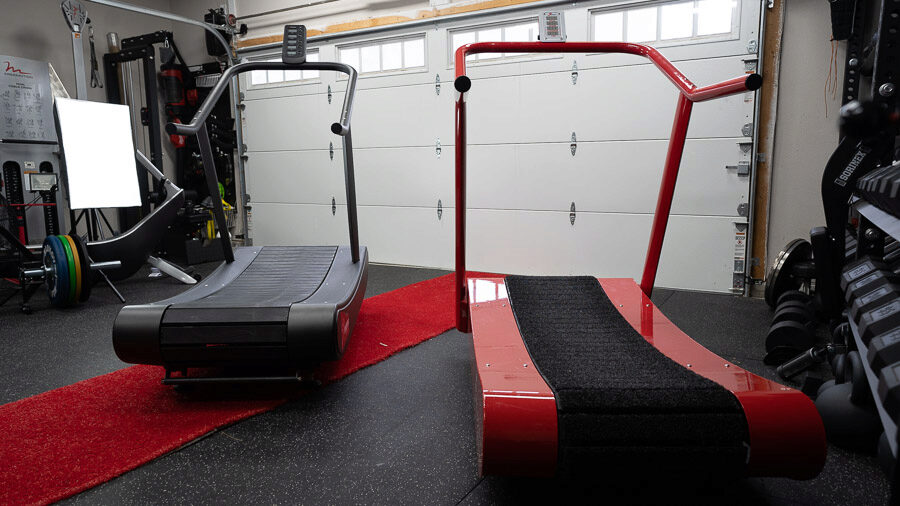 Durability
Due to the big difference in materials, these treadmills are varying in their durability. The Runner is a beast of a machine, totally sturdy, long-lasting and hardy. I've had a TrueForm Runner at my personal training studio where clients from all walks of life use it every day and have for the past five years. Despite this, it's never required a single minute of maintenance. There isn't a single motorized treadmill in the world that could make that claim.
The Trainer is still a good quality machine, but in all likelihood, it will not last as long as the Runner due to less durable parts. That said, for a home gym, all-metal construction isn't necessary.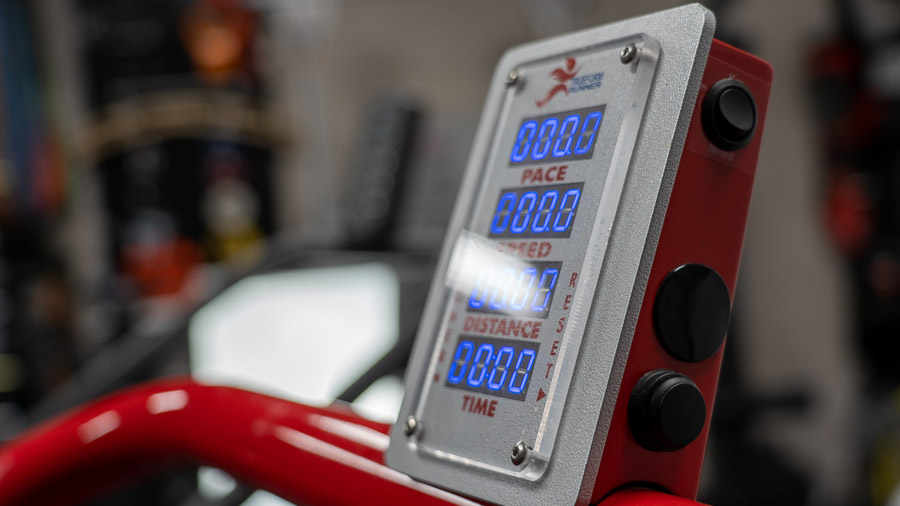 Performance Monitoring
The TrueForm Runner monitors performance with a pretty standard performance monitoring device at the front of the treadmill. This treadmill doesn't have heart rate monitoring. In all honesty, the monitor on the TrueForm is one of its worst features and something I've been begging them to improve for years.
The Trainer has an updated version of this – still a simple design, but uses smaller batteries, includes a very basic heart rate monitor tracking, and a less polished design. Basically, the monitors are the same, with the Runner being more robust in its construction.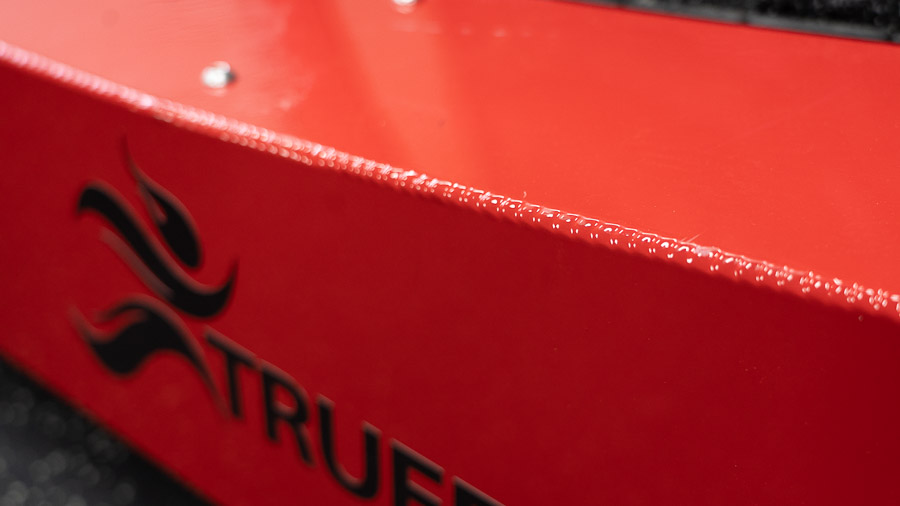 Price
The Runner is retail priced at $6,795, whereas the newer Trainer model stands at $4,795 – a big difference in price points. However, this price can be reduced dramatically by choosing a later ship date.
What We Like About The TrueForm Trainer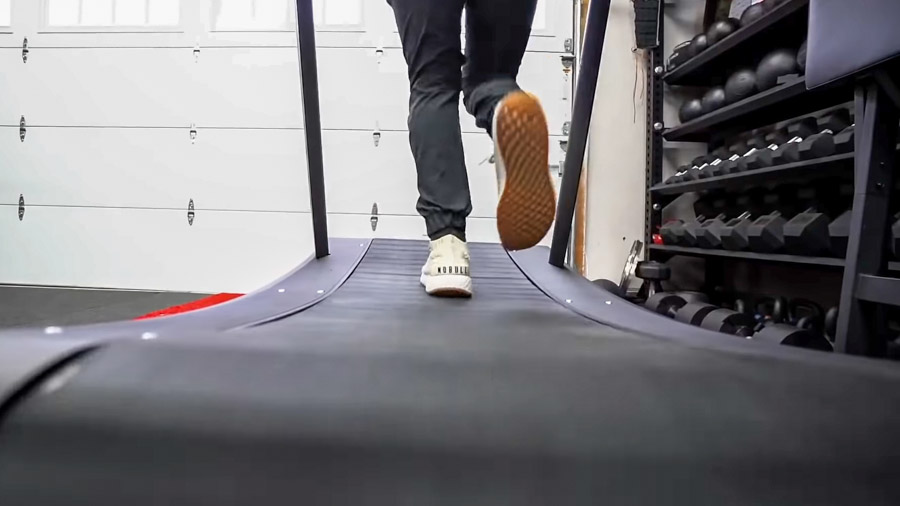 Let's get down to business: what do we like about the TrueForm Trainer? Here's our honest take on the positive attributes of TrueForm's latest treadmill model.
Improved Running
Let's start with the performance of this treadmill – after all, that's why you want to buy a treadmill to add to your home or garage gym. The Trainer helps runners of all ability levels to improve their running performance, because frankly, it is very well designed. TrueForm is, in my opinion, the best treadmill and one of the best cardio machines out there because they are designed to improve your form.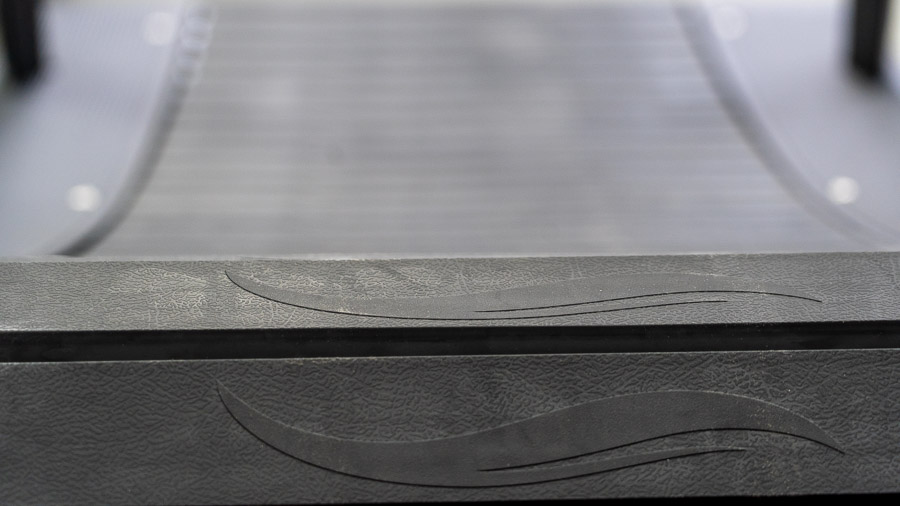 The shallow deck of the Trainer is designed to help you run in a mid-foot striking position. This reduces the risk of injuries and improves your form overall. The smooth-moving belt is light and balanced, and the rubber helps you to grip as you run. The top quality deck and belt are designed for both endurance and sprinting.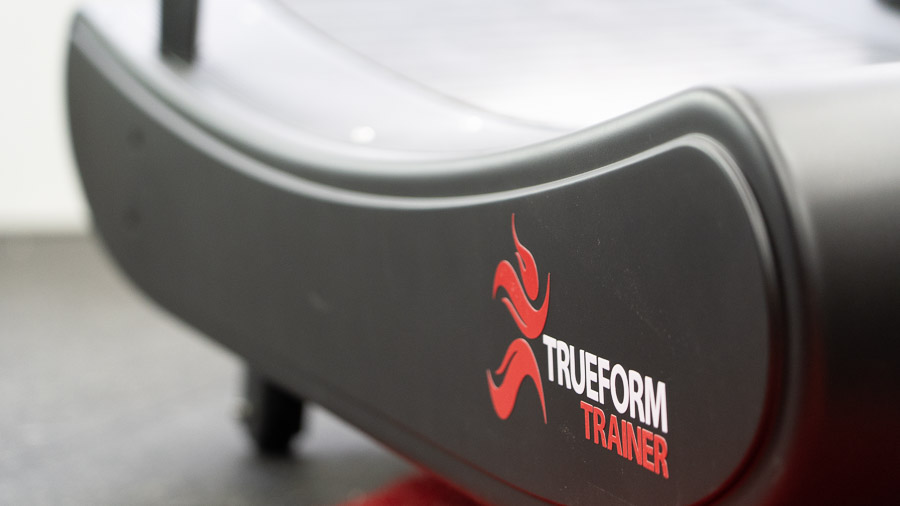 There are many other curved treadmills out there, but they're not all the same. Most other curved treadmills use either a steeper angle on the deck, a heavier belt, or a flywheel to simulate faster running. This is fine if you just want to jump on a treadmill and go. But, if you not only want a good workout, but also to improve your road running so you're less prone to injuries, then a TrueForm is the way to go.
This design by TrueForm is the same on the Runner as it is the Trainer, which makes sense as it's their biggest competitive advantage over the competition.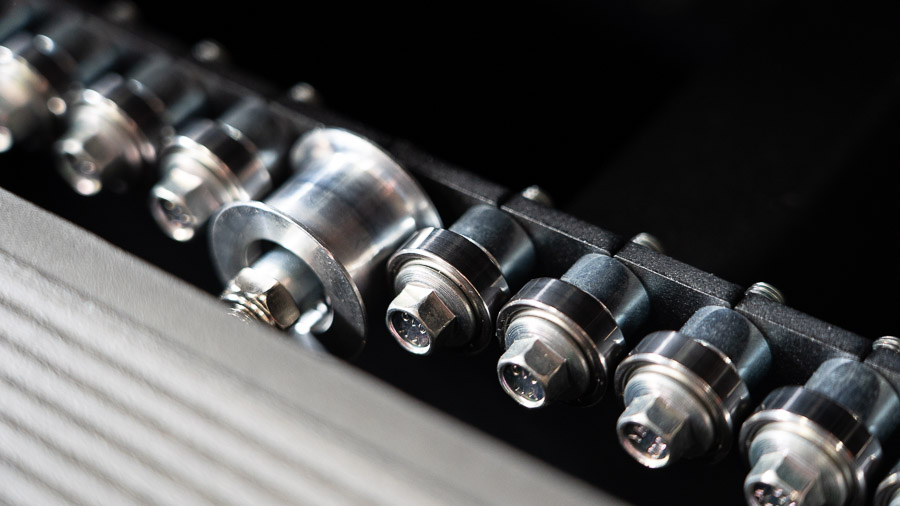 The Trainer Is Made To Last
Although the Trainer is less durable than the Runner due to it being made from plastic and manufactured overseas, this treadmill is still made to last. For commercial gyms, the Runner is the ideal machine – but in a home gym setting, the Trainer will prove to be durable and well made. It's a balanced machine with a shallow deck that provides stability, even for heavier runners.
Similarly, the portability of this treadmill is good overall. Although the wheels aren't as sturdy as that of the Runner, they don't need to be – the Trainer isn't nearly as heavy! This allows you to easily maneuver the Trainer around your home gym setting if you need to rearrange. The wheels on the Trainer are hard plastic, but have supports that should allow it to last long.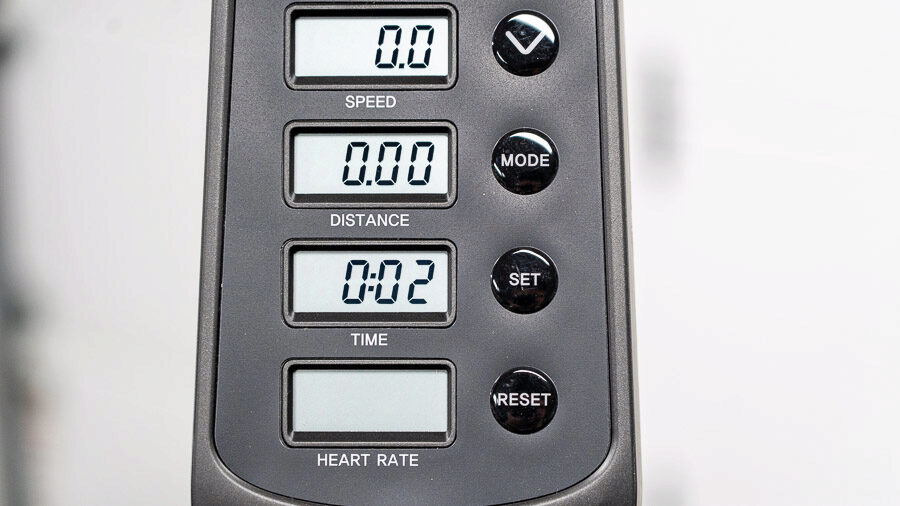 Decent Monitor
The monitor of the Trainer is easy to read and logically designed. The Trainer monitor uses AA batteries that make it easy to replace them when they run out–it's a super simple process, especially compared to the Runner that uses a large battery under the deck.
The monitor is still too simple, perhaps even behind-the-times, compared to other treadmills, but it does what it is made to do. You can measure distance and speed, and if you have a bluetooth device for heart rate you can enter this and monitor it as you run.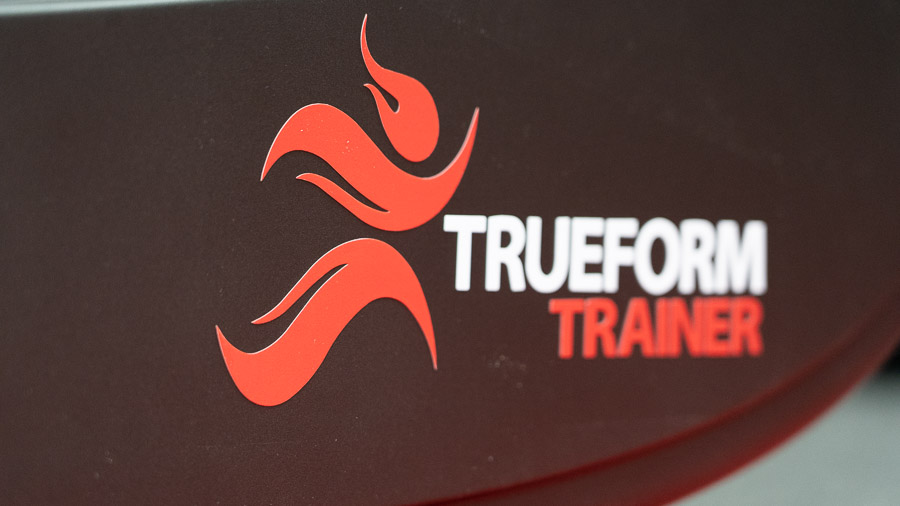 Neutral Appearance
If you have a home gym full of equipment, the size, color, and overall design of the Trainer will fit right into your garage gym. It isn't anything magnificent to behold, but the Trainer has a nice design that is aesthetically pleasing overall.
The choice for black is a good one as it matches most black powder-coated equipment like that from Rogue Fitness. I definitely prefer the metal, but the cost savings of the plastic are hard to be upset by.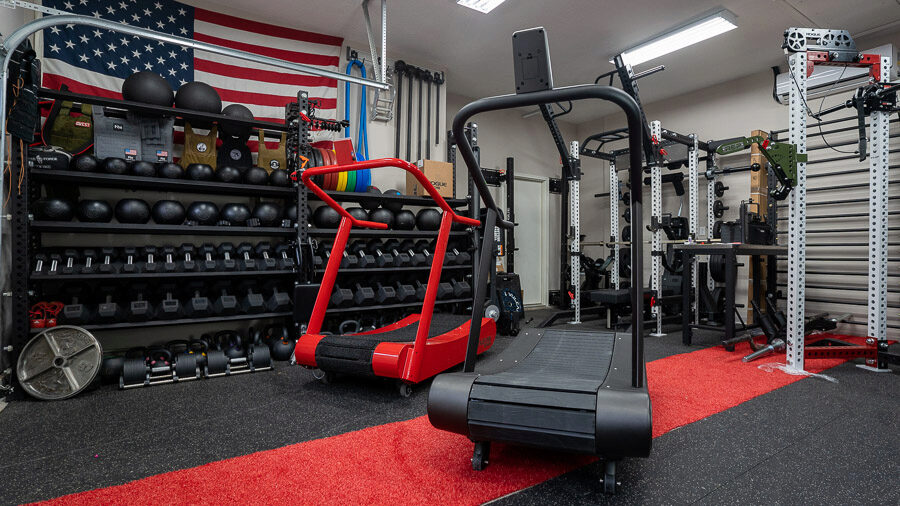 Great Value for the Money
Ultimately, the main attraction of the TrueForm Trainer is that it's over $2000 less expensive than the Runner. This is mainly due to the material disparity but ultimately makes an enormous difference to the buyer's budget – whereas the materials of the treadmills might not differ too much in practice, particularly for home gym owners.
In testing, the Trainer feels very similar to the Runner. In fact, if I closed my eyes, it would be hard for most people to tell which one they were running on. I can feel a bit of a stability difference and the Runner feels heavier underfoot, but they're so similar.
For home use, the Trainer is an awesome non-motorized treadmill that is great value for money and is likely to last a long time. It's definitely the one I'd suggest for most home gym owners.
Things We Dislike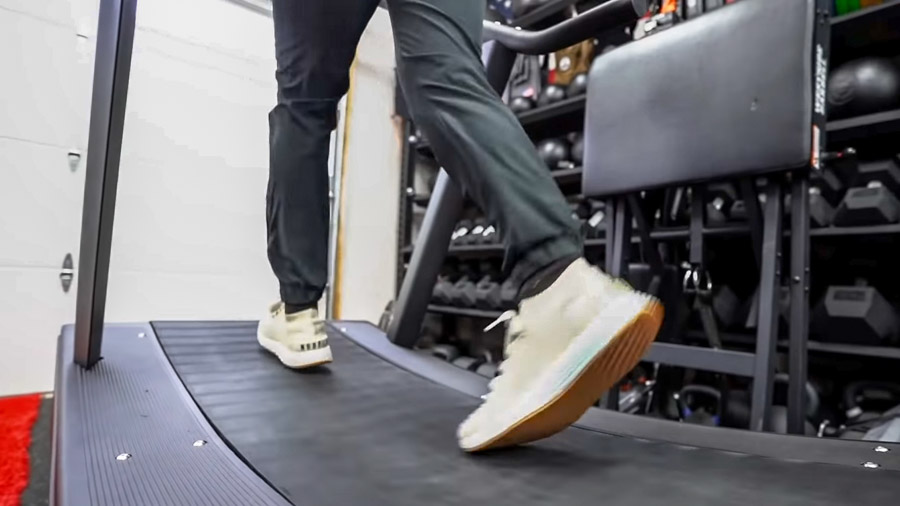 Of course, there are downsides to the Trainer, although most will probably be obvious.
The Plastic Materials
The main issue with this treadmill is that it is made mostly of plastic. While this isn't an issue in itself when compared with the beast-mode Runner, it feels like a lower quality version – hence the price difference. Although there is little to no wobble to the Trainer as they use the same pegged feet – it is totally safe to use – it feels like a lightweight version of a commercial level treadmill. Many runners would prefer a made-in-the-USA metal treadmill, compared to this Korean-made plastic one.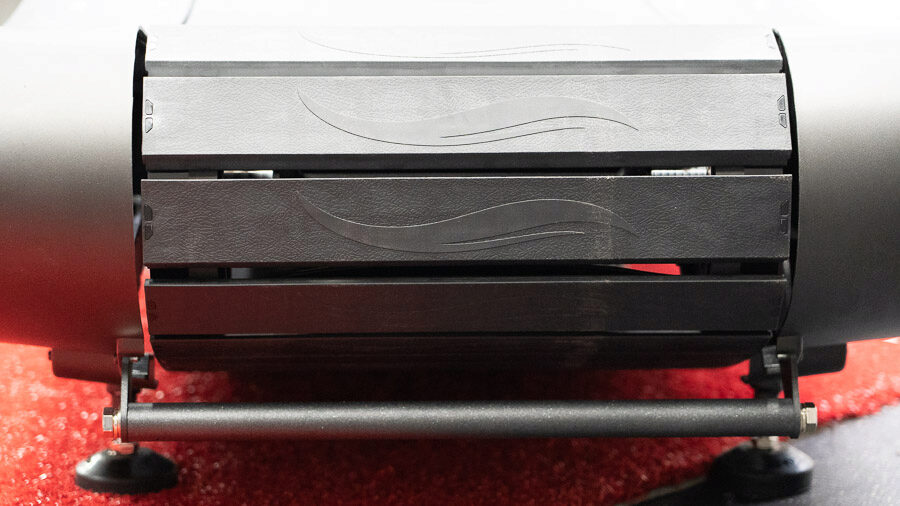 The other issue with plastic is that it can crack over time. Unlike metal machines, a plastic model – even a high-quality one like the Trainer – is bound to last less time. The Trainer could last a lifetime, but it could also crack. This might result in you re-purchasing the Trainer if it becomes damaged from regular use, whereas a metal treadmill is likely to last for the rest of your life.
This said I've done farmer carries and used a weighted vest on the Trainer just as I have on the Runner and I haven't seen any issues. I think if you make sure not to drop things on the plastic, it won't present any problems.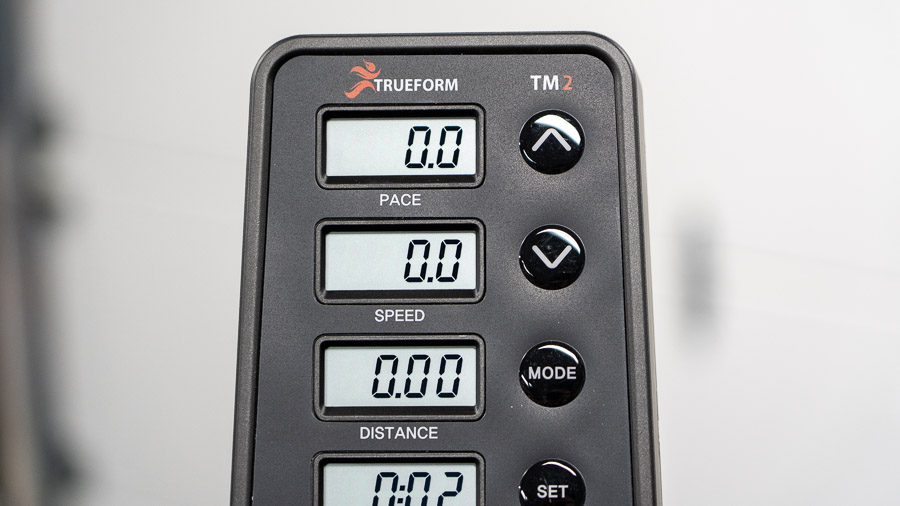 The Monitor
Although the Trainer monitor was listed as a positive, that is really only in comparison to the Runner monitor which is outdated by now. The monitor on this TrueForm treadmill is generally poor compared with other treadmill models. It does have good basic functions, but nothing more than that. I'd love to see something like the Concept 2 Rower on the TrueForm eventually.
Should You Add The TrueForm Trainer to Your Home Gym?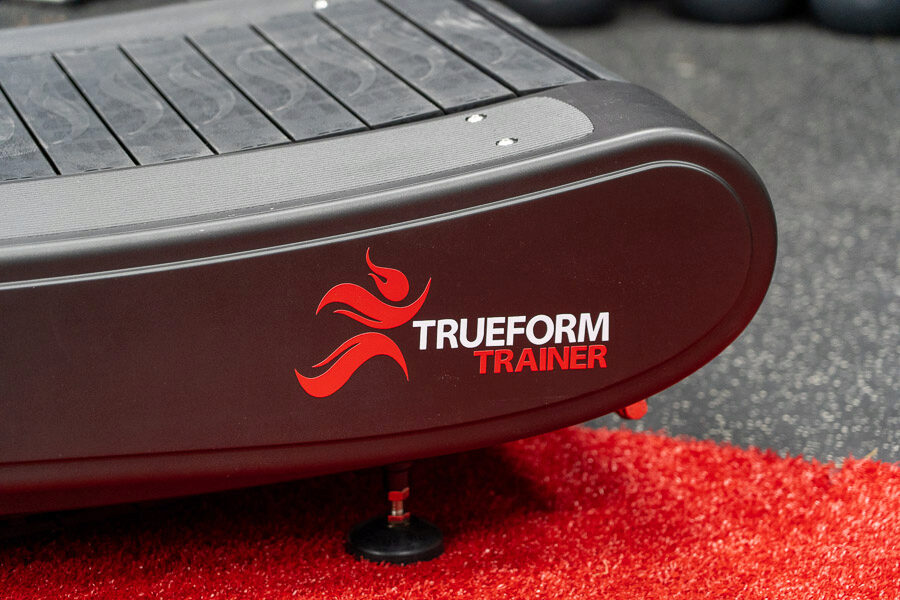 If you want a treadmill that is designed for home use and will improve your running performance, the Trainer would be our pick for most. Although not as tough as the Runner, for a home gym, the Trainer is a high-quality non-motorized treadmill that will last reliably. The Trainer is the better treadmill for home gym owners who only need the machine for personal use. The Trainer also has improved value for money for a solo user of this treadmill.
Nevertheless, the Runner model is an awesome treadmill that, if you can afford it, provides stability and quality of materials that anyone will be impressed by. The Runner is ideal for multiple users or even a commercial gym setting.
I personally try to avoid plastic for gym equipment wherever possible, but the internal frame on the Trainer is metal which experiences the most wear and therefore I'm confident in recommending it.
TrueForm Trainer Treadmill vs Assault Air Runner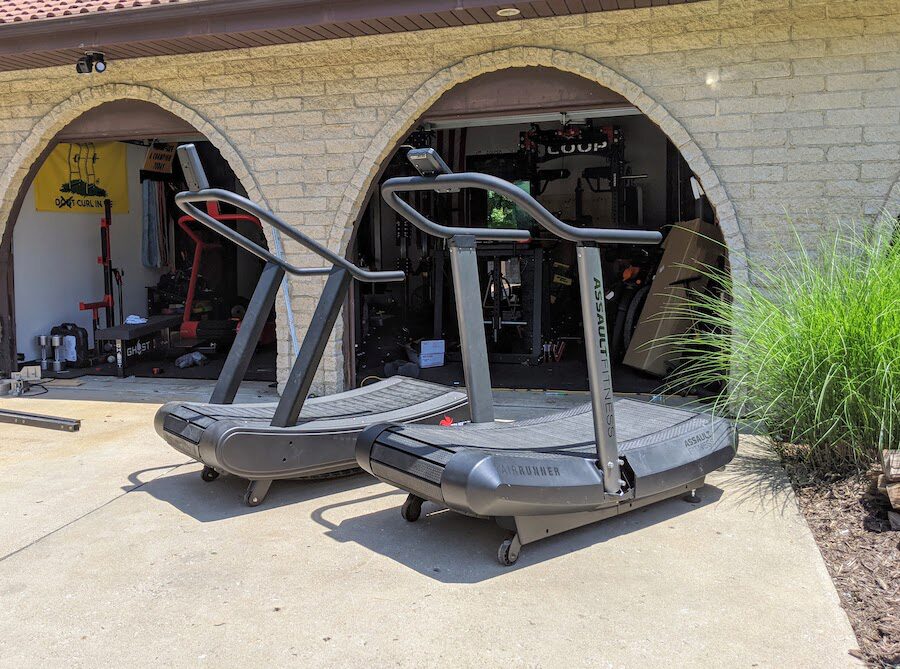 Trainer vs Assault Runner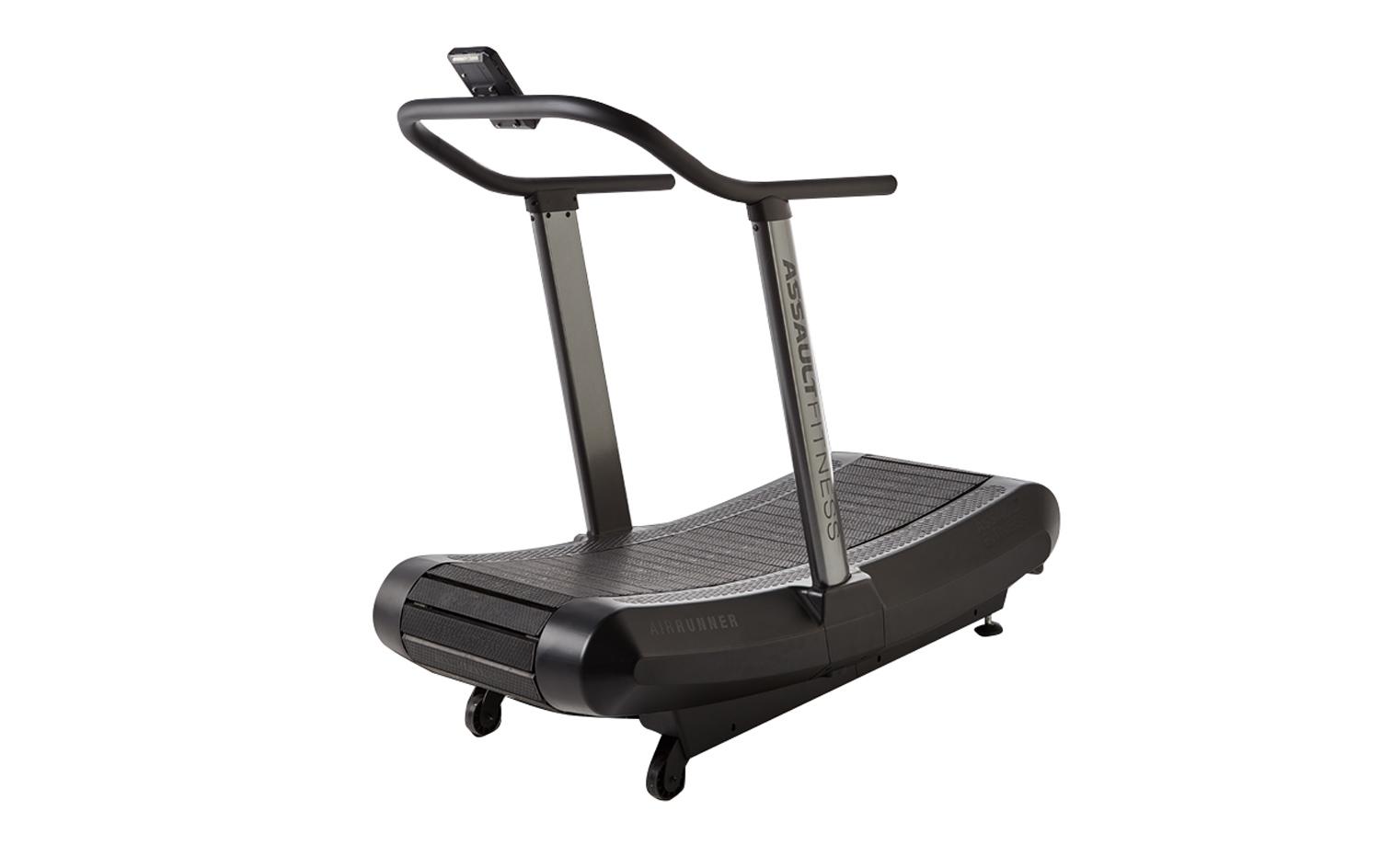 AssaultRunner Pro
The AssaultRunner Pro completely redefines the manual treadmill, offering superior steel construction, dependable stability, and no-limits functionality in a streamlined, energy-efficient design. Few high-performance running machines are as lightweight (280 LBS) and portable (built-in transport wheels) as the AssaultRunner Pro, and its compact footprint makes it adaptable to just about any type of training space. Because it's a motorless treadmill, the AirRunner uses no electricity, running instead on the energy produced by the user's own movement. Whether you're a beginner athlete or a competitor at the highest levels, the machine can instantly conform to your desired speed, even if you change your output randomly at will. There is no maximum speed setting—if you want to push your limits during a workout, the AirRunner will be uniquely up to the task. Assault's precision design includes not only a solid steel frame and handrails, but corrosion resistant hardware and a durable slatted running surface—built with HIIT (high intensity interval training) in mind. The included AirRunner console keeps you informed on your time, calories burned, distance, speed, watts, and pace, with a number of heart-rate and interval programs available. The absence of a drive motor and lift motor also makes this treadmill easier to clean and maintain than many comparable indoor running machines. Specifications Motor-Free Treadmill / Indoor Running Machine Steel Frame & Handrails + Corrosion-resistant Hardware Weight: 280LB / 127KG Built-In Handle and Transport Wheels Digital Console with HIIT and Heart Rate Programs Can be integrated into Queenax™ functional circuit training Uses no Electricity - low carbon foot print For All Skill Levels Color: Black
The other most similar budget curved treadmill model is the Assault Air Runner. The Assault Air Runner took over from TrueForm in being used at the CrossFit Games a few years ago. There's been speculation as to why, but one reason is that many of the top athletes preferred running on the Assault Runner.
Here's the thing, the TrueForm is the best 'practice' treadmill on the market, in my opinion. It's undoubtedly harder to run on. However, that's because it requires you to pull the belt and run with a more POSE Method of running.
The Assault Runner has a heavier belt which causes it to move faster and therefore requires less effort from the runner in terms of focusing on their form.
The Assault Runner is plastic, much like the Trainer, although I prefer the monitor on the Assault model.
The Assault Model is also larger and feels pretty stable underfoot.
Honestly, they're both pretty similar. I would recommend the Assault Runner if you want a curved treadmill that doesn't require you to change your form to go longer distances.
However, if you're trying to get both a good workout and to improve the way you run, then the TrueForm is superior.
Full Rating