We test and review fitness products based on an independent, multi-point methodology. If you use our links to purchase something, we may earn a commission. Read our disclosures.
Since I've started Garage Gym Reviews, I've always been asked questions about the best squat rack or the best dumbbells. More recently, people want to know what manual treadmills to put in their home gyms. Generally speaking, this is a pretty pricey purchase and one that people want to get right.
I decided to compile my top favorites after running, walking, sprinting, and doing HIIT treadmill workouts on quite a few. If you're interested in seeing both my favorite electric treadmills and non-motorized treadmills, check out my best treadmills for a home gym piece. 
More Than A Dozen Manual Treadmills Tested and Reviewed
We take treadmill reviews very seriously here at Garage Gym Reviews, so much so that I and my team have spent more than a day personally running on the manual treadmills you see here and many more that didn't end up making the cut. We do this to give you a first-hand account of how it feels to run on each one, so you have all the information you need before making a purchase.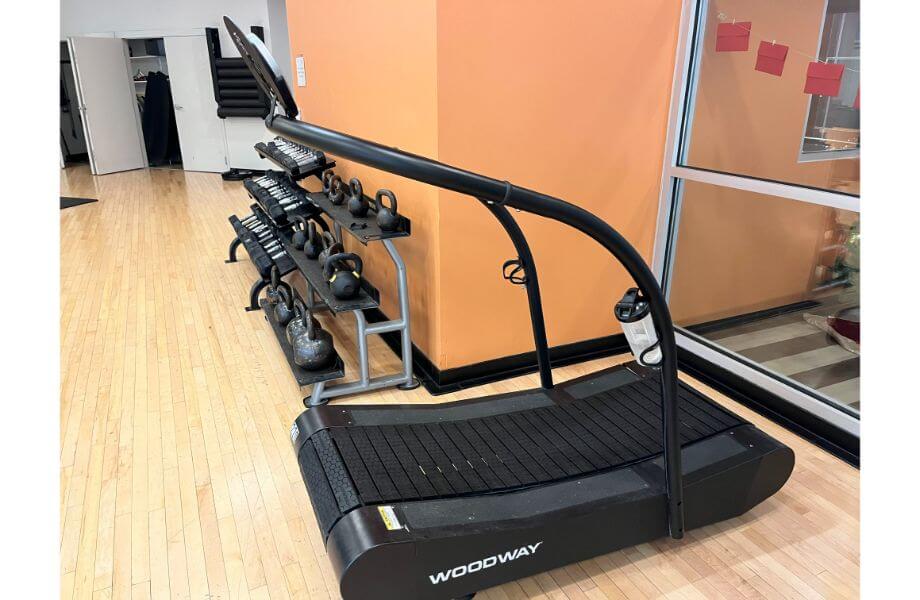 We look at things such as durability, workout programming, noise, resistance, value, and more before deciding which products are the best for what type of people.
Best Manual Treadmills for 2023
Video Review
My Top Pick: AssaultRunner Pro
Good for: Someone looking for a great value manual treadmill that's easy to use
In terms of manual treadmills, the AssaultRunner Pro hits the mark for being a great value. It's no secret that these pieces of cardio equipment can be really pricey, and the AssaultRunner Pro is about $3,000. However, this is on the affordable side of manual treadmills and has a lot to offer.
I'm an especially big fan of the monitor that takes inspiration from the Assault AirBike and includes nine built-in programs the AssaultRunner Pro features. These include quick-start, competition mode, target heart rate, target time, target distance, target calories, custom intervals, 20/10, and 10/20 intervals.
RELATED: Best Exercise Bikes
This manual treadmill is a big hit with me especially because it's versatile – running, walking, and sprinting are all a breeze on the AssaultRunner Pro. If you're someone who likes doing sprinting intervals, you'll probably find that the belt spins quite fast on this treadmill, which makes it ideal for this kind of activity.
The AssaultRunner Pro is a fairly portable motorless treadmill at only 280 pounds. It also has wheels and a handle attached to help you easily move the machine around your garage gym. I was able to move it by myself fairly easily, but you could always grab a friend or family member to help, too.
RELATED: How to move a treadmill
One of the major draws of this machine is the large, 60-inch running surface. This means you can feel confident if you're someone with a bigger stride. Some of the manual treadmills have very short decks, which only make sense for walking because you can't take a full stride. This is a big advantage for anyone interested in improving their jogging, running, or sprinting.
The warranty provided is average – 5 years frame, 3 years parts, and 150,000 miles belt. It isn't the worst, but I think it could be better. However, the more expensive AssaultRunner Elite does have a longer warranty but it comes with an increased price tag.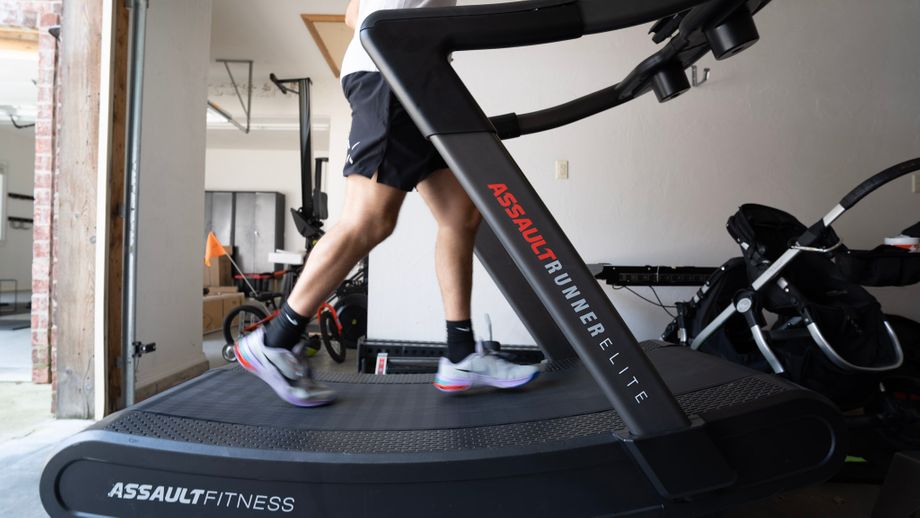 Learn more on my AssaultRunner Pro review.
Best Budget Manual Treadmill: Grit Runner by Tru Grit Fitness
Good for: People who want a curved treadmill for cheaper than most
The Grit Runner by Tru Grit Fitness is one of the most affordable curved manual treadmills on the market. Sold on Walmart.com, this treadmill is right at $2,000 and includes free delivery, which is good considering it is 415 pounds (shipping would be expensive).
RELATED: Best Budget Treadmill
My favorite thing about the Grit Runner is the thick rubber tread. You also get a lifetime belt warranty on this treadmill, which is a huge plus. Plenty of higher-end manual treadmills doesn't have that guarantee so that's nice to see on a budget-friendly option.
I like the Grit Runner for walking and running, but be warned: it is super loud if you try to sprint on it. In fact, it might be the loudest manual treadmill I've ever come across, so keep that in mind. It is also not designed to help you improve your running form like the TrueForm Trainer and Runner.
RELATED: Best Treadmill for Walking
The Grit Runner does include resistance options, which can be seen on higher end treadmills like the TechnoGym SkillMill, although I wish they offered more resistance than what's currently available.
Something I'm not crazy about (but is unsurprising for the price) is the heavy use of plastic everywhere. The machine feels very wide and the shrouds wrap around the transportation wheels, which causes it to hit the ground when moving. I feel like they could have been a little more conservative with their use of plastic.
To learn more, read my TruGrit Runner review.
Best Manual Treadmill for Running: TrueForm Trainer
Good for: People looking to improve their running form
If you're someone who struggles to run with proper mechanics in mind, the TrueForm Trainer might be a good option for you. Due to the structure of the slightly curved deck, you're forced to engage all parts of your body to effectively run. Be warned: if you heel strike, you won't last long on the TrueForm, as it's much more difficult to run this way.
I've included the TrueForm Trainer on this list because it is the more affordable counterpart to the TrueForm Runner. For a commercial setting, the all-metal, made-in-America TrueForm Runner is my suggestion, but most home gyms would be better off with the lower-priced Trainer. There are a few differences between the two, mainly having to do with the construction and warranty.
Speaking in terms of manual treadmills, the TrueForm Trainer is on the lighter side at 270 pounds. This means you can more easily maneuver it around your home gym. I also like that there is a user weight capacity of 400 pounds because it makes the machine a more inclusive choice for different people.
The TrueForm Trainer is made of thick, black plastic. Although I'm not a huge fan of equipment constructed out of plastic, the steel frame is very solid. It uses a welded frame with hundreds of bearings for the belt to ride. I think the plastic will crack over time, but the actual treadmill itself should hold up fine to regular cardio workouts.
Check out my TrueForm Trainer review.
Best Manual Treadmill for Walking: Sunny Health & Fitness Manual Walking Treadmill
Good for: People who want a manual, low-impact cardio option
Some people just prefer walking over running, or can't do the latter due to an injury. No matter, that's what the Sunny Health and Fitness Manual Walking Treadmill is for. Like the other options on our list, this treadmill will go as fast as you go, which may not be too fast due to the 13.5 percent incline.
The incline is a huge plus for us because it provides an extra challenge for users while still allowing them to go at lower speeds than they would on a running treadmill. Incline walking has been shown to increase your metabolism and tone your lower-body muscles.
And for those who are tight on space, this walking treadmill comes with a compact footprint and can be folded. The shorter size means people with longer strides may not be able to use this, but for the average person, it should be just fine.
Our only other complaint about this treadmill is that it has a maximum user weight of 220 pounds and that it only comes with a short three-year warranty (not that you should expect much more from a product that costs under $200, but it's still a little annoying.)
Best Manual Treadmill for Athletes: TrueForm Runner
Good for: Individuals who want a long-lasting manual treadmill
I've said it before and I'll say it again: the TrueForm Runner is essentially bomb-proof. Okay, I haven't actually put that theory to the test but this thing is a dang tank. The TrueForm Runner is made in the USA and has a lifetime warranty on both the frame and tread itself. This makes the nearly $7,000 price tag seem a little more bearable if you know how much the company stands behind the durability of its product.
The reason the TrueForm Runner is our top pick for athletes is due to the ability to customize the running tread, with a turf and a textured surface called Naboso. Of course, these features cost more but we're willing to bet people trying to stay at the top of their game are willing to pay that price.
The 7-gauge steel features careful welds done by people who clearly know what they're doing. At 340 pounds, this machine is not exactly lightweight, but that isn't a surprise because of the all-metal construction. If you were impressed by the max user weight on the TrueForm Trainer, prepare to be blown away by the Runner: It can hold a maximum weight of 500 pounds, which is hitting well above the industry standard of 300 pounds.
I own both the traditional black-on-black TrueForm Trainer as well as a powder-coated red version with black turf. I like that you have the option to customize your colors for both the tread and the body to match your gym's aesthetic. Of course, this costs extra money, but if you're already willing to spend $7,000 on a manual treadmill, the extra couple hundred probably won't matter much to you. The options for the body are white, black, or custom. You can also pick different tread materials – rubber, turf, running track, or Naboso surface. 
Just like the TrueForm Trainer, the Runner has a slightly curved design to force you to run correctly. While some people complain about it being too difficult to use, I like that it makes me correct my form. Who wants to run poorly and strain muscles or cause joint strain for no reason? Not me.
I honestly have very little bad to say about the TrueForm Runner. However, I do wish the monitor was upgraded. In today's landscape where companies like Peloton and NordicTrack are strapping massive monitors to treadmills, I think TrueForm would do well to improve this part of their treadmills.
RELATED: Peloton Alternatives
I've actually been a proud owner of the TrueForm Runner for over three years and it has never once needed any maintenance, which is genuinely shocking considering I had one in my training studio. TrueForm was absolutely not playing when they made this bad boy. If you can afford it, I definitely recommend it.
Read my full TrueForm Runner review.
Best Basic Manual Treadmill: Xebex Runner Smart Connect
Good for: Those who want a simple manual treadmill
If you're someone who likes the idea of owning a manual treadmill but still wants to be able to utilize programming and apps, the Xebex Runner Smart Connect might be for you. The just under $4,000 machine is Bluetooth-compatible with apps like Kinomap, Zwift, PerfPRO Studio, Selfloops Group Training, and GymTrakr. 
The console attached to the Xebex is one of the better ones I've personally seen with a manual treadmill. You can set event mode to use the treadmill for timed competitions or even view one of eight different performance metrics after a workout. I was actually pretty impressed with the functionality.
I've had this manual treadmill for a few years, and it has required very little in the way of maintenance. The warranty for the treadmill is also pretty decent, so I feel pretty confident about the overall durability and longevity.
Something I'm not crazy about – the spin of the belt is really quick and doesn't exactly make me feel like I'm simulating real running conditions. This is fine if you're into overspeed training, but if you're not, the belt may move too quickly for your taste. The quick spin of the belt combined with light resistance makes this manual treadmill move really fast real quickly. 
How We Tested the Manual Treadmills
When testing a manual treadmill, I make sure to try the machine out with a variety of the best treadmill workouts – sprinting intervals, endurance runs, farmer's carries, and power walking. It's important for me to try a variety of different workouts with each treadmill since the shape and belt can have an effect on one's stride. I also analyze things like warranty, materials used, dimensions, cost, and assembly in order to get the full picture of each manual treadmill.
Be sure to check out our guide to help you fix your treadmill here.
What is a Manual Treadmill
A manual treadmill is a piece of cardio equipment where the tread is powered by the runners' stride instead of electricity. Unlike the treadmills most people are used to, they have no motor, but the advantage to that is you basically get unlimited speed. The belt will move as fast as you do.
Benefits of Using Manual Treadmills
Wondering why you should take the plunge and purchase a manual treadmill? Here are a few of my top reasons:
Less maintenance than a motorized treadmill 
Can help you correct improper running form
User-controlled which means you won't reach a level your manual treadmill can't handle
Simple to use
No electricity required
RELATED: Treadmill Benefits
How to Choose the Best Manual Treadmill for Your Home Gym
Materials
Some manual treadmills are constructed using heavy-duty steel while others are made with plastic to save on costs for the consumer. You'll have to decide what you prefer plus consider the durability factor.
Features
Is it important to you to have programs available on the monitor? Do you have to have a phone or water bottle holder? Does the manual treadmill have to be able to be transported or folded? Do you care if the treadmill has an LCD monitor? These are all questions to ask yourself when choosing a manual treadmill.
Size
This is probably obvious, but don't choose a manual treadmill that is too large for your space. I would suggest carefully measuring the area you plan to put this piece of cardio equipment before checking out the options I've mentioned. This will help you know which will fit in your space and which will not. You can also consider some of the foldable options I've put at the bottom of this piece but be warned: they are far less sturdy and durable than their heavier, non-foldable counterparts.
Budget
As much as I'm sure we all wish we could blow $10,000 on a manual treadmill without so much as batting an eye, this just isn't realistic for most of us. You'll need to consider your budget or even watch out for sales during periods such as Memorial Day, Labor Day, and Black Friday. I also recommend checking on our site as GGR often posts coupon codes for readers to save on their home gym equipment.
Stability
You'll want to make sure the treadmill stays steady as you start to get into a stride.
RELATED: Garage Gym Reviews Deals page
Frequently Asked Questions About Manual Treadmills
Is a manual treadmill good for walking?
Yep, almost any manual treadmill on the market is suitable for walking regardless of flywheel speed or magnetic tension levels.
Which manual treadmill is best?
My personal pick for the best manual treadmill is the AssaultRunner Pro. However, I'd recommend taking a look at my guide on how to find the best manual treadmill for your home gym. Everyone is looking for something different and it's important to keep your own needs in mind when making a decision.
Are manual treadmills quiet?
This is a subjective question but if you're walking on a non-motorized treadmill, it is pretty quiet. However, if you're sprinting, the treadmill will definitely make noise, which should be expected.
What is the cost of a manual treadmill?
Manual treadmills can vary greatly in cost depending on the shape, size, deck dimensions, monitor, and spin rate. Non-motorized treadmills are a category of gym equipment that I believe you (generally speaking) pay for what you get. They can range from $200 all the way to almost $10,000. I'm not saying you should or need to spend that much money on a manual treadmill, but you won't get the type of quality with an Amazon manual treadmill that you might with an Assault Fitness option.
Do manual treadmills have incline levels?
Generally speaking, you won't find different levels of incline on a manual treadmill. If the running deck is flat, you can sometimes manually change the incline. Manual treadmills that are curved do not have different incline positions. However, some manual treadmills like the Grit Runner do have adjustable resistance settings.
Are manual treadmills more effective than electric treadmills?
As always, it depends on what you mean by "more effective." Manual treadmills are more effective at teaching proper running form because they're designed for that purpose. An electric treadmill might be more effective for running faster since it's powered by an electric motor, rather than by the user.
The Competition
There aren't as many manual treadmills on the market as you might be used to seeing with motorized treadmills. We've been on some of the treadmills listed below but not all of them, and we are giving our opinion based on research. Here's a look at some others of note based on different categories:
Foldable Manual Treadmills
EFITMENT Adjustable Incline Magnetic Manual Treadmill: In terms of folding treadmills, the deck of this one is slightly larger than others but still does allow for easy storage. However, with a weight limit of 220 pounds, this is well below the industry standard of 330 pounds. It does have different incline adjustment options.
Fitness Reality TR3000 Maximum Weight Capacity Manual Treadmill: This foldable manual treadmill is under $300 and features a primitive-looking LCD screen and eight levels of magnetic resistance. The portability aspect of this treadmill is appealing and it does have a natural incline. There are two basic-looking handrails on the side.
Curved Manual Treadmills
Woodway Curve: For those looking to improve their sprinting, this manual treadmill provides stellar overspeed training for almost $6,000. The handlebars on this treadmill are curved to form a semi-circle. 
Technogym Skillmill Curve: If you're willing to pay just over $9,500, this curved manual treadmill is great. It has multi-drive technology (plus compatible accessories) that allows you to do both pushing and pulling motions. However, that's insanely pricey for home use in my opinion.
Flat-Belt Manual Treadmills
HiTrainer ATP+ Non-Motorized Treadmill: Calling professional and college athletes: this almost $8,000 flat-belt manual treadmill aims to make you more explosive. It has a lot of cool data to help you improve acceleration but that comes with a hefty price tag.
ProGear 190 Manual Treadmill: If you're someone looking for a manual treadmill to simply walk on, this might be a good option for you. It is budget friendly at around $200 but it cannot withstand jogging or running.
Sunny Health & Fitness Asuna High-Performance Manual Treadmill with Heavy Duty Dual Flywheels: This treadmill has a manual incline in order to give you a full body workout. The max weight it can support is 440 lb, which is above the industry standard.
Hybrid Manual Treadmill
NordicTrack Commercial X22i: This treadmill has an electric motor but can also be switched to manual mode. I like that sled grips and a push bar are included. This is a good option for people who want to stick their big toe into the world of manual treadmills. There are incline options on this hybrid treadmill that can force your full body to get involved in your workout. If you're interested in this unique treadmill, it is worth noting that you should not store this in your garage – you won't be able to use your warranty if you do.