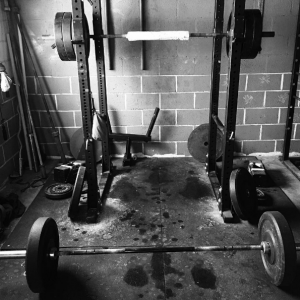 There are a few caveats that must be made before I go into more detail on Jocko's Garage Gym.
First off, all of these photos were taken from his Instagram that you can find here. If you're looking for motivation and enjoy grungy black and white photos, he's a great account to follow.
It must also be said that I have yet to see a photo of his entire garage gym. He likes to post bits and pieces of the gym, usually relating to the movement he did that day, but you still get a great sense of what he has and how he uses it.
I'm going to detail the equipment he has, at least according to his Instagram as well as some movements he seems to do most often.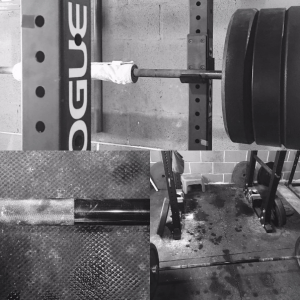 The centerpiece of his gym and just about everybody's gym is the almighty power rack.
Seriously, what can't you do in a power rack?
From Jocko's pictures, it seems pretty obvious that he uses this bad boy quite a bit. Which, is probably because he understands that when you're trying to get stronger, the answer is pretty much just to squat more.
The Rogue RML-390F is a flat foot power rack meaning that it doesn't have to be bolted to the ground. They're pretty stable and if you have some heavy dumbbells like Jocko does, you can use them to hold down the rack while doing pull-ups, muscle-ups, and other bar work. (And yes, Jocko does do kipping pull-ups.)
As with anything from Rogue Fitness, the RML-390F is heavily powder coated and offered in the only color that should be offered, black. It's made to take a beating and
It's made to take any beating that either you or a 200+ lb Navy Seal can throw at it.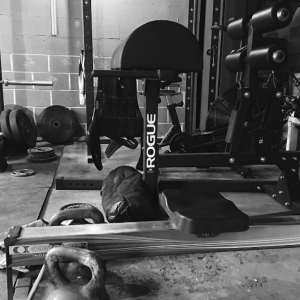 The Rogue Abram GHD 2.0 is, in my opinion, the best GHD for the money available today.
In fact, I like it so much it's actually the one I have and use in my garage gym.
Utilizing the same 2x3 steel used on their power racks along with heavy-duty padding and easy adjustments, you can't go wrong. This GHD is so overbuilt it weighs just under 250 lbs.
Many people scoff at the idea of having a GHD in a small space, but outside of the power rack, the GHD is about as versatile of a piece of equipment as they come.
You can use it for:
GHD Situps
Glute Ham Raises
Back Extensions
Leg Extensions
Reverse Hypers
And a whole lot of other goodness.
Don't neglect the GHD, Jocko doesn't.
Kettlebells and Steel Clubs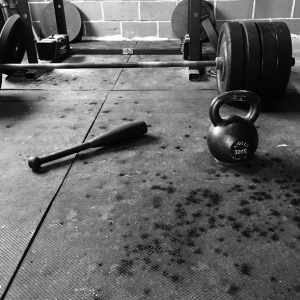 Being able to hinge in the hips and explode with power is one of the most transferrable movements a human can make.
One way to increase your power in this area is using kettlebells.
I once offered my Instagram followers a question on what three pieces of training equipment they would want if they were stuck on an island. One of my three was a 53 lb. kettlebell.
There's just so much you can do with them.
The other item that shows up quite a bit on Jocko's Instagram is the steel club from Onnit.
Although I have only a little bit of experience in using steel clubs, there are many who swear by their effectiveness. Rather than traditional lifting in which you train in a straight line, think the bench press or squat. With steel clubs, you move dynamically allowing you to transfer power in all directions.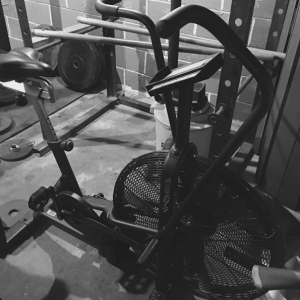 "Devils Tricycle" is the name I've given my air bikes.
They are without a doubt the most hellacious piece of conditioning equipment I've ever used and one of the main reasons is because there is no break.
The Assault Air Bike is a great bike, however, there's also a cheaper, just as capable bike in the Get RXd Xebex Air Bike that I've reviewed and use weekly.
Whichever way you go, no matter the brand, if you put the effort into the bike, it will in return give you lots and lots of fitness. Also, it will make your mind stronger, and that's just as important in training as making your muscles stronger.
For me, I like to do Tabata's on the bike as well as 30 seconds on, 30 seconds off intervals. No matter which way you slice it, though,  if you're using it for anything other than hanging clothes on, you're going to be in pain.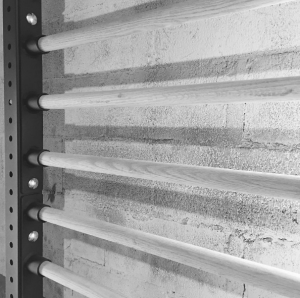 Stall bars have started to become more and more popular as bodyweight training comes into the spotlight that it should be in.
I've built stall bars and find them to be a very useful training tool. You can use them for both strength as well as flexibility training.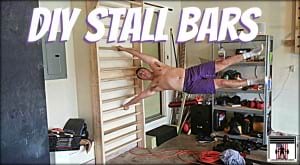 The Stall Bars Jocko uses are made by Rogue and if you'd rather not build your own, they're definitely the ones I would suggest.
They're essentially the 3x3 Monster Lite uprights used in their squat stands with places for wooden dowels to be held.
The majority of training I would imagine Jocko uses them for is pull-ups, situps, leg raises, and flexibility training.
Bodyweight Training Equipment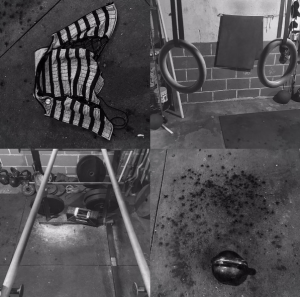 Jocko does a lot of bodyweight training.
As talked about in his podcast, Jocko prioritizes pull up and dip bars above every other piece of training equipment. Pull-ups and dips can build a strong upper-body, and you don't really need much else.
As with most likely any Navy Seal, going into the pain cave is probably his specialty. Bodyweight training allows you to push for a very long time without having to worry about the technicalities of lifts like the clean and jerk or snatch. It's one of the reasons I throw in so many bodyweight movements for metcons into my training.
I like to feel pain, and I'm pretty sure Jocko does too.
If you really want to make things painful, throw on a weight vest and do the movements as if you weigh 20 lbs heavier.
Rogue Ohio Barbell & Bumper Plates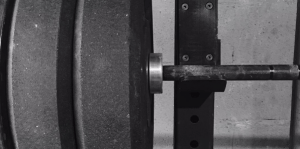 A good barbell and plates are essential to any garage gym.
You don't want to choose just any barbell, and with a number of options, it can be pretty daunting when trying to decide which bar to purchase.
If you'd like some help in this, you can find my barbell guide here.
The Rogue Ohio Bar is a bar I personally use and overall is one of my favorites. Not only can it perform in all movements, but it also comes with a lifetime warranty.
Jocko uses crumb rubber bumpers which are most likely Hi-Temps or made by Hi-Temp and rebranded. They take a lot of space up on the bar, BUT they will last just about as long as you will.
Dumbbells not only take up a lot of space, but they're also expensive.
They're a necessary evil, however. Thankfully, Powerblock Dumbbells (which I've reviewed here) are neither overly expensive or take up a lot of space.
They can be easily adjusted and are surprisingly very durable.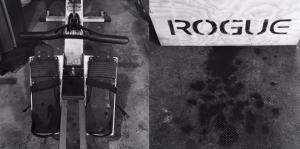 The final piece of equipment that I've noticed Jocko uses is the Concept 2 Rower.
The Concept 2 Rower is synonymous with garage gyms because they take up little space and can give you one of the best full body conditioning workouts available.
Jocko has stated in his podcast that he's had a rower for a long time and sees it as one of the best conditioning tools available.
I agree wholeheartedly.