We test and review fitness products based on an independent, multi-point methodology. If you use our links to purchase something, we may earn a commission. Read our disclosures.
Finding the perfect gift for a CrossFitter is hard. CrossFitters are picky about their gear, their clothes, and their shoes—that's why I'm bringing you this guide to the best gifts for CrossFitters as a CrossFit Level 1 coach and longtime CrossFit enthusiast. By the end of it, you'll have plenty of birthday and holiday gift ideas for the functional fitness fanatic in your life.
Best Budget Gifts for CrossFitters
Best Splurge Gifts for CrossFitters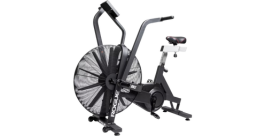 Best Air Bike
Rogue Echo Bike
A CrossFitter might actually hate it if you give them a Rogue Echo Bike, which is exactly why you should do it if you have that kind of cash. They probably (almost definitely) need to work on that cardio fitness.
Check Price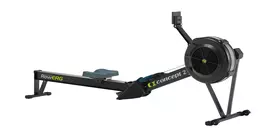 Best Rowing Machine
Concept2 RowErg
How to impress a CrossFitter 101: Know that Concept2 rowers are the standard and that fancy Peloton rower doesn't mean jack to a CrossFit athlete. The Concept2 RowErg is the gift that keeps on giving (by improving fitness, of course).
Check Price
Best Squat Rack
REP PR-4000 Squat Rack
The REP PR-4000 Squat Rack has everything a CrossFitter needs for CrossFitting: a 1,000-pound weight capacity for a monstrous back squat PR, a pull-up bar, and plenty of attachments for a dip station or other accessories.
Check Price
Best Apparel Gifts for CrossFitters
Best Home Gym Gifts for CrossFitters
Best Accessory Gifts for CrossFitters
Best Tech Gifts for CrossFitters
Best Fitness Tracker
Whoop Strap 4.0
For the data-obsessed CrossFitter, a Whoop Strap is the gift of a lifetime. This wearable fitness tracker records effort, recovery, sleep, stress, heart rate, and a number of other variables to help dial in training programs and nutrition strategies.
Check Price
Best Massage Gun
Theragun Prime
CrossFitters aren't exactly known for taking recovery seriously. But the Theragun Prime makes muscle recovery easy: This handheld massage gun operates at a maximum of 2,400 percussions per minute with a total of five speed settings. It reaches 16 millimeters into muscle tissue, making it much like a deep-tissue massage.
Check Price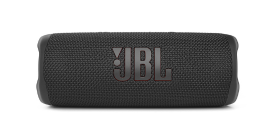 Best Gym Speaker
JBL Flip 6 Speaker
For those who work out in a home gym, a gym speaker is a must. This portable JBL speaker is powerful for its small size, and it can easily be taken from the home gym to the beach or anywhere else. It's waterproof, too, so no worries about slinging sweat around.
Check Price
Best Programming Gifts for CrossFitters
Quick Workouts
Street Parking Membership
Street Parking programming has been a longtime favorite among CrossFitters who work out at home. It offers several tracks for different goals and equipment availability, and the workouts are an hour or less, so it's great for busy people.
Check Price
Comprehensive Programming
NCFIT Membership
NCFIT was created by Jason Khalipa, former CrossFit Games athlete. The programming features CrossFit and bodybuilding tracks, and each workout includes a warm-up, cool-down, instructional videos, and strategizing tips.
Check Price
Best for Cardio
Aerobic Capacity Program by Chris Hinshaw
Chris Hinshaw is a CrossFit legend. This is the man you want to follow if you want to increase your cardiovascular fitness, and that's something a lot of CrossFitters could use help with. A full-access membership gets you access to five Aerobic Capacity programs, private coaching videos from Hinshaw himself, more than 500 workouts, and other perks.
Check Price
Best Nutrition Gifts for CrossFitters
Other Gift Ideas for CrossFitters
We've spent years compiling guides to the best strength equipment, cardio equipment, sports nutrition supplements, workout apparel, and accessories. If none of the above gifts for CrossFitters struck a chord with you, check out our other guides to various equipment types.
What to Look for in Gifts for CrossFitters
There are a few key categories to search in when looking for CrossFit gift ideas.
Equipment Gifts
An equipment gift can be extremely helpful if the recipient is building out a home gym or occasionally works out somewhere other than their usual box. While I'm sure anyone would appreciate a Rogue Echo Bike or a REP PR-4000 squat rack, equipment gifts don't have to be so expensive. A set of resistance bands or a medicine ball can go a long way, too.
Apparel Gifts
CrossFitters need (want) more clothes, always. Sports bras, booty shorts, and tank tops are great ideas for those who identify as ladies, while t-shirts, muscle tanks, and board short-like training shorts are great for those who wear male clothing. Socks and training shoes are always a great choice, too.
Supplement Gifts
Most CrossFit athletes would love a tub of protein or creatine powder as a gift. Supplements can be really helpful for improving performance and building muscle, which, of course, is a goal for the majority of CrossFitters. These are good fitness gifts in general, for CrossFit athletes but also powerlifters and Olympic weightlifting enthusiasts
Accessory Gifts
CrossFit accessories include things like barbell collars, weightlifting belts, weighted vests, sunglasses, hats, headbands, lifting straps, grips, and wrist wraps. All of these items can help with performance in various ways and are some of the best crossfit gifts.
Fun Gifts
A small, fun gift like bumper plate coasters or a knurled bottle opener is sure to leave a long-lasting positive impression on a CrossFitter.
FAQs: Best Gifts for CrossFitters
To wrap up, here are some FAQs about CrossFit and related equipment and accessories.
What do I need to buy for CrossFit?
The minimum you need for a CrossFit workout is a good pair of shoes, socks, clothes to train in, and a water bottle with water. There are plenty of bodyweight workouts you can do. However, a comprehensive CrossFit setup would include gym equipment like a barbell, bumper plates, dumbbells, kettlebells, medicine balls, pull-up bar, gymnastics rings, and a GHD, along with accessories. 
What do you get someone who goes to the gym?
People who work out appreciate fitness-oriented gifts. It can be something functional, like a pair of training socks, or something fun, like a set of bumper plate-themed drink coasters. Supplements and apparel are also good options.
RELATED: Best Gifts for Weightlifters
Are CrossFitters really the fittest? 
CrossFitters are very versatile, let's put it that way. Elite CrossFitters are definitely some of the most fit people on the planet, regardless of your definition of "fit." But in general, a CrossFit athlete, even a very good one, won't perform better than a specialist in that specialist's sport. For instance, an experienced CrossFitter could perform a triathlon and finish with pretty good time—but they're not going to beat triathletes who have spent years training for that specific event. It's all about what "fit" means to you.