We test and review fitness products based on an independent, multi-point methodology. If you use our links to purchase something, we may earn a commission. Read our disclosures.
After researching 30 air bikes, using 20 of them, and legitimately testing more than a dozen, we've determined that the Rogue Echo Bike is the best overall air bike on the market today. It also happens to be the official air bike of the CrossFit Games, making it a great choice for most home gym owners or even commercial gyms.
But we know that many of you have different training goals, or just desire something different in a piece of home gym equipment than what the Echo offers.
Factoring in price, warranty, performance, durability, and ease of use, we've compiled a list of what we consider to be the best air bikes for those on a budget, those who are a little shorter than most, and more.
And if you're looking for something a little different, we've also compiled our list of the best exercise bikes for home gyms, which includes options for those seeking a folding exercise bike, those on a budget, and people looking for a Peloton alternative. Spoiler alert: You'll see the Rogue Echo Bike on that list, too.
We Know Air Bikes
Air bikes aren't like most exercise bikes, and are most commonly used in the CrossFit community. Luckily, we have CrossFit coaches and competitors on the Garage Gym Reviews team to lend their expertise to these reviews so we can truly recommend the best options out there.
The Best Air Bikes
Best Air Bike Overall: Rogue Echo
Good for: CrossFitters, or anyone else who wants a heavy-duty air bike
The Rogue Echo Bike is by far one of the best pieces of home gym equipment Rogue Fitness has ever released. Not only are home gyms across the country filled with the black powder-coated, belt-driven monster, but so are CrossFit affiliates, which makes sense since this is the official air bike of the CrossFit Games. That makes this bike worthy of a second honor: Best Air Bike for CrossFit.
The Echo Bike had quite a bit of hype when it was released in 2017, but to be honest, the ease of use, quality, durability, and other features exceeded all of our expectations for it.
Surprisingly, the Echo Bike is the first piece of conditioning equipment that Rogue Fitness has made. I say surprisingly for a couple of reasons.
It's that good
They're the largest strength and conditioning manufacturer in the world
The Rogue Echo Bike has remained one of the best air bikes at any price, and there's a reason it's our top pick. Despite it being as good as it is, it's also one of the most affordable bikes available among the top-of-the-line options.
Since its release, nearly every other air bike has dropped in price to compete with the Echo Bike. When the Rogue Echo Air Bike was released in 2017, Coop wrote the following: "Unfortunately for the manufacturers, the Echo Bike will force greater innovation, dedication to quality control, and tighter profit margins."
That statement couldn't be more true.
Although the Rogue Echo Bike will be most often compared to the Assault AirBike Classic, it's actually more comparable to the Schwinn Airdyne AD7.
We're big fans of the Schwinn Airdyne, and in fact, view it and the Echo Bike as very similar bikes with only minor differences. That said, we believe the Rogue wins out mainly based on its price and customer service/warranty.
With so many air bikes available today, it's clear what makes this the winner—stability, low maintenance, and quick responsiveness via a belt drive, an easy-to-use monitor, and multiple adjustment options to dial in the bike for different heights. The Echo Bike exceeds in all of these areas and although there are competitors to the throne, there are none that top it.
Every part on the Echo Bike is beefy. From the footpegs that feature knurling for grip and spin for effect, to the fan blades that are pieces of formed aluminum (compared to the plastic found on most other bikes). Yes, it's oversized, but not dramatically so when put side-by-side with other bikes.
It can also look intimidating to a certain type of person. Coop put the bike in his personal training gym and found that most people stayed away from it. After asking why, the most consistent reply was, "it just looks harder than the other bikes."
We have now been able to use the Echo Bike both in the garage gym and at our personal training facility for several years. Despite all of the varied use, it still looks and performs like it did on Day One. We have yet to do any maintenance (something that can't be said for the chain-driven bikes we've used).
We're actually surprised companies like Assault Fitness haven't tried to redo all of their bikes to compete, as chain-drive bikes feel like such archaic technology at this point (Assault did release the Elite, which utilizes a belt drive system).
The Rogue Echo Bike is the best air bike for most people currently on the market. There has been some competition, including the Fringe Sport Raptor Air Bike, but that bike now costs $100 more than the Echo so we're sticking with it.
Read our in-depth Rogue Echo Bike review to learn more.
Best Budget Air Bike: Titan Fan Bike
Good for: People who want a good air bike without spending too much money
At less than $650, the Titan Fan Bike is the best budget air bike we recommend. To be clear, that doesn't mean it's the most budget-friendly air bike out there and there are some that are cheaper. But those bikes either look cheap, or are made with materials that will break in a couple of years.
As Titan Fitness does with most of its products, they were able to create an air bike that looks good and is durable. The frame and most of the components are made with heavy-duty steel, so it will remain stable and in good condition no matter how much you use it.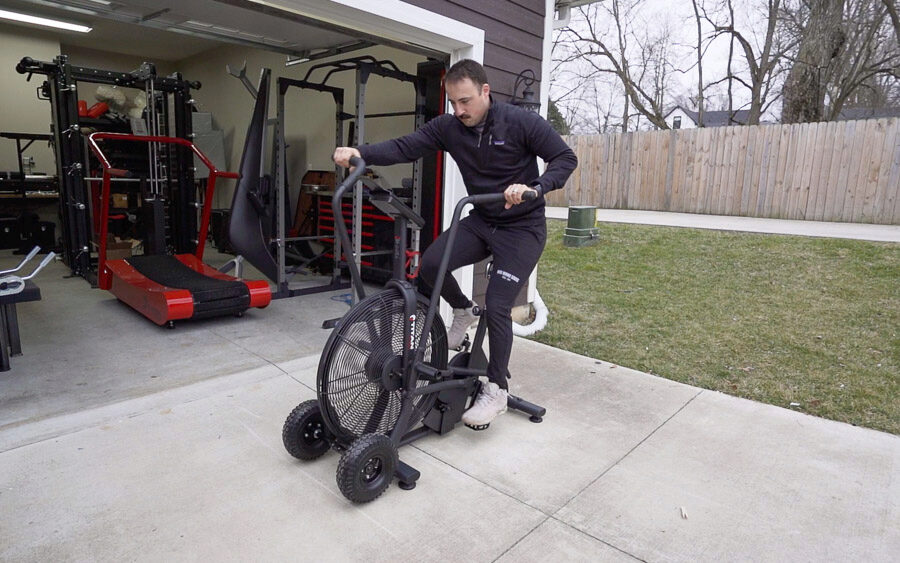 And for a budget bike, it also comes with a fair amount of extras including a removable fan guard, and a water bottle and cell phone holder. These are conveniences you have to pay extra for on the Rogue Echo Bike.
That's not to say Titan didn't cut costs to bring the cost of this bike down. For one, it uses a chain drive system, which is going to require a lot of maintenance and will create a lot of noise. The LCD console is also incredibly basic and only has basic functions, like start and stop (it will keep track of all necessary metrics).
But if you want to get your heart rate up through exercise rather than sticker shock, then you can't really can't do much better than this bike.
To find out more, read our in-depth Titan Fan Bike review.
Best Value Air Bike: Bells of Steel Blitz Air Bike 2.0
Good for: Those who want to get the most bang for their buck
Compared to typical exercise bikes, air bikes simply don't come cheap. Most are priced between $700 and $1,000, and those on the more affordable end of the spectrum tend to make sacrifices.
That is not the case with the Bells of Steel Blitz Air Bike 2.0. We love that for $800, you get a lot of the higher-end features you'd find on a more expensive bike: a belt-drive system, wind guard, knurled foot pegs, and a high weight capacity of 350 pounds.
We put the Blitz to the test, as Coop used it repeatedly for HIIT workouts, recovery rides, and more.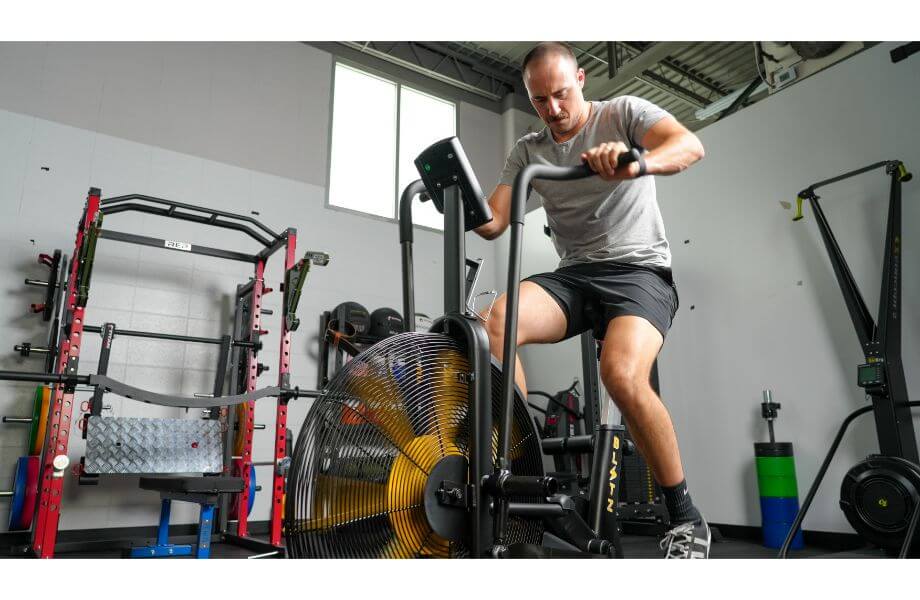 "The Blitz Air Bike 2.0 is one of the cheapest belt-drive air bikes I've ever tried," Coop said. "I love that belt-drive air bikes require far less maintenance than chain drive bikes."
The front and the back of the bike feature 23-inch feet, which provide exceptional stability during hard sprints. We found the Blitz to be extremely well constructed, as it uses almost entirely steel. This also means that it weighs about 118 pounds. There are transport wheels on the front of the bike, similar to what you find on the AssaultBike, so it is possible to move this machine around rather easily.
The seat has 10 adjustable positions, moving vertically and horizontally to accommodate people of a wide range of heights. And the monitor is pretty typical of an air bike monitor: There are some built-in workouts (like a Tabata and targeted time or distance).
What would we change? We're suckers for big turf tires on air bikes, so that would be a great upgrade (and an increase in price, no doubt). Bells of Steel claims the seat to be ergonomic and comfortable; we found it to be pretty run-of-the-mill.
For more, check out our in-depth Bells of Steel Blitz Air Bike 2.0 review.
Best Air Bike for Beginners: AssaultBike Classic
Good for: Shorter athletes looking for a comfortable ride
The AssaultBike Classic is smaller than most air bikes, only 50 inches in height and length. The Rogue Echo Bike is 53 inches in height, and while that may not seem like a lot more, there's actually an entire Reddit thread where shorter athletes sing the praises of the AssaultBike's compact footprint.
The users find it easier to reach the pedals, compared to other air bikes, and it features an easily adjustable and comfortable seat that can accommodate those of short and tall statures.
Some people say reaching the grip handles on the AssaultBike is still a struggle.
In terms of functionality, the AssaultBike is quite good. The real issue is that a very similar bike (except for the monitor) can be had at a lower price (see Titan Fan Bike). This said, the AssaultBike does have one of our favorite monitors and overall, has a good build.
The Assault Bike is based on an all-metal frame designed to take whatever an athlete can throw at it. It's like the Airdynes of old, but with upgraded materials and is quite stable for its small footprint. A smaller footprint, though, means you will experience more wobbling during heavy pedaling.
The frame of the Assault Bike uses rounded square tubing that allows the bike to be stiff enough for high power work, but light enough to move the bike around.
RELATED: Rogue Echo Bike vs Assault Air Bike review
The handles have a rubber grip that takes chalk well and is firm enough to keep a steady grip. One advantage of this style of handle is that it's quite rigid and remains out-of-the-way of your knees. You can torque them somewhat at the beginning of an interval if you're pushing a lot of wattages, but I haven't noticed much of any issue.
The fan is oversized compared to some of the original Airdynes, but uses the same bike-spoke fan blades that have been around for decades.
Although the outer components of the AssaultBike are all upgraded from the original Airdynes, the use of a chain drive, aka the part that most people had issues with, remains the same.
Chain drives are notorious for needing lots of maintenance and also making excess noise. The AssaultBike is louder, requires more maintenance, and is less responsive than something like the Echo Bike or even the Schwinn Airdyne AD7. Going from the AssaultBike to Schwinn is like driving a gas vehicle before hopping into a Tesla. They both get the job done, but one is undoubtedly a better experience.
Although the chain-driven system is less than ideal, the monitor on the AssaultBike is a standout feature. Every metric you would like to see as well as ways to run intervals quickly are a button away on the Assault monitor. If you wish to do long, slower sessions, or even interval training, there's also a place for your phone.
Learn more on our Assault Bike review.
Quietest Air Bike: Schwinn Airdyne AD7
Good for: Anyone who wants an air bike that doesn't make a lot of noise
Although we've had a lot of beef with Schwinn Airdynes in the past (I've owned three of them), the AD Pro impressed us and is easily the best iteration of the air bike. And if you're looking for an air bike that won't disrupt your partner or roommate, you can't do much better than this one.
We're usually not fans of plastic in home gym equipment, but in this case it's a plus because plastic is much quieter than metal, which is what most air bikes are made of. When it comes to a machine that already produces the decibels that air bikes are known for, the last thing you need is more noise. So, the basic makeup of the bike is metal and plastic, with the majority being aluminum and steel.
The trade-off, though, is that it's not nearly as durable as metal.
The Airdyne AD7 was also the first air bike that featured a belt drive system. Rather than using your typical link chain, the bike uses a heavy-duty rubber belt often seen in cars. This allows for a few things:
Fewer adjustments needed to be made over the lifetime of the bike
More responsive ride
Much quieter and smooth ride
The belt drive system requires far less maintenance, but it also reduces noise dramatically. The only real sound you hear is the one produced by the blades on the steel fan battling against the wind. Starting the bike is smooth and quick, as is coming to a stop for things like movement changes or intervals.
The longer frame keeps the bike from rocking back and forth when you're starting. It also seems like the weight is more evenly distributed on the frame, which helps combat the side-to-side rocking that anyone who's spent much time on an air bike has noticed.
The Schwinn Airdyne also boasts the best monitor on any air bike we tested. Second place was the AssaultBike with its many presets, but it still left some improvements to be desired.
The main difference between the two were the size and brightness of the AD Pro's screen being easier on the eyes (especially while sweating), and additional metrics at the top.
The top of the monitor features dials very similar to what you would find on a car. It seemed excessive at first until you do a workout that you're pacing, and the ability to see your current RPM is beneficial. If you're a person who loves data, this monitor is the one for you.
It also tracks heart rate, connects to your monitor very quickly, and you can track your effort based on heart rate zones.
Finally, the bike is, to put it simply, really well-built. The pedals are actual metal pedals and not plastic. The rubber grips are heavy-duty and, unlike foam, take chalk extraordinarily well. There are just so many little things you start to discover as you go through the bike that show Schwinn really went back to the drawing board on this bike.
The Schwinn Airdyne AD7, when released, was nothing like its predecessors. While Schwinn has been making air bikes longer than anyone else (the first Airdyne bike was introduced in 1978), the Airdyne AD7 was Schwinn's first air bike designed for true fitness and commercial applications.
For more, check out our full Schwinn AD7 review.
Best Air Bike Without Arms: Concept2 BikeErg
Good for: Anyone looking for a unique air bike experience.
The Concept2 BikeErg is the best fan bike without arms, and to be honest, is one of the only available. That said, Concept2, as with all of their machines, has created something that is not only effective but will be as durable as a bike could possibly be.
First off, the BikeErg is not a typical air bike, which is immediately evident when you realize there are no handles. However, despite it being different from the typical air bikes we see, that does not mean it's any less effective.
The goal of the original air bike design (the Schwinn Airdyne) is to provide both a stimulus to the upper body and lower body. One thing that is often overlooked, however, is the fact that in reality, the majority of users spend most of their effort pushing the pedals instead of the arms.
So, although there are arms available with all of the air bikes in this guide, that doesn't mean the workout is more "total-body" or "harder" for most people.
The Concept2 BikeErg does use air resistance, but it has an entirely different feeling from the air-resisted Airdyne and Assault Bikes. One thing that Concept2 has that traditional air bikes cannot touch is a damper, the same thing that provides either more or less airflow on the Concept2 Rowers and SkiErgs. Although the damper plays a significant role in the Rower and SkiErg, neither can compare to the importance of the damper on the BikeErg. I say this because the damper can take the BikeErg from feeling like an Airdyne with hardly any resistance to a stationary bike with the brake all the way pressed down.
The build of the BikeErg is as good as we've come to expect from Concept2. Starting at the feet, the steel frame sits on four adjustable pegs that screw into the feet for adjustability based upon the slope of the floor the bike is resting on.
To keep the bike grounded and stable, Concept2 uses steel feet that are bolted to the frame. The BikeErg rocks much less than our other air bike picks, but this is most likely due to the fact that there are no arms. On the front feet are two roller hockey wheels that are larger than what is used on the rower and provide for easy maneuvering.
The aluminum frame is given the signature black powder-coat look that is both hard-wearing and corrosion-resisting. Attached in the middle of the frame are two crank arms with black metal pedals. These can be interchanged for any pedals you'd like, including clipless, just like a bicycle. 
One of the best features of the BikeErg is the fact that you won't have to do much if any maintenance over the life of the bike. The BikeErg uses polygrooved belts rather than the traditional chain seen on AssaultBikes and Airdynes (excluding the Airdyne AD7), which not only makes the ride quieter but also reduces maintenance and increases the life of the bike. We praised Schwinn for transitioning from a chain drive to a belt drive system, and we're glad to see Concept2 insisted on the same, except even better is the fact that BikeErg's belts are self-tensioning.
In addition to the belts, the BikeErg utilizes a clutch that allows the flywheel fan to continue rotating despite the pedals stopping, something you don't see on our other picks. If you've ever done intervals with another person on an air bike, you know how frustrating it is getting on and off due to the pedals having to continue progressing. This is a significant advantage of the BikeErg, and I hope Schwinn, Xebex, and Assault take notice.
The Concept2 BikeErg also features every adjustment you can imagine, from the height of the seat to the handlebars both horizontally and vertically. Finally, one of Concept2's biggest selling points is their Performance Monitors that track every metric you could want and allows you to compete against others.
The versatility of the BikeErg is unmatched, and it's the reason we recommend it above the traditional air bikes for most people. The Assault Air Bike and Airdyne certainly have their place (I won't be getting rid of mine,) but if I had to have one, I'd take the BikeErg.
The Concept2 BikeErg has similarities, but also many differences between our other picks. The main difference that is quite apparent is the lack of arms. The BikeErg was designed with traditional cyclists in mind but can provide an absolutely brutal workout.
One thing to realize about traditional air bikes is that although they have the opportunity to provide more of a full-body workout, many people will spend a majority of their energy on the pedals and not the arms. Concept2 has taken what they do exceedingly well, building very durable and effective equipment, and applied it to a bike.
If you train solely for CrossFit, then you should stick with a traditional air bike. However, if you don't, we found that the BikeErg was both more enjoyable and provided a more versatile piece of equipment.
Read our full Concept 2 BikeErg review to learn more.
Other Air Bikes We Tested
Oh, did you think those were the only air bikes we tested? Far from it. Here are a couple we thought were just OK, but not deserving of being one of the "best."
Fringe Sport Raptor Air Bike: When we first tested this air bike, we said it had the potential to take down the Rogue Echo Bike because of the number of extras it came with, its stability, and like the Echo uses a belt drive system—all at a price which, at the time, was cheaper than the Echo. Now, it costs nearly $950, and while it's good, it's not that much better than the Echo.
Xebex Air Bike: Before Titan Fitness released the Titan Fan Bike, this Air Bike was our budget-friendly option. However, the Xebex Air Bike is more expensive than the Titan Fan Bike and doesn't come with as many extras. Because of this, we believe the Titan Fan Bike is a better value, though the Xebex Air Bike is still a great bike.
Body-Solid FB300: The FB300 is the exact same bike as the AssaultBike, but with a lower-quality monitor and at a higher price. Unless you can find it used, we recommend staying away from it.
Schwinn Airdyne AD6: The Schwinn Airdyne AD6 was Schwinn's premier bike prior to the AD Pro. Although it's a decent bike, they are prone to breakage and have a lot of plastic parts. If you want a Schwinn but don't want to spend the amount that the AD Pro costs, then this is our recommendation.
Schwinn Airdyne AD4: Before the Assault Bike or the Rogue Echo Bike, this is what you would find in most CrossFit Affiliates, and although it's limited in its functions and not that durable, it's an okay bike. That said, it's no longer manufactured and can be purchased for pretty cheap on the secondary market.
Schwinn Airdyne AD2: We would not recommend this bike at just about any price.
Body Rider Exercise Upright Fan Bike: This bike is not made for the functional fitness crowd, however, if you're trying to go slow, it will work just fine.
Marcy Fan Exercise Bike – NS-1000:This is a decent budget-friendly bike, but only buy this if you really cannot afford something more expensive. This bike will work, however, not for as long as you'd like.
Marcy AIR-1: There are much better options around this price range.
Sunny Health & Fitness SF-B2706 Fan Bike: This bike is based on the AssaultBike, however with some cheaper modifications. At this price point, there are better options. However, it's not a bad bike.
StairMaster Air Fit Bike: We have yet to use this model, however, for the price we can't see it being that much better than our top pick.
Fitness Reality 1000AR Resistance Exercise Fan Bike: Cheapy-looking bike with a design that's prone to failure.
StarTrac ST Fitness 8610 Air Force Bike: This is the same bike as the AssaultBike with a worse monitor.
StairMaster Zephyr Dual Action Bike: This is the same bike as the AssaultBike with a worse monitor and a backrest.
Lamar Fitness Air Force Dual-Action Bike: This is the same bike as the AssaultBike with a worse monitor and a backrest. It's fine if bought cheaply on the secondary market.
How We Picked And Tested the Best Air Bikes
To compile our list of air bikes, we researched all of the major manufacturers, scoured Amazon, Alibaba, and more as well as reached out to industry experts who aided in the creation of these bikes. In addition to this, we went to Garage Gym Reviews HQ to rank and test all of the bikes we've used in the past as well as currently own. After researching around 15 air bikes, we narrowed it down to the bikes that are worth your time and money.
One of the things we found that weren't too surprising was the fact that many of the modern air bikes are pretty much the same. In fact, we found that not only were they made to look and perform alike, but many of them are actually made in the same factory in Taiwan.Due to the fact that many of the air bikes that are currently available are similar, we looked for the differences (mainly just the monitors) as well as bikes that weren't like these. The bikes we've picked are all worth using, it really comes down to your preferences and budget.
Ultimately, after some deliberation, we narrowed down our specification to the following list of features we like to see in air bikes in no particular order.
Overall construction: An air bike is going to receive a lot of use. Whether you choose to use it for just warm-ups and cool-downs or use it for HIIT workouts as well, you're going to want a bike that can take a beating and keep on going.
Required maintenance: Unfortunately, two of our four picks still use a chain drive system, which does require constant maintenance (oiling the chains as well as adjustment.) However, an air bike and any piece of equipment for that matter is designed to be used for increasing fitness, not increasing handyman skills. Therefore, we took this into consideration.
Durability: Durability relates pretty closely to the required maintenance of the machine. An air bike should be able to take years of abuse from commercial CrossFit facilities or home gyms and still work like the day they were purchased. This is an expensive machine, it should last like one.
Adjustability: The seat should be able to be adjusted both vertically and horizontally. The more adjustments available for customization, the better.
Monitor: The monitor should be able to track a wide range of metrics from wattage to meters biked.
Components: The pedals, handles, seat, and other parts of the bike should be capable of taking a beating and keep on operating.
Value: It doesn't matter if the bike is $500 or $5,000, the value received is what we're judging. In other words, how much do you get for the price you're paying? Our budget pick, the Titan Fan Bike, comes with more extras than the Rogue Echo Bike, technically making it a better value. You get the idea.
Noise: All air bikes are loud due to how they receive their resistance, they shouldn't be unnecessarily loud from the clanking of components.
Warranty: Air bikes will occasionally break, and if they do so in a short amount of time then the company should either repair or replace whatever the issue is.
During testing, we used the bikes in various time durations from sprints to longer rides. We tested the adjustability, ease of maintenance, monitored metrics, noise levels, and simply how much they hurt during use (they all hurt pretty equally.) Finally, we asked the opinion of others on what bike they would most like to have.
RELATED: How to choose an exercise bike
What To Look For In An Air Bike
There aren't as many air bike models out there as there are other types of conditioning equipment, which means that pricing points and options are pretty limited. It's best to opt for a bike that's durable, belt-driven, long-lasting, and simple to maintain.
Stability
You'll want to make sure you're on stable equipment when you're cycling, pushing, and pulling. Generally, the heavier the better as far as stability.
Belt Drive
Belt-driven air bikes are known for being low-maintenance, long-lasting, and much quieter than chain-driven bikes.
Seat Comfort
Look for a bike with a comfortable, adjustable seat. This ensures that you can handle intense workouts in comfort, and the adjustability means that it can be used by a variety of trainees.
Monitor
Workout modes, intervals, and a range of metrics (RPM, time, speed, calories burned, distance traveled, etc) should all be conveniently available on any electronic display.
Space
For a garage or home gym, fan bikes are a terrific idea. However, most home or garage gyms are space-constrained, so you won't want to allocate floor space to one. For easy repositioning, look for a unit with transport wheels or rollers.
Best Air Bikes FAQs
What's the difference between an air bike and a traditional exercise bike?
The difference between an air bike and a regular exercise bike is that on the air bike, we will need to use our arms and core to control the motions amongst our upper and lower bodies. The lower body would be the primary emphasis of a conventional exercise bike.
Are air bikes worth it?
Yes. The air bike has the ability to be an excellent recovery treatment since it allows for safe mobility with low impact. It also allows the injured region to move and provides blood flow to the area, which helps in recuperation.
What is an air bike?
A stationary bike with rotating pedals is known as an air bike. Instead of using a wheel, the force is provided by spinning a fan. The greater the acceleration, the greater the pressure provided by the fan. As a result, the air bike is also sometimes referred to as a fan bike.
Which air bikes have the most resistance?
The Concept 2 BikeErg has an air damper that produces ultra-challenging resistance that's much stronger than most other air bikes.