We test and review fitness products based on an independent, multi-point methodology. If you use our links to purchase something, we may earn a commission. Read our disclosures.
Most of us are focused on finding the best products for the least amount of money. Finding an air bike I like at a good price is no different—I'm focused on finding something that is a solid value and works as well as the more expensive options.
In this Bells Of Steel Blitz Bike 2.0 review, I'll tell you why this belt-driven air bike will save you time (spoiler: There's less maintenance required) and is a killer value.
Suckers for Pain—and Quality Fitness Equipment
Our team of expert product testers and reviewers have tried dozens of the most popular air bikes including the Rogue Echo Bike, Schwinn AD7 Airdyne Pro Air Bike, and the Concept2 Bike Erg. You might say only crazy people would willingly suffer on this many air bikes, but I guess we're just suckers for pain.
Bells Of Steel Blitz Air Bike 2.0
Bells of Steel Blitz Air Bike 2.0
Air bikes are possibly one of the best full-body conditioning tools ever to grace a garage or commercial gym. If you're on the hunt for an affordable, feature-rich, and high-quality one for your gym, take a good look at the Bells of Steel Blitz Air Bike 2.0. Constructed mostly from metal components, the Blitz Bike has a heavy-duty frame weighing 118 pounds. While it is one of the heavier bikes on the market, this frame is durable and sturdy yet maintains a compact footprint.The Blitz Bike boasts premium specs including a large adjustable seat, a belt drive system, removable wind guard, bottle holder, and phone holder. Typically, less expensive air bikes have smaller fans which offer less resistance. However, the Blitz is equipped with a large, 25-inch fan more often seen on commercial products. The console displays key fitness metrics to monitor your workout: RPM, speed, interval times, distance, calories, watts, and heart rate. The adjustable seat can be moved up, down, fore, and aft so you can customize your bike fit to prevent unnecessary pressure on your knees. This seat has an ergonomic design with a center cavity to take pressure off some of your more delicate areas. Besides the price tag, one of the most noteworthy aspects of the Bells of Steel Blitz Air Bike 2.0 is the belt drive rather than a chain drive. A belt drive offers a few advantages including less maintenance, a longer life expectancy, and a quieter ride. Additionally, belt drives are generally easier to replace than are chain drives.The Blitz Air Bike 2.0 comes with adjustable feet, which ensures an even and level riding experience even if placed on a sloped floor. It also comes with transport wheels intended to make moving it out of the way when not in use easy. However, users report these wheels are small and catch on the floor. Additionally, there is no rear handle to make it a smooth transporting experience. 
A Quick Look at the Bells Of Steel Blitz Air Bike 2.0
The Canadian company Bells Of Steel is generally known for their strength training equipment—think belt squats, dumbbells, trap bars, swiss bars, and various racks. However, we were excited to try their only piece of cardio equipment to date—the Blitz Air Bike 2.0.
My Tips:
Take advantage of the financing options Bells Of Steel offers through Affirm.
The wind guard is removable depending on your mood and the weather.
Pros:
Belt-driven air bike
Low-maintenance
Metal components increase stability
Knurled foot pegs
Fan guard is removable
Included water bottle holder and phone holder
Adjustable seat
350-pound user weight capacity
Cons:
No turf tires
Heavy at 118 lbs
Big width between the frame
2-year warranty
Video Review
Is the Bells Of Steel Blitz Air Bike 2.0 Worth It?
Although I may think a piece of equipment is excellent, I know it won't necessarily be the best fit for everyone. Air bikes are no different. Check out who I think will love the Bells Of Steel Blitz Air Bike 2.0 and who should choose another option.
Great for:
Those who want the Fringe Sport Raptor Bike at a cheaper price
People who want a low-maintenance piece of cardio equipment
A heavier person
Not recommended for:
People who want a spin bike
Small people who may be uncomfortable with the wide frame
Those who want an extended warranty
Bells Of Steel Blitz Air Bike 2.0 Specs
| | |
| --- | --- |
| Footprint | 53" L x 23" W x 51" H |
| Weight | 118 lbs |
| Weight capacity | 350 lbs |
| Warranty | 2 years |
| Fan | 25 inches |
| Price | Around $700 |
| Phone holder | Yes |
| Water bottle holder | Yes |
| Metrics on display | Calories burned, heart rate, RPM, speed, intervals, and distance traveled |
Going All Out on the Bells Of Steel Blitz Air Bike 2.0
When Garage Gym Reviews founder Cooper Mitchell recently put out the best air bikes video on YouTube, viewers were shocked.
"You didn't include the Blitz Air Bike," a subscriber exclaimed in shock.
Well friends, we do listen to your requests, which is why we got our very own Bells Of Steel Blitz Air Bike 2.0 to test.
And test it we did. Coop had his hands (and feet) all over this popular air bike and was quite impressed.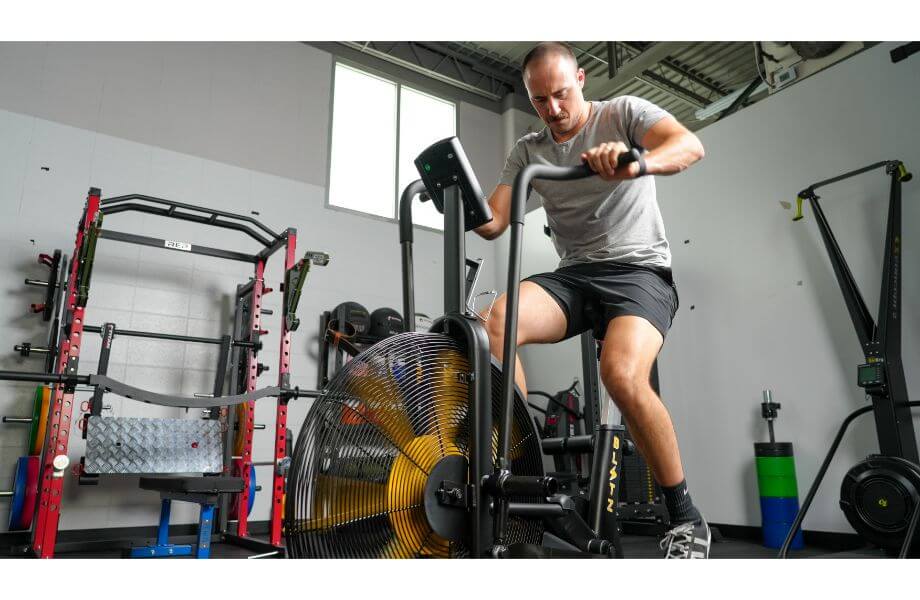 "The Blitz Air Bike 2.0 is one of the cheapest belt-drive air bikes I've ever tried," Coop said. "I love that belt-drive air bikes require far less maintenance than chain drive bikes."
This is certainly a good feature to note. Most home or garage gym owners want cardio equipment that they won't have to routinely do extra maintenance on or lubricate frequently.
Coop also noted that the Blitz is very stable, even when pushed to the limit.
"I was impressed with how hard I could go without the bike wobbling at all," Coop explained. "I think this is likely due to the 23-inch feet on the front and back, which gives it a lot of stability."
Portability, Durability, and Construction
The Blitz Air Bike 2.0 is constructed with almost entirely steel pieces, save for a few rubber and plastic touchpoints here and there. This is definitely a big plus—steel wears way better over time than equipment with lots of plastic.
At 118 pounds, the Blitz is not exactly lightweight. However, there are two small transport wheels to help you move your bike around your gym. I wish this bike had turf tires similar to those of the Fringe Sport Raptor bike, but I understand that would probably up the cost for purchasers.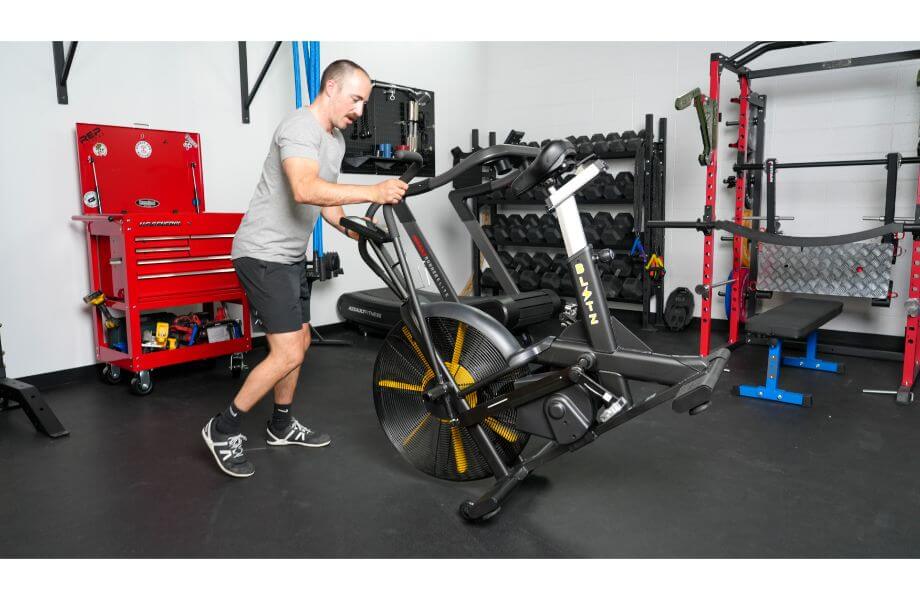 The Ergonomics
Although Bells Of Steel mentions how comfortable their seat is on the Blitz compared to competitors, Coop wasn't blown away.
"The seat is just okay," Coop said. "It isn't anything crazy, but it will get the job done."
What is better than most competitors is the adjustability of the Blitz. There are 10 different seat adjustments that can be made, making this bike suitable for a variety of heights. Plus, the seat can move both forwards and backwards to accommodate longer and shorter legs.
Technology Benefits and Conveniences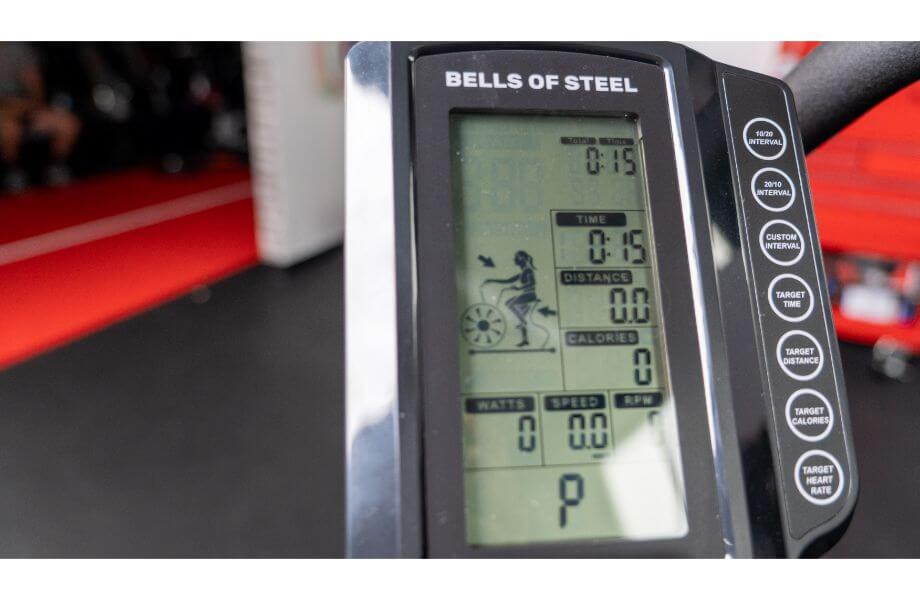 Let's face it: The air bike industry is behind when it comes to technology additions. This isn't necessarily a bad thing, as most of us don't need to have tech features on absolutely everything we touch. However, it is interesting to see the dichotomy between the technology on most regular exercise bikes versus that of the common air bike.
As far as air bikes go, the Bells Of Steel Blitz Air Bike 2.0 has a pretty standard LCD monitor. The only tech-y feature you'll find is the compatibility between the display and most heart rate monitors (sold separately). Otherwise, you'll just be able to view typical stats like RPM, distance traveled, calories burned, watts, and speed.
There are also a few preset program buttons on the right side of the screen—10/20 intervals, target heart rate, 20/10 intervals, custom intervals, target time, target distance, and target calories are all options.
As far as extras, the Blitz shines. Bells Of Steel has thoughtfully included a water bottle holder, phone holder, knurled foot posts, and a removable shroud over the fan as standard features. Other air bikes we've tried in the past have had these features as additions you can purchase after the fact, which isn't my favorite.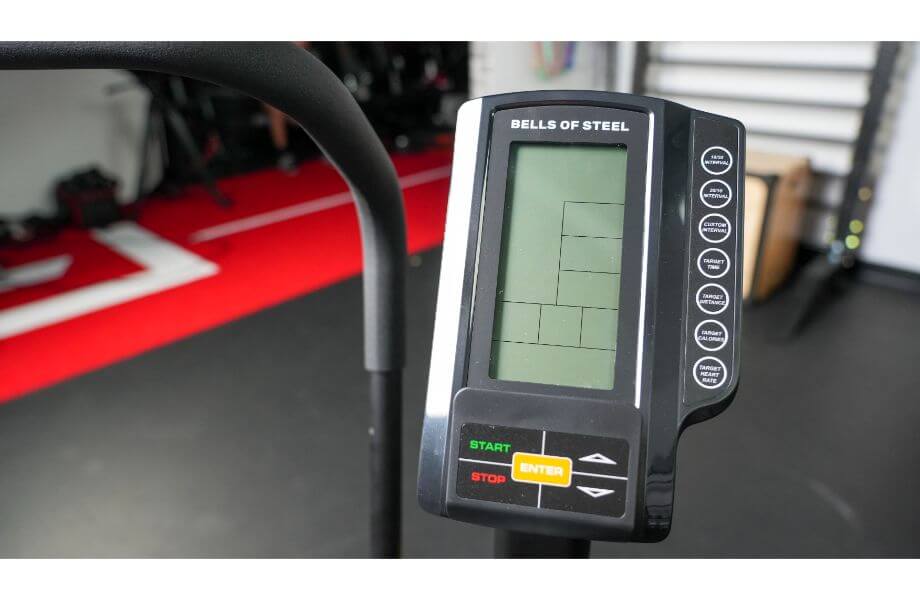 Bells Of Steel Blitz Air Bike 2.0 vs Fringe Sport Raptor Bike
Fringe Sport Raptor Bike
Fringe Sport Raptor Air Bike
The Fringe Sport Raptor Air Bike may be an early entry into the cardio world for the company, but it's a strong one. This is a heavy-duty, and high-value air bike that's capable of competing with some of the best air bikes out there.The first thing you'll notice about this bike is that it's solid–it's overbuilt by 20 pounds, which is great if you're looking for extra stability. It's also 130 pounds, making it the heaviest air bike that we're aware of. This is due to the mostly-metal construction of the bike, along with the 20 extra pounds of steel they added to the base to make it stable. It's also worth pointing out that the Raptor comes with a lot of features that you typically have to pay more for, including turf tires, wind guard, phone holder, back handle, and water bottle holder. 
As Coop pointed out, the Fringe Sport Raptor Bike and the Bells Of Steel Blitz Air Bike 2.0 look like they were probably produced at the same factory. The specs are very similar, as is the construction and small fan blades. The only real differences Coop noted are the colors changed to reflect each brand, and the added turf tires (which probably accounts for the added weight) on the Fringe Sport Raptor Bike.
Still not convinced? Take a gander at the specs for yourself:
| | | |
| --- | --- | --- |
| Bike | BOS Blitz Air Bike 2.0 | Fringe Sport Raptor Bike |
| Price | Around $700 | Around $1,000 |
| Warranty | 2 years | 3 years |
| Footprint | 53" L x 23" W x 51" H | ​​54" L x 24" W x 51" H |
| User weight capacity | 350 lbs | 350 lbs |
| Weight | 118 lbs | 130 lbs |
Customer Experience
The Blitz Air Bike 2.0's warranty of two years is pretty average for an air bike, but it isn't anything special. Is anyone else always surprised by how short air bike warranties are, or is that just me? A regular spin bike should have (industry standard-wise) a warranty of 15 years to life on the frame, and normally they aren't half as heavy-duty as that of an air bike, but I digress.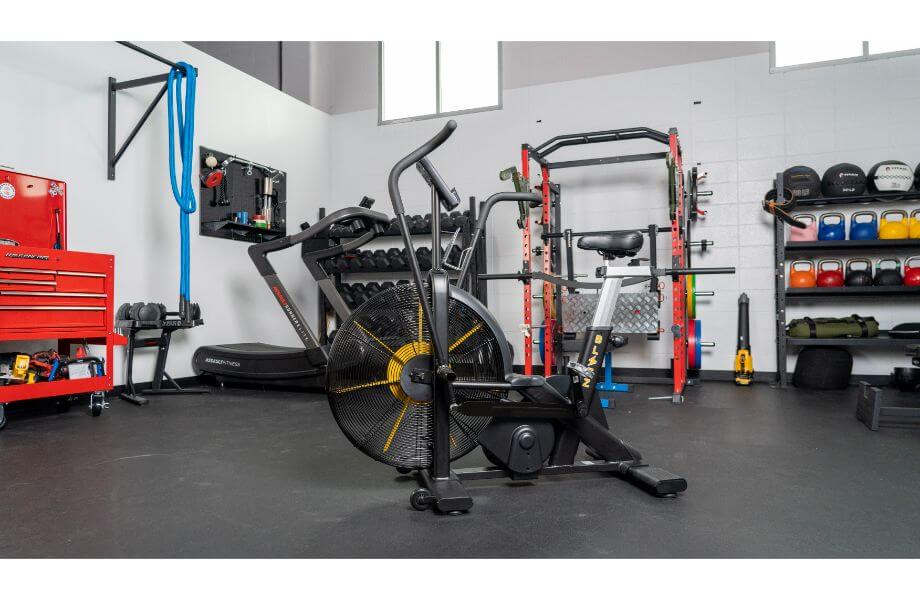 Returns
Bells Of Steel has a 30-day return window from the moment your package arrives at your doorstep. I like that they only charge a nominal fee if you want to return your items. Shipping a 118-pound air bike back to the warehouse would not be cheap.
Ordering and Assembling the Bells Of Steel Blitz Air Bike 2.0
Ordering your new Blitz Air Bike 2.0 couldn't be easier. Simply add the bike to your cart from the website and type your zip code in to calculate shipping. If you're in the United States, shipping is currently free (yay!). I cannot speak for the price of overseas shipping, so you'll have to input your individual zip code to find out.
If you don't want to fork over the $700 for the bike all at once, Bells Of Steel also offers financing through Affirm. If you qualify, you could pay as little as $64 per month.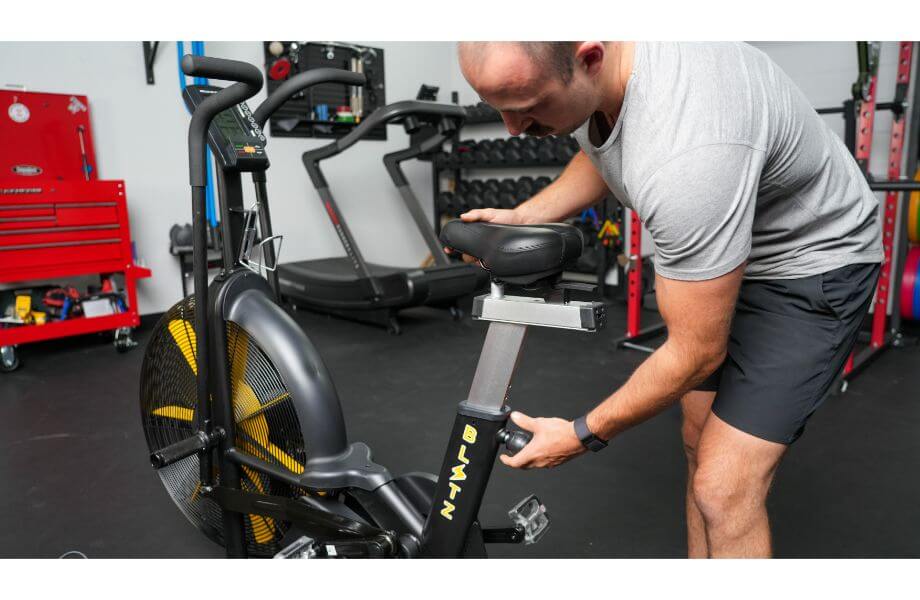 It is worth noting that there are not currently any options for professional assembly, but you could always pay a third party to complete the task if you're not keen on doing it yourself.
Garage Gym Review's Operations Manager Sam "asSAMbly" Presley was the man in charge of assembling the Blitz Air Bike 2.0.
"It was a very simple build," Sam explained. "You attach the feet, then the arms and pedals. Lastly, you'll add the handlebars, seat, and monitor. It is a very self-explanatory process."
Customer Reviews
On the Bells Of Steel website, there are over 170 reviews of the Blitz Air Bike 2.0 with an average of 4.8 out of 5 stars.
Most of the reviews are actually very positive. Happy customers mentioned they were impressed with the value, steel construction, and included extras.
"I love and hate the Blitz Air Bike 2.0," pleased customer Josh shares. "I love how it has elevated my conditioning and challenges me daily. I hate that it absolutely destroys me every time. One of the best purchases I have made for my home gym. It's sturdy, easy to assemble and kicks my butt regularly."
There were very few negative reviews, but some customers mentioned that they did not receive good customer service, shipping was delayed, or parts were breaking quickly.
"I was warned that the pedal screw might break but there was a part to exchange it," irritated buyer Jonathan A. explained. "So today, I jumped on the bike for my first ride. I selected the 20/10 workout. Fourteen seconds into my first round, the pedal broke. I was expecting it to break eventually, but not after 14 seconds of use."
Final Verdict of Our Bells Of Steel Blitz Air Bike 2.0 Review
If you're looking for a belt-drive air bike at a reasonable price, the Blitz Air Bike 2.0 definitely fits the bill. It feels stable, durable, and will last for years to come, thanks to the hardy steel construction. If you don't want to break the bank but still want a cardio machine you can go hard on, you'll definitely appreciate this bad boy.
Bells Of Steel Blitz Air Bike 2.0 Rating
Bells of Steel Blitz Bike 2.0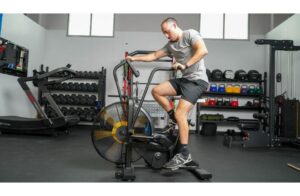 Want to know more about this super-popular cardio machine? Check out my Bells Of Steel Blitz Bike 2.0 Review to learn all the dirty details.
Product Brand: Bells of Steel
Product Currency: USD
Product Price: 699.99
Product In-Stock: InStock
Bells Of Steel Blitz Air Bike 2.0 FAQs
Is the Bells Of Steel Blitz Air Bike 2.0 the best air bike?
"I'd still probably recommend the Echo Bike over the Blitz due to quality and the amount of time it's been on the market," GGR founder Cooper Mitchell explains.
However, it is still a great value and an air bike we'd recommend for the average home or garage gym owner.
Is the Bells Of Steel Blitz Air Bike good for a garage gym?
Yes, a Bells Of Steel Blitz Air Bike is a great option for a garage gym. You'll be able to get an intense workout on this high-quality piece of gym equipment. The powder coat will help the bike resist rust, so you won't need to worry about the effects of added humidity and heat of a garage gym.
How much should I expect to pay for a good air or fan bike?
Expect to pay between $400-$1,200, depending on the features you're looking for in your air bike. Belt-drive air bikes are generally more expensive than their chain-drive counterparts. However, you will have to do more routine maintenance if you choose a chain-driven air bike, so keep in mind the tradeoffs.
RELATED: How to Choose an Exercise Bike