We test and review fitness products based on an independent, multi-point methodology. If you use our links to purchase something, we may earn a commission. Read our disclosures.
My garage gym is without a doubt one of my favorite places in the world. I've assembled some of the best equipment I could find to create a setup that would rival any Pro or Olympic-Level Training Center. And here's the best part, its in my garage.
More than any other question we field here at Garage Gym Reviews is, "would you suggest, "X" equipment?" People want to know what equipment they should invest their hard-earned dollars into and that's completely understandable, it's a big decision.
What I want to show you today is all of the equipment that I've gathered to build my garage gym.
I do believe I have one of the best-equipped garage gyms in the world, but that doesn't mean it's better than yours. I truly believe that what makes garage gym's special is the fact that you can build them to suit your needs.
You can add whatever equipment you'd like, including making your own. You can throw up posters and banners on the walls that inspire and motivate you. You can decide to keep it super clean or leave it a pig-sty. It's your garage gym, you decide the environment and it doesn't matter what others say (other than your spouse) because it's yours.
Stop building other people's dream setups, build yours!
With that said, here is my happy place, Coop's Garage Gym.
Obviously, if I showed and detailed every piece of equipment in my garage gym this article would never end. So, instead of detailing everything, I'm going to discuss some of my favorite pieces and then, later on, give you a full listing of what I have.
Strength Equipment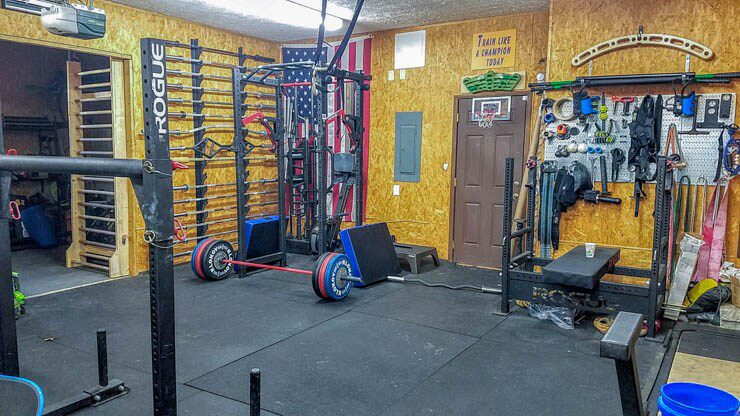 I'll start with my strength equipment. I train with a lot of versatility, and I do so for multiple reasons. For one, I review gym equipment for somewhat of a living. In order to get my hands on all of the equipment we receive to review, I have to train somewhat haphazardly.
For instance, some days I will spend the entire session in the rack, while others I'll hop on a bicycle or throw my running shoes on to test a new piece of fitness tech.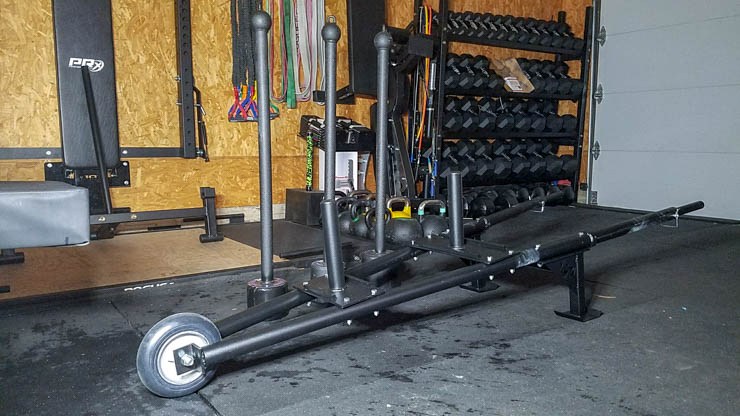 The second reason I train with so much variety is that I'm easily bored. I believe training should be fun, if, like me, you're training for health, vitality, and enjoyment. If you're training for competition, then, by all means, take it as seriously as you'd like. But, I have too many other things I take seriously, like my businesses, family, ministry, and constant search for great tacos.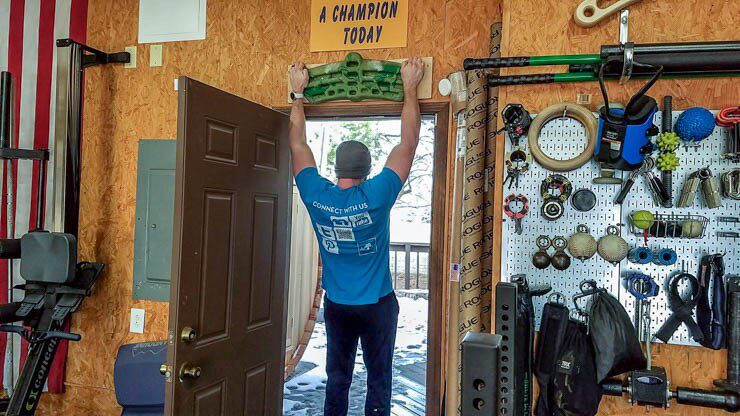 With this said, although I train with a lot of variety, my strength training equipment is what I use most often. No matter what gear I'm currently focused on testing for reviews, I always go back to building strength. There is no weakness in strength.
Power Rack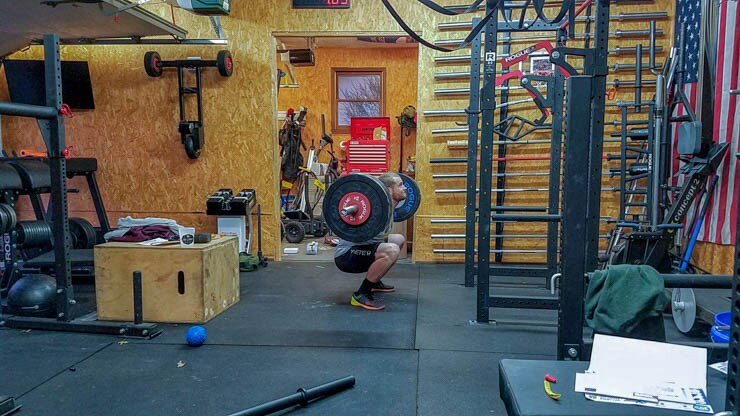 The center of my gym is my Rogue Fitness R-3 Power Rack.
I've chosen the R-3 because I believe it provides the most versatility for its size. I see many garage gyms with these behemoth power racks, and yeah, it's cool to have this big rig in your garage to show off on Instagram, but too often that rack is just taking up space that could be used for something else.
I've written on and suggested the R-3 Power Rack more times than I can count, but it's for good reason. It's the best power rack for most people, without question.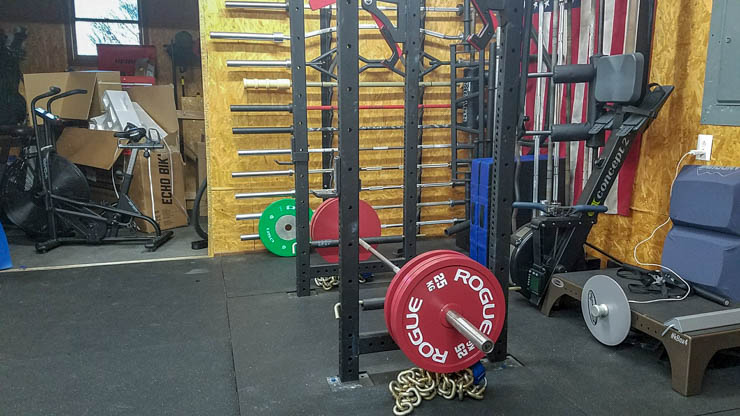 Is the R-3 the absolute best power rack available? No, it's not. But for the price and footprint, it's amazing. There are a million and one attachments, it's the perfect width to do everything from deadlift to box squat and it's built like a tank.
The attachments I currently have for the R-3 or use within it are:
In addition to the R-3 Power Rack, I have a Rogue Y-1 Yoke that is incredibly versatile as well as the PRX Performance Rack, which is excellent for saving space.
Strength Machines
Although garage gyms typically don't have many machines, there are a couple that are pretty much staples in anyone's gym that trains for strength.
The most obvious option is the Glute-Ham Developer (GHD.)
I've used quite a few different GHD's, including commercial options like what's available from Powerlift and UCS all the way to budget options like the Titan Fitness GHD. The GHD that I've chosen is the one I feels most blends the features of the premier options with a price that doesn't make me want to throw-up.
The Rogue Abram 2.0 GHD is an incredibly well-built and thought out machine. There's a reason so many people have this piece in their gyms, and yes, the Rogue name has something to do with it, but so does the fact that it's built like an absolute tank.
We've written an in-depth review of the Abram 2.0 GHD that you can find here, but to summarize, we believe that for the price, it's the best GHD currently on the market.
Another machine I have in the garage that is built with the same quality as the Abram GHD is the Rogue RH-2 Reverse Hyper.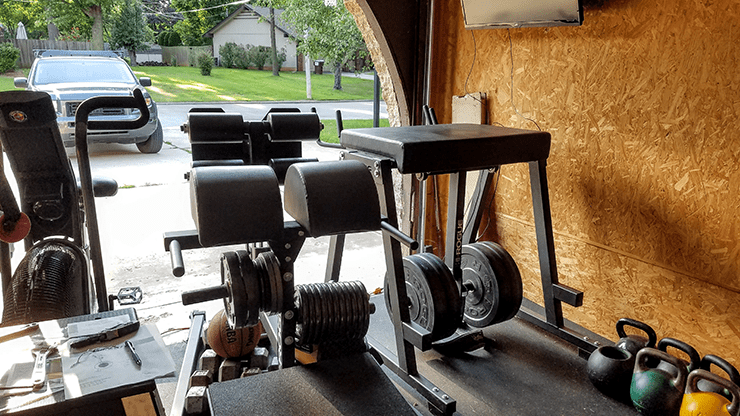 I understand that not EVERYBODY believes in the effectiveness of the Reverse Hyper, but from personal experience, it has been incredible for the health of my lower back.
I haven't done enough research to tell if it's popular by evidence-based practitioners, but I make sure to use it after nearly every lower body day.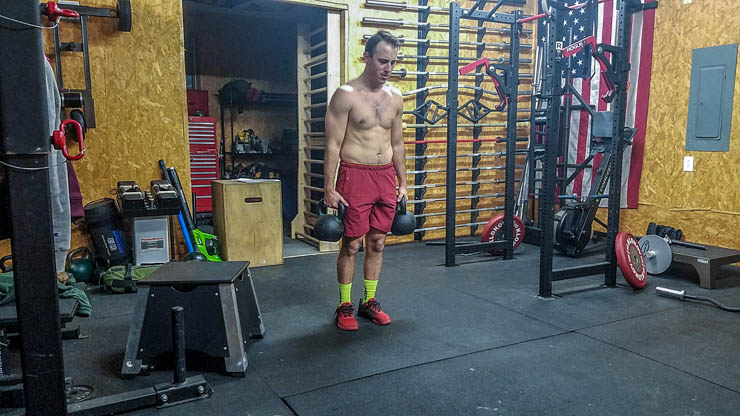 In addition to the RH-2 Reverse Hyper, I have the Rogue Deadlift Platform that I use quite a bit to add accommodating resistance to things like deadlifts, RDLs, and even cleans. Although the Rogue Deadlift Platform could be refined further, I love the look and haven't had any problems with it other than tripping over it everytime I walk into the house :).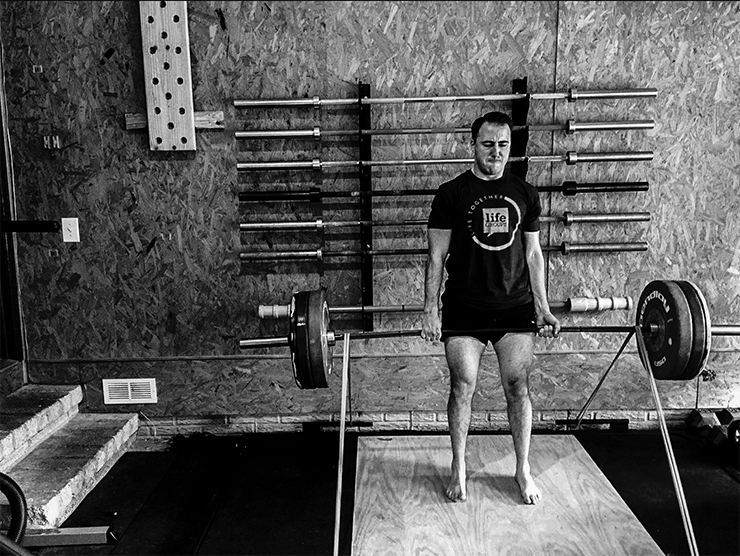 You can easily make your own platform, but I prefer the look and quality of the Rogue Deadlift Platform.
Although benches may or may not be considered "strength machines," I'm going to lump them into this category.
I currently have four benches in my gym (quite a bit considering how much I actually bench.)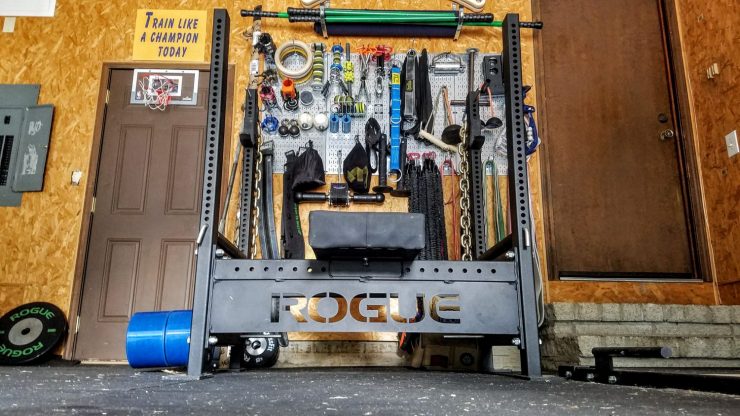 The main bench that dominates the gym is the Rogue Westside Bench. I chose to put the Rogue Westside Bench in the garage because I was constantly getting requests for reviews on it, I love its sturdiness, and I got it for next to nothing from a friend.
I cannot imagine a bench ever being or needing to be more sturdy. When you take a seat on the bench, you immediately know it's designed for people who bench much more than you ever will, and despite its humbling qualities, I like it.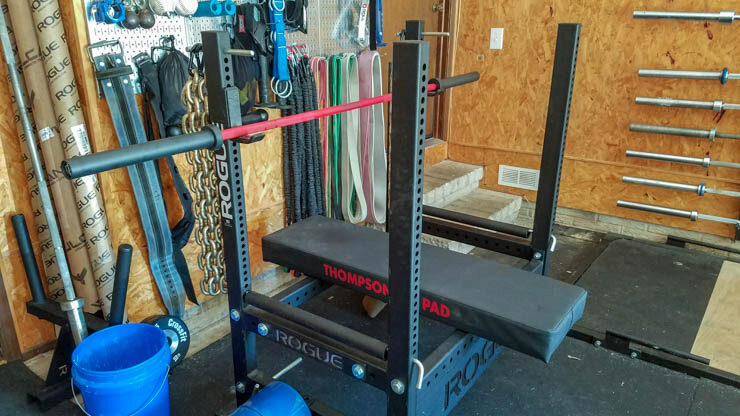 On the bench, I've chosen to include a Rogue Thompson Fat Pad. I am a BIG fan of the Thompson Fat Pad for its ability to allow the shoulder girdle to not be pinned down.
You can find a full review we did on the bench here.
The other benches I have in the gym are:
If you're just going to have one bench in your gym, I would definitely suggest the Rep Fitness FID Bench. It's the one I use most often for dumbbell work because of its incline options and for the price, it's the best option currently available.
You can see the full review we did on it here.
Olympic Barbells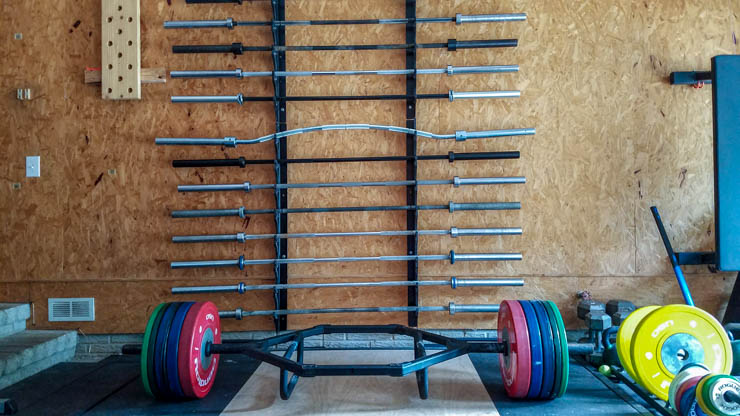 I'll admit it, I'm a barbell hoarder. For some reason, barbells just speak to me. Other people collect stamps, coins, pens. I collect barbells.
Barbells to me, tell a story. Unlike other pieces of training equipment, each barbell is unique. The way the knurling was cut, it's sharpness, it's designed, the spin of the sleeves, the grooves in the sleeve, the rotation system, the steel used, the shaft coating, and the end cap all add up to a uniqueness that's fun to use and talk about.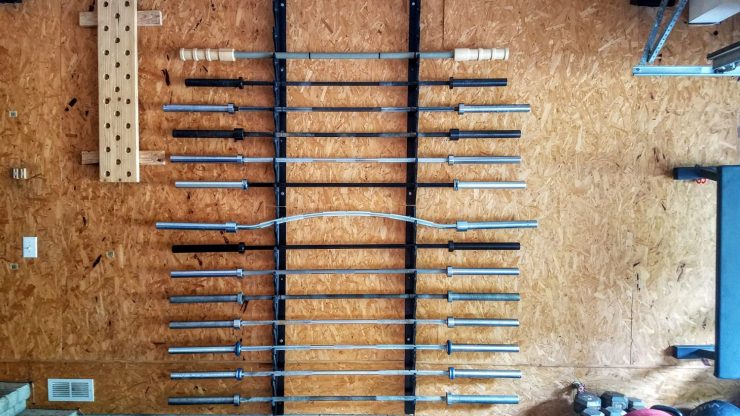 Now, if I didn't review gym equipment I probably wouldn't keep all the ones I have, but because I like to compare and contrast the various bars, I just keep them.
If you follow us on Instagram, you've likely seen the many photos we take of the bars. In my opinion, if you're going to build a garage gym, spend the most money on your bar. A good barbell will last for generations and be enjoyable to use that entire time.
My first barbell, and one that I still use often was the Rogue Ohio Bar. Although I'd suggest the Rogue 2.0 Bar over the Ohio Bar now that they're essentially the same, this bar is so fun to use.
Instead of boring you with talking about each bar, I'll just list them here for you and link to their respective reviews for the ones we've done.
Eleiko WL Training Barbell (Review)
Klokov Equipment Klokov Bar (Review)
Cap Barbell Boss Barbell
If you're looking for our suggestion on the best Olympic Barbell for most people, check out this article.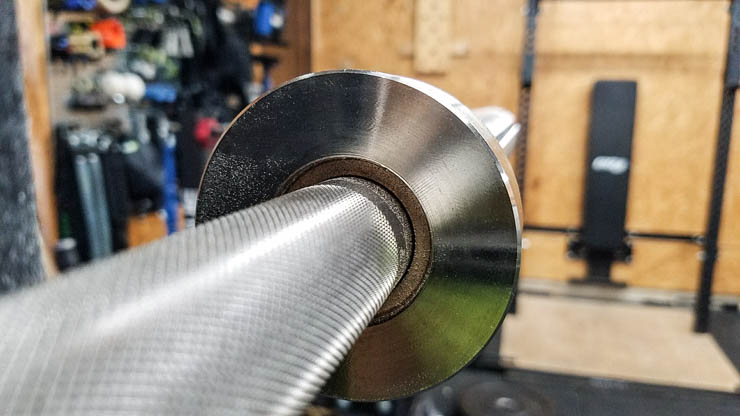 The bars I most often use are the Eleiko WL Training Barbell, Kabuki Strength Next-Gen Power Barbell, and the Rogue Cerakote Ohio Bar, but I cycle through all of them to update reviews and keep them oiled and clean.
Specialty Bars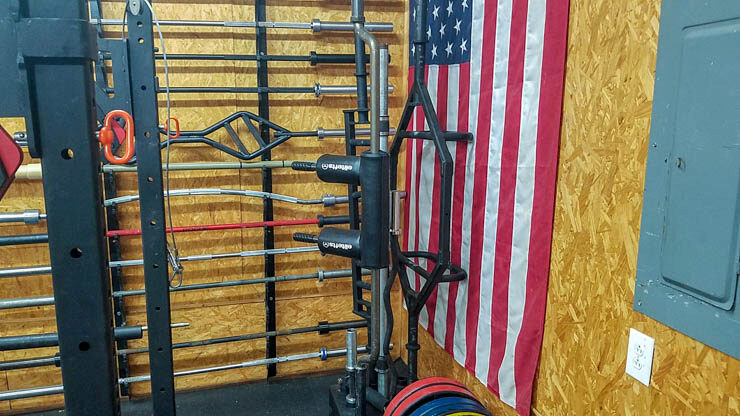 Due to my training following pretty closely to the Conjugate System created by Louie Simmons at Westside Barbell, I use Specialty Bars often.
Specialty Bars are certainly not needed to get strong, but they sure make getting strong fun.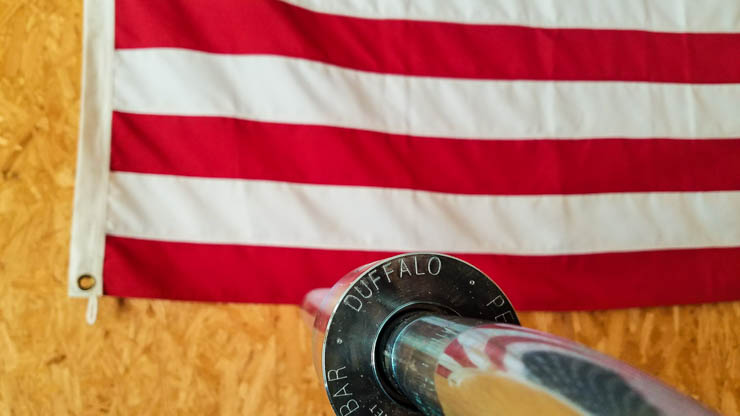 There are a million and one specialty bars available for every application imaginable, but the bar I would most suggest is the Kabuki Strength Duffalo Bar. You can find the full, in-depth review we did on it here.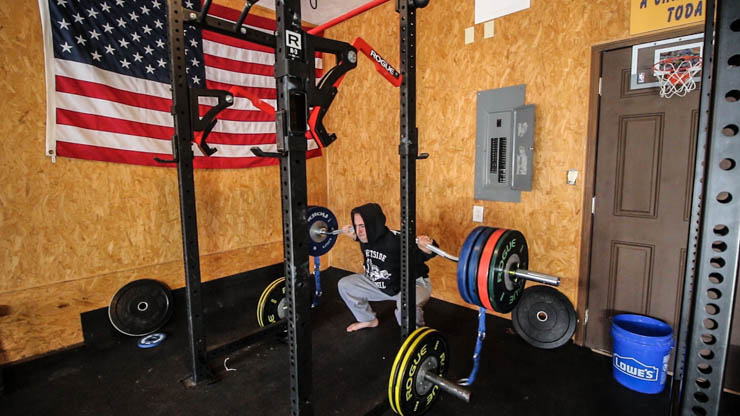 The Duffalo Bar is not only incredibly versatile, but it's also the most well-done specialty bar currently made. Most specialty bars are powder-coated, the knurling was an after-thought, and the sleeves are fixed. The Duffalo Bar is basically an Olympic bar made into a specialty bar and I love it. I have a few friends that won't even squat with a regular bar anymore due to how comfortable the Duffalo is.
You can also press with the Duffalo Bar.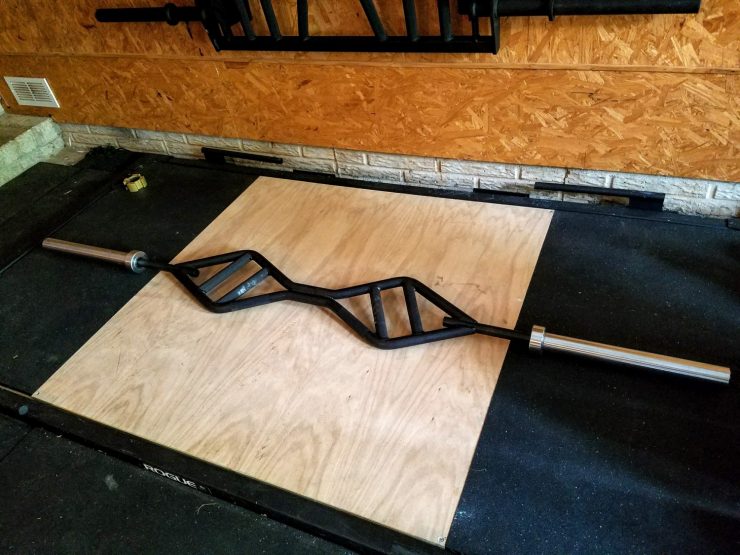 Here's a full list of all of my Specialty Bars with corresponding reviews:
Titan Fitness 10″ Log Bar
Specialty Bars help make your training both fun and versatile and I highly recommend them after you have your basics covered.
Weight Plates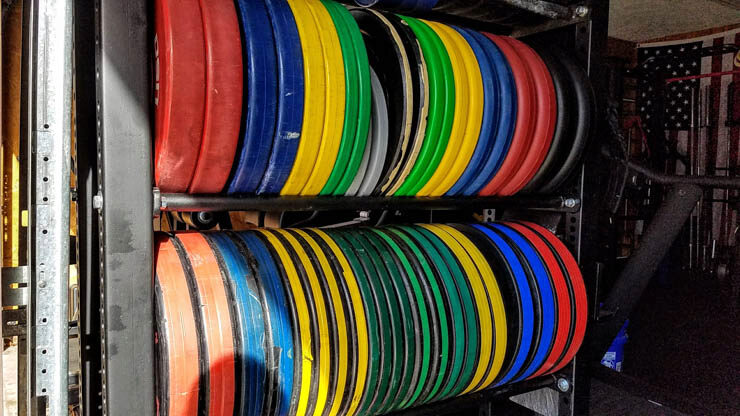 You have to have a bar, somewhere to place it (the rack) and something to put on it. The weight plates are what makes everything work.
One of the big debates in the Garage Gym Community (if you're not apart of our Garage Gym Community on Facebook, join 1,000's of others here) is should you get steel plates or bumper plates?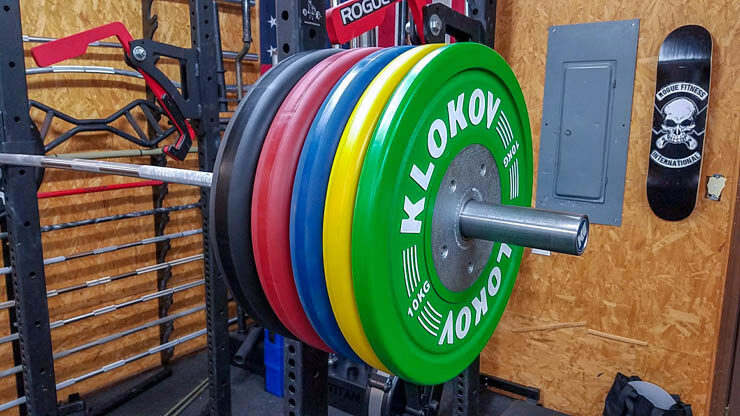 In my opinion, steel plates are cheap, but bumper plates will protect your bar, floor, and be more versatile. If you have no plans to do Olympic lifts or drop the bar, then steel plates are fine. However, if you plan to drop the bar, ever, then I would definitely suggest investing in bumper plates.
I use bumper plates for pretty much everything, that said, I'm never putting much more than 500 lbs on the bar. If you're an elite level powerlifter or just lift more than you can fit on the bar with bumper plates/don't like the instability of bumper plates then go with steel.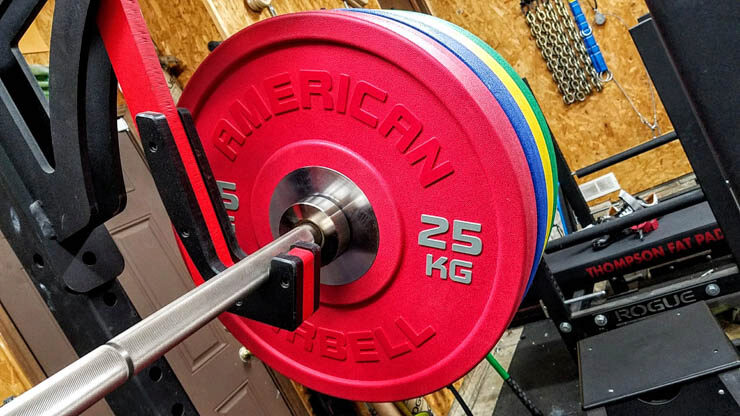 The bumper plates I use most often are the American Barbell Urethane Bumper Plates. Urethane, when properly formulated can be an extremely durable material for bumper plates. They also have incredibly vibrant colors and just fit the bar perfectly.
You can read the American Barbell Bumper Plates review here.
Here's a full list of my current plate selection, along with corresponding reviews.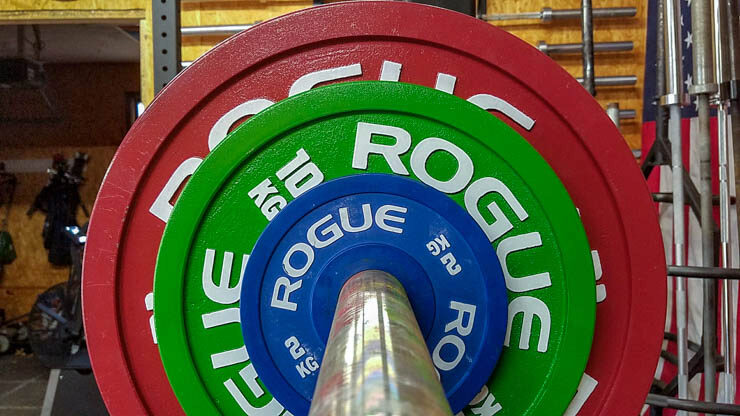 The Rogue Calibrated Steel Plate Set is really a great set for the price, however, there are many areas that could be improved including the paint.
Although they're priced well compared to some others, they're still much too easily chipped.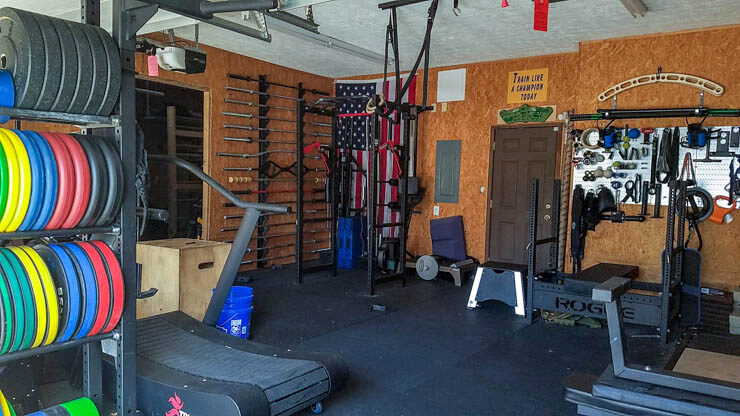 My change plate sets include:
I also have a number of random small plates that I use for things like dumbbell rows. For these, I just go through Amazon.
The majority of my plates I store on a Frankenstein Plate Rack I made out of an old Titan T-3 Power Rack and pull-up bars. It works extremely well and can handle any weight I put on it.
Dumbbells, Kettlebells, Clubs, Maces, Med Balls and Sandbags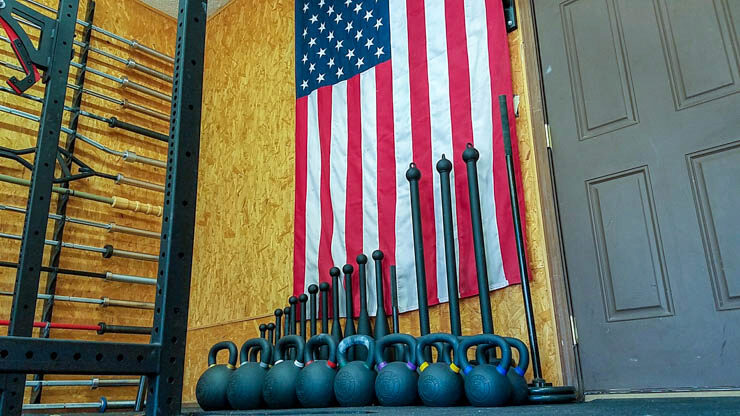 In addition to barbells, I use a lot of random weight. Again, because it's enjoyable to add versatility and there's no doubt that unilateral movement can be extremely effective. Although the barbell is King, it's not the only piece of equipment in the game.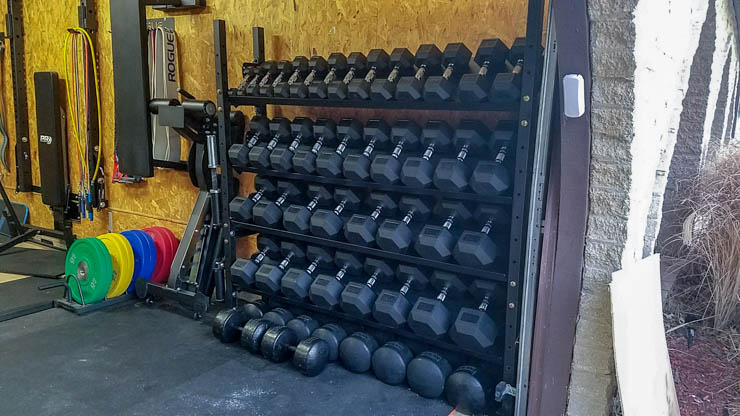 Here's a bit of information that can help you when purchasing these items. A majority of companies selling dumbbells, adjustable dumbbells, and kettlebells are using the same factories in China and simply rebranding them. For instance, the rubber hex-head dumbbells that every company sells are pretty much the same except for the price and branding.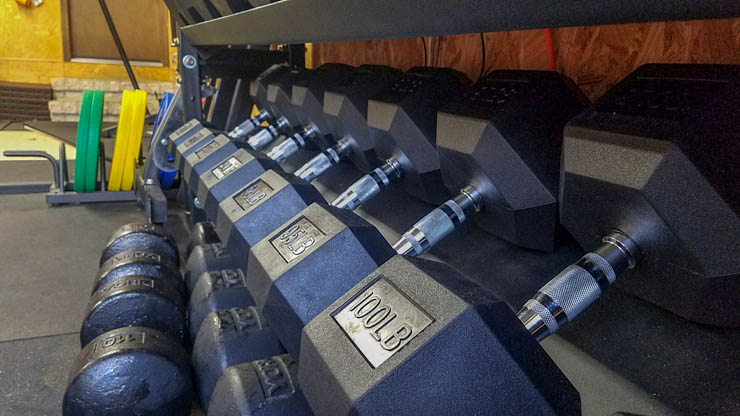 For this reason, my dumbbell set is sold by Titan Fitness. I have a 5-100 lb. set and absolutely love it. In comparison to what's offered by Rogue, there's no difference between them, except the Rogue logo, which yes, does have a big resale value.
Kettlebells are often the same as well. Rogue and Rep Fitness have pretty much the exact same kettlebells.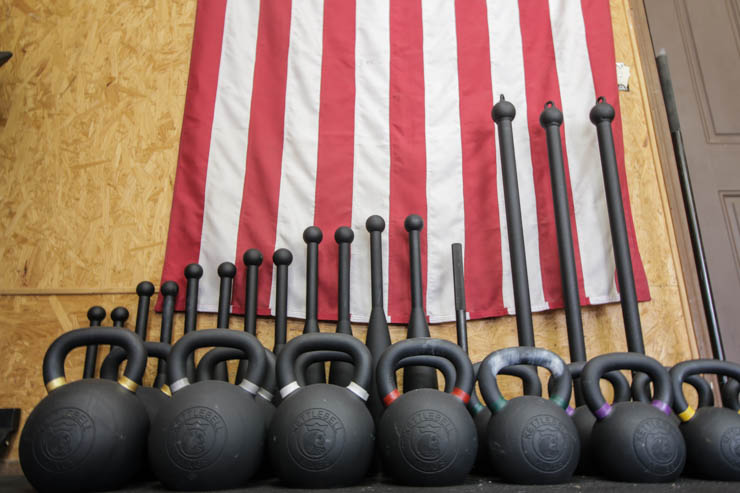 The best Cast-Iron Kettlebells that I've used, however, are the Kettlebell Kings Kettlebells. They're incredibly smooth, almost exactly the stated weight, and look awesome. Not to mention they're not that much more expensive than Rogue.
I'm a big fan of what Kettlebell Kings is doing and highly recommend them.
Here's what I have for dumbbells and kettlebells: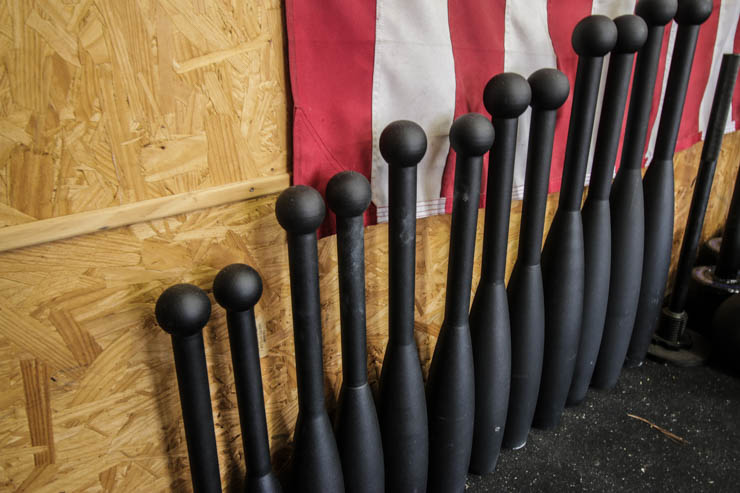 I've started incorporating clubs and maces into my training for mobility and conditioning purposes. They're quite fun to use and can be incredibly effective when used properly. They'll also humble you very quickly.
Here's what I have in terms of clubs and maces: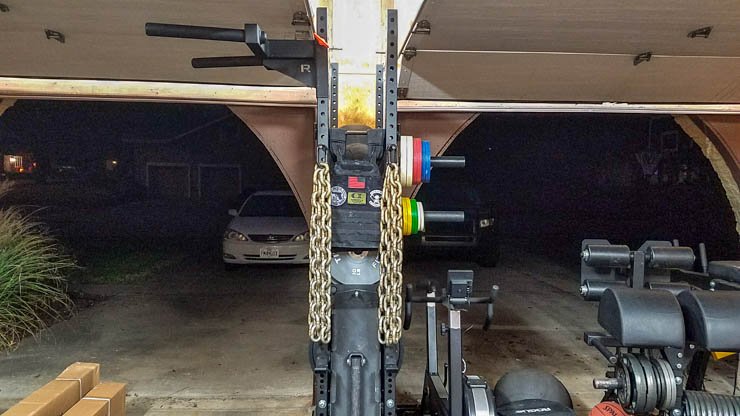 In addition to all of the iron in the garage, I have quite a bit of sand as well.
The best sandbags I've used and recommend are the Rogue Strongman Sandbags. Rogue just keeps improving designs and coming out with products that are really, quite versatile. Medball cleans, carries, squats, deadlifts, and more can be done with strongman sandbags and I use them at least twice a week.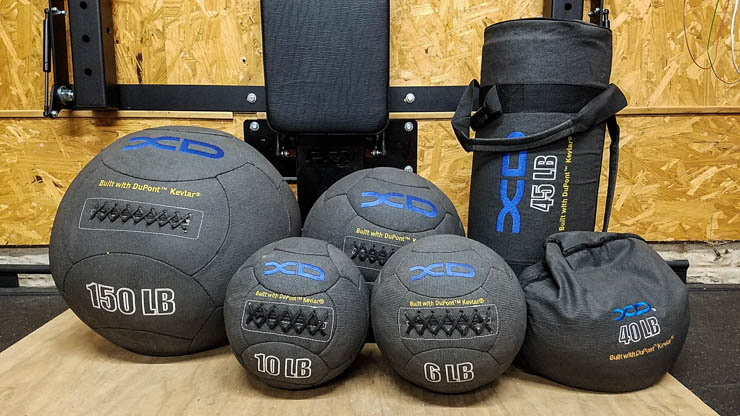 For medballs, I've pretty much stuck with XD Equipment. They're definitely not perfect, they actually don't stay very round, but I like how they grip and that they're extremely durable. For wall balls, I'll use a Vulcan 20 lb Medball that is a great value option.
Here's a list of the sandbags and medicine balls I have in the garage:
Conditioning Equipment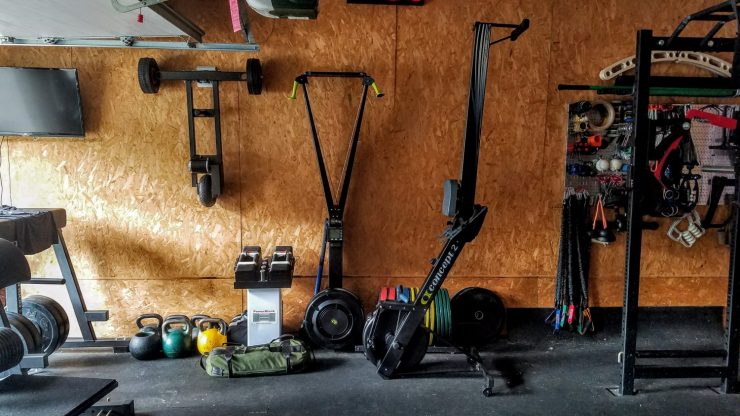 Although I'm like a majority of people in that I'd much rather do 5×5's instead of row 5,000 meters, I do view conditioning as important.
Personally, I prefer to do sprints on my various sleds, but I use everything else at least weekly. One of my favorite ways to do conditioning is with a group of friends. We'll come up with something terrible and just go to work. Cardio alone is probably the worst thing in the world…seriously, get some friends and get to work.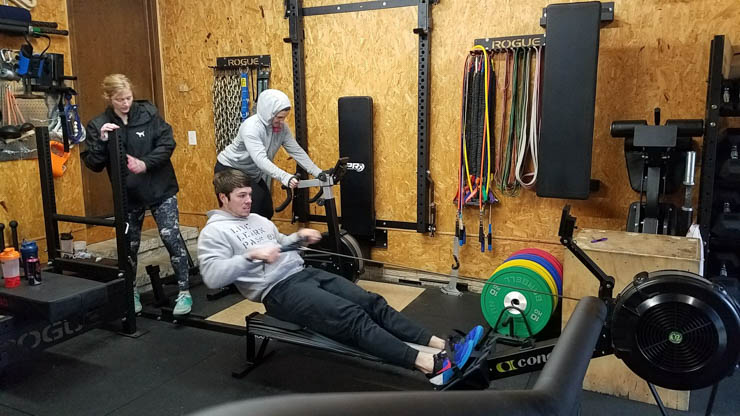 Without a doubt, Concept 2 is making the best conditioning equipment on the planet. Although there are other companies making good equipment, when Concept 2 comes out with something, you know it's going to be good.
The biggest and most expensive piece of equipment in my garage is the TrueForm Runner Treadmill.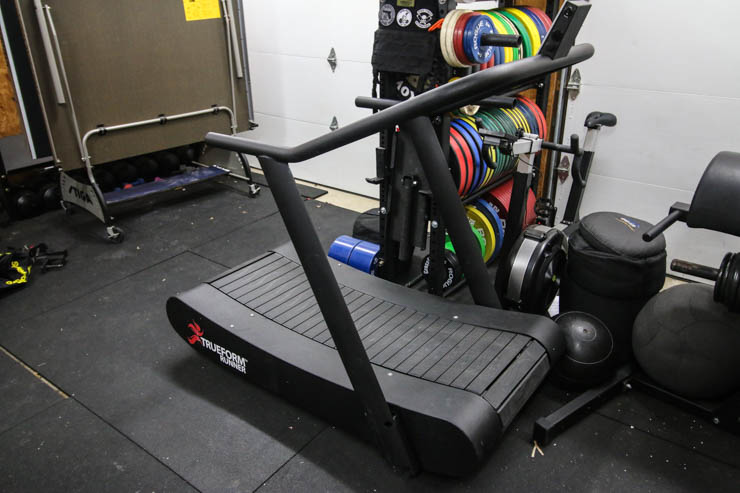 Do you need a treadmill in your garage? No, but it sure is nice to have one. The TrueForm Runner Treadmill is unique in that it's entirely self-propelled. Meaning, the faster you go, the faster the belt spins. There are no motors to break down or belts to stretch. It's made to take a beating and is in all reality quite versatile.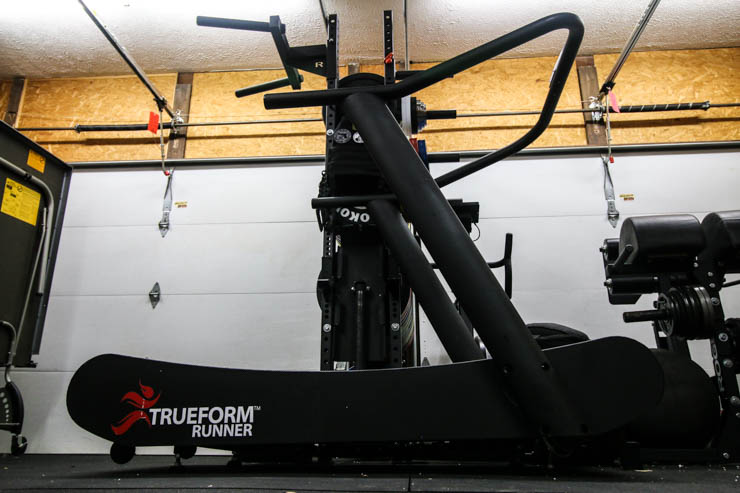 I'll use the TrueForm for longer distance steady-state work or jump on for some sprints. You're really only limited by your imagination.
You can find our full, in-depth review of the TrueForm Runner here.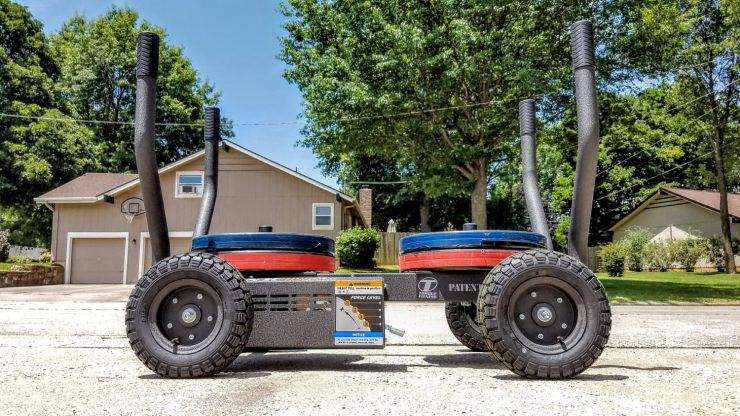 One of my favorite things in the entire garage is the Torque Fitness Tank Sled.
I had been eyeing the Torque Tank the minute it came out and was able to get it for a review. It's big, heavy, and completely overbuilt, which is exactly the type of equipment I love.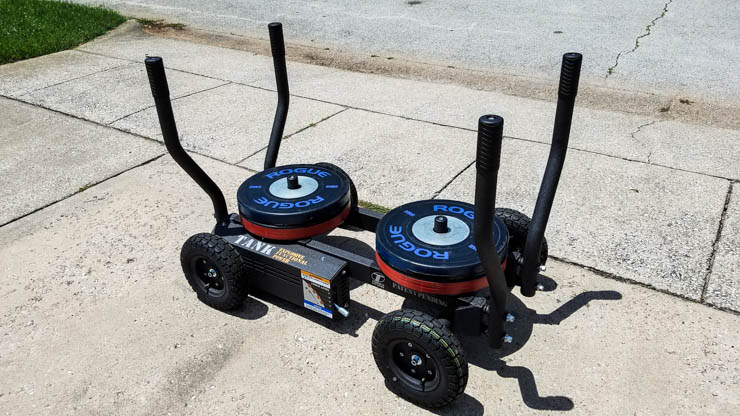 One of the cool things about the Torque Tank is that anyone can use, no matter their strength or skill level. The magnetic resistance is a great idea and something more and more companies are starting to use.
You can find our full, in-depth review of the Torque Tank here.
As previously stated, Concept 2 is making the best overall conditioning equipment available. My only gripe with Concept 2 though is that they don't make more stuff for me to buy. Can you imagine a Concept 2 Treadmill?!
I have all three of their pieces in the best design change they've ever made and that's turning their machines from drab gray to black.
My personal favorite is the Concept 2 SkiErg. I like the fact that I don't have to do any adjustments or getting in, I can just grab the handles and go. I've only had one issue with the machine, and that was that one of the cables got pulled off a pulley (I was told it was because of how cold it was in my garage,) but it only took 30 minutes to fix. Great machine.
The Concept 2 Rower is one of the most popular pieces of conditioning equipment in the world. It even made our top pick among all of the best rower machines.
We wrote extensively on the Concept 2 BikeErg, it's without a doubt my favorite bike and I greatly prefer it to the Assault-type bikes including the Rogue Echo Bike.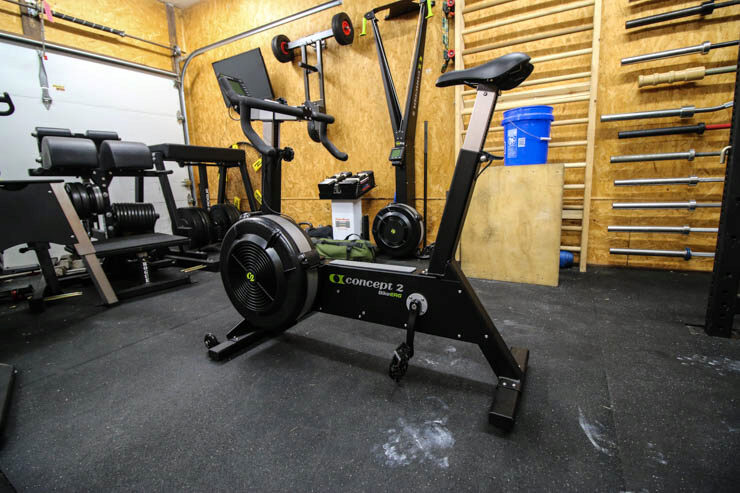 Here's all of the conditioning equipment that makes up the garage gym:
Full Equipment List