We test and review fitness products based on an independent, multi-point methodology. If you use our links to purchase something, we may earn a commission. Read our disclosures.
The Rogue Ohio Power Bar has long been my top pick for the best powerlifting barbell for most people. It comes in a number of different finishes, all with unmatched powerlifting knurl marks. Is this bar the right pick for your home gym? Find out in our Rogue Ohio Power Bar review.
Why You Should Trust Us
Out of all the different types of home gym equipment, barbells might be what I know best. After testing more than 50 barbells with my own hands—and researching more than 100—I can confidently say I know which bars are the best powerlifting barbells, as well as the best weightlifting barbells and best CrossFit barbells.
Rogue Fitness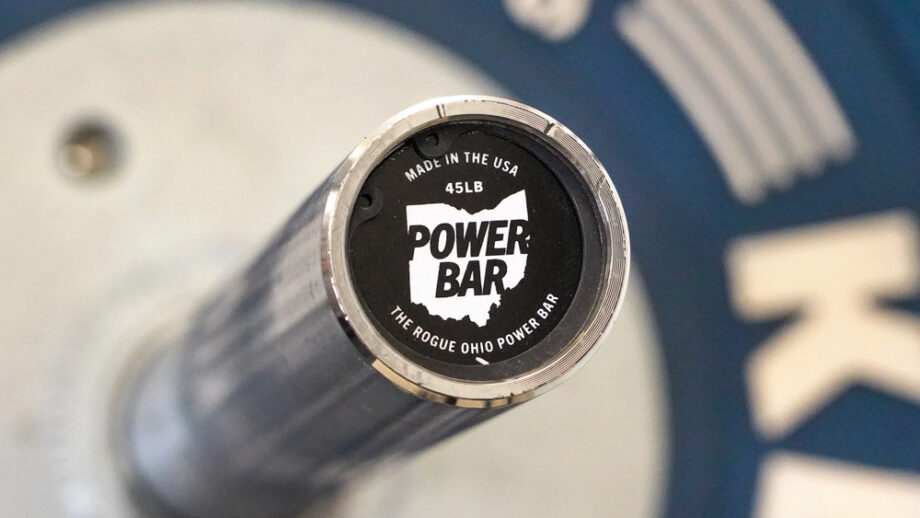 Rogue Ohio Power Bar
Fully machined and assembled in Columbus, OH, the 29MM Rogue Ohio Power Bar features a 205,000 PSI steel shaft (200,000 PSI for Stainless), single powerlifting knurl marks, and center knurling. The bar's knurl pattern is deep and coarse without being sharp or abrasive, and the 29MM shaft diameter and high tensile strength result in little to no flex or whip. This makes the Ohio Power Bar a perfectly honed workhorse for the bench, squat, and deadlift.The 45LB Ohio Power Bar includes bronze bushings, a snap ring design, and 16.25" of loadable sleeve length.When ordering, you can select from three finish options:Black Zinc shaft with Bright Zinc sleeves Stainless Steel shaft with Chrome sleeves Bare SteelRogue also manufactures a 20KG Ohio Power Bar, with friction-welded sleeves and 16.25" loadable sleeve space.The Ohio Power Bar's 29MM diameter steel shaft boasts a tensile strength of 205,000 PSI (200,000 PSI for Stainless), delivering superior rigidity and virtually zero whip/flex. Machined and assembled in Columbus, Ohio, the bar also features a snap-ring design and quality bronze bushings for a smooth, consistent feel.The bar includes single powerlifting marks and a center knurl, each featuring a deep, coarse pattern that produces a reliable grip / stick without being sharp or abrasive. Perfecting this knurl pattern is both a science and an art. Every bar shaft is machined in Columbus on new Haas machines (built in the USA) and fine-tuned and personally tested by the Rogue team.Depending on the look and feel you prefer, there is a version of the Ohio Power Bar right in your wheelhouse. The Zinc option (black shaft, bright sleeves) provides excellent corrosion resistance, the Bare Steel creates a classic look and natural feel, and the new Stainless Steel variation (with Chrome sleeves) strikes a balance between the two.The Ohio Power Bar's quality construction is backed by Rogue's Lifetime Warranty against bending. This is a barbell equipped for high intensity, everyday use. Please Note: The warranty does not cover damage due to negligent or faulty use, alteration, maintenance, storage or handling by the user, i.e., dropping the bar on a box, bench, spotter arms or pins in a power rack, excessive dropping with insufficient or damaged bumpers, or excessive dropping with iron plates, and similar usage. Any specific issues regarding a Rogue product with which a customer is not satisfied will be reviewed on a case-by-case basis.
A Quick Look at the Rogue Ohio Power Bar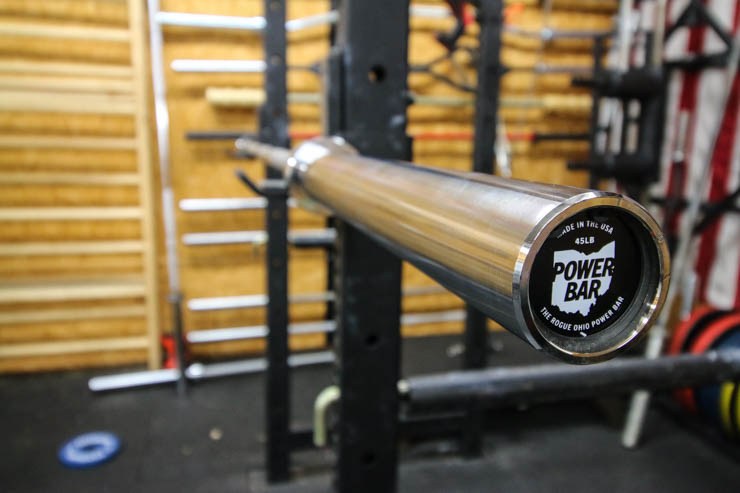 The Rogue Ohio Power Bar (OPB) has become recognized as one of the best barbells among those in the powerlifting community. When Rogue released this bar in 2014, it quickly became the best value power bar on the market.
I say value because, sure, you could spend three times as much and get a subjectively better bar, but what's worth the money to some won't be to others. For example, I don't think the Eleiko IPF Powerlifting Bar has a better knurl than the Rogue OPB, yet it costs over $1,000—but that's a personal preference.
Anyway, now there are several iterations of the Rogue Ohio Power Bar, and today I'm reviewing the stainless steel version—a godsend of a barbell.
Coop's Tips:
The knurling leans toward aggressive; make sure to consider this before you buy.
Know that only the shaft is stainless steel; if you plan on keeping it in a non-climate-controlled environment, the sleeves may experience oxidation over time.
My Favorite Things:
Stainless steel construction resists oxidation and corrosion.
Manufactured in Rogue's Columbus, Ohio, factory. I love a good USA-made piece of equipment.
Perfect for heavy deadlifts, squats, and bench press.
My Callouts:
Sleeves aren't stainless steel: only the shaft
Knurling leans aggressive (not necessarily a bad thing)
Not technically IPF-certified, although there is a 20-kg version that meets the specs
Video Review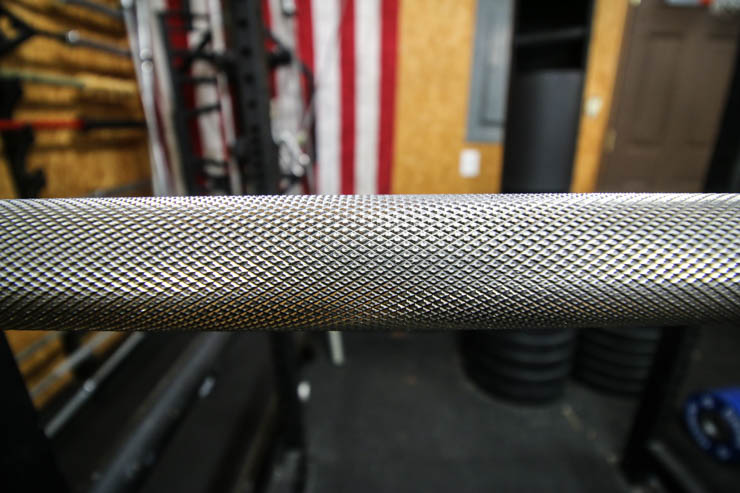 Is the Rogue Ohio Power Bar Worth It?
If you do lots of squatting, deadlifting, and bench pressing, I think the Rogue Ohio Power Bar is one of the best investments you could ever make for your home gym. This barbell will hold up for years and provide you with countless spectacular workouts. It's definitely not the least expensive power bar out there—you'll pay a smidge over $400 for the stainless steel version—but the construction and durability make it worth it.
Great for:
Lifters looking for a great value powerlifting barbell
Garage gym owners looking for a bar that will resist corrosion and last for years to come
Anyone who wants a stiff, durable bar with strong knurling
Not recommended for:
People who want the least expensive Rogue barbell
Anyone looking for the best barbell for CrossFit or Olympic weightlifting workouts
People who need milder knurling
Rogue Ohio Power Bar Specs
| | |
| --- | --- |
| Bar Weight | 45 lb |
| Shaft Diameter | 29mm |
| Knurl | Aggressive |
| Center Knurl | Yes |
| Knurl Marks | Powerlifting |
| Shaft Coating | Stainless Steel |
| Sleeve Finish | Hard Chrome |
| Tensile Strength | 200,000 PSI |
| Bar Length | 86.5" |
| Loadable Sleeve Length | 16.25″ |
| Bushing/Bearing | Bushing |
| F Rating | F2 |
| Made In USA | Yes |
| Warranty | Lifetime |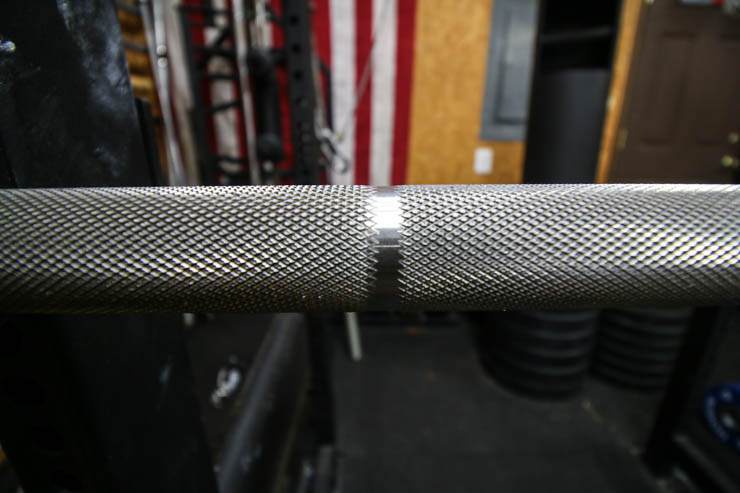 Using the Rogue Ohio Power Bar
As discussed above, stainless steel is, in all reality, the ultimate steel available for a barbell in terms of knurling feel and oxidation resistance. If you train in a garage gym, then you know all too well the difficulty of having to maintain barbells and keep them from developing surface rust. Outside of Cerakote, in my experience, nothing will defend against oxidation like stainless steel.
Although the stainless steel used for the Ohio Power Bar is excellent, the standout feature of the OPB is the knurling. Out of all the power bars I've used (yes, even the overrated Texas Power Bar) the OPB has my favorite knurl. It's aggressive enough to dig into the hand, but it's not going to shred them like the cheese grater known as the Okie Deadlift Bar.
More than any other company, Rogue has invested in the tooling, machinery, and research to develop the best knurling possible. Knurling is a very subjective thing as everyone has different preferences, but there has not been a bar with as much universal acceptance as the Rogue OPB.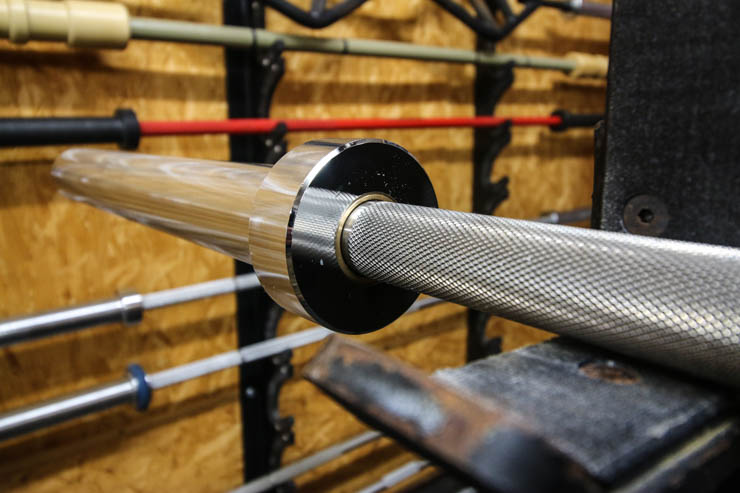 Bar Weight
The Ohio Power Bar is a 45-pound bar. Keep in mind, Rogue manufactures an entirely different barbell listed as a 20-kilogram Rogue Ohio Power Bar. Yes, most people use 45 pounds and 20 kilograms interchangeably. But in this case, Rogue separates them. Only the Rogue 20-kg Ohio Power Bar—NOT the Rogue 45-pound Ohio Power Bar reviewed here—is IPF-certified. This is because IPF requires bars to be 20 kilograms, which is actually closer to 44 pounds.
Rogue doesn't have a 15-kilogram/35-pound (often referred to as a women's bar) with the same features as the OPB.
Tensile Strength
The tensile strength of the stainless steel OPB is 200,000 pounds per square inch (PSI) and has hardly any flex. No, this isn't the highest tensile strength of any power bar available, but there are many people much stronger than you or I that use the OPB on a daily basis without any issues. Thanks to the tensile strength, as well as the diameter of the shaft, the OPB is very stiff with little flex.
I loaded up more than 650 pounds on the bar and raised it out of the rack to test its flex, and there was much less give than I expected. For the squat and bench this is great, but for the deadlift, not so much. That's why some powerlifters like a 27mm slinky deadlift bar.
One improvement we'd like to see is an increase in the tensile strength. Yes, 200K PSI is enough for most people, but if you're striving to make the world's best power bar, you might as well go all out.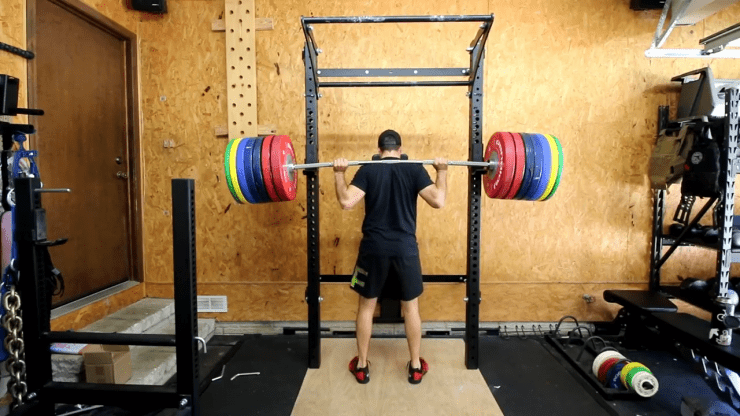 Knurling
The aggressive knurling on the OPB features four diamond points where ordinarily there would be only one. This is likely achieved by taking two more passes over the knurl that cuts off the top diamond knurl and therefore increasing the surface area and points of contact.
This knurl pattern is also used on the center of the bar for adding extra "stick" of the barbell to your back during squats.
Knurling is a hard thing to judge over the internet and really does require the user to actually hold the bar before deciding if they'll like it. That said, I highly recommend this bar, and that's largely due to the outstanding knurl.
Rogue just released the AGGRO version of the Ohio Power Bar in 2021, which has even more aggressive knurling. You can choose from 2x AGGRO or 3x AGGRO, with the 3x being the sharpest knurling available from Rogue.
Finish
The OPB comes in several finishes (black zinc, Cerakote, e-coat, bare steel, and stainless), but I own the stainless steel, and that's the bar I'm referencing in this review.
Stainless steel is probably the best barbell finish money can buy. Some may argue that e-coat or Cerakote are better, but I like the fact that stainless steel has a more natural feel, like bare steel, in hand. This is because the knurling isn't affected by any coating. Plus, stainless steel is less likely to suffer abrasions from the J-cups on your power rack than a coated barbell.
Please beware: Stainless steel is NOT the same thing as bare steel. Bare steel is extremely vulnerable to oxidation, and you will be very disappointed if you accidentally order a bare steel barbell and take care of it as if it's a stainless steel bar.
The Ohio Power Bar has chrome sleeves. Personally, I'd like to see a slightly more expensive bar that included stainless steel sleeves in addition to the shaft. Ivanko has been making power bars for years that feature a stainless steel shaft and sleeves, and although it would add to the cost, it would make it an even better bar.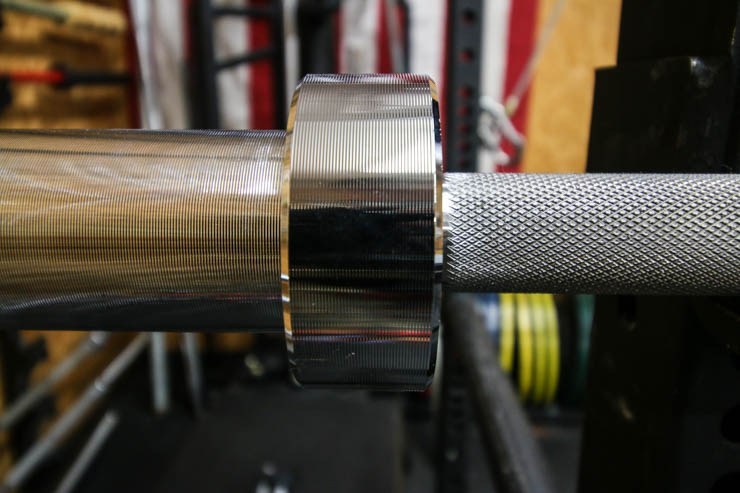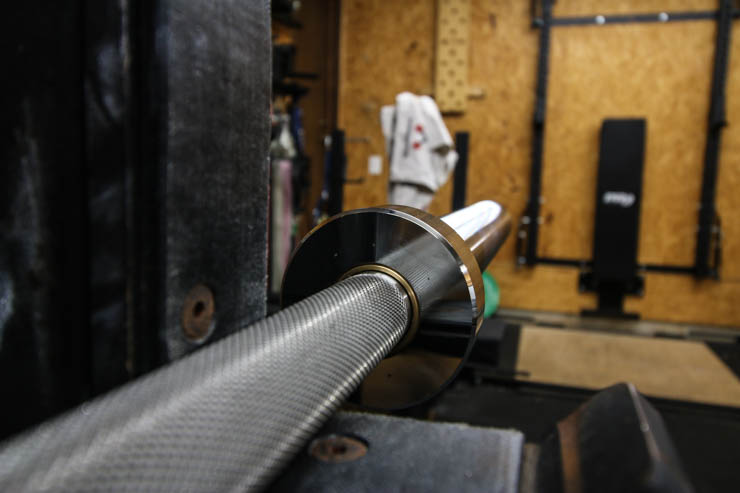 Shaft
The Ohio Power Bar features a 29mm diameter steel shaft that has become the standard for power bars designed to be used for all of the big three power lifts (squat, bench press, and deadlift).
If you're used to using the typical 28.5mm diameter shafts, then this will feel better on both the squat and bench. In my training, I do a lot of overhead press, as it's the manliest exercise (don't @ me) and the 29mm diameter shaft is much more comfortable than any of the 28mm Olympic bars I used to use.
Sleeves
The loadable sleeve length is 16.25 inches, which is standard for powerlifting bars. Although the Rogue Ohio Power Bar is one of our favorite bars, there is an improvement we'd like to see, and that is with the sleeves.
As we previously discussed, the bar comes with hard chrome-plated sleeves, which is better than, say, a black zinc, bright zinc, or black oxide. We'd really like to see the bar include stainless steel sleeves, even if it comes at an extra cost.
Rogue Ohio Power Bar vs Texas Power Bar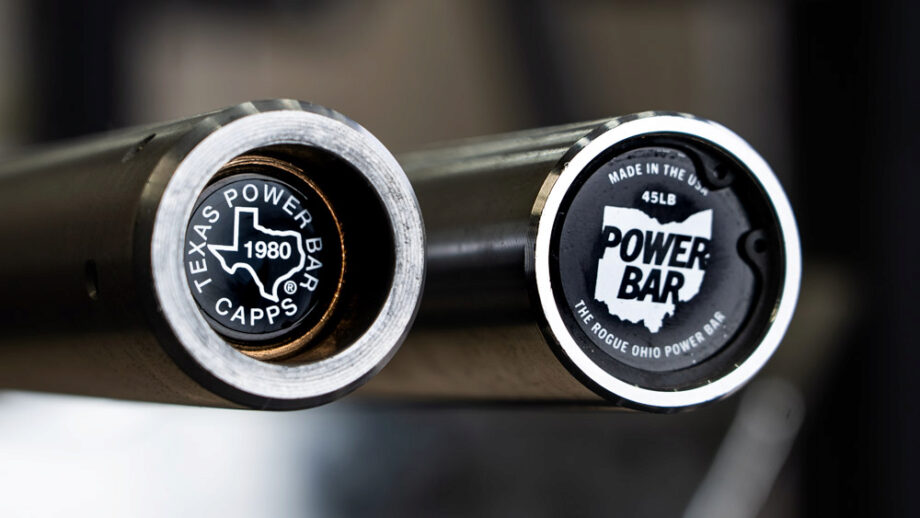 This is a topic that requires an in-depth discussion, and as luck would have it for you, we've compared the Rogue Ohio Power Bar vs The Texas Power Bar for your enjoyment.
To summarize a lengthy discussion, both the TPB and OPB are legendary barbells. The Texas Power Bar by Buddy Capps has been around the longest and has been used during countless record power lifts. However, from a specs standpoint, the Rogue Ohio Power Bar is simply a better bar. It has higher tensile strength steel, various finish options, a better warranty, and a better price.
The knurling is certainly worth arguing over, but again, this is very much a personal preference. I like the knurling on both bars, but in the end, I prefer the less sharp (notice I said less sharp, not less aggressive) knurling of the OPB.
Regardless of your choice, the OPB and TPB are outstanding barbells that will get the job done regardless of strength levels.
Rogue Ohio Power Bar vs. American Barbell Mammoth Power Bar
The American Barbell Mammoth Power Bar is another phenomenal powerlifting barbell. It's constructed of stainless steel with a Cerakote finish for double protection from oxidation and corrosion. The sleeves have a hard chrome finish just like the Rogue Ohio Power Bar. In many ways, the Mammoth Power Bar is super similar to the OPB.
The main difference between the two (other than the Cerakote finish on the Mammoth) is the knurling. The knurling on the Mammoth Power Bar is extremely precise, but it's shallower than the OPB knurling. This is probably due in part to the Cerakote spray. It's very passive for a power bar, which could be a good thing if you think most power bars are too aggressive.
The Mammoth Power Bar has the now-standard 29-millimeter diameter, as well as all of the other standard specs (16.25-inch sleeves, 86.5-inch total length, 45-pound weight). It is slightly stronger than the Ohio Power Bar with a tensile strength of 210K PSI.
Because of the knurl, we still recommend the OPB as the best powerlifting bar for most people, despite the Mammoth having some awesome specs.
Rogue Ohio Power Bar vs. Fringe Sport Lone Star Power Bar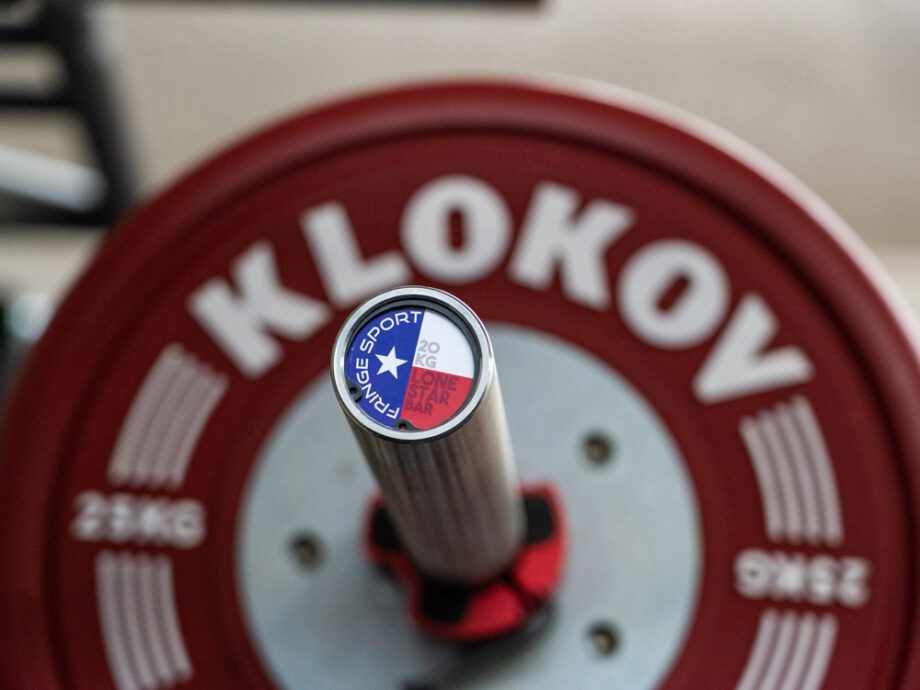 The Fringe Sport Lone Star Power Bar is a great powerlifting barbell. I like to say it's like the child of the Rogue OPB and the Texas Power Bar. There are some key differences you should be aware of if you're interested in the Lone Star.
The first difference is that the Lone Star Power Bar has a 28.5-millimeters diameter, in contrast to the OPB's 29 millimeters. This is a plus for deadlifts, but maybe not so much for squats and bench press.
The Lone Star has a slightly lower tensile strength than the OPB, ringing in at 190K PSI. This is still plenty strong enough for the average home powerlifter. But between the lower tensile strength and smaller diameter, the Fringe Sport Lone Star Power Bar will undoubtedly flex a bit more than the Ohio Power Bar.
I love that the Lone Star Power Bar is manufactured in the U.S. just like the Ohio Power Bar. The price point hovers around the same as that of the stainless steel OPB, so your choice will come down to personal preference.
Rogue Ohio Power Bar vs. REP Stainless Steel Power Bar EX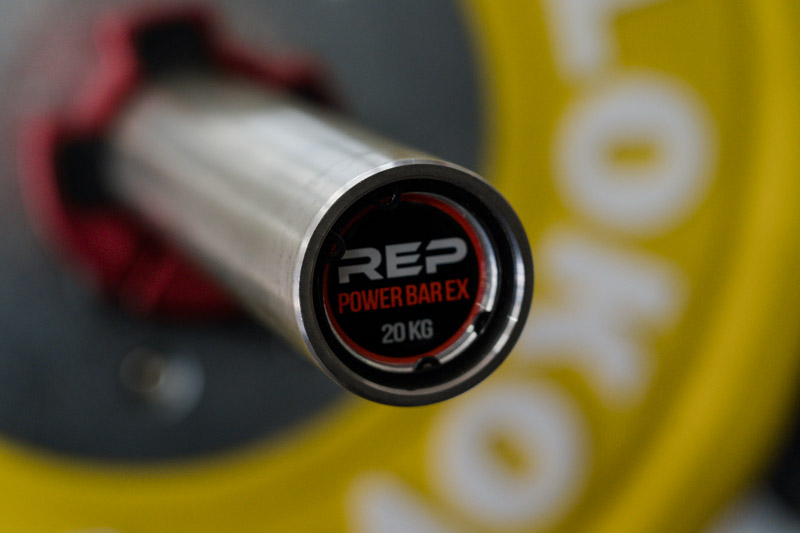 I honestly think the REP Stainless Steel Power Bar EX is the best barbell REP Fitness has released to date—but I still recommend the Rogue Ohio Power Bar over it. This is for a few reasons.
For one, the OPB is completely sourced and manufactured in the U.S. This isn't a big deal to everyone, but I try to prioritize USA-made gym equipment, even if it means forking out more cash.
In terms of actual specs, these REP and Rogue power bars are pretty similar. The difference once again comes down to knurling. The REP Power Bar EX has much finer knurling than the Rogue OPB. This isn't to say that it's less aggressive—it's just that it has more points per square inch, which means the points are more evenly dispersed across the surface of your skin when using the bar. This is a good or bad thing depending on your knurl preferences.
Also, the REP Power Bar EX has the one thing we wish the Rogue OPB had: stainless steel sleeves. All in all, if you don't really care about buying USA-made equipment for your home gym, then the REP Stainless Steel Power Bar EX is a good option for you.
Rogue Ohio Power Bar vs. Rogue AGGRO Power Bar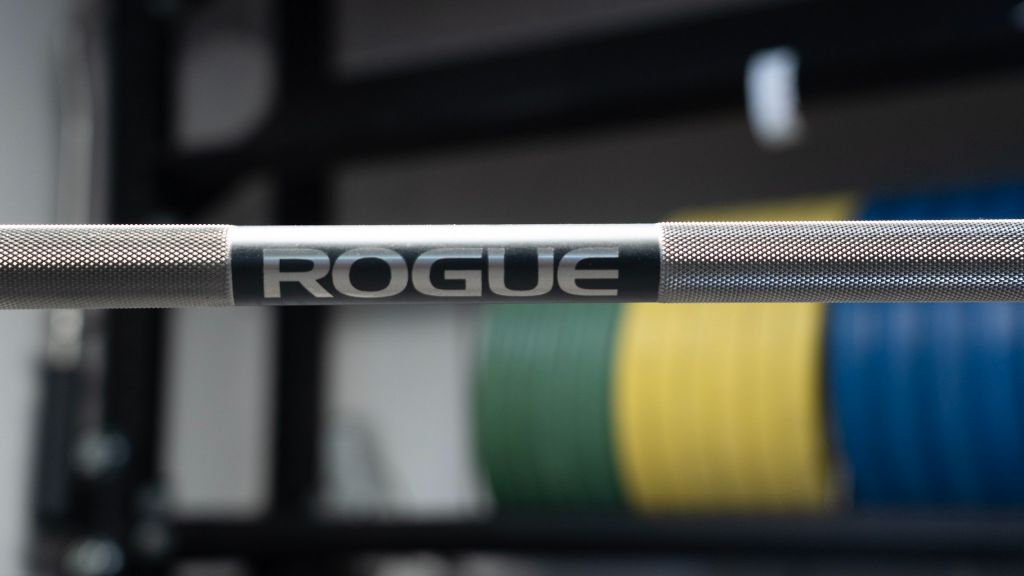 The Rogue AGGRO Power Bar is essentially the same barbell as the Rogue Ohio Power Bar, but with some of the most aggressive knurling I've ever put my hands on. You can pick between double or triple the amount of knurling on your AGGRO Bar–the double has a volcano pattern, whereas the triple is most similar to mountain peaks.
I got my hands on the 3XAGGRO, and I can't undersell just how sharp it is––it ripped up some of the cardboard it was shipped in and left an imprint on my hand as soon as I touched it.
The AGGRO bar also has Cerakote on either side of the center knurl with a cool looking aggro monster imprinted on it. The Cerakote doesn't serve any functional purpose, but it does look really cool.
In addition to the aforementioned specs, both the shaft and sleeves are made of stainless steel. This is a highly corrosive resistance material and is rarely seen on both parts of the bar.
Other than that, it's the same exact bar as the Rogue Ohio Power Bar and it performs just as well during squats.
I'd only recommend the AGGRO Power Bar over the old-fashioned Ohio Power Bar if you're someone who needs, or just wants, super aggressive knurling on their bar. Other than that I'd say just go for the classic.
Rogue Ohio Bar After 4 Years
It's been nearly four years since we originally reviewed and began training with the Rogue Ohio Power Bar. Since then, I've not only used a myriad of other Ohio Power Bars including the black zinc, raw steel, and Cerakote versions, but I've also used a lot of other bars designed for powerlifting.
Despite the number of bars my hands have seen, the Rogue Ohio Power Bar still strikes me as the best overall power bar for most people. Sure, there are features about other bars that I may like a bit more, but not when the price is considered.
For instance, the Kabuki New Gen Power Bar is an absolute beast of a bar with 250K PSI tensile strength steel and a world-class knurl. However, it's more than double the cost of most versions of the OPB. I've also trained with an Eleiko IPF Powerlifting Competition Bar NxG 20KG, and although it's a tremendous bar, it's not worth nearly three times the cost of what Rogue is producing.
The Rogue Ohio Power Bar remains not only one of my favorite power bars, but also one of my favorite bars in general. If I could only choose five barbells to train with for the rest of my life (rough life, I know), the OPB would be one of them. The stainless steel is great if you train in a garage and experience fluctuating humidity that leads to rust corrosion, although I think most home gym owners could get by just fine with the black zinc shaft version, or the Cerakote or e-coat version.
Many competing power bars have been released by various brands since we originally wrote this review, such as the outstanding Rep Stainless Steel Power Bar EX. However, the Rogue OPB still reigns supreme in our hearts and minds.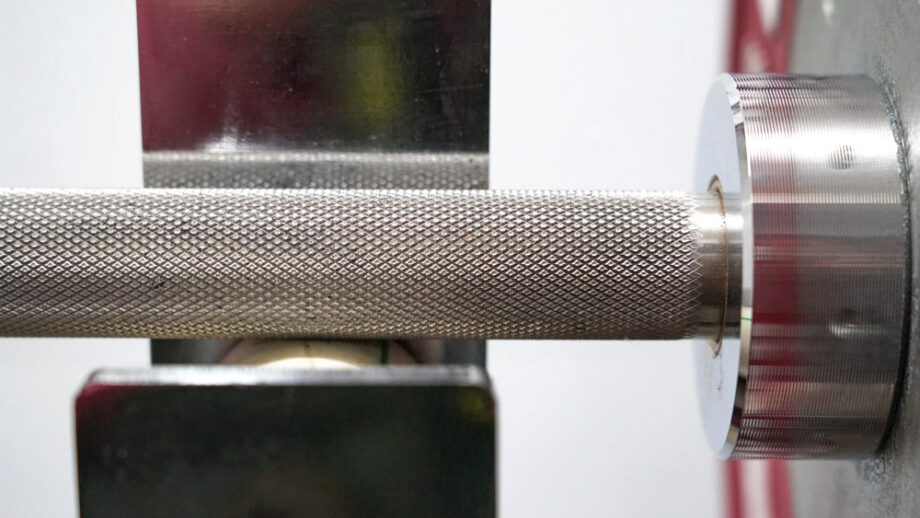 Here's a close-up of some of the best knurling in the industry: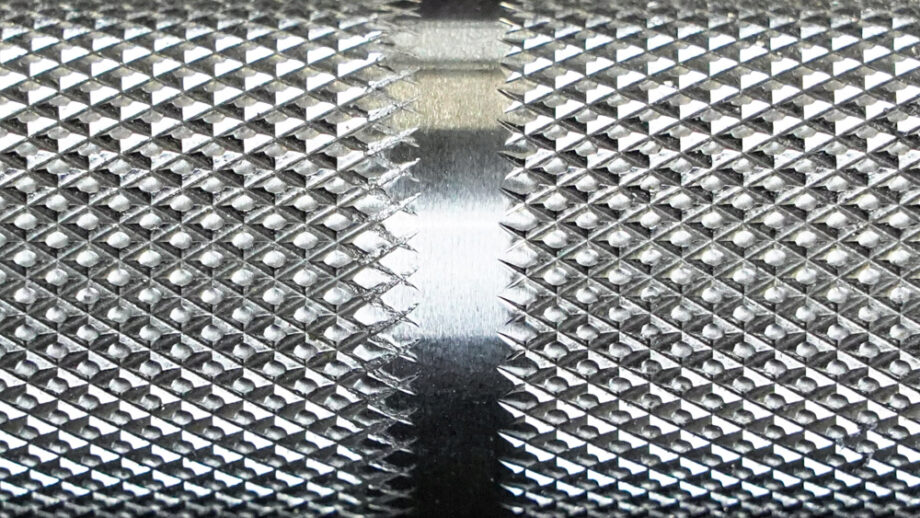 Here's the end cap, not worn too bad, although I'm not in love with how Rogue applies stickers to their end caps: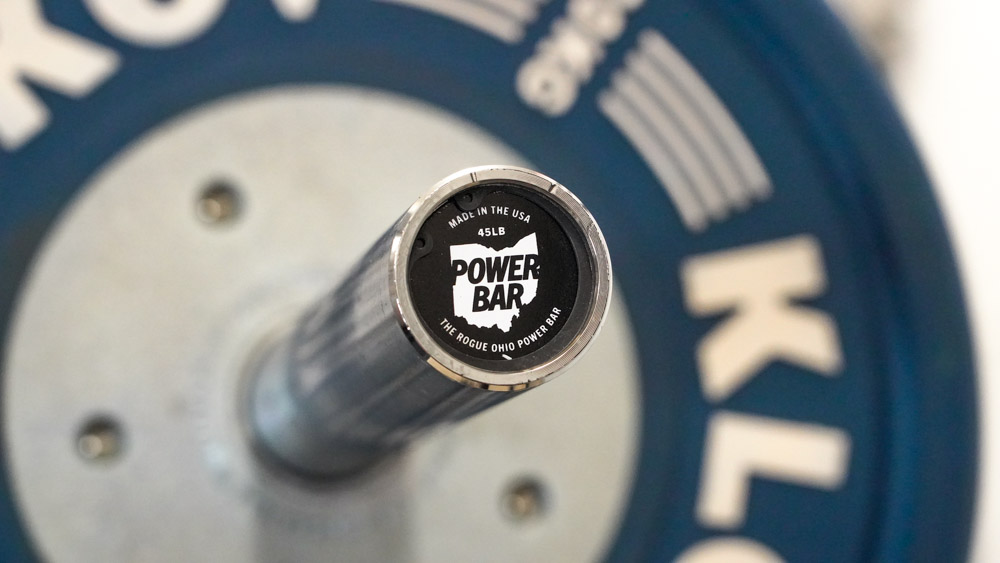 Here's the bar being used for squats by Will, the strength training wizard: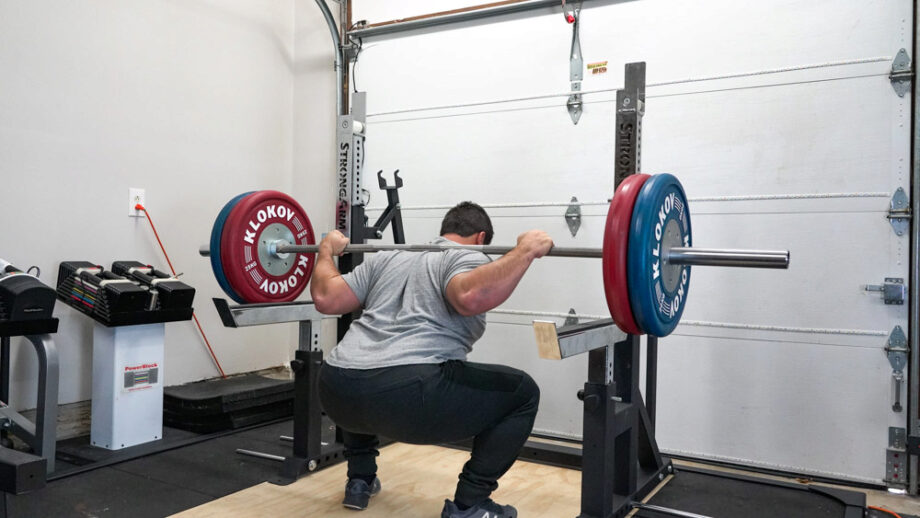 Ordering and Assembling the Rogue Ohio Power Bar
Shipping and delivery with Rogue is always a good experience, and delivery of the OPB was no different. The order shipped quickly, arrived quickly, and was left on my doorstep with minimal damage to the packaging. No end caps were busted nor sleeves scuffed.
Customer Experience
Finally, one of the best features of the OPB and one reason I don't suggest purchasing boneyard bars is that the OPB comes with a lifetime warranty from a company that should be around for our lifetimes. Obviously, this warranty doesn't extend to using the bar in a negligent manner, but Rogue has some of the best customer service in the industry and works until the customer is satisfied.
Customer Reviews
Rogue Fitness generally has pretty stellar customer reviews. The Ohio Power Bar has all four- and five-star ratings on roguefitness.com, with some customers calling it the "gold standard" and telling people to "just order it already."
Some people call out that the knurling is a bit more aggressive than they'd like, but that's the only complaint I see.
Final Verdict of Our Rogue Ohio Power Bar Review
I'm a huge fan of the Rogue Ohio Power Bar and the stainless steel version makes it that much better. If you're looking for the last power bar you ever need to buy and plan to focus on the squat, bench press, and deadlift (with maybe the occasional power clean), then we highly recommend the Rogue Ohio Power Bar. If you want oxidation resistance and the best feeling knurl money can buy, grab the stainless steel version.
This is one of the best power bars on the market.
The stainless steel construction will resist rust for ages.
It has, in my opinion, unmatched knurling for powerlifting.
Full Rating
Rogue Ohio Power Bar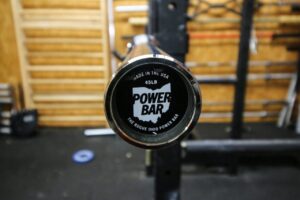 The Rogue Ohio Power Baris our pick for the best powerlifting barbell for most people. Rogue has taken this already outstanding bar and exchanged the zinc coated shaft with stainless steel creating a barbell that could only be improved a couple of ways as detailed in our review.
Product Brand: Rogue Fitness
Product Currency: USD
Product Price: 415
Product In-Stock: InStock
Rogue Ohio Power Bar FAQs
Is the Ohio Power Bar Good?
The Ohio Power Bar is widely regarded as the finest bargain power bar ever. The OPB is built in the United States using steel supplied in the United States at Rogue's plant in Columbus, Ohio. The tensile strength of the Ohio Power Bar is 205K PSI, which is extremely high.
How much does the Rogue Ohio Power Bar weigh?
The Rogue Ohio Power Bar weighs 45 pounds.
What is the rogue power bar used for?
The Ohio Power Bar is a well tuned workhorse for benching, squatting, and deadlifting. Bronze bushings, a snap ring construction, and 16.25″ of loadable sleeve length are all included in the 45LB Ohio Power Bar.