We test and review fitness products based on an independent, multi-point methodology. If you use our links to purchase something, we may earn a commission. Read our disclosures.
Editor's Note: The NordicTrack RW500 is no longer in production. We suggest viewing the NordicTrack RW700 as the best alternative, or view our Best Budget Rowing Machine roundup for more options.
It's not uncommon to see a brand like NordicTrack revamp an entire lineup of fitness equipment after just a few years on the market—technology changes and demands change, you know the drill.
The NordicTrack RW500 is no exception. This model was released within the last five-or-so years, but the brand has taken it off the website to make way for the newest collection of rowers including the RW700 and the new and improved RW900.
That said, if you're landing on this NordicTrack RW500 Rower review, it's likely because you came across one second hand (and want to know more about the machine before you buy) or you're looking for a comparable machine because you're interested in the RW500 but you can't find in stock (even on third-party retailers like Amazon and Best Buy).
Have no fear, I'll lay out the pros and cons of this discontinued cardio machine and let you know what's currently on the market and the most comparable to the late RW500.
Industry Experts on All Things Conditioning
At GGR, we believe that our expert product testers—who happen to be fitness industry experts—can offer tremendous insight when you're shopping for your next piece of home gym equipment. We are, after all, a group of Olympic athletes, CrossFit Level 1 Trainers, certified personal trainers, and nutrition coaches.
While we haven't had our hands on the NordicTrack RW500, we've tried other NordicTrack rowing machines and have extensive experience with the NordicTrack brand—from treadmills to ellipticals. We think that our combination of industry experience and overall rowing experience will help you make an informed decision about the RW500.
Looking for an Alternative to NordicTrack RW500 Rower?
Because the NordicTrack RW500 is hard to come by, you might be interested in finding a current model that you can buy directly from the manufacturer's website. The website currently boasts the NordicTrack RW700 and a newly revamped NordicTrack RW900.
RELATED: Best NordicTrack rower
The RW700 might come equipped with a smart HD touchscreen (while the RW500 does not) but it's the most comparable in price.
It's worth noting that the RW700 might be leaving the rower lineup soon—it's currently marked down to a closeout price of $1,299, which is down from the original price of $1,499. However, while it's still available you could get the chance to buy this iFIT-enabled rower with a 10-inch tilt and pivot touchscreen with the option to finance directly through NordicTrack.
The NordicTrack RW700 also comes standard with some similar features to RW500, including Bluetooth connectivity, steel monorail, oversized pivoting pedals, adjustable foot straps, magnetic flywheel, and 26 digital resistance levels. You can read all about these specs and our hands-on experience with the NordicTrack RW700 in our in-depth written review.
Best Alternative to NordicTrack RW500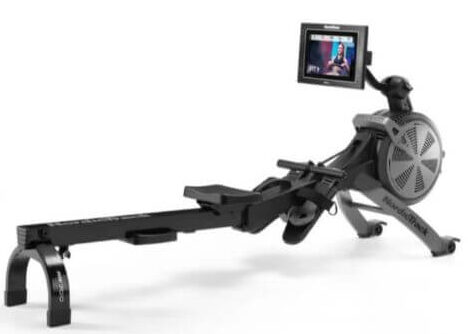 GGR Score: 4.22
Product Highlights
26 levels of silent magnetic resistance 

iFIT programming 

Oversized pedals with adjustable nylon foot straps 

Soft grip handles 

Bluetooth capability

Front-mounted transport wheels
Pros & Cons
Pros
Less expensive than the RW900
Pivoting pedals
Adjustable foot straps
26 levels of silent magnetic resistance
iFIT programming
Oversized pedals with adjustable nylon foot straps
Soft-grip handles
Bluetooth capability
Front-mounted transport wheels
AutoAdjust technology
Pivoting touchscreen display
Cons
10-inch touchscreen is relatively small
Weight capacity of 250 lbs is below industry standard
Monthly fee required to use all features
Requires an outlet for use
Doesn't fold
Bottom Line
The NordicTrack RW700 rower has a lot of great features but overwhelming negative reviews of product failure.
A Quick Look at the NordicTrack RW500 Rower
If you have located a NordicTrack RW500 for sale, let's review the pros, cons, and specifications before you go pick it up. This is an older model without the popular touchscreen displays you'll see on all the new NordicTrack machines today. However, there is a media shelf so you can use your smartphone or tablet to connect to iFIT and take advantage of trainer-controlled resistance during your workouts.
Pros:
Foldable space-saver design
iFIT-enabled
Built-in speakers
10-year frame warranty
Dual resistance
Low-impact, full-body cardio machine
Cons:
Subpar 250-lb user weight limit
No interactive HD touchscreen
Basic LCD backlit display
NordicTrack RW500 Rower Specs
Because the RW500 is no longer featured on the NordicTrack.com these are the specs I could find based on research:
| | |
| --- | --- |
| Price | Around $1,000 |
| Footprint | 86.5" L x 22" W x 47.1" H |
| Weight | 115.83 lbs |
| Weight capacity | 250 lbs |
| Resistance type | Magnetic, air |
| Resistance levels | 26 |
| Display | 5" LCD backlit screen |
| Foldable | Yes |
| Audio | Built-in digitally amplified speakers |
| Bluetooth | Yes |
| Warranty | 10-Year Frame, 2-Year Parts, 1-Year Labor |
Key Features of the NordicTrack RW500 Rower
One of the unique features to the NordicTrack RW500 is the dual resistance, featuring both air and silent magnetic resistance (SMR). This feature allows you to make micro adjustments to your resistance levels between every set integer of magnetic resistance. That means you can customize what the resistance feels like between level 13 and 14 with your own effort and output—just like a traditional air rower like the Concept 2 Model D.
The cool thing to note about this is the fact that you can still fine-tune your workout even when following along with iFIT interactive programming and utilizing the auto-adjust feature that allows the iFIT instructor to change the level of magnetic resistance on the RW500 while you follow along with their cues.
Another interesting feature of the RW500 is the fact it can fold in half with the patented space-saver design.
Footprint And Portability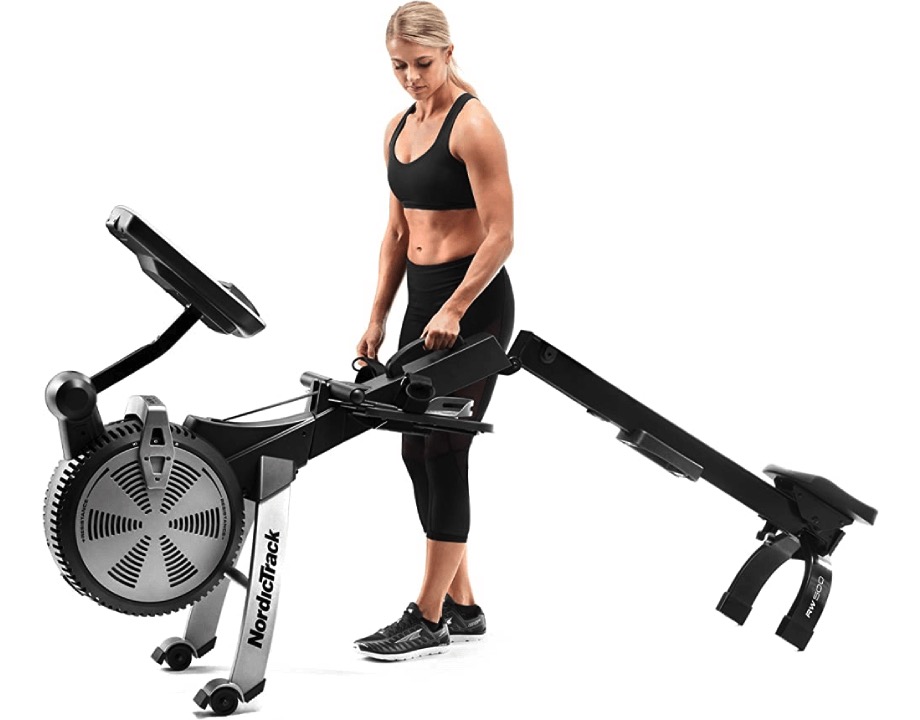 Speaking of a foldable design, it's worth noting that that feature is a rarity in rowing machines. This machine folds in half with the folding mechanism located on the monorail. To fold the machine in half, simply lift the handle on the monorail located above the foot pedals. Lifting on this handle brings the machine to a vertical storage position. From there, you can use the transport wheels to store in a closet or corner of your home gym.
Durability
When it comes to durability, we're looking for elements that deliver a stable rowing experience. In general the less shaking, moving, and jostling that happens while rowing leads to overall durability and longevity of the machine as a whole.
We like the fact the RW500 is designed with an oversized monorail and inertia-enhanced flywheel—which just means the flywheel is built to be both balanced and weighted—for a super smooth feel during all four parts of the row.
The one thing we'd like to see improve (on NordicTrack rowers in general) is the user weight capacity. The 250-pound maximum weight capacity is the minimum weight we like to see for rowers, and we think the brand could do better.
This machine features a strap pull versus a chain pull. In general, the expert product testers here at GGR find that chain pulls require more maintenance over time than the strap pull alternatives.
Lastly, for added peace of mind on the longevity of this rowing machine, the RW500 features a 10-year frame warranty, two-year warranty on parts, and one-year warranty on labor.
Ergonomics
The RW500 has a few features that will keep you from straining during workouts. For example, the adjustable console is attached to an arm that can be moved up or down to easily view not only your metrics but any device you use in the tablet holder, too. Here are some additional features built with your comfort in mind:
Ergonomic molded seat
Soft touch ergonomic handle
Adjustable nylon foot straps for a secure fit
Technology Benefits and Conveniences
This machine might lack the touchscreen technology in today's NordicTrack machines, but it still has iFIT functionality when you use the Bluetooth connectivity and your own smart device.
It's common for NordicTack to offer free trials of the iFIT app with the purchase of a new machine, but it's worth noting that when you download the app to your phone or tablet, you will receive a free 30-day trial (no brand-new machine required!).
To start, iFIT will require your credit card information and will automatically bill you once the 30 days are over. After that the iFIT membership will cost you either $15 per month as an individual or $39 per month for a family plan (and if you prepay for a full year there is a price break).
Having iFIT allows you to follow along with high-quality on-demand studio classes or outdoor rowing workouts. No matter your preference, you'll be able to sync your device with Bluetooth and take advantage of trainer control, which changes the level of resistance based on your trainer's coaching cues.
With your iFIT membership, you'll also be able to use Google Maps technology, which lets you drop a pin for scenic workouts around the world.
That said, if you decide to skip the iFIT membership, you will have the option to use the machine's preset workout programs. You'll also be able to use the Bluetooth connection to connect with a heart rate monitor, although you won't find one included with this machine.
Final Verdict of Our NordicTrack RW500 Rower Review
In conclusion, I will reiterate that the NordicTrack RW500 is a recently discontinued rowing machine, however should you find one for sale second hand you can use this review to help make your decision. Here are a few key points on the RW500:
Dual resistance rower allows you to change the levels of resistance with both digital magnetic and air resistance.
The 250-pound weight limit will be suitable for a variety of folks, but it's not a super inclusive weight range for a lot of home gym owners.
You'll be able to follow along with iFIT workouts using your own smartphone or tablet.
Take advantage of the space-saving foldable design and transport wheels to easily gain floor space in your home gym.
NordicTrack RW500 Rower Rating
NordicTrack RW500 Rower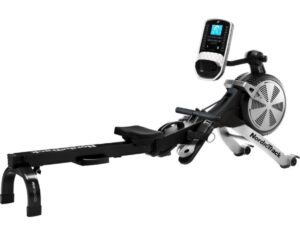 This newly discontinued rowing machine could still land a spot in your home gym—if you can find it. Read all the details in our NordicTrack RW500 Rower review.
Product Currency: USD
Product Price: 1499
Product In-Stock: InStock
NordicTrack RW500 Rower FAQs
Does the NordicTrack RW500 come with a tablet?
The RW500 comes standard with a backlit LCD display and a tablet holder for your own device. 
Can you use RW500 without iFit?
You will be able to use the RW500 without iFIT, although our team has read reviews stating that manual mode still requires a strong and stable WiFi connection.
Does the rower burn belly fat?
Let's start by saying that we cannot spot-treat fat loss. Although that is unfortunate, adding cardiovascular exercise to your routine can promote burning calories and fat, which can help you achieve your overall weight-loss goals. That said, your nutrition (including total calories and protein intake) plays a big factor in your body composition and the ability to lose weight.
Can you watch TV on a NordicTrack rower?
NordicTrack machines with touchscreens are programmed for the iFIT app and are not designed to integrate with other apps or streaming services.