We test and review fitness products based on an independent, multi-point methodology. If you use our links to purchase something, we may earn a commission. Read our disclosures.
If your fitness goals include weight loss, you're probably looking for efficient ways to burn calories and build muscle. And who doesn't want to have a little fun in the process?
Changing your body composition relies heavily on appropriate nutrition, but cardiovascular work and strength training also come into play—especially when we're talking about overall health. While you can get creative with strength training on a budget, cardio machines tend to be more of an investment, so researching your options is a smart move. The best cardio machine for weight loss doesn't have to break your budget and can fit perfectly into your routine.
Whether you're in the market for new cardio equipment to start your fitness journey or include two-a-day training, choosing the right exercise machine is key to reaching your goals. What cardio machine is best for weight loss? This article will take a look at some of the best cardio equipment on the market and the benefits they offer to those who want to increase their fitness levels.
Treadmill
Treadmills are a mainstay, and probably always will be. They've been around for years, but their technology has evolved over time (iFIT, anyone?) allowing you to do more than ever before. Treadmills can be used for intense cardio workouts, getting your daily steps in, and more. They're so popular that some people have even incorporated them into their workstations, but that's another topic for another day.
Good For
A treadmill is an excellent choice for many people because it serves a wide range of fitness levels. Walking is well-tolerated by most people, regardless of their exercise experience, so if you're just beginning your fitness routine, that might be a great place to start. Then, as you develop your strength and endurance, you can increase the intensity from walking to jogging or running.
Muscles Used
Most people imagine sore leg muscles after a treadmill workout, and they're not wrong. Treadmills are great for working the legs. For a solid treadmill session, you'll use your quads, hamstrings, calves, and glutes. But did you know you will also use your core and upper body to maintain proper form on the treadmill? So while you primarily use your lower body to cover mileage on the treadmill, your abdominals, arms, chest, and back won't be left out.
Best Treadmill for Weight Loss
With so many options on the market, how do you know you're buying the best treadmill for weight loss? The answer to that question will look different for everyone because no two weight loss journeys are the same. Here at Garage Gym Reviews, we broke down the pros and cons of eight of the best treadmills available for your home gym.
We like the NordicTrack Commercial 1750 treadmill as our top pick. It has a generously sized deck that works for a wide range of people, both walkers and runners alike. It also features a high-definition touchscreen that allows you to stream iFIT training software (sold separately). That, paired with the Automatic Trainer Control, allows you to focus on your workout while your trainer digitally adjusts the setting of your treadmill.
While the NordicTrack 1750 offers many bells and whistles, it may not be exactly what you need. There are other options available at different price points. Some can fold for easy storage, some are manually powered, and some keep it simple and do not stream programming. Whatever treadmill you choose, its success depends on your effort, so make the most of it!
Read our full NordicTrack 1750 review to hear about all the pros and cons.
Benefits
Appropriate for all fitness levels
Can be used as a warm-up before strength training or other cardiovascular workouts
Avoid outdoor elements such as inclement weather and traffic
Rowing Machine
Rowing machines often don't get the hype they deserve, but when it comes to gym equipment, they bring quite a few benefits.
Good For
Rowing machines are an excellent option for a total-body, low-impact workout. They're also great for the busy athlete with a tight schedule. In a short amount of time, you can get your heart rate up and work multiple muscle groups at once.
Muscles Used
The best part about a rowing stroke is that it engages multiple muscle groups simultaneously. Every rep activates your lower body, upper body, and core muscles, giving you a full-body workout in one session. If you're deciding between a rowing workout vs a running workout, you might consider the calorie burn you'll get with a rower, which is a bit less than on a treadmill.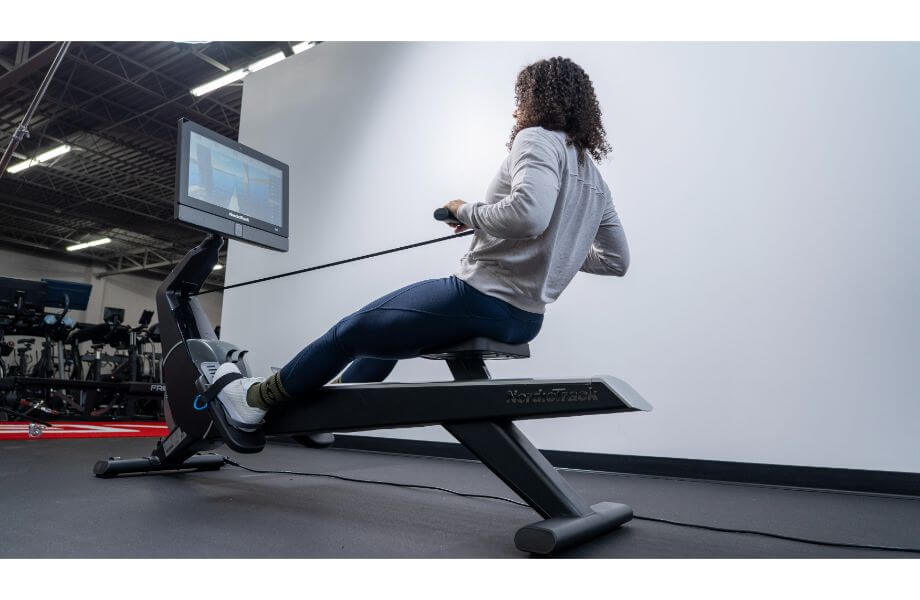 Best Rowing Machine for Weight Loss
Rowing for weight loss will look different between individuals, so the best rowing machine choice may vary from person to person, depending on their needs. Our favorite rower here at GGR is the Concept 2 Model D Rower. It can offer a powerful workout for seasoned athletes and beginners alike. It uses air resistance and comes with built-in workouts.
If the Concept2 rower doesn't feel like the right fit for your gym, you might consider machines from other brands. Some are less expensive, some are compact or foldable, and others have interactive capabilities. You might even compare a machine that uses water resistance to those that use air resistance or magnetic resistance. Finding the best rowing machine that checks all of your boxes is only the first step to weight loss. The sweat you put in is what makes the rower a success.
Benefits
Total-body workout
Low-impact workout
Appropriate for athletes of all fitness levels
Builds endurance and strength
Efficient
Elliptical
The elliptical is a popular addition to many home gyms. The elliptical makes improvements on the common stairmaster and gives you a lower and upper body workout while getting your heart rate up.
Good For
Elliptical machines are another excellent choice for low-impact training, especially for those who struggle with knee and hip pain. Ellipticals bring the body into a gliding pattern instead of the straight up and down motion that running requires. With less force created on the knees and hips, you get the benefits of a solid cardiovascular workout without the added stress to your joints.
Additionally, a low-impact workout, like the ones you can do on the elliptical, can be an impactful way to recover from an injury while gradually rebuilding your stamina and strength.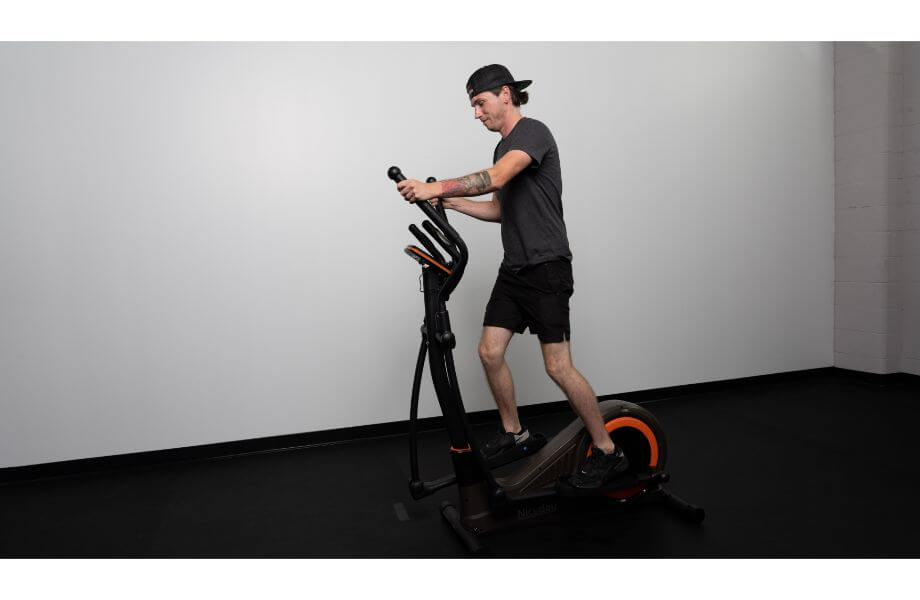 Muscles Used
When used correctly, elliptical machines use multiple muscle groups, including quads, hamstrings, glutes, calves, triceps, biceps, core, chest, and back muscles. Talk about a full-body workout!
Best Elliptical for Weight Loss
We've tested some of the best ellipticals on the market and our top pick is the NordicTrack Commercial 14.9. It has a 32-pound flywheel, 26 digital levels of resistance, and an HD touchscreen that allows you to stream iFIT programming (free for one year). With this training program, you can take on-demand, high-intensity interval training (HIIT), or live classes.
The Nordictrack 14.9's features can surely enhance your weight loss journey, but if it isn't the right fit, there are several other excellent options to consider. Some are ideal for HIIT elliptical workouts, some are better for small spaces, and others are more cost-effective. 
Read our full NordicTrack 14.9 review for the rest of this machine's pros and cons.
Benefits
Low-impact
Works lower and upper body
Can improve your balance
Can be helpful for injury rehab
Bike
Indoor cycling classes brought stationary bikes to the forefront of cardiovascular training. Athletes of all fitness levels can incorporate an exercise bike into their home gym and workout routine.
RELATED: Stationary Bike Benefits
Good For
Stationary bikes are great for people in the market for low-impact workouts that still get their heart rate pumping. Since exercise bikes allow you to adjust your resistance and speed, your training is entirely customizable to your fitness level and desired intensity. So, beginners, professionals, and everyone in between can benefit from a bike workout.
Muscles Used
The pedaling motion on a stationary bike engages your calves, hamstrings, and quads. It can also work your glutes, core, and back muscles. If you want to sneak in a little upper body work, adjusting your hand position on the handlebars can help engage your shoulders, biceps, and triceps.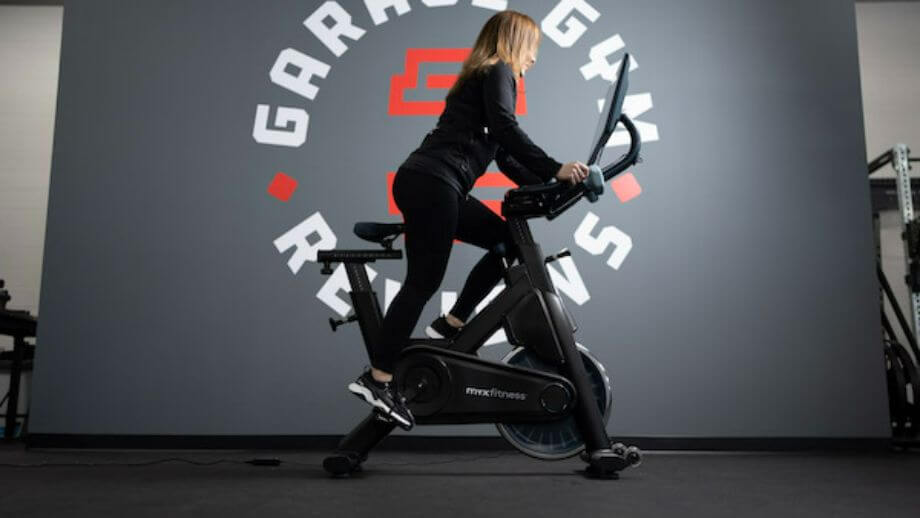 Best Bike for Weight Loss
Finding the best exercise bike for your weight loss goals depends on your needs. There are a few different types of stationary bikes to consider, such as air bikes and upright bikes, and each offers its own benefits. For example, the air bike works on wind resistance and an upright bike uses either friction or magnetic resistance.
Cycling bikes are most commonly used for indoor cycling, especially with all of the online training programs available. Of course, Peloton is a quality option for interactive home cycling, but there are Peloton alternatives that also offer streamable on-demand training and live classes. The structured class schedules and sense of community can help you stay motivated and enjoy your workouts.
Benefits
Low-impact
Adjustable for all fitness levels
Avoid outdoor elements such as inclement weather and traffic
The Takeaway
If your fitness goals include weight loss, a cardio machine can be a great addition to your gym equipment. Whether you add a treadmill, rowing machine, elliptical, or stationary bike, your training options are endless. A few things to consider when shopping for a piece of equipment to help you reach your goals:
Treadmills can be an excellent choice for all fitness levels.
Rowing machines incorporate upper and lower body muscles, providing a workout for your entire body.
Rowing machines, ellipticals, and stationary bikes are known for their low-impact mechanisms.
Working with an online personal trainer through a machine's streaming platform can be highly motivating and beneficial.
Weight loss involves more lifestyle choices than just your workouts. Well-balanced nutrition, adequate sleep, and physical activity are all part of the weight-loss equation.
Cardio Machines for Weight Loss FAQ
Which cardio machine is best for belly fat?
There is no way to target fat loss, so the best cardio machine to decrease belly fat is one that you can use and challenge yourself with consistently. It's also important to remember that cardio training cannot be the only factor when trying to lose belly fat. Bodyweight management and muscle building also require strength training, adequate nutrition, and good sleep patterns.
Is the elliptical or treadmill better for weight loss?
Data published by Harvard Health shows that 30 minutes on an elliptical burns 324 calories for the average 155-pound human. In comparison, the same person burns 360 calories while running on a treadmill for 30 minutes at a 10-minute mile pace. Since the calorie burn is comparable, choose the one that best meets your fitness needs and motivates you to get moving!
Can an elliptical burn belly fat?
Yes, you can see a reduction in belly fat when consistently using an elliptical machine. However, it is impossible to target fat-burning to a specific body area. Consistent exercise paired with well-balanced nutrition and adequate sleep is the best way to reach fat loss. You can't outrun or out-pedal poor nutrition and crummy sleep.
What is the most effective machine for cardio?
This is a tricky question because the answer will be different from person to person. Just like no two bodies are the same, no two fitness journeys are the same. Different people will respond to different equipment and training programs. The most effective cardio machine is the one that keeps you motivated and eager to rise to the challenge.