We test and review fitness products based on an independent, multi-point methodology. If you use our links to purchase something, we may earn a commission. Read our disclosures.
Fitness shouldn't be reserved for the traditionally thin influencers you may be used to seeing all over TikTok or Instagram. In fact, at GGR, we think fitness is for everyone, and it can make a huge difference in your life. Studies1 have even shown that exercise can contribute to increased life satisfaction and happiness.
Whether you're looking to lose weight or just reap some of the mental health benefits, you deserve to move your body in a way that feels good. If walking or running is a part of this journey for you, GGR can help. We've found the best treadmill for heavy people so you can crush your goals––whatever they may be.
The GGR team is a group of fitness enthusiasts who believe fitness is for all people and bodies. Whether you're an advanced athlete or a beginner who has never stepped foot on a treadmill in your life, you deserve to enjoy movement. And, with a qualified group of people at the helm, we won't steer you in the wrong direction. After all, we're certified personal trainers, former college athletes, and nutrition coaches. This is what we do best, and we're excited to share our knowledge (and top picks) with you.
5 Best Treadmills for Heavy People
Best Overall Treadmill for Heavy People: Horizon 7.8 AT
Good for: Someone who needs a treadmill that will fold when it isn't in use
Need a foldable treadmill that can still support your weight? Check out the Horizon 7.8 AT treadmill. This well-made machine has a weight capacity of 375 pounds, which is 75 pounds more than the industry average. The 7.8 is also extremely easy to fold, thanks to the soft-drop gas shock located underneath the deck.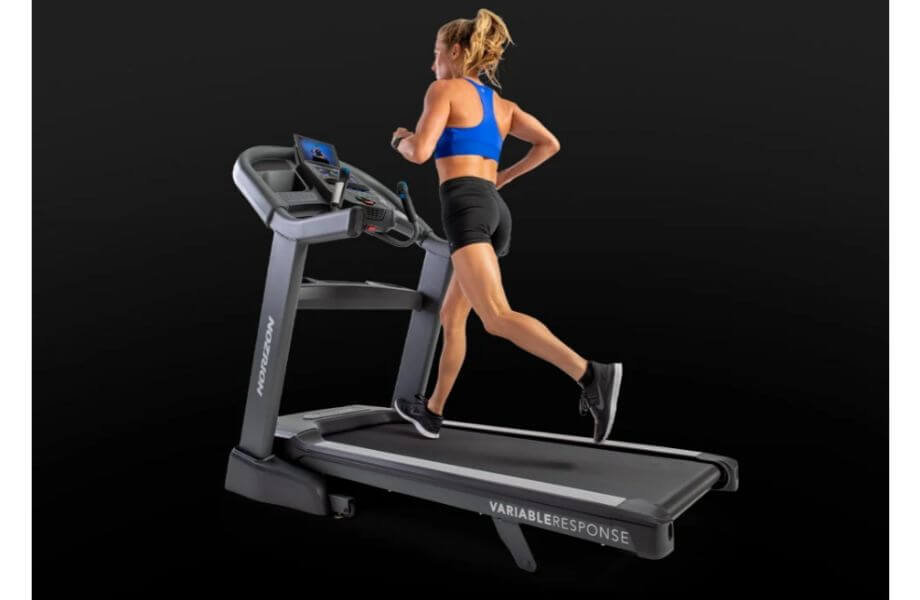 Speaking of the deck, the majority of people will have ample room to run and walk. The 22-inch-by-60-inch deck is large enough for all of the activities. And if you need a little guidance on workouts? You can easily sync the 7.8 to programming like Peloton, Nike Run Club, or Zwift thanks to Bluetooth connectivity.
It's also worth noting that this machine has easy-to-use quick select buttons, which allow the user to change their speed or incline in a flash. If you're someone who enjoys HIIT, this handy feature will especially appeal to you.
Although I believe knowing the motor horsepower of a treadmill is important, Horizon doesn't share this information with the consumer. I don't know the exact horsepower of the motor, but I have been on the 7.8 and feel that it is powerful enough for most people.
Take a look at the entire Horizon 7.8 AT Treadmill review.
| | |
| --- | --- |
| Weight capacity | 375 lbs |
| Motor | N/A; not shown on website |
| Treadmill belt | 22" W x 60" L |
| Price | Around $2,000 |
Best High-Capacity Treadmill for Heavy People: Sole TT8 
Good for: A heavy person who doesn't mind spending a little extra for a great machine
The Sole TT8 is an impressive treadmill that has a lot going for it. This durable cardio machine has a 400-pound user weight capacity, which is 100 pounds more than the industry standard. Plus, with a 4.0 CHP motor, the TT8 will be able to support sustained cardio of almost any type. Similarly to the weight capacity, this motor is more substantial than the 3.0 CHP we'd expect to see on the average treadmill.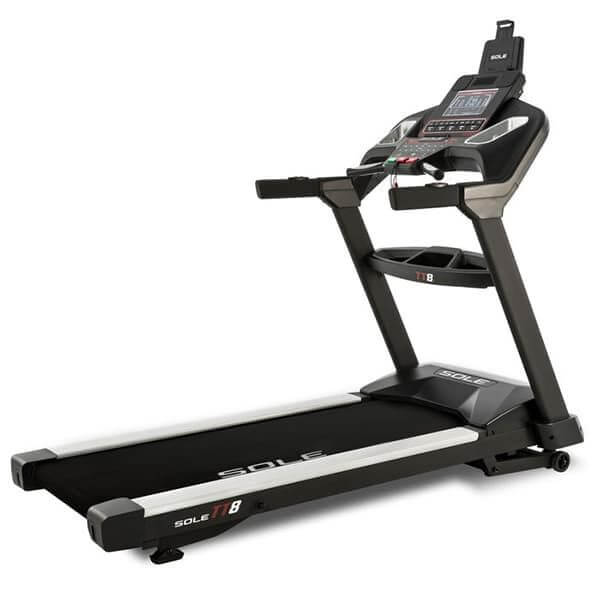 The motor and weight capacity aren't the only things to like about the TT8. You'll also get a lengthy 22-inch-by-60-inch deck, which is good for those who need more width on their treadmill or those who have longer strides.
You also won't be displeased by the warranty––the TT8 has lifetime frame and motor coverage. However, the price does reflect all of these wonderful features. You'll have to cough up almost $2,400 (or qualify for financing) for the TT8.
It is also worth noting that this machine doesn't fold. Although the majority of treadmills designed for home use fold, commercial treadmills often don't. This isn't necessarily a bad thing, especially because it shows the machine is durable. However, this means the TT8 may not fit in your home, unless you have a dedicated home gym.
Check out our full Sole TT8 review for the inside scoop.
| | |
| --- | --- |
| Weight capacity | 400 lbs |
| Motor | 4.0 CHP |
| Treadmill belt | 22" W x 60" L |
| Price | Around $2,400 |
Best Non-Motorized Treadmill for Heavy People: AssaultRunner Pro 
Good for: Someone who wants to perfect their running or jogging form on their treadmill
If you're looking for a non-motorized treadmill that can support your weight, look no further than the AssaultRunner Pro. This manual treadmill has a 350-pound user weight capacity, which is 50 pounds better than the industry standard. It also doesn't need to be plugged into an outlet, so you can place this machine in your garage or basement without fretting about finding a power source.
I've always found the AssaultRunner Pro to be a great tool to perfect your running form. Since you're powering the machine with your strides, you have to be extra aware of how your feet are striking the belt to make it go at the speed you're wanting. The quicker your feet turn over, the quicker the slatted belt will move.
I also love the sturdiness of the AssaultRunner Pro. Constructed out of steel and corrosion-resistant materials, the Pro is sturdy and virtually unmoving while in use. However, this does translate to being difficult to move. I'd recommend grabbing another set of hands to assist in the process considering the Pro is close to 300 pounds.
Although the AssaultRunner Pro is around $3,000, it is still a much more affordable option as far as non-motorized treadmills go. Plenty of manual machines (cough cough, the Woodway Curve) are upwards of $9,000 and perform much the same as the Pro does.
Extra, Extra! Read our in-depth thoughts in this AssaultRunner Pro review.
| | |
| --- | --- |
| Weight capacity | 350 lbs |
| Motor | N/A |
| Treadmill belt | N/A |
| Price | About $3,000 |
Best Treadmill for Heavy Walkers: XTERRA Fitness TRX3500 Folding Treadmill
Good for: Heavier individuals who want a treadmill to walk on
If you're interested in a reasonably priced treadmill to use for walking, the XTERRA Fitness TRX3500 is a great option. This foldable treadmill has a 350-pound user weight capacity and a 20-inch-by-60 inch deck, which is ideal for heavier people.
The 3.0 CHP motor is powerful enough for heavier people who want to mostly walk or jog on their treadmill. You'll also enjoy a comfortable belt, as the cushioning on the TRX3500 is definitely above average.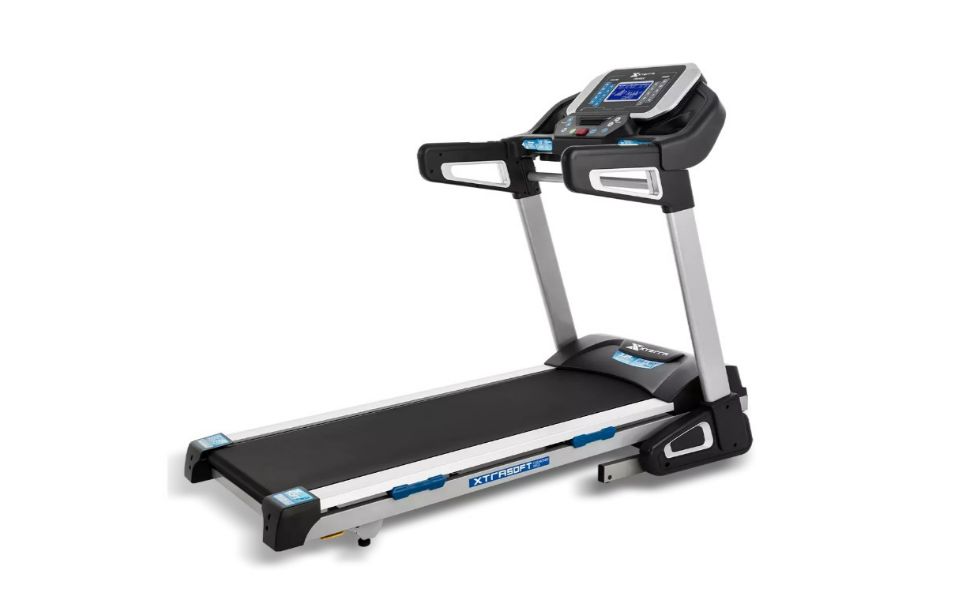 You'll also get stellar lifetime frame and motor warranties, which are very good for the TRX3500's $1,300 price tag. Plus, you won't have to worry about paying for interactive programming subscriptions (unless you want to) since the TRX3500 has 30 preset programs available right on the display.
You should be aware that the step-up height on this machine is high at 7.75 inches. If you're someone who has balance issues, the TRX3500 may not be the best option for you.
Check out our full XTERRA Fitness TRX3500 treadmill review.
| | |
| --- | --- |
| Weight capacity | 350 lbs |
| Motor | 3.0 CHP |
| Treadmill belt | 20" W x 60" L |
| Price | Around $1,300 |
Best Durable Treadmill for Heavy People: Freemotion t10.9b REFLEX Treadmill
Good for: Someone who doesn't mind spending a lot of cash for a really sturdy treadmill
If you want a durable treadmill that will last (and you don't mind the price), the Freemotion t10.9b REFLEX is a great choice. This $9,000 treadmill has an impressive 400-pound user weight capacity and a crazy-powerful 5.0 CHP motor. I don't think I've seen a higher-powered motor on a treadmill before, so it's safe to say this is uncommon.
This Freemotion treadmill is compatible with iFIT programming (subscription sold separately) via Bluetooth connectivity. If you're not interested in that, the Freemotion t10.9b still has you covered. You'll be able to select one of 44 preset programs available on the dashboard.
This durable treadmill has four stabilizers that allow the user to workout without any play in the machine whatsoever. And at 487 pounds, this treadmill has no plans to go anywhere during your run or walk (and it shows).
It is worth noting that the warranty on this treadmill could definitely be better. You get seven years on both the frame and motor, which is eight years shorter than the industry standard. Although the machine feels incredibly stable while it is being used, the warranty is a slight downside to this high-capacity treadmill.
| | |
| --- | --- |
| Weight capacity | 400 lbs |
| Motor | 5.0 CHP |
| Treadmill belt | 21.5" W x 60" L |
| Price | Around $9,300 |
Other Treadmills We Researched and Tried
We've reviewed a ton of treadmills, and these are a few of of our favorites:
How We Picked and Tested
We asked ourselves these questions before adding any heavy-duty treadmills to our list:
Weight capacity: What is the weight limit on this treadmill? Is it higher than the industry standard of 300 pounds?
Motor horsepower: What is the motor horsepower of the treadmill? Is it higher or lower than a 3.0 horsepower motor?
Running deck size: What are the dimensions of the running belt? Would this treadmill work best for someone who is tall, short, or somewhere in between? Does it have a wide running surface for those who have a wider waist?
Belt: Is the tread belt well-cushioned? Is it a shock-absorbing deck?
Brand: What brand is this machine? Is it NordicTrack, Sole Fitness, Amazon, Exerpeutic, ProForm, Bowflex, Lifespan Fitness, Sunny Health & Fitness or something else?
Price: Is this a budget treadmill? If not, is it mid-range or high-end?
Dimensions: What are the dimensions of the treadmill? Does it have a large or small footprint? Will it fit in a compact space or only in a dedicated home gym?
Technology: What technology features does the treadmill have? Does it have Bluetooth connectivity, Google Maps, an AUX cord, or something else?
Display: What type of display does this machine have? Is it an HD touchscreen, backlit LED or LCD display?
Top speed: What is the speed range for this treadmill? Is it at least 10 to 12 miles per hour?
Incline level: Are there any incline or decline options on this treadmill?
Programming: Is any type of interactive programming or fitness app (like iFIT or JRNY) compatible with this treadmill? Can you view the programming on the display or do you need to use your own device? Are there any preset workout programs on the machine?
Extras: Does this machine have extras like a tablet holder, accessories holder, or bottle holder?
Foldable: Is the treadmill foldable or is it non-folding?
Machine weight: How heavy is the treadmill? Could one person move it by themselves or do you need another set of hands?
Benefits of Treadmills for Heavy People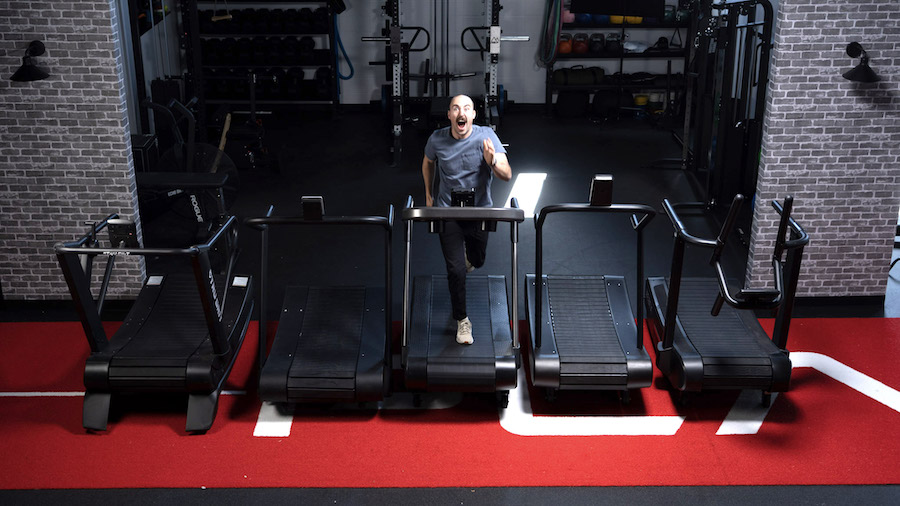 Don't just take it from me––certified personal trainer (and GGR writer) Anthony O'Reilly also thinks treadmills can be a great tool for overweight people.
"As a former heavy person, I can say that walking is one of the best ways to burn calories," Anthony explained. "Think about it—it takes more gas to push a heavy car than a lighter one, so a heavy person burns more calories walking a mile on a treadmill than a lighter person. Treadmills can be an effective way to get that cardio workout in at any time, especially since they're low-impact and don't cause too much stress to people's joints."
Treadmills can also be a good tool for heavy people because you're able to control your own intensity. If you need to go a bit slower, you can simply switch the settings to customize your own workout.
Another benefit to having a treadmill? The ability to workout in your home. If you're constantly pressed for time, a treadmill in your home can be a simple way to eliminate any excuses.
Buying Guide: What to Look for in Good Treadmills for Heavy People
Before shopping for a quality treadmill, here are the top three things to keep in mind for heavy users:
High Weight Capacity
If you're a heavier person, it is important to find a machine that will support your weight. Just for reference, the average user weight capacity for a treadmill is 300 pounds. However, there are plenty of machines that can support higher weights, you'll just need to pay close attention to the specs.
Unfortunately, heavier people will need heavy-duty options, which frequently cost more. I recommend utilizing coupons or financing options in order to keep the cost down.
Powerful Motor
The more powerful your treadmill's motor is, the more support you'll have during your workout. Make sure your treadmill's motor is at least 3.0 CHP or greater for the best experience possible. This way, your machine will be equipped to support sustained workouts of all types no matter what you're doing.
Adequate Deck Space
If you're a heavier person, chances are your dimensions are wider. If this is the case, you want to make sure your treadmill can support your body comfortably. You don't need to be distracted by the handrails rubbing against your waist during your workout! Make sure the width of your treadmill deck corresponds to your size in order to have a better experience while walking or running.
Warranty
Make sure the treadmill has a good warranty that lasts for around five years, at minimum, for the frame and motor. These are the most important parts of the treadmills and the most expensive to fix, so it's worthwhile to ensure you have good coverage.
Price
This should go without saying, but make sure the treadmill is within your price range.
Best Treadmills for Heavy People FAQs
Which treadmill is best for an obese person?
Can you be too heavy for a treadmill?
Plenty of home treadmills have weight capacities close to 400 pounds. Plus, if you're willing to spend more money, you can find treadmills that have even higher weight capacities. If you can't find a treadmill that will support your weight, don't fret! You can walk, run, or jog around your neighborhood, within your city, or on a track. Don't let not having a treadmill stop you from a great workout. 
Can I lose weight on a treadmill if I'm obese?
Yes, you can lose weight on a treadmill if you're heavier. However, anyone can use a treadmill! Whether you're looking to lose weight or not, a treadmill can be a useful component of a cardio routine. We've even compiled a list of the best treadmill workouts for weight loss if you need a smidge of guidance.
What happens if I weigh more than a treadmill's weight capacity?
First of all, we should note that going 5 or 10 pounds above the weight limit is probably OK. That said, if you're heavier than your treadmill's weight capacity your cardio machine might work slower than intended or the motor or machine may break.
References
An HY, Chen W, Wang CW, Yang HF, Huang WT, Fan SY. The Relationships between Physical Activity and Life Satisfaction and Happiness among Young, Middle-Aged, and Older Adults. Int J Environ Res Public Health. 2020 Jul 4;17(13):4817. doi: 10.3390/ijerph17134817. PMID: 32635457; PMCID: PMC7369812.