We test and review fitness products based on an independent, multi-point methodology. If you use our links to purchase something, we may earn a commission. Read our disclosures.
If you're landing on this Nordic Plus review, you're probably interested in developing the strength of your hamstrings, glutes, and lower back. And you've come to the right place because The Nordic Plus from Base Blocks is designed for you to perform two of the most fundamental posterior chain exercises: The Nordic hamstring curl and the 45-degree hyperextension exercise.
We also like the fact that The Nordic Plus is not as large as most glute-ham raise machines, which also develops your posterior chain through the GHR exercise without the massive footprint in your home gym. In this review, we'll cover the cost, specs, and how to use both functions of this machine.
Let's get into it.
We've Tested The Best Back-Building Products on the Market
Your friends here at Garage Gym Reviews are not just gym geeks off the street. We're a group of fitness industry professionals, including gym owners, Olympic-level athletes, CrossFit Level-1 Trainers, and certified personal trainers.
We've had hands-on experience with some of the best and most innovative posterior chain developing machines on the market, including the products we tested for the Vulcan Kraaken Hyper review and the Freak Athlete Nordic Curl review.
For this Nordic Plus from Base Blocks, Coop Mitchell, founder of GGR, took the bench for a spin with Nordic hamstring curls and reverse hyperextensions.
The Nordic Plus
GGR Score: 4.22
Product Highlights
Adjustable to five heights 

Thick foam pad for knee support

Progression to full Nordic curl

Build lower back muscles
Pros & Cons
Pros
Free shipping to the USA and Canada
Good for various experience levels
90-day app access
Anchors for bands
Set-up is fast
Cons
Currently only available for pre-order
No reviews yet
Bottom Line
The Nordic Plus may be a great addition to your home gym whether you are just starting out or are more experienced and want a way to train Nordic curls. This bench's ability to adjust to five heights makes it extremely versatile for various strength levels.You can strengthen your hamstrings, calves, or lower back depending on the exercises you do. It also comes with band anchors, allowing you to increase the difficulty of certain exercises.Its assembly time is only five minutes, so you can get started right away.
A Quick Look at The Nordic Plus
BaseBlocks is a brand that focuses equipment for bodyweight workouts and calisthenics (like pull-up bars and parallel dip bars). The brand has a similar product called the BaseBench Pro, where you can perform Nordic hamstring curls, hip thrusts, and Bulgarian split squats but doesn't offer an adjustable pad for the 45-degree hyper extension option.
Before You Buy
The Nordic Plus is a two-in-one piece of equipment offering you the ability to perform Nordic hamstring curls and 45-degree hyperextensions.
Base Blocks is offering a discount for GGR readers on The Nordic Plus bench when you use our link.
The brand offers a 100-day money back guarantee and a lifetime replacement warranty.
Is The Nordic Plus Worth It?
The combination of a Nordic hamstring curl and hyperextension is a fairly new innovation in the fitness industry. From our experience, The Nordic Plus is an affordable way to have both pieces of equipment (even compared to buying separate pieces for each exercise).
While it may only have functionality for two movements, it's priced at $425, which is less than the one other competitor combo machine we've tested for the Shogun NORD-EX review (priced at $999). "Overall The Nordic Plus is a great value compared to other Nordic curl machines with similar features," says Coop.
Plus, with the adjustable angles you'll be able to use this as a beginner and keep progressing as you get stronger. It's not a piece of equipment you'll outgrow.
Great for:
Beginner exercisers
Hamstring development
Easing lower back pain
Not recommended for:
Heavy back extensions
Really tall or short people
Commercial gym use
The Nordic Plus Specs
| | |
| --- | --- |
| Price | $425 |
| Footprint | 47" L x 20" W x 16" H |
| Weight | 54 lbs |
| Weight capacity | 330 lbs |
| Materials | Powder coated steel frame, leather-enclosed foam pads |
| Adjustable bench | 30" L |
| Ankle foam pad | 2.4″ and 3.5″ H |
| Distance from footplate to bench | 4.3" (fixed) |
| Warranty | Lifetime replacement warranty |
Using The Nordic Plus
OG equipment tester and founder of GGR, Coop Mitchell, personally tested The Nordic Plus and shares his insights on the bench and its overall functionality.
It's also worth noting that Coop was on a mission to start, practice, and master the Nordic hamstring curl to improve his overall posterior chain strength. "I do Nordics twice a week and have for over a year," explains Coop.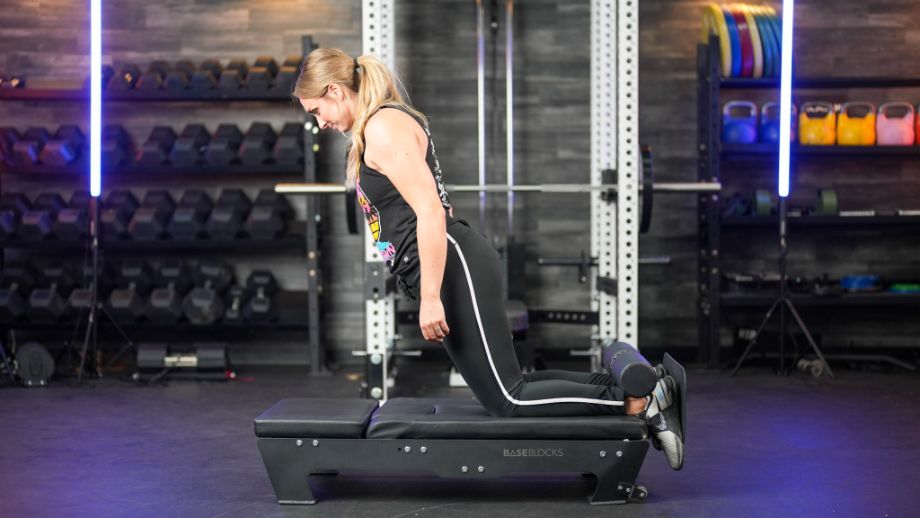 RELATED: Hip Hinge Exercises
Because traditional Nordic benches really just do one thing, Coop appreciates the fact The Nordic Plus is a two-in-one machine that offers you the ability to perform both 45-degree back extension and the Nordic hamstring curl.
Below, we'll break down the nuances of both orientations while in use.
In Use: Nordic Curl Orientation
When it comes to using The Nordic Plus for bodyweight hamstring curls, the standout feature is the ability to perform progressive Nordics by adjusting the angle of the padding.
"When in the horizontal orientation, this feels similar to just about any other Nordic curl board or bench out there," says Coop.
However, the ability to adjust your range of motion is where the value is on this already affordable piece of equipment. Why? Because if you're new to Nordic hamstring curls, you'll have a heck of time lowering your torso to a parallel position without weeks (or months) of practice.
"In total, it has five different heights (including the flat position), which should help you achieve your first full Nordic curl. For many of you, it could take years to achieve," he says. And I have to agree. The movement is similar to pull-ups in that if you don't practice them, it's very difficult to be able to do them.
RELATED: Pull-Up Progression Plan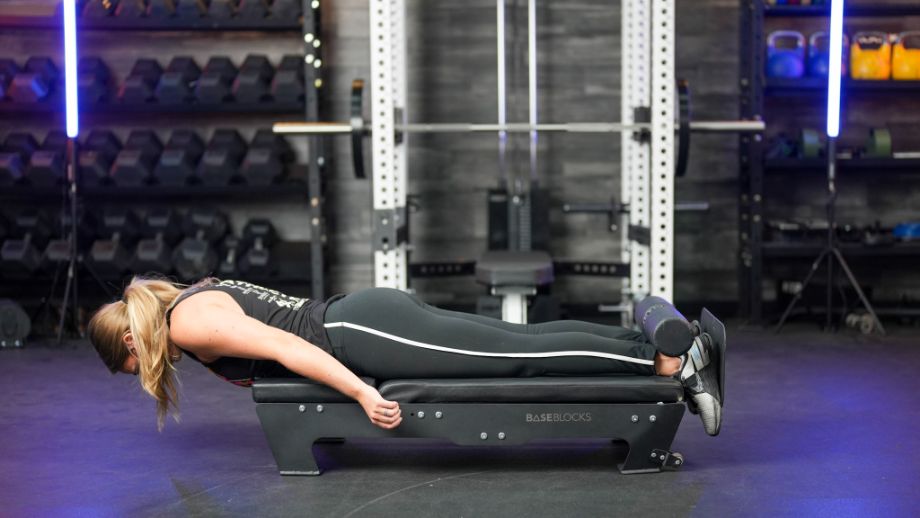 Nordic hamstring curls are the ultimate hamstring-building tool and are super difficult. Having the ability to shorten your range of motion will allow you to get stronger, adapt, and progressively increase the range of motion. "This type of progression is similar to increasing the load on a barbell during a squat," explains Coop.
RELATED: How to Squat Heavier
"For anyone that has tried to do progressive Nordics, this is vastly better than having to stack up plates (or, in my case DC, blocks) in order to achieve the proper height," says Coop.
In Use: Back Extension Orientation
When you're ready to go from hamstring curls to back extensions, you'll simply lift the padding you were just using to land on during Nordics to use for back extensions.
"In order to adjust, there is a ladder system with a locking mechanism underneath the pad that's similar to an adjustable bench," says Coop. "You adjust to the height you'd like, lock it in, and you're ready to go. It's very simple and quicker than even the Shogun NORD-EX."
Overall, it's simple and quick to adjust. You'll use the same foot rollers to secure your feet in place, rest your quads on the padding, and bend forward to go through the hyperextension movement. As easy as it is to pop in place, Coop has some callouts on adjustability when it comes to the 45-degree hyperextension. We'll dive into that when we talk more about ergonomics.
Footprint and Portability
In the flat orientation (for Nordic hamstring curls), the bench is just under 4 feet in length, under 2 feet wide, and just over 1 foot tall. It's also fairly lightweight at 54 pounds.
While it's not a massive piece of equipment, it's still designed with portability and storage in mind. It features transport wheels and the ability to stow it upright, leaning on the foot plate. For this category, The Nordic Plus bench earns a 5-out-of-5-star rating.
RELATED: Best Home Gym Storage
However, one thing to be aware of is that Coop says, "It's not the most stable when upright, but it can be placed against a wall for extra stability."
Durability and Construction
The Nordic Plus bench is a stout little bench that sits just a few inches off the ground on a sturdy, powder-coated steel frame. It also has a 330-pound load capacity.
"Although it's pretty stable in use, I would be cautious with weighted back extensions," warns Coop. "The weight capacity is 330 pounds, but when used in the back extension position, the rod holding the pad up doesn't give me a crazing amount of confidence to hold me, plus a barbell and a bunch of weight."
For this reason, The Nordic Plus earns a 4-out-of-5-star rating for overall construction and durability. However, we realize that you're likely interested in the combination machine for bodyweight and dumbbell loading. Most folks using barbells during back extensions are also squatting and deadlifting several hundred pounds and training competitively.
Coop also notes that the design and construction of The Nordic Plus is "slick and minimalist." He even goes on to say, "Instead of having multiple different parts, the Nordic Plus is actually pretty streamlined for still having adjustability."
Additionally, Coop notes that "there are other products that offer nice padding or vinyl—like the Rogue Floor Glute or the Shogun NORD-EX—but the price on both is significantly more expensive."
Ergonomics and Comfort
When it comes to the features that allow for customization, proper ergonomics, and overall comfort, we give the Nordic Plus a 3.5-out-of-5-star rating.
We knocked off nearly two points because there are few aspects that won't be suitable for everyone during the back extension exercise. The hamstring curl exercise will work for most people and function much like many other Nordic machines on the market.
RELATED: How to Do Nordic Hamstring Curls at Home
Coop has two main callouts relating to the hyperextension functionality. Firstly, he notes that the length of the back extension pad doesn't adjust. "For some people, it will work. For others, it will either be too short or too long," says Coop.
"This is something to be aware of if you're outside the average height," he adds.
It's also worth noting you might be in the average range for height and still have trouble with this depending on your leg-to-torso ratio. I note this because I personally have long legs and a super short torso, so my precise point of hinging is different from other people my height.
Secondly, Coop notes that he noticed an issue during the lowering portion of hypertension, which may limit your range of motion (depending on your torso length compared to your legs). "Getting full range of motion during back extension won't be possible for many people because your head will hit the pad," explains Coop.
For this reason, Coop wishes the maximum angle was actually 55 degrees rather than capping out at 45 degrees.
With all this to say, it's worth noting that Coop mentions the ankle rollers are comfortable and adjust up and down, so you will be able to achieve a locked-in feeling for the hamstring curls. Plus, it also has a kick plate for pressing your feet into during either exercise.
Additionally, The Nordic Plus offers a small removable pad at the top part of the back extension pad that can be used to create more space in the groin area to accommodate men and women alike. "Without this feature, it's a bit uncomfortable during use," says Coop.
BaseBlocks Nordic Plus vs Shogun NORD-EX
Shogun NORD-EX
GGR Score: 4.5
Product Highlights
Nordic curl bench that converts into an adjustable back extension machine

Fully adjustable to fit most people

Compact footprint at 41" x 25"

11-gauge carbon steel main frame

Custom-molded self-skinning polyurethane foam

Adjustable back extension angles from 35 to 55 degrees

Adjustable assisted Nordic curl angles of 15, 30, or 45 degrees
Pros & Cons
Pros
Adjustable angles for back extension and assisted Nordic
High-quality, heavy-duty materials
Compact footprint
Able to store with caster wheels and handle
Innovative design
Free shipping in the Continental U.S.
Cons
Expensive
Ships in 3 separate boxes
Bottom Line
A truly innovative product, the NORD-EX is a fully adjustable Nordic bench that can be converted into a fully adjustable back extension machine. Able to adjust in multiple angles for a back extension as well as an assisted Nordic curl, the NORD-EX can also be folded and stored away, leaving it a very compact footprint when not in use. At just under $1,000, it's a bit pricey, but the innovative design is built with quality, heavy-duty materials.
In our in-depth Shogun NORD-EX review, we discuss how this combination machine was really the first of its kind to hit the market. Overall, it earned a 4.5-out-of-5-star rating from our rigorous fitness equipment testing methodology. However, it's priced at $999.
The Nordic Plus from BaseBlocks might have a few cons when it comes to the back extension, but the $425 price tag might have you seeing over those flaws.
For Coop, he says he's not going to replace his personal Shogun with the BaseBlocks bench anytime soon, but notes he likes the price of the BaseBlocks Nordic Plus much better.
Coop notes, "If you just want the best, go with [Shogun], but if you want most of the functionality at a very low price, the BaseBlocks is definitely intriguing."
| | | |
| --- | --- | --- |
| | Shogun NORD-EX | BaseBlocks Nordic Plus |
| Price | $999.95 | $425 |
| Weight | 126 lbs | 54 lbs |
| Footprint | 41" L x 25" W | 47" L x 20" W |
| Frame material | 11-gauge steel | Powder-coated steel frame( gauge not disclosed) |
| Foam material | Custom-molded, self-skinning polyurethane foam | Leather-enclosed foam pads |
| Max back extension angle | 55 degrees | 45 degrees |
| # assisted nordic angles | 3 | 5 |
| Warranty | 3 years on metal parts, welds, and cushions, 90 days on finish and plastic and rubber parts | Lifetime replacement warranty |
Customer Experience
To reach Base Blocks, you'll be able to fill out a general inquiry form found on the contact page in addition to email (hello@baseblocks.fit) or text message correspondence (912-493-7905). The brand says it normally responds to inquiries within 24 hours.
In addition to multiple ways to contact the company, Base Blocks has a generous return and warranty and the ability to finance your purchases. For this reason, Base Blocks earns a 5-out-of-5-star rating for overall customer experience.
Warranty Policy
The Base Blocks website states that the brand's products are meant to last a lifetime, which is why the company offers a lifetime replacement warranty. If you experience any issues with your purchase, you can reach out to the company, and it will provide you with replacement parts.
The website notes that to do this, you'll need to email your order number and a photo or video of the issue you're facing. Same goes for missing parts or damage from shipping.
Returns Policy
Base Blocks offers a 100-day money-back guarantee, which we find generous compared to other big-name fitness brands. If you need to make a return, you'll have to start by filling out a return form on the website, collect your original packaging, and be sure your product is new without signs of wear or damage.
It's also worth noting the website states that return shipping costs will be subtracted from your total order amount.
Financing Options
At checkout, you'll have three options: standard credit card, express checkout with PayPal, or financing with Afterpay. You'll typically have the option to choose from a loan term between six to 12 months or four interest-free installments.
Customer Reviews
At the time of writing this review, the yet-to-be-released Nordic Plus was available for pre-order. Because of this, the website does not feature any customer reviews.
Final Verdict of Our Nordic Plus Review
Although Coop has a few callouts on the ergonomics and design, he still recommends The Nordic Plus for home gym owners because it's a two-in-one machine that offers the ability to perform two extremely beneficial posterior chain exercises. It's also affordable when you compare it to buying the competition combo machine (or a stand-alone back extension and Nordic curl bench).
Additionally, Coop says the ability to perform progressive Nordic hamstring curls alone makes The Nordic Plus from BaseBlock worth the $425 investment. "Trust me, you will absolutely want to do progressive Nordic curls," he says.
Nordic Plus Rating
Nordic Plus Rating
In our Nordic Plus review, we'll walk you through the specs and how this Nordic hamstring curl bench works for beginners and advanced exercisers alike.
Product Currency: USD
Product Price: 425
Product In-Stock: InStock
The Nordic Plus FAQs
Here are some of the most frequently asked questions when it comes to The Nordic Plus:
What is the weight limit for BaseBlocks?
The Nordic Plus can tolerate loads up to 330 pounds. 
How many Nordic curls should I do?
When you're just getting started, you may only be able to do one or two at a time with plenty of rest between sets. You can use the principle of progressive overload to increase your repetition, number of sets, range of motion, or rest time to improve over time. 
RELATED: What is Progressive Overload?
Why are Nordic curls so good?
Nordic hamstring curls are effective because the movement brings your hamstrings through a full range of motion when you're able to progress all the way down to the vertical-set pad. Your hamstrings fully lengthen through the eccentric lowering portion and shorten in the contracted position at the top. 
Where are BaseBlocks made?
BaseBlocks have warehouses in California, Illinois, Arizona, Dallas, Georgia, Pennsylvania, and Brampton. The brand also offers shipping to Canada, Europe, United Kingdom, and Australia.