We test and review fitness products based on an independent, multi-point methodology. If you use our links to purchase something, we may earn a commission. Read our disclosures.
If you want your back to be strong—and stable, and not fragile and fickle—some of the best back exercises only require a barbell or dumbbell. While you may not need fancy equipment for back-building staples like the deadlift or bent-over row, sometimes it's easier to have a piece of equipment that delivers the full range of motion (and function) for the hamstrings and entire posterior chain.
RELATED: Deadlift Muscles Worked
Cue the Kraaken: It's a reverse hyper machine and a GHD machine (glute-hamstring developer) all in one footprint. In this Vulcan Kraaken Hyper review, I'll walk you through the pros, cons, and who might benefit from this combo machine—looking at all you powerlifting, CrossFit, and Strongman folks out there.
Testing Speciality Strength Equipment Since 2014
Your friends here at Garage Gym Reviews know that strengthening your posterior chain is one of the best and most important things you can do in your training program. We know this because we're not just expert product testers, we're also a group of fitness industry professionals including CrossFit Level 1 Trainers, Olympic athletes, former gym owners, certified personal trainers, and nutrition coaches.
For the Vulcan Kraaken-Hyper, GGR founder, Coop Mitchell personally tested this massive two-in-one back builder.
Vulcan Kraaken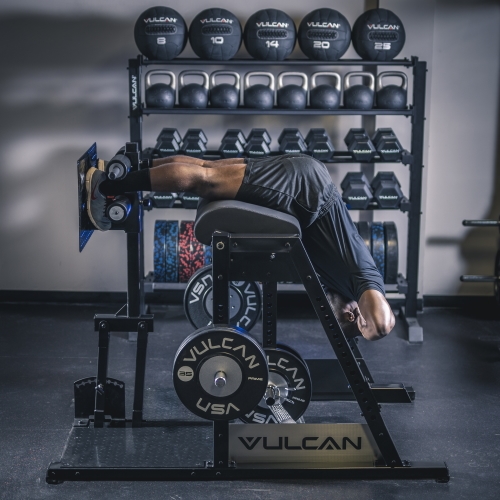 GGR Score: 3.8
Product Highlights
2-in-1 posterior chain strengthening machine

Combines both reverse hyper and GHD

Patent-pending

Heavy-duty materials 

Plate loaded 

Lifetime warranty
Pros & Cons
Pros
Adjustable hip pad angles
Adjustable ankle pads and foot plate
Accommodates lots of user heights
Option to upgrade machine fully assembled
Cons
Shipping fees are not included
Ships via freight
Freight doesn't require driver to unload items the product
Extra fees for using a Liftgate
Bottom Line
Vulcan Strength Kraaken-Hyper is a combination machine featuring both a reverse hyper and a glute ham developer (GHD). It's a heavy and sturdy machine and will be able to handle any weight you throw on. Your hamstrings will thank you later.
A Quick Look at the Vulcan Kraaken-Hyper Machine
Vulcan Strength offers a wide variety of strength and conditioning. You can find everything from power racks and barbells to lat pulldowns and weight plates—pretty much all the home gym essentials you might want or need.
The brand started in 2009 and is committed to outfitting commercial and home gyms alike with high-quality equipment. The Kraaken is no exception—it's overbuilt without being overpriced.
Before You Buy
The Kraaken is designed to be used as both a reverse hyper and a glute ham developer (which is also sometimes called a glute-ham raise).
Vulcan ships this machine via LTL freight, which does not require the driver to assist you with unloading the equipment.
For an additional $45 you can ensure a Liftgate is on the delivery truck.
Is the Vulcan Kraaken-Hyper Worth It?
Owning a GHD or reverse hyper in your gym is a nice-to-have addition. While it's not a piece of equipment most people start with—like the best adjustable dumbbells, for example—if you need to focus on building strength in your back without a lot of impact, this two-in-one machine is the ultimate way to do just that.
Great for:
Ultimate posterior chain strength
Competitive strength sport athletes
Spacious home gyms
Not recommended for:
Casual exercisers
Small home gyms
Budget-conscious shoppers
Vulcan Kraaken Video Review
Vulcan Kraaken-Hyper Machine Specs
| | |
| --- | --- |
| Price | $1,739.99 |
| Footprint | 77″ L x 50" W x 61.5" H |
| Shipping weight | 590 lbs |
| Assembled weight | 565 lbs |
| Weight capacity | 1,500 lbs |
| Hip pad angles | 0, 4, 8, 12, 16, and 20 degrees |
| Hip pad dimensions | 20" L x 14.5" W (with 4" gap) |
| Inseam range | 22″ to 34.5″ |
| Pendulum length | 30" |
| Warranty | Lifetime on frame, 6 months on parts, 3 months upholstery |
Workout Experience With the Vulcan Kraaken-Hyper Machine
After testing and working out with the Kraaken, Coop breaks down his experience in two parts: The GHD (glute-hamstring developer) exercise and the reverse hyperextension movement.
GHD
Although the Vulcan Kraaken is a combination unit, it's not a totally unfamiliar-looking machine. "Like any other GHD, this has leg rollers, a kick plate, and knee pads," says Coop.
If you're not familiar with the GHD exercise, it's essentially a more difficult version of the back extension (with more hamstring involvement, too). And instead of hinging at the hips, your hinging point is the knee.
RELATED: How to do Back Extensions at Home
The movement is particularly effective because it brings your hamstrings through full range of motion. The hamstrings fully lengthen through the eccentric lowering portion and shorten in the contracted position at the top.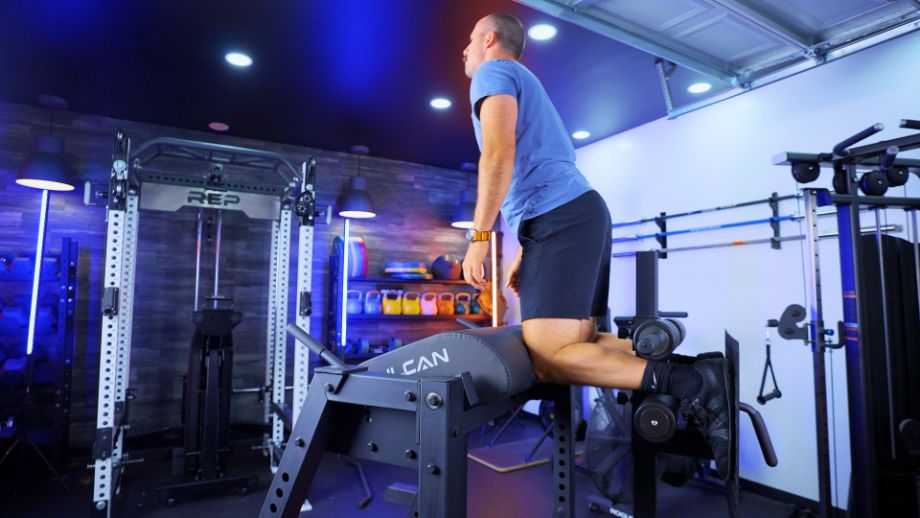 You secure your feet in place with the two pairs of leg rollers, situate your knees at the rounded edge of the pads, and once your lower body is locked in place, you'll slowly lower your upper body down toward the rest of the padding. Once you lower as far as you feel comfortable, you'll use the strength of your hamstrings to bring your torso back upright.
RELATED: Hamstring Exercises to do at Home
It's a challenging exercise that can be made even more difficult by tilting the angle of the hip pads, which provides a greater range of motion (and is one of the principles of progressive overload).
Coop notes that this tilting feature is the unique part of this combo unit. "The angle can go from a flat 0 degrees to 20 degrees, which can also be used for the reverse hyper orientation, too."
Coop also notes that the adjustment mechanism for the hip pad is "a bit clunky with a pull pin on the side, but I'd assume that with enough use, it would wear in more and be easier to change."
Another thing worth mentioning is the fact the padding is much higher off the ground than a stand-alone GHD (like the Rogue Abram GHD 2.0). That said, "if you're a CrossFitter and do a lot of GHD sit-ups and would like to be able to touch your hand to the ground at the bottom of a rep, you're going to need to stack up a box to do so," says Coop.
Reverse Hyper
Coop assures that when you flip around to use the reverse hyper mechanism on this Vulcan combo-unit, it feels like any other reverse hyperextension machine on the market. Plus, he likes the tilt-top padding for variety.
The reverse hyper is a lower back and glute exercise that allows your upper body to be stable (with you belly down) and work your legs, glutes, and lower back without being vertically loaded. You essentially lie on your belly, attach your feet pendulum using a simple strap, and lift your legs until your body is horizontal (like the bodyweight superman exercise).

RELATED: Glute Exercises at Home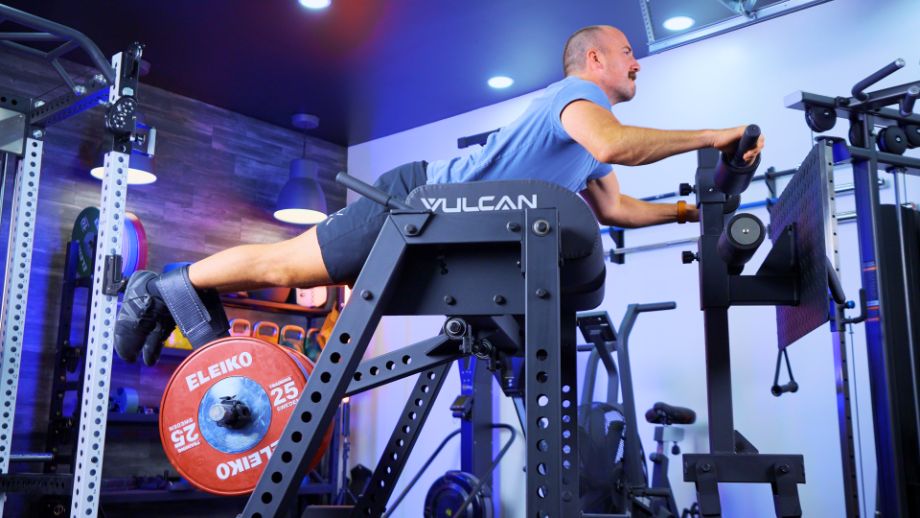 "You don't have to be worried about the plates hitting the leg rollers," says Coop. "The handles are on the top leg roller and due to the adjustment mechanism, you can push them far enough back that you can get a full stretch."
Coop thinks it's worth pointing out that there are no step ups on the side unless you pay extra for them (if you buy them, it's basically a j-cup for your feet). And same goes for the handles to hang on to during the reverse hyper—you can buy them for an additional $50.
All that to say, Coop notes that although "it's very sturdy and I really like the tilt top mechanism, it is hard to picture this being in many home gyms due to the size and weight."
Kraaken-Hyper: Both Big and Heavy
The first thing Coop points out about size and footprint is the fact it takes up nearly as much space as some of the best squat racks on the market. It's more than 6 feet long, just over 4 feet wide, and 5 feet tall.
"No kidding, this thing is about as big as a squat rack, but heavier," says Coop about the 565-pound machine.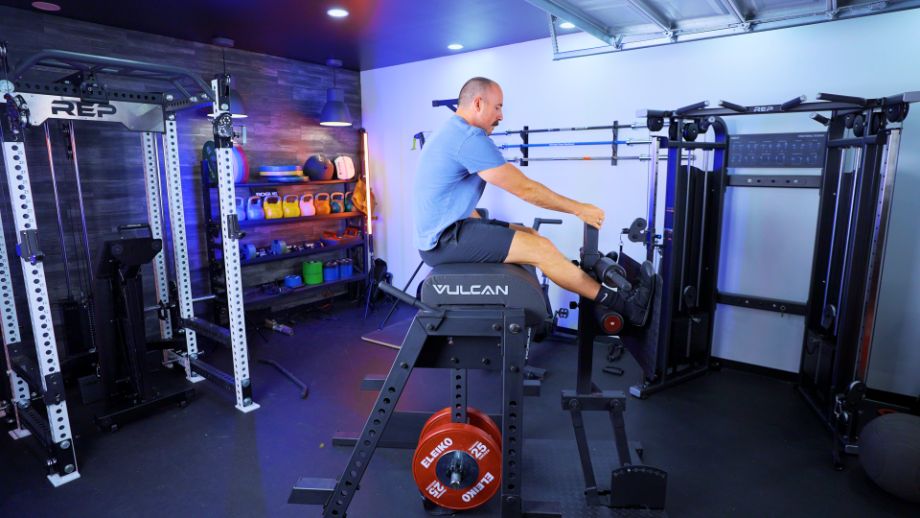 "Oh, and has no wheels to move it," he adds. "Make sure you have help moving it, and once in place, don't plan to move it again."
Coop makes a valid point about gathering helping hands to move the Kraaken and I'll get into those details later when I touch on what to expect for ordering, assembling, and shipping.
Coop also mentions that the weight does benefit the stability of the machine, saying that, "it's extremely stable—like the freaking rock of Gibraltar. Plus, you can even weigh it down with plate posts in the holes of the uprights."
Kraaken-Hyper: Ultra Durable
If you're wondering why the Kraaken is so dang heavy, the materials used will clue you in on how this behemoth of a machine adds up to 565 pounds. As Coop mentions about the size and weight, it makes for a sturdy machine.
We like sturdiness for any piece of home gym equipment for overall durability and longevity. Essentially, the less shaking or rocking you feel, the less damage will incur. The same goes for cardio equipment, like ellipticals, bikes, or the best treadmills for a home gym.
It's also worth noting that the materials used are what we typically see featured on the best rigs and racks and lend themselves to durability that will hold up to every single rep on this combo unit. Here is what you'll see on the Kraaken:
Frame constructed from 3″ x 3″ 11-gauge steel
Pendulum also made from 3″ x 3″ 11-gauge steel
Foot plate features 5 mm diamond plate steel
Frame is finished with either a black textured powder coat or heavy steel metallic gloss
Kraaken-Hyper: Custom Fit
In order for the Kraaken to work well—as both a reverse hyper machine and a glute-hamstring developer—it has to offer adjustability so you can customize it to your height, leg length, and desired exercise.
One thing Coop notes about adjustability is the fact "the leg rollers are adjustable and independent from each other, so they can easily fit different size ankles."
He also goes on to say, "the leg rollers can be adjusted forward and backward using a pop pin on the base of the unit," which adds more inseam adjustability for different user heights.
Although the Kraaken does adjust, Coop points out that, in comparison, his Sorinex Frankenhyper uses a foot lever to adjust the leg rollers away from hip pad (which he finds convenient), while the Kraaken requires you to get down to pull the pin. "Not a big deal, but worth noting," he says.
The truly interesting feature when it comes to adjustability is the hip pad (or knee pad, depending on which exercise you're doing). The hip pad can tilt from 0 degrees to 20 degrees to offer a larger range of motion for both glute-hamstring raises or reverse hypers.
"This is actually a very useful mechanism for increasing difficulty and range of motion," says Coop. "There are only a couple GHD's I've seen on the market that feature a tilting top, and one of them is from UCS, is designed for universities and costs $5,500."
Vulcan vs Bells of Steel vs Rogue Fitness
Reverse Hammer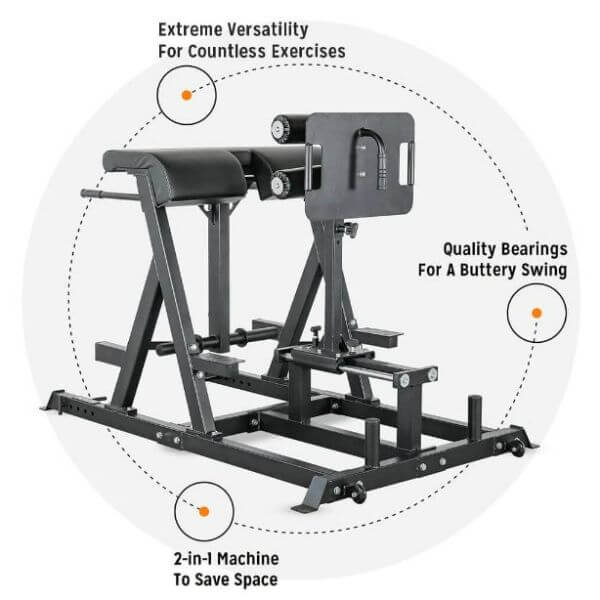 GGR Score: 4.0
Product Highlights
A standalone glute ham developer (GHD) and reverse back extension

Affordable

High-density foam pads with a durable vinyl casing

Hyper strap that doubles as a squat belt
Pros & Cons
Pros
High-density foam pads
Included hyper strap
Limited lifetime warranty on welds and frame
Budget friendly
2-in-1 machine saves space
Free shipping
30-day money-back guarantee
Cons
Standard collars do not fit pendulum so weights may shift
Some felt the foam was too firm
Several reports of items arriving damaged
Bottom Line
The Bells of Steel Reverse Hammer offers the best of both worlds: a glute ham developer and reverse back extension in one simple machine. This product is well built and less expensive than other two-in-one machines on the market.
Donkey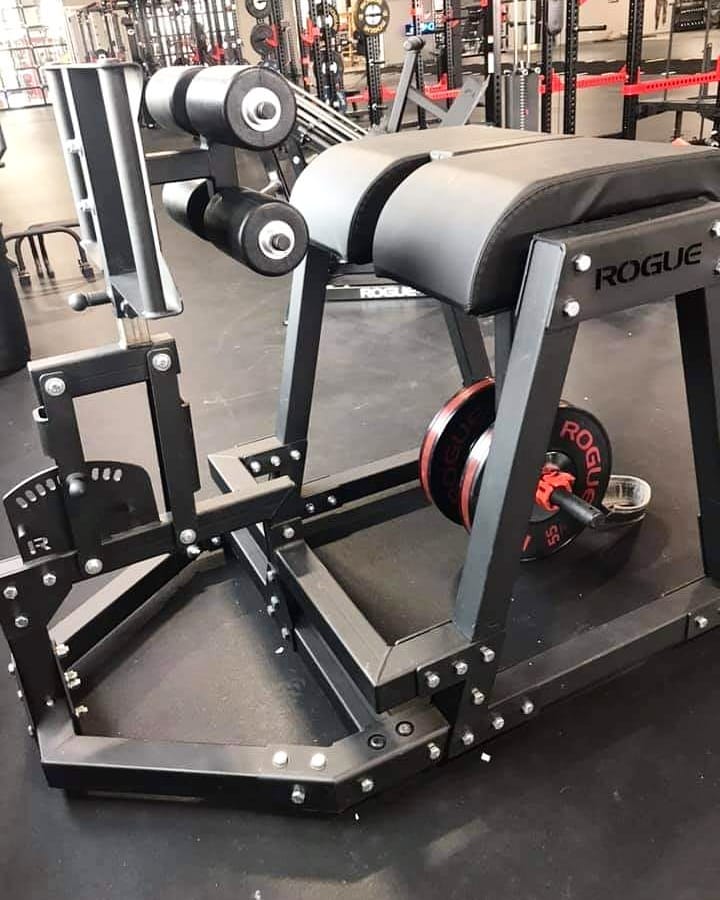 GGR Score: 3.95
Community Score: 4.4
Product Highlights
The Rogue Donkey is an entirely new beast; an all-in-one hybrid of our Z Hyper reverse-hyper machine and Abram GHD 2.0 glute-ham developer.
Made in USA
Pros & Cons
Pros
Made in USA
Adjustable inseam
Lifetime warranty
Cons
Expensive
Large footprint
Heavy
The Vulcan most similarly compares to the Bells of Steel Reverse Hammer machine for pricing, with both being under $2,000 but probably compares better construction and materials-wise to the Rogue Donkey machine.
The Bells of Steel version of the reverse hyper and GHD combination is constructed from 2-inch-by-3-inch steel tubing (which is super sturdy, don't get me wrong, but the Rogue and the Vulcan go overboard with 3-inch-by-3-inch steel for the entire frame).
Plus, the Bells of Steel also features a pendulum with a slightly slimmer shaft, so your traditional Olympic plates, bumper plates, and collars might shift around a little.
However, Coop notes in the Bells of Steel Reverse Hammer review that it does hold up, it's sturdy, and one of the most budget-friendly price tags for this type of equipment. And we'd be remiss not to tell you that Rogue is designed and manufactured right in the USA, making most of their products slightly more expensive than the competition.
What you won't find on the competition (Rogue, Bells of Steel, or otherwise) is the hip pad with adjustable angles. That feature is truly unique to Vulcan, and if you're looking for added versatility and want the machine to grow with you as you get better and stronger, this is one way to add challenge without buying more equipment.
| | | | |
| --- | --- | --- | --- |
| | Vulcan Kraaken-Hyper | Bells of Steel Reverse Hammer | Rogue Donkey |
| Price | $1,739.99 | $1,199.99 | $2,065 |
| Footprint | 77″ L x 50" W x 61.5" H | 74" L X 47" W X 42" H | 73" L x 44" W" x 54.5" H |
| Weight | 565 lbs | 280 lbs | 500 lbs |
| Adjustable hip angle | Yes | No | No |
| Adjustable inseam | Yes | Yes | Yes |
| Warranty | Lifetime frame, 6 months parts, 3 months upholstery | Limited lifetime frame and structural welds, 90 days upholstery | Lifetime frame, 5-year moving parts, 90 days upholstery and grips |
Vulcan Warranty and Return Policy
The Vulcan Kraaken offers a lifetime warranty policy on the frame, 6 months on moving parts, and 3 months on upholstery. If you need to make a warranty claim, you will have to use the general inquiry form on the brand's contact page or call the phone number listed near the bottom of the website, which is 877-986-4313.
What I find interesting about the Kraaken compared with other Vulcan products (like the Vulcan Buffalo bar review I wrote recently) is the fact there aren't warranty policies on every item. When you read the terms and conditions page, there is a warranty disclaimer that states the brand's website and the materials and products on this site are provided "as is," without warranties of any kind. While it might not affect your purchase of the Kraaken, it's worth noting for future reference.
When it comes to returns, Vulcan offers a standard 30-day return policy. You'll need to ship it back in the original packaging, cover all shipping fees to send it back, and potentially shell out a 20% restocking fee for items if you're not making an exchange for an item of equal value.
You will need a return authorization number from the brand, or your return will not be processed.
Ordering and Assembling the Vulcan Kraaken-Hyper
The ordering process is fairly easy for the Vulcan Kraaken. But you will need to make a few selections before adding to your cart, including:
Deciding if you want a Liftgate on your delivery truck for an additional $45
Paying $375 for the Kraaken to arrive fully assembled (or not for no extra cost)
Add handles for an additional $50
Add adjustable step-up pegs for $65 extra
Once you've made your selections, you can click add to cart. At checkout you can pay with your credit card, PayPal, Venmo or Pay Monthly via PayPal. If you chose the financing option through PayPal, expect interest rates to range from 9.99% to 35.99% based on your credit score.
Once you've completed the checkout process, it's important to understand that the Kraaken will be delivered via LTL (less than truckload) freight. Although that might not sound alarming, when you navigate to the shipping policies page, the website states that freight shipping does not require the driver to unload the product for you.
Hence why the brand gives you the option to pay an extra $45 for a Liftgate. Still, once it's on the ground, you and your buddies are going to have to find a way to get that 590-pound box into your home gym.
RELATED: DIY Reverse Hyper Machine
Customer Reviews
At the time of writing this review, the Vulcan Strength website only has 3 customer reviews featured. It just so happens that all three of these customer reviews have 5-out-of-5-stars.
While one customer rates the Kraaken 5 stars, they also mention the assembly instructions need to be improved, or the brand should provide a way to pay for a pre-built option to be delivered (which they now do).
Final Verdict of Our Vulcan Kraaken-Hyper Review
Although the Vulcan Kraaken-Hyper is large, heavy, and pricey it might be worth it if you have the space for the large footprint and you're serious about your posterior chain strength.
While both the GHD and the reverse hypers are challenging exercises, they are also both low-impact and don't vertically load your spine like a squat or the good morning exercise. This can be helpful if you're dealing with an injury or are currently going through rehab to get back to lifting.
Vulcan Kraaken-Hyper Rating
Vulcan Kraaken-Hyper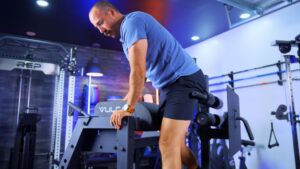 Will this reverse hyper and GHD combination unit stand up to the competition? Find out in our Vulcan Kraaken Hyper review.
Product Brand: Vulcan
Product Currency: $
Product Price: 1739.99
Product In-Stock: InStock
Vulcan Kraaken-Hyper FAQs
What muscles does glute hamstring raise work?
Much like the name alludes to, the glute hamstring raise works both the glutes and the hamstrings as well as the lower back muscles and core. 
Are glute ham developers worth it?
While many home gym owners don't have the real estate for the footprint of a glute ham developer or a combination unit, they can be worth it if you have the space. The biggest benefit of the glute hamstring developer movement is the fact it brings your hamstrings through a full range of motion. 
What is the difference between glute ham developer and reverse hyper?
The GHD uses your own body weight for resistance, and the reverse hyper attaches your legs to a pendulum for resistance.