We test and review fitness products based on an independent, multi-point methodology. If you use our links to purchase something, we may earn a commission. Read our disclosures.
If you're trying to build strong glutes, target your posterior chain muscles, and improve your core strength, glute ham developers and reverse hyperextension machines are the way to go. However, if you're looking at your budget and your home gym space, you might feel like that's impossible. After all, neither type of fitness equipment is cheap, and they're definitely not what you'd consider small. Therefore, what's a person to do if they have limited space and a tight gym?
For trainees who want the best of both worlds, it might be worth looking into the Bells of Steel Reverse Hammer. This home gym product is a two-in-one, so you don't have to choose to get one over the other. Plus, the price isn't half bad either, but does that mean we're sacrificing quality and durability?
To learn what you should expect out of this powerful combo, you'll want to keep reading this Bells of Steel Reverse Hammer Review.
We've Tried Them Together And Apart
Not to toot our own horn, but we know a thing or two about reverse hypers. For instance, we've tried the Rogue Z Hyper, the foldable Westside Scout Hyper, and even made a DIY reverse hyper.
Our GGR expert team of weightlifting coaches, certified personal trainers, and more knows the benefits associated with using glute ham developers, too, like the Sorinex P3 Poor Man and the Fringe Sport GHD machine.
Therefore, since we know what they're like apart, we have an idea of what they should provide when they're together. Combo units, like the Reverse Hammer, are on the rise, but if you've never used a reverse hyper or glute ham developer, you might not know what to expect. Since we've used both and know how they should and shouldn't perform, we can tell you if a combination like this is really worth it. To put it lightly, you're in good hands with our garage gym reviews.
Bells of Steel Reverse Hammer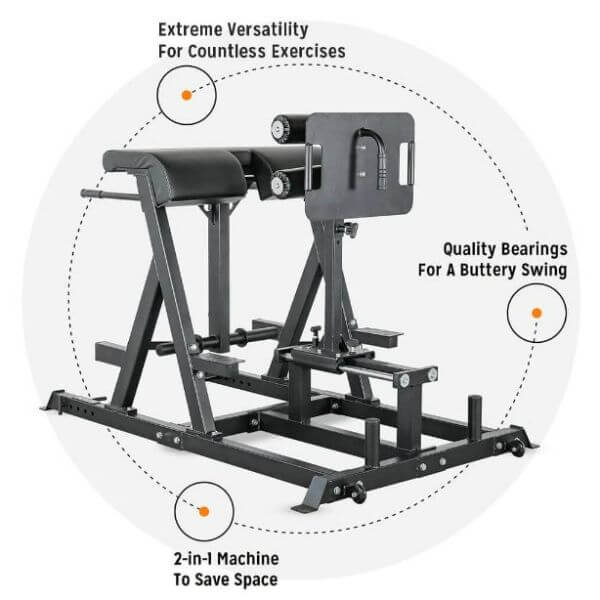 GGR Score: 4
Product Highlights
A standalone glute ham developer (GHD) and reverse back extension

Affordable

High-density foam pads with a durable vinyl casing

Hyper strap that doubles as a squat belt
Pros & Cons
Pros
High-density foam pads
Included hyper strap
Limited lifetime warranty on welds and frame
Budget friendly
2-in-1 machine saves space
Free shipping
30-day money-back guarantee
Cons
Standard collars do not fit pendulum so weights may shift
Some felt the foam was too firm
Several reports of items arriving damaged
Bottom Line
The Bells of Steel Reverse Hammer offers the best of both worlds: a glute ham developer and reverse back extension in one simple machine. This product is well built and less expensive than other two-in-one machines on the market.
A Quick Look at the Bells of Steel Reverse Hammer
If you're trying to assemble a garage gym, you've likely discovered that fitness equipment can get pretty expensive. A quick search online for products can have you second-guessing if you should go through with it. However, a company based out of Indianapolis, Indiana, known as Bells of Steel, aims to make fitness affordable.
Their mission is to provide people with good quality equipment at a reasonable price. So since 2010, they've been selling all types of products, like utility benches, kettlebells, power racks, and more, to powerlifters and other fitness enthusiasts.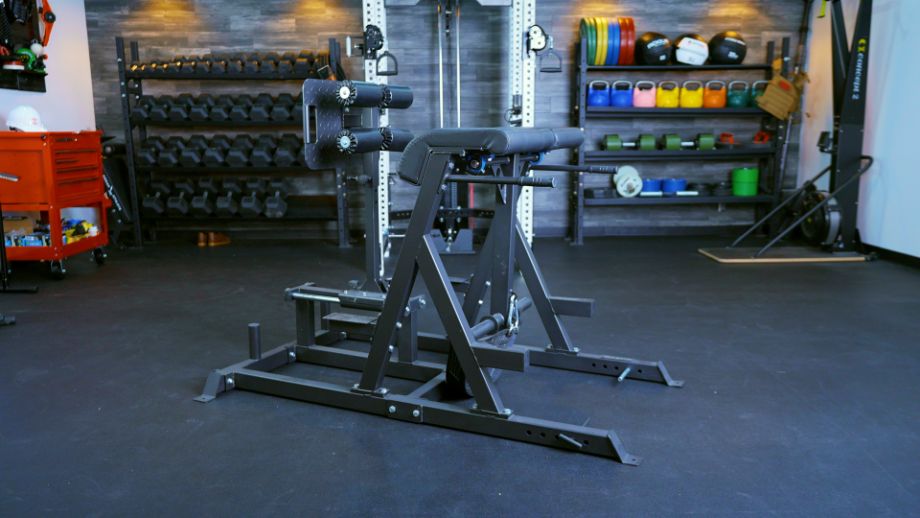 However, do "good quality" and "decently priced" really go together, especially regarding their Reverse Hammer product? Well, according to Coop, the Reverse Hammer is a set of fitness equipment that trainees should buy. But, as with all gym equipment, it's not for everybody, and you'll see why in this Bells of Steel Reverse Hammer review.
For instance, while trying this out in his home gym, Coop discovered that the Bells of Steel product is not high-end, like the Sorinex Frankenhyper unit. Yet, it also doesn't come with a high-end price tag, like the Frankenhyper, which usually sells for more than $3,500. The Reverse Hammer is only $1,199, so it's much more reasonably priced and could be a great intro unit for many consumers that are looking for a good unit at a good price.
Before You Buy
This product is meant to remain stationary, so make sure you have a designated spot in your home gym to place it.
The instructions that come along with the product aren't the best, and the screws aren't labeled, so we'd recommend watching the assembly video online.
You may find this difficult to use if you're taller.
The product's custom design makes the reverse hyper sleeves challenging to load.
Video Review
Is the Bells of Steel Reverse Hammer 2.0 Worth It?
So, if you're looking for a reverse hyper/GHD combo unit, would this be a good one to purchase? Today, this product is up against an increasingly crowded market of two-in-one GHD units. However, it checks in at a price tag that is often thousands of dollars less than some of its primary competitors. But, as expected, this lower price has some potential drawbacks, which may make you question whether it's worth it.
As Coop points out, "It's not a great unit, but it is average to good." Therefore, if you're someone who doesn't require the Lamborghini of reverse hyper/GHD combo units and are okay with a Honda version, you'll likely be satisfied with this.
Great for:
Trainees with very limited home gym space
Individuals who have a limited budget
People looking for a GHD and/or reverse hyper
Bells of Steel Reverse Hammer Specs
| | |
| --- | --- |
| Dimensions | 74" L X 47" W X 42" H |
| Steel Tubing | 2" X 3" |
| Weight | 280 pounds |
| Extras | Diamond Plate, Anchor Holes, Weight Storage Pegs, Band Pegs, Vertically Adjustable Footplate |
| Warranty | Limited Lifetime On Structural Welds And Frame Warranty; 90-Day Upholstery Warranty |
Excellent Versatility: Ways to Use the Reverse Hammer
Occasionally, you might want to put down the dumbbells and barbells and do something else. So when you feel like taking a break from the intense squat and deadlift sessions, it's nice to use fitness equipment like the Reverse Hammer instead.
With the Reverse Hammer, you can do GHD sit-ups, glute ham raises, back extensions, reverse back extensions, and even the single-arm bent-over row. There is a carabiner connection point on the lever arm of the reverse hyper so that you can attach a handle to it. Just place one hand on the reverse hyper pad and use the other hand to pull the handle with bumper plates or weight plates.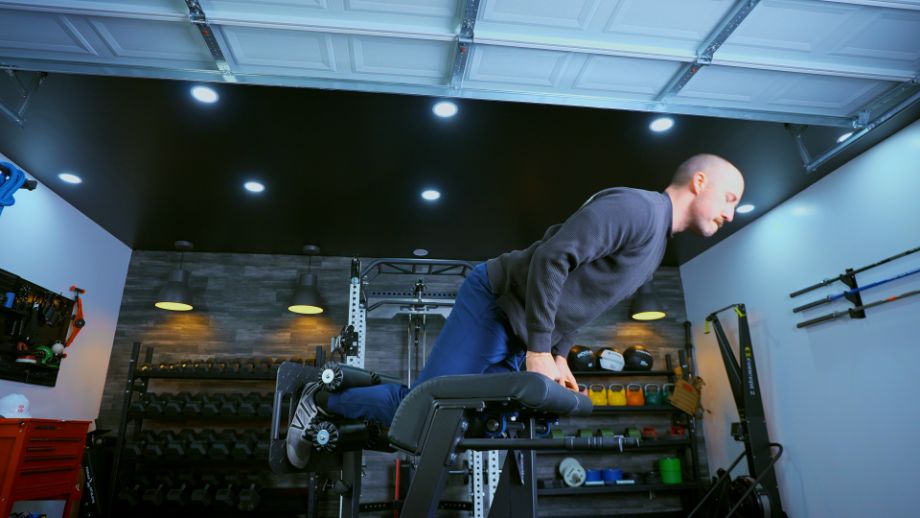 In addition to the suggested exercises above, you could also do resistance band training thanks to the band pegs on the 2.0 version.
Footprint: How Much Space Does The Reverse Hammer Need?
Before you press order on the Bells of Steel USA or Amazon websites, you need to understand just how big this thing is. The Reverse Hammer is 74 inches long, 47 inches wide, and 42 inches high. According to Coop, the footprint of the Reverse Hammer is very similar to other GHD footprints. This is good news considering you're getting two pieces of strength equipment in one with this product, so you're getting increased functionality and versatility.
But if you don't really know how big a GHD machine is, it can be hard to envision how much space that actually takes up. Therefore, to give you an idea, I'll compare it to something practically everyone is familiar with: a treadmill.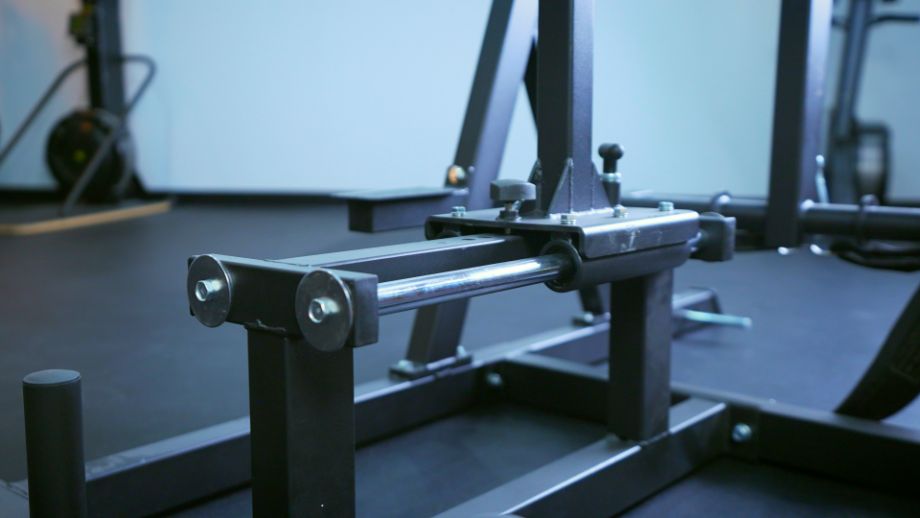 Length-wise, it's almost as long as a big commercial treadmill, like the NordicTrack Commercial 1750, which is 80 inches long. In terms of width and height, the NordicTrack Commercial 1750 is 38 inches wide and 65 inches high. When comparing the two, the Reverse Hammer is almost 10 inches wider than this large treadmill but is over 20 inches fewer in height.
Overall, these combo units are not small, and consumers need to carefully think about how much floor space they have in their home gym before buying it.
RELATED: The Rogue Westside Scout Hyper Review
Can I Move The Reverse Hammer Around?
Technically, yes, you can move the Reverse Hammer because it does have wheels. However, you must ask yourself if you want to push around 280 pounds of steel. Just trying to move this thing around a room would be a workout in itself. So, I'd recommend that once you find a place for it in your home gym, just leave it there. Even with wheels on the back side of the machine, it's not the most portable. You have to hoist it up before the wheels become useful at all. Fortunately, band pegs are on the bottom to help with the moving process.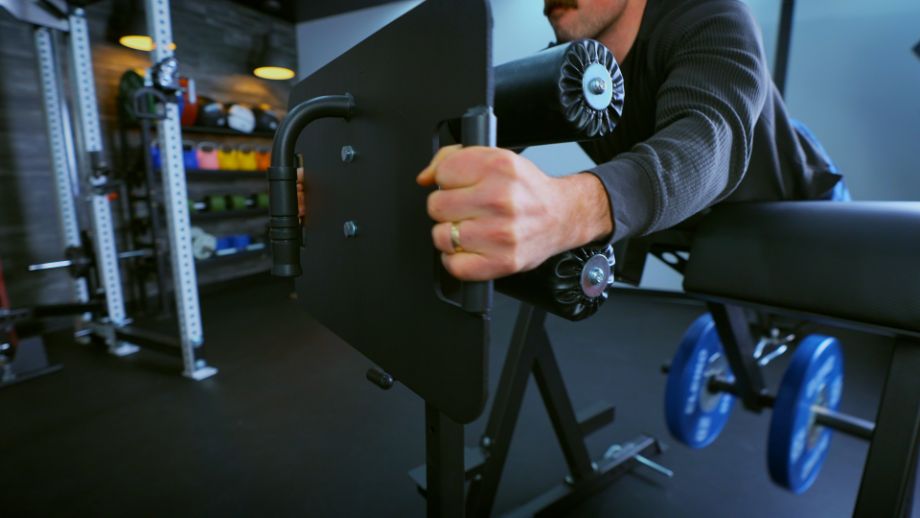 Is The Reverse Hammer Durable?
Naturally, given its price, you'd question whether or not this piece of home gym equipment is any good. However, Coop was undoubtedly impressed with the amount of steel that was used to build this machine. "More steel often means greater durability and stability. But more steel also means more weight, which is why you'll find this thing difficult to move," he says.
Nonetheless, Coop believes that the benefits outweigh the downsides. The machine is stable, with almost no rocking. He says that even though the Reverse Hammer is value-priced, it has some high-end components. For instance, the pillow block bearings for the reverse hyper levers will boost the machine's longevity. Another great component, according to Coop, is the guide rods on the equipment.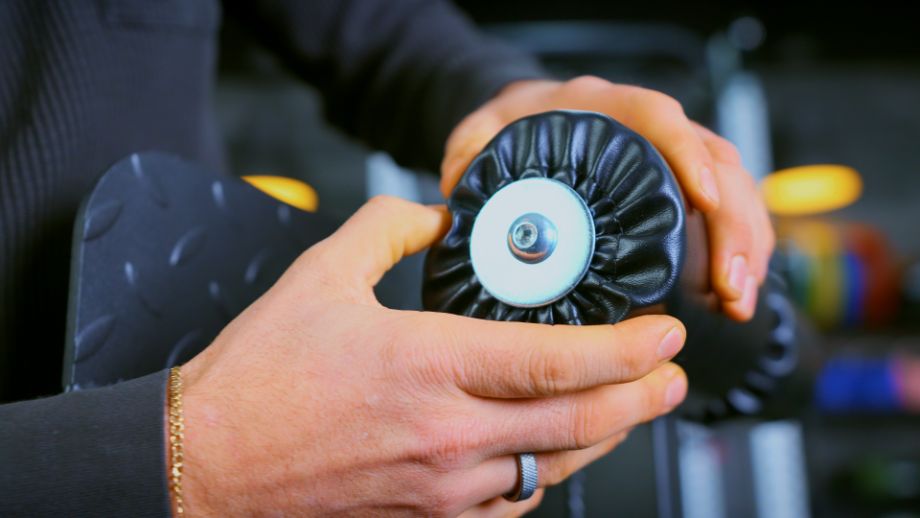 Ergonomically Speaking, Is The Reverse Hammer A Win?
Coop says that one of the highlights of the Reverse Hammer is that ergonomically, using this combo machine doesn't feel any different than using a straight GHD or straight reverse hyper. In fact, it feels very similar. "If your eyes were closed, you would not necessarily know you were using a combo piece," Coop says.
Coop says that a lot of thought seemingly went into making exercising on here as seamless as possible. This includes allowing a full leg swing that also stretches out the exerciser's back. Other helpful features include the easy adjustment of foot support, a comfortable pad for the reverse hyper, and multifunctional handles.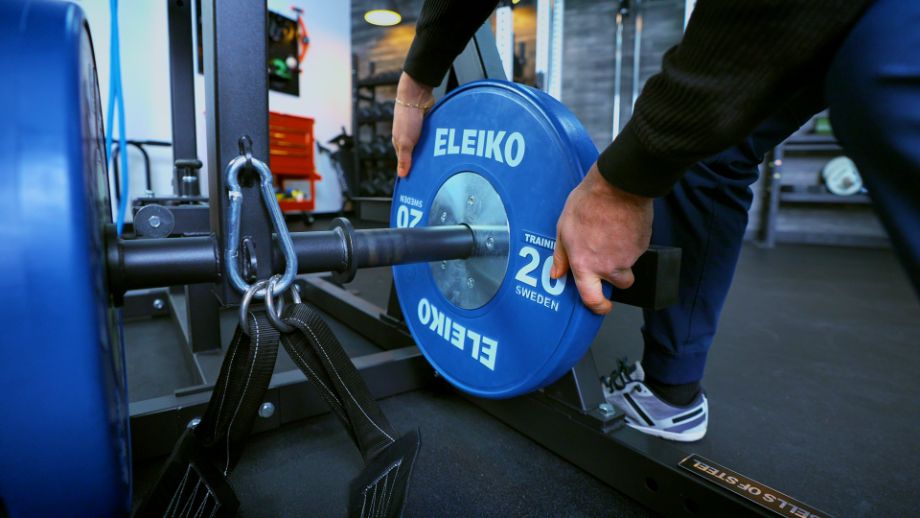 However, there is still room for improvement. For example, the front pad is bolted on, making it challenging to remove for some GHD exercises. In addition, the stock strap doesn't have the best quality and comes in a less-than-ideal length, which can affect the resistance curve.
RELATED: Bells of Steel Blitz Bike 2.0 Review
Customer Experience
According to the Bells of Steel website, they've sold their products to over 24,000 customers, which is significant. However, are those consumers actually happy, and what should potential customers expect when purchasing their products?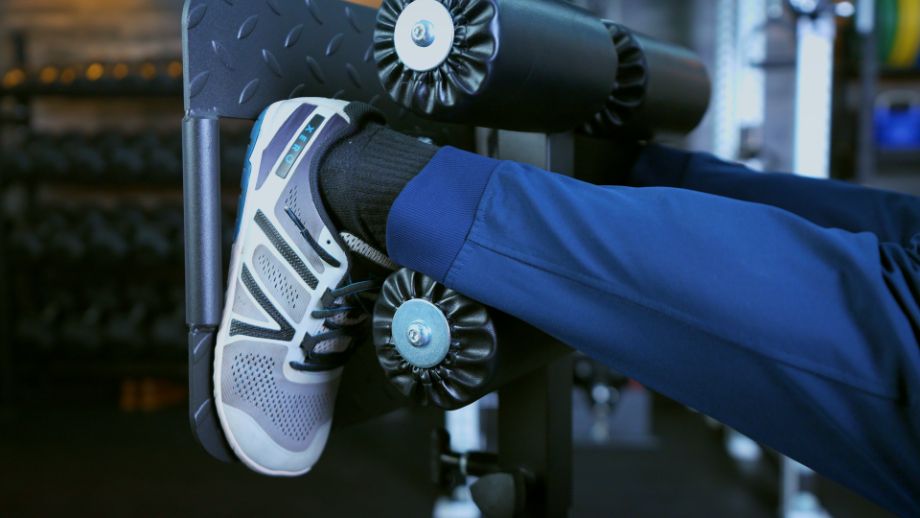 The Bells of Steel Warranty Policy
If you're the original purchaser of the Reverse Hammer, Bells of Steel will provide 90 days of warranty coverage on the upholstery and wheels if there is a defect in material, functionality, and workmanship. The 90 days begins on the date you purchase the item and ends at midnight of the last day.
In addition, there's a lifetime warranty on the welds and frame. However, for clarity, the "lifetime" warranty coverage will end once the product becomes unusable for reasons other than defects in workmanship or materials.
If you come across an individual selling this product and they're the original purchaser, understand that the warranty is not transferable to you.
What If You Want To Return The Reverse Hammer?
If you receive the product and realize that it's just not for you, the company does have a 30-day money-back guarantee. They'll provide you with a full refund if you send it back within 30 days from the day that you receive your item. Bells of Steel will send you a shipping label once you contact them regarding the return. The shipping labels will need to be placed on the original boxes that the Reverse Hammer came in. After that, you'd need to find a way to take it to your closest package or freight carrier. Once Bells of Steel receives the item, they'll refund you.
The Ordering and Shipping Process
If you see the Reverse Hammer in stock on the Bells of Steel website and go to checkout from there, you'll get free shipping. This is nice because shipping an almost 300-pound product is probably expensive. The bad news is that the company has decided to break down the shipment into three boxes. Coop noted that some customers had mentioned one or more of their boxes going astray, which can lead to frustration and delay.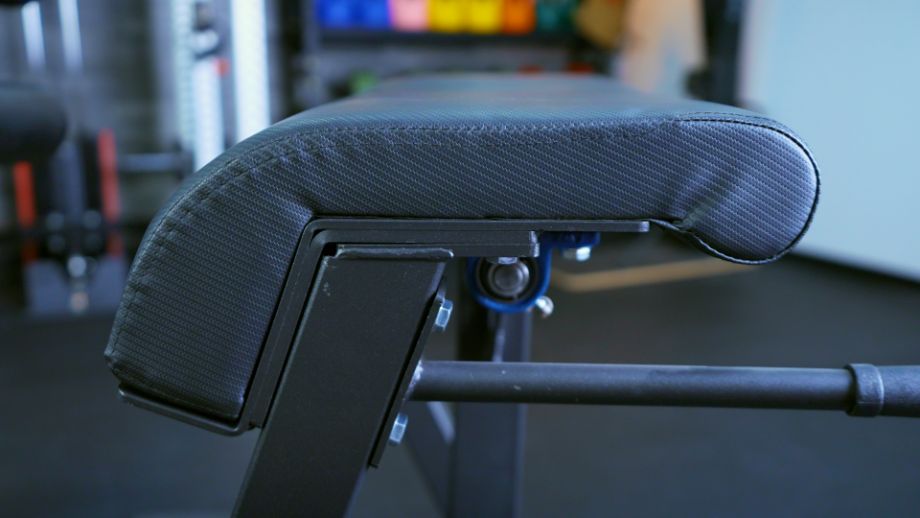 If you're hoping to catch a sale, you might find yourself disappointed. Bells of Steel doesn't really run sales, so what you see is what you get with pricing. However, on your first purchase, if you use the code WELCOME, you do get a free apparel item.
The Process of Assembling The Bells of Steel Reverse Hammer
Coop says that the assembly process for this machine is complicated. In fact, he highlights it as one of the biggest drawbacks of the Reverse Hammer. A ton of assembly is required to put it together, and the instructions aren't the best. Coop compares it to the challenge of assembling IKEA furniture, so be prepared that it will take some time.
Some customers have mentioned that the screws didn't fit and had to be hammered and bent to make them work. The screws and bolt bags are also unlabeled, so knowing what goes where is challenging. Fortunately, you can find an assembly video for the Reverse Hammer on their website.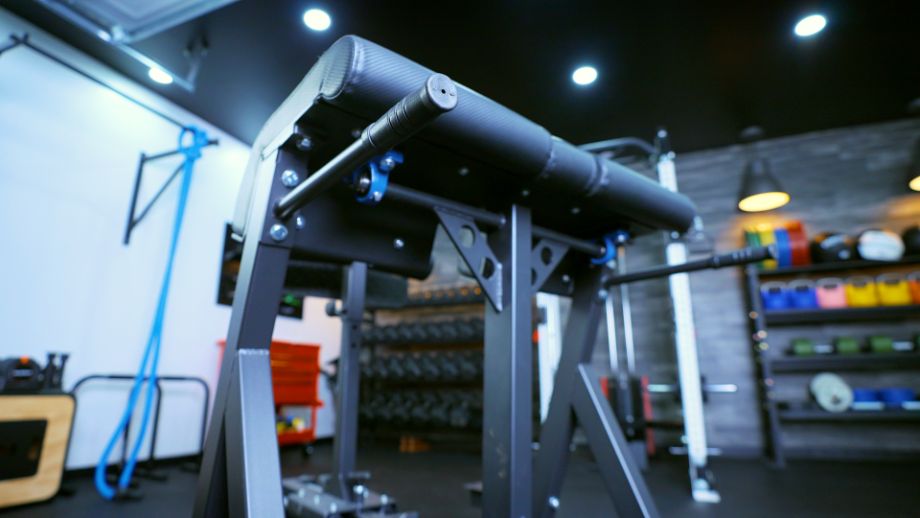 Customer Reviews
There are more than 50 consumer reviews on the Bells of Steel website. The vast majority of these reviews are 5-star reviews.
Many of the positive reviews focus on how substantial and durable the machine seems to be. For example, Lance notes, "The machine is a beast and functions flawlessly … Love this machine and I highly recommend it if you have the space."
Another user, Ian, highlighted how versatile the Reverse Hammer can be. He stated, "This is the perfect complement to my power rack, providing some amazing exercises for muscle groups I was having a hard time targeting like hamstrings and abs."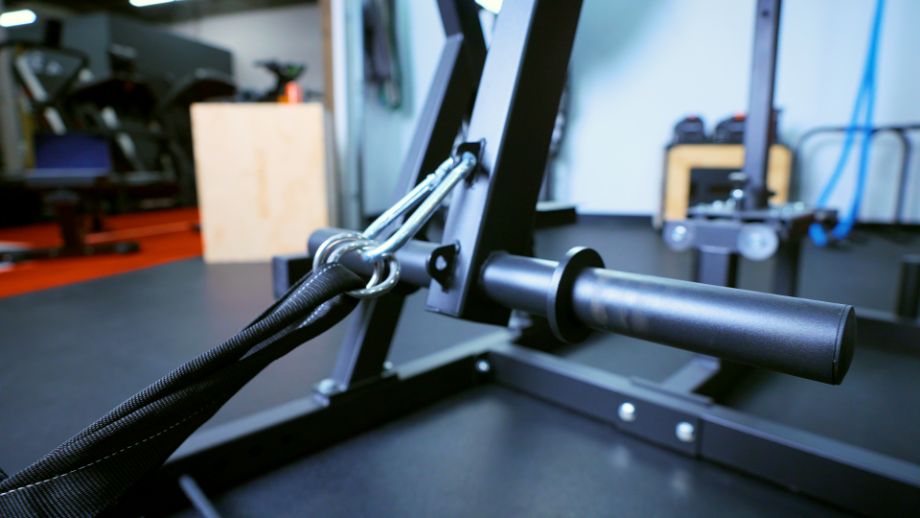 Some of the more negative reviews focused on assembly challenges or how the package arrived. For example, Michael highlighted, "The frame for the vertical adjustment for the back rollers was slightly bent. It made it extremely difficult to put on and now adjusting the height is very "sticky" for lack of a better term and I have to gently use a hammer every time my wife and I switch off using it. " He went on to note that he was also missing a key part needed to put it together, but he was able to contact the company and get that resolved.
Final Verdict of Our Bells of Steel Reverse Hammer Review
As Coop explains, there are many good things about the Reverse Hammer machine. It allows exercisers to embrace the combo unit trend without breaking the bank and offers some unexpected features at this price point.
However, there are downsides. Some of these downsides are universal to any combo unit, and others are more specific to the Bells of Steel Reverse Hammer, including that the aesthetic finishes are somewhat unfinished. Coop also points out that the padding is not as nice as what is seen in higher-priced units, although it has improved from earlier versions.
Great price point compared with competitors
Stable because of the high use of steel and heavy-duty components
Extremely heavy and large, which cuts down on portability
Some finishes and components, like padding, are not as good as what is seen with higher-end companies.
Coop emphasizes that, ultimately, this is the highest-value combo unit on the market.
Bells of Steel Reverse Hammer Rating
Bells of Steel Reverse Hammer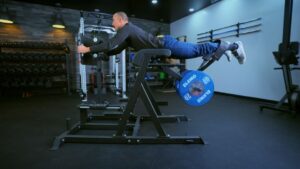 Gone are the days where you have to decide between buying a reverse hyper or a glute ham developer. Learn more in this Bells of Steel Reverse Hammer review.
Product Currency: $
Product In-Stock: InStock
Bells of Steel Reverse Hammer FAQs
What Exercises Can You Do With The Bells of Steel Reverse Hammer?
One of the best things about the Reverse Hammer is its versatility since it's basically two machines in one. Therefore, whatever you'd do on the standalone GHD or reverse hyper, you could do on here. Some examples might include: pull-throughs, reverse back extensions, lying tricep extensions, and more.
What Is A Reverse Hyper GHD?
A reverse hyper machine allows you to strengthen your back, hamstrings, and glutes without adding a bunch of weight and pressure to your joints. They're often used to help people following an injury. 
GHD machines, or glute ham developers, let you use your own body weight to perform a variety of glute and hamstring exercises. You'll need to have a good amount of strength and mobility to use it effectively and prevent injury. 
Together, you get a beast of a machine like the Bells of Steel Reverse Hammer.
Is The BOS Reverse Hammer Easy To Move?
Not at all. Despite it having wheels, it's still a 280-pound steel-constructed piece of equipment. This type of machine is meant to stay in one place.