We test and review fitness products based on an independent, multi-point methodology. If you use our links to purchase something, we may earn a commission. Read our disclosures.
The Fruit Loops toucan. Flo with Progressive. The clydesdales that tug on everyone's heart strings around Christmas time. What do these have in common? They're all in commercials! Although the word "commercial" evokes thoughts of 30-second advertisements on television, it can also be used to reference anything that's used to make money or garner profit (including fitness equipment).
If you're looking to replicate the globo-gym experience in the comfort of your own home, you might want to consider purchasing commercial fitness equipment. Luckily, Garage Gym Reviews has you covered with our five top picks for best commercial treadmill on the market. We'll run you through the durability, deck size, and motor power on each machine in order to help you find the right option.
We Don't Tread Lightly When it Comes to Fitness
Our fitness footprint is heavy––we're not here to tread lightly. After all, our team is passionate about working out and fitness equipment. It isn't just something we enjoy; we're subject-matter experts. At Garage Gym Reviews, our expert product testers and reviewers are certified personal trainers, nutrition coaches, and former college athletes. It's safe to say we know a thing or two about fitness––and what good equipment looks like.
5 Top Picks for Best Commercial Treadmill
Best Commercial Treadmill Overall: NordicTrack Commercial X32i
Good for: Tall individuals or those with long strides
Best Commercial Treadmill Overall
NordicTrack Commercial X32i Treadmill
This high-tech treadmill features a 32-inch HD touchscreen, a steep incline range, and a super powerful 4.25 continuous horsepower motor to help you get the most out of your workouts.The ultra-wide 22-inch by 65-inch non-stretch tread belt is equipped with special cushioning, so you can push your workouts without worrying about unnecessary wear and tear on your joints.The Commercial X32i Treadmill also comes with a 30-day iFIT family membership where up to five people can enjoy iFIT personal trainers on their own profiles. Trainers can use the automatic controls to digitally adjust your incline and speed settings so everyone in the family can enjoy a personalized workout plan.
Pros:
Expansive deck
Very sturdy
High-quality 32" HD touchscreen display
Compatible with iFIT programming
Has both incline and decline
4.25 CHP motor
Great financing options
Cons:
Super heavy at 462 lbs
Almost $4,000
Cannot be stored in garage or warranty will be voided
The NordicTrack Commercial X32i treadmill has all the makings of an excellent commercial treadmill for home use. The 22-inch-by-65-inch deck is huge and above the industry standard size for running by five inches. This machine is able to support sprinting, walking, jogging, and running without any issues.
The durability of the X32i is palpable. I felt no play in the deck or display, even when completing a high-intensity interval workout. This is likely due to the 4.25 CHP motor, which is quite powerful and makes the machine surprisingly quiet. Plus, the cushioning is cloud-like and very responsive––I felt like I was bouncing as I ran. If you don't like a lot of cushioning, you may not enjoy this factor.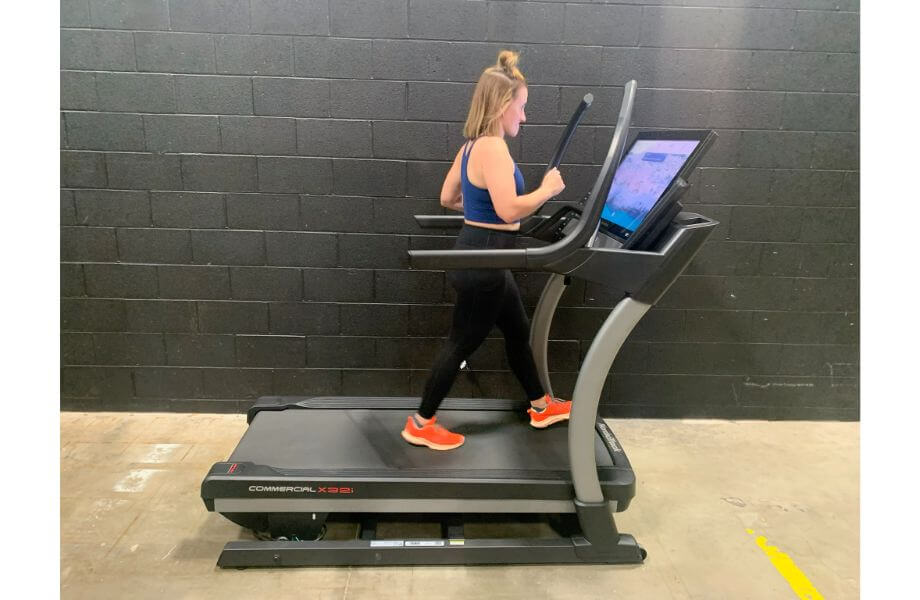 Although you won't find any free preset programs, you can take advantage of the 32-inch touchscreen and view on-demand iFIT classes (subscription sold separately). You'll be able to follow along with ease, thanks to AutoAdjust, which changes your speed, incline, and decline to match the instructor's directions.
The X32i has an impressive 40-percent incline, which is essentially like going straight uphill. Your calves will be on fire from the Everest-level upward trajectory, but you can always take a quick break and utilize the six-percent decline to switch it up.
At 462 pounds, the X32i is insanely heavy and doesn't fold. However, that's on-par with what you'd expect from other commercial treadmills––you'll need to be prepared with a space for this machine to live permanently. Just don't make that place the garage, as NordicTrack will void your warranty.
Check out our full NordicTrack X32i review.
| | |
| --- | --- |
| Price | Around $4,000 |
| Deck size | 22" W x 65" L |
| Warranty | 10-year frame, 2-year parts, 1-year labor |
| Weight capacity | 300 lbs |
Best Manual Commercial Treadmill: AssaultRunner Pro
Good for: Someone who wants a durable, manual treadmill
Best Manual Commercial Treadmill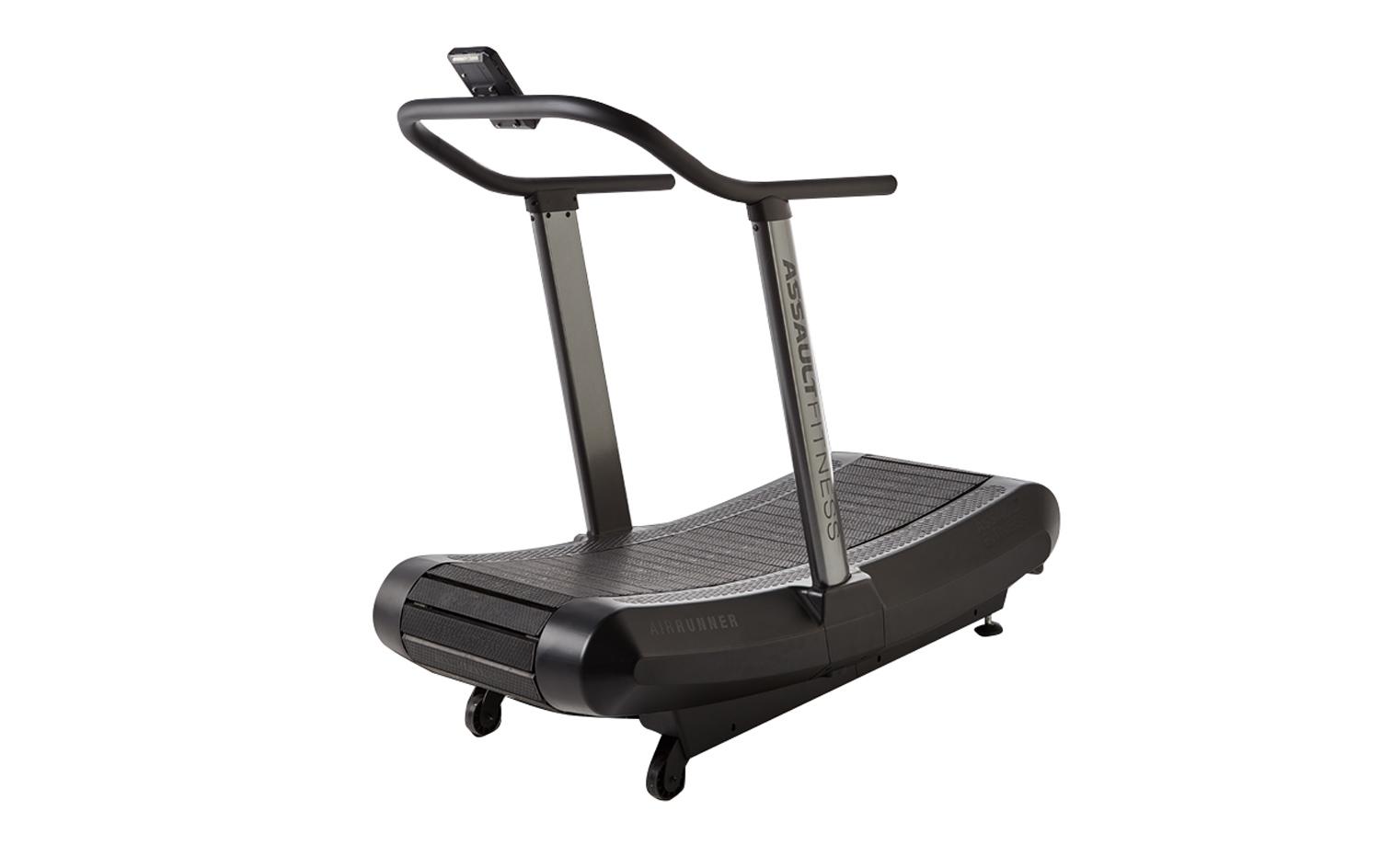 AssaultRunner Pro
The AssaultRunner Pro is a popular piece of equipment among CrossFit athletes, but it can also be used for the novice athlete to anyone who just likes to go for a run. It is a non-motorized treadmill that is completely powered by the output of the athlete. In other words, to get the belt started, you have to start running on it. The AssaultRunner Pro's curved design enables the athlete to run with proper running form and technique, which reduces the risk of injury.   This treadmill comes equipped with built-in wheels in the front and a handle on the back making it easily portable.  The steel handrails on each side of the Runner do come in handy especially for those who are new to running on a treadmill built to move based off of a person's power output.  The belt that is used on the Assault Runner is heavier causing it to spin faster than what it would feel like if you were running on a road. This is a sturdy machine, made with a lot of steel for increased durability. Lastly, the AssaultRunner Pro includes a UV-resistant console.  The digital console keeps track of your time, calories, speed, distance, watts, and pace.  
Pros:
Completely user-powered
350-lb user weight capacity
Bluetooth connectivity
Very sturdy
Belt warranty of 150,000 miles
Free shipping
Cons:
Lacks incline or decline options
Frame and parts warranties are subpar
Heavy and cannot be folded
If you've ever been to a CrossFit box before, you're probably pretty familiar with the AssaultRunner Pro. This curved, manual treadmill is built-to-last––you'll get a 150,000-mile warranty on the running belt. You won't feel any movement on the Pro, as this machine is a tank and constructed out of heavy-duty steel.
I'm a fan of the AssaultRunner Pro because I feel like it makes me run with better form due to the curvature of the deck. This treadmill is exclusively user-powered, which means you won't have to worry about the motor failing or not lasting since there isn't one. As long as you properly maintain your AssaultRunner Pro (through lubrication and cleaning), it will likely last for years to come.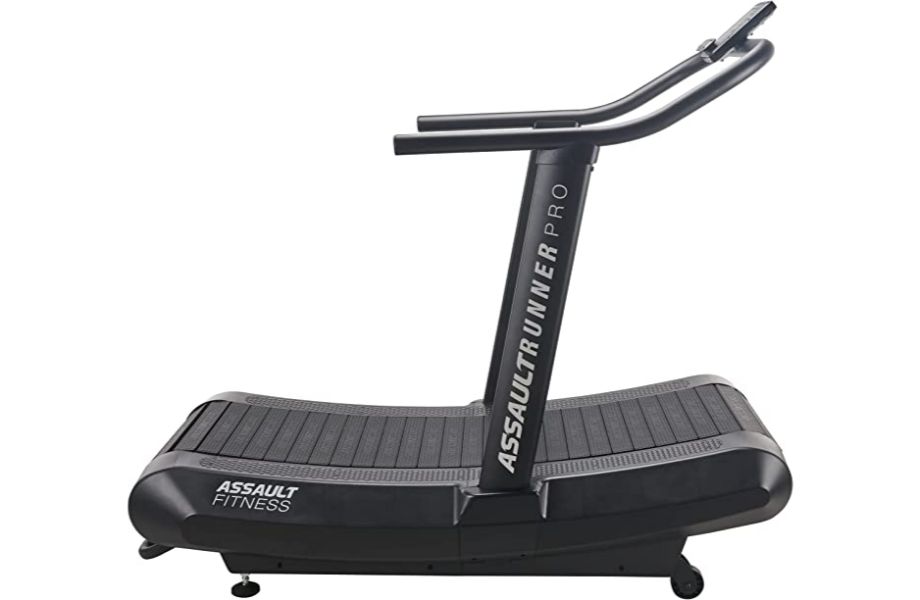 Plus, the 350-pound user weight capacity is above the industry standard of 300, which makes it an inclusive choice for more people. Although there aren't a lot of extras on this machine, there is Bluetooth connectivity, multiple preset programs, and a screen that displays a variety of metrics.
It is worth noting that this machine cannot fold and has a sizable footprint. Luckily, you won't be limited to where you can find an outlet since the machine doesn't have to be plugged in to work. You can roll the machine around on the included transport wheels, but you may have trouble lifting it up since it is almost 300 pounds assembled. I recommend grabbing a friend to help if you plan to move it significantly.
Take a look at our full AssaultRunner Pro review.
| | |
| --- | --- |
| Price | Around $3,000 |
| Deck size | N/A––website doesn't disclose |
| Warranty | 5-year frame, 3-year parts |
| Weight capacity | 350 lbs |
Best Budget Commercial Treadmill: Horizon 7.0 AT
Good for: People who want a reliable treadmill for around $1,000
Best Budget Commercial Treadmill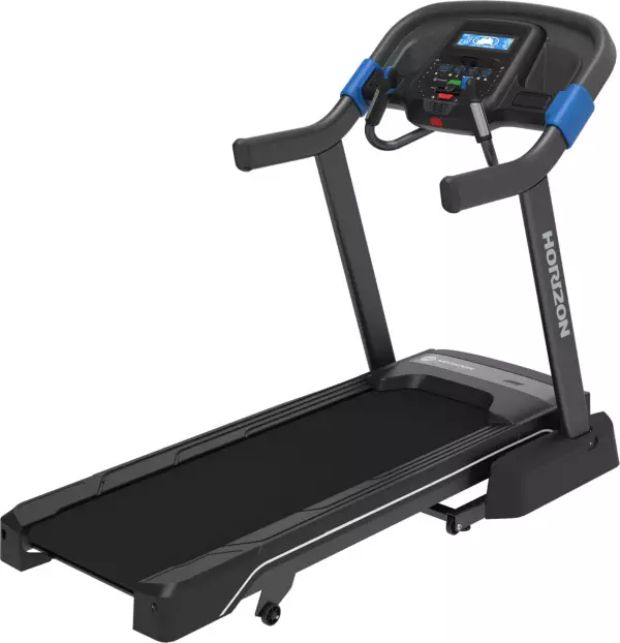 Horizon 7.0 AT Treadmill
Tired of searching for a budget treadmill that'll support your running habits? Look no further than the Horizon 7.0 AT Treadmill. This machine has a well-cushioned deck to aid in a more comfortable indoor run as well as a 60-inch deck (which is what we'd recommend most for running). I also enjoy the QuickDial adjustment feature, which allows users to change their speeds and incline up to "33% faster than other treadmills." This is useful if you love doing HIIT or sprints where you may need to quickly adjust the speed or incline.I would recommend shelling out the extra cash to get professional assembly. The 7.0 AT is a weighty cardio machine, and would best be completed with another helper (or a professional).
Pros:
Around $1,000
Good-sized deck
Folds and has a gas shock
325-lb weight capacity
Lifetime motor and frame warranty
Preset workout programs
Cons:
Motor HP isn't stated
High step-up height
Deck could be more cushioned
Don't have a ton of cash to spend but want a commercial treadmill? Although I wouldn't exactly call the Horizon 7.0 AT commercial, it is a commercial-adjacent treadmill. At just under $1,000, this budget-friendly cardio machine will surprise you with its durability.
Horizon guarantees your frame and motor for life, which is really impressive for the price. Right off the bat, you can tell the 7.0 is sturdy––the machine doesn't shake while being used and it feels like a well-made machine. The shock-absorbing deck is easier on the joints, but the cushioning could be slightly better. If you prefer more minimal cushioning, you'll likely enjoy what the 7.0 AT has to offer.
The 20-inch-by-60-inch deck is also suitable for a variety of heights and strides. Although there isn't a touchscreen on the 7.0 AT, you'll still be able to take advantage of eight different preset programs. You'll be able to view these options (and various metrics) on the seven-inch LCD display.
Although this machine feels quite durable and has a user weight capacity of 325 pounds, Horizon won't disclose their motor's horsepower. I'm not sure why the brand has chosen to do this, as it is a factor that would garner trust from a potential customer. From my experience, the motor seems supportive and isn't overly noisy while being used.
Read our full Horizon 7.0 AT treadmill review.
| | |
| --- | --- |
| Price | Around $1,000 |
| Deck size | 20″ W x 60″ L |
| Warranty | Lifetime frame and motor, 3-year parts, 1-year labor |
| Weight capacity | 325 lbs |
Best Durable Commercial Treadmill: SOLE TT8
Good for: Heavier exercisers
Best Durable Commercial Treadmill
Sole TT8 Treadmill
The Sole TT8 is one of the luxury treadmills available from Sole Fitness. This high-end tread sports a 60-inch by 20-inch running surface to accommodate runners of most heights, and the 2-ply cushioned deck alleviates pressure and impact from the joints.Although there is no touchscreen display on the Sole TT8, it does have a sturdy smart device holder where you can place your smartphone or tablet. You can then stream fitness classes from a third-party app to keep you motivated and entertained.One of our favorite things about the Sole TT8 is its impressive incline and decline range. To simulate the natural terrain you'd encounter while running outdoors, you can push the grade down to -6% or bump it up to 15%.
Pros:
4.0 CHP motor
Weight capacity of 400 lbs
Lifetime frame, motor, and deck warranty
Preset programs
Bluetooth connectivity
Incline and decline options
Cushioned deck
Cons:
High step-up height
Heavy at 322 lbs
Small cup holders
If you're looking for a commercial-grade treadmill with a powerful motor, look no further than the Sole TT8 treadmill. This machine has a 4.0 horsepower motor, which will support any kind of movement you want to do on the machine. Plus, the TT8 has a lifetime frame, motor, and deck warranty.
If you're a heavier person, you'll likely enjoy the Sole TT8. It has a user weight capacity of 400 pounds, which is over 100 pounds more than the industry standard. The TT8 will also work well for taller folks––the 22-inch-by-60-inch deck is the ideal width and length for almost any stride.
The Sole TT8 has all the speed, incline, and decline options you could need. It maxes out at 12 miles per hour, has 15 levels of incline, and six levels of decline.
It is worth noting that this machine has a high step-up height of eight inches. This may be problematic if you don't have great balance or are an older adult who is concerned about falling.
Plus, at 322 pounds, the TT8 isn't a light machine. You'll need to enlist the help of friends or family to get the machine up or down a flight of stairs.
| | |
| --- | --- |
| Price | Around $2,400 |
| Deck size | 22″ W x 60″ L |
| Warranty | Lifetime frame, motor, and deck, 5-year electronics, 2-year labor |
| Weight capacity | 400 lbs |
Best Commercial Treadmill Under $5,000: Peloton Tread
Good for: Interactive programming enthusiasts
Best Commercial Treadmill Under $5,000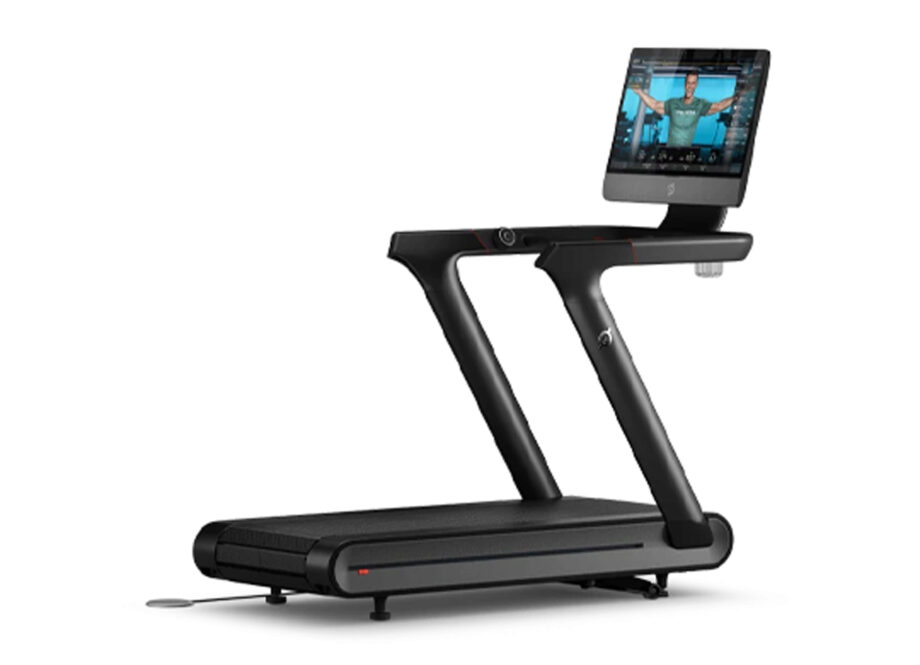 Pros:
Under $5,000
Stellar interactive programming
Excellent financing options
Large touchscreen
New safety features (Tread lock)
3.0 CHP motor
Sleek design
Cons:
Lacks decline options
Subpar warranty
Doesn't fold
The Peloton Tread is a cult favorite, and for good reason. It features incredible live and on-demand classes from Peloton (membership sold separately), which can be a great motivator for people looking to be more consistent exercisers. Plus, the oversized touchscreen allows the user to enjoy their programming in a more immersive fashion.
Although being under $5,000 doesn't seem like much of an accomplishment, many top-of-the-line commercial treadmills are almost double this price. Plus, Peloton offers great financing options on the Tread if paying upfront isn't in your budget.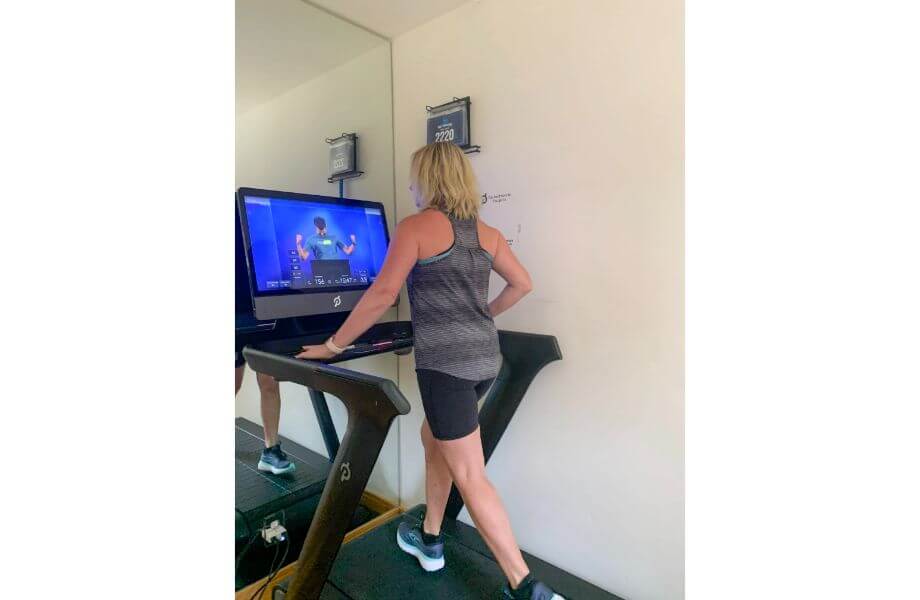 I love the newest feature that Peloton has added to the Tread—the safety lock. You have to type in a password to get the treadmill to start. This was created in response to kids and pets getting hurt while playing on the machine when they shouldn't have been.
The sleek design of the Tread makes you feel like you're in a boutique exercise class. However, the machine doesn't fold and cannot be compacted in any way. You'll need to make sure you have a dedicated space for the Tread to live.
It is also worth noting that this treadmill doesn't have decline options. This isn't actually uncommon for commercial treadmills––most only have incline anyway. However, if this was a criteria that is high on your list, you'll be better off with something different.
Check out our full Peloton Tread review.
| | |
| --- | --- |
| Price | Starts at around $3,500 |
| Deck size | 59" L x 20" W |
| Warranty | 5-year frame, 3-year motor, 1-year touchscreen and other components |
| Weight capacity | 300 lbs |
Other Treadmills We Researched
Life Fitness: Life Fitness offers a variety of treadmills for commercial use––you may have seen one before in your local gym. However, you need to be prepared to pay up to $11,000 for a Life Fitness treadmill, which isn't realistic for most people.
Precor: Precor currently has nine different treadmill models available for sale on their website. However, just like Life Fitness, you'll need to be willing to shell out a pretty penny to have one in your home gym. If you're interested in one of their offerings, you have to reach out for a quote before purchasing.
3G Cardio: We haven't tested any treadmills from 3G Cardio before, but they currently have three options to choose from on their website. If you actually intend to use their machines for commercial purposes, your warranty goes down significantly.
How We Picked and Tested the Best Treadmills
While testing any fitness equipment, we're always sure to ask ourselves a variety of questions. This helps us analyze every facet of a machine and give you the pertinent information you may need to make a decision. Check out the things we took a close look at for these commercial treadmills:
Deck size: How large is the deck? Is this best for walkers, joggers, or runners? Will the running surface support taller users?
Cushioning: Is the deck well-cushioned or is it more similar to the experience of running outside? Does the deck have shock absorption?
Construction: Does the machine have a steel frame? What materials is it made out of?
Brand: What is the brand of the treadmill? Is this a well-known treadmill brand like LifeSpan, Sole Fitness, ProForm, Horizon Fitness, or NordicTrack? Can I buy this machine on Amazon or at other major retailers?
Price: What is the cost of the treadmill? Is it considered a budget, mid-range, or high-end option in terms of price range?
Motor: How powerful is the motor's horsepower? Is it 3.0 CHP or higher?
Footprint: What is the overall size or footprint of the machine? Is it the right size for apartment or condo residents or only best for someone in a larger space?
Portability: Does the machine have transport wheels? Is it foldable?
Financing options: Are there financing options? Who are the financing options through?
Programming: Is there native, interactive programming on this treadmill? How expensive is the programming per month or per year? Are there any built-in workouts? Will you get a free 30-day trial of Peloton programming or an iFIT membership with your purchase?
User experience: How is the running experience? Does it feel like a quality treadmill for the price point? Can you watch Netflix on the screen or just view interactive programming? Are there any engaging training programs or are they run-of-the-mill options?
Display: Is the display a touchscreen, LED, or LCD screen? How large is the display?
Speed: What is the speed range on this machine? What is the top speed?
Incline/decline: Does the machine have incline and decline? If so, what are they?
Warranty: What is the warranty length? How does this compare to the industry standard?
Weight: How heavy is the treadmill? How will this affect the moving process?
User weight capacity: How much weight can the treadmill hold?
Extras: Does this treadmill come with a heart rate monitor? Does it have Bluetooth connectivity? Is there a device or tablet holder?
Benefits of Commercial Treadmills
Owning a commercial treadmill isn't cheap, but there are a variety of benefits to having one. Just ask personal trainer (and GGR writer) Lauren Strong.
"One of the biggest benefits I see from owning a commercial treadmill is the length of the running deck," Lauren explains. "A commercial-sized deck doesn't feel awkward or limit my natural gait. I also like the fact that commercial treadmills feel sturdy, durable, and are built-to-last."
Commercial treadmills may be out-of-reach for some, but if you can afford one, they will last for a while. Most of them are constructed with durable materials like steel, and are created to withstand lots of usage. You won't have to worry about the deck shaking or the motor failing as quickly as a non-commercial option.
Buying Guide: What to Look for in Commercial Treadmills
If you're looking to choose your own commercial treadmill, here are the top four things to keep in mind before buying:
Deck Size
Most commercial treadmills have a deck that hits or exceeds the industry standard of at least 55 inches for walking and 60 inches for running. However, some commercial treadmills have an even longer deck. If you're particularly tall or have a long stride, make sure to get a suitably sized deck for a more comfortable workout.
Durability
Durability is another component to consider before choosing a commercial treadmill to purchase. Obviously, you won't know how a machine will hold up except with the passage of time. However, there are some things you can look out for that will clue you in to the overall durability.
Check to see that the motor is at least 3.0 horsepower or higher. This lets you know that the treadmill will be able to support serious running. You should also take a look at the materials used to build the machine. Treadmills constructed with large amounts of plastic are not usually very durable, so keep your eyes peeled for machines made with steel.
Warranty
The industry standard for a treadmill frame warranty is at least 15 years. This is around what you should expect on most commercial machines. I recommend reading each warranty carefully––some companies like NordicTrack will void your warranty if you put any of their machines in the garage.
Commercial Treadmills FAQs
How much do commercial treadmills cost?
Depending on the model you purchase, you may pay upwards of $5,000 or more. I would establish your budget ahead of time or check for financing options. Commercial treadmills aren't cheap.
How long are commercial treadmill's belts?
Generally speaking, I like to see at least 55 inches for a treadmill someone plans to walk or jog on. Most commercial treadmills are at least that, if not 60 inches. This makes it simpler to take longer strides, or for taller people to be able to run and walk with ease.
Can a compact treadmill be a commercial treadmill?
Most commercial machines do not fold, which doesn't make them a compact option. If you're looking for a treadmill that will fold or compact in some capacity, buying a non-commercial machine may be the best choice for you.