We test and review fitness products based on an independent, multi-point methodology. If you use our links to purchase something, we may earn a commission. Read our disclosures.
There are people who love true simplicity––things that are easy to use, inexpensive, and without any frivolous extras. Then there are others like me who want it all––I'm talking dozens of features, the latest technology, and a price to match. If you tend to fall into the same over-the-top camp, you'll want to stick around for this NordicTrack X32i review.
At around $4,000, the NordicTrack Commercial X32i treadmill may be one of the most expensive treadmills we've reviewed to date. But does it live up to the hype (and the price)? Keep reading to find out what I really think about this tricked-out treadmill from NordicTrack.
No, We're Not Talking X Æ A-12 Musk, We're Talking X32i
Plenty of things in life are confusing. Elon Musk's child's name, how to do your taxes, and calculus (if you're me). However, finding the best treadmill doesn't have to be a bewildering ordeal––even if the machines are given head-scratching titles like X32i or SF-T7603.
Our team of expert product testers and reviewers have run, walked, and jogged on the most popular treadmills on the market. Our aim, you may ask? To give our audience honest, in-depth information they can trust. Plus, we have years of experience in the fitness industry to back our findings up––we're certified personal trainers, nutrition coaches, and former college athletes.
NordicTrack X32i
NordicTrack Commercial X32i Treadmill
This high-tech treadmill features a 32-inch HD touchscreen, a steep incline range, and a super powerful 4.25 continuous horsepower motor to help you get the most out of your workouts.The ultra-wide 22-inch by 65-inch non-stretch tread belt is equipped with special cushioning, so you can push your workouts without worrying about unnecessary wear and tear on your joints.The Commercial X32i Treadmill also comes with a 30-day iFIT family membership where up to five people can enjoy iFIT personal trainers on their own profiles. Trainers can use the automatic controls to digitally adjust your incline and speed settings so everyone in the family can enjoy a personalized workout plan.
A Quick Look at the NordicTrack Commercial X32i Treadmill
The NordicTrack Commercial X32i treadmill is part of the incline series of treadmills from NordicTrack. Included in this series are three machines––the Elite, the X22i, and the X32i treadmill.
The X32i is the mid-priced option out of the three (if you can believe it) since the other two are $4,500 and $3,000 respectively.
My Tips:
Pros:
4.25 CHP motor
Oversized deck at 22" W x 65" L
Both incline and decline options
32" touchscreen
Extremely sturdy
Well-cushioned belt
Two sets of handlebars
Cons:
High step-up height
Doesn't fold
Heavy at 462 lbs
Two people are needed for assembly
Is the NordicTrack X32i Incline Treadmill Worth It?
Although the NordicTrack Commercial X32i is an impressive cardio machine, it isn't the best choice for everyone's fitness goals. Take a gander at who I think will be head over heels for this treadmill and who should pick something else.
Great for:
People with a large home gym
Technology enthusiasts
Serious runners
Not recommended for:
Small spaces
A budget option
People with balance issues
NordicTrack X32i Video Review
NordicTrack Commercial X32i Treadmill Specs
| | |
| --- | --- |
| Footprint | 76.5" L x 40" W x 73" H |
| Weight | 462 lbs |
| User weight capacity | 300 lbs |
| Warranty | 10-year frame, 2-year parts, 1-year labor warranty |
| Incline control | AutoAdjust |
| Handlebars | Two sets (one traditional and one push bar) |
| Display | 32" touchscreen |
| Tread belt | 22" W x 65" L |
| Incline and decline | -6% to 40% |
| Programming | iFIT workouts (subscription sold separately) |
| Workout fans | Yes, AutoBreeze workout fans |
| Foldable | No |
| Heart rate monitoring | Chest strap sold separately |
| Speed | 0-12 MPH |
| Wi-Fi connectivity | Dual 2.4 GHz & 5 GHz |
| Motor horsepower | 4.25 CHP DurX |
Scampering Around on the High-End NordicTrack Commercial X32i Treadmill
GGR editor and certified personal trainer Nicole Davis was the fortunate individual who got to test the X32i (although I also jumped on it myself).
Nicole was impressed with the sturdiness of the machine, and said she felt little play in the frame while running or even sprinting. However, she did note that the cushioning itself is quite aggressive. I personally love a well-cushioned deck, as I previously had ankle reconstruction surgery and like a lower-impact run. Nicole prefers more moderate cushioning on a treadmill deck, so she found the cloud-like belt of the X32i to be a lot for her.
"There's a lot of bounce on the belt, so much so that it shook the screen a little," Nicole explained. "I think it's mostly because the screen itself is so large."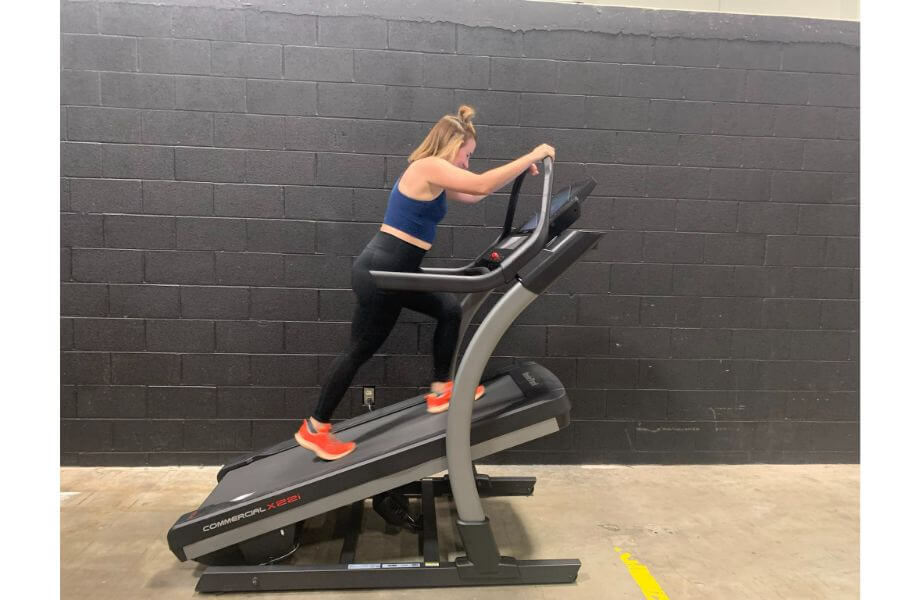 Nicole also took advantage of the insane 40 percent incline. She cranked the incline all the way to the max and held on to the upright handlebars for dear life. If you're someone who is training for a hill race or you just live in San Francisco, you may actually get a lot of use out of this feature. For reference, the typical treadmill with incline maxes out at 12 percent, so this is way above what you'd typically expect to see.
The speed of this machine caps at 12 miles per hour, so surprisingly, nothing out of the ordinary. However, both Nicole and I found the quick-select buttons to be very responsive. The X32i can quickly switch between speeds and incline or decline in a flash. Plus, the treadmill itself was super quiet, even as we changed settings.
Although the NordicTrack website doesn't specifically quantify the step-up height, Nicole will be the first to tell you it is high.
"The step-up height really is tall, and I can see that being a deterrent for some people," Nicole said.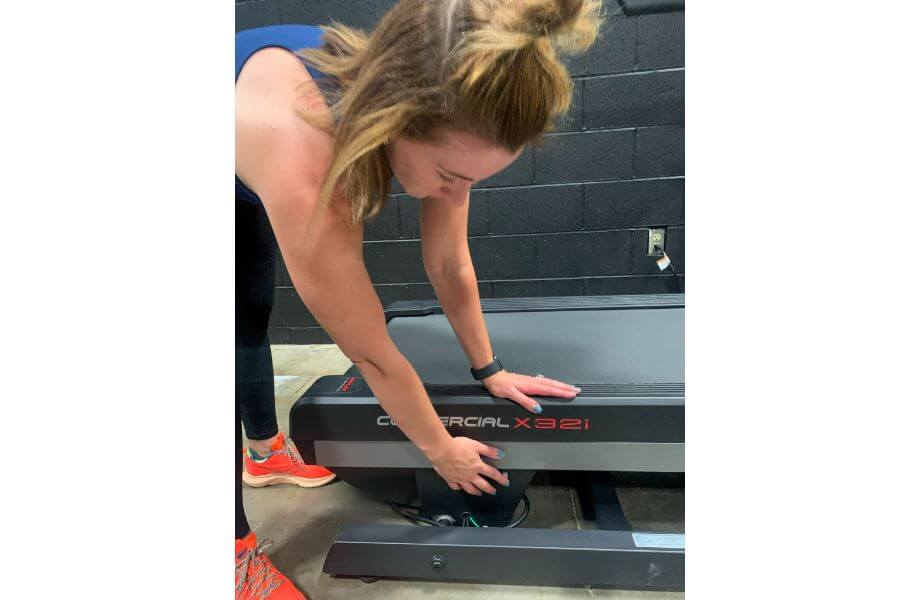 If you're someone with balance issues, the X32i may not be your best choice since the deck is solidly off the ground.
However, the 22-inch-by-65-inch deck is also one of the largest I've seen on a treadmill. If you have insanely long strides or are super tall, you'll love the additional room on the X32i's deck.
Besides the lengthy deck, the 4.25 CHP powerful motor is primed for serious runners. I'd usually recommend at least a 3.0 CHP motor for people who want to consistently use their treadmill for running, so this is well above the typical standard.
Footprint and Portability
Although most home treadmills are foldable, the X32i is not. This is typical of commercial treadmills you'd find in your local gym, so I assume NordicTrack was going for this level of durability.
I wouldn't recommend the X32i if you're in a small apartment or condo, since you'll need to have a dedicated, permanent space for the machine to live. It is also worth noting that you cannot store this machine in your garage, as the warranty will be voided. This essentially means the X32i will really only work for someone with a sizable, indoor home gym.
Plus, you'll likely want to decide where this machine will stay before it arrives at your house. At 462 pounds in the box, this treadmill will not be simple to move, especially up or down the stairs.
Technology Benefits and Conveniences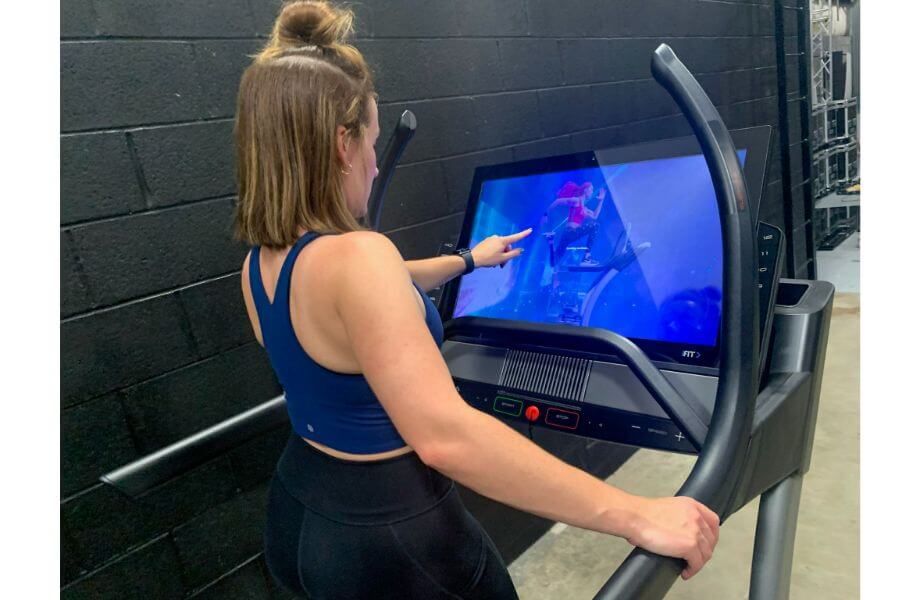 One of the most impressive features of the X32i is the 32-inch smart HD touchscreen. The graphics on this Android-based screen are very clear, and we found the touchscreen to be very responsive. Since the screen is so immersive, both Nicole and I felt like we were actually running alongside the iFIT trainer.
Speaking of iFIT, you'll currently get a free 30-day trial with the purchase of the X32i. This is a great way to see if you enjoy the classes and want to continue after the trial is over. Besides the typical treadmill classes you'd expect to see (like long-distance runs, walks, and jogs), iFIT also has a variety of on-demand strength training, meditation, and yoga classes at your disposal. You can choose an individual yearly plan with one user profile for $180, or get an iFIT family membership for $396 with five separate profiles.
Besides iFIT, the X32i also has other technology-based features like Bluetooth headphone connectivity and Google Maps.
In terms of conveniences, expect to see typical things like dual water bottle holders, an adjustable cooling fan, and high-quality speakers.
NordicTrack X32i Treadmill vs Bowflex Treadmill 22
When it comes to tricked-out cardio machines, the Bowflex Treadmill 22 can hold its own with machines like the NordicTrack X32i. Check out this comparison chart to see where the similarities (and differences) lie with these two durable treadmills:
Bowflex Treadmill 22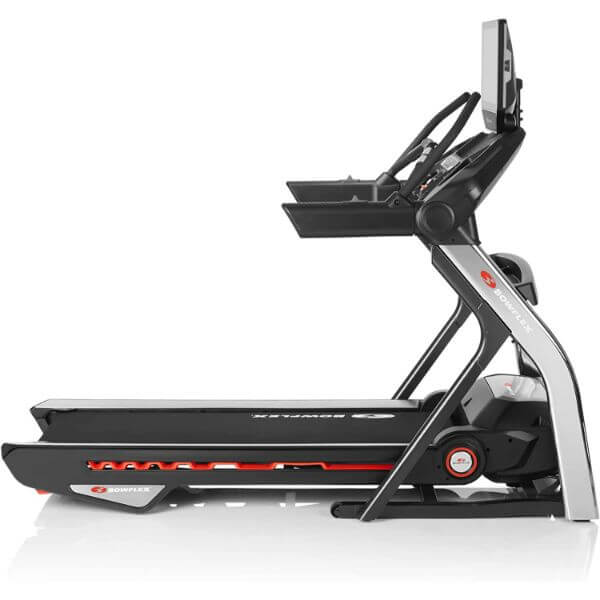 Bowflex Treadmill 22
The Bowflex Treadmill 22 is a high-end treadmill packed with features and specs that may make it attractive to serious runners and beginners alike. Some of the most notable features include a 22-inch interactive console with an HD touchscreen, speeds ranging from 0 to 12 miles per hour, and inclines ranging from -5% to 20%, offering plenty of variability to challenge even the seasoned runner.Fully equipped with the JRNY fitness platform, you can expect an immersive training experience at your fingertips. JRNY houses coach voice-led workouts, as well as over 200 scenic routes with curated playlists to keep you motivated on your next run.Additionally, with the JRNY membership, you can access and stream entertainment apps including Netflix, Hulu, Disney+, HBO Max, and Amazon Prime Video. A one-year membership is included in your purchase of the 22. However, beyond that one-year timeframe, you will need to pay for a membership in order to use the Bowflex Treadmill 22 and access all of its features.The specs and components on this treadmill are noteworthy. The 22-inch by 60-inch cushioned running deck is spacious enough to accommodate users of varying heights and, with a max user weight capacity of 400 pounds, this treadmill will work for the vast majority of the population.While some buyers found the console to be slightly confusing, it offers a lot of features well worth the time it takes to figure them out. Speed and incline knobs allow you to make adjustments to the intensity mid-stride and the built-in fan will keep you cool on those hot days. You are able to monitor your progress with key fitness metrics on the HD screen to stay in the zone. The 22 comes with heart rate hand grips as well as Bluetooth compatibility and an arm heart rate band for more accurate heart rate training.When you are done with your workout, the Bowflex 22 can be folded using the Softdrop folding system claimed to reduce the footprint by more than 40% — a perk for those with limited floor space. Unfortunately, Bowflex does not provide any information on the motor's power, but given the vast range in speed and incline, it should be plenty powerful for all users.
Check out our full Bowflex Treadmill 22 review.
| | | |
| --- | --- | --- |
| Treadmill | NordicTrack X32i | Bowflex Treadmill 22 |
| Price | Under $4,000 | Under $3,000 |
| Footprint | 76.5" L x 40" W x 73" H | 85" L x 39.6" W x 70" H |
| Deck size | 22" W x 65" L | 22″ W x 60″ L |
| Display | 32" touchscreen | 22" touchscreen |
| Compatible programming | iFIT (subscription sold separately) | JRNY (subscription sold separately) |
| Machine weight | 462 lbs | 336 lbs |
| Foldable | No | Yes |
| Incline and decline | -6% to 40% | -5% to 20% |
| Weight capacity | 300 lbs | 400 lbs |
Customer Experience
All of NordicTrack's warranties on their treadmills are the same, regardless of price: 10 years on the frame, two years on parts, and one year for labor. For context, the industry standard for a treadmill warranty is at least 15 years on the frame. If I'm paying $4,000 for a treadmill, I'd want the warranty to hit the industry standard, so 10 years is a bit of a miss for me.
I did notice that you can purchase an additional three-year warranty at checkout for a whopping $420, which would make the warranty closer to the industry standard.
In terms of returns, NordicTrack's policy is pretty standard––you have 30 days to return the machine and you'll be subject to a $250 shipping and restocking fee.
Ordering and Assembling the NordicTrack Commercial X32i Treadmill
Ordering the X32i is quite simple: Choose your iFIT subscription, additional warranty options, and shipping and assembly. You'll then be prompted to add your credit card information or break up your payments for financing (if you qualify).
Although the X32i is almost $4,000, NordicTrack does offer great financing options through TD Bank. If you qualify, you could pay as little as $103 per month for 39 months with 0% APR.
In terms of shipping and assembly, you can get free standard delivery, which means they'll drop this machine outside your front door. Since the X32i weighs 462 pounds in the box, I wouldn't recommend choosing this option for most people. It would be a real pain in the butt to move this machine pretty much anywhere.
The other option is professional assembly and delivery to the room of your choice, which is $300.
When we spoke to a NordicTrack employee who had actually assembled this himself, he said it was definitely a two-person job.
"You'll need another set of hands to hold the wire while you put the huge touchscreen on the X32i," he explained. "You also need to be able to lift the base, which is easily the heaviest component and probably upwards of 200 pounds."
Based on the employee's evaluation, I'd suggest that the common person should pay for professional assembly (unless they want to hurt themselves).
Customer Reviews
I'll never understand this, but NordicTrack is one of the brands that doesn't show many individual reviews for products. I assume this is some sort of business tactic, but it would be useful for the casual shopper to be able to see what all the actual purchasers think (but I digress).
Luckily, Best Buy does show reviews on products and they happen to carry the X32i online. This treadmill has over 94 reviews with an average rating of 4.3 out of 5. Happy customers love the 32-inch touchscreen, incline options, and the smooth operation.
"We love our X32i so far," purchaser Leela explained. "We ordered and received it within 4 days. The delivery guys brought it into the house, too, which was great. So far we've put 30+ miles onto the machine and love it. The content is engaging and it looks great on the screen."
Other customers complained about the incline not working consistently, recalibration issues, and the overall heaviness of the machine.
"Over 2 months since purchase and I still can't use the X32i," purchaser Michael lamented. "The unit can't be assembled due to manufacturing defects. Multiple parts have been sent. NordicTrack/Icon Service tech came out once. I have to schedule tech to come out again. I have to follow up with NordicTrack/Icon Service or things don't progress."
Final Verdict of Our NordicTrack Commercial X32i Treadmill Review
The NordicTrack Commercial X32i treadmill is an expensive machine that has a ton of features. Here are my main takeaways after using this treadmill:
The $4,000 price could be a deterrent for some, but NordicTrack does offer great financing options (if you qualify).
The 40% incline (and -6% decline) options are stellar.
With such a high step-up height, the X32i may not be a good choice for someone with balance issues.
Viewing iFIT programming on the 32-inch screen is *chef's kiss*.
This machine doesn't fold, so you'll need a designated space for it to live.
NordicTrack Commercial X32i Treadmill Rating
NordicTrack X32i Treadmill
Check out our NordicTrack X32i review for all the details on this luxury treadmill.
Product Brand: NordicTrack
Product Currency: $
Product Price: 3999.00
Product In-Stock: InStock
NordicTrack X32i Treadmill Review FAQs
Is the NordicTrack X32i worth it?
If you have the money to pay for the X32i (or qualify for financing), I think it is worth the price. The large touchscreen, crazy incline options, and sturdy structure make this a machine you'd likely enjoy for years to come.
Can you use NordicTrack X32i without iFIT?
Although you can use the NordicTrack X32i in manual mode without iFIT, it doesn't make a ton of sense to do so. Part of the reason to purchase this machine is to enjoy iFIT programming on a massive touchscreen. There are other solid treadmills for half the cost of this one if you have no intentions of utilizing the programming.
Can you watch Netflix on NordicTrack treadmills?
Unfortunately, you cannot watch Netflix on NordicTrack treadmills. You could always use your own smart device and prop it up against the screen if you're really wanting to watch Netflix while you workout.