We test and review fitness products based on an independent, multi-point methodology. If you use our links to purchase something, we may earn a commission. Read our disclosures.
You've probably thought to yourself, "How hard can it be?" when you've strolled past an empty treadmill. Usually, if you're healthy, it's not so hard. But if you're not used to how a treadmill operates or how the belts move, you're one button away from being sent back several feet off the treadmill—a recipe for injury.
So to go from mistake-prone meme to marathon-ready (almost), it's good to get the basics down before you begin a long journey with your new treadmill fitness routine.
But once you nail down the fundamentals, are the only achievable fitness goals to walk or run aimlessly? You could just keep going and going, but that would get quite boring quite quickly. As you get yourself more acquainted with today's treadmills, you'll see there's more to programming than just walking and jogging.
In fact, when it comes to the cardio part of your workout routine, the treadmill may soon become your best friend at the gym. To get started, we give you a quick rundown of the treadmill, along with four treadmill workouts for beginners, courtesy of New York City-based elite private trainer, Blake Holman.
Getting Started on Your Treadmill
It's almost as easy as simply hopping on and pressing go. But before you begin playing around with your treadmill, it's best to know the treadmill basics. If you just bought a home treadmill, it makes sense to check out the owner's manual for a quick rundown.
If you're at a commercial gym, perhaps check with one of the facility's certified personal trainers. It also doesn't hurt to look online for a running coach that can show you the ropes early on.
But as a quick overview, take a look at the display console. Some treadmills have display screens that show the miles you put in that current workout, along with calories burned. On each handrail, in front of the sides of the treadmill, is a sensor: When you hold on to this, it shows you your heart rate, which you can keep track of on the display screen as well.
The three most important buttons you need to be aware of, however, are the speed control, incline control, and the treadmill safety key.
The speed button is exactly what it sounds like—it's used to adjust your speed, from a slow walk to a comfortable pace all the way to a full-throttle sprint (which is not recommended unless you're an experienced runner. Most go from zero (dead stop) to 10 to 12 miles per hour.
The incline button adjusts the amount of incline you want out of your walk or run. It provides an additional challenge to your workout, especially giving you an extra bit of burn in your quads.
And finally, the treadmill safety key is one feature you hope you never have to use. The tiny red magnet located in the center of the console is used in the event you need to make an immediate stop on the treadmill. It comes with an attachment clip you place on your shirt, and will stretch to the end of the belt.
Best Treadmill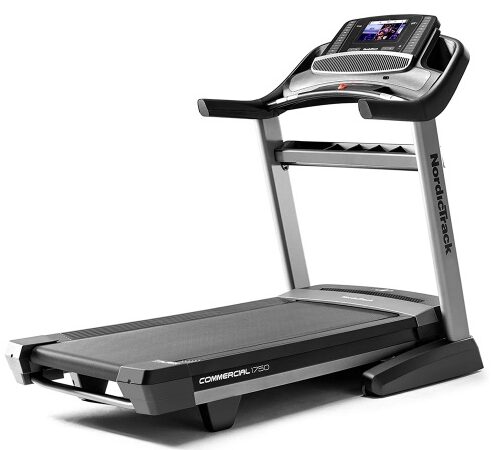 GGR Score: 4.5
Product Highlights
Spacious running deck
Compatible with iFIT
14-inch touchscreen
Incline and decline training
Financing available
Pros & Cons
Pros
Compatible with iFIT
3.5 CHP motor
Free trial of iFIT subscription with purchase
Treadmill with incline and decline training
Foldable to save space (EasyLift Assist)
Run that feels similar to road running
Financing options available through NordicTrack
Generous speed range
Wide running deck
Cooling fan
Cons
Big footprint
Heavy and not the easiest to move
Price is around $2,000
Warranty is voided if the treadmill is used/stored in a garage
Bottom Line
If you're looking to add a workhorse of a treadmill to your home gym, we recommend the NordicTrack Commercial 1750.
How Fast Should I Go?
The wise answer is to start slow, maybe a walking workout pace to start then gradually increase speed as you get more comfortable.
Most treadmills start off at zero (obviously), which means you're not moving when you immediately hit go. This allows you to set the starting walking pace at which you feel most comfortable (some treadmills like Life Fitness models, have set starting points which you can start at the press of one button). Just be aware that when you select higher speeds, it will take a few moments for the belt to reach that speed level.
What does each number represent on the speed controls? Each number represents the miles per hour you're setting your pace to. Setting the treadmill at 4.0 means you're going at a 4mph pace. Same thing with a 6.0, 6.5, 7.0 and on and on. A good starting point to know is that a 6.0 (6 mph) is a run at a 10-minute mile pace. So do the math and you can figure out your pace.
Read more: How fast do treadmills go?
HIIT Treadmill Beginner workout
High-intensity interval training (HIIT) workouts can be both fun and challenging. A good HIIT routine is great for cardiovascular health, working both your aerobic and anaerobic systems. It's also good for burning fat and maintaining muscle mass in a minimal amount of time.
The intervals may not look a whole lot challenging when you read them, but these short bursts of speed on a treadmill workout will leave you plenty gassed. Quickly you'll realize that the slower speeds and rest times are not long enough, especially when you reach the final round.
The Workout:
Start with warm-up speed at 3 miles per hour (4 min)
Increase speed to a jog at 4-5 miles per hour (1 min)
Decrease speed to a walk at 3 miles per hour (1 min)
Increase speed to a run at 7 miles per hour (30 sec)
Decrease speed to a walk at 3 miles per hour (30 sec)
Repeat for 4 rounds!
Walk at 3 miles per hour for a cool-down (4 min)
Note: if these speeds become too challenging (or not challenging), you can modify the speeds to your comfort level.
30-Minute Treadmill Workout For Beginners
You may think 30 minutes is not enough, and you may also think that walking the majority of the workout won't be effective enough for any gains—but when it comes to getting acclimated to treadmill workouts, this is the perfect starting spot to building up your cardio levels at a reasonable pace.
Once you're good and primed after 10 minutes of light walking, you'll bounce between a minute of low-to-moderate jogging back to a five-minute walk. Soon, after a few sessions, you should see your speed and endurance levels gradually get stronger.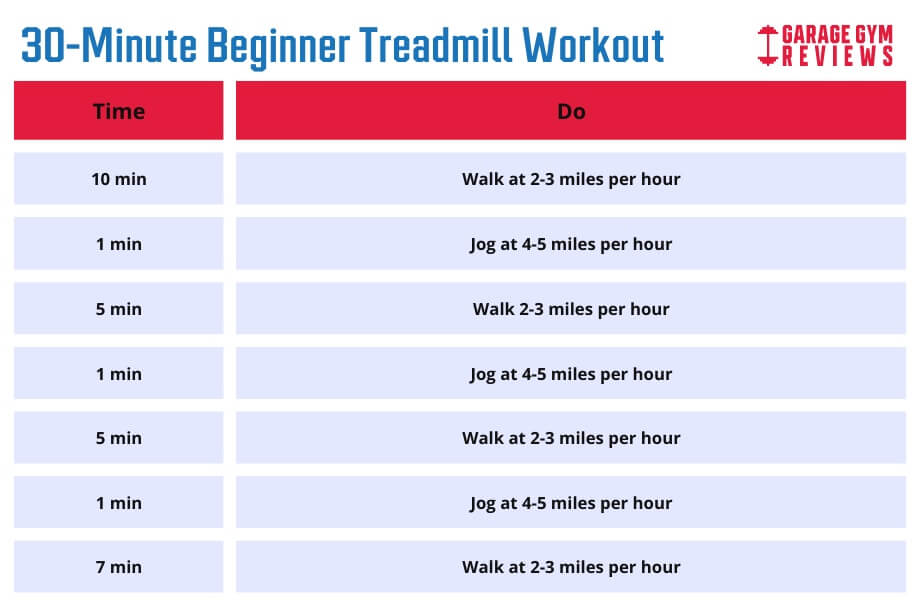 The Workout:
Walk at 2-3 miles per hour (10 min)
Jog at 4-5 miles per hour (1 min)
Walk 2-3 miles per hour (5 min)
Jog at 4-5 miles per hour (1 min)
Walk at 2-3 miles per hour (5 min)
Jog at 4-5 miles per hour (1 min)
Walk at 2-3 miles per hour (7 min)
30-Minute Endurance Running Workout for Beginners
When it comes to building endurance, you want a challenging workout that makes you work hard but does not lead to overtraining. By increasing the incline levels in your treadmill workout, you're not creating a challenging hill workout that's going to build plenty of lower-body strength in the quads, hamstrings, and glutes.
Walking for about 30 minutes, while gradually increasing then decreasing incline, is a fun way to build endurance.
RELATED: 30 Minute Treadmill Workout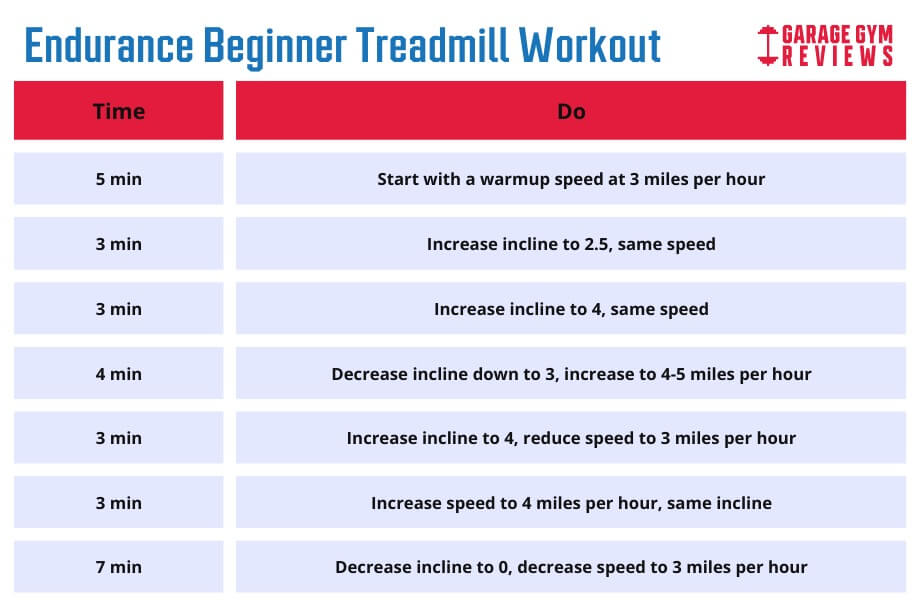 The Workout:
Start with a warmup speed at 3 miles per hour (5 min)
Increase incline to 2.5, same speed (3 min)
Increase incline to 4, same speed (3 min)
Decrease incline down to 3, increase to 4-5 miles per hour (4 min)
Increase incline to 4, reduce speed to 3 miles per hour (3 min)
Increase speed to 4 miles per hour, same incline (3 min)
Decrease incline to 0, decrease speed to 3 miles per hour (7 min)
25-Minute Beginner Treadmill Workout
Want a quick way to gradually increase your treadmill running speed levels but not risk overdoing it too soon? This 70/50 interval workout may be a fun way to get a little pep in your step.
All it takes is 10 rounds of 70 seconds of running followed by 50 seconds of walking. It's wise to start at a lower speed, as the goal is to reach your quickest levels at the final round. Long term, looking to increase mileage with each workout. It makes for a great conditioning finisher.
The Workout:
Start with a warmup speed at 3 miles per hour (5 min.)

Walk at 3 mph (50 sec.)
Jog at 4-5 miles per hour (70 sec.)
Walk at 3 mph (50 sec.)
Increase jog speed by .1 mph (70 sec.)
Walk at 3 mph (50 sec.)
Increase jog speed by .1 mph (70 sec.)
Walk at 3 mph (50 sec.)
Increase jog speed by .1 mph (70 sec.)
Walk at 3 mph (50 sec.)
Increase jog speed by .1 mph (70 sec.)
Walk at 3 mph (50 sec.)
Increase jog speed by .1 mph (70 sec.)
Walk at 3 mph (50 sec.)
Increase jog speed by .1 mph (70 sec.)
Walk at 3 mph (50 sec.)
Increase jog speed by .1 mph (70 sec.)
Walk at 3 mph (50 sec.)
Increase jog speed by .1 mph (70 sec.)
Walk at 3 mph (50 sec.)
Increase jog speed by .1 mph (70 sec.)
Benefits of Treadmill Workouts
A half-hour or so a day of walking or jogging is enough cardio work to meet the American Heart Association's recommendation of 150 minutes of moderate intensity exercise each week, so getting most of that on your gym's treadmill is a good start to your fitness gains.
Working out on a treadmill is also heart healthy, as running or walking helps reduce cardiovascular disease, and assists with weight loss if that's one of your goals.
And since treadmill belts have less impact than the pounding of the pavement outdoor walking and jogging have on the lower body, so your feet and knees will thank you for the reduction in overuse injuries. And if you're training alone or at night, being in a public setting or at home may have safety advantages as well.
FAQs About Treadmill Workouts
What is the best treadmill to use?
The best treadmills are the ones that usually give you the best bang for your buck. If you're shopping for one for the home gym, you want one that's sturdy enough to take your best road work without shaking or moving awkwardly. A good model is gonna be a four-figure investment, but worth every penny if you use it regularly.
Some models to consider include the NordicTrack 1750 treadmill which comes with a large deck and is solid for both runs, walks and is even equipped with Google Maps. You can also check out our reviews of the best treadmills.
Are treadmills safer than running outside?
One advantage of treadmills over running outside is that the belts offer a better shock system, therefore greatly reducing stress on your feet, ankles, and knees (goodbye shin splints). You can also replicate hill running by increasing incline levels, which treadmills offer as well.
What running shoes work best on treadmills?
Since you're moving in one fixed direction on a treadmill, you may need a running shoe that's not quite the same as what you'd need if you were running outdoors. Since the belts have a softer impact on your feet than pavement, you may want a lighter-weight shoe, perhaps one that contains a more cushioned sole as well to counter the repetitiveness of treadmill runs.
How do I know if I'm going at a good pace on the treadmill?
When you're first starting out on a treadmill, you'd want to keep a pace that you can control. For a nice steady-state walk-to-jog, between 3-4 MPH is a starting point if you don't have a reference point yet. From here, you can gradually increase (or decrease) the speed control until you find a rate that works best for you.
Best Treadmill Under $1,000
GGR Score: 4.3
Community Score: 3.2
Product Highlights
Folding treadmill
Costs around $1,000

Heart rate chest strap included

Bluetooth speakers, USB port, and cooling fan

Powerful 3.0 HP motor
Pros & Cons
Pros
Financing is available
Bluetooth speakers
USB port
Device holder
15 different levels of incline
Cushioned deck
20" W x 60" L belt
325-lb weight capacity
Lifetime frame and motor warranty
Cons
Heavy machine
No touchscreen
Bottom Line
The Sole F63 Treadmill is an affordable option for people who want a powerful, reliable machine without breaking their budget.