We test and review fitness products based on an independent, multi-point methodology. If you use our links to purchase something, we may earn a commission. Read our disclosures.
So you want to start using a treadmill, but maybe you just don't know where to start. Or maybe you bought yourself the best treadmill and you're just not quite ready to start your cardio workouts.
The good news is that treadmill workouts are scalable for every fitness level.
Much like any form of exercise, with practice (and an established workout routine) you'll be able to progress your running or walking performance with methods such as increasing speed, length of time, incline levels, or reducing rest periods between intervals.
There are a few things to consider before you hop on a treadmill—running in place is a little different than running outside. Keep reading to learn how to use a treadmill effectively. It's time to get your running shoes out of the closet and lace up!
Treadmill Features to Get Familiar With
Have no fear if you're a beginner, the treadmill is a great place to start when it comes to cardiovascular fitness. Treadmills are relatively straightforward when it comes to exercise equipment, but each brand and model will have some different features that will take a few minutes to get acquainted with. There are a variety of prices available as well; plus, there are ways to save with treadmill coupons and deals.  
Running Belt
The running belt is located on the treadmill deck. When powered on, this is the part of the treadmill that moves. When starting up your machine, the belt always starts at a slow and steady pace, so you won't need to anticipate a running start. To get started, you can take one of two positions: Your feet can be on the belt or you can have your feet flanking the running belt and step on one foot at a time.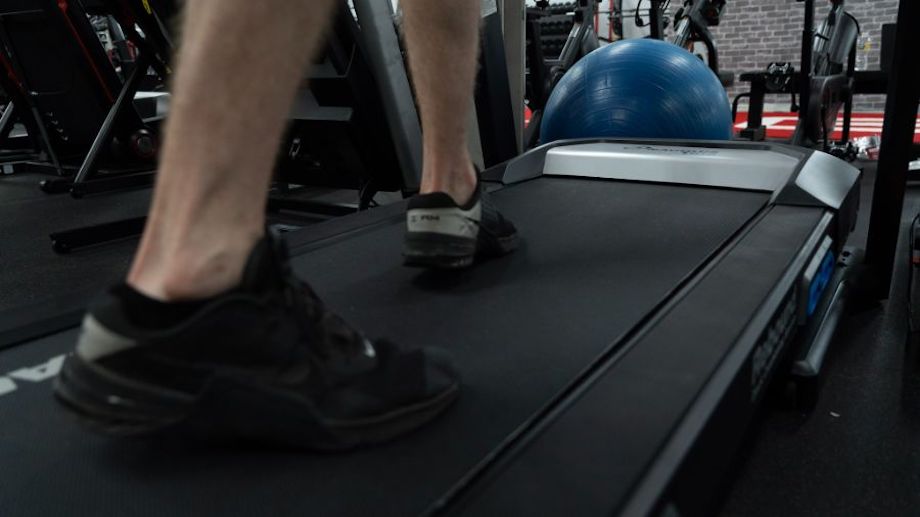 Console and Monitor
How long it takes you to get familiar with your console and monitor will depend on how much technology your treadmill features. Some treadmills are now fully loaded with touch screen consoles, streaming capabilities, and GPS navigation systems to run "anywhere" you want.
It's safe to say you might want to spend a minute tapping through options while the belt is not moving (or your feet are on either side of the running deck) to stay safe and not navigate the console while you're on the run!
If the console feels overwhelming with options, the "quick start" button is a really great place to start. This option starts the belt off slow and allows you to be manually in control of any speed and incline adjustments.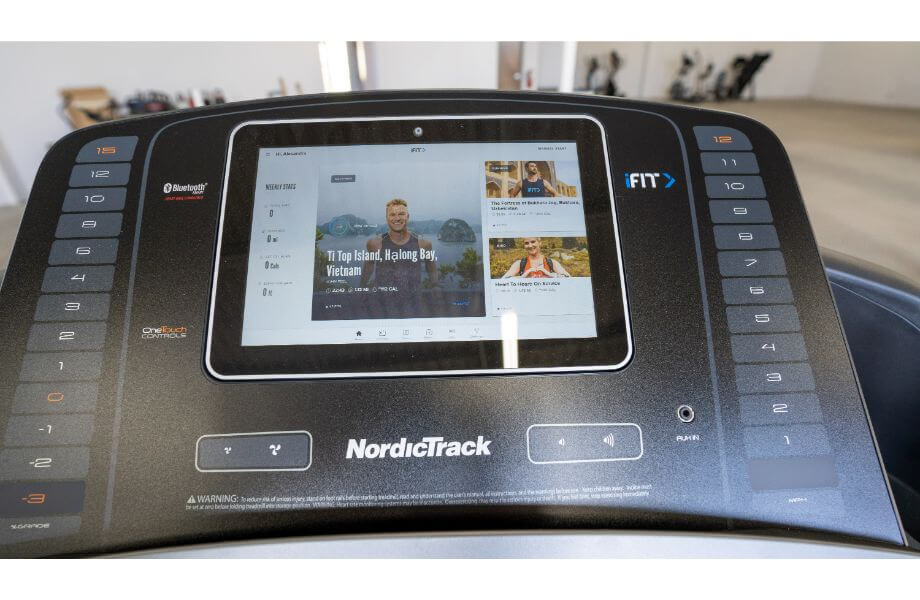 Start and Stop Buttons
When you're ready to start things up, you'll need to scope out not only where the start button is located, but the stop button as well. You won't want to fumble if you want (or need) to stop short. It's common practice that treadmill brands feature a green button to indicate start and red to indicate stop—simplicity at its finest!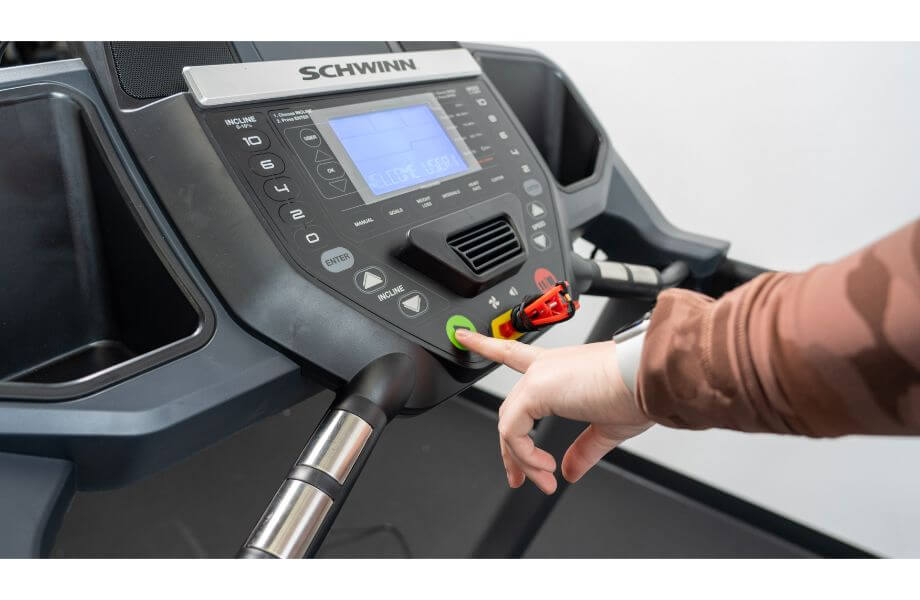 Safety Key
Before starting up the treadmill, for your safety, it's important to locate the safety key, sometimes called a safety clip. The safety key is a magnetic button that attaches to the console portion of your treadmill with a string attached to a clip. To use the safety key, fasten the clip to your clothing before you begin (usually your shirt). The belt will automatically come to an emergency stop if the magnetic key becomes unattached from the treadmill console.
Pick the Right Machine for You
Choosing the right treadmill for home use will be a massive factor in your overall experience. For example, you wouldn't select the most souped-up, tech-infused treadmill if having lots of buttons and controls overwhelms or confuses you. Likewise, you wouldn't buy a bare-bones budget model if you want the capability to follow instructor-led workouts and live fitness classes.
Here are some guides written by our product testers and fitness experts that can help you choose the right treadmill for your home gym:
Proper Use of a Treadmill
It's never a bad idea to whip out your owner's manual and take a look at the capabilities (and limitations) of your treadmill: It's good to know information like its top speed and incline settings. Your owner's manual will also give you an idea of the pre-set workout programs available for your use, as well as which fitness streaming apps the machine is compatible with.
Incline
Before you start pressing buttons, make sure you're manipulating the correct set of controls. Typically, both the incline and speed options are adjusted by up arrows (or the "+" symbol) and down arrows (or the "-" symbol). Every machine is different, but some treadmills have incline grades of up to 15 or 20%. To mimic outdoor running, set the treadmill incline to at least one or two percent.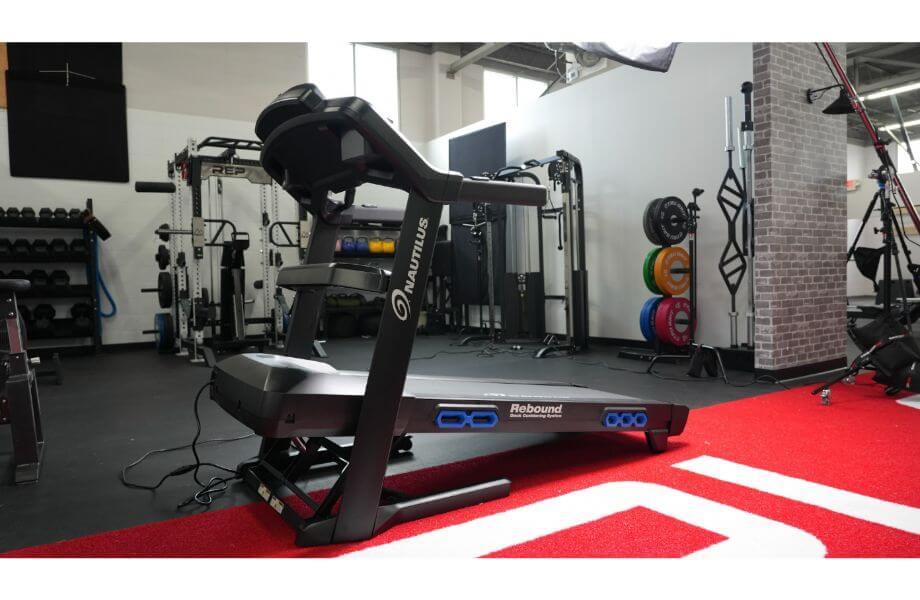 Speed
Again, be mindful of which set of buttons you're using! Incline and speed options look similar, but are usually spaced apart. Increasing speed would be a hasty move if you wanted to increase the incline instead.
Depending on your cardio machine, you'll be able to reach speeds of 10 miles per hour (MPH) and even faster with high-end treadmills. Increase your speed with caution! You don't want to end up flying off the treadmill.
Pre-Set Programs
The team of coaches and personal trainers at GGR suggests getting comfortable with the way your treadmill functions and how your body responds to treadmill running before experimenting with pre-set programs.
When you are ready to try a workout beyond the manual adjustments of your incline and speed settings, your treadmill will likely have the capability to choose from one of the pre-set programs hardwired into your cardio machine.
These presets change the incline and speed for you, so all you have to do is focus on your movement. Common built-in programs often include high-intensity interval training (HIIT), fat-burning workouts, weight-loss workouts, hill climbs, and distance runs.
Maintenance and Troubleshooting
Machines break—unfortunately, that's a fact of life. You can extend the working life of your treadmill by following the treadmill maintenance protocols specified in your owner's manual. Every 'mill is different, but maintenance typically involves regular cleaning, checking for loose bolts and parts, inspecting and cleaning the belt, and maintaining electronic components by keeping up with software updates.
If you happen to need to fix your treadmill, it's best to consult your owner's manual as troubleshooting will vary among different brands and models.
Related: How to Troubleshoot and iFIT Treadmill
Use Good Form on a Treadmill
Good form comes first. Speed comes second. It's more important to keep your safety in mind and maintain good running form.
Good posture includes keeping your eyes forward and shoulders, chest, rib cage, and pelvis stacked on top of eachother—meaning you're upright and none of the mentioned body parts are leaning too far forward or tilted back.
That said, good form might mean slowing down the pace for a while. You'll want to go at a pace where you feel comfortable taking your hands off the handrails to allow your arms to move as they naturally would—regardless if you're walking, jogging, or running.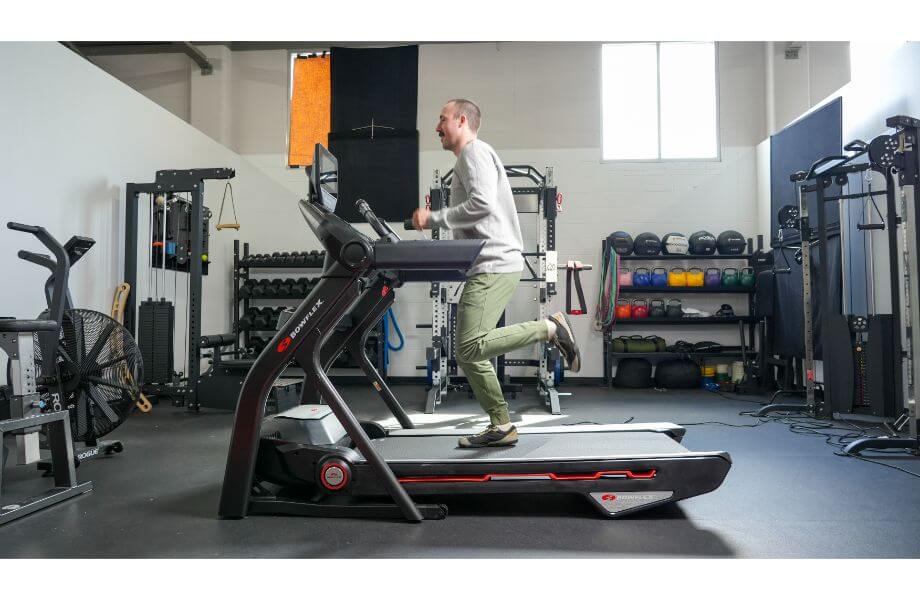 General Treadmill Tips for Safety and Success
These few general running tips will help you stay safe on your treadmill and set you up for a successful run.
Consult a Medical Professional if Needed
Not everyone will need permission from a physician to run on a treadmill, but it can't hurt to discuss health and safety with your doctor—and those who have preexisting medical conditions should definitely do so. If you have any conditions affecting your bones, joints, muscles, or respiratory system (and you haven't already been cleared to exercise), check with your doctor before attempting to run on a treadmill.
Lace Up
Shoes can make or break your run. The last thing you want is to get blisters mid-run and put yourself out for a few days until they heal. Buying a pair of good running shoes might be more complex than you think, but luckily, we have an entire guide dedicated to helping you choose the right running shoes for your feet, gait, and more.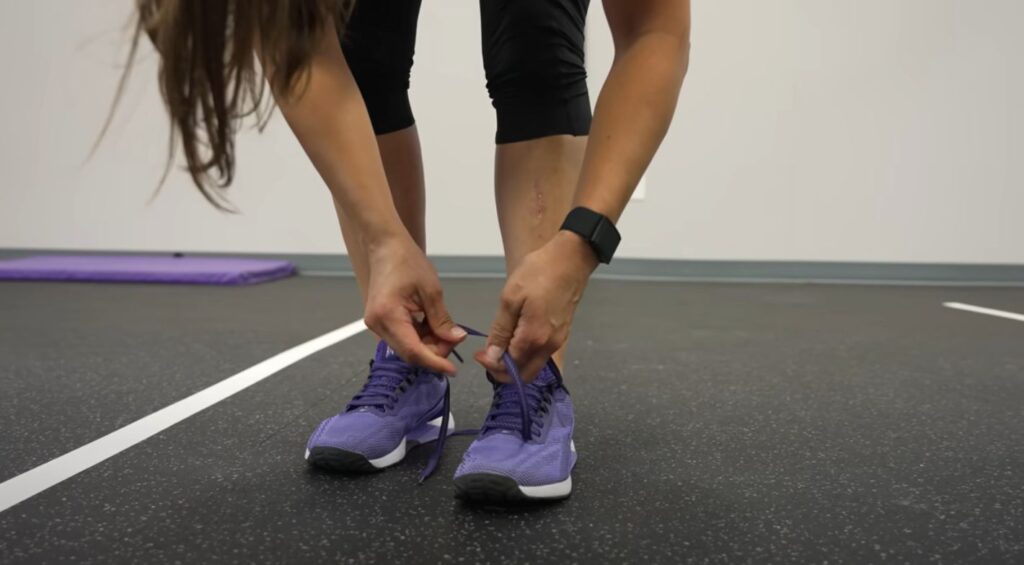 Fuel Your Body
Whether you're planning to do some treadmill walking, jog at a slow pace, or up the ante and do an interval treadmill training workout, you've gotta fuel your body to complete the job. Failing to consume enough calories prior to running can lead to low blood sugar and feelings of weakness, lightheadedness, and dizziness. Make sure to chow down on a snack about 30 minutes prior to your workout, or a full meal an hour or two before. Even if you're wondering how to use a treadmill to lose weight, this advice still applies—please eat before you train!
Hydrate as Needed
Hydration is just as important as fueling. Although there are no hard-and-fast rules about how much water you should drink, it's a good idea to drink 8 to 16 ounces of fluid before a workout and keep a water bottle handy to remain hydrated as you sweat.
How Long Should I Be on a Treadmill?
How long you spend on a treadmill workout will depend on your current activity levels, fitness goals, and health needs. With practice, you will be able to go for longer or increase your intensity. Regardless of how long you spend on the treadmill, you'll want to dedicate the first few minutes to a warm up and the last few minutes to a cool down.
Warm Up
Plan for your warm-up to be dynamic, meaning you're moving and activating muscles—skip static stretching and leave that to cool down after your muscles are warmed up and worked out. It's your choice if you want to warm up with bodyweight movements off the treadmill (like air squats, glute bridges, lunges or calf raises).
Either way, start the treadmill off at a walking pace to get your legs moving and arms swinging. You'll want to make sure your hamstrings, quads, calves, hips, and even your upper body feel good and ready before moving into a fast pace.
From a moderate walking pace, increase speed and incline levels gradually. As a rule of thumb, the warm up process should be short and sweet, about five to 10 minutes total.
Exercise Long Enough to Get Cardiovascular Benefits
The length of your treadmill workouts will vary depending on what you want and what you can tolerate. Keep in mind, where you start today doesn't mean it will always be this hard. With practice, you'll be able to handle longer or more intense bouts of cardio.
The American Heart Association recommends adults get at least 150 minutes of moderate to vigorous exercise every week. You can break that down into five 30-minute segments, seven 20-minute bouts, or two 10-minute sessions per day.
You don't have to reach top speeds to get all of the heart health benefits, but according to a table published by Harvard Health, a moderate-to-vigorous pace is defined at any pace that has you feeling like you're in a hurry and speaking out loud will require shorter phrases with more breaths.
Cool Down
To cool down, slow the treadmill to a walking pace and spend a few minutes here to get your heart rate to level out. After you're done, bring the treadmill belt to a stop and power down the machine. Here, you can add in static stretching for the lower body.
Final Thoughts on How to Use a Treadmill
When you're armed with an owner's manual and an overall sense of safety, a treadmill workout will not be a difficult thing to master, even for the beginner. Here are a few reasons for beginners to start using a treadmill:
Treadmill workouts help build leg muscles and strength in the lower body.
Running has many health benefits: Regular cardiovascular exercise reduces the risk of heart disease.
Treadmill workouts are scalable for all levels from beginner to advanced.
FAQs About How to Use a Treadmill
What is the best way to use a treadmill?
The correct way to use a treadmill depends on your personal goals. If a treadmill will be your main way to move and exercise, you'll likely spend more time on the machine than an individual who is supplementing their weight training routine with short walks a few times per week.
How long should I walk on the treadmill?
This is ultimately up to you and your needs. The American Heart Association recommends adults get 150 minutes of moderate-to-vigorous exercise each week to decrease the risk of heart disease. You can use this recommendation as a guideline or as a goal to work up to.
Is it safe to use a treadmill every day?
Firstly, consult your doctor before you start a new exercise routine. For some individuals, using a treadmill at a moderate pace on a daily basis will be perfectly okay; for others, such as those with joint or bone conditions, less frequent use might be recommended.
How to use a treadmill for beginners?
Beginners can use a treadmill as tolerated. A good rule of thumb is to aim for 150 minutes of exercise per week, which you can split between walking workouts and running workouts.
What will 30 minutes a day on the treadmill do?
Running or walking for 30 minutes per day on a treadmill can help you reach many health and fitness goals, including: improved cardiovascular health, enhanced mental health, weight loss, lower body fat percentage, increased endurance, and more.
Is the treadmill harmful for knees?
Contrary to popular belief, running (outside or on a treadmill) is not inherently harmful to the knees. For people with bone or joint problems or prior injuries, using a treadmill may exacerbate problems. This is why it's important to check with a doctor first. But, for the majority of the population, using a treadmill won't harm the knees.