We test and review fitness products based on an independent, multi-point methodology. If you use our links to purchase something, we may earn a commission. Read our disclosures.
As we age, it can feel increasingly challenging to get in—and stay in—shape. For those older adults who aren't comfortable inside a gym or maybe want something more convenient, purchasing the best treadmill for your home could be the way to go.
To guide you in your search for a cardio machine, I'm here to help you find the best treadmill for seniors. Whether you're looking for a great compact option or you're on a tight budget, there is something for almost everyone on this list. So sit back, grab a cup of coffee, and put on your readers (I know I am) because we're getting started.
Over 40 Treadmills Tested
I'm a CrossFit L1 Trainer and I'm a former NCAA D1 Women's College Soccer player, so you know I know cardio. Treadmills in particular are a specialty of mine—I'm one of those people who actually enjoys them.
Our team of expert product reviewers and testers have run, walked, and jogged on well over 40 different treadmills in the quest to bring you the best options for your home gym. When paring down this list, we looked at factors like step-up height, belt cushioning, and safety mechanisms, among other factors, to determine which would be best for older adults.
Plus, Kate Meier, head of content at GGR and an experienced trainer who works with seniors, weighs in on why treadmills are a great option for older adults.
8 Best Treadmills for Seniors
Video Review
Overall Best Treadmill for Seniors: Sole F63
Good for: An all-around great cardio machine ideal for most seniors looking for a treadmill
Overall Best Treadmill for Seniors
Sole F63
Named "Best in its Price Range" by Fit Rated, Run Reviews, Treadmill Reviews, and many others. Easy Assist Folding Deck Design makes storing your treadmill easy and convenient. High-end rollers create a static free motion leading to a long lifespan. Smoothest treadmill when making adjustments mid-workout. LCD screen provides real-time statistics to monitor progress towards goals.Plus, Sole has recently released its own version of Peloton-esque programming: STUDIO. You can access a variety of on-demand classes for just $19.99 per month.
Pros:
Additional safety features included
Well-cushioned deck
Sturdy side handles for walkers
Easy-to-read display
Professional assembly is offered for an additional fee
Right under $1,000
Cons:
Unboxing will require multiple people
8-inch step up height
Hard to reach customer service
Running makes the machine shake slightly
The Sole F63 is a treadmill that will work really well for a lot of people, especially seniors. The deck is generously sized at 20 inches by 60 inches, so it will be ideal for taller older adults with a longer stride. Even if you're not tall, I like a larger and wider deck on a treadmill for seniors so it isn't akin to walking on a tightrope, which could cause a fall.
Worried about being able to actually view the options on your new treadmill's display? Never fear! The F63 has large buttons that are both easy to see and use. Plus, you can quickly find the large red stop button on the dash to end your workout safely and easily.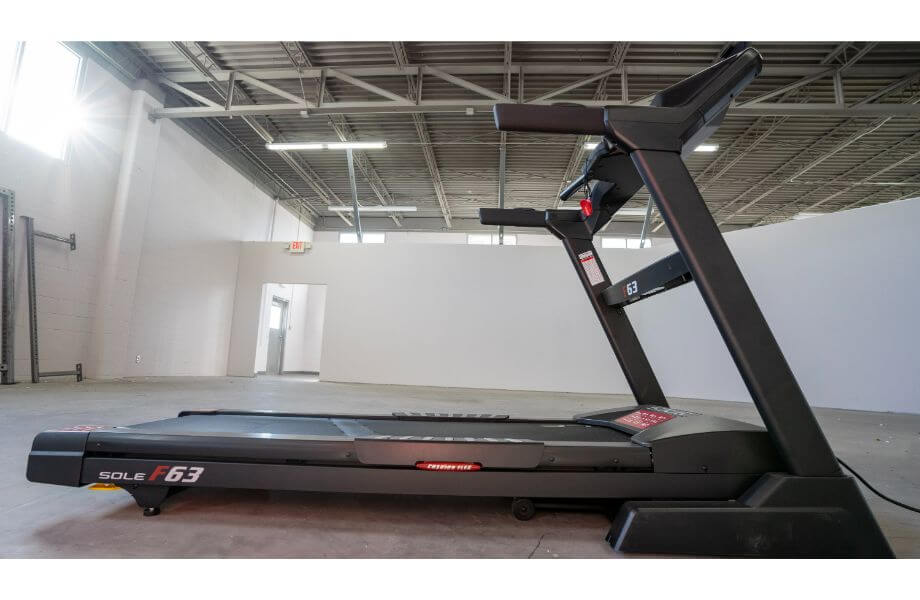 Assembly-wise, I'd really recommend professional assembly or enlisting several other people to help.This isn't a machine I'd be thrilled to know a family member was unboxing and assembling themselves. Although the instructions for assembly are simple and easy to understand, the machine is pretty heavy at 254 pounds. Add some extra packing materials in the box, and you have a really heavy package that isn't safe for most people to unbox on their own.
It is also worth noting the step-up height of the F63. At 8 inches, this is higher than I'd typically like to see on a machine ideal for seniors (I would prefer to see it under 7 inches, because this is the industry standard). Make sure to be extra careful when stepping on or off the machine and use the handrails for support.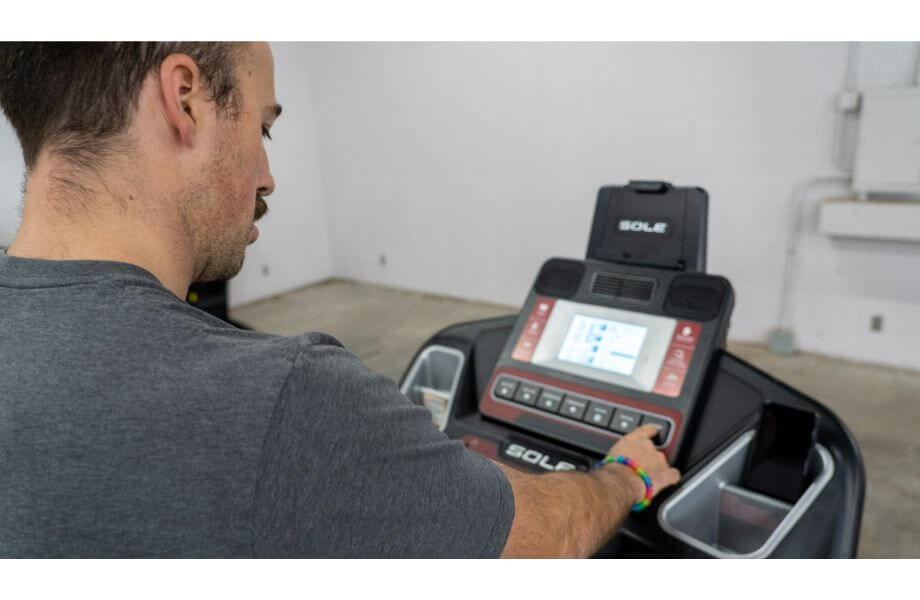 I do like that the weight capacity of the Sole F63 is 325 pounds, which is over the industry standard of 300 pounds. This is especially nice for a treadmill that is only $1,000. Other nice features include a second set of small handles for heart rate monitoring and a "cushion flex whisper deck," which can "reduce the impact on joints," according to the Sole website.
Read our full Sole F63 Treadmill review.
| | |
| --- | --- |
| Step Up Height: | 8 inches |
| Cushioned Deck: | Yes; "Cushion Flex Whisper Deck" |
| Professional Assembly Offered: | Yes; $299.99 |
Best Walking Treadmill for Seniors: Echelon Stride
Good for: Seniors who enjoy frequently walking but also want a user-friendly machine
Best Walking Treadmill for Seniors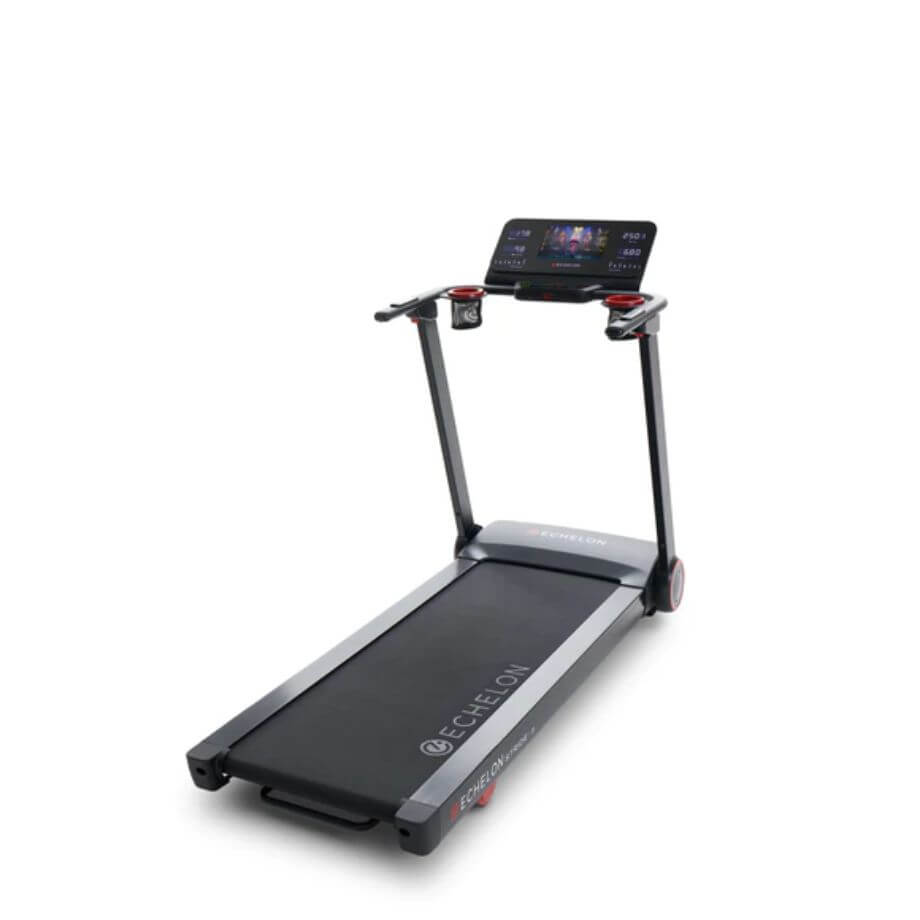 Echelon Stride-s Auto-Fold Smart Treadmill
The Echelon Stride-s Auto-Fold Smart Treadmill is the latest iteration in the Echelon line of treadmills. This foldable treadmill features a 10" touchscreen, which can be used for interactive programming. It also has the capability to fold to 10 inches tall when you're ready to store it away. I like that they have increased the deck size to 59", which makes this a better choice for running than the original Echelon Stride. Plus, the 3.5 CHP motor can support prolonged periods of running.
Pros:
Controls can be easily adjusted on the handles
Easy-to-read display
Comes mostly pre-assembled (Professional assembly is also offered)
6.5-inch step-up height
Folds flat to 10" deep
Cons:
Warranty is subpar
Average deck cushioning
1.75 CHP motor is weak
Two people are needed to unbox this machine
If you're a senior looking for a great walking treadmill, you'll likely love the Echelon Stride. This cardio machine has an easy-to-read display with clear digital numbers to make your next walk a breeze. Although some might call the display too simple, I think it hits the mark for a machine with clear metrics and in a format that doesn't feel archaic.
Plus, the buttons on the display are simple. You'll see straightforward options like program, mode, start, pause, and stop. There are also quick jump buttons for both incline and speed if you're ramping up a power walk versus taking a recovery stroll.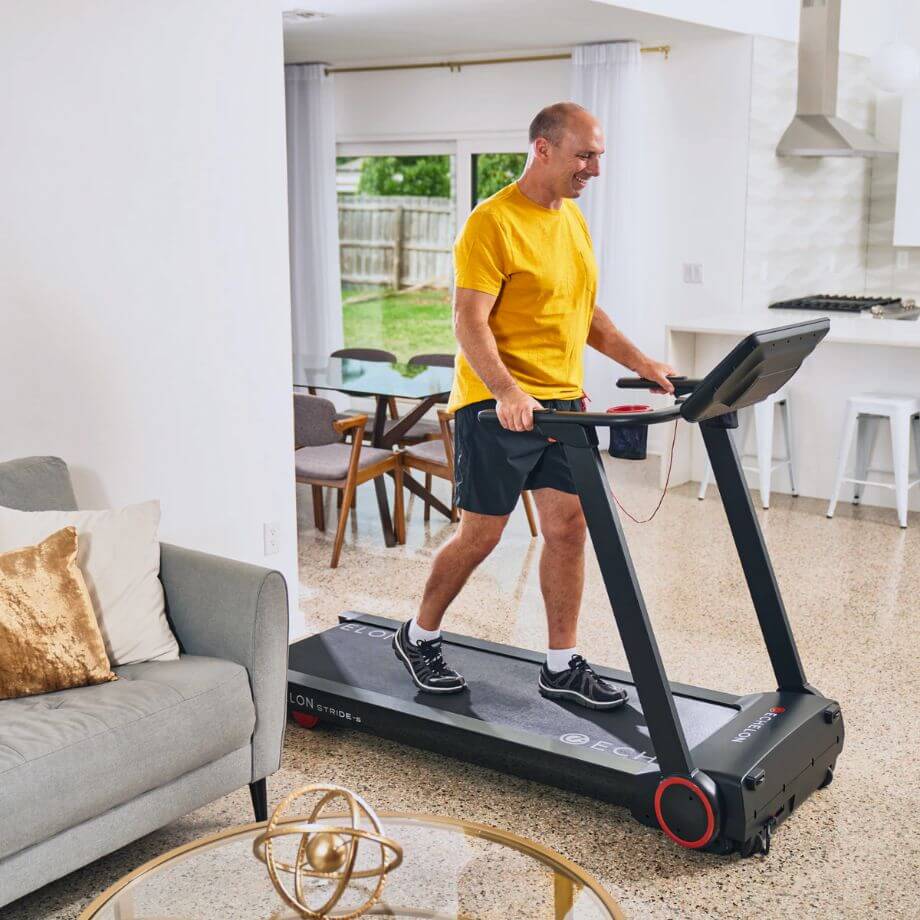 I like the Echelon Stride because of its low step up height of 6.5 inches, which is better for tripping and falling prevention. This is below the industry standard of 7 to 8 inches, making it an easier machine to get on and off. The Stride also has a handy safety stop key to clip onto your clothing before getting started. If you take a tumble or lose your balance, the key will pull out of the dashboard and stop the treadmill.
The reason I like the Stride as a walking machine versus a running treadmill is due to two reasons: the subpar belt cushioning and the slightly shorter deck length.
RELATED: Best walking shoes for seniors
Although the deck isn't exactly small, it is 55 inches by 20 inches, which is slightly shorter than what I'd personally recommend for a running treadmill, especially if you're tall. I also was less than impressed with the amount of belt cushioning provided, making me draw the conclusion that it isn't a suitable choice for someone with lots of joint pain.
Want to learn more? Take a look at our Echelon Fitness Stride Review.
| | |
| --- | --- |
| Step Up Height: | 6.5 inches |
| Cushioned Deck: | Average Cushioning |
| Professional Assembly Offered: | Yes; $59.99 through Amazon |
Best Budget Treadmill for Seniors: UREVO Folding Treadmill
Good for: Older adults who are tight on both space and cash, but still want a decent treadmill
Best Budget Treadmill for Seniors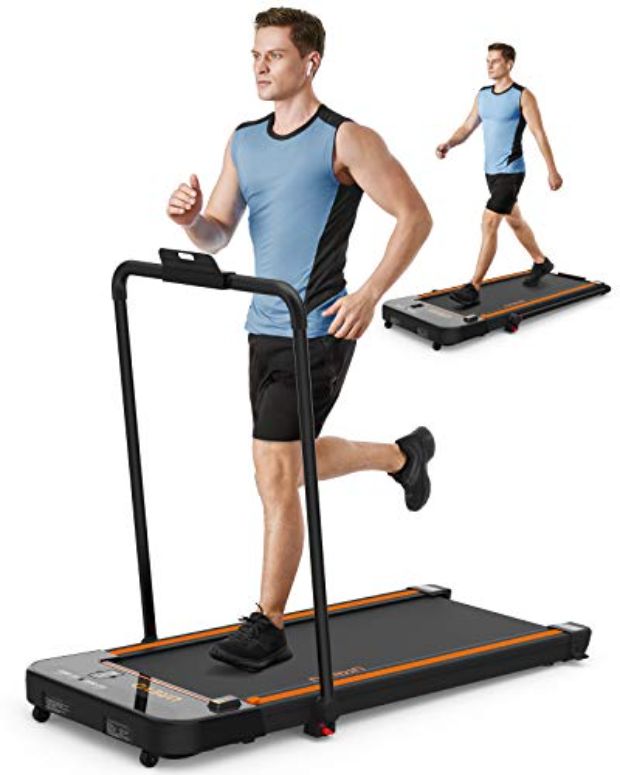 UREVO 2-in-1 Under Desk Treadmill
If you live in an apartment or other compact space, the UREVO 2-in-1 treadmill might be a good option for you. This lightweight machine clocks in at under 60 pounds, which makes it easy to fold and move into a closet or against a wall to free up space. Plus, the handle easily folds down to allow it to be used under a desk while working from home.However, the deck itself is very thin and short. If you're over 5'9", this treadmill might be too short for you to take normal length strides. Although the machine has a maximum speed of 7.6 mph, you likely wouldn't be able to take appropriate strides if you're of average height or taller. However, I personally wouldn't really recommend anyone use thew UREVO for running, as it is better suited for slow paced walking.
Pros:
Under $400
Weighs under 60 lbs
3.5 inch step-up height
Belt has shock absorption
Comes fully assembled
Cons:
Handle is not supportive
Short deck
Max user weight of 265 lbs
If you really want a treadmill but don't want to spend lots of cash, listen up! The UREVO Folding Treadmill is under $400 and could be a good option if you're looking for the best budget option for seniors. There is plenty to like about this affordable treadmill:a low step-up height of 3.5 inches, simple controls, and a super simple assembly process.
For those who have limited mobility, the UREVO offers a deck that's very easy to step up on. Plus, once on the machine, the controls are simple and intuitive. You'll see a stop button, + or – speed, start, and a quick jump button for speed. This is obviously not a technology-heavy machine, but if you're looking for user-friendly, this is certainly it.
RELATED: Best Budget Treadmill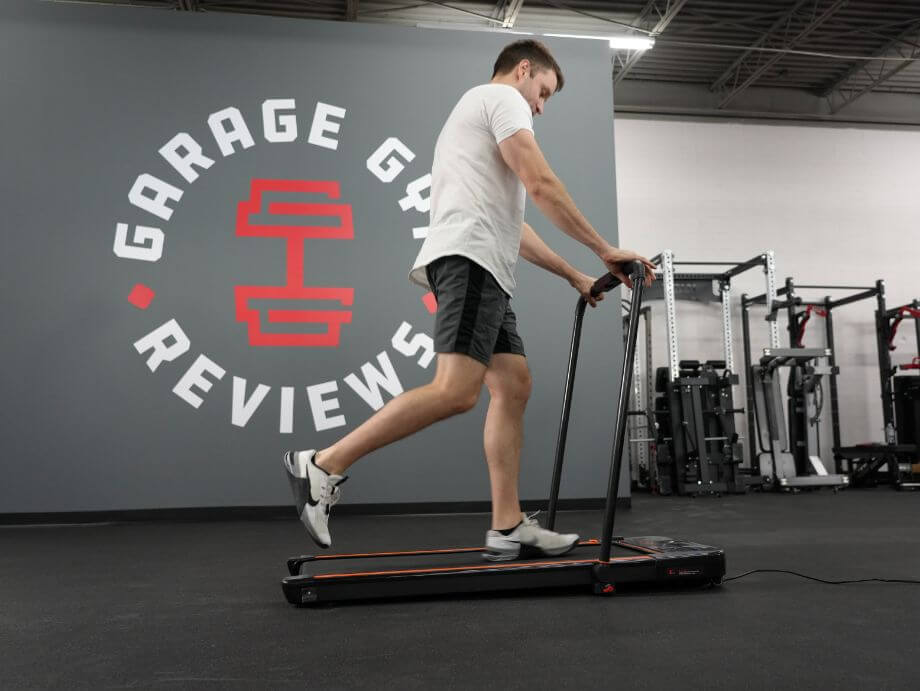 Another wonderful thing about the UREVO? The assembly process! This folding treadmill (available via Amazon) comes completely pre-assembled; all you need to do is simply unfold it. However, with such an uncomplicated treadmill comes an equally basic display. Expect to see the bare minimum of metrics like speed, calories burned, time, and distance on the top of the deck.
If you're taller than 5 feet 9 inches, I don't think I'd recommend this machine for you. The deck itself is well-cushioned for the price, but the width and length of the belt leaves something to be desired. At 16.9 inches wide by 42.5 inches long, this short treadmill isn't a good option for people with longer legs or lengthy strides.
Read more in our UREVO Treadmill review.
| | |
| --- | --- |
| Step Up Height: | 3.5 inches |
| Cushioned Deck: | Average cushioning, but has shock absorption |
| Professional Assembly Offered: | No; comes completely pre-assembled |
Best Fold Up Treadmill for Seniors: ProForm T7 Treadmill
Good for: Those who want a foldable treadmill with iFIT programming for under $1,000
Best Fold Up Treadmill for Seniors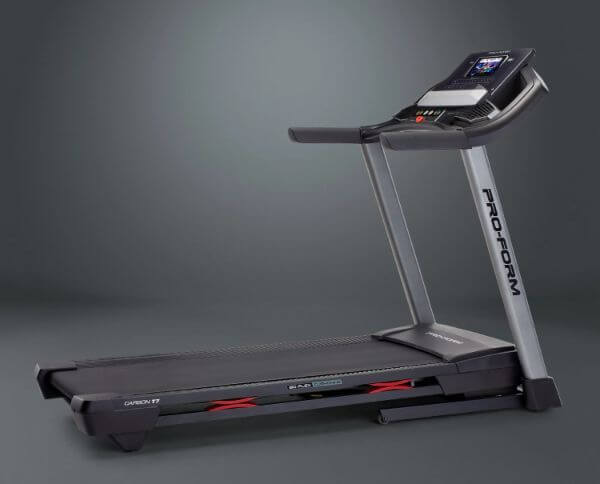 Pros:
Foldable with quick release mechanism
Belt is well-cushioned
300 lb weight capacity
Steel frame
Financing is available
Cons:
Needs at least two people for smooth assembly
7.43-inch step-up height
No floor stabilizers
Loud machine
Professional assembly isn't currently offered
The ProForm T7 is a treadmill with an easy-to-fold deck, making it an ideal choice for seniors who need to store their exercise equipment away while not in use. I'm especially a fan of the gas shock on the folding mechanism on the T7. This makes it safer for the user to fold and unfold the machine, since the deck won't come crashing down when released.
The handlebars on the side of the T7 provide quite a bit of stability for older adults who prefer to have support while walking or jogging. I also like the "ISO Flex Cushioning," which is a ProForm speciality. If you have joint pain, this carefully thought out belt cushioning might make this treadmill a good option for you.
Something I'm not super into? The small, 7-inch touchscreen on the T7. Although the display does provide the ability to utilize iFIT programming (sold separately), it is basically the love child between an iPhone and an iPad. What I mean by that is: It's small as heck. Barely bigger than a smartphone, which can be hard for many people to read due to the tiny print. This isn't something that's the biggest deal, but I would be aware of it.
Assembly-wise, you definitely need a second person (or two) to help put the T7 together. It isn't that the instructions are difficult to follow, but it is heavier than I'd recommend for one senior adult to put together. Currently, ProForm is not offering professional assembly options due to COVID-19 precautions.
Learn more in our ProForm Carbon T7 Treadmill review.
| | |
| --- | --- |
| Step Up Height: | 7.43 inches |
| Cushioned Deck: | Yes; "ISO Flex Cushioning" |
| Professional Assembly Offered: | Not currently due to COVID-19 |
Best Small Treadmill for Seniors: Sunny Health & Fitness SF-T7603
Good for: Smaller seniors who want a compact and easy-to-use treadmill at a great price
Best Small Treadmill for Seniors
Sunny Health And Fitness SF - T7603 Treadmill
When you're short on space, finding a treadmill that can meet your fitness goals and fit into your home can be a challenge. But, the Sunny Health & Fitness SF-T7603 offers users a compact, sturdy, basic yet efficient and effective treadmill all for less than $400.00. The SF-T7603 motorized treadmill is powered by a 2.2 horsepower motor, which supports speeds up to 9 miles per hour and three levels of adjustable incline. While this motor is a bit weak for hardcore runners, it's a great option for walkers, joggers, or light runners.The SF-T7603 comes equipped with nine pre-programmed workout options, which could be useful for those looking for guidance as they work towards their fitness goals. Although the console is a far cry from the high-definition ones seen on pricier treadmills, the easy-to-read LCD monitor displays all the workout stats you need to get a killer workout; distance, time, speed, pulse, and calories. Conveniently change speeds with the quick-adjust buttons located on the handrails, which also function as a pulse grip to monitor your heart rateConstructed with a solid steel frame, the SF-T7603 has a maximum user weight of 220 pounds, which certainly falls below industry standard but, given the low price point, that number is not surprising. The shock-absorbing running deck measures 49 inches by 16 inches—this may feel constricting for those with particularly long strides. The SF-T7603 features a folding mechanism and a soft drop system to easily and safely fold and unfold. With two transport wheels, the SF-T7603 is easily moved and stored, a feature that can't be underestimated if you live in a smaller dwelling.
Pros:
Compact with a small footprint for small space
Affordable and under $400
Cushioned, shock absorption deck
Simple assembly process (Professional assembly is also offered)
Can adjust speed via the handles
Cons:
Small 49" L x 16" W deck
8-inch step up height
Max user capacity is 220 lbs
Manual incline
For seniors with limited space, the Sunny Health and Fitness SF-T7603 is an ideal choice. At just 103 pounds, this under $500 cardio machine is way lighter than a traditional treadmill. It's small enough to fit in a tiny apartment and is foldable with a gas shock for safety, which I love.
The controls on the SF-T7603 are simple and user-friendly, with a hint of antiquated nostalgia. The buttons are large, colorful, and easy to read––just the way I like it.
RELATED: Sunny Health & Fitness (SF-T4400) review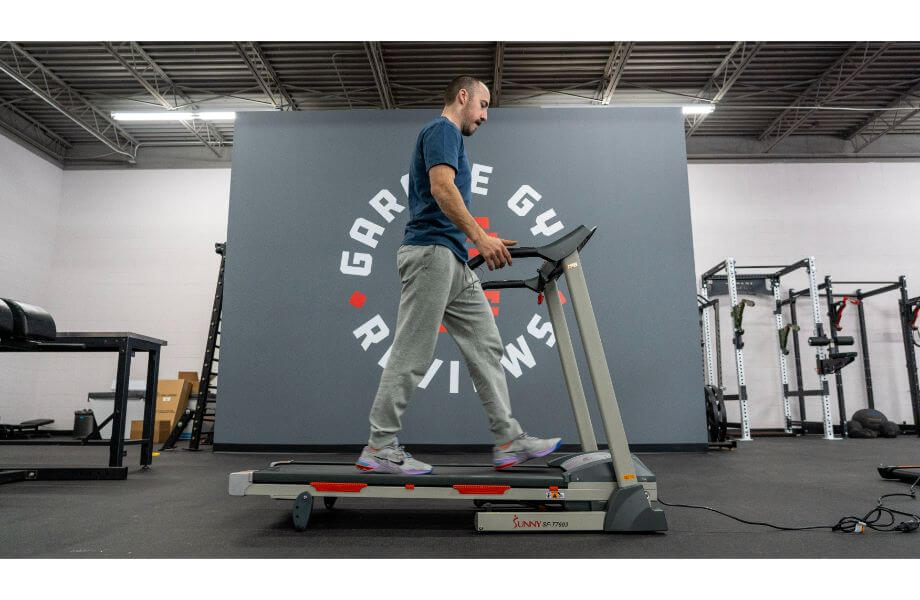 I have to say—I'm definitely a fan of the easily accessible speed settings on the handlebars. If you need to hold onto them for support or balance, you can also easily switch your speed without having to take both hands off.
Unsurprisingly, with a small overall footprint comes a smaller deck. If you're taller, this machine isn't the best option for you due to the 49-inch by 16-inch belt. I would recommend this machine to seniors who are on the shorter and smaller side for walking or light jogging. It is also worth noting that the step-up height of 8 inches will make getting on the treadmill itself a bit more complicated for seniors.
Check out the full Sunny Health and Fitness SF-T7603 review.
| | |
| --- | --- |
| Step Up Height: | 8 inches |
| Cushioned Deck: | Yes; above average cushioning |
| Professional Assembly Offered: | Yes; $59.99 on Amazon |
Best Treadmill for Seniors with Programming: Bowflex Treadmill 10
Good for: Older adults who want to follow along to exercise programming on a well-cushioned treadmill
Best Treadmill for Seniors with Programming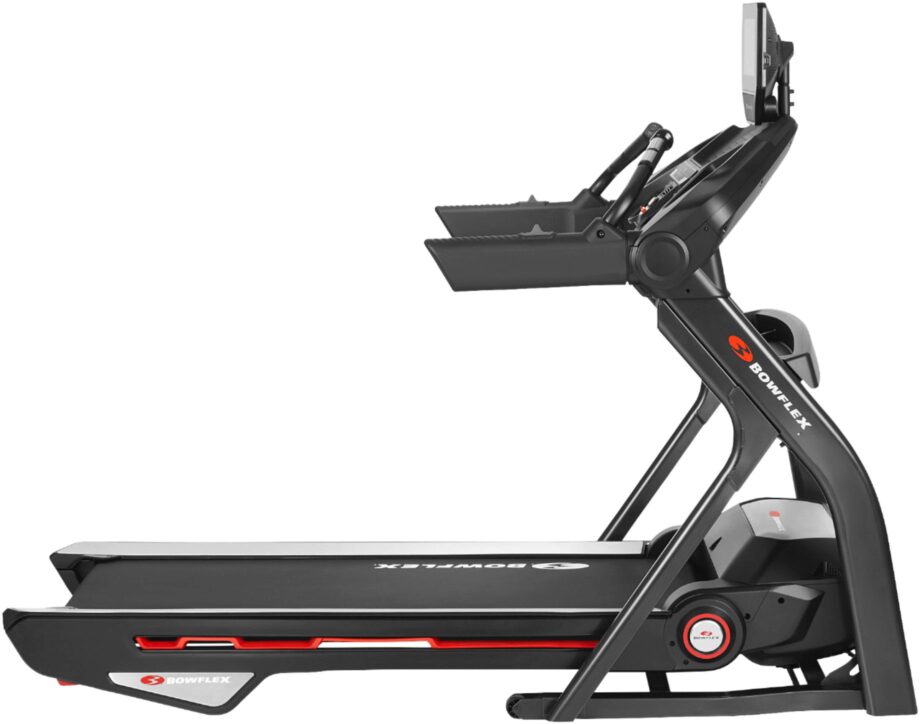 Bowflex Treadmill 10
If you're looking for an interactive treadmill with a solid and sturdy build, the Bowflex Treadmill 10 is a great option for any runner. The Treadmill 10 supports speeds up to 12 miles per hour and, quite impressively, has both motorized incline and decline options ranging from -5%-15%, which makes it possible to train for any terrain. That said, it is odd that Bowflex shares no information on the motor's power. In fact, they stated that they do not have that information on their website when questioned by a potential buyer. Other sites have reported a whopping 4.0 CHP motor, but we couldn't confirm that. Still, users do report a powerful feel to the motor with little to no lag time. Use the interactive, high-definition, adjustable touchscreen to access a myriad of training content that comes with your one-year free JRNY membership. Bound to keep you motivated and on track with your fitness goals, the JRNY membership provides virtual coaching, trainer-led workouts and adaptive workouts that progressively get harder as your fitness improves. The Bowflex Treadmill 10 comes with some awesome conveniences, too. It's Bluetooth-enabled for smart devices, has an included Bluetooth heart rate armband, a console fan and boasts speed and incline knobs for ease of use. The cushioned running deck will feel roomy, too, as it measures 22 inches by 60 inches, which is larger than most folding treadmills. To that end, the Bowflex Treadmill 10 uses a soft drop folding system to easily fold and unfold. However, weighing 323 pounds assembled, this tank of a machine is not easily moved around, so plan on dedicating a space in your home gym for its use. 
Pros:
Integrated 10" HD touchscreen
Comfortable 22" W x 60" L deck size
Cushioned belt
Easy to adjust speed and incline settings with controls on the handlebars
400 lb user weight capacity
Bluetooth-enabled
$89 assembly offered through Amazon
Cons:
Difficult assembly process (If you choose to do it without professional help)
9.5 inches step up height
Heavy machine
Close to $2,000 price tag isn't doable for everyone
Looking for a treadmill that will allow you to view interactive programming? Look no further than the Bowflex Treadmill 10! This machine has a 10-inch HD touchscreen, which can be used in conjunction with JRNY classes (subscription sold separately). There are a variety of workouts available with JRNY besides the traditional treadmill classes. Expect to see options like cycling, yoga, pilates, and strength training for use both on and off the Bowflex 10.
I'm a big fan of the Treadmill 10 for seniors due to its expansive belt of 22 inches by 60 inches and "Comfort Tech" deck. It feels much more cushioned than a traditional treadmill, which I'd recommend for seniors or people with joint pain. Plus, with a wider deck, seniors won't feel like they're in the circus walking a tightrope.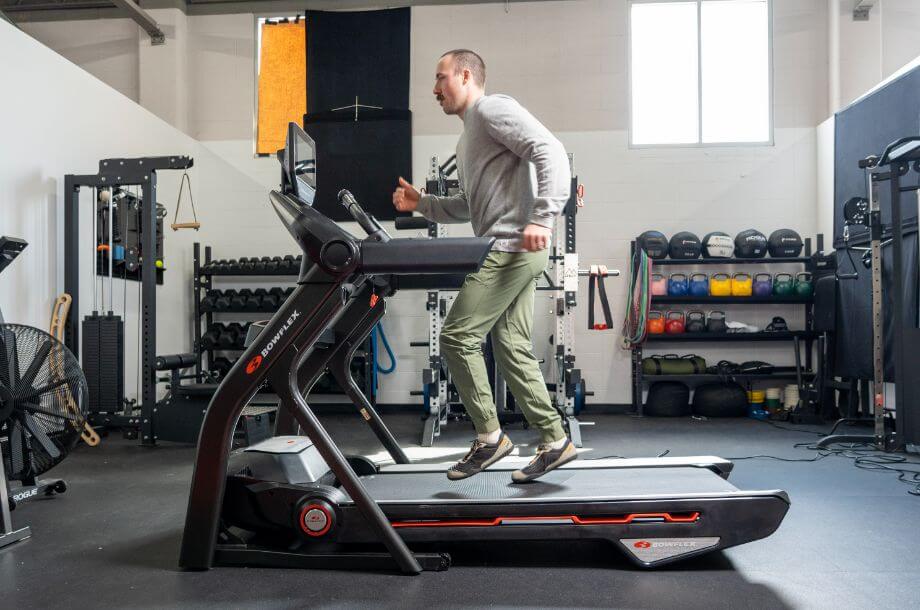 However, the assembly process and transportation of the Treadmill 10 is my least favorite aspect of this machine. At 323 pounds, the T10 is huge and not safe for most people to move on their own. If possible, I'd also recommend purchasing white glove delivery/assembly because the process is extremely difficult.
RELATED: How to move a treadmill
It is also worth noting that the step-up height on this machine is one of the highest on this list. At 9.5 inches, it's a pretty sizable step to have to make, so I recommend holding onto the provided handlebars for additional support (or grab your partner for assistance).
Read more in our Bowflex Treadmill 10 review.
| | |
| --- | --- |
| Step Up Height: | 9.5 inches |
| Cushioned Deck: | Yes; well-cushioned |
| Professional Assembly Offered: | Yes; $89 through Amazon |
Best Cushioned Treadmill for Seniors: Horizon 7.4 AT Treadmill
Good for: People with joint pain who need a more comfortable cardio experience
Best Cushioned Treadmill for Seniors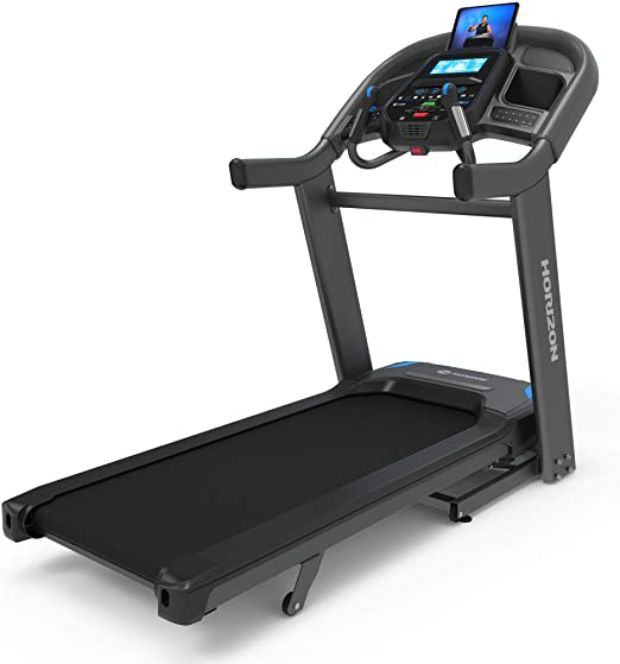 Horizon 7.4 AT Treadmill
The Horizon 7.4 AT treadmill is a workhorse. It isn't a Peloton Tread, nor does it claim to have all the bells and whistles that a technology based treadmill might offer. However, with a 3.5 CHP motor, you'll be able to do pretty much any type of cardio your heart desires. If you're in the mood for some all out sprints, the 7.4 can accommodate you with maximum speeds up to 12 mph. Want to feel like you're climbing a mountain? The 7.4 can help you there too with a 15% incline. Plus, if you're into regular steady state cardio, the 7.4 has a XL running deck of 60 inches, so you can stride without the fear of falling off.Plus, the warranty on this treadmill is stellar. You get a lifetime warranty on the frame and the motor, plus two years on parts and one year on labor. What more could you ask for?
Pros:
Well-cushioned deck
Generously sized belt (22″ W x 60″ L)
White Glove delivery and assembly is offered
Handlebars for support
Lifetime warranty on frame and motor
Handy tablet holder
Cons:
High step-up height of 8.75"
Heavy 318-lb machine
Needs a second person for a safe assembly process (If you choose to go sans professional assembly)
Want to feel like you're walking or jogging on a cloud? Yeah, me too! The Horizon 7.4 AT Treadmill is here to fulfill that quota with "3-zone variable response cushioning." This is just a fancy way of saying the belt cushioning is going to support your strides for an extra bounce in your step.
Plus, the 60-inch-long by 22-inch-wide deck is wide and long enough for seniors of a variety of heights. As someone over 5 feet 9 inches, I'm singing all the praises for the 7.4 AT because I can comfortably stride without carefully calculating my steps.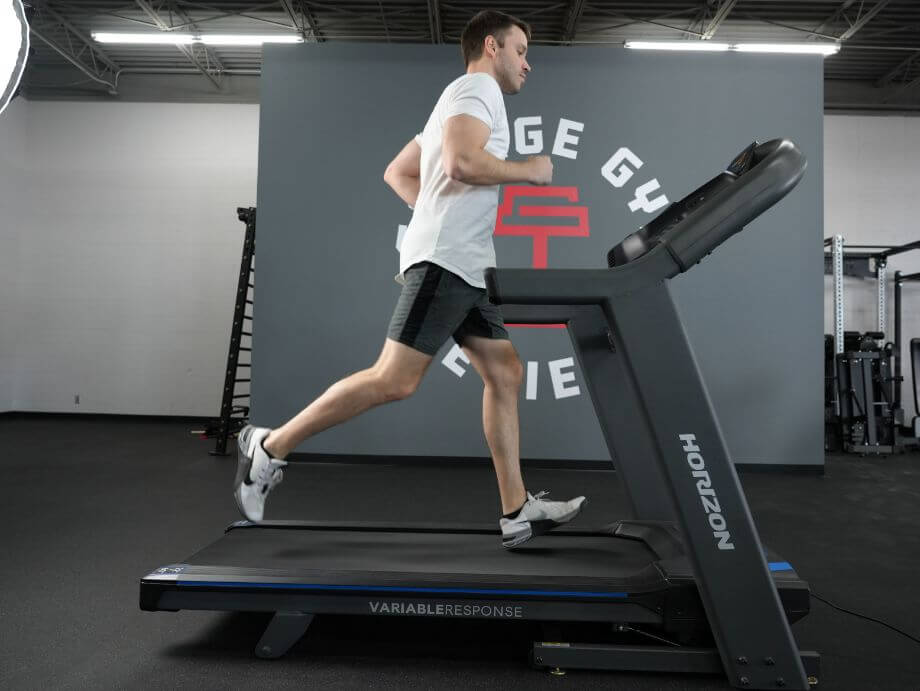 Please be aware of the step-up height. At 8.75 inches, the 7.4 AT might require assistance for both mounting and dismounting if you're worried about falling.
The display is fairly traditional for a treadmill without a touchscreen. The LED console is easy-to-read and shows the traditional metrics. Nothing crazy, but if you're looking for intuitive and simple, the 7.4 AT will get 'er done.
Although the supportive handlebars are on the shorter side, you do have easy access to the quick-dial controls. These controls allow you to change the speed and incline with a flick of your wrist. I think this is a solid feature for seniors who don't want to worry about losing their balance while switching settings.
For a safe assembly process, I recommend having a helper or two since the machine is very heavy. The actual directions themselves are simple to follow, but execution will be easier with additional hands. However, you can get white glove delivery and assembly through the Horizon website for an additional fee if you prefer.
Check out our full Horizon 7.4 AT treadmill review.
| | |
| --- | --- |
| Step Up Height: | 8.75 inches |
| Cushioned Deck: | Yes; well-cushioned |
| Professional Assembly Offered: | Yes; white glove delivery offered |
Best Treadmill for Seniors with a Simple Display: XTERRA Fitness TR150
Good for: A senior who needs a user-friendly treadmill with a straightforward dashboard
Best Treadmill for Seniors with a Simple Display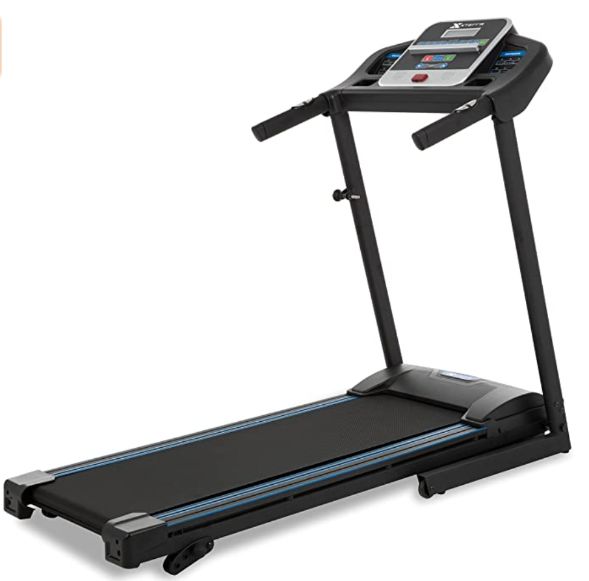 XTERRA Fitness TR150 Folding Treadmill
The XTERRA TR150 is a space-worthy investment best suited for beginner walkers to speed walkers. Featuring 12 preset programs, speeds ranging from .5 to 10 miles per hour, three manual incline settings, and an easy pull knob release for convenient storage, the XTERRA TR150 was developed with performance, comfort, and safety in mind. The 16-inch-by-50 inch walking surface is on the smaller size but is big enough to accommodate most users when walking or light jogging. The 5-inch LED display provides simple yet important stats during your workout including time, speed, distance and calories. The XTERRA TR150 is designed for convenience with an integrated bookrack and accessory holder to keep things like a remote control or phone close by. The hand grip pulse sensors are mounted on the side handlebars but users report that the heart rate readings are often inaccurate (as is often the case with grip sensors). The XTERRA also provides a soft cushioned deck intended to absorb impact and keep joints safe during workouts. If you are an avid runner looking to train hard, this is not the treadmill for you. With a 2.25 horsepower motor, the XTERRA TR150 is not intended for fast or sustained running.  Additionally, users report that the incline is almost unnoticeable. So, before you buy, be sure to know how you intend to use it!
Pros:
Easy-to-read display
Simple buttons and controls
5.15″ low step-up height
Under $400
Professional Assembly is available through Amazon
Cons:
Short and skinny deck (16″ W x 50″ L)
Not very cushioned
Folding mechanism can be dangerous
For seniors who would prefer to not be inundated with technology every second of their lives, the XTERRA Fitness TR150 fits the bill. The 5-inch LCD display shows the bare minimum, but allows you to easily click a preset program and get going with little thought.
Plus, the controls on the dash are clearly labeled so you can start, stop, or select a program quickly. The included handlebars are a nice tool to use for support. For a treadmill under $400, this machine has a lot going for it.
If you're worried about struggling with a tall step-up, the TR150 would like a word. At only 5.15 inches, this budget-friendly treadmill has you covered at an accessible height.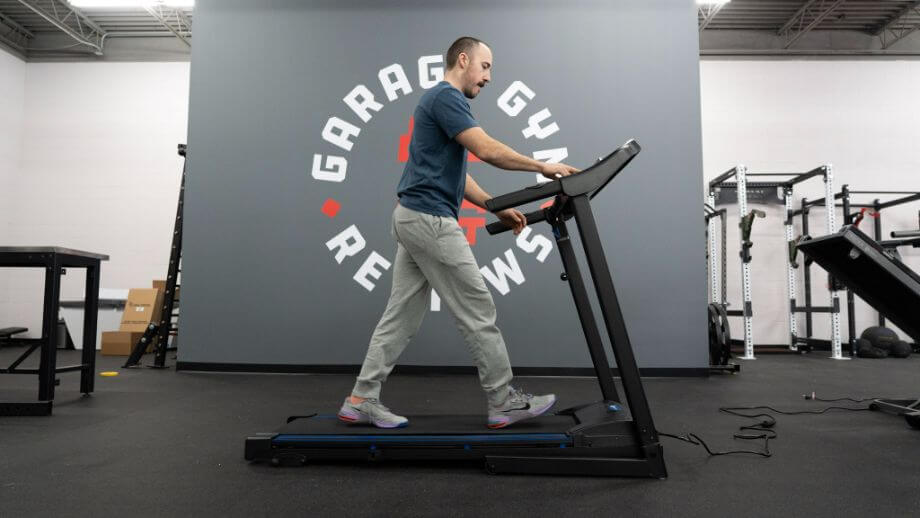 For things to be aware of, I genuinely would not recommend folding this machine (even though it is capable). The TR150 does not have a gas shock on the folding mechanism, which means it won't gently come to the ground. The deck will slam and could be a danger for fingers, toes, and pets. Definitely proceed with caution if you choose to ignore my warning.
On the bright side, the assembly process for the XTERRA is pretty painless, all things considered. Since the machine itself is lightweight, grabbing just one extra person will make this quick and easy. However, if you'd rather have a professional assemble the XTERRA for you, this is a possibility as well. If you purchase this treadmill through Amazon, you can choose $60 professional assembly at check out, which is very reasonable.
Check out our full XTERRA Fitness TR150 review.
| | |
| --- | --- |
| Step Up Height: | 5.15 inches |
| Cushioned Deck: | Not well-cushioned |
| Professional Assembly Offered: | Yes; $59.99 on Amazon |
Other Treadmills We Tried and Researched
With so many treadmills on the market, you can bet your bottom dollar we tried and researched dozens more than what was included on this list. Here's just a small sampling of the others we took a close look at:
Schwinn 810 Treadmill: At $799, this treadmill is an affordable option. However, the deck isn't well-cushioned at all, which is why it wouldn't be my first pick for a senior, especially one with joint pain.
Goplus Treadmill: With an exceptionally small deck, I wouldn't recommend this compact treadmill to a senior with any type of balance issues. Heck, I almost fell off when using it and I'm in my 20's! (Check out the full Goplus Treadmill review here.)
Nautilus T618 Treadmill: This treadmill was recalled on June 9, 2023, after users reporting issues with the machine self-starting—an obvious safety hazard. And, beyond that, the backlit LCD screens on this machine displaying many crowded metrics may overwhelm seniors, especially those who have vision issues. (Full Nautilus T618 Treadmill review here.)
Tru Grit Runner: As one of the best budget curved treadmills, the Tru Grit Runner is an ideal choice for someone who wants a self-powered workout. However, this machine is extremely heavy, and isn't the most practical choice for a senior.
StairMaster HIITMill Treadmill: Although the HIITMill has some of the most supportive safety handles I've ever seen, it clocks in at close to $5,000. Plus, this machine is insanely bulky and would require significant space.
NordicTrack Commercial 1750 Treadmill: The 1750 has proven time and time again it's one of the best overall treadmills on the market. With the ability to support an iFIT membership, a digital display, and Bluetooth connectivity, this machine has it all. However, most seniors don't need something with as many bells and whistles as the 1750 has.
How We Picked and Tested the Best Treadmills for Seniors
Not only do we know and understand the industry standards for a good, all-around treadmill, but we also considered what features senior citizens would want for a more pleasurable experience. Here are the things we looked at when evaluating each treadmill that made this list (and each that did not):
Deck size (length and width of the running belt were considered)
Display type and size
Ease of use of buttons and controls
Incline and decline features
Speed range
Full-length handrails
Step up height
Foldability and soft-drop deck
Space-saving
Easy storage
Ease of assembly
Transport wheels
Weight of the treadmill
User max weight capacity
Safety key or easy-stop button
Benefits of Treadmills for Seniors
The health benefits of exercise are well-known, but why should a senior specifically buy a treadmill catered to them? I'm glad you asked! Here are the top four benefits of treadmills for seniors:
Safer
Getting a treadmill that has safety concerns in mind can make the cardio experience a more pleasurable one for a senior. Plus, things like an included safety key, lower step-up height, and a wider deck can prevent unnecessary falls or injuries.
Still not convinced? According to a study done by the Iranian Journal of Medical Sciences, regular cardio on a treadmill can improve both balance and coordination in seniors. Time to get your sweat on!
Controlled Environment
"What I like about the treadmill is that it is a much more controlled environment than, say, walking or running outside," personal trainer Kate Meier explains.
What I like about the treadmill is that it is a much more controlled environment than, say, walking or running outside.
"This is especially important for populations where factors like balance, weather, and health concerns come into play. Exercising on a treadmill means not having to worry about tripping over a curb, or being close to emergency medication or help if you need it."
More Comfortable
Finding a machine with little conveniences can make exercise easier and less frustrating. Many of the machines I've listed above have well-cushioned decks, simple controls, and a lengthy belt.
Easy to Use
Starting anything new can be scary, so it's important to choose a user-friendly treadmill that makes the process slightly less complicated. For seniors, I love preset workout programs on treadmills that take the guesswork out of exercise.
What Should a Senior Look for in a Treadmill?
Are you a senior or maybe have an older parent in your life that wants to get healthy? Purchasing a treadmill for home use is a great place to start on the journey to better cardiovascular health.
Here are some of the things I'd recommend considering before pulling the trigger on a certain treadmill:
Type of Treadmill
Generally speaking, there are two different types of treadmills: manual treadmills and motorized treadmills. All of the options I have included in this list are motorized, which is for a reason. Most high-quality non-motorized options I would recommend are either quite expensive or very heavy. Neither of these things are usually what casual exercisers or the senior population is looking for in a new treadmill.
Lower Step-Up
When choosing a treadmill for an older adult, I recommend checking the machine's step-up height. Under 6 inches is ideal and considered low. This is an important thing to check out for seniors who want to minimize risk.
User-Friendly Controls
This should come without saying, but it is actually kind of important to be able to see and use the controls on your cardio machine. I know, what a novel idea. Having intuitive and obvious buttons can make your treadmill experience a much more pleasant one as an older adult.
Cushioned Deck
With age unfortunately comes good ole joint pain. Even if you're one of the lucky ones to avoid this ailment, I'd still recommend checking out treadmills that have well-cushioned belts. Even as a 24-year-old who has had her ankle reconstructed, I know I'd sure as heck like to run or walk on a treadmill with comfortable cushioning.
Related: Best Treadmill for Bad Knees
Wider Treadmill Belt
For those who may struggle with balance, having a wide belt on a treadmill can help prevent unnecessary falls and injuries. You don't want to feel as if you're walking on a tightrope while working out. Cardio is bad enough on its own, let's not make it worse with a slim deck that makes you more prone to a wicked fall, shall we?
Safety Features
Staying safe on a powerful cardio machine is important, which is why you should look for specialty safety features. Things like a magnetic emergency stop key and a folding mechanism with a gas shock are two features I'd recommend for seniors.
Related: Treadmill Safety 101
Long Handlebars for Support
Especially if you struggle with balance, having handlebars to grab onto while using a treadmill is key. Handlebars are a fairly common addition to most treadmills, but some extreme budget options may have flimsier ones.
Easy to Assemble or Professional Assembly Options Available
Easy assembly is important when it comes to treadmills for seniors. Heck, I'm in my 20's and slipped a disk in my back trying to be superman and assemble a 300-pound cardio machine by myself. If you're an older adult, I would definitely recommend looking for a machine that comes mostly pre-assembled or has white glove delivery options. At the very least, grab a few of your friends or family members to assist.
Best Treadmill for Seniors FAQs
Are treadmills good for older people?
Treadmills can be a good option for almost anyone, regardless of age. However, if you have concerns, please consult a registered clinician before starting exercise of any type.
Which treadmill is best for aged people?
My overall pick for the best treadmill for aged people would be the Sole F63. However, every person is different and is looking for various features. I would suggest writing down the things you want the most in terms of your new treadmill and see which machines match up with the options on this page.
How long should a 70-year-old walk on a treadmill?
Provided the 70-year-old has been cleared by a medical professional to exercise, 10 to 15 minutes is a good place to start. Don't do too much too fast! Instead, gradually increase your time as you get more comfortable and familiar with the treadmill and your physical fitness improves.
Is it better for a senior who is a beginner to use an elliptical or an electric treadmill?
For those who want a low-impact option, ellipticals are a good option. However, treadmills can be a helpful tool for mobility and even as an aid to weight loss, too. If you have specific questions, I would definitely recommend talking to your primary care physician, as they can offer specific medical advice.
As a personal trainer, do you think it is important for a senior to have a powerful motor on their treadmill?
"For seniors who just want to improve their fitness walking, they likely don't need a heavy-duty or high-end treadmill," explains certified personal trainer Amanda Capritto. "However, for those who need a treadmill that can support jogging or running, make sure to look for an option that has at least a 2.5 HP motor."