We test and review fitness products based on an independent, multi-point methodology. If you use our links to purchase something, we may earn a commission. Read our disclosures.
If you've read any of our treadmill reviews here at Garage Gym Reviews, you may have noticed we frequently mention the NordicTrack Commercial 1750 as one of the best treadmills for a home gym. It's one of our personal favorites because it gives you an incredible bang for your buck.
However, I'm thrilled to tell you that NordicTrack released a new treadmill in the Commercial series with many similar features that we love from the 1750 (but with a slightly lower price point). The question is, will this competitively priced treadmill stand up to the NordicTrack brand name? We're going to find out in this NordicTrack C1250 treadmill review.
We've Tested 38 Treadmills And Counting
Our expert product testers here at GGR have tons of experience in the fitness industry with backgrounds ranging from Olympic weightlifting to marathon training. We're not only a group of fitness experts, we're also real people who value quality equipment. We use our knowledge of the fitness industry and our collective experience to help deliver you the most accurate information on all things strength and conditioning.
For the NordicTrack Commercial 1250 treadmill, our resident cardio expert (and the face of Garage Gym Reviews Everything) Lindsay Scheele tested all aspects of the 1250 from the incline settings to the high-tech touchscreen.
NordicTrack Commercial 1250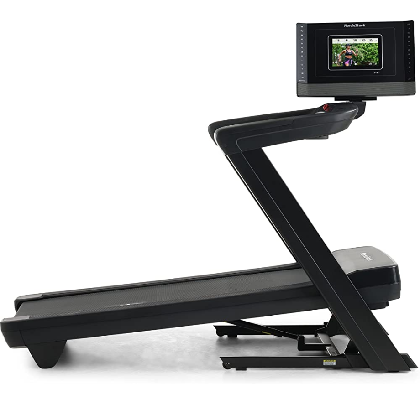 GGR Score: 4.5
Product Highlights
Indoor treadmill with incline and decline capabilities

Hands-free adjustments

10" screen that can rotate

iFIT-enabled 
Pros & Cons
Pros
Machine learning adjusts workouts based on user
30-day iFIT membership included
Use Google Maps to workout in various places worldwide
-3% decline to 12% incline
Keep track of your stats
Cons
Users have to purchase iFIT after trial ends
Relatively expensive
Screen is not very big
Bottom Line
The NordicTrack Commercial 1250 comes equipped with incline and decline capabilities, Bluetooth and heart rate connectivity, workouts with iFit trainers and more.
A Quick Look at the NordicTrack C1250 Treadmill
You're probably familiar with NordicTrack from the wide array of fitness equipment it manufactures, including exercise bikes, ellipticals, rowing machines, and an assortment of strength equipment. The price range on NordicTrack machines rarely caters toward the budget-conscious crowd, with some treadmills costing a several thousand dollars (we've even tested treadmill valued over $4,000, which you can read about in our NordicTrack X32i review).
The NordicTrack Commercial series has seen a makeover in the last few years, with the 2450 coming back to the market and the 1750 now on closeout sale. The 1250 was previously discontinued, but it's back now with a sleek redesign and a reasonable price point.
RELATED: NordicTrack Commercial 2450 review
Before You Buy
You will want to pay for a iFIT membership to have full functionality of the 1250 treadmill
At checkout, you can save money by bundling a long-term iFIT membership with your initial purchase
We strongly recommend the in-home assembly for an additional $199 to save you time and a headache
Is the NordicTrack C1250 Treadmill Worth It?
From our experience with the NordicTrack Commercial series, this lineup delivers a lot of value for home gym owners. Lindsay says she was not surprised that her overall testing experience on the 1250 was extremely enjoyable. From the smooth incline (and decline) transitions to the comfortable running deck, Lindsay thinks the 1250 is a solid choice.
Lindsay does mention that the touchscreen display is a bit smaller than you will see on some of the top-rated and best NordicTrack treadmills, but you'll still have full functionality for iFIT workouts.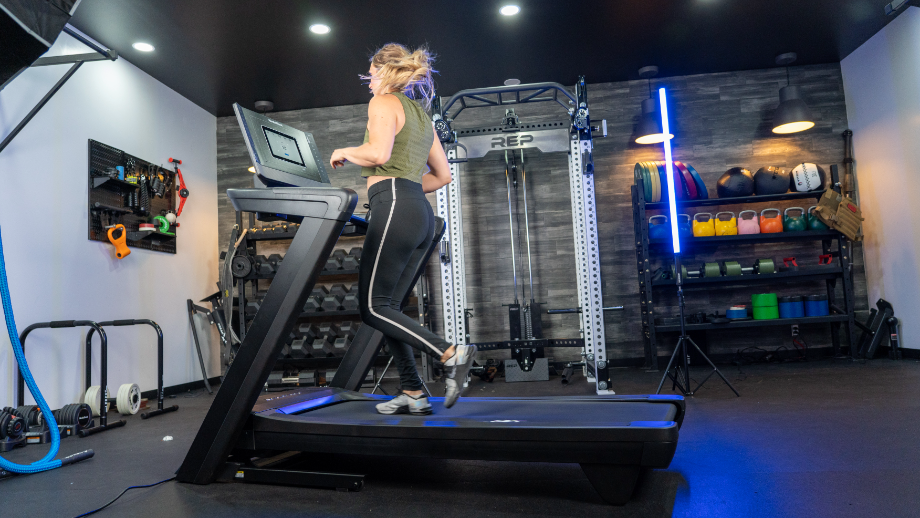 The 1250 "is super comparable to the 1750 with a lot of similar features," says Lindsay. "Plus, I think it runs just as well. I would choose this one because it isn't as pricey Commercial 1750," she adds.
We also think it's worth noting that not only is the hardware solid, the iFIT programming brings the 1250 to the next level with thousands of workouts to choose from, interactive programming, enthusiastic trainers, and automatic speed and incline controls. All that said, to enjoy the experience and find value in your purchase, you'll need to be someone who enjoys fitness classes and virtual coaching.
Great for:
Tall runners who need a spacious running surface
Folks looking for one of the best folding treadmills
Exercisers who enjoy interactive programming
Not recommended for:
Anyone who is near-sighted or has trouble seeing small screens
People on a tight budget
Individuals who need a compact treadmill
NordicTrack C1250 Treadmill Specs
| | |
| --- | --- |
| Footprint | 78.5" L x 35.6" W x 64.7" H |
| Weight | 281-lb box weight |
| Weight capacity | 300 lbs |
| Running deck | 60" L x 20" W |
| Max speed | 0-12 mph |
| Incline range | -3% decline to 12% incline |
| Motor | 3.0 CHP |
| Foldable | Yes |
| Console | 10" tilt-and-pivot HD touchscreen display |
| Bluetooth | Yes |
| Programming | iFIT |
| Warranty | 10-year frame, 2-year parts, 1-year labor |
Features of the New NordicTrack C1250 Treadmill
The NordicTrack 1250 is loaded with features, many of which are the same specs we see in the best smart treadmills on the market. Here's an overview of what you'll find:
Tilt-and-pivot touchscreen: This unique console allows you to adjust the screen so it's not only comfortable to view while you run, but you can also tilt it to the side so you can step off the treadmill and complete a dumbbell strength workout.
iFIT programming: iFIT has a vast library of on-demand workouts to choose from. And just because you purchase a treadmill doesn't mean you'll only have access to treadmill workouts—you'll have access to the entire library.
Quiet drive system: Although this treadmill won't be silent, it's pretty darn quiet. Our experience with the Commercial 1750 makes us feel confident that the 1250 will be equally as quiet during incline and decline transitions.
Incline and decline: The 1250 treadmill has both incline training up to 12% grade and decline training to -3% for all your HIIT treadmill workout needs.
Heart rate tracking: This feature will require a separate purchase of a SmartBeat heart rate monitor, but if you decide to get one you can take advantage of ActivePulse technology, which allows the 1250 to automatically adjust speed and incline to maintain your optimal heart-rate zone.
Things that were phased out from the previous version of the C1250:
Quadflex deck cushioning
Free built-in workout programs
Auxiliary port for iPod and mp3 players
Running on The NordicTrack Commercial 1250 Treadmill
When I asked Lindsay about her experience on the Commercial 1250, she starts by mentioning the new look, "it's simple in its design: modern and sleek. It even reminds me of the Peloton Tread."
RELATED: Peloton Tread Review
All of the treadmills in the Commercial series now feature a minimalist Z-shape design that eliminates the crossbar between the upright stabilizers. These uprights are made from steel for an ultra stable base for the console and rubber coating around the handrail for a non-slip grip.
It not only looks good it performs well, too. "Running at higher speeds was no problem. There was no negative feedback or shaking," says Lindsay. She also enjoys the smooth transition from incline to decline and reports the motor is fairly quiet, too.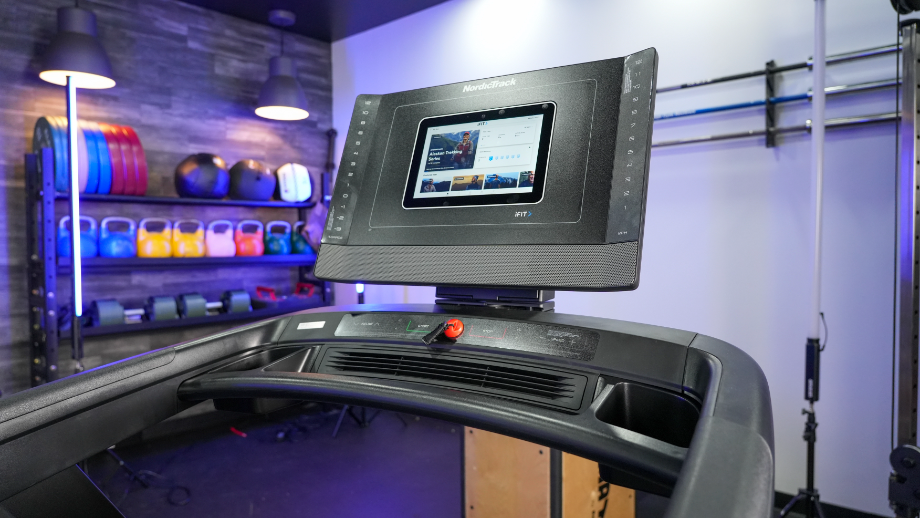 As for the touchscreen display, Lindsay has just one qualm: "The touchscreen is quite a bit smaller than the actual console," she says. However, "it's not that the screen is too small (I mean, I do wish it was bigger) but the console itself is big and I think the screen could take up a little more space," she adds.
In comparison, when a former GGR product tester used the Commercial 2450 treadmill for the first time, she noted that the large 22-inch touchscreen really brought the programming to life. Although we don't think the 10-inch touchscreen will be a dealbreaker for all runners, the size is something to consider for those who find interactive programming important.
Footprint and Portability
The 1250 treadmill has a sizable footprint measuring over 6 feet in length, nearly 3 feet wide, and standing over 5-feet tall at the top of the console. I will say that even though this isn't a small treadmill, it's still slightly smaller than the Commercial 1750.
Although this treadmill is large enough (and heavy enough at roughly 280 pounds in the box upon delivery) to need its own dedicated space in your home gym, it's a folding treadmill. You will be able to take advantage of the space-saver design to get back precious floor space when it's in the folded position.
The folding mechanism featuring NordicTrack's signature EasyLift Assist has built-in hydraulics that make the folding process a breeze. When you're ready to unfold, you'll use your foot to unlatch the hydraulic lock and the deck will slowly, quietly, and automatically fold down to the floor while you step back and watch.
Durability and Construction
When it comes to durability, NordicTrack treadmills are known to hold up. We can probably argue that the Commercial series is not actually commercial-grade—meaning not designed for hours of continuous use every day—but we all agree these are solid machines for home gyms.
But what makes a treadmill built for longevity versus one that is not? There are several specs we look for that indicate whether or not a treadmill will hold up to regular running and workouts.
Firstly, we look for a user weight capacity of 275 pounds or higher. When a treadmill has a higher weight capacity, it is built to tolerate not just the weight capacity, but also the impact from heavy loads. The good news is that the Commercial 1250 offers users a 300-pound weight capacity.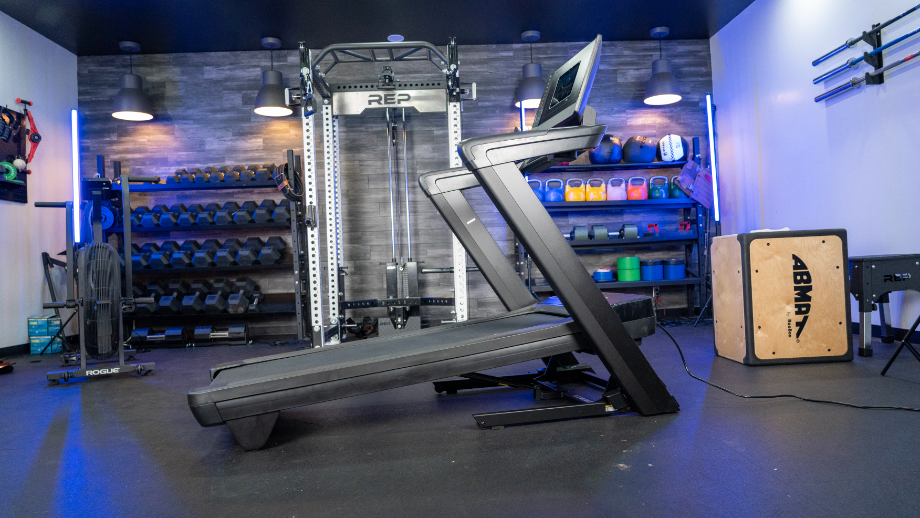 Secondly, we look for a strong motor (especially if you plan to run, not just walk on your treadmill). For runners, we suggest motors with at least 2.5 continuous horsepower (CHP). The 1250 delivers a powerful 3.0 CHP motor that will help you power through incline intervals, decline training, and sprints.
Lastly, when it comes to overall durability, we like to see warranties that cover at least 10 to 15 years on the frame, with some of the best treadmill warranties offering a lifetime frame warranty. NordicTrack offers a 10-year frame warranty on all treadmills it manufactures, which is adequate but not stellar by any means.
Ergonomics and Comfort
One of the standout features on this affordable treadmill from NordicTrack is the 60-inch-long tread belt. If you're someone who is tall or has a long stride, rejoice knowing that this running deck is not going to cramp your style (or stride). Plus, you'll have the space to run with your natural gait without the fear of falling off the deck.
One thing that Lindsay mentions about her experience on the running deck is overall comfort. She says, "it ran smooth and felt like it had more shock absorption than the Peloton."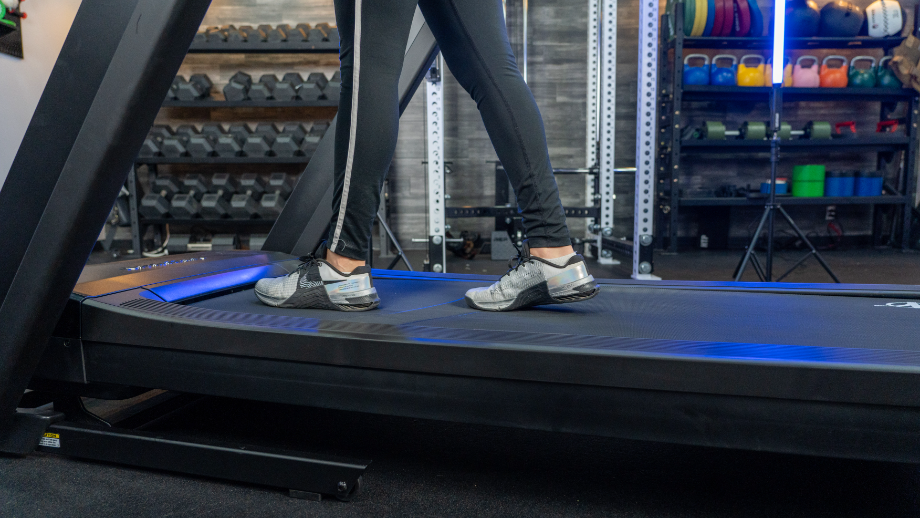 I think this is interesting because the specs on the Commercial 1250 do not indicate any means of cushioning. However, it's likely that even without specific cushioning, the 1250 offer more absorption than the Peloton Tread (which is known to feel hard).
RELATED: Best Shock-Absorbing Treadmills
Let's not forget to mention the built-in AutoBreeze workout fan and two water bottle holders directly under the console to help keep your temperature regulated while you run. Directly above the workout fan, you will find start and stop buttons along with speed and incline controls. Flanking the touchscreen display you'll find quick selection speed and incline buttons that allow you to jump between whole integers.
RELATED: Best Treadmills for Tall Runners
Technology: Benefits and Conveniences
With the reasonable price tag of the Commercial 1250 (compared to other NordicTrack treadmills, that is), it's worth mentioning that although there are a lot of similarities between it and the 2450 and the 1750, one of the most obvious differences is the smaller, 10-inch touchscreen display.
For many folks, this small screen won't be an issue. Although Lindsay wishes it were bigger to fill up the console better, she notes it was not a problem to use while running or see. However, I could potentially see nearsighted folks might have trouble with this 10-inch display.
Although 10 inches is certainly larger than the average Android or iPhone device, if you plan to take advantage of the tilt-and-pivot feature of the console for strength training and yoga sessions, it could be hard to see if you're not directly in front of the screen.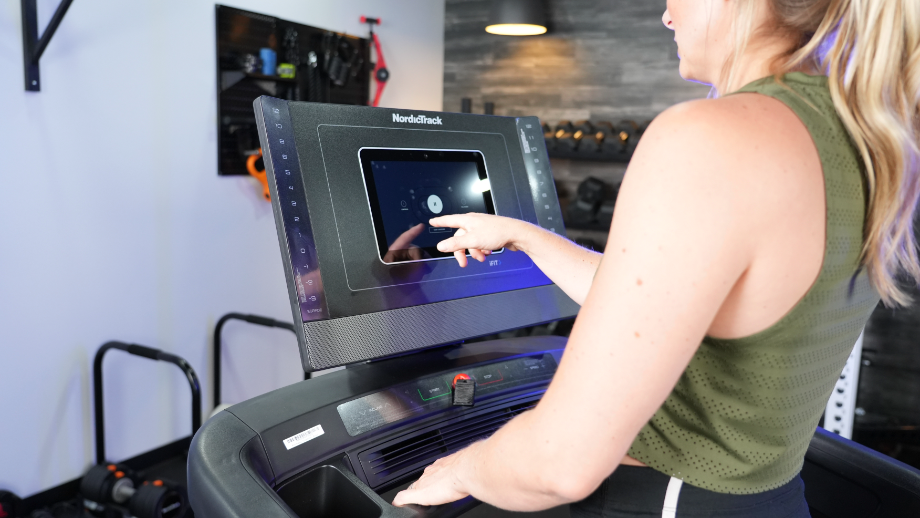 On the flip side, when you're on the treadmill and taking iFIT classes, you won't have to spend much time pressing buttons on this small screen while you run. This machine features automatic trainer control (aka AutoAdjust), which allows the iFIT trainer to control your incline, decline, and speed settings based on coaching cues.
Speaking of iFIT, if you want to get the full scope of this app, read our in-depth iFIT reviews to hear about our personal experience. Even if you're on the fence about iFIT, you might find comfort knowing that this treadmill comes with a free 30-day trial. It will require your credit card information, but if you decide to go without, you'll just need to cancel before the first billing cycle.
With an iFIT subscription, you'll have access to thousands of pre-recorded sessions, challenges, and workout series to achieve your fitness goals. Plus, your home screen will display and keep track of your milestones, workouts, and any challenges you participate in.
Keep in mind that iFIT requires an additional monthly membership fee. Here is quick breakdown of what to expect for subscription fees:
Individual Monthly: $15 per month
Individual Yearly: $180 per year
Family Monthly: $39 per month
Family Yearly: $396 per year
You'll also benefit from Google Maps workout technology where you can drop a pin nearly anywhere in the world and walk or run through scenic areas. Bonus: AutoAdjust technology control comes into play here, too, and will adjust your incline and decline depending on the terrain.
NordicTrack Commercial 1250 vs Commercial 1750
NordicTrack 1750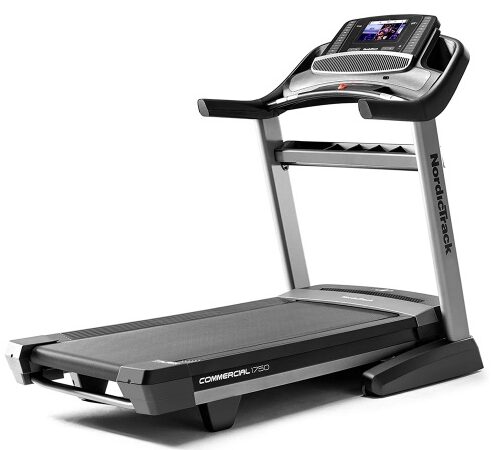 GGR Score: 4.5
Product Highlights
Spacious running deck
Compatible with iFIT
14-inch touchscreen
Incline and decline training
Financing available
Pros & Cons
Pros
Compatible with iFIT
3.5 CHP motor
Free trial of iFIT subscription with purchase
Treadmill with incline and decline training
Foldable to save space (EasyLift Assist)
Run that feels similar to road running
Financing options available through NordicTrack
Generous speed range
Wide running deck
Cooling fan
Cons
Big footprint
Heavy and not the easiest to move
Price is around $2,000
Warranty is voided if the treadmill is used/stored in a garage
Bottom Line
If you're looking to add a workhorse of a treadmill to your home gym, we recommend the NordicTrack Commercial 1750.
The NordicTrack 1750 might be one of our favorite treadmills from NordicTrack, but with the 1250 being so close in specs and capabilities, the slightly lower price tag is something to consider—especially since the 1750 is likely to be discontinued soon. Both NordicTrack models fold, have 60-inch tread belts, and offer both incline and decline training.
The NordicTrack 1750 has wider running surface area, offers slightly more incline range, a more powerful motor, and a bigger touchscreen. However, the 1250 is not far behind in any of those categories. Even if you're a serious runner who logs regular training miles, you'll still have a solid machine when choosing the NordicTrack 1250.
| | | |
| --- | --- | --- |
| | NordicTrack 1250 | NordicTrack 1750 |
| Price | $1,999 | $2,299 (sale price) |
| Footprint | 78.5" L x 35.6" W x 64.7" H | 80" L x 38" W x 65" H |
| Weight | 281-lb in-box weight | 340-lb in-box weight |
| Weight capacity | 300 lbs | 300 lbs |
| Running deck | 60" L x 20" W | 60" L x 22" W |
| Max speed | 0-12 mph | 0-12 mph |
| Incline range | -3% decline to 12% incline | -3% decline to 15% incline |
| Motor | 3.0 CHP | 3.5 CHP |
| Foldable | Yes | Yes |
| Display | 10" tilt-and-pivot HD touchscreen | 14" tilt-and-pivot HD touchscreen |
Customer Reviews
As of writing this review, customer reviews on the C1250 are virtually non-existent. Since this is a brand-new model, and NordicTrack does not feature customer reviews on the website, I wasn't surprised when I didn't find anything there.
I went to Amazon to get honest customer feedback, but I only found one 2-out-of-5-star review. Turns out the gentlemen writing the review actually bought the Commercial 2450 and was experiencing a lag in getting a console replacement.
Final Verdict of Our NordicTrack C1250 Treadmill Review
The NordicTrack Commercial 1250 is a reasonably priced heavy-duty treadmill that will offer a lot for runners with a powerful motor, long running deck, and coaching options from iFIT.
The new 1250 features a sleek and modern redesign with a safe folding mechanism.
You'll have access to iFIT programming for treadmill workouts in addition to floor training like yoga and free weight sessions.
The 10-inch touchscreen will work well for most folks, but it could be too small for some people (especially nearsighted folks).
You'll be able to take advantage of a hands-free workout experience with AutoAdjust technology during scenic runs and iFIT classes.
NordicTrack Commercial 1250 Rating
NordicTrack Commercial 1250 Treadmill
It's back! Read the details about this once-discontinued machine in our NordicTrack C1250 treadmill review.
Product Brand: NordicTrack
Product Currency: $
Product Price: 1899
Product In-Stock: InStock
NordicTrack C1250 Treadmill FAQs
Is the NordicTrack treadmill worth it?
The expert product testers at Garage Gym Reviews rate the NordicTrack 1750 as one of our favorite, most versatile, and best-value treadmills you purchase for a home gym.
How long do NordicTrack treadmills last?
NordicTrack treadmills offer 10-year frame warranties, which can give you some perspective on how long the frame is meant to hold up. That said, you will be required to perform routine treadmill maintenance for it to maintain working order (including wiping away dust, vacuuming debris, and lubricating the belt).
How does NordicTrack compare to Peloton treadmill?
Our expert product testers think the NordicTrack offers some of the best bang for your buck. Although Peloton also has high-quality interactive programming, it's more expensive than most NordicTrack treadmills and only offers customers a 5-year warranty. If you want to read more about the specs, check out our in-depth Peloton Tread review.
Can a NordicTrack treadmill be fixed?
Our fitness experts compiled a guide to help you navigate the most common problems so you can be your own hero in your NordicTrack treadmill repair journey.