We test and review fitness products based on an independent, multi-point methodology. If you use our links to purchase something, we may earn a commission. Read our disclosures.
Pitting the Peloton Tread vs NordicTrack treadmills feels like the never-ending battle between Microsoft and Apple. Both brands have a cult-like following, with people swearing by their features and user experience, promising to never use anything different.
Peloton and NordicTrack have similar fervent fans, although Peloton hasn't been on the fitness scene nearly as long as NordicTrack. If we're talking history, NordicTrack has been producing treadmills (and other equipment) since the 1970's. On the other hand, Peloton first released the Tread in 2018, following in NordicTrack's well-established footsteps a cool 40 years later.
Although experience in an industry is great, it isn't everything. Forward-thinking brands like Peloton push innovation forward, and force companies like NordicTrack to produce better products for the consumer. Let's see how the ever-popular Peloton Tread stacks up against NordicTrack's fleet of treadmills.
Not Your Run of the (Tread)Mill Comparison
At Garage Gym Reviews, our expert product testers and reviewers carefully analyze every facet of the fitness equipment we write about. Besides comparing the specs to industry standards, it's important to us to have had our hands (and feet) on the machines we're talking about whenever possible. This is the best way to deliver in-depth information you can trust.
Plus, it's safe to say we know a thing (or a thousand things) about fitness. After all, we're certified personal trainers, former college athletes, and nutrition coaches. Talking about the fitness industry is as natural as breathing to us.
Peloton Tread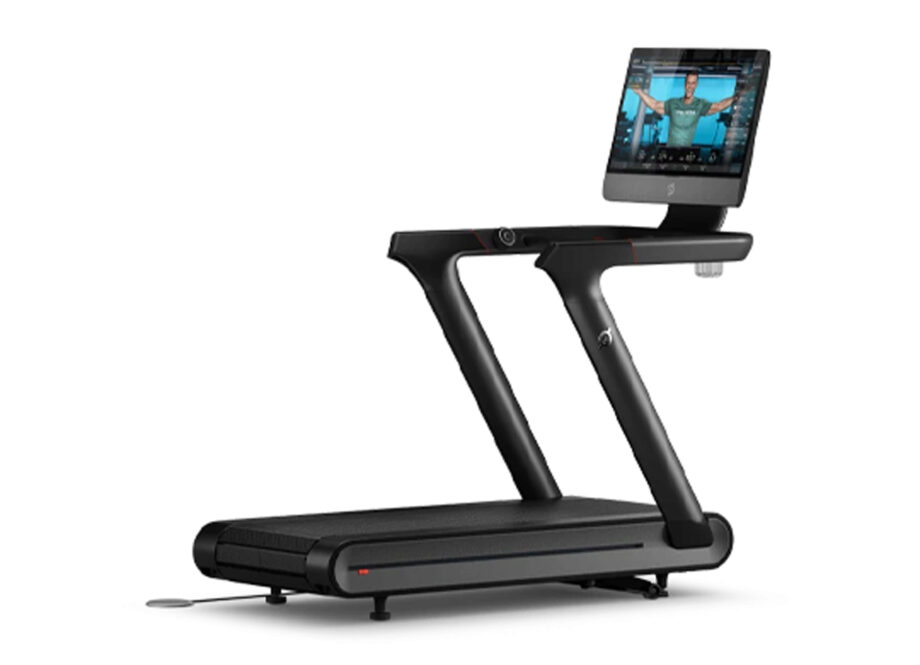 NordicTrack Commercial 1750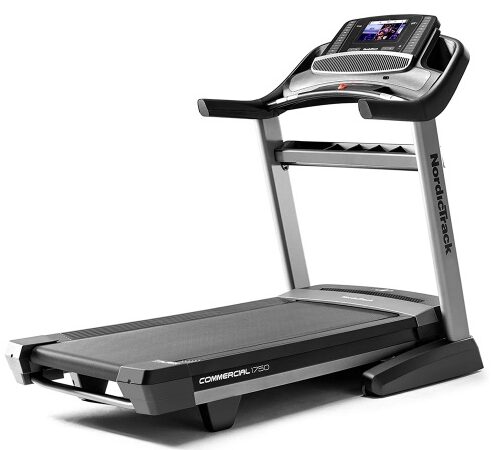 NordicTrack Commercial 1750
The NordicTrack 1750 treadmill features a 14-inch HD adjustable touchscreen with which you can stream iFIT programming on (sold separately). The under $2,000 machine can be financed through the NordicTrack website where you can get deals as low as $49 per month with 0% for 39 months.Models from 2013-2021 of the 1750 had adjustable cushioning, but the 2023 model no longer has this feature.iFIT workouts incorporate Automatic Trainer Control, which allows your trainer to digitally adjust your incline, decline, and speed. This is a nice feature to have because all you have to do is focus on the workout at hand versus frantically switching the controls.
Comparison Chart
Here's a quick breakdown of the prices and treadmill models available from both Peloton and NordicTrack:
Brand
Peloton Tread
NordicTrack Treadmills
Prices
$3,495 to $3,820
$1,099 to $4,499
Models available
Tread (Tread+ currently not being produced due to safety concerns)
1750, 2450, Elite, X22i, X32i, EXP 14i, EXP 10i, EXP 7i (On closeout: Elite 1000 and C 1100i)
Motor
3.0 CHP
3.0 to 4.25 CHP
Touchscreen display
23.8" touchscreen
7" to 32" HD touchscreen
Running belt
20" W x 59" L
20" W x 60" L to 22" W x 65" L
Foldable
No
All but the Elite, X22i, and X32i are foldable
Weight
290 lbs
222 lbs to 520 lbs
Weight capacity
300 lbs
300 lbs
Other machines made by the brand
Rower, exercise bike, and Guide
Rowers, exercise bikes, and ellipticals
Interactive programming
Peloton Membership
On-demand and live studio classes
App only: $12.99 per monthGuide: $24 per monthAll-Access: $44 per month
iFIT Membership
Individual (1 profile): $180 per yearFamily (up to 5 profiles): $39 per month or $39
Quick Look: Peloton Tread vs NordicTrack Treadmills
Peloton currently only produces the Tread, as the Tread+ has had some safety issues the brand needs to work out. If you're interested in purchasing the Tread+ in the future, you can sign up for notifications on the Peloton website. You can purchase the regular Tread starting at $3,495 or take advantage of one of the bundles for between $3,740 and $3,820. The packages above base level include extras like dumbbells, water bottles, mats, heart rate monitors, yoga blocks, and yoga straps.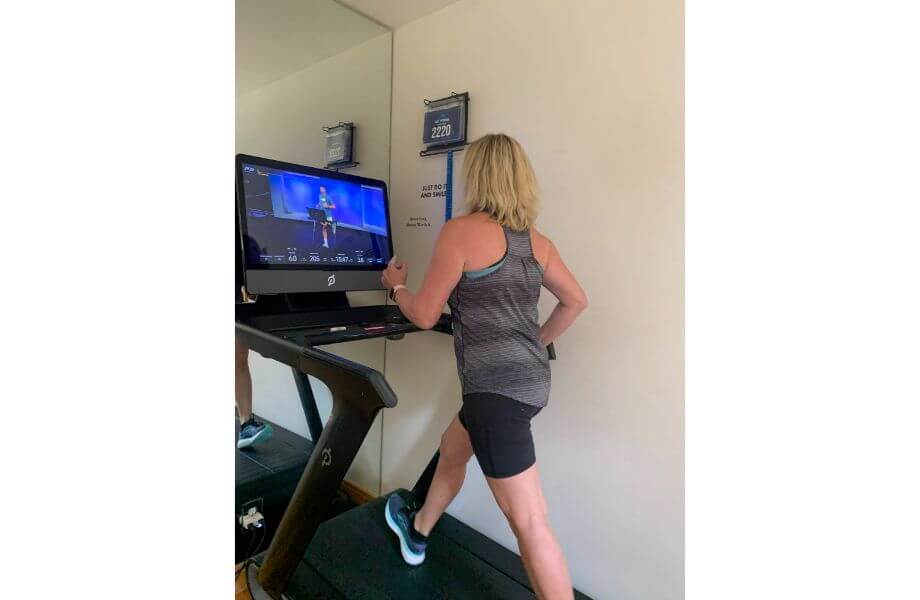 NordicTrack currently produces eight different treadmills, although the brand does like to annually phase out models in favor of new options. As of fall 2023, the lineup is as follows: 1750, 2450, Elite, X22i, X32i, EXP 14i, EXP 10i, and EXP 7i. The two machines on closeout are the Elite 1000 and the C 1100i. The prices of these treadmills vary widely––you can get the EXP 7i for as little as $1,099 or the Elite with a 32-inch touchscreen for around $4,500.
Who Should Buy a Peloton Tread?
Someone who wants live classes
People who love a good playlist
Individuals who like a less-cushioned deck
Folks who like bootcamp-style workouts
Take a look at our Peloton Tread review.
Who Should Buy a NordicTrack Treadmill?
People who want a lengthier warranty on their treadmill
Individuals who want a longer treadmill deck
Those who want a powerful motor
Folks who want a large incline range
Check out our take on the best NordicTrack treadmills.
Key Similarities Between NordicTrack Treadmills and Peloton Treads
Both have stellar interactive programming––iFIT and the Peloton app.
Both brands offer excellent financing options.
Both brands have responsive touchscreens on their treadmills.
Important Differences Between NordicTrack Treadmills and Peloton Treads
NordicTrack has longer warranties on their treadmills than Peloton.
NordicTrack has some treadmills that fold, and the Peloton Tread does not fold.
NordicTrack treadmills have a more cushioned deck, and the Peloton Tread has a deck that has a similar feeling to road running.
Technology and Features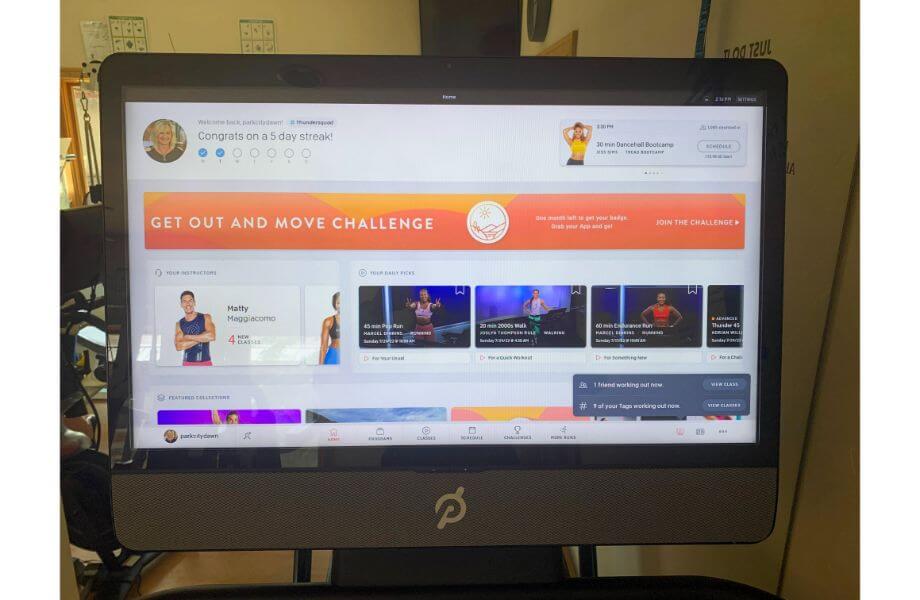 Curious about what features and extras you might find on a Peloton Tread versus one of NordicTrack's treadmills? Check out some of the things you can expect to see in the chart below.
**Please note that all NordicTrack treadmills do not have the same extras; these are just some of the features you may find.**
NordicTrack Treadmills
Peloton Tread
Gas shock for folding (certain models)
FlexSelect cushioning (certain models)
Set of speakers
Water bottle holders
Automatic Trainer Control
Bluetooth connectivity
Cooling fan
Integrated tray
Buttons to adjust speed/incline/decline
Tread lock for safety (requires a passcode to open the screen)
Dual water bottle holders
High-quality speakers
USB charging port
Front-facing camera
Microphone
Knobs to adjust speed/incline
Display
Winner: It depends
Not everyone wants a massive screen size, which makes this one of the most subjective categories. NordicTrack's machines have screens as small as seven inches (EXP 7i) and as large as 32 inches (the Elite and Nordictrack X32i treadmill), so you're bound to find something that works for you. The Peloton Tread has a 23.8-inch HD touchscreen, which has great graphics and is quite responsive when tapped.
Motor
Winner: NordicTrack
If you enjoy running, I recommend finding a treadmill that has at least a 3.0 CHP motor. Just as you'd want a car's engine to be powerful enough for sustained driving, the same is true for a treadmill and its motor––you want to make sure it can handle frequent running.
The Peloton Tread has a 3.0 CHP motor, which would work just fine for most people. However, for especially serious runners, NordicTrack's higher-end models have motors up to 4.25 CHP.
Speed, Incline, and Decline Options
Winner: NordicTrack
The Peloton Tread hits the nail on the head when it comes to speed range––expect to see the option to sprint up to 12.5 miles per hour. All of the NordicTrack treadmills max out at 12 miles per hour, so they are slightly slower than the Tread.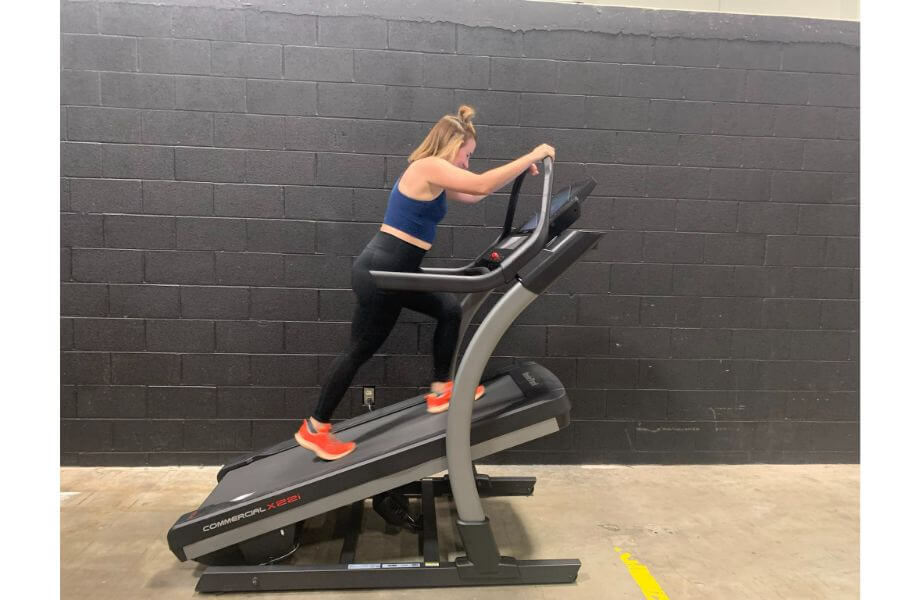 However, the incline and decline options offered on multiple NordicTrack treadmills are much more impressive than that of the Tread. The Peloton Tread has incline options up to 12.5 percent, which is generally enough for the common exerciser. But, if you're looking for a really impressive incline trainer, NordicTrack offers multiple models (like the Elite, X32i, and the X22i) that can go up to a 40 percent incline.
I wish the Peloton Tread had decline options, but it doesn't. Perhaps the brand will add this as a feature in an upcoming edition. If having a treadmill with decline is important to you, almost all of NordicTrack's machines have it (sans the budget-friendly EXP 7i).
Interactive Programming
Winner: Peloton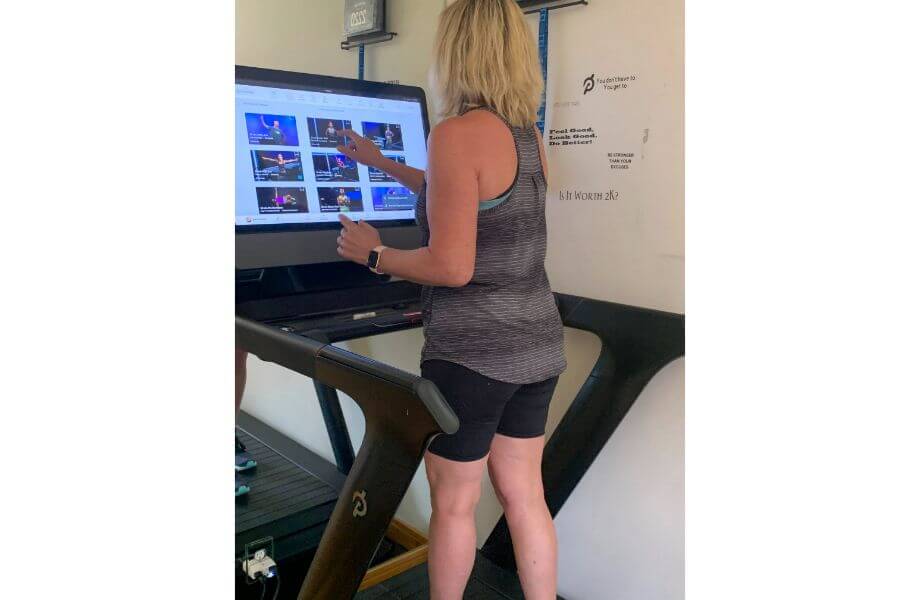 This category purely comes down to personal preference. I've tried both options extensively and was generally quite impressed with what each offered. iFIT has thousands of on-demand options including long-distance running, walking, and jogging classes. The programming service also has a variety of classes to take off the treadmill––think yoga, strength training, cycling, and more.
I like that Peloton has both live and on-demand classes for you to enjoy. You'll be able to race against people from around the world in a live class, and follow along with the leaderboard to see how you stack up. You can also enjoy audio-only running and walking classes if you prefer to just zone out and listen as you sweat. Similarly to iFIT, Peloton has plenty of other types of classes to take when you need a break from the Tread. Check out their newest rowing content or follow along with a strenuous dumbbell workout. 
RELATED: Dumbbell Leg Workout
Company Policies
Company policies are almost as important as the machines themselves. You don't want to buy the most tricked-out option on the market and realize it has a warranty of five minutes or has an outrageous shipping fee attached. Check out the important company policies you should know about before selecting a Peloton Tread or one of NordicTrack's machines.
Shipping
Winner: Peloton
Peloton bakes in shipping and professional setup costs into the machine's price tag, which is pretty smart, if you ask me. Once you've purchased a Tread, you just have to sit back and wait for two strangers to come and drag the machine into your home (in a few weeks, not right away). Viola, you're ready to go without any additional fees!
NordicTrack does offer free delivery, but this means right outside of your house. Their machines are not lightweight by any means, so have fun dragging hundreds of pounds inside your door. Pretend you're doing an epic sled workout to make yourself feel better. Or, better yet, forgo this back-breaking work and pay between $99 to $299 for professional delivery and assembly.
Return Policies
Winner: NordicTrack
NordicTrack and Peloton offer pretty standard returns: If you're not satisfied with your purchase, you can send your treadmill back within 30 days of delivery for a refund. You may be charged a restocking fee for both brands if your machine doesn't arrive back in its original condition.
The small difference between the two lies in the return shipping charge. NordicTrack charges $250 in fees, and Peloton makes you cough up $300 to send the Tread back.
Financing Options
Winner: NordicTrack
The financing options for both Peloton and NordicTrack are some of the best I've seen in the fitness industry. NordicTrack just barely edges out Peloton in this category, simply for the fact that you can spread your payments out a few additional months without having to pay an annual percentage rate.
You can finance the Peloton Tread through Affirm with zero money down (provided you qualify through a credit check). There are two options offered through Affirm: Either 0% APR financing for 12 months, or 14.995% APR financing for anywhere between 24 to 43 months.
NordicTrack provides financing through TD Bank, which you also have to qualify for through a credit check. You're not required to put down a down payment, and you can take advantage of 0% APR financing for 12 to 48 months.
Warranty
Winner: NordicTrack
The industry standard for a frame warranty on a treadmill is at least 15 years. Oddly, neither the Peloton Tread nor any of NordicTrack's treadmills hit the mark. You'll get a five-year frame warranty on the Peloton Tread and 10 years for any of NordicTrack's offerings. Although NordicTrack has the longer warranty, this one is sort of a hollow victory (in my opinion).
Final Thoughts on Peloton Tread vs NordicTrack: What is the Best?
Although NordicTrack wins out in most of the categories covered above, they aren't necessarily the best choice for everyone. Depending on the features and factors that you consider to be the most important, you may prefer one over the other.
Since I personally enjoy Peloton's programming quite a bit more than iFIT from NordicTrack, I'd probably choose a Peloton Tread. However, if things like incline training or a longer warranty are the most appealing factors to you, NordicTrack is your best bet.
Peloton Tread vs NordicTrack FAQs