We test and review fitness products based on an independent, multi-point methodology. If you use our links to purchase something, we may earn a commission. Read our disclosures.
Taylor Swift, Adam Driver, Kanye West, and Justin Bieber. These are four people the majority of Americans would consider to be A-list celebrities. Regular folks are intrigued by their lives, and try to emulate the things they do and the outfits they wear.
The same goes for the best treadmills––certain brands see popular machines (like the Peloton Tread) and try to copy it. At times, these attempts to emulate the caliber of such a sought-after machine works, and other times, it's a letdown. In this NordicTrack Elite Treadmill review, I'll dive into the details of one of the most expensive motorized treadmills I've ever tried. Together, we'll see if it sinks or swims under the pressure.
The Urge to Be Elite
At Garage Gym Reviews, our expert product testers and reviewers have the urge to be elite. Fitness is more than just our passion––we're professionals with years of industry experience. We aim to deliver the most in-depth, accurate, and honest fitness equipment reviews on the market. Plus, you can trust our expertise––our team is full of certified personal trainers, nutrition coaches, and former college athletes.
NordicTrack Elite Treadmill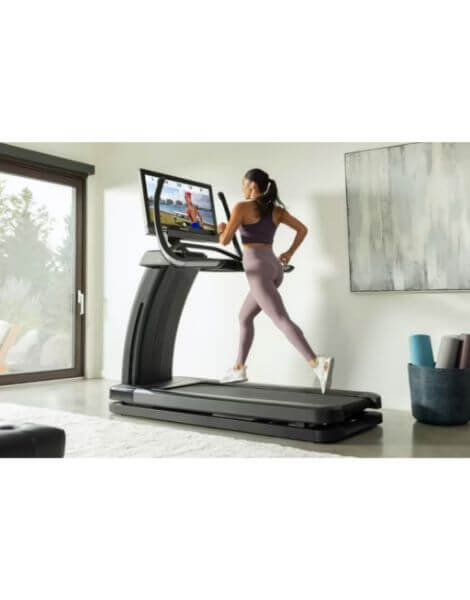 NordicTrack Elite Treadmill 32
The new NordicTrack Elite has the name for a reason. Enjoy the opportunity to intensify your at home workout with a -5% grade decline to a massive 40% grade incline, so you can take on any challenge your iFIT trainer throws your way.With a huge 32″ HD touchscreen that pivots, swivels, and can change height, you are able to see one of your iFIT workouts from every angle.Draw your own route on the integrated Google Maps™ anywhere in the world. And just like other NordicTrack treadmills, iFIT enables your treadmill to adjust to the speed and incline you or your trainer sets during your workout.Enjoy listening to your trainers instructions in your headphones via Bluetooth connectivity or through the pair of 30-watt speakers in the sound bar.
A Quick Look at the NordicTrack Elite Treadmill
The NordicTrack Elite Treadmill is a part of the incline treadmill series, which features two additional models: the X22i and the X32i. All three of these treadmills have crazy incline and decline options (I'm talking up to 40%).
The Elite is the newest addition to the series, and is also the most expensive. Does it really live up to the almost $4,500 price tag? Keep reading to find out.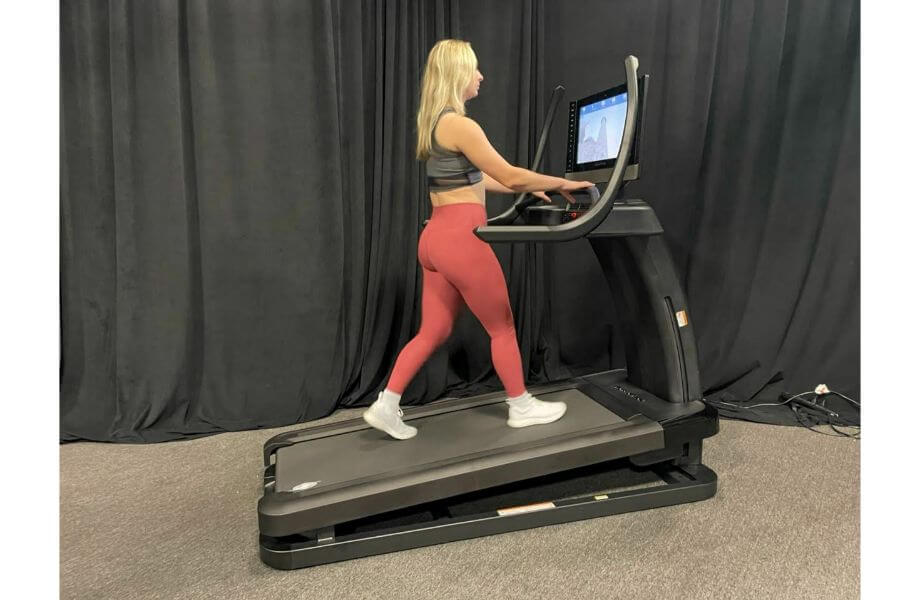 My Tips:
There are two different NordicTrack Elite offerings––one with a 32-inch touchscreen and one with a 22-inch touchscreen.
Save some cash using our NordicTrack promo codes.
Pros:
Both incline and decline options
Large deck
3.6 CHP motor
Expansive touchscreen with iFIT compatibility
300-pound user weight capacity
Heavily cushioned belt
Screen can be swiveled
Lower step-up height
Dual handlebars
Cons:
Expensive
Heavy and difficult to move
Hard to assemble
Doesn't fold
Screen shakes
Is the NordicTrack Elite Treadmill Worth It?
Buying a machine as expensive as the NordicTrack Elite Treadmill is a big decision––luckily, we're here to help you get it right. Here's who I think would love this oversized beauty and who would be better off with something else:
NordicTrack Elite Treadmill Specs
| | |
| --- | --- |
| Footprint | 81" L x 38" W x 80" H (32") & 81" L x 39" W x 76" H (22") |
| Weight | 520 lbs (32") & 505 lbs (22") |
| Weight capacity | 300 lbs |
| Price | $4,500 (32") & $3,800 (22") |
| Heart rate connectivity | Yes |
| Cooling fan | Yes; AutoBreeze fan |
| Tread belt | 22″ L x 60″ W |
| Display | Both a 32" and 22" HD touchscreen available |
| Warranty | 10-year frame, 2-year parts, 1-year labor |
| Incline and decline | -5% decline to 40% incline |
| On-demand programming | Yes; iFIT subscription sold separately |
| Speed | 0-12 MPH |
| Motor | 3.6 CHP |
| Wi-fi | Dual 2.4 GHz & 5 GHz Wi-fi Connectivity |
Is This the Elite Treadmill or Just Another Incline Trainer?
The Elite was released in July of 2023, making it one of the newest NordicTrack treadmills. I was excited to get walking and running on this machine from the moment I saw it––after all, it's the most expensive treadmill NordicTrack currently offers.
The machine is an imposing figure. It sports a huge display (available in 22- or 32-inch screens), which sprouts out of a curved, black pillar. The step-up height, which isn't explicitly quantified on the website, does seem lower than the X22i or the Nordrictrack X32i treadmill. This makes it a better option for older people or individuals with balance issues. 
As I ran on the deck, I was impressed by the cloud-like belt. I personally enjoy a well-cushioned deck, as my joints have already seen their fair share of impact. If you prefer a less-cushioned deck, you may want to consider something like the NordicTrack EXP 7i. The treadmill has adjustable cushioning, which the Elite does not.
The 22-inch-by-60-inch deck is appropriately-sized for runners of all heights, which is always a plus. I also noted that the deck felt very stable as I ran, walked, or jogged.
I didn't like having to press the quick-select buttons on the screen, because it makes the display shake slightly (versus having them on the side like the X22i and X32i).
If you're prepping for a trek up Mount Everest or just enjoy insane inclines, you'll love the 40% (yes, you heard me correctly) incline on the Elite. You'll likely have to utilize the set of dual handlebars to keep yourself from falling off, or if you have calves of steel, you may not need them.
Footprint, Portability, Durability, Construction
The footprint of the NordicTrack Elite is massive. I wouldn't recommend this machine for someone in a small space, especially considering it would need a permanent place to live 24/7.
Like a lot of commercial treadmills, the NordicTrack Elite does not fold. This is a testament to the durability and sturdiness of the machine, but it isn't practical for someone without a dedicated home gym.
Please also be aware that you cannot put this machine in the garage, or the warranty will be voided.
You'll also need a strong friend to help you move this machine up or down a flight of stairs––the Elite is over 500 pounds! If this worries you, I'd recommend enlisting the help of professional movers. It isn't worth getting injured over.
The Elite feels sturdy, but the touchscreen is so large that it jiggles when you run. It isn't the end of the world (especially considering the base of the machine is very stable) but I do find it a bit annoying.
Technology Benefits and Conveniences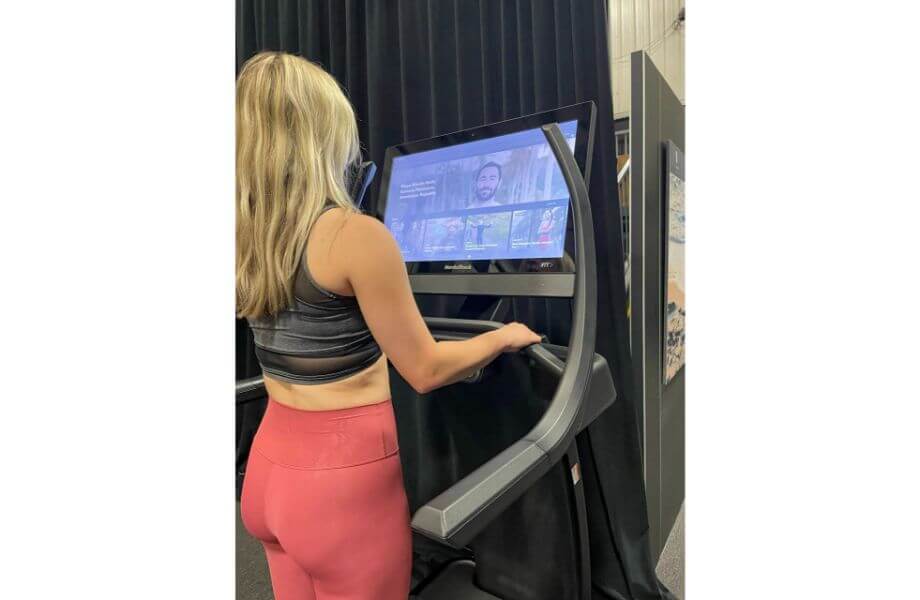 The NordicTrack Elite has two different-sized HD touchscreen options: A 22-inch, or a 32-inch display. I had the pleasure of trying both, and I don't feel like you can go wrong. Either option feels massive and really draws you into the programming.
I personally found both screen options to be almost a little overwhelming, considering the screen is situated just mere inches away from your face. You are able to tilt and pivot the screen for off-treadmill workouts, but it still feels very close.
Everyone always asks this question so let me clear the air: No, you cannot watch Netflix or television on a NordicTrack treadmill. You're only able to view iFIT programming. However, there is an integrated tray where you can put your own smart device if you're keen on watching a show while you sweat.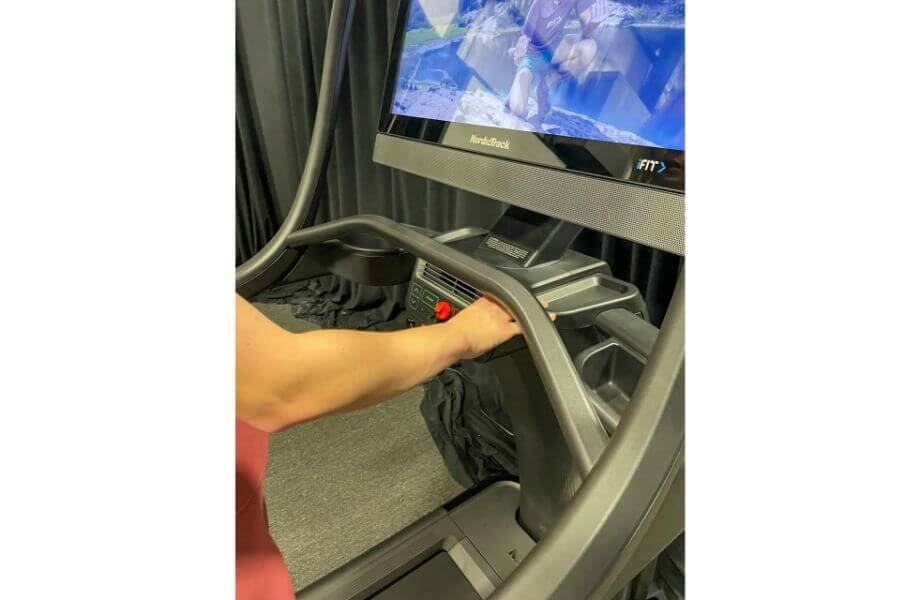 Currently, NordicTrack is offering a free, 30-day trial of iFIT when you purchase an Elite. If you've never tried iFIT before, I think this is a great opportunity to test it out and make sure you like it before committing to a subscription. Once the free trial is over, you can either purchase an iFIT family membership ($396 per year), which includes five separate profiles, or an individual membership ($180 per year).
You can also expect to see other extras like Google Maps, a cooling fan, water bottle holders, high-quality speakers, Wi-Fi, and Bluetooth connectivity on the Elite.
Comparison to the Peloton Tread
The Peloton Tread is a crowd favorite for a reason––the responsive touchscreen, Peloton programming, and sleek design rock. Let's see how it compares to the NordicTrack Elite Treadmill:
Peloton Tread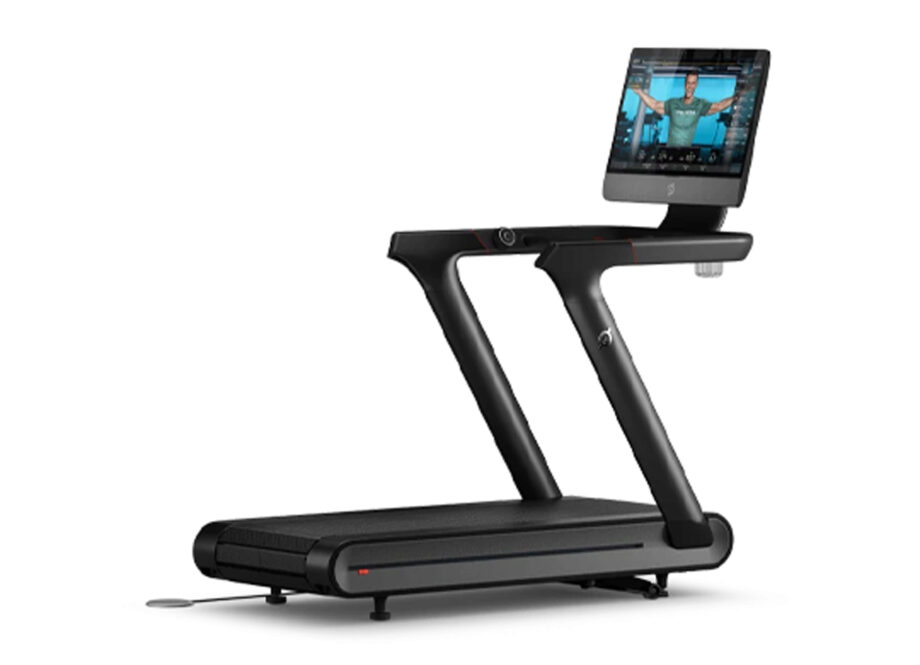 Want to learn more? Check out our full Peloton Tread review.
| | | |
| --- | --- | --- |
| Treadmill | NordicTrack Elite Treadmill | Peloton Tread |
| Price | $4,500 (32") & $3,800 (22") | Starts at $3,495 |
| Motor | 3.6 CHP | 3.0 CHP |
| Speed | 0-12 MPH | 0-12.5 MPH |
| Incline and decline | -5% to 40% | 0 to 12% |
| Weight capacity | 300 lbs | 300 lbs |
| Running surface | 22″ L x 60″ W | 59" of running space |
| Warranty | 10-year frame, 2-year parts, 1-year labor | 5-year frame, 3-year motor, 1-year touchscreen |
| Folding Treadmill | No | No |
| Display | Both a 32" and 22" HD touchscreen available | 23.8" HD touchscreen |
| Workout programs | iFIT membership sold separately | Peloton subscription sold separately |
Customer Experience
All of NordicTrack's treadmills have the same warranty, regardless of the price. Expect to see a 10-year frame, two-year parts, and one-year labor warranty on the Elite. This isn't awful, but it doesn't hit the industry standard of at least 15 years for a frame warranty. For the cost, I wish the Elite would hit the mark, but it doesn't in this arena.
Hopefully in the future, NordicTrack will amend their warranties. In the meantime, you can pay between $450 to $570 at checkout for an additional three years on the Elite's warranty. I think this is a large sum of money for something NordicTrack should be giving complimentary with the Elite, but I digress.
In terms of customer service, NordicTrack can be tough to reach. Although they appear to have quite a few contact avenues on their website (think email, phone numbers, and live chat), they aren't very responsive. I've used their live chat in the past, and it took them over an hour to get back to me.
Ordering and Assembling the NordicTrack Elite Treadmill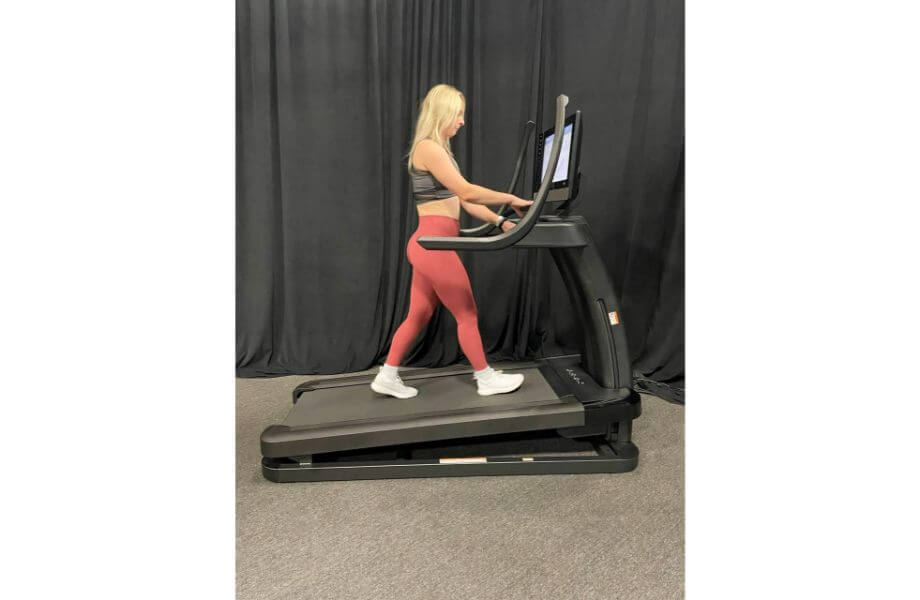 Ordering the NordicTrack Elite Treadmill is simple. Just add the machine to your cart, select your shipping choice, and add your information.
The expensive price tag may turn some people off, but luckily, NordicTrack offers great financing through TD Bank. You'll have to apply to see if you qualify (based on your credit score), but you could pay between $98-$124 per month for 39 months with 0% APR.
You can get free standard shipping or pay an additional $299 for professional assembly. If the over 500-pound weight is any indication, you may want to consider paying for the professionals to handle the Elite.
Our NordicTrack rep tends to agree with my assessment.
"I'd encourage most people to get professional assembly because the machine is really heavy and it would be easy to hurt yourself moving this," he explains. "The actual assembly isn't complicated, but it definitely requires more than one person to accomplish the task."
Final Verdict of Our NordicTrack Elite Treadmill Review
The NordicTrack Elite will cost you a pretty penny, but it might be worth it for some people. Here are my thoughts summed up:
It's a really heavy machine, so professional assembly is the best choice for most people.
The touchscreen is immersive and excellent for viewing iFIT programming.
If you're extremely tall, going with the X22i or X32i may be your best choice (the deck is five inches longer than that of the Elite).
The 40% incline and -5% decline are top notch.
The screen is so large that you may feel some play in the upper half of the machine when running.
NordicTrack Elite Treadmill Rating
NordicTrack Elite Treadmil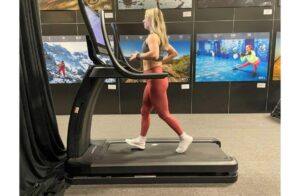 Check out this NordicTrack Elite Treadmill review to see our thoughts on this almost $4,500 cardio machine.
Product Brand: NordicTrack
Product Currency: $
Product Price: 4499.00
Product In-Stock: InStock
NordicTrack Elite Treadmill FAQs
How much is a NordicTrack Elite treadmill?
Depending on if you choose the 32-inch or the 22-inch touchscreen, you could pay anywhere from $3,500 to $4,500. Luckily, NordicTrack also offers pretty solid financing options through TD Bank if these prices seem out of reach for you.
Are NordicTrack treadmills worth it?
Yes, NordicTrack treadmills are worth it. Whether you're looking for a machine with all the extras you can dream of or a sturdy treadmill that will last, NordicTrack has an option for you.
Which is the best NordicTrack treadmill?
My personal favorite treadmill is the NordicTrack Commercial 1750. Although it is almost $2,000, it has an excellent touchscreen, a variety of extras, and an expansive deck.
Can I purchase the NordicTrack Elite treadmill on Amazon?
Unfortunately, the Elite is not currently available for purchase on Amazon. However, you can buy other NordicTrack and ProForm machines on Amazon (think treadmills, ellipticals, exercise bikes, and rowers).