We test and review fitness products based on an independent, multi-point methodology. If you use our links to purchase something, we may earn a commission. Read our disclosures.
OK folks, you know our team of expert product testers delivers high quality reviews for all the best home gym equipment you can dream of—but did you know that we're also thinking about your garage gym as a whole structure?
From the best lighting for garage gyms to the best heating options, we've got your back on literally all things garage gym related. That's why we're diving into the best garage door screens available on the market. We want you to know which screen gives you the best bang for your buck (and the best airflow).
We also polled our Home Gym Community on Facebook to see how our members are putting screens doors to use.
Best Garage Door Screens
Best Overall Garage Door Screen: Fresh Air Screens
Good for: Folks looking for a screen made from durable materials at a reasonable price
Fresh Air Screens made it to the top of our list for the best garage door screen because of the price and size options (for single car garages or double garage doors).
The Fresh Air Screens are also available to buy at Home Depot and come with an easy-to-read installation guide. You'll use an adhesive Velcro strip around the frame of your garage (which is included) and then use Velcro hook and loop closure that frames the screen to attach to the garage door frame.
Once installed, the mesh screen is made from heavy-duty and tear-resistant fiberglass material to make your garage gym an enclosure that still gets plenty of airflow.
One GGR Facebook group member writes, "keeps the bugs out, keeps the garage cooler, and adds privacy when the garage door is open." Sounds like a pretty good deal!
It's also easy to pass through the garage and enter and exit with the zipper down the middle on two-car garage door panels and two zippers on either side of the panel for one-car garages. Plus, these screens don't interfere with garage-door opening or closing.
According to the user manual, all Fresh Air screens come with a rod pocket at the bottom that can accommodate a 3/4″ PVC pipe. Inserting a rod here helps to keep the screen in good form when it is rolled up and helps seal the bottom when the screen is down.
| | |
| --- | --- |
| Price range | $250 to $385 |
| Material | Fiberglass mesh |
| Weight | N/A |
| Width options | 8', 9' 10' 16' and 18' |
| Height options | 7' and 8' |
Best Retractable Garage Door Screen: Lifestyle Garage Screen
Good for: Anyone looking for a retractable, spring-loaded screen that runs on tracks
The Lifestyle Garage Screen is a slightly different type of garage door screen, because it's not the traditional roll-up screen you often find in your neighborhood. It's a mesh screen surrounded by a heavy-duty aluminum frame that occupies the same position as your solid garage door. 
The screen door runs on maintenance free tracks, which are independent (but similar) to your primary garage door tracks, which can give you an excellent seal for keeping bugs out versus a screen with independent fasteners.
That said, this screen system will likely require professional installation—but we think the one-time cost of having the tracks and screen door installed will be well worth the ease of use.
This screen doesn't blow in the wind or roll up when you're done. To retract the screen from the ground, you manually adjust the door so the screen runs along its tracks and sits parallel to the ceiling (like your actual garage door!).
One of our Facebook group members comments that the Lifestyle Garage Screen, "[is the] best $1,000 I've spent on my garage. Have a terrible mosquito problem in my area as I live near a lake. This keeps them out of my garage completely."
Plus, this Lifestyle screen has an optional feature of choosing a door-within-a-door allowing for easy entry and exit—basically a sliding door built into the screen frame.
RELATED: Best Garage Shelving
| | |
| --- | --- |
| Price range | $1,535 to $17,735 |
| Material | N/A |
| Weight | 117 lbs |
| Width options | 9', 10', 12', 16', 18' |
| Height options | 7' |
Best Budget Garage Door Screen: FEGO Garage Screen
Good for: Individuals looking to get a cross-breeze for under $100
The FEGO Garage Screen is a budget-friendly roll-up screen kit that is available in a variety of dimensions on Amazon. FEGO screens are priced under $100 and are constructed from durable fiberglass mesh, which is resistant to scratches and tears.
The magnetic middle seam makes it easy to enter and exit the garage completely hands-free. The powerful magnets actually allow the seam to pull shut again and close automatically.
One of the members on the GGR Facebook community says this is "the most underrated garage gym purchase," and then goes on to boast about the affordable price tag and ease of ordering from Amazon.
It's also easy to install with adhesive hook and loop strips. Plus, FEGO screens come with additional push pins for added strength during installation. It's also retractable and can be rolled up for parking or detached for off-season storage.
RELATED: The 10 Most Important Budget Home Gym Tips
| | |
| --- | --- |
| Price range | $40 to $70 on Amazon |
| Material | Fiberglass |
| Weight | N/A |
| Width options | 8', 9', 10', 12, 14', 16', and 18' |
| Height options | 7', 7.15' and 8.15' |
Best Garage Door Screen for Easy Installation: Pick for Life Magnetic Screen
Good for: Anyone looking for an easy to install screen that also offers durability
Pick For Life Magnetic Screen doors are reasonably priced and come in a variety of sizes to fit double doors or single door frames. The Pick For Life screens have a walk-through design that features strong, powerful magnets and weighted gravity sticks for an automatic closure at the seam. This helps the screen stay stable with wind and other general movement.
Pick For Life is another DIY option with easy installation with adhesive Velcro strips. After installing the Velcro, you'll be able to use the hook and loop strips on the mesh screen door to attach the panel to the frame. It also comes with push pins to hold the Velcro in place.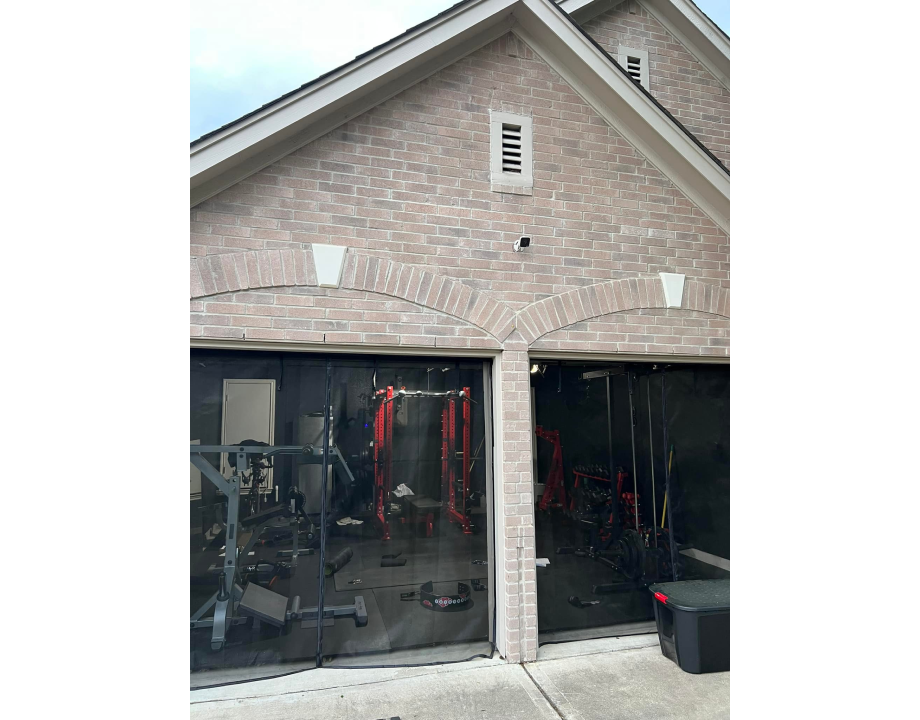 A GGR Facebook member notes that "for anyone out there who's been bombarded with mosquitos or any flies of the sort, this has been one of the best investments for my gym." He adds that he lives in Texas and highly recommends a screen for folks living in warmer climates.
It's retractable and can easily be rolled up for parking or when not in use. The screen is made from durable fiberglass mesh with reinforced edges. You'll also like knowing the screen material is tear-resistant and fireproof.
RELATED: How to Insulate A Garage
| | |
| --- | --- |
| Price | $42 to $120 on Amazon |
| Material | Fiberglass |
| Weight | 3.1 lbs |
| Width options | 8', 9', 10', 12', 16', and 18' |
| Height options | 7' and 8' |
Best Garage Door Screen for Two-Car Garages: Snap On Screens
Good for: People looking for a durable screen for a two-car garage
The Snap on Screens offers a different solution for fastening the screen to your garage door—instead of adhesive strips of Velcro, this brand is fastened with snaps.
The pass-through design is easy to get in and out of the garage with the middle zippered seam. Snap On Screens are made from lightweight fiberglass mesh material, and are reinforced with UV polypro webbing, which makes this option breathable and durable.
One of our Facebook community members, Kain Bridgette writes that the Snap On Screen is "easily my most prized addition to the gym, especially as it heats up here in AZ. Garage screen keeps the flies, mosquitoes and leaves out while still letting the breeze and sunshine in."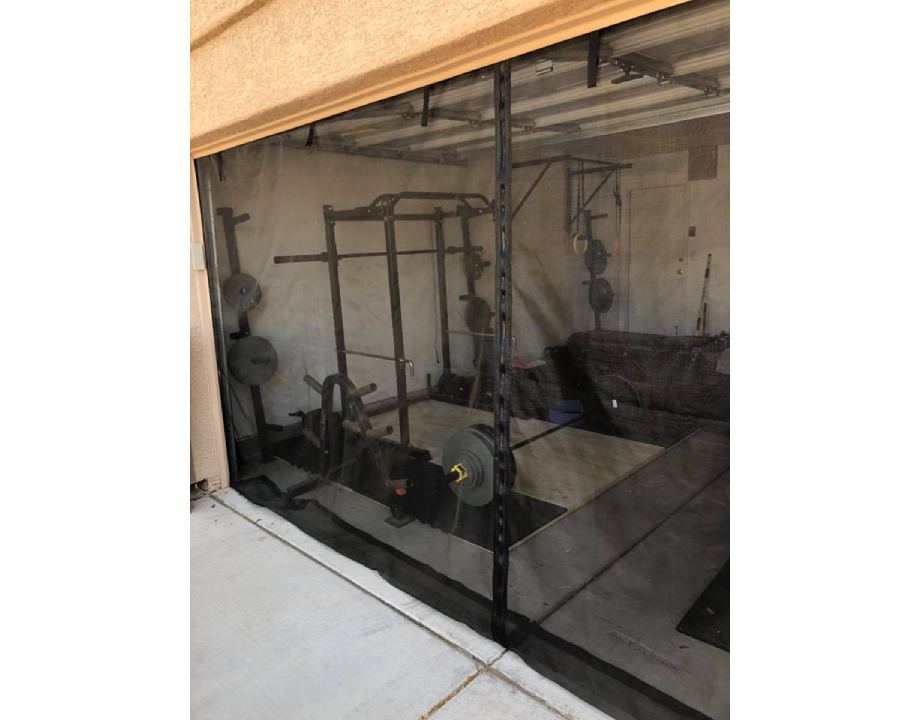 Kian also says the Snap On Screens "hold up great, and may last longer depending on how often the garage door gets opened and closed," he says after noting he replaced the screen after three years. "I highly recommend them and I'm certain we will always have one in our garage."
Although this option with snaps might take a little longer to install, it can offer a strong seal against insects and debris. We also think it's worth noting that some customer reviews note that the snaps need to be reinforced with nails or pushpins, but after reinforcing the weight of the screen is not a problem.
| | |
| --- | --- |
| Price | $190 on Amazon |
| Material | Fiberglass |
| Weight | 6.5 lbs |
| Width options | 16' |
| Height options | 8' |
Other Garage Door Screens We Researched
Larson Retractable Screen Doors: These are pretty snazzy motorized screen doors, but we didn't pick them because they are expensive and when you purchase through Lowe's you can only get 9-foot wide screens. Plus, these often require professional installation.
LADER Garage Door Screen for 2 Car Garage: Although this is a decent budget price-point, there were not enough reviews on Amazon for our team to bring this brand on to our top picks.
How We Picked Garage Door Screens
Our selection process always starts with research. We want to find out what people are buying and what products people are talking about on the internet.
We also intrust our Home Gym Community on Facebook to lead us in the right direction. GGR's head of content, Kate Meier polled our online community for answers and scoured the forum for what folks are buying and enjoying.
After initial research, we take a deeper dive into each product with customer reviews, company policies, price, and overall usability. We like to pick products that will work for the majority of people in most situations.
This usually brings us to a more refined list where we can discern if the products we're going to feature will benefit you folks at home. And if the answer is yes, then it's more than likely it made our best list.
Benefits of Garage Door Screens
Here are the biggest benefits we see to adding a screen to your garage door:
Increased Airflow
Even the smallest of garage doors provides a big opening. Adding a screen to your garage door can help you increase the airflow in your gym area without bugs and critters crawling in. We think this is ideal if your garage smells musty or is often humid.
You Won't Have to Run Your AC
Depending on where you live, having a screen on your garage door could help you run your air conditioning unit less often. Plus, if you're someone who likes it hot, a screen door can help air out your sweaty workout area.
Turn Off the Lights
Not only can a screen door help offset runtime on an air conditioner, using a screen can also allow tons of natural light to come into your garage, which can allow you to keep the lights off and save energy.
What to Look For When Buying a Garage Door Screen
Here are some factors to consider when shopping for a garage door screen:
Dimensions
Just like buying one of the best cardio machines for your home gym, you will need to take measurements before you click that add to cart button. You'll want to make sure that your garage door opening is compatible with the product you are considering. Plus, I think it's worth noting that nearly all of the products we picked for this best list offer a variety of dimensions.
Material and Durability
While not every brand discloses the material the screens are constructed from, it's ideal to look for durable materials like aluminum, fiberglass, or vinyl, which can withstand exposure to the elements and resist tearing.
Ease of Use
When shopping for a screen, you'll want to consider how easy it is to get in and out of the garage when the screen is in place (especially if you have kids and pets). Look for features such as self-closing mechanisms, magnetic closures, and easy-to-use handles or latches.
Installation
Is the product you're eyeing a DIY installation? Or will the screen require a professional installation. Most roll-up screens are easy enough to do it yourself, but there are still installation factors to consider.
Garage Door Screens FAQs
Are garage screens worth it?
It will ultimately depend on how much you plan to use your screen door. Although there are budget options when it comes to garage door screens, it won't be worth it unless you make use of it. If you live in a climate where it will be ideal to train in the garage with the door open multiple months out of the year, then it could be worth it for you and your family. 
However, if you are concerned about security or lack of privacy when using the screen door, it might be worth keeping your garage door closed and install one of the best AC for garage gyms instead. 
Do garage door screens go inside or outside?
Many budget-friendly options for garage door screens will go on the outside of your garage door, near the weather seal. However, there are retractable options that utilize the tracks of your existing garage door. These are typically more expensive and even more so if motorized. 
Can you add a screen door to a garage door?