We test and review fitness products based on an independent, multi-point methodology. If you use our links to purchase something, we may earn a commission. Read our disclosures.
Garage gyms often become more than just a gym for users to train at; it becomes a place to unwind after a long day, or to hang out with family and friends year round. Because of that, it's important to have your garage gym ready for any time of the year with the best lighting for garage gyms, proper gym storage, and proper insulation. Be it cold, hot, rainy, or dry—to have a great garage gym throughout the year, you're going to have to consider the best ways to insulate your garage.
I've talked to a couple experts in the field of HVAC and homes about the different insulation types and the pros and cons of each, as well as common pitfalls in building an insulated garage. Here we will go over how to insulate a garage, with steps that will help you on your next DIY project and cut down your energy costs.
Safety First!
Installing insulation can be messy, and in some cases dangerous, work. Make sure you are taking proper safety precautions, especially while installing fiberglass insulation.
Gear up. Wear proper protective gear to prevent irritation from touching or inhaling fiberglass. This includes wearing safety glasses, wearing gloves, and also a fiberglass-proof mask.
Wear proper attire. This isn't the time to come to your garage gym with your best workout shorts. Instead, wear loose, comfortable clothing with long sleeves, to prevent accidentally coming in contact with fiberglass.
Types of Insulation and When to Use Them
There are quite a few types of insulation, and while they can all be effective, some might be more effective in certain situations. Here's a rundown of more common insulation types and the best times to use them.
Blanket Batts and Rolls
Fiberglass blanket insulation is the most common type of insulation. Blanket insulation can come in batts, which are pre-cut rectangles that are shaped for certain walls and stud widths. Rolls are also available, which are wrapped up and you'll have to cut them to size by yourself. Batt insulation and rolls are typically used for wall insulation, and are easily placed along the walls and secured with a staple gun.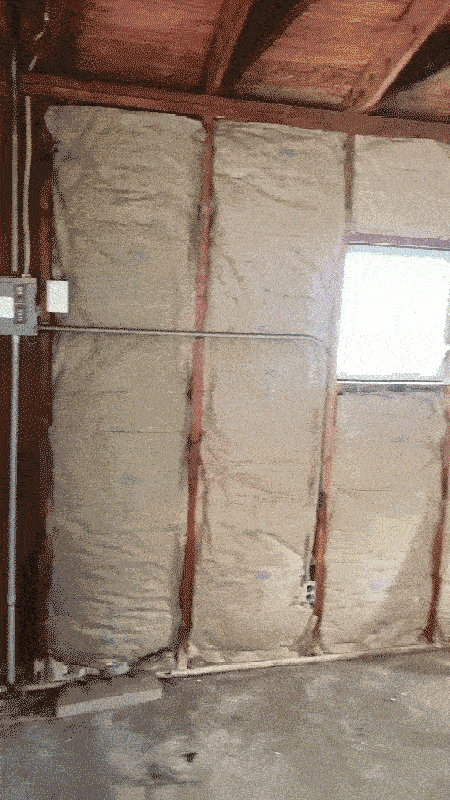 Loose-Fill Insulation
If you already have drywall up on your walls, loose-fill or cellulose insulation might be a viable option. Also known as blow-in insulation, this insulation has no distinct shape and can be blown in to fill in gaps or holes. Along with filling in gaps between drywall, blown-in insulation can also work for garage ceiling insulation.
Foam Insulation
Spray foam insulation can be one of the easiest methods of insulation, as you can simply spray the foam along the walls. The foam's expansion will help fill any gaps missed. "In my opinion, this is one of, if not the best, way to seal and insulate the walls and ceilings," says Chris Page, an HVAC specialist at Hartz Heating and Cooling. Buyer beware, however; this is also one of the pricier options available, too.
There are two types of spray foam insulation, open cell and closed cell, and it refers to how the bubbles, or cells, of the foam are formed:
Open Cell Foam has cells deliberately left open, which makes for a much more flexible material. Open cell foam is also great for soundproofing, which might be a benefit if you have an attached garage.
Closed Cell Foam has closed cells, as the name implies, which makes for a much more rigid and stable insulation. "It has twice the R-value of open cell foam and it also acts as a vapor barrier," Chris mentions about closed cell foam. Ideally, he says, it's best for exterior walls. Closed cell foam is a great way to keep out excessive moisture, which might be necessary for a home gym.
Rigid Foam Insulation
This type of insulation is exactly what it sounds like, solid foam board panels that can be used as insulation. Although this can be used for wall insulation, in an uninsulated garage, it is more often used to insulate a garage door. In the past, I've used these to make an insulated garage door; just cut the boards down to size with a utility knife and you are set.
Radiant Barrier
Radiant barriers are used to cool a space, and protect against intense sunlight. It can be great as roof insulation, especially if your garage gym is constantly in direct sunlight often.
R-Value
The R-value of insulation refers to a measurement of how well insulation can prevent the flow of heat from the inside to outside, and vice versa. A higher R-value means better insulation which will lead to more savings on your next energy bill.
Hubert Miles, a Certified Master Inspector and owner of homeinspectioninsider.com breaks down ideal R-values for a garage, "The best insulation material for a garage or gym setting is an R13 wall insulation and a minimum of R30 ceiling insulation. You may need R19 wall insulation and R60 ceiling insulation in northern climates." This will help protect from colder temperatures.
What's the Best Insulation For a Garage?
The absolute best insulation for homeowners, and Chris's pick, is spray foam insulation. This type of insulation with a high R-value will best seal any gaps along the walls and ceilings.
However, this is a more expensive option, especially if you continue the closed cell foam along the ceiling. To cut on insulation costs a bit, Chris recommends, "I would put closed cell insulation in the walls, then when the sheetrock or plywood is up, have blown-in insulation installed in the attic. This will give the thermal barrier you need."
If foam insulation is too expensive, then fiberglass insulation is a budget-friendly option that will handle insulating your garage gym just fine. If money is no object, though, then foam insulation will increase energy efficiency in your space.
Step-By-Step How to Insulate Your Garage
Ready to start your DIY home improvement project? Now that you have a basis for what insulation you're looking for, here are the steps to insulate your garage gym properly.
1. Seal Everything Up
One of the easiest ways to help insulate your car garage—that will soon be a garage gym—is to make sure everything is properly sealed. Before beginning your insulation project, first make sure that there are no obvious gaps along the walls, doors, or windows. Hubert mentions on finding gaps, "For garage doors, be sure the rubber gasket at the bottom of the door seals to the concrete."
Any gaps along doors and windows should be sealed with weather stripping or caulking as well.
2. Set Your Garage Flooring for the Gym
Another aspect for a garage gym is the garage floor. While this is less of an insulation issue, the home gym flooring you lay down will feel substantially warmer than a cold concrete floor. It will also help the room retain heat and prevent the cold floor from spreading the cold into the gym space.
3. Insulate Your Garage
Now we are ready to insulate. We've broken down a lot about insulation already, but here are some quick tips for each area of your garage gym:
Garage Door: The door to your garage is best insulated with foam panels, adhering a cut foam board on each door panel. However, cutting this to size can be difficult, and may lead to having gaps in your rigid insulation. Another route you can go is to measure your garage door, and go purchase a proper garage door insulation kit that will fit the door.
Garage Walls: With fiberglass batts, just cut the insulation to fit between the wall studs and secure with a staple gun. With foam insulation, it is sprayed on. Foam insulation can be a little tougher to DIY, so if you find this difficult, it may be good to find a specialist.
Garage Ceiling & Roof: If you have a ceiling already up, blow-in insulation will work great and get the job done; foam insulation also works great, but can get expensive. For an open ceiling with a roof, radiant barriers can be installed along the roof.
Once you are done installing your insulation, check your work. An easy way is to hold a lit candle around the gym. If or when it blows out, you know there is air seeping through at a point. If the candle remains lit in your initial walkthrough, then congrats. Your installation is complete! Well, the insulation part is done at least.
4. Install Air Conditioning & Heating
Once your garage is properly insulated, we can take measures to make it climate-controlled, if it isn't already. Depending on where you live, the priority may be an AC unit, a heater, or both—in lots of cases, AC units can do both. Check out our list of the best AC for garage gyms for some ideas.
Once you have an AC unit, it's good to know when best to use it. In the more extreme times of the year, either in colder or hotter weather, I'd recommend turning on your climate control of choice a little before you are ready to warm up. That way, it will be a comfortable temperature when you are ready to workout. Also, if it needs a little longer, you can simply start your warmup, and it'll be ready once you're done.
5. Tips to Insulate Your Equipment
When your air conditioning unit is off, the equipment can still get excessively cold in the winter, and heating the gym for a few minutes isn't going to be enough to get a cold, Olympic barbell warm again.
In the cooler months, it's not a bad idea to insulate some of the equipment—especially barbells, kettlebells, and dumbbells that you'll be grabbing—with warm towels or blankets. Toss them in the dryer for a minute, and then throw them on your barbell a little before your workout. It will help warm up the barbell prior to your workout. If space allows it, you can also put your gym equipment directly in front of your heater.
6. Bask In Your Gloriously Insulated Gym
Congratulations, you. You now have a properly insulated and climate controlled garage gym. Breathe deeply and enjoy the fruit of your labors. If it's cozy enough, this could become your new living space.
How to Insulate a Garage: Final Thoughts
There are many things to consider when insulating your garage gym. Let's recap some of the more important details of insulation in garage gyms.
Prioritize sealing any cracks or gaps along the walls, doors, and windows.
Foam insulation is ideal, but fiberglass batts and rolls are a great budget-friendly option as well.
A higher R-value will better prevent heat from coming in or out of your garage gym.
Don't forget the ceiling and garage door! Blown-in insulation works great for ceilings, and rigid foam boards are ideal for doors.
While working out, proper climate control will help you feel comfortable in your new space.
Follow these tips for insulation, and your garage gym will be elevated with a proper climate control and insulation!
How to Insulate a Garage: Q&A
How can I insulate my garage cheaply?
One of the more budget-friendly ways to insulate your garage is with fiberglass batts or rolls. These will insulate well and are less expensive than foam insulation.
Does insulating a garage make a difference?
Insulating your garage can make a huge difference if you are paying to cool or heat the garage. Proper insulation can better keep heat in or out, making the air conditioning unit work less to maintain temperatures. This will save you money on energy costs.
How do I make my garage warmer?
To make your garage gym warmer, you can take steps to properly insulate the walls, ceilings, and doors. Along with that, check for any gaps or sealing issues along the walls, doors, and windows. Lastly, you can purchase a heater for your space; turn it on a bit before you start your workout so it'll already be warm when you start your workout.