We test and review fitness products based on an independent, multi-point methodology. If you use our links to purchase something, we may earn a commission. Read our disclosures.
Fellas, we need to have a talk: It's time to stop wearing your high school and/or college shorts to the gym. I don't care if it's a home gym and nobody else can see you, a pair of baggy mesh shorts with a worn out drawstring is not appropriate workout attire.
So whether you're a dude, identify as a dude, or shopping for a dude, we have a list of the best workout shorts for men to help freshen up that wardrobe. You'll find workout shorts that won't just look good, but will be functional for everyone from the runner to the men blessed with voluptuous thighs.
Home Gym Experts Who Are Never Short With You
One might ask, what does a home gym equipment website know about workout shorts? And the answer is pretty simple: Our team has years of experience in wearing workout shorts for all types of training. As certified personal trainers, CrossFit Level 1 Trainers, competitive weightlifters, and nutrition experts, we eat, sleep, and breathe everything fitness—and that includes the best gym shorts.
These are workout shorts that we wear on a regular basis, even when we're not necessarily on the clock (but does the clock ever really stop?).
Best Workout Shorts for Men
Best Overall Workout Shorts for Men: Ten Thousand Interval Short
Good for: Anyone looking for a durable, comfortable, and versatile workout short
Ten Thousand Out of Ten
Ten Thousand Interval Short
With over 8,000 glowing reviews, Ten Thousand's Interval Shorts for men are a solid choice for most workout types. The no-pinch, no-bunch waistband combined with the four-way stretch of the sweat-wicking material makes these shorts both comfortable and functional. Because of the stretch, range of motion is not limited so go ahead and hit those deep squats without worry of being constricted. Additionally, an optional compression liner is available on these shorts.Available in 11 color options and three lengths (5-inch, 7-inch, and 9-inch), you can choose a style and fit that works best with your physique and fitness preferences. All shorts come with a pocket system for secure storage of small essentials and bonded hems with a leg gusset for range of motion. Described by some buyers as the "best piece of workout gear you will own," these shorts are expensive, but a fan favorite.
Pros:
Four-way stretch offers great range of motion
3 inseam lengths (5", 7", 9")
Secure pockets
Sizes range from XS to XXL
Cons:
About $70 per pair
Runs small
Some customer complaints of the waistband folding over after a few washes
After much deliberation, we named the Ten Thousand Interval Short the best overall men's workout shorts for their flexibility, versatility, and customization. You can pick from 5-, 7-, or 9-inch inseam options in sizes ranging from extra-small to double-extra-large, which is good because most reviewers, including Garage Gym Reviews founder Cooper Mitchell, found these ran a bit small so you might want to order a size up from what you usually wear.
Coop said the four-way stretch on the Interval shorts offered great support no matter the workout, though he found they sagged a bit if things were left in the pockets. Speaking of pockets, there's a built-in phone pocket in one of the two external pouches and an extra zippered pocket.
You have the option to purchase these with or without a liner, though the unlined version seems to protect well enough against chafing.
The one major concern with these shorts is that some customers complained the waistband folded over after a few washes, which is normal after extended use but shouldn't happen after only a few weeks (we haven't experienced any such issues).
At around $70, these are not the cheapest workout shorts on the market, but we believe their performance and durability make them worth the price for anyone who's looking for a quality pair of men's workout shorts.
Best Budget Workout Shorts for Men: Path Projects Sykes PX Short
Good for: Those shopping on a budget
Don't Come up Short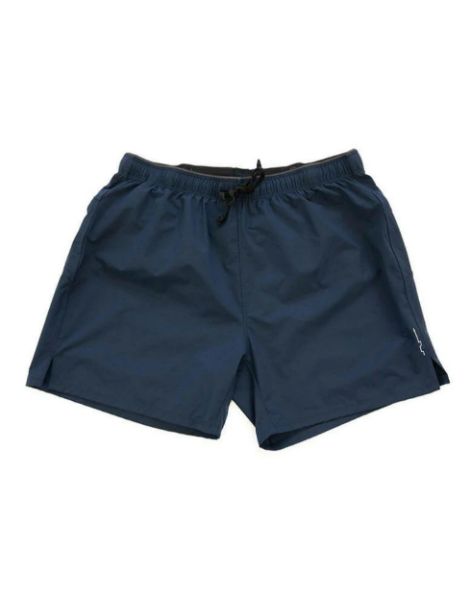 Path Projects Sykes PX Short
Path Project's Sykes PX Running Shorts are one of Path Project's more popular shorts for both trail and road running. These classic running shorts feature a rear center zip phone pocket, two rear zip storage pockets, and an internal front right key pocket offering plenty of space to bring your phone, valuables, and some gels on your next run.As with all Path Project shorts, these are unlined but can be paired with one of their independent base liners designed to eliminate chafing and wick away moisture. The base liners come in three fabrics and four different lengths.Available in both a 5- and 7-inch length, the Sykes PX running shorts are made with PrimeFlex material, which utilizes a spiral yard to build in 360-degrees of stretch, maximize breathability, and create a soft feel against the skin.Additionally, this material is claimed to be just 40% of the weight of traditional Spandex. The waistband is made with TRIPURE elastic, an anti-microbial and static free material intended to dry quickly and regulate temperature.
Pros:
Under $50 a pair
Plenty of pockets, including one for your keys
Vented bottoms
Cons:
Runs small (may have to order a size up)
Drawcord runs long and may need to be cut
Largest size is an XL
The Path Projects Sykes PX Short are targeted toward runners, but these budget-friendly gym shorts can and should be worn by anyone looking for a good deal on workout attire. Right off the bat, these are one of the more breathable shorts on the market. You get ventilated bottoms and a special fabric called Toray Primeflex that offers 360 degrees of stretch throughout the shorts.
The Primeflex fabric also helps reduce chafing, as does the separately sold base liner (the shorts themselves are unlined, and there are very few customer complaints of chafing for those who didn't buy the liner).
You have your choice of a 5- or 7-inch inseam in five color options, though the largest size is only an extra-large. This is a problem not only because workout apparel companies should strive to make products for people of all sizes, but several people have said these shorts run a bit small and you may have to order a size up from what you usually wear.
One of the only other major complaints is that the shorts' drawstring is a bit long, and many customers have had to cut theirs.
But, for under $50 these shorts are still a great deal and we'd highly recommend them to anyone. All the pockets are located on the backside, with the exception of an internal key pouch. Reviewers said the pockets were secure and they felt little to no jiggling during short and long runs.
Best CrossFit Workout Shorts for Men: Bearbottom Atlas Shorts
Good for: CrossFitters looking for a pair of shorts to support them through various WODs
CrossFit Check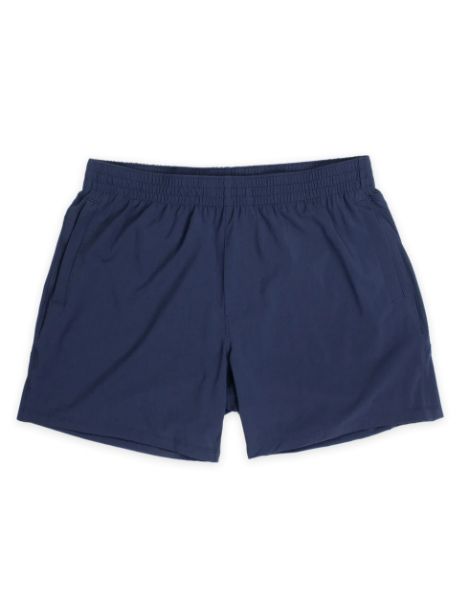 Bearbottom Atlas Shorts
Made with recycled materials, Bearbottom's Atlas Shorts are a training short designed to endure even the most intense sweat sessions. According to Bearbottom, it's the reinforced stitching that creates a durable pair of shorts. However, there are reviews of the stitching falling apart quickly.That said, for less than $50, these shorts provide a good bang for your buck. The blend of nylon and spandex performance fabric has a four-way stretch, is moisture-wicking, and is reportedly cool to the touch. Featuring built-in phone stability pouches, a zipper back-right pocket, hidden drawstring, an elastic waistband, athletic fit, and tagless design, the Atlas shorts are as functional as they are comfortable.They are available in both a 5.5 and 7-inch inseam length and 4 basic colors. There are reviews claiming that these shorts shrink after washing and run small so you may consider sizing up.
Pros:
Elastic waistband and hidden drawstring
Durable and lightweight
2 inseam options
Moisture-wicking
Cons:
Runs small in the waist
Not many color options
Pockets are pretty shallow
The Bearbottom Atlas Shorts will keep you feeling comfortable and supported no matter what your workout of the day involves, be that rope climbs, snatches, sprints, or all of the above. I've worn these for nearly three months now, and if it weren't for the fact that I got them with a 5.5-inch inseam, I'd happily wear them during the winter months, too.
The four-way stretch gave me the perfect range of motion no matter what I was doing, and despite there being no liner I've never once had any problems with chafing.
The elastic waistband is hardly noticeable, and a hidden drawstring allows you to tighten or loosen it when necessary. Some reviewers complained it ran a bit small in the waist, which I agree with partially but in my personal opinion, it wasn't anything that made these performance shorts uncomfortable.
You have two pockets, both with stability pouches for your wallet or phone, and a zippered back pocket. I will say the pockets are somewhat shallow, but if you're just leaving the house with your phone, wallet, and keys it won't be an issue.
At $45 per pair, these are a great deal for men's workout shorts. They come with reinforced stitching for extra durability and are available in sizes small to double-extra-large.
Most Durable Workout Shorts for Men: Ten Thousand Tactical Short
Good for: Anyone who needs a durable pair of shorts that can be used anywhere, anytime
For Any Conditions
Ten Thousand Tactical Short
Designed in conjunction with members of the U.S. Special Operation Forces, the Ten Thousand Tactical Shorts are engineered to perform in military-level elite fitness situations. The highly durable ripstop shell fabric is swim-capable, breathable, and lightweight for utmost comfort. Stress-tested through virtually every condition imaginable, the Tactical shorts have secure side pockets to store essentials at any time.Elite military units performed stress tests on this gear both in the gym, on the road, in the water, through an obstacle course, and in the mountains to ensure the durability and functionality.These shorts feature quick-drying ripstop shell fabrics, closable side pockets, a tough waistband capable of withstanding all rucking or training sessions, side slits for mobility, and an optional medium compression liner with permanent anti-odor treatment.Available in 5- or 7-inch inseam lengths, these shorts are a good choice for men of varying heights. The tough waistband was created to hold up in rucking and training sessions. Some users did find this waistband to be too stiff and to run on the small side; two things to keep in mind before purchasing.
Pros:
Stress-tested in some of the toughest conditions
U.S. Special Operations Forces was part of the design process
They hold up well in the water
Cons:
Waistband might be too stiff for some
Runs a bit small
Cost nearly $80 per pair
The only thing we need to tell you about these shorts is that they were designed in partnership with the U.S. Special Operations Forces, which is made up of people who are tougher than a $2 steak. So you know the Ten Thousand Tactical Short will be able to withstand anything you put them through.
Stress-tested in some of the toughest conditions known to man, these shorts are made with ultra-durable ripstop fabric, can be worn in the water, have an anti-odor treatment, and still feel as light as a feather.
"Probably some of my favorite pairs of shorts around," says Coop, who tested them out. He complimented their breathability and flexibility, as well as the multiple designs and colorways offered in 5- and 7-inch inseams with or without a liner.
While Coop didn't have this issue, some customers found the waistband to be a bit stiff for their liking and found that their sizes ran a bit small (many had to order a size up from what they usually wear).
As with anything in life, these high-quality shorts come at a high price tag: $80. Are they worth it? Well, if you're someone who likes to ruck or just run around in some grueling conditions then yes. These shorts are built to last a lifetime, and on the off chance they don't, they're backed by a lifetime guarantee.
Best Unlined Workout Shorts for Men: Lululemon T.H.E. Linerless Shorts
Good for: Those who prefer a workout short without a liner
No Liner, No Problems
Lululemon T.H.E. Short
As one of Lululemon's best selling men's shorts, T.H.E. shorts are lightweight, breathable, and designed to perform. The tapered fit with a split hem reportedly feels comfortably snug without restricting movement. Available in two length options, 7- and 9-inch, these shorts do not have a liner.T.H.E. shorts are made with 100% polyester, which is sweat-wicking and fast-drying with a four-way stretch. A large zippered pocket is big enough to carry a phone or small wallet, a feature some users feel goes underrated. Even with essentials in the pocket, the comfortable waistband reportedly stays in place throughout any workout.There are a few reviews reporting that the newest addition of Lululemon's T.H.E. shorts are not as durable as previous models and that the crotch material is thin. But, the overwhelming majority of reviews rave over the quality and comfort of these shorts.
Pros:
Comfortable waistband
Very secure pockets, and a built-in phone pouch
Offers sizes XS to XXXL
Cons:
Around $70 per pair
Fabric around the crotch area is thin
Drawstring is a bit long
Liners are often used to offer extra protection against chafing (and nobody likes chafing in the shorts area), but there are people who find them to be a bit constricting. If you're one of the latter, we recommend Lululemon's T.H.E. (Train Hard Every Day) Linerless Shorts.
I'll be honest, I was a Lululemon skeptic before trying these on but I have now seen the light and am converted.
Because they're linerless, they're not as form-fitting as other gym shorts for men, which can be a great or bad thing depending on what you're looking for. If you're looking for breathability and mobility, these are the shorts for you. Although they're roomy, they never felt baggy on me and the waistband sat comfortably whether I was standing, lying down, or sitting.
And even without the liner I never had a problem with chafing, even when I wore them during longer cardio sessions. The pockets are also secure, with each external pocket coming with a stability pouch and a zippered back pocket.
The drawstring is a bit long for my liking, and my one other major callout (which other customers have talked about in the online reviews) is that the fabric is notably thinner in the crotch area. Mine are still holding up just fine but I can see how this might cause a problem after a few more washes. The rest of the short feels very durable and nice to the touch, so this feels like a weird oversight on Lululemon's part.
That oversight is made a bit worse by the fact that these cost around $70, and undoubtedly a lot of that is due to Lululemon's name.
Best Workout Shorts for Men with a Liner: 5.11 PT-R Havoc Pro Short
Good for: Trainees who prefer compression shorts that offer chafing protection
I Got 5.11 On Me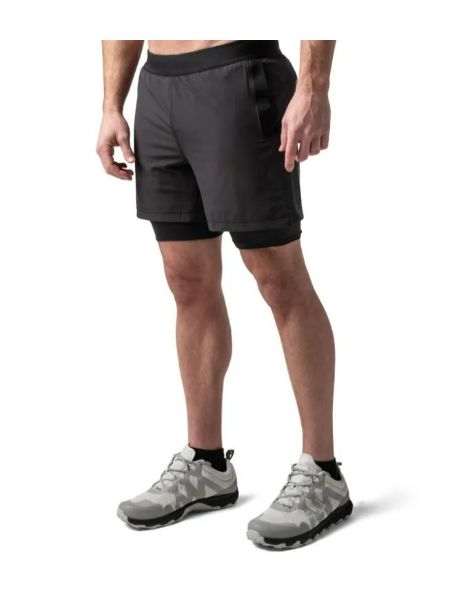 5.11+ PT-R Havoc Pro Short
5.11 Tactical PT-R Havoc Pro Shorts are built so you can complete your most intense workouts without worrying about staying covered and comfortable. 5.11 Tactical aims to create purpose-built clothing and tactical gear for military and law enforcement personnel.The PT-R Havoc Pro shorts are made with Enduro-Flex material, which is a mixture of 86% polyester and 14% elastane plain weave. These shorts also feature a jersey liner made with 86% polyester and 14% elastane jersey. 5.11 Tactical states these shorts are anti-odor and moisture-wicking.They also feature an elasticized waistband with an internal drawcord. These shorts have multiple pockets: two traditional hand pockets with a trim, plus a hidden pocket on the right thigh of the inner liner. There is also an elastic pass-thru at the center back of the waistband.There are not many reviews of the PT-R Havoc Pro Shorts. All the reviews wanted to love the shorts; however, some reviewers experienced issues with stitching coming undone after a few wears. They all did find the shorts comfortable and were frustrated with the durability.
Pros:
Anti-odor liner
Elastic waistband and hidden drawstring
Relatively affordable, at under $60 per pair
Cons:
Stitching is sub-par
Only three color options
Only one inseam length
Liners not only offer additional chafing protection but can also give your workout shorts a more compressed fit, which some people like. The 5.11 PT-R Havoc Pro Short comes with a built-in jersey liner that extends below the pant line for extra protection. There's also an extra pocket in the brief liner for those who need extra storage.
As far as the fit goes, it's a bit of a mixed bag according to our tester Jared Myers, who stands at 6 feet, 2 inches tall with a fairly athletic build (take it easy, he's married). "It seemed to fit my large thighs a bit tighter than I expected," he says. "The waist was a bit loose without the drawstring, which was a bit long."
Once the drawstring was tied, Jared says these workout shorts are good for just about anything (including sweeping leaves off his father-in-law's roof). They have four-way stretch and are durable, yet still lightweight and breathable.
Jared's other complaint is that the pockets were a bit small for his larger hands (a problem I can empathize with), though he loved the fact they were zippered and had a phone holder. There's also a towel loop on the back for those who get a little extra sweaty during their workout.
Many customer reviews stated the stitching throughout the shorts, but especially around the pockets, was sub-par and left them prone to tears.
While these shorts' functionality can't be questioned, their customization falls a bit short. They're only available in one inseam length (which isn't disclosed) and only have three color options.
Best Running Workout Shorts for Men: Rhone Versatility Short
Good for: Those who primarily do running-based workouts
Run It, Run It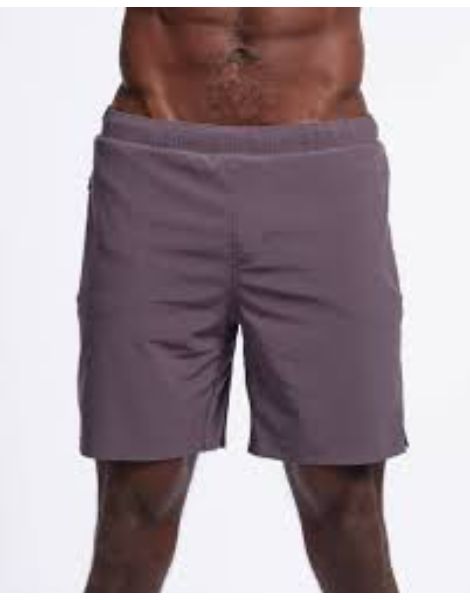 Rhone Versatility Short
Rhone's 7-inch Versatility Short is both stylish and functional, making it a good option for wear in and out of the gym.They feature flatlock seams and a lightweight warp knit fabric creating a comfortable short that moves with your body. Described by some users as "the most comfortable shorts ever," the Versatility Short has a light and airy feel.The interior waistband drawcord allows users to adjust the tightness and a zippered invisible pocket means you can safely bring along some small valuables. These shorts can be purchased lined or unlined.There are a few users who reported the material to feel thicker than expected, however the vast majority of reviews backed up the claim that these are, in fact, lightweight. They reportedly run a bit small so be sure to look at the size guide before purchasing.
Pros:
Offer great range of motion in all parts
Don't bunch up
Plenty of secure pockets
Cons:
Material feels heavy to some users
Nearly $80 per pair
Some customer complaints of lack of consistency in sizing
If your workouts just consist of running, the Rhone Versatility Short is a great choice for style and comfort. And yes, versatility might be in the name but Jared found they worked the best during his runs.
"As a running pair of shorts, this takes the cake," he says. "They sit at the right level on my thigh and offer a cooling four-way stretch material"
If you're going to use these just as running shorts then we strongly recommend purchasing the lined option. Jared went with the unlined shorts and found they weren't as chafe-proof as they claim to be.
There's an internal waistband to loosen and tighten them when needed, and Jared dubbed them the most comfortable pair of shorts he owns. Unlike some shorts that tend to bunch up after a few washes, Rhone's stays in pristine condition wash after wash—however, it's important to note that you're not supposed to throw these things in the dryer (line dry only).
The biggest complaint from other customers had to deal with a lack of consistency in sizing. Some said they ordered multiple pairs in the same size but each one felt different—Jared only ordered one pair, so we can't speak to those claims.
The other big issue is the price: $80, which after taxes and shipping and handling comes out to nearly $100. Should you drop a Benjamin on one pair of shorts?
Jared says if you're looking for the most comfortable shorts, or if you're an avid runner who wants the best-of-the-best, then yes.
Best Workout Shorts with Men for Big Thighs: The Fabletics Fundamental Short
Good for: Men with larger thighs who want a comfortable pair of sport shorts
Big Thighs Save Lives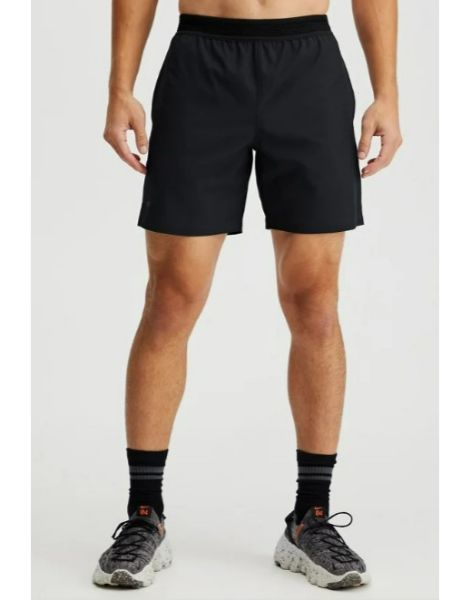 Fabletics The Fundamental Short
The Fabletics Fundamental short is an ultra-lightweight short available in two inseams: 7 and 9 inches and as both lined and unlined. Fabletics aims to make affordable, fashionable, and high-performance activewear for everyone and every body.Fabletics' best prices are available through their VIP membership program. In this program, you pay a monthly fee. In return, you get a credit to receive an outfit or item of clothing. As a member you also get free shipping on orders over $49.95 and discounts on all items from 20-50% off. You can skip months and cancel at any time.The Fundamental short is ultra-lightweight design with stretch fabric that maintains its shape. The Fundamental has a no-bunch waistband, two hand pockets and one liner pocket. The fabric is also anti-stink and sweat-wicking.Customer reviewers were mixed on the Fundamental short. Positive reviews shared that the short is comfortable and durable. They have held up during multiple washes. Others shared that these shorts are their go-to running short.Negative reviews noted that the fit was not true to size. Some people found the fit to be too small and others found them too big. They also thought the material was too thin and bunched around the crotch. Reviewers also found that the waistband was uncomfortable and it rolled down for people purchasing larger sizes.
Pros:
Roomy, but not baggy in all areas
3 inseam length options (5", 7", 9")
90-day trial period
Multiple color options
Cons:
Waistband feels a bit tight
Only a good deal if you have a Fabletics VIP membership
No drawstring
As a card-carrying member of the thick thighs club (we meet every second Friday at Chili's), I can confidently recommend the Fabletics Fundamental Short for my fellow chunky-legged gentlemen. Available in lined or unlined versions and three inseam lengths (five, seven, and nine inches), these shorts are roomy where they need to be and form-fitting where it matters.
That means they're nice and breathable around the thighs and quads, but sit comfortably on the waist. The waist is a bit of a contentious area, though, since there's no drawstring. So if these aren't an absolute perfect fit for you they might roll down a bit during training, which some customers have complained about in online reviews.
The 90 percent polyester and 10 percent spandex shorts offer a nice four-way stretch that's lightweight and durable, and comes with anti-odor technology. And with 23 colors and styles to choose from, you can customize them however you want.
Now I need to be honest for a second: I love everything Fabletics, but if you're not enrolled in their VIP Membership then you could find better value elsewhere. Members can get two pairs for $24, whereas non-members pay $64.95 per pair.
These are some of the best shorts and I'd recommend them even at the higher price, which to be honest is more affordable than most other shorts on this list.
Best Everyday Workout Shorts for Men: Western Rise Boundless Short
Good for: Those who want to wear their workout shorts outside of the gym
Do It All Shorts
Western Rise Boundless Short
The Western Rise Boundless short is designed for travel, work, and play. Western Rise is a company building performance clothing for anything your day may bring. The company claims these shorts can replace both your swimsuit and usual khaki shorts.The Boundless short is made with 100% T400 polyester and is both water-repellent and stain-resistant. These shorts have quick-drying and four-way-stretch material. They have two hand pockets and a zippered back pocket. They also have an Ultraviolet Protection Factor (UPF) of 50+.The Boundless shorts have overwhelmingly positive reviews. Most reviewers found these shorts to be extremely comfortable and bought multiple pairs. They also shared that these shorts are their go-to shorts for everything. Most reviewers mentioned using these shorts for their daily life and travel, not for working out. Reviewers also shared that Western Rise has fantastic customer service.
Pros:
Feel great whether you're lifting or just going to the store
Can order based on your waist size (28" to 40")
Look like a regular pair of shorts
Cons:
Not the best for rigorous workouts
Very expensive, at nearly $90
Only four color options, and not made for bigger people
If you're the type who goes straight from the weight room to the grocery store and want a pair of shorts that can do both, go for the Western Rise Boundless Short. "Look like a normal khaki short," Coop says. "Wife confirmed they didn't look like workout shorts."
These are the only shorts on our list that go by waist size, from 28 to 40 inches, and come in traditional colors like black, sand, and navy. And as Coop put it, they don't look like workout shorts so nobody would know you just finished up a training session.
The unfortunate news is those training sessions can't be too intense. "Although not as good as dedicated training shorts, they're not far off," was Coop's assessment. Other customers had similar remarks, saying these were fine for a light lifting session but that they wouldn't wear them for a CrossFit workout.
On the bright side, these shorts can double as a swimsuit so you can jump into the ocean or pool with them if needed.
At nearly $90 before taxes and shipping and handling, these are an expensive pair of athletic shorts. But their versatility in functionality and style might make them worth it to some people.
Most Stylish Workout Shorts for Men: Olivers All Over Shorts
Good for: Men who want to look good while working out
Workout, But Make it Fashion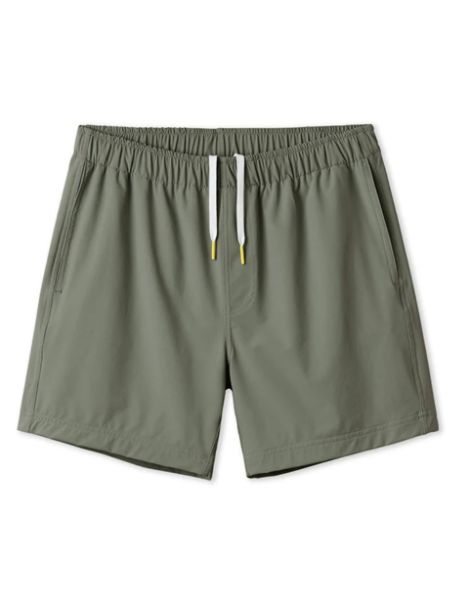 Olivers All Over Shorts
If you are looking for a pair of stylish shorts that can be worn running, cross training, or during your next strength training session, the Olivers All Over Shorts could be for you. These versatile shorts were designed with performance and comfort in mind, featuring one inner and two side pockets.Constructed from nylon and spandex, the All Over Shorts have a four-way stretch to maximize comfort. They are engineered to be water-repellant and moisture-wicking. Available in 12 vibrant colors, these shorts are stylish as well. Users do report that they run small so be sure to look at the size guide to find your best fit.
Pros:
12 stylish color options
Comfortable fit
Four-way stretch fabric and secure pockets
Cons:
Run a bit small (may need to order a size up)
May not do well in the dryer
Cost nearly $70 per pair
The Olivers All Over Shorts can be worn…well, all over due to their durability and style. Available in 12 patterned or solid colorways, these shorts will look good on you whether you're on the bench or on the town.
While the shorts offer four-way stretch, Coop found that they were a bit tight in the quads and weren't the best for workouts that involved dynamic motions. This seems to be a common theme in workout shorts, so again if you're only going to be wearing these to the gym, then there are better options.
One area they excelled in was with sweat-wicking and drying. They're also incredibly soft to the touch and, with proper care, should continue to look good for quite a while. Speaking of care, Olivers recommends keeping these out of the dryer and laying them flat until they dry.
They're only available in a 7.5-inch inseam, which I think is a great length for a pair of shorts that's trying to be as versatile as this one is.
Honestly, there's not much else to say about these shorts. Unlike our other choices, there's nothing special about the pockets, other than there's an inner lining to keep your phone in place.
Best Lightweight Workout Shorts for Men: GoRuck Indestructible
Good for: Those who want a lightweight, yet durable pair of shorts
Lightweight Baby!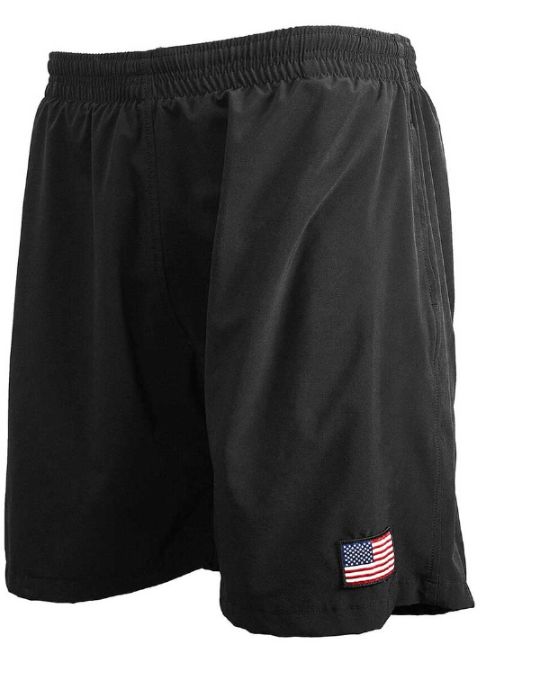 GoRuck Indestructible Training Shorts
The GoRuck Indestructible Training Shorts live up to their name but still manage to be one of the softest and most lightweight workout shorts out there. Made with GoRuck's special ToughStretch fabric, these shorts offer four-way stretch, are quick-drying, and are guaranteed not to pill against rough surfaces.The Indestructible training shorts are offered in a lined or unlined version and run in sizes small to double-extra-large in four colors (black, camouflage, tiger stripe, and navy). There are two front side pockets, with an additional internal zippered pocket on the right side. The drawstring is kept inside the shorts to prevent it from catching on anything, which is especially good if you plan on taking advantage of these shorts' durability.These shorts are pricey, at $75 per pair, but they're also backed by a lifetime guarantee, so you're covered if they tear on you for any reason.
Pros:
Feel super-soft but are incredibly durable
Comes with a lifetime guarantee
Can be purchased with or without a liner
Cons:
Only one inseam length (7.5")
$75 per pair
Pockets are too deep for some
The irony of a company like GoRuck having the best lightweight workout shorts for men is not lost on us, yet here we are. Coop notes that these shorts are super soft and lightweight, but still have plenty of durability for rucking or hiking sessions.
GoRuck makes these shorts with their special ToughStretch fabric, which in addition to keeping them light, also makes these shorts stretchable and quick-drying. They've been tested against rough surfaces, such as barbell knurling and rucksacks, and are guaranteed to never pill or tear. But if they were to rip or experience any other issues, they're backed by a lifetime guarantee, so you're covered no matter what.
You can order these with or without a liner in any size from small to double-extra-large, though the 7.5-inch inseam is the only option they have. There's also an internal drawstring to adjust the waist, but I also like the fact that it's internal because it means there's less risk of it getting caught on any surfaces.
There's two pockets and an internal zip pocket on the right side pocket. Some customers found the pockets to be a bit too deep, though noted that placing things in them didn't cause the shorts to sag (which can be a problem with other workout shorts).
Those who prefer products made in the USA may also want to go with these (there's also an embroidered USA flag for those who like to display their patriotism).
Honorable Mention: Chubbies
Coop told us that he highly recommends the Chubbies shorts, which he's used in the past and has high praise for. These 5.5-inch inseam shorts come in a variety of fun colorways, have a built-in compression liner, and offer chafing protection.
"Chubbies offer great materials and fit for people like me that prefer shorter inseams on shorts," Coop adds. "I want my shorts to be just that, short, and Chubbies nails it both in how wide the leg openings are and short the inseams are. They also have fantastic branding and don't take themselves too seriously, which is very different from others in the fitness industry."
The double-layered waistband gives you extra durability and comfort, but all these features mean you're paying a pretty penny—$80 worth of pretty pennies to be exact. You can also find them on Amazon.
How We Picked and Tested the Best Workout Shorts for Men
Our journey to find the best workout shorts for men began way before the dressing room, and involved a lot of internet searching. We wanted to find what people on different forums and websites liked, and what was trending outside of the household brands like Nike, Vuori, Under Armour, Adidas, Patagonia, and Reebok.
We also relied a lot on our own personal recommendations, along with our female coworkers letting us know what their significant others like to wear.
After trying on several different pairs, we arrived at our list by taking the following factors into consideration.
Fit/Compression
With each pair we tried on, we wanted to see how they fit on our waist, thighs, quads, and glutes. This might be subjective and change based on preference and body type, so it's important to note that our descriptions of how they fit on us may not match how they feel on your body.
Rise
Do the shorts rise or sag at all while wearing them? Do they tend to sit just at the waist, or do they have a high- or low-rise? These were all things we took into consideration when testing them.
Workout Performance
We lifted weights, climbed ropes, ran, shopped, dropped, rolled, and slept in these things to see how they would feel during different activities.
Pockets
It might sound silly, but pockets can make or break a pair of workout shorts. At the very least we wanted to see if there was a stability pouch for our smartphones, but we also liked when a pair had a key holder or zippered pocket.
Appearance
We wanted to find shorts that would compliment different outfits, be that your workout gear or the outfit you put on to head to the grocery store. They should also look good even if you're just lounging around for the day.
Anti-Chafing
We started testing these shorts out in the dog days of summer, so chafing protection was a top priority when seeing how these performed.
How to Choose the Best Men's Workout Shorts for You
If you're still unsure on which pair of men's workout shorts is the right fit for you or your loved one, here are a few ways to make sure you make the right pick.
Fit/Compression
Some people might prefer a tighter fit on the thighs, while others may like it a little roomier in that area. Regardless, you want to make sure the shorts feel comfortable on you when you're standing, running, laying down, or in any other position. Try them out and see how they conform to your body.
Rise
Another subjective factor, make sure the rise complements your body and preference well. Also make sure they sit on the waist well enough that they don't fall down, because nobody needs to see that.
Fabric
All manufacturers will let you know what fabric their shorts are made of, which is especially important if you have any allergies. If a company uses their own special fabric, which some do, contact customer service to make sure it's safe for you.
Fabric can also determine how warm an article of clothing is, as well as how much it can stretch.
Liner
A liner can offer chafing protection and give shorts a more compressed fit. Some people don't like this and prefer linerless shorts, so we recommend you try out both to find out which works best for your needs and preference.
Workout Performance
This should go without saying, but test the shorts using your preferred training method. Make sure they don't limit your range of motion, don't sag at any times, and can withstand any special conditions you might put them through without tearing.
Pockets
Even if you leave your valuables in a locker or on a plyo box next to you while you're weight lifting or getting a nice HIIT training session in, there's going to come a time when you'll need pockets. Make sure they're deep enough and don't cause any sagging when you put your phone or wallet in there. It'd also be nice to have a zippered pocket for things like keys or money.
Breathability
Gentlemen, I don't think I have to tell you that keeping your shorts area well-ventilated benefits everyone. Breathability can be impacted by the shorts' fabric or design. Take a look at the reviews as this is something many customers will write about when reviewing shorts.
Appearance
Make sure the shorts fit your personal style.
Inseam
The inseam is the length of the shorts from the crotch area to the bottom of the pant line. This is once again a personal preference for many, though some training situations may benefit from a shorter inseam than others.
Anti-Chafing
Once again, chafing in the shorts area is not something I'd wish upon my worst enemy. If there's no liner make sure the shorts are made with a material that won't irritate your skin—or better yet, check to see if it won't rub up against you at all.
Durability
Barbell knurling, ropes, and even sweat can cause your shorts to wear down over time, but a good pair of shorts should be able to withstand at least a couple of months of regular use.
Wash/Care
I can't stress this enough: Please read the label! Many shorts are cold wash only, and some can't be put in the dryer.
FAQs
What kind of shorts are best for the gym?
What do guys wear under their shorts at the gym?
A 1:1 replica of Batman's utility belt. No, just kidding. Just like the shorts themselves, many men have different preferences on what to wear under their shorts, from briefs to boxerjocks. Just wear what feels comfortable for you.
Are shorts good for a workout?
Absolutely! Shorts may also be preferable to some compared to workout pants because they're not as form-fitting and have more breathability.
What length shorts should I wear to the gym?
Again, this is a personal preference and there's no right answer. Some people prefer a 9-inch inseam, while others like the more modern 5-inch inseam.