We test and review fitness products based on an independent, multi-point methodology. If you use our links to purchase something, we may earn a commission. Read our disclosures.
You might think a box is a box, and any box will do. I once thought this, too, so no shade—but you're wrong. And you'd agree with me if you had the chance to try more than a dozen plyo boxes like our roster of product testers has.
You'd realize, then, that a box is not just a box, and some plyo boxes are special and absolutely worth a higher price tag. Although I can't offer you a chance to physically try all the boxes we tried, I can offer my best recounting of the process and a few recommendations for the best plyo boxes.
These picks were made by myself, a competitive triathlete and CrossFitter, along with certified personal trainers and CrossFit coaches who make up the Garage Gym Reviews team after testing and researching more than a dozen plyo boxes.
The Best Plyo Boxes in 2023
Best Plyo Boxes Video Review
Best Plyo Box Overall: RPM Training Exobox
Good for: Anyone who wants a high-end, durable, 3-in-1 plyo box with extra safety and comfort features
You probably know RPM Training for their jump ropes, specifically speed ropes used for double-unders and CrossFit workouts. But RPM makes a variety of other gym equipment, including the Exobox, which is the brand's unique take on the classic wooden plyo box.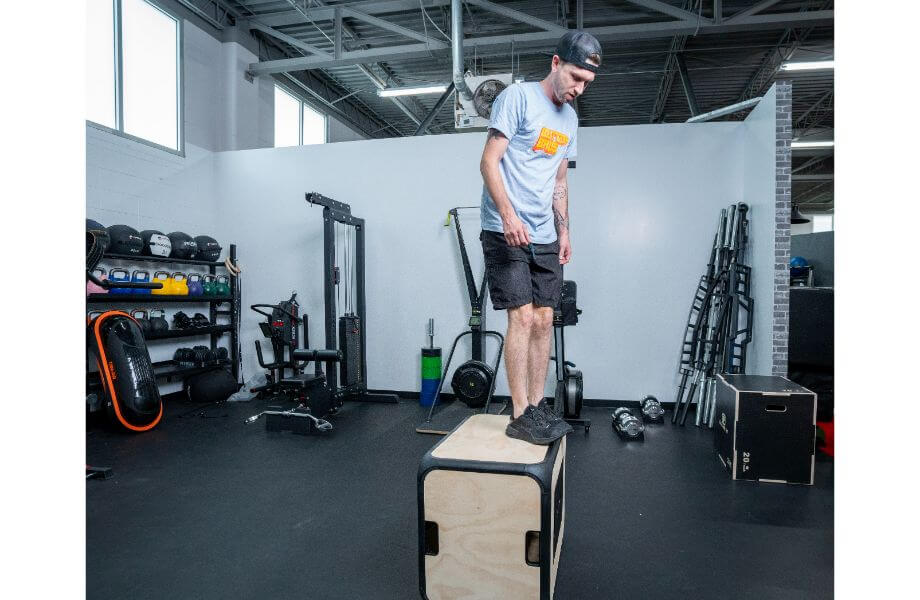 The Exobox's heavy-duty patent-pending design features rounded edges, non-slip rubber along those edges, four non-skid rubber feet, built-in handles with a comfortable rubber lining, and a glass-filled nylon exoskeleton, hence the name.
The result? An ultra-durable, ultra-safe wooden plyo box appropriate for all fitness levels.
My favorite thing about this box is the fact that you can store other gym equipment inside of it. RPM built a hatch panel into this box, which you can easily remove in order to place smaller items like dumbbells or kettlebells. This may not be the right solution for people who plan to move their box around a lot, but I think it's genius.
My one complaint about this box is the price. At $275, it borders on outrageous for a box. But, this isn't any ol' plywood plyo box, and you'll realize that upon your first use.
| | |
| --- | --- |
| Height(s) | 3-in-1, 30"/24"/20" |
| Materials | Wood, nylon, rubber, |
| Special Features | Rounded, rubber non-slip edges, hatch panel for storage |
| Weight Capacity | N/A |
Best Adjustable Plyo Box: REP Fitness Adjustable Steel Plyo Box
Good for: People who want a steel 3-in-1 box on which the landing surface size never changes.
A 3-in-1 design has become the gold standard for plyo boxes. However, there's one big problem with the typical "turn it on its side" type of 3-in-1 box: The landing surface dimensions change. This can really mess up your jump cadence, particularly for box jump overs, and especially for beginners.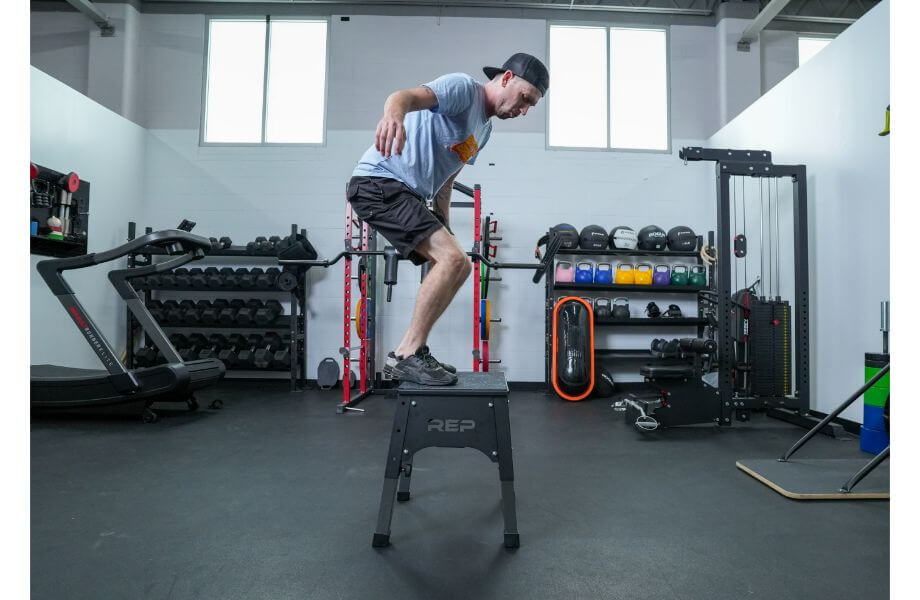 Enter: the REP Fitness Adjustable Steel Plyo Box. This box features four adjustable legs with rubber non-skid feet. The box adjusts to three different height options: 16 inches, 20 inches, and 24 inches. I'm a bit bummed that there's no 30-inch option, since that will rule out this box for some CrossFit athletes. (However, 24 inches is typically the standard, so this may be a moot point unless you're an elite competitor.)
This REP plyo box features durable steel construction, although REP doesn't disclose the steel gauge on the website. The legs have solid steel lock pins and the 16-inch-by-16-inch landing surface is completely covered in a non-slip surface for safety.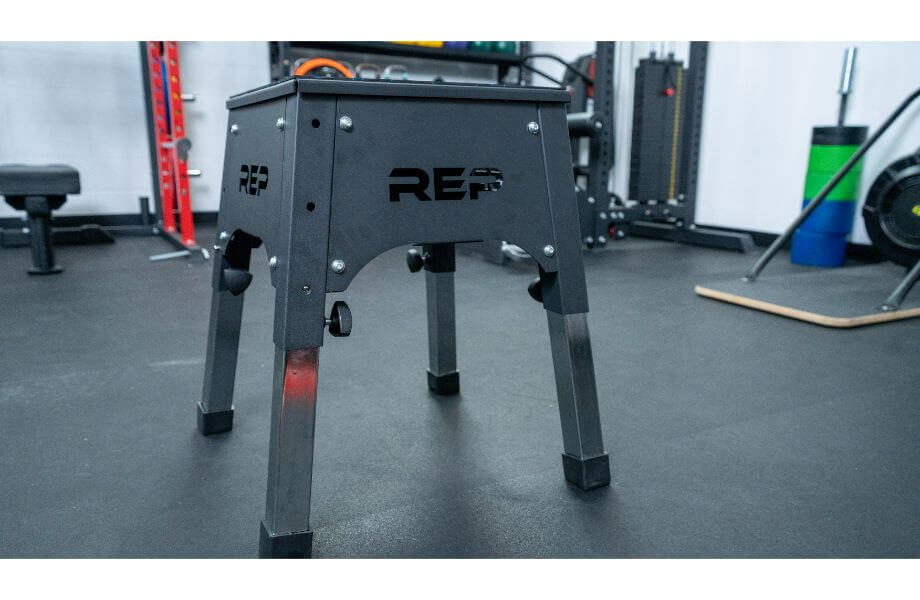 The box ships fully assembled, which usually means higher shipping costs, but not in this case! REP offers free shipping on its adjustable plyo box.
More on REP boxes: Read our REP Fitness Soft Plyo Box Review.
| | |
| --- | --- |
| Height(s) | 3-in-1, 16"/20"/24" |
| Materials | Steel, rubber |
| Special Features | Handles on all sides, non-slip feet, consistent landing surface size |
| Weight Capacity | 400 lbs. |
Best Stackable Plyo Box: Rogue Fitness Foam Plyo Boxes
Good for: Anyone looking for a safer option than traditional wood plyo boxes without sacrificing stability
Many soft plyo boxes are simply wooden plyo boxes with an upholstered foam layer surrounding all sides. That's not the case with the Rogue Foam Plyo Boxes, which are constructed of a dense foam core with a softer foam outer layer.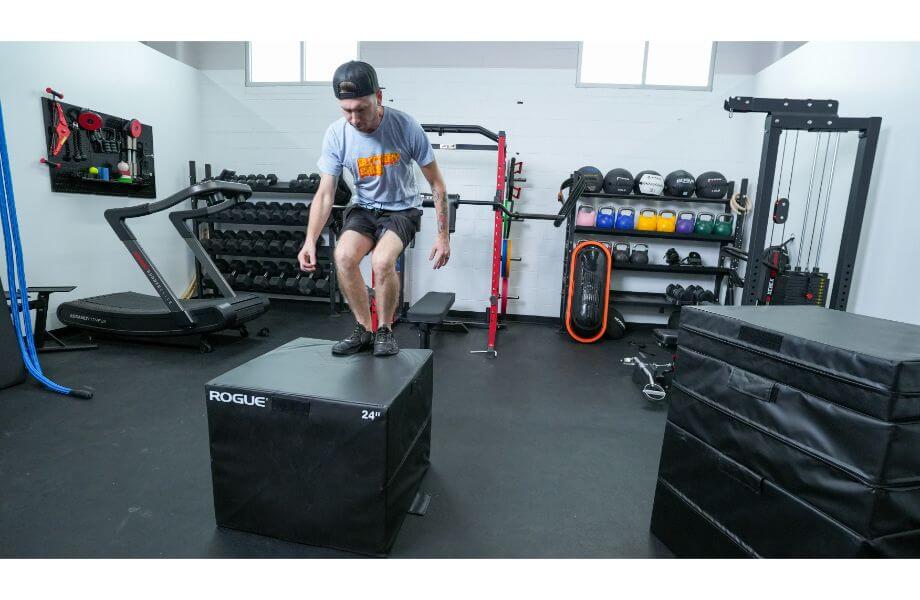 These stackable, soft boxes can remove some of the fear surrounding box jumps, since exercisers know they won't scrape or bruise their shins in the case they miss a jump. Featuring large hook-and-loop straps with Velcro attachments, these boxes won't shift when stacked.
They're available in four sizes—6, 12, 20, and 24 inches—and can be stacked however you want to create custom heights for your needs. Thanks to the dense foam core, these are almost (not quite) as stable as a plain wooden box.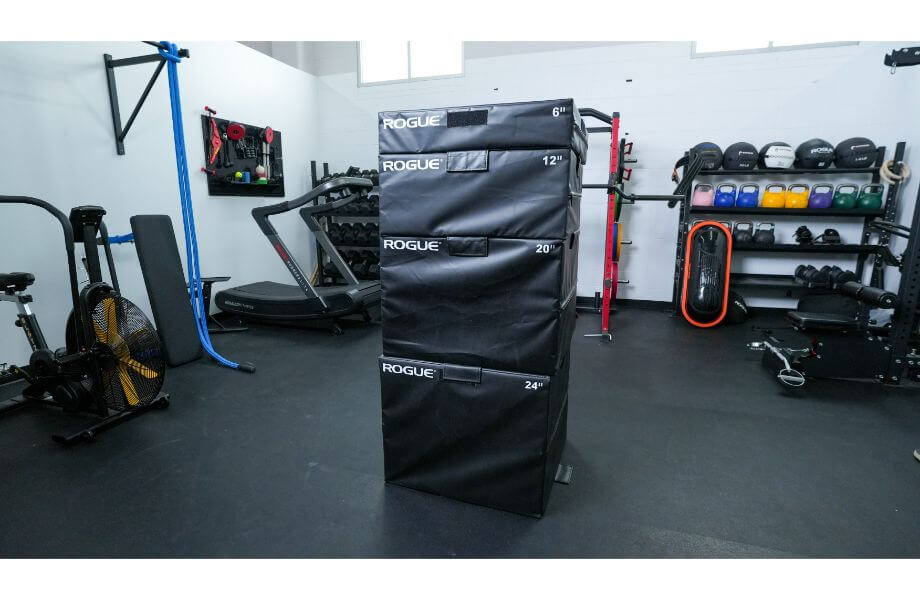 Rogue Fitness states that you should not use these on any smooth flooring, such as wood floors, vinyl plank, or smooth concrete—due to the smooth vinyl upholstery, they may slip. However, these should be fine on any textured rubber gym flooring.
They are expensive, I should say, ringing up at more than $1,100 for the full box set.
More on Rogue boxes: Read our Rogue Fitness Resin Plyo Box review.
| | |
| --- | --- |
| Height(s) | 6", 12", 20", 24" — stackable for custom heights |
| Materials | Foam, vinyl |
| Special Features | Hook-and-loop straps for stacking |
| Weight Capacity | N/A |
Best Soft Plyo Box: REP Fitness 3-in-1 Soft Plyo Box
Good for: Trainees who want a reasonably priced 3-in-1 plyo box that reduces the chance of shin injuries
The REP Fitness 3-in-1 Soft Plyo Box offers the best blend of stability, safety, sizing, and pricing that we could find. This box features a traditional wooden plyo box core that's wrapped in a soft foam layer with grippy vinyl upholstery.
Due to the wooden innards, this box can support a maximum user weight of 400 pounds (this includes your body and any weights you use), yet it protects against box jump mishaps that, on a regular wooden box, would lead to bruised and scraped shins.
This 3-in-1 box is actually available in three different 3-in-1 sizes: small, which has 20-, 18,- and 16-inch sides; medium, which has 24-, 20, and 16-inch sides; and large, which has 30-, 24, and 20-inch sides.
The boxes weigh 27 pounds, 34 pounds, and 58 pounds, respectively, which is pretty on par with most wooden boxes. However, I have to point out that these boxes don't have handles, which makes moving them—especially the large one—quite cumbersome.
Other than that, I doubt you'll find much to complain about with these boxes. Even the pricing is reasonable, with the largest size clocking in at $200. All of these ship free and fully assembled. Boom!
| | |
| --- | --- |
| Height(s) | 20/18/16", 24/20/16", 30/24/20" |
| Materials | Wood, foam, vinyl |
| Special Features | Shock-absorbing foam layer, non-slip upholstery |
| Weight Capacity | 400 lbs. |
Best Wood Plyo Box: Synergee 3-in-1 Wooden Plyo Box
Good for: People who want a simple, sturdy wooden plyo box for a good price
Okay, this is where I'll agree that "a box is a box." If you're going to go with a simple, traditional wooden plyo box, I'm of the mind that you should simply find the least expensive option that still cuts it in terms of weight capacity and durability.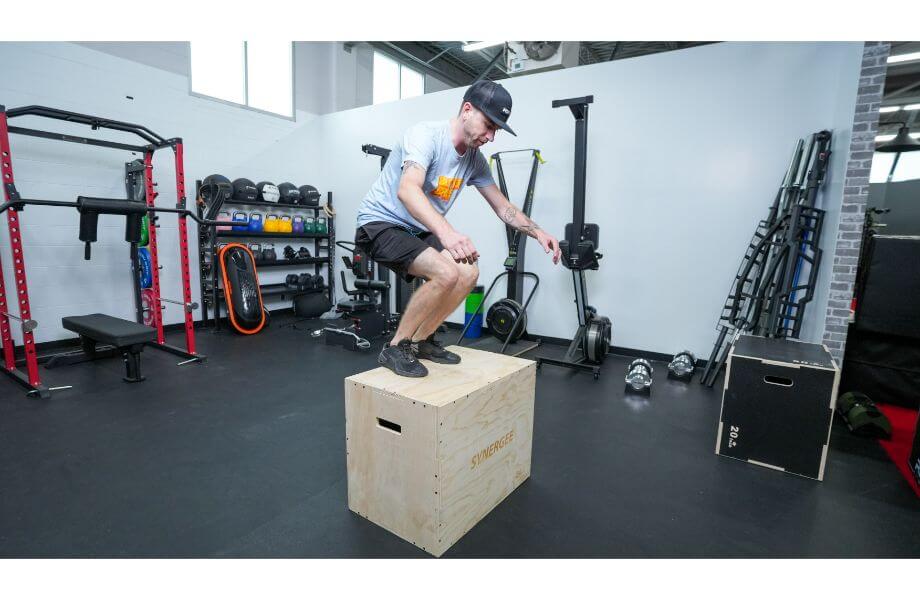 That would be the Synergee 3-in-1 Wooden Plyo Box, in my opinion. Is it perfect? No. It has very square edges and corners that can 100% scrape your shins if you mess up—but so do most all bare wooden boxes.
What I really care about here is the value. There are so many plain wooden boxes to choose from, but many are severely overpriced. This Synergee box will perform just as well as competitors but cost you less and ship faster.
For reference: I went to checkout with this box in my Amazon cart and my total came out to just under $130 with two-day delivery (there was an automatic Amazon coupon available at the time of writing). The same box shipped from Rogue with Rogue branding came out to just over $160 with ground shipping for over $26. Two-day shipping (with no UPS guarantee) would cost me over $90, putting the total at about $232 for a wooden box I have to assemble myself.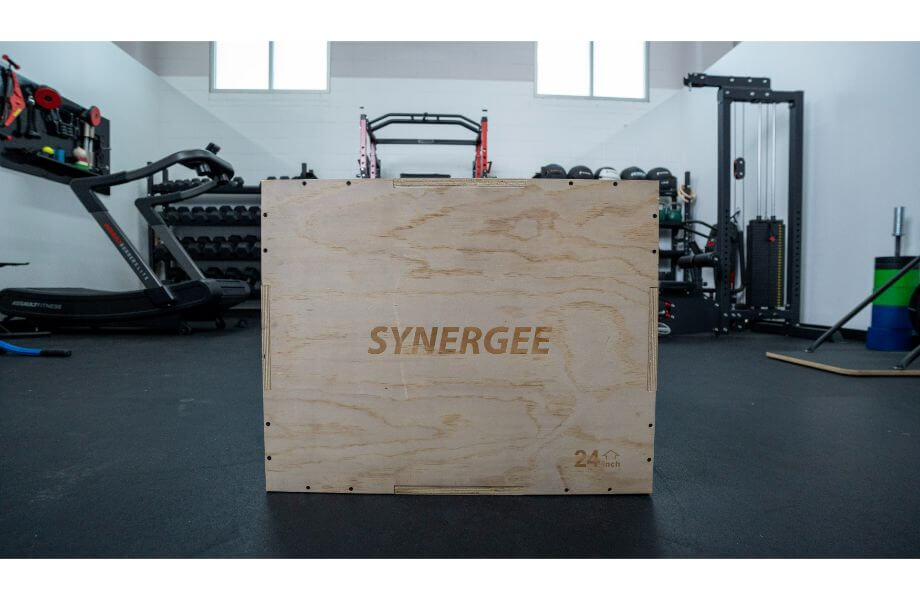 This isn't a knock at Rogue—I love their stuff as much as the next person—but I want our readers to know that paying for names isn't always worth it. I'd also like to point out that the Synergee flat-pack box is available in four different 3-in-1 sizes (with the lowest costing just $60), while the Rogue box is only available in the standard 30/24/20-inch option.
Anyway, this box has a 450-pound weight capacity, so it should be able to handle whatever you throw at it. It also has built-in handles for easier transport.
| | |
| --- | --- |
| Height(s) | 30/24/20", 24/20/16", 20/18/16", 16/14/12" |
| Materials | Wood |
| Special Features | Built-in handles |
| Weight Capacity | 450 lbs. |
Best Budget Plyo Box: Garage Fit Non-Slip Wooden Plyo Box
Good for: Trainees who want an inexpensive non-slip box with fast shipping
Plyo boxes are one of those things that you don't realize the cost of until you actually go to buy one—at least, that was the case for me. I found myself surprised at the fact that I couldn't find a decent box for less than $100 at the size I wanted (30/24/20-inch).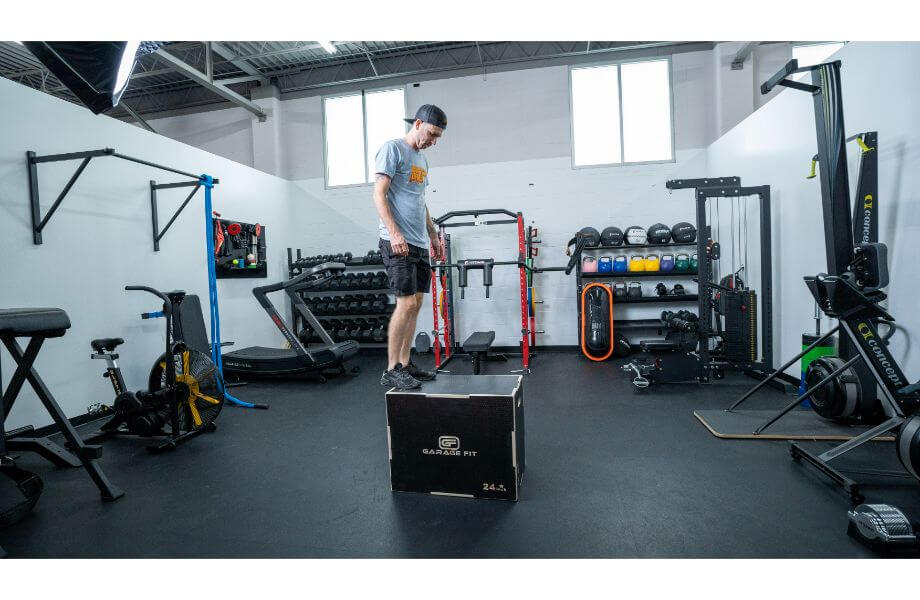 This Garage Fit plyo box, though certainly not the best plyo box we tested, is the best true budget option we came across. Because plyo boxes generally involve hurtling your body through the air and sometimes rough landings, we hesitated to even include a budget option in this guide for safety reasons.
But the Garage Fit Wooden Plyo Box proved safe during our testing and although there are some minor issues with it, we feel comfortable recommending it. The issues I'm talking about mainly involve assembly, which you have to do yourself since this is a flat-pack box. Basically, we think there should be some pre-drilled holes in certain places where there are not, to add to ease of construction and improved stability.
Aside from the assembly issues, this box performed fine, although it has sharp edges that can scrape your shins.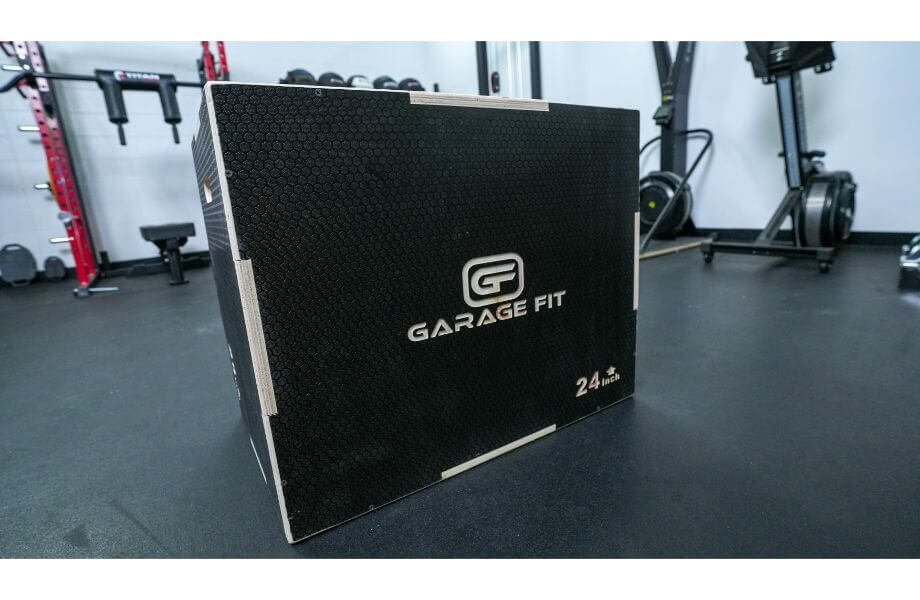 And as for the non-slip option: Coop thinks the wood alone provides enough traction, and the non-slip covering is more for aesthetics than anything (it does look good). So if you want to save a few more bucks, get the plain wood option.
| | |
| --- | --- |
| Height(s) | 30/24/20", 24/20/16", 24/20/18", 16/14/12" |
| Materials | Wood, non-slip cover (optional) |
| Special Features | Built-in handles |
| Weight Capacity | N/A |
Other Plyo Boxes We Tried and Researched
Truth be told, most plyo boxes are extremely similar, if not the same, in any given category. It was, frankly, tough to narrow down our search into the top picks you see above—I ended up weighing factors like price, shipping costs, and return policies heavily since the boxes themselves are so alike.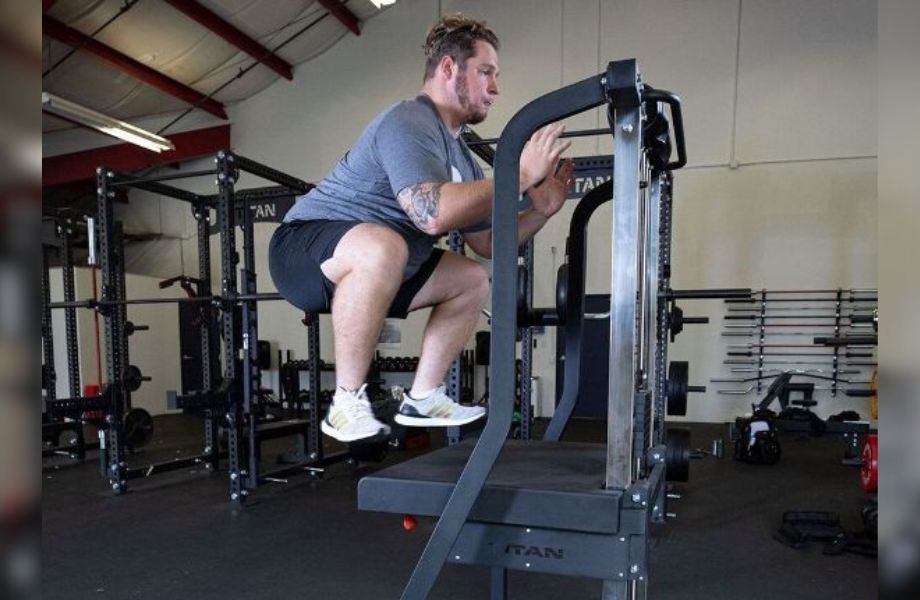 But, here are a few other boxes our team of product testers tried that I think are worth calling out.
Rogue Fitness Flat Pack Games Box: This is a simple wooden plyo box that ships unassembled, just like the Synergee 3-in-1 Plyo Box we recommend as the best wooden option. This one costs considerably more than the Synergee for essentially the same product.
Rogue Fitness Steel Plyo Boxes: Again, you're kind of paying for a name here. These are basic, non-adjustable but heavy-duty steel boxes that are sturdy and safe, but not a great value.
Rogue Fitness Resin Ply Box: Resin boxes are super strong, and these sport rounded edges to protect the shins and knees. However, we're of the opinion that there are better value options available, particularly since these are not adjustable in height.
AbMat Roobox: This box is very similar to one of our top picks, the RPM Training Exobox, but the edges aren't as rounded. This is actually the box that Coop keeps in his garage gym, but he admits he likes the Exobox better due to the rounder edges.
American Barbell Steel Plyometric Box: These are great sturdy steel boxes, but they aren't adjustable in height, so you'd have to buy a set if you want more than one height. They are a bit less expensive than the Rogue ones, though.
American Barbell Soft Plyo Boxes: Similar to our top pick, the REP Fitness 3-in-1 Soft Plyo Box, these American Barbell boxes are just fine, but overpriced compared to the REP ones.
Titan Fitness Stackable Wood Plyos: These boxes are great, but we chose the Rogue Fitness Foam Plyo Boxes as the best stackable option since they feature soft but stable foam, and these are just wood with a non-skid cover.
How We Tested the Best Plyometric Boxes
All of our guides to the best home gym equipment involve thorough research and hands-on testing of products. For plyo boxes specifically, here are some of the criteria we judged each box against:
Shipping and assembly: Does the box ship assembled or unassembled? If assembly is required, how tough is it and how long does it take?
Construction and durability: What materials is the box constructed of? What's the maximum user weight? Does it have any special support or stability features?
Safety and comfort features: Does the box feature rounded edges, a soft foam layer, non-slip covering, or something else for safety and comfort?
Size and adjustability: Can the box be used at more than one height? Do you manually adjust the height, or can you simply turn it over for more options? Do you have to purchase multiple boxes to get different sizes?
Value: Is it priced fairly for the features?
Customer reviews: What is the overall sentiment of past buyers who have used this product?
Transport: How easy or difficult is it to move the box around the gym?
We ordered more than a dozen plyo boxes to our equipment testing facility to test them against these criteria. Our product testers jumped on the boxes in isolation and in a variety of workouts to understand how each product performed.
Buying Guide: How to Choose the Best Plyo Box for You
Ready to add a plyo box to your home gym? Here are a few factors to consider while shopping.
Size and Dimensions
First things first: You'll need a box that has the appropriate dimensions for your use. There's no point in buying a 30-inch box if you know you can't or don't want to jump that high. You'll also need to make sure it fits in your space when assembled, and that you have plenty of room around the box for stepping, landing, and generally moving about the box.
RELATED: Best Compact Exercise Equipment
Adjustability
You'd be wise to purchase a plyo box that is either adjustable or has 3-in-1 versatility. A 3-in-1 box is one that does not change once assembled, but can be set up to be three different heights just by turning it onto a different side. Usually, 3-in-1 boxes have a 20-inch, 24-inch, and 30-inch side, but you can find them smaller or larger, too. An adjustable height box is one that you can manually change the height on. These are made of steel, not wood.
Construction and Materials
When it comes to construction of a plyo box, there are a few things to consider. First, ensure the box has the capacity to support your weight and any weights you want to hold while using it. For instance, if you weigh 150 pounds and you want to do 150-pound hip thrusts on the box, you'll need a box with a minimum of a 300-pound weight capacity.
Next, look at the general construction: Are the edges rounded, or are they sharp and square? This won't matter for everyone, but many people want rounded, softer edges. If it's a wooden box, is it plain wood or does it have a anti-slip or protective surface of sorts? And are there internal bracing mechanisms?
If it's a steel box, check the steel gauge and welded versus bolted parts.
Finally, look at the landing surface area and make sure it's something you feel comfortable with.
Shipping and Assembly
Before you buy, double-check how the box ships. Boxes that ship assembled will generally have higher shipping costs, but it arrives ready for jumping. Flat-pack boxes ship unassembled to save on shipping costs, but you'll have to spend some time putting them together. It's all about personal preference here.
Benefits of Plyo Boxes
Plyo boxes are a fantastic and versatile piece of equipment to have in your home gym. Not quite sure how you'd use one beside, well, jumping on it? Here's a quick rundown.
Plyometric Training
"Plyo" is part of the name, so it goes without saying that a plyo box can be used for plyometric training to develop explosiveness.
Aside from straightforward box jumps, you can do a number of other explosive exercises with a plyo box, including: box jump overs, burpee box jump overs, decline mountain climbers, single-leg box jumps, squat to box jumps, and more.
These types of exercises help you develop explosive power, which transfers to activities like sprinting and Olympic weightlifting.
Strength Training
Plyo boxes prove useful for many strength exercises as well. You can do step-ups, Bulgarian split squats, decline or incline push-ups, lateral step-ups, single-leg squat (pistol) drills, triceps dips, box squats, and hip thrusts.
Gymnastics Skills Training
If you're trying to master some gymnastics skills, a plyo box would be a good addition to your home gym. You can use a box for pike push-ups to work your way to handstand pushups, as well as pike handstand holds to practice the requisite positioning and core control needed for handstands. You can also set up a plyo box with a set of gymnastics rings to practice muscle-up drills.
Mobility Work
Finally, a plyo box can serve as a useful tool for stretching and mobility work. You can perform a "legs up" stretch to decompress the spine; use it for a deep lunge stretch; or place your heel on the box for a hamstring stretch. These are just a few examples of stretching exercises you can do with a plyo box.
FAQs About Plyo Boxes
Does it matter which plyo box you get?
It doesn't really matter which plyo box you choose to purchase, as long as it suits your needs. A plain wooden box is fine if you're confident in your abilities, but many people prefer boxes with soft foam coverings, rounded edges, or non-slip surfaces to help avoid falls and protect their shins if they do fall. A full foam plyometric box, like the Rogue Foam Plyo Boxes we recommend, are probably the safest option.
What type of plyo box is safest?
A high-quality soft foam plyo box with a non-slip vinyl covering is safest. The vinyl cover prevents the box from moving or skidding around floors, and the foam layer protects your shins should you miss a jump. This type of plyometric jump box is also better for hip thrusts and other exercises that require you to lean your body weight into the box, since it won't dig into your skin like a plain wooden box.
Can you do box jumps every day?
Sure. People who are accustomed to exercising every day and doing plyometric exercises should have no problem doing box jumps daily. However, it's probably not the best use of your workout time unless you're working toward a specific goal that involves box jumps, such as a new personal record for your vertical jump. Regardless, you'll want to take care not to overdo it and keep your box jump volume to reasonable amounts for your fitness level.
What exercises can you do on a plyo box?
You can do many different exercises on a plyo box, including box jumps, step-ups, Bulgarian split squats, incline or decline push-ups, pistol drills, pike holds, feet-elevated planks, glute bridges, jump training, and many other lower-body, upper-body, and core exercises.