We review free products that we receive and participate in affiliate programs, where we may be compensated for items purchased through links from our site.
See our disclosures page for more information.
The Rep Fitness Soft Foam Plyo Boxes are one of the best priced, soft-sided plyo-box sets available. With a soft, yet durable foam, heavy-duty vinyl, and highly tip-resistant feature, these Plyo Boxes should not go overlooked. Combining lightweight and bold contrast lettering, Rep Fitness Plyo Boxes are a great value, although they do have their shortcomings.
Rep Fitness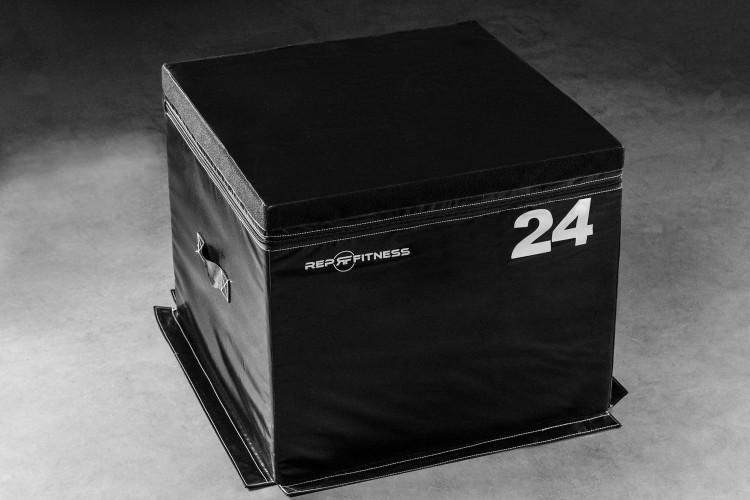 REP Soft Foam Plyo Box
The Rep Soft Plyo Box is the ultimate box for jump training and conditioning. Made of an ultra-dense foam, the box will protect your shins and joints by jumping onto a soft, impact-absorbing surface. No need to worry about cutting your shins on a missed jump like you would with a steel or wooden box. The foam is forgiving and gives you the confidence to push through a tough workout, or go for a personal record high jump! Best of all, unlike similar products on the market, our boxes are heavy and highly tip-resistant when you jump on the edges. Tipping up when you jump on an edge is the #1 complaint of every competing product, but we've fixed that! Surprisingly easy to move despite their weight since you can flip, drag, or push them around without worry of damage to the box. Or you can purchase a few of the lower height options to have multiple exercise options (dips, push ups, step ups, plyo jumps, etc.) and they will be easy to stack, move, and secure with the heavy duty Velcro. Specs: 5 sizes available: 12px;">: 24, 20, 12, 6, 4" height. Every box has a 28x28" base. 28x28" base for all boxes. Heavy duty vinyl covers. Cross-stitched handles with contrasting white thread. Size printed on 2 sides. Velcro flaps on all 4 sides to securely stack boxes. Zipper tucks away. Ultra-dense foam adds weight to the box, which helps resist tipping for jumps on the edge Box Weights: 4 inch: 16 LBS 6 inch: 24 LBS 12 inch: 46 LBS 20 inch: 75 LBS 24 inch: 85 LBS
Rep Fitness Plyo Box Review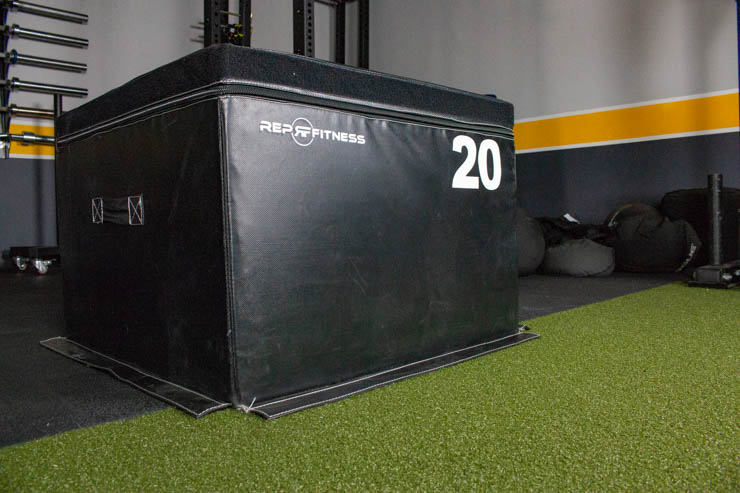 The Rep Fitness Plyo Boxes are a great value option for anyone who is looking to add variety in a workout by performing box jumps. Box jumps can improve your fitness in all sorts of areas including explosiveness and quickness.Box jumps are one of my favorite movements to do for warm-ups and to throw in as filler for increased work capacity. They are a great tool to warm up for heavy squats, or to accumulate as many reps as possible for a workout. Not only are box jumps one of the staple movements for CrossFit, but box jumps are also great for powerlifters and weightlifters looking to increase their speed under the bar.Box jumps are a universal movement that just about everyone can perform. I've seen everyone from young kids to the elderly use box jumps for improving GPP.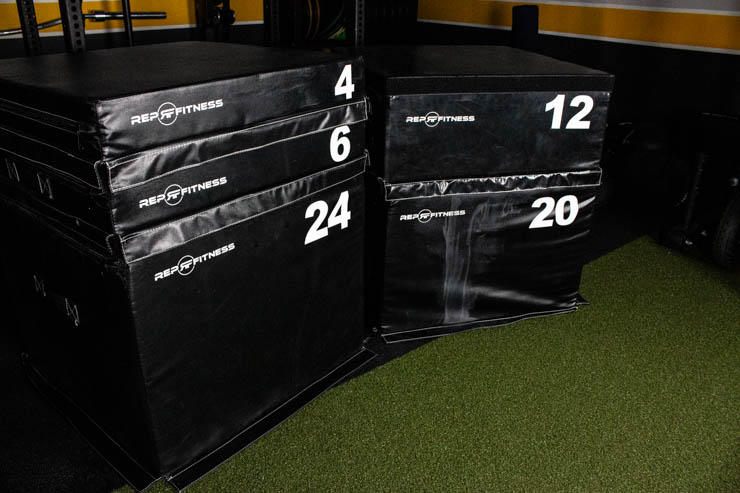 The Rep Fitness Plyo Box's are created with an ultra-dense foam and a soft shell that will alleviate skinned up legs and sore joints from box jumps.
A major complaint for anyone performing box jumps on a wooden box is the result of what happens when fatigue kicks in. Usually when fatigue kicks in a person is not able to quite reach the box height, and unfortunately, it's your shins that pay the price. A box with a hard edge will always win the battle between your shins and the box, and more than likely will end with a blood and scars.
I still have a scar on my right shin from a max box jump attempt on a stack of wooden boxes (something I'll never attempt again, except on foam boxes.)
Thankfully, many companies have started to sell soft-sided boxes using ultra-dense foam. Instead of scraping your shin on a wooden box, your shin will be met with a very comfortable foam pad.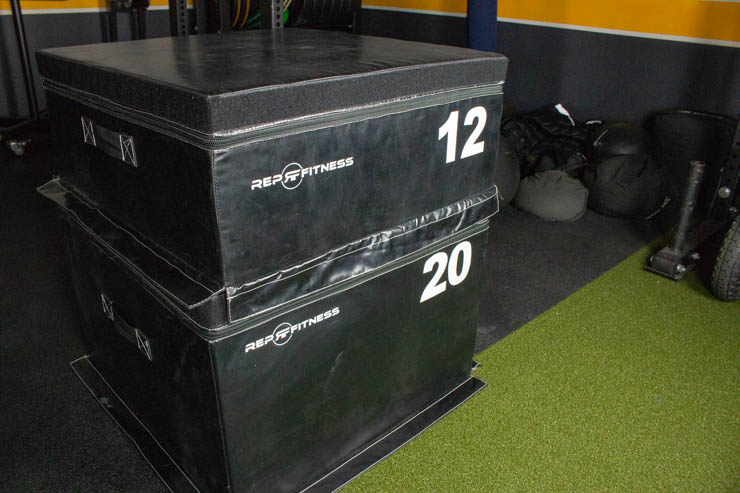 The benefits of this are pretty great. First off, as a gym owner, you won't face liability issues when someone absolutely eats it on the box. Secondly, there will be fewer injuries because missing on a foam box provides hardly any discomfort at all. Finally, there's a whole lot less fear with jumping on a foam box than one that is wooden. This allows athletes to push harder without fear of failure.
Not only does the foam alleviate someone scraping their shin, the foam will also stay relatively firm and not sink in when performing repetitions.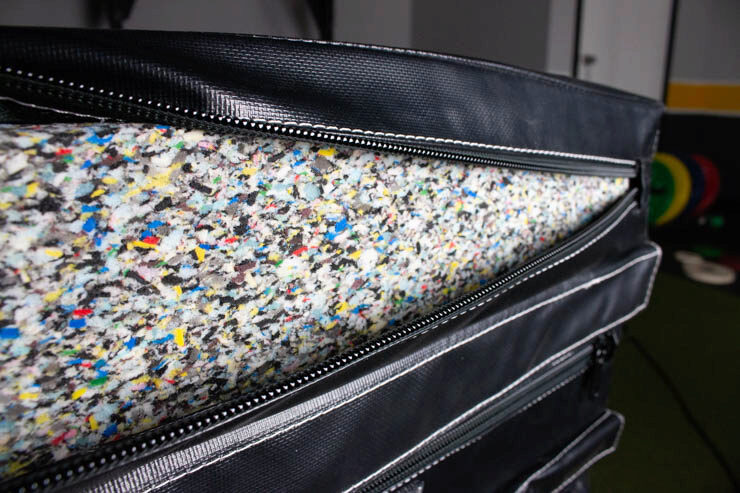 I say relatively because the biggest miss with the Rep Fitness Plyo-Boxes is the density of the foam used. One of the biggest worries people have with foam plyo-boxes is the instability that can come when landing on them. Although this is a legitimate fear, there is foam that is dense enough to be stable, yet soft enough to not hurt your shins if you miss the box. The issue is, this type of foam is expensive.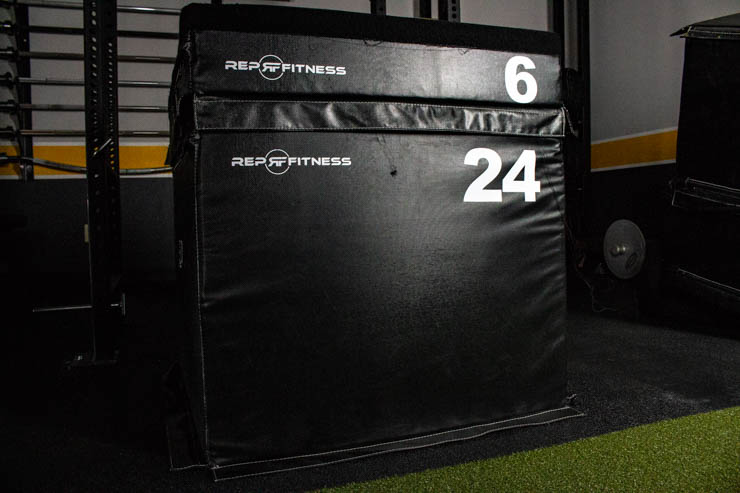 I've used quite a few different foam plyo-boxes, and unfortunately, the Rep Fitness Plyo-Boxes are some of the softest foam I've used. This is definitely an area where you get what you pay for. The Rep Fitness Plyo-Boxes are probably the most economically priced, but they also use softer foam.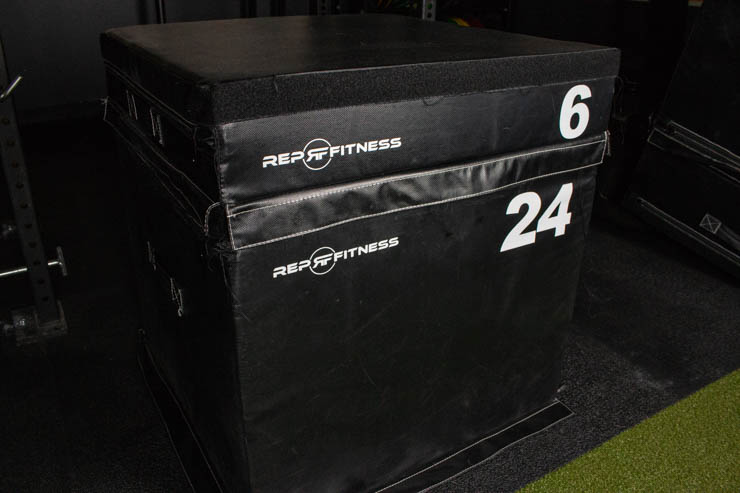 This said, the foam isn't too unstable to use. I've had no problem using them and we even had a group of high school basketball players come into the gym for a mini-camp and we didn't notice many issues. This said, I would definitely prefer a denser foam, especially for max box jumps.
One worry I do have about the soft foam, though, is that it could compress quicker than a denser foam over time. That remains to be seen, however.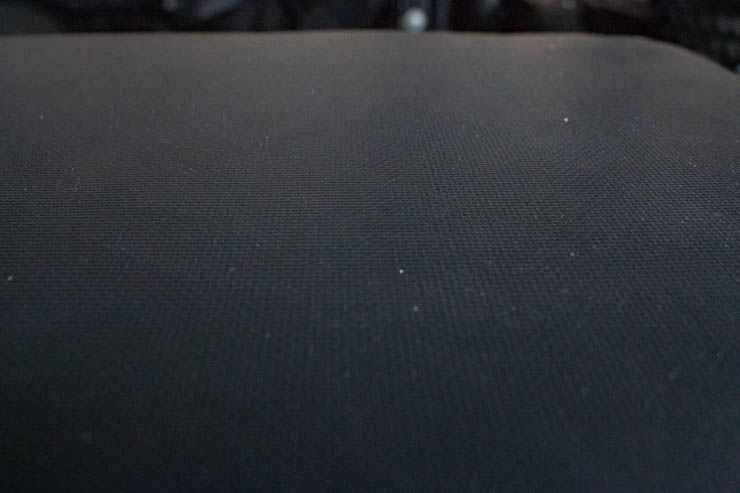 Rep Fitness stores their soft yet durable foam inside a heavy-duty vinyl which surrounds the entire box.
Vinyl is typically the material of choice when creating a plyometric box. Rogue Fitness creates their Foam Plyo Boxes out of heavy-duty vinyl, and XD Fitness uses vinyl as well. With that being said, XD Fitness includes DuPont Kevlar on all sides, top, and bottom of the box.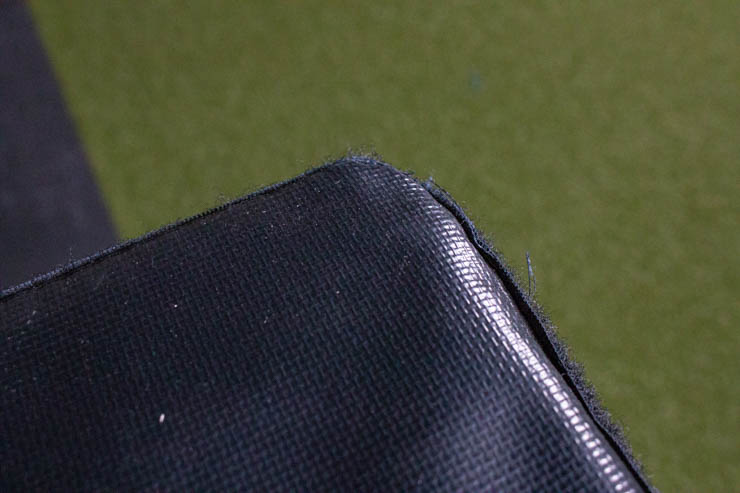 We have not had any issues with our Rep Fitness boxes ripping or tearing in the vinyl, and I don't foresee that happening. This vinyl is made to last. One thing I like about the XD Fitness Plyo Boxes are their DuPont Kevlar tops include some extra grip rather than pure vinyl.
One thing to understand before buying foam plyo-boxes is that they are heavy. When you think of foam, you think lightweight, but due to their density and size, they can get heavy rather quickly. This is good to keep them from flipping over when jumping on them, but be aware if you don't want to lug them around all the time.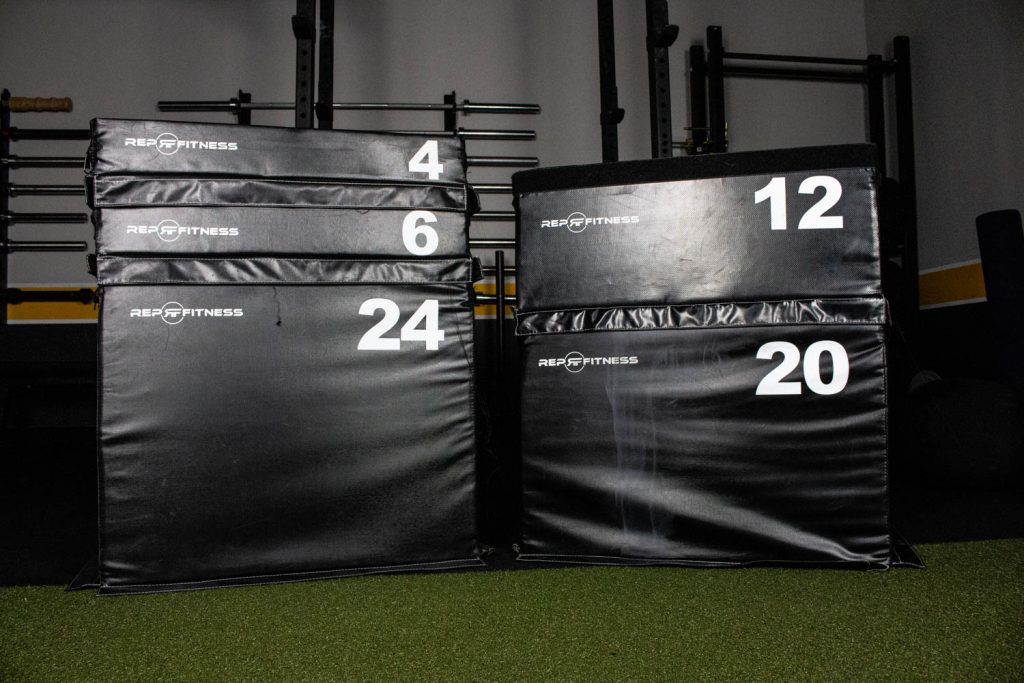 The plyo boxes are divided into different heights and also due to their size, different weights.
If you are looking at the full set, the heights include 4 inches, 6 inches, 12 inches, 20 inches, and 24 inches. The weight of each box is as follows:
4 inches=16 pounds
6 inches=24 pounds
12 inches=46 pounds
20 inches=75 pounds
24 inches=85 pounds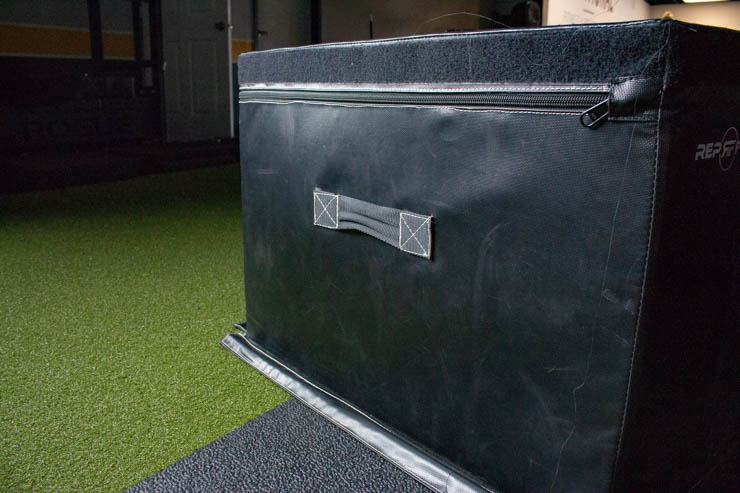 Rep Fitness has constructed their plyo boxes to be able to be flipped upside down and dragged across the floor without being harmed. This is able to be accomplished due to the handles that use cross-stitching to keep them attached to the vinyl. We've yanked these boxes all over the gym and the handles are still holding strong.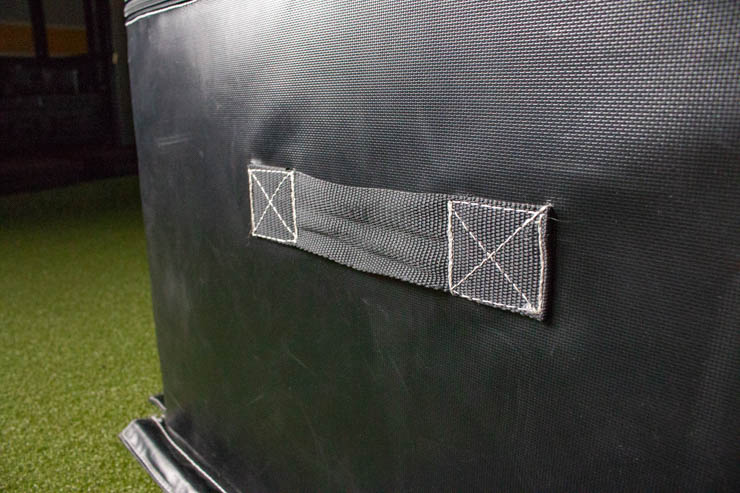 For the price, Rep Fitness leads the way against both Rogue Fitness and XD Fitness. Rogue Fitness does not offer a 4″ box like Rep does and comparing the 6″ boxes, Rep Fitness is $100 while Rogue costs $175. Neither of the companies offer free shipping. XD Fitness 6″ box costs $155 and does not include free shipping as well.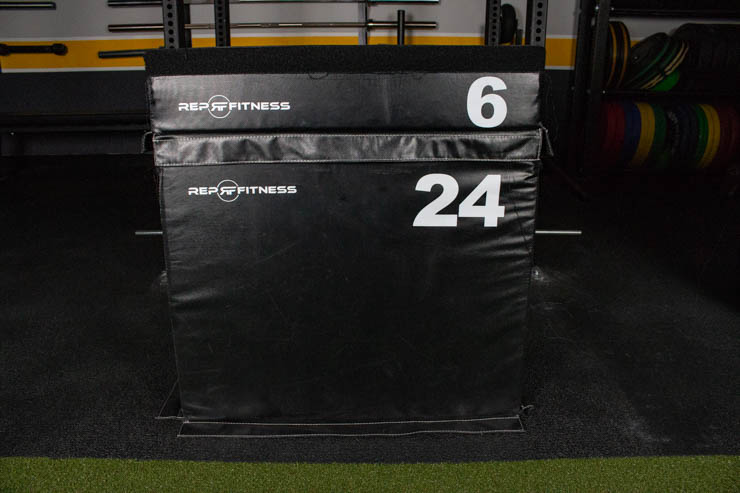 Another great feature of the Plyo Boxes is the ability to stack boxes on top of each other. With wooden boxes, it is very dangerous to stack boxes on top of each other as they can slide out when you land on them.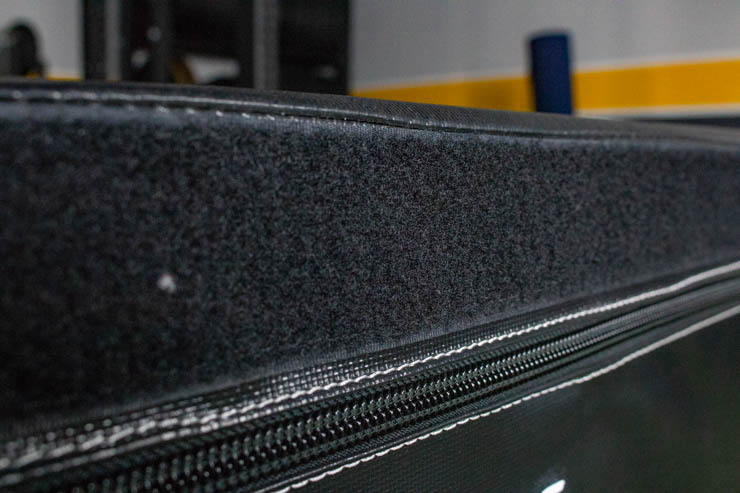 Rep Fitness Plyo Boxes include a strong velcro strap on every edge of their boxes. This allows people to increase or decrease height relatively easily. I say relatively because the velcro is very strong, as it should be, to ensure the boxes will not slip out as you jump.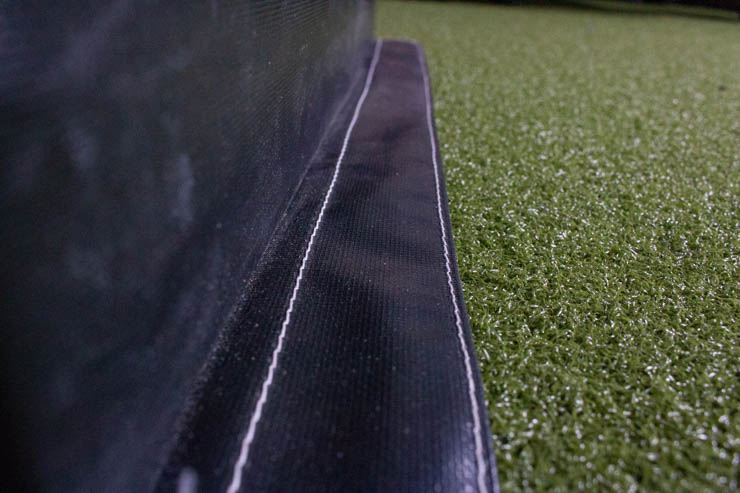 The velcro is housed within the four flaps that are included on every box. Once the flap is flipped down to attach to the bottom box, you can begin to jump safely. Under all of the flaps is an embedded zipper that keeps the box together.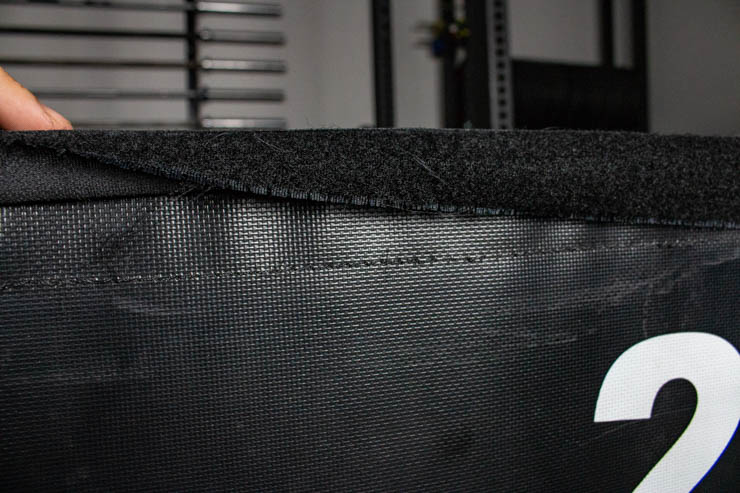 Unfortunately, the velcro is almost too strong. We've already had multiple strips of velcro rip out of their stitching. This is an issue that shouldn't happen, especially so quickly.
If you like the ability to change height, but don't like having to purchase multiple boxes, check out our review on the 8th Day Performance Adjustable Plyo Box.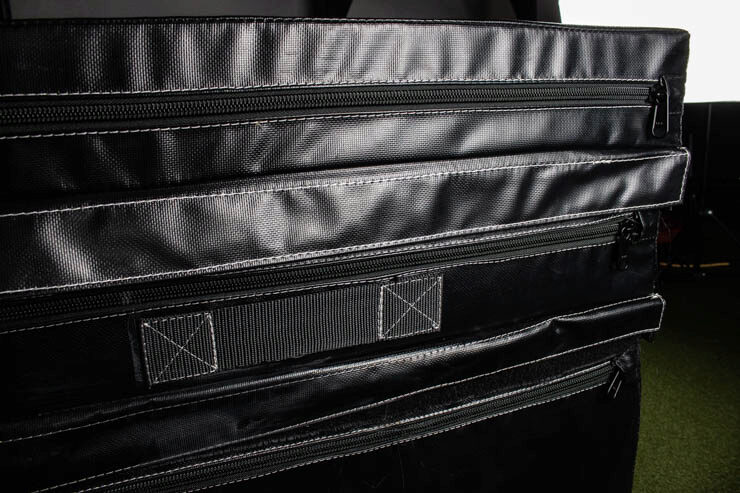 Another great feature of the Rep Fitness Plyo Boxes is that due to their 28″x28″ square base, they're highly tip-resistant. Some of the Games style boxes with three different heights are known to be prone to tipping when being used on their 30″ side.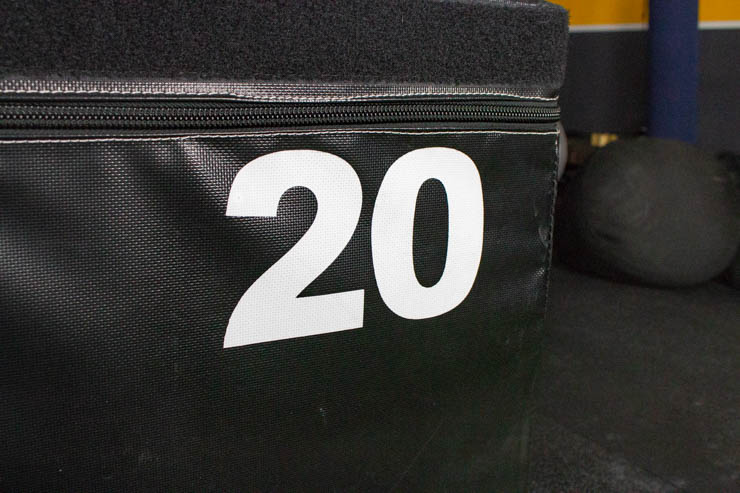 All of the boxes are black with bold white contrast lettering. The numbers are two-sided and very large in size to ensure there is no issue in guessing what the height of the box is. Rep Fitness has also included their logo in white which creates one of the best looking Plyo Boxes available in my opinion. They're clean and will go with any other colors that make up your gym.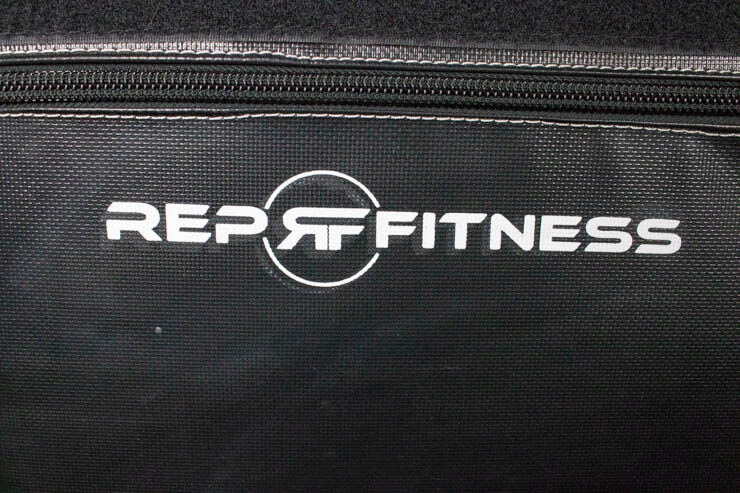 Overall, the Rep Fitness Plyo Boxes are a great price point option when looking to purchase boxes. Being highly tip resistant, using heavy-duty vinyl, and sleek look, the Rep Fitness boxes are a great budget option for foam plyo-boxes.
Suggested Improvements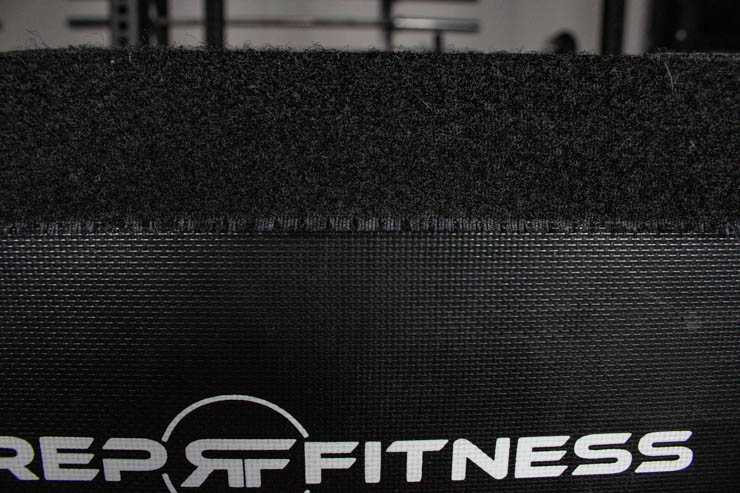 Although I am a fan of Rep Fitness Plyo Boxes there are some things that I would suggest to improve the product.
When stacking multiple boxes on top of each other, I have found that often times the stack can become unstable. Using the Plyo Boxes for recreational use of 36″ and under I have had zero issue, but anything higher than that the stack can sway when landing on top.
One thing I like that Rogue Fitness offers are package deals of their boxes. Rogue offers a 3 set plyo box option and full set plyo box option. Currently, Rep Fitness only allows consumers to purchase individual boxes. It would be great to see different package options and to have a small discount depending on the size of the package.
Finally, the velcro ripping is pretty disappointing.
Full Rating
Rep Fitness Soft Foam Plyo Box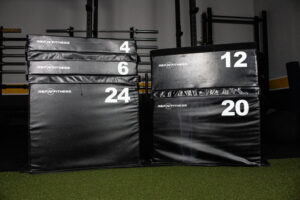 The Rep Fitness Soft Foam Plyo Boxes are one of the best priced, soft-sided plyo-box sets available. With a soft, yet durable foam, heavy-duty vinyl, and highly tip-resistant feature, these Plyo Boxes should not go overlooked. Combining lightweight and bold contrast lettering, Rep Fitness Plyo Boxes are a great value, although they do have their shortcomings.
Product Brand: REP Fitness
Product Currency: $
Product Price: 79.99
Product In-Stock: InStock
Where to Purchase
Rep Fitness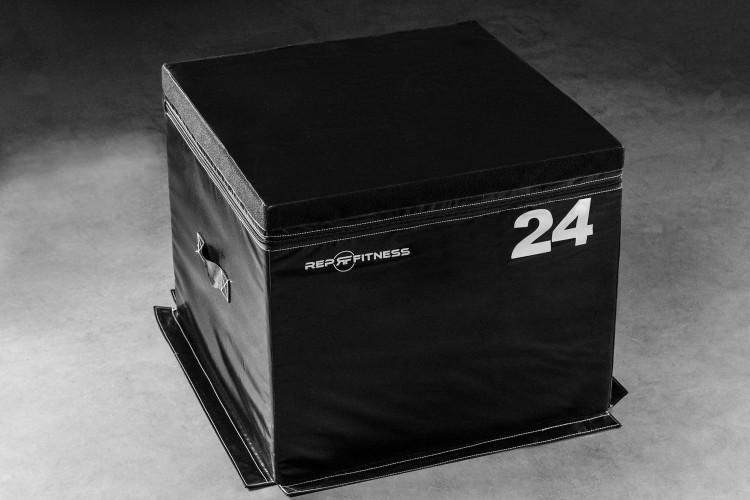 REP Soft Foam Plyo Box
The Rep Soft Plyo Box is the ultimate box for jump training and conditioning. Made of an ultra-dense foam, the box will protect your shins and joints by jumping onto a soft, impact-absorbing surface. No need to worry about cutting your shins on a missed jump like you would with a steel or wooden box. The foam is forgiving and gives you the confidence to push through a tough workout, or go for a personal record high jump! Best of all, unlike similar products on the market, our boxes are heavy and highly tip-resistant when you jump on the edges. Tipping up when you jump on an edge is the #1 complaint of every competing product, but we've fixed that! Surprisingly easy to move despite their weight since you can flip, drag, or push them around without worry of damage to the box. Or you can purchase a few of the lower height options to have multiple exercise options (dips, push ups, step ups, plyo jumps, etc.) and they will be easy to stack, move, and secure with the heavy duty Velcro. Specs: 5 sizes available: 12px;">: 24, 20, 12, 6, 4" height. Every box has a 28x28" base. 28x28" base for all boxes. Heavy duty vinyl covers. Cross-stitched handles with contrasting white thread. Size printed on 2 sides. Velcro flaps on all 4 sides to securely stack boxes. Zipper tucks away. Ultra-dense foam adds weight to the box, which helps resist tipping for jumps on the edge Box Weights: 4 inch: 16 LBS 6 inch: 24 LBS 12 inch: 46 LBS 20 inch: 75 LBS 24 inch: 85 LBS