We review free products that we receive and participate in affiliate programs, where we may be compensated for items purchased through links from our site.
See our disclosures page for more information.
The
Elev8 Adjustable Plyometric Box from 8th Day Performance
is one of the best overall plyo boxes available today. Combining lightweight materials in a unique and versatile design, 8th Day Performance has created a plyometric box that should become the new standard for home and commercial gyms. However, despite it having a great design, there are some deficiencies that should be addressed.
8th Day Performance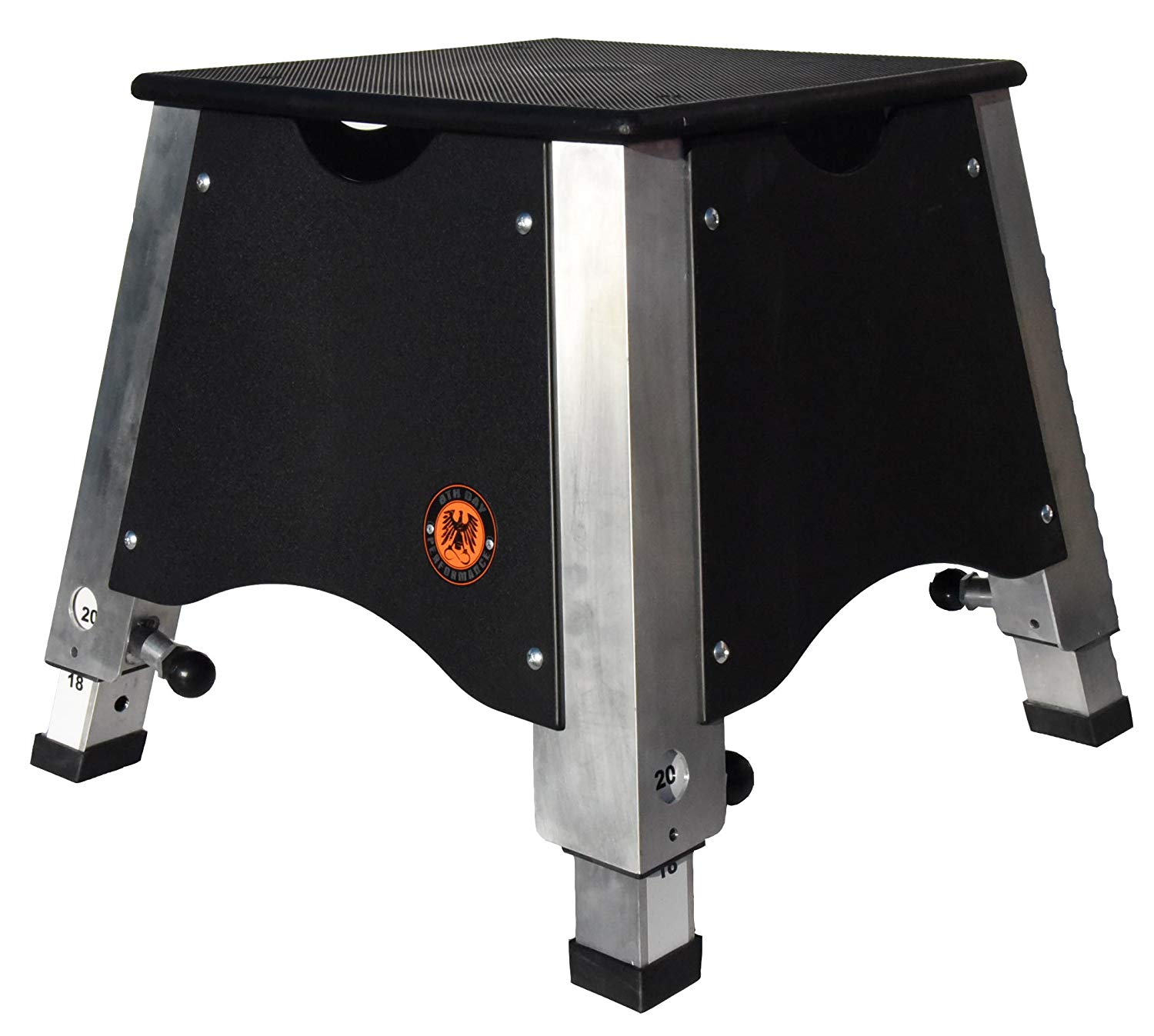 Elev8 Adjustable Plyometric Box
The Elev8 adjustable plyometric box is simply the best adjustable jumping platform you can buy. Adjustable from 18" all the way up to 30" in 2" increments. No other box gives you 7 boxes for the price of one.
What makes an adjustable plyometric box superior?
Step into any true strength and conditioning gym, and you'll see stacks and stacks of plyo-boxes. I say true strength and conditioning gym because if they're not, they won't be using tools that help people jump higher and run faster.
The problem with traditional plyo-boxes is pretty obvious, they're cumbersome and take up way too much real estate for how often they're used. The traditional ply-box size that has become popular due to CrossFit is the 30"/24"/20" box made of wood. Not only do these bad boys weigh a substantial amount, but they're also difficult to move, and no matter how many you stack, they still take up too much space.
Adjustable plyo-boxes solve this problem. However, 8th Day Performance's Plyo-Box is not the first adjustable box to ever be created. In fact, there have been a few innovations in this space. However, the design of the Elev8 Plyo-Box is the best I've seen yet.
Adjustable plyo-boxes allow for many different heights in a small footprint; it's the same reason adjustable dumbbells are so popular. There's no doubt about it, an adjustable plyo-box is superior to the standard, fixed height units, however, only if they function as well.
Unboxing
The 8th Day Performance PlyoBox showed up on my doorstep in a fully intact box. Although this sounds like normal, as of late, nearly every box I've received from UPS or USPS is torn to shreds (probably because they don't like carrying gym equipment.)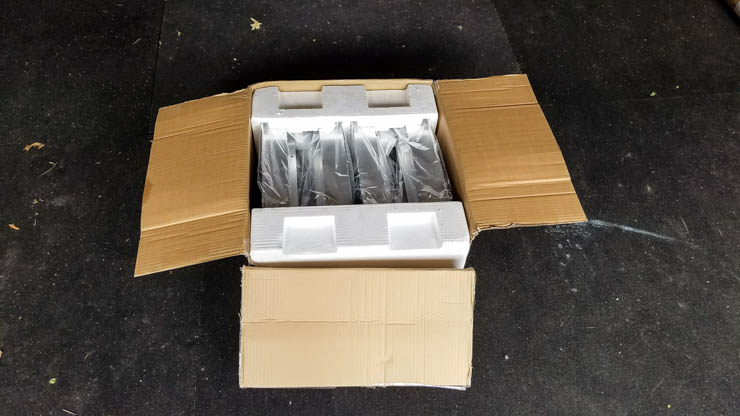 Although assembly can be a pain, it allows me to see how well every piece of the equipment is made.
The Elev8 Plyo-Box is made of 4 legs, 4 plastic sides, and a top. It's a simple design that took some thought, not only in design but also packaging.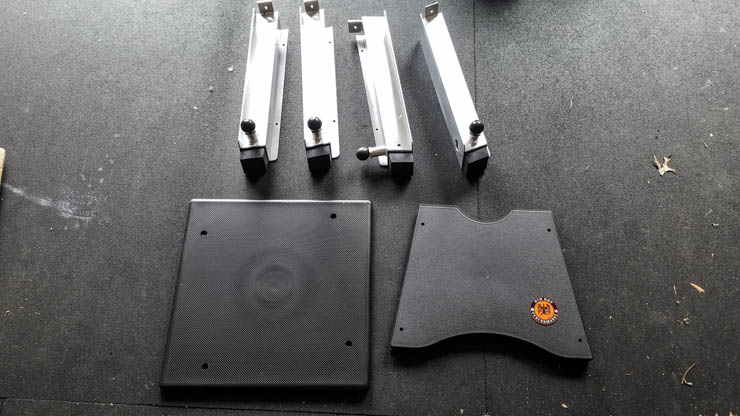 Once everything was out of the box, I was able to inspect the quality of materials. As I'll detail, the Elev8 Plyo-Box is a fantastic idea that is for the most part well done. With a little refinement, this box could end up in every CrossFit Affiliate across the country.
8th Day Performance Elev8 Adjustable PlyoBox Review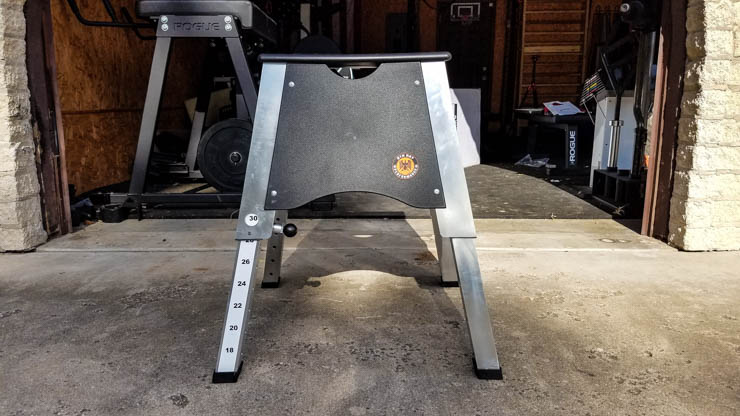 The 8th Day Performance Adjustable Plyo-Box is an answer to many gym owners desire to have a lighter, more portable, and smaller footprint plyometric box. The options for gym owners currently is pretty slim. You either choose the standard wood plyo-box like the Rogue Games Box, the metal nesting boxes that are much too hard to move, or you go with the foam option that keeps your shins safe. Those are pretty much what you have to choose from.
8th Day Performance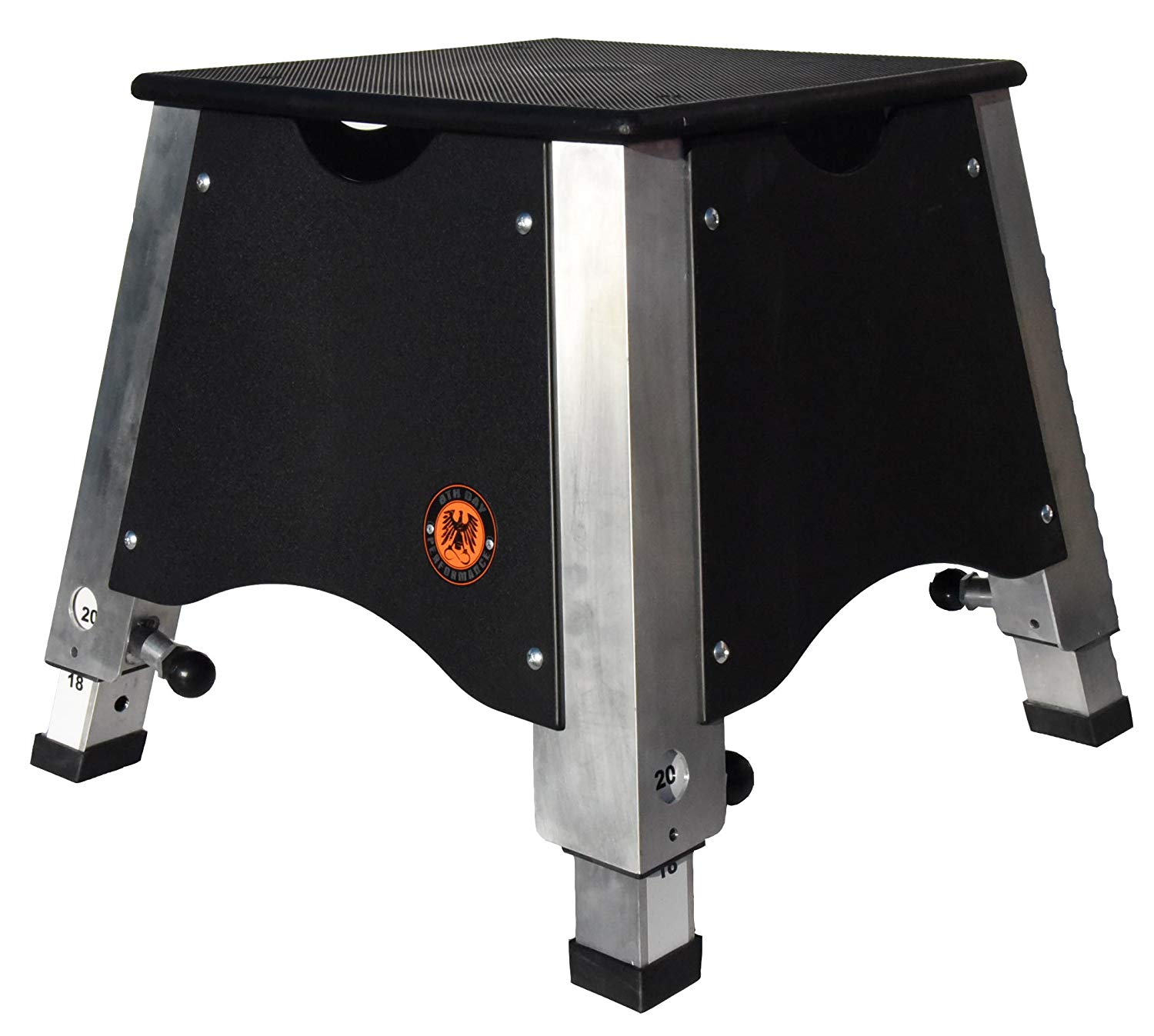 Elev8 Adjustable Plyometric Box
The Elev8 adjustable plyometric box is simply the best adjustable jumping platform you can buy. Adjustable from 18" all the way up to 30" in 2" increments. No other box gives you 7 boxes for the price of one.
Although there are other adjustable plyometric boxes, some that have pretty much the exact same design, they are unable to reach the standard height that those in CrossFit Gyms across the country desire; thirty inches. 8th Day Performance saw this problem, took a similar design and made it wider (therefore more stable) and the ability to be taller.
One of the best features of the Elev8 Plyo-Box is its weight. Moving my big, heavy wooden plyo-box that doubles as my cup holder (and whatever other stuff I decide to sit on it) is a workout in itself. Because of that, I end up using it less than I probably should.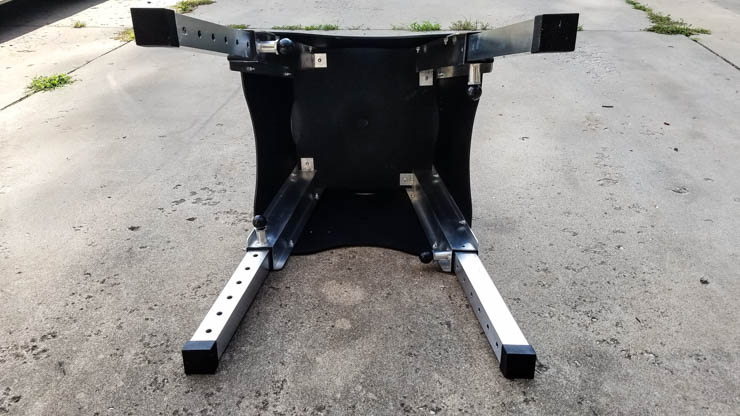 The reason the Elev8 Plyo-Box is able to withstand bounding while remaining relatively lightweight is due to the aluminum legs it stands on. Aluminum is an excellent metal that remains rigid and durable while still being light. There's a reason it's used in many aerospace applications and applying it to the fitness industry will happen more and more in my opinion (IronMind even sells a squat rack made of aluminum.)
The aluminum legs fit inside a sleeve that is controlled by a bolt similar to what you'd find on any adjustable seat on say a lat pulldown.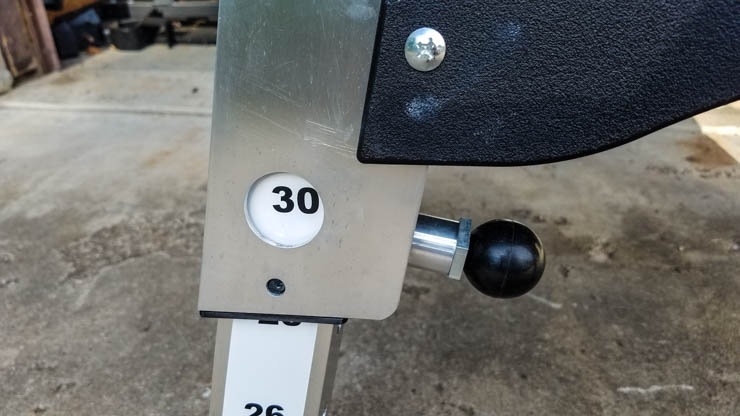 The bolt provides an easy way for adjustment, and although it's annoying to have to adjust each leg individually, the ability to lower one side while keeping the other side high allows for versatility that traditional plyometric boxes don't have. For instance, if you have multiple boxes, you could set up two side-by-side for skater jumps.
The Elev8 Plyo-Box goes from 18" up to 30" in increments of two inches. I've been asked a few times if it can be used for box squats, and yes, it can, but with a caveat. The suggested maximum weight is 800 lbs, and although I didn't have any issues box squatting moderately heavy weight on the box, I'd be careful.
The legs feature stickers with the corresponding height. Although I'd like to see a more permanent option, being able to see the height of the legs is very helpful during adjustment.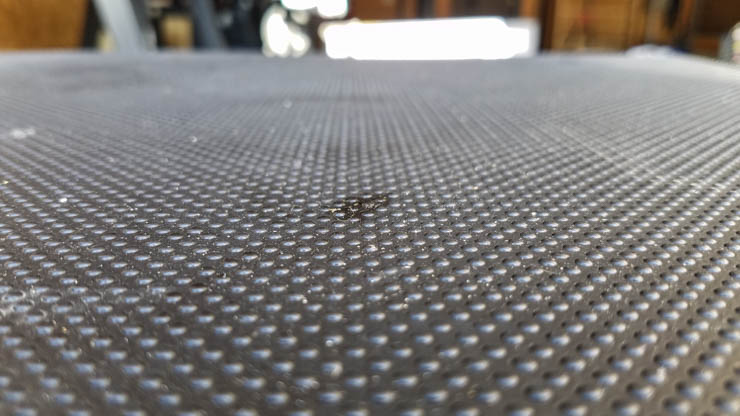 The sides and top are made of hard plastic. In order to add some additional grip, the top features evenly spaced nubs that do help from slipping, although if you sweat on the box too much, it will get a bit slicker than I'd like. The sides of the top feature rounded corners, and although you're less likely to get bitten on the shins due to the angled sides, if you miss the top, you're going to be hurting.
I would like to see a rubber top for added grip and less pain during misses, but they've done the best they could with the top they chose.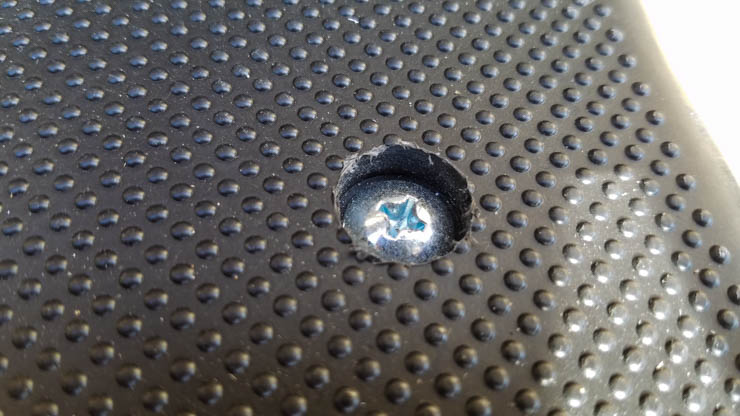 The top is secured to the legs using a traditional nut and bolt. Thankfully, they decided to bury the bolt in the top to prevent it from sticking above the surface. Although in my short time using the box (about a month) it has remained stable, I do worry that the legs could loosen from the top if moved too often. We will update this review if that happens.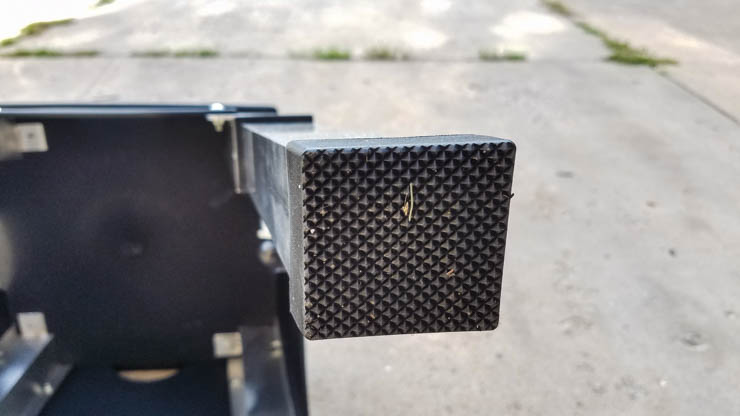 To prevent the box from moving around, there are plastic feet on the legs that grip to whatever surface the box is on. Without these, I would feel less than confident in the box remaining stable, which is why I was sad to see them already cracking.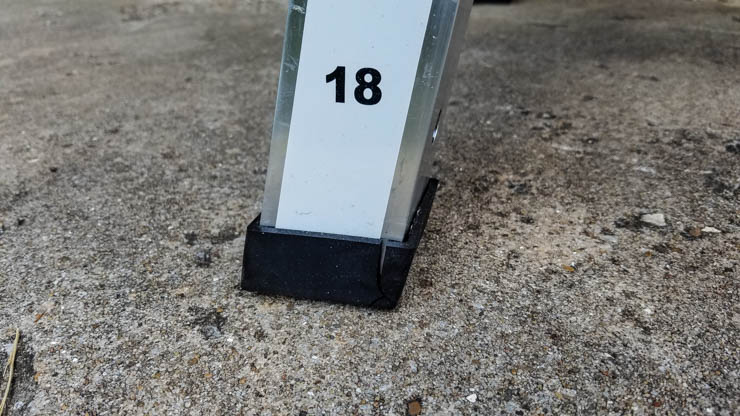 This is a quick fix with some tape, but it's an annoyance nonetheless. I'm hoping that this foot is simply defective because the others are fine, either way, this is something I expect 8th Day Performance to improve in the future.
Jumping on the Elev8 Plyo-Box is a great experience. I was a bit nervous at first, but after a few jumps, it was just like using any other plyo-box.
The top does have a smaller surface area than most plyo-boxes I've used, but I didn't have any issues and prefer it to be as small as possible for storage purposes. Speaking of storage, one feature that I have yet to mention and one of its biggest benefits for gym owners is its stacking capability. That's right, they STACK!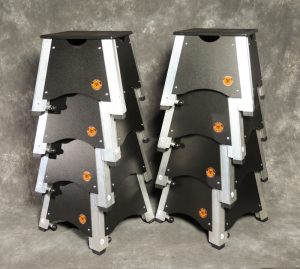 If you're a gym owner still lugging around boxes that hurt shins, take up way too much space, are ugly and unprofessional, and don't accommodate multiple heights than you need to give the Elev8 Ply0-Box a chance. In all reality, they aren't that much more than a box from Rogue either.
The overall idea of the Elev8 Plyo-Box is outstanding. However, there are some areas that I see could be improved.
The first thing that has already been discussed is an improvement in materials. The feet on the legs need to be made from a tougher material to prevent cracking and allow for better grip on various surfaces.
The second improvement that could be made is on the top. The nubs on the plastic do help with grip, but it's still slick when a little bit wet. Not only that, but the plastic will still wreck shins. I suggest some sort of rubber top or rubber edges at least to improve grip and lessen the impact on shins during misses.
The last improvement I suggest is a more permanent option for the numbers on the legs than a sticker. Engraved numbers would not only look better but also not have the possibility of getting scratched or removed.
These are minor improvements that could make a great plyo-box even better.
Full Rating
Where to Purchase
8th Day Performance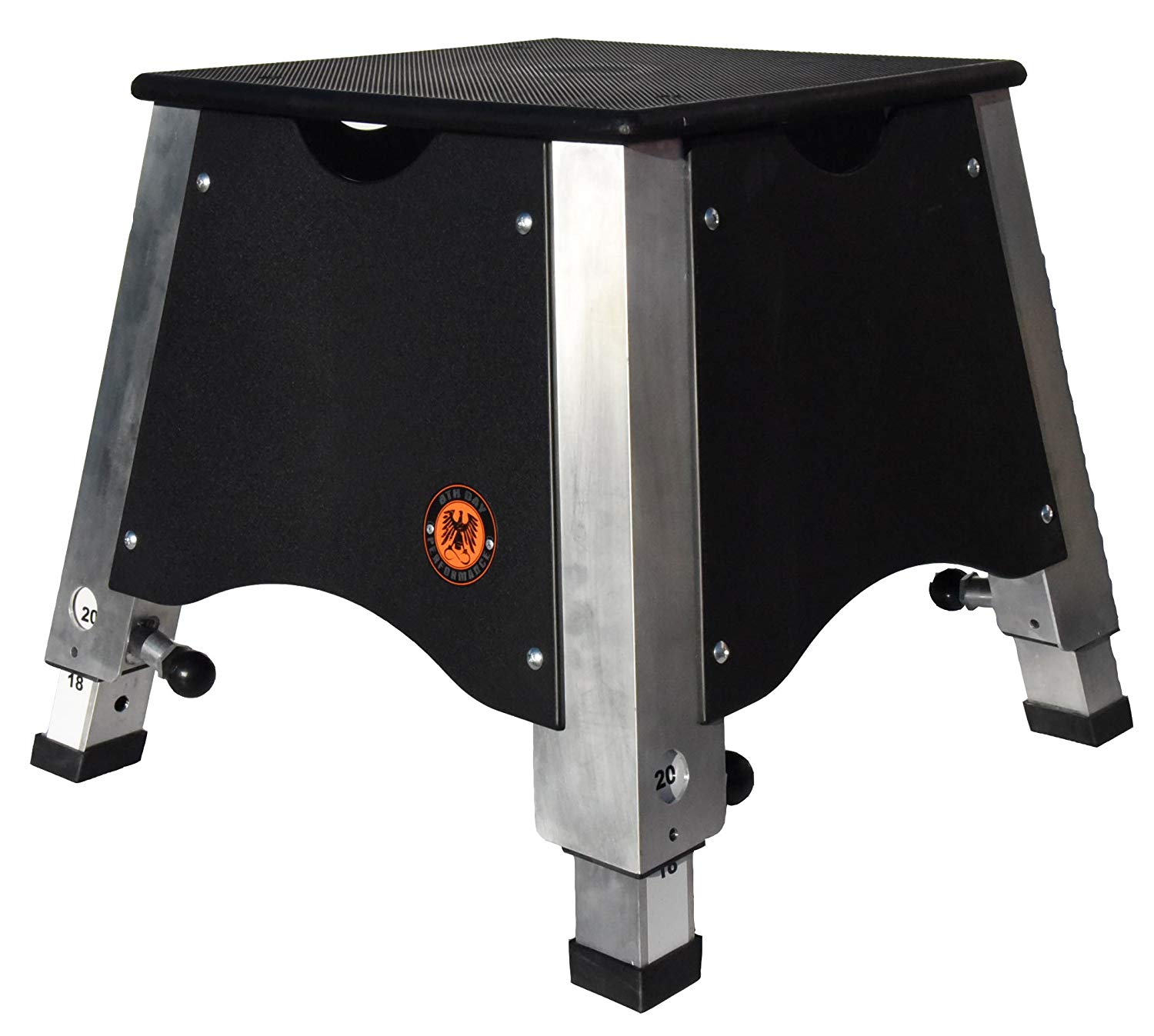 Elev8 Adjustable Plyometric Box
The Elev8 adjustable plyometric box is simply the best adjustable jumping platform you can buy. Adjustable from 18" all the way up to 30" in 2" increments. No other box gives you 7 boxes for the price of one.