We test and review fitness products based on an independent, multi-point methodology. If you use our links to purchase something, we may earn a commission. Read our disclosures.
Want to save money on Lebert Fitness equipment? Then you have come to the right place!
Lebert Fitness offers versatile and portable exercise equipment. Even though many of the products sitewide are affordable, it's still nice to save money when you can. We have secured an exclusive Lebert Fitness coupon code so your price at checkout is even better. Read on to find out how you can save.
Lebert Fitness Promo Codes
Lebert Fitness offers a few ways to save money:
For the best discount, use promo code GARAGEGYMREVIEW at checkout to get 15% off Lebert Fitness gear.
There are product bundles on the site that save you up to 20% on select items.
Apply to be an ambassador for the brand to save money on products.
Shop the discontinued section of the brand's website.
How to Apply the GGR Lebert Discount Code
Step One: Shop for the items you want from lebertfitness.com and add them to your cart.
Step Two: Use the promotional code GARAGEGYMREVIEW to get 15% off your entire purchase.
Step Three: Continue with checkout.
When Do Lebert Products Go on Sale?
It's not always easy to predict when you'll see discount coupons on Lebert Fitness products. However, we do know that many retailers offer sales around the holidays. We have comprehensive pages that detail all the best prices we find on fitness equipment at special times of the year:
Black Friday and Cyber Monday sales
What We Love About Lebert
Lebert Fitness Equalizer Bars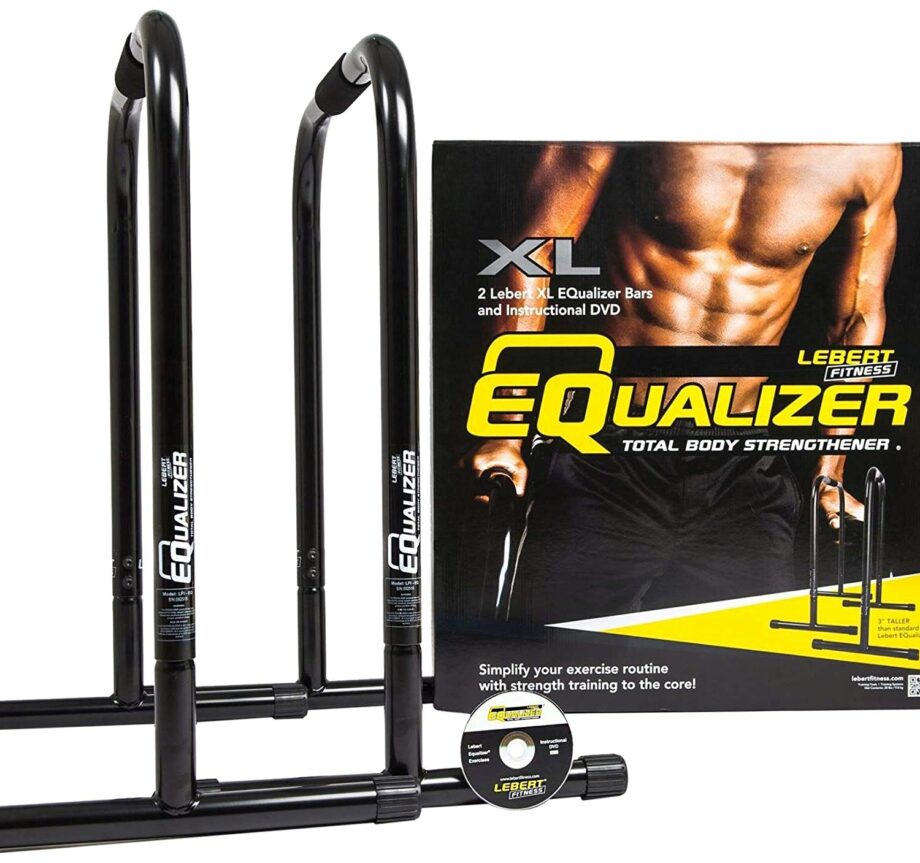 Lebert Fitness Equalizer Bars
The Lebert Equalizer XL is a functional dip stand station that can be used for a variety of body-weight strength exercises. Each iron bar features a foam covering for maximum comfort and, thanks to the extra tall height, can accommodate those over 6 feet tall. Weighing only 9-pounds each, these bars effectively support weights up to 400 pounds.Two separate bars create a slight instability which provides biofeedback encouraging you to engage the proper muscles for each movement performed. With your purchase you gain access to ongoing support and coaching through a private facebook group. What's more, the Lebert Equalizer XL comes with a complimentary resistance band.
Lebert Fitness is probably best known for its parallettes, which are tools that aim to develop core and upper body strength. Called the Lebert Equalizer, these double bars provide a total-body workout, as you can use it to perform exercises like push-ups, rows, leg raises, and more.
Some things we love about the Equalizer system:
Incredibly stable
Comes with an instructional video
Portable; each bar weighs just 8 pounds
High weight capacity of up to 400 pounds
The brand also has a number of other products, like the Lebert HIIT System that uses suspension trainers, or the Lebert Stretch Straps to help you work on flexibility and mobility. Don't like working out alone? Check out the Lebert Buddy System, which is designed for partner-based workouts.
Why Buy From Lebert?
There are a few reasons we suggest you shop Lebert Fitness:
There is a limited lifetime warranty on all products.
The company offers GGR readers an exclusive Lebert Fitness discount code to save 15% off your next order.
If you don't care about the latest Lebert Fitness products, you can shop the brand's discontinued line to save some money.
The Equalizer and HIIT systems have a 30-day return policy, whether used or not.
Lebert Fitness Coupon Code FAQs
What is the Lebert discount?
If you want to save money on your next purchase, you can use today's best Lebert Fitness coupon. We have a verified coupon that will save you 15% off your next shopping trip.
Are Lebert Equalizers worth it?
When you first see that a set of parallette bars are $100+, you might have a bit of sticker shock. But, the Lebert Equalizers are high-quality products that are also extremely versatile, portable, and support up to 400 pounds. If you aren't sure of the price, you can use our exclusive discount code to save 15% off Lebert Equalizers.
How do you use the Lebert Equalizer?
Fortunately, there is a workout guide that comes with the Equalizer to show you how to use the equipment. You can get a total-body workout from the two parallette bars.